Even if camping is a specifically outdoor activity, which is destined to put you in close contact with Mother Nature, that doesn't mean you shouldn't be comfortable while enjoying your experiences in the wilderness.
[the_ad_placement id="in-text-1-type-a"]
On the contrary, having the best camping air mattress with you will only improve your sleep, making you all the more ready for new adventures and exploring. Consequently this article aims to give you an idea of how and why you should choose a proper air mattress from all the available options.
How do I choose a camping air mattress?
There are quite a few criteria you should take into account when making a choice like this, because obviously your sleep quality will be influenced by the mattress you pick, but you have to take other factors into account, such as:
Can you take it with you?
Depending on the materials used for manufacturing them, mattresses are either on the heavy or on the light weight spectrum. Needless to say that a heavier mattress is way better comfort wise seeing as it's made from a thicker fabric which also weighs more.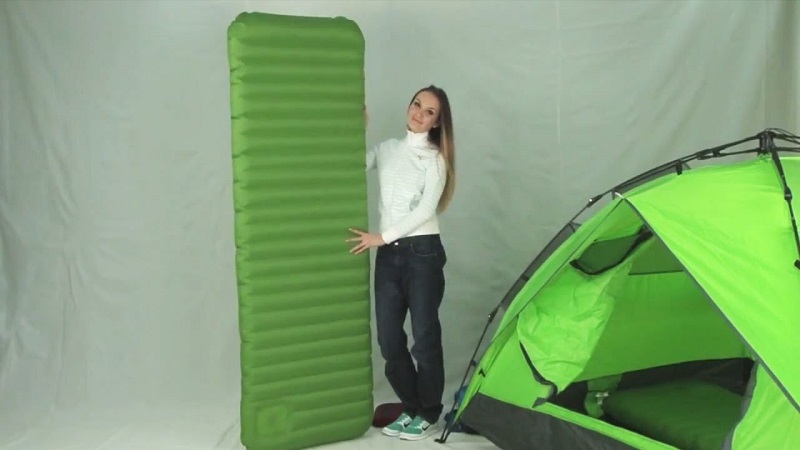 However, if that fabric is thicker, it will provide you all the spinal support you need for a deep, pain-free sleep; not to mention that it's durable too. These types of thick, heavy mattresses may work well for you if you're:
Using a bigger car or a van for your luggage.
Camping closer to home, rather than hiking for a bigger distance.
Bringing along kids who like to jump on their bed.
See also: Best Sleeping Bag Liner: Stay Clean and Cozy
On the other hand, if you can't carry a thick mattress along, buying a lighter one is the better way to go.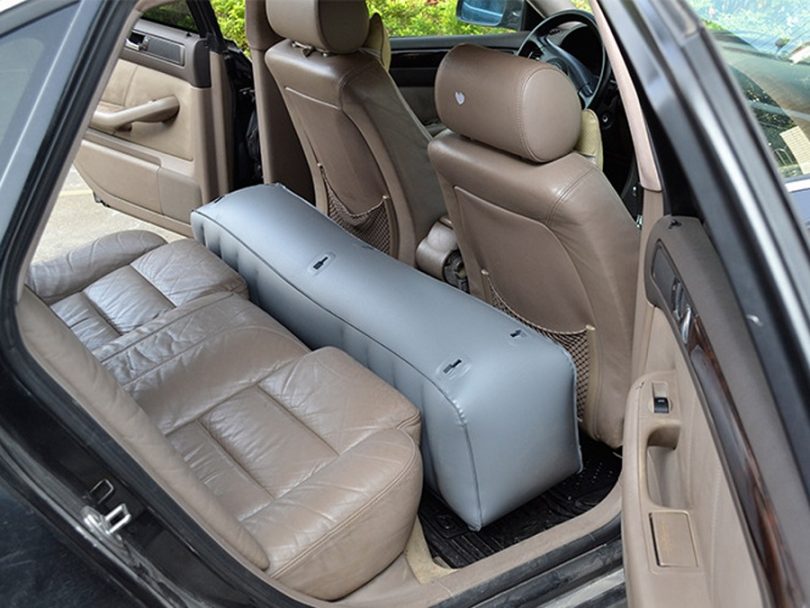 In this case, you're more interested in portability than durability, but that doesn't mean you have to settle for something extremely shabby, just something that will allow you to:
Go camping on foot or in a smaller car.
Hike as you please, without focusing too much on how you sleep at nights.
Go without children.
Which sort of pump should you buy?
There are different types of pumps for all the various sorts of air mattresses you can find, and therefore it's important to pick an appropriate pump for your mattress.
Hand/ foot pump. Good if the camping spot is farther from your car or from other accommodation with electricity.
Electric pump. Recommended if your camping spot is in walking distance from your car.
Battery powered. Some air mattresses have their very own incorporated battery powered pump.
That being said, there is always the option of self inflating air mattresses, which are also coincidently really lightweight, easy to handle and to carry. All these characteristics make them a great option for people who are more interested in their daily activities over their nocturnal pastime, like hikers or trekkers.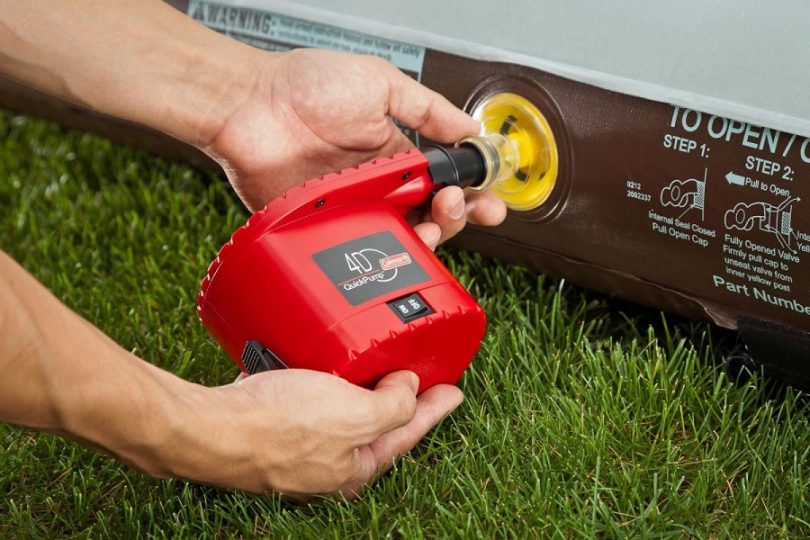 On the other hand, these mattresses aren't the most comfortable option on the market even though they're way better than sleeping on the ground or on a blanket.
What's your tent size?
Another criterion to take into account before buying the mattress is where you're planning to put it and if it's going to fit there. Remember that the tent isn't just a place for sleeping, but also a place for keeping your backpacks, storing your food and other supplies. A good idea is to measure your tent in length, width and height before deciding which mattress to get, and try to visualize how it will look inside
Generally, a bigger sized luxury tent can easily accommodate a bigger sized mattress, which can't be said about your run-of-the-mill tent. However, if you're only going for a short trip, you can deal with less space if it means sleeping better. But an extended trip which might require you to spend more time inside if it's raining for instance, demands sacrificing comfort for space.
Can you afford it?
There are so many models on the market now that you can surely find something that fits in your budget, without being afraid that you're sacrificing too much of your comfort or of the quality.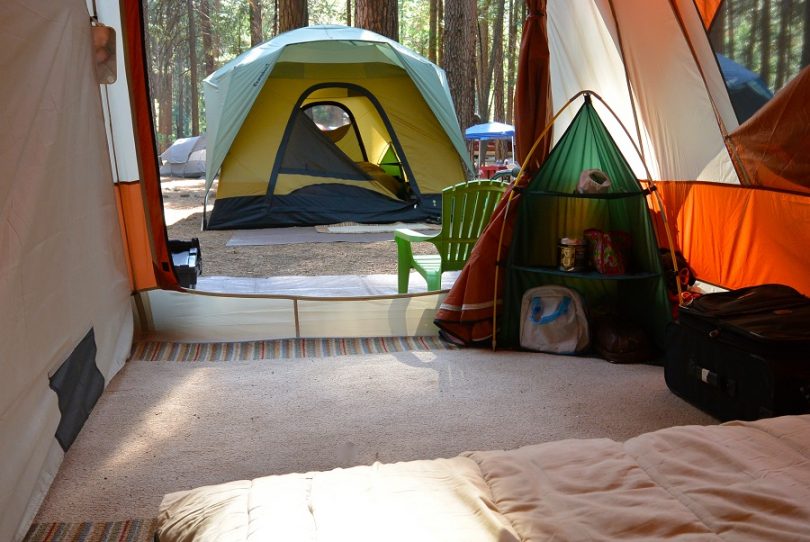 Nevertheless, a lower retail price does entail less durability and fewer extra features, although you might not find that inconvenient if:
You aren't planning to use your mattress very often.
Your camping trip is short.
You don't have back pain or other bone related issues.
You don't have trouble sleeping.
You already have extras like a pump, and don't want to pay more for an incorporated one.
On the contrary, if most of these statements aren't true for you, then investing in a more expensive mattress can actually prove to be advantageous on the long term, because you wouldn't need to buy a new one – or repair the old one – too often.
Have you done your research?
Basically there are a ton of air mattress models you can easily buy online, and many popular brands which focus on camping equipment have amazing deals which can suit all personalities and requirements their customers have. But even the best brands can disappoint sometimes, which is why you should also read the user's reviews before coming to a final decision.
Most experienced campers will give you all the details you need, and will tell you the truth because they have nothing to lose or gain from their reviews. However, it's best to take into account their own needs as opposed to your own: for example a mattress's durability can be judged differently by someone with kids than by someone who doesn't bring kids along when camping.
Either way, doing your research carefully is a must although sometimes you may need a little help, like the reviews for the following products we find the best in their category.
Which are the best options for me?
When it comes to picking a good air mattress for your camping trip, you can confidingly opt for one of the items below.
SoundAsleep Dream Series Air Mattress
This $119.95 mattress is definitely a high quality model. It uses ComfortCoil Technology, which means it has a last minute design to increase durability and support. Having 40 internal air coils lets the bed remain flat and firm all throughout your sleep, so you can really get a good rest.
You don't even have to worry about the inflation and deflation process, because it has a patented 1-click internal pump incorporated, which makes it very easy to set up. Actually, this mattress can be inflated fully in less than 4 minutes, being topped off quickly.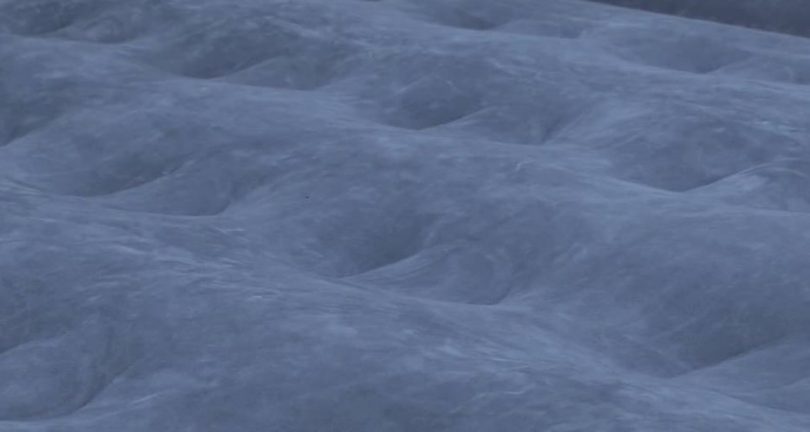 The Dream Series Mattress is queen sized, with inflated dimensions of 78" x 58" x 19", having a raised double-height air bed with dual chamber construction. Its size and thickness renders it more appropriate for a luxury tent, or even for indoor use.
When using it outdoor, you can be sure it won't slide unnecessarily since it has a "Sure-Grip" bottom, and it also won't become wet since it has a waterproof flocked top, being manufactured from a puncture-resistant material.
[the_ad_placement id="in-text-2-type-a"]
Included are a carry bag and a consumer friendly 1-year guarantee, as well as free support any time via email or phone.
Like this product? Then you can buy it on Amazon.
Serta Raised Air Mattress
This queen sized $132.79 item comes from a trustworthy brand and it contains two pumps along with the patented neverFLAT pump system to make sure this mattress stays inflated during the night. As such, the primary pump is meant to inflate and deflate the mattress fast – in less than 4 minutes – while the secondary one monitors and maintains air pressure to the desired level.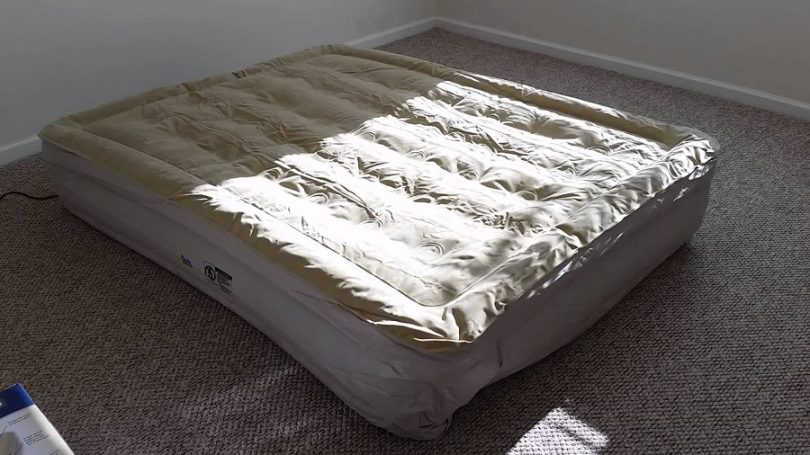 Additionally, this mattress has an auto-shutoff feature for the primary pump, to turn the whole system off automatically.
Your sleep will be as comfortable as ever thanks to its 35 circular coils which create a supportive and comfortable sleep surface, that doesn't let your sheets slide. Besides, the materials used are high-quality, water and puncture resistant.
Being a rather thick 18" raised height mattress with dimensions of 80" x 60" x 18", this item is more appropriate for a bigger sized tent too.
If you think that this product could be useful for you, then you can buy it here.
ALPS Mountaineering Rechargeable Air Bed
With a price range between $55.07 and $259.92, the lower price being available on select option, this is a perfect mattress that can be used both indoors and outdoors. The good news is that, as opposed to the other two items we've reviewed, this one can easily fit in most camping tents, not only in luxury ones.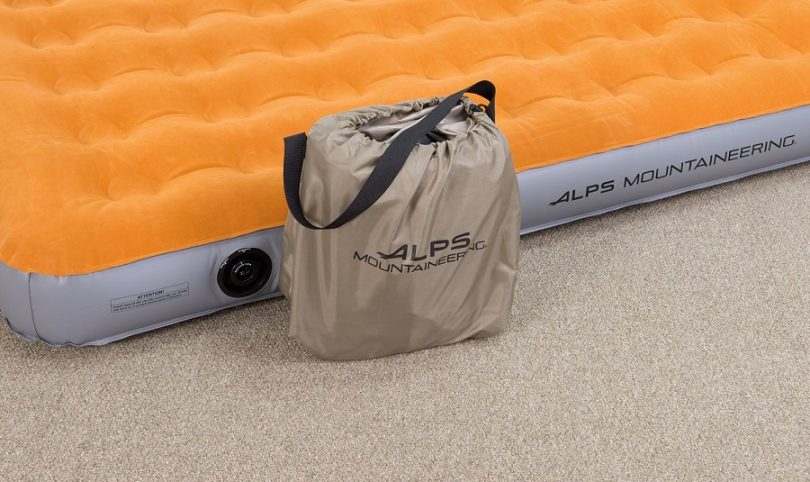 Moreover, a rechargeable pump is included in this price too so you can inflate and deflate the mattress whenever you need to. This means you will also get two extra perks: a car charger and wall charger to use when you need to recharge the pump. It inflates quickly with its "flip of the switch", and you can use its complimentary carry bag to store and carry it once it's deflated.
You will sleep comfortably on this mattress because it has a soft flocked top to prevent aches and pains, as well as sliding around. Its coil system provides your spine all the support it needs to make you feel rested in the morning, and the industry leading thick and durable PVC it's made from guarantees its resistance.
If you think that this product could be useful for you, then you can purchase it on Amazon.
AeroBed Classic Inflatable Mattress
This item comes in two sizes: Twin and Queen, the first costing $56.64 and the second $81.99. Whichever size you may opt for, consider that this mattress has a low profile design that makes it very lightweight and compact. That renders it perfect for most campers who want to focus on other activities for which carrying a lighter, smaller mattress is more appropriate.
However, even if the price isn't very high, you can still rest assured it's pretty sturdy, manufactured well and very comfortable. That's because it has a flocked fleece surface for comfort, its oval coil construction adds extra support, and the material it's made from is a heavy-gauge, puncture-resistant PVC vinyl.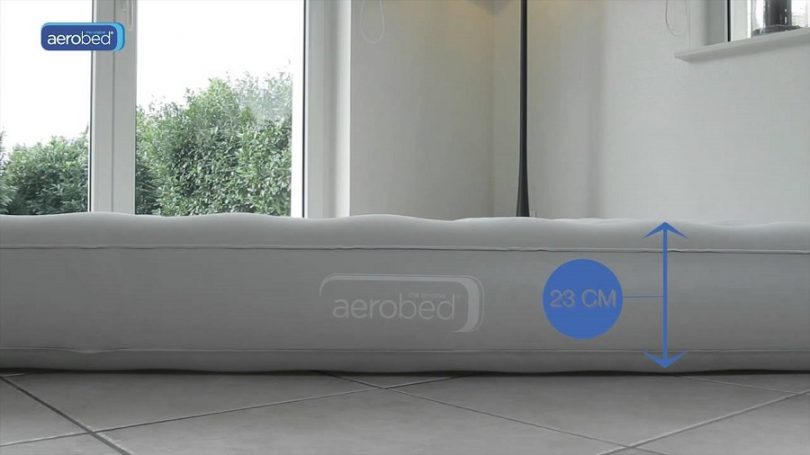 You will need an external pump to inflate and deflate this mattress, but luckily for you one is already included with the purchase. Moreover, the whole process of setting it up doesn't take more than a few minutes according to the user reviews.
Like this amazing product? Then you can check its price on Amazon.
Intex Pillow Rest Raised Airbed
This wonderful $41.49 mattress is an inflatable queen airbed with built-in electric pump. Even though it's originally made for home use, it can also be used outdoors if you're not camping in cold weather or setting up the tent in an uneven terrain.
A great thing about this model is that, apart from its waterproof flocked top with double-layered wave beam interior construction, it augments its comfort with the built-in pillows that emphasize its special design.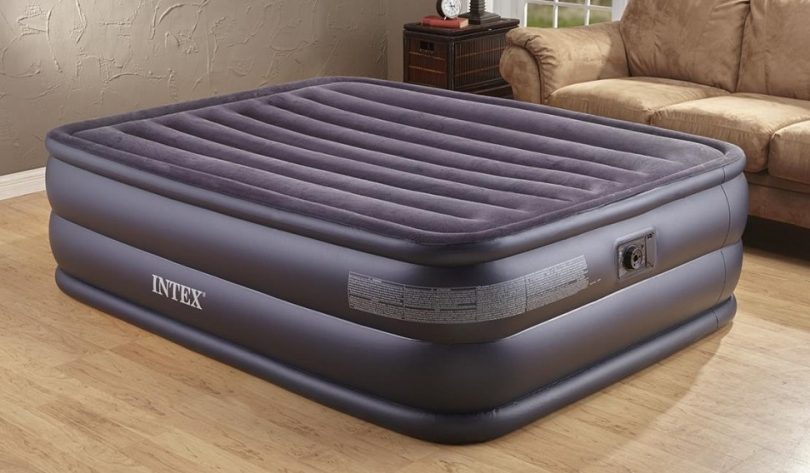 Being raised 18 inches from the floor, this mattress has a staggering 600 pound capacity which makes it especially convenient if more people have to sleep on it. Or if you have kids who like to jump on things.
The extras it includes are a high-powered, built-in electric pump, that inflates the mattress in 4 minutes, making the deflation process also easy, as well as a carry bag for convenient storage and transportation.
If you think that this product could be useful for you, then you can check its price on Amazon.
Browning Camping 7635014 Rechargeable Air Bed
This $99.99 mattress is another great item when it comes to durability and comfort, since it has great quality coils to make you sleep like a baby. Besides, it has a soft flocked top which will really give you a cozy sleep without allowing the sheets to slide off and wrinkle beneath you. The material made from, thick and durable PVC renders this mattress really resistant for repeated use.
When purchasing it, you will be offered a rechargeable external pump, which can be charged either in your car or at a wall socket, using the car charger or the wall charger that are included in the price.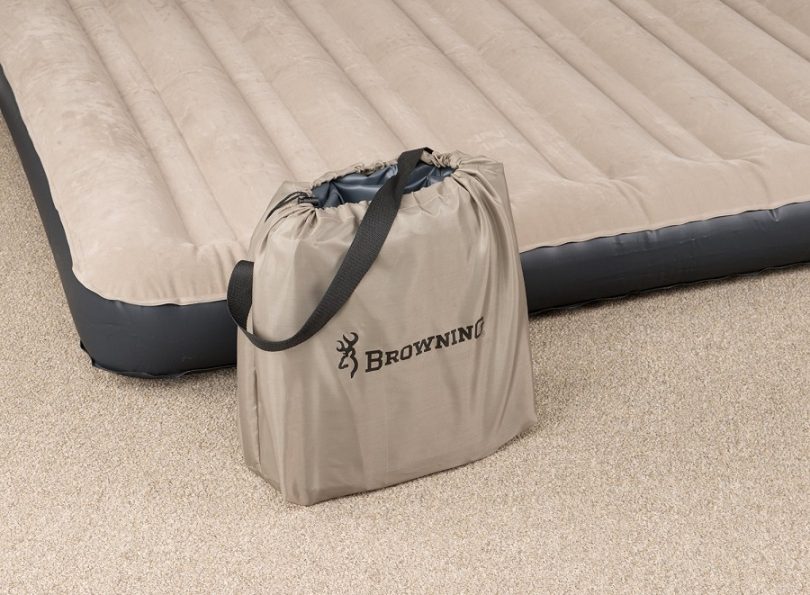 Its convenience when it comes to camping is proved further because it's especially made both for indoor and outdoor use, but if you're using it outdoors and constantly inflating and deflating it, you should know that this process isn't time consuming at all. Another advantage is that it easily fits in most tents, and you get a carry bag to transport and store it in.
Like this product? Then you can check its price here.
What's the conclusion?
Choosing an air mattress has advantages and disadvantages. There could be other options more suitable for you if you don't have the necessary space in your backpack or tent, or if you're taking a shorter trip. As such, many campers feel relatively good about placing their sleeping bags on a sleeping pad or on a blanket, which are easier to carry and pack.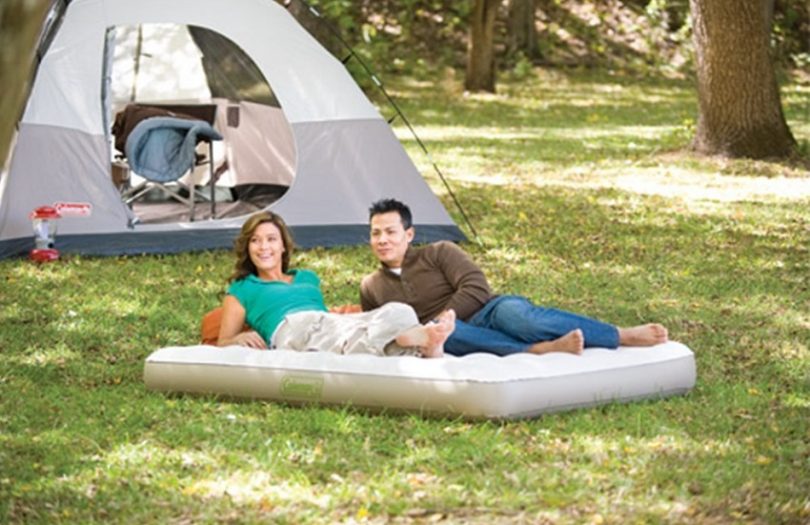 However, if the quality of your sleep isn't something you can readily sacrifice, an air mattress is the best bet for your camping trip. To paint a clearer final picture, below are the pros and cons to consider:
Cons
You'll have to invest time and money in replacing pumps. If you've bought a mattress with an incorporated air pump which gets damaged, you need to repair it by yourself or by using the warranty. If the pump is external the cost for a new one isn't so big, but you will still have to buy one.
You'll spend time inflating and deflating the mattress. If you don't have enough space in your car or at home to permanently keep the camping mattress inflated, you'll need to do it every time you go on a trip. Even though it takes only a few minutes, some people may still find this tedious.
You may not like using the pump. A noisy sort of pump is rather unpleasant to use, and if you don't have the budget to invest in a silent one, you could find it difficult to deal with the noise.
Pros
You can set your own firmness. Depending how much air you pump in, you can make your mattress softer or firmer to suit your sleeping needs.
You can reduce back pain. Sleeping on the ground or on a sleeping pad may make you wake up with achy joints or a stiff neck, things an air mattress can prevent.
You can bring your kids camping. Children are especially sensitive when it comes to their sleeping place, so an air mattress is certainly more comfortable for them.
You don't have to worry about sagging or wrinkling. Placing your sleeping bag on the ground or on a blanket may cause different inconveniences. A blanket may wrinkle and disturb your sleep, while sleeping on the ground in the same place for an extended period may cause sagging, which is again uncomfortable.
It's pretty resistant. Air mattresses with topnotch craftsmanship and quality are durable and will accompany you in many exciting camping adventures.
In the end, we have to highlight the fact that such a mattress is quite versatile. No one says that buying an air mattress for camping means you'll only be able to use it outdoors. If an unexpected guest suddenly shows up at your doorstep, you can be a gracious host and offer them a comfortable place to sleep on your mattress.
[the_ad_placement id="in-text-3-type-a"]
Not to mention that placing it on the back seat of your car can make even sleeping in the car more cozy when you're driving for days at a time. Check out our reviews of the best camping gear to help you.
Some of the links in this post are affiliate links. This means that if you click on one of these links and make a purchase, I earn a small commission at no extra cost to you. Also, as an Amazon Affiliate, I earn from qualifying purchases. If the information in this post has been helpful, please consider purchasing through one of the links in this article. Thank you.