Winter is coming. Winter is always coming, right? Well, even if that's not the case too soon, you might still go on a cold weather hike. And for that, you need to be prepared with the warmest socks you can find.
So we promise we've got the best for you. We've compiled a list of nine great socks to consider for cold weather or if your feet are plain cold most of the time.
Our Top Picks
Things to consider before buying
Materials
Wool is an excellent material for thermoregulation. That means your body will even out its own temperature because you're kept dry.
See also: What is Merino Wool: How Does It Stack up Against Other Fabrics?
Wool can absorb almost a third of its weight in water before you feel it's gotten wet. Other advantages of wool are its breathability and ability to resist odors.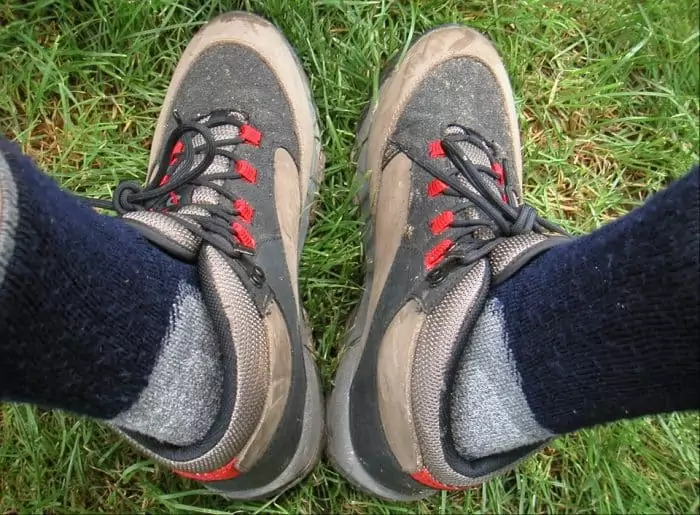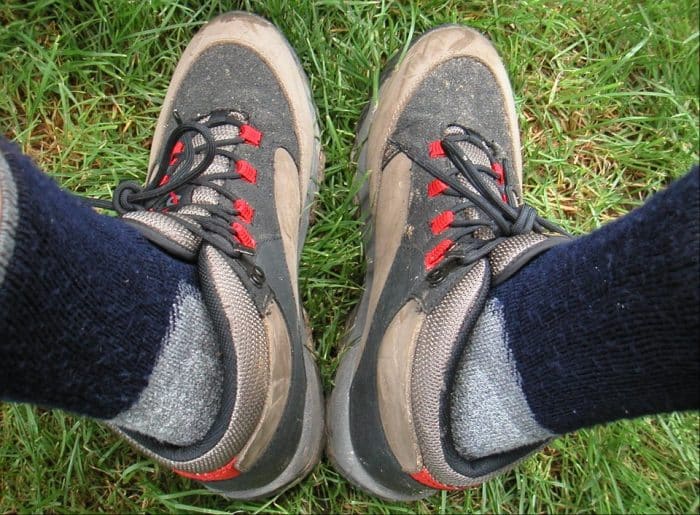 Synthetic materials like nylon, lycra or acrylic are good insulators too. They weigh less, which is why they're less warm and not appropriate for extreme weather if they're the dominant materials used. But we like these because they feel comfortable, not scratchy like wool.
Your shoe size
Bigger socks will bunch up, so they might not insulate as well. So you can mistakenly believe the socks you've bought aren't really warm when the problem is their size.
On the other hand, if you get a size that's too small, you won't be as comfortable. Some socks might stretch if they're made from synthetic materials, but the wool ones might become too small once you put them in the machine.
Length
Ankle-sized socks are better for wearing around the house or for warmer weather. These don't go well with boots, seeing as you'll have a portion of your calf uncovered.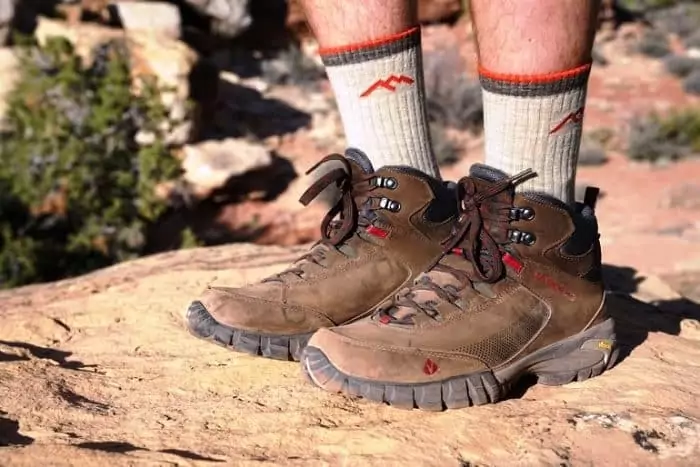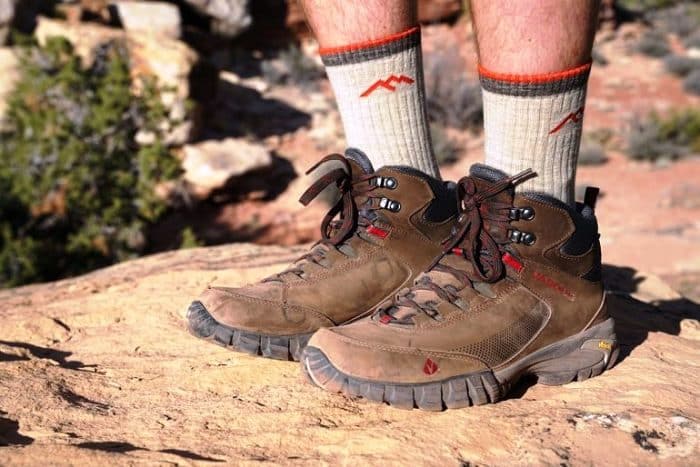 Mid-calf socks might be better around the house or for hiking trips in cold weather, whereas knee-long socks are great for extreme weather and boots with a long shaft. Some might even have cuffs that turn over the edge of the boot, to protect your feet from snow.
Design
Look for socks that are durable and resistant to tears. For instance, a good indicator is the reinforced toe and heel. A reinforcement through the sole is also great because the soles are the most exposed to walking.
Make sure your socks are not just warm, but breathable. It's one thing for your feet to feel warm, but only to discover they're soaking wet when you take them out of the sock. Plus, a pair of socks that absorbs moisture and sweat will likely cause various injuries too.
Price and guarantees
Most of these socks cost a few times more than the average cotton socks. Some even reach $30 per pair, but they offer multiple advantages you wouldn't otherwise have. Apart from optimal insulation during cold weather, there are socks out there which diminish the effect of circulatory problems and help with thermoregulation.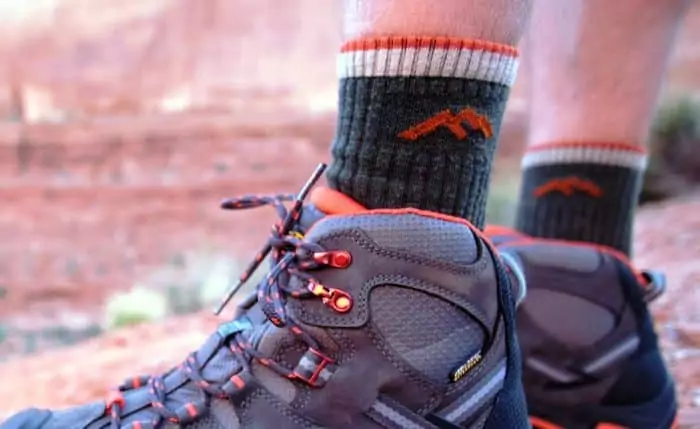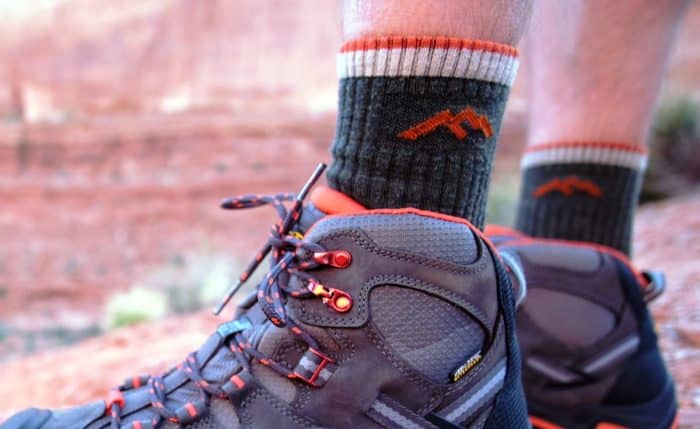 Since the price is high, and since these socks have a longer life, the best brands will offer some form of warranty, either in the form of a money back guarantee or a repair policy.
That said, the socks we've reviewed below have different characteristics, but meet all of the factors we discussed here.
Best products on today's market
If you've started this article because you're wondering what the warmest socks are, look no further than the products below.
Fox River Outlander Thermal Socks
Dimensions: 13 x 8 x 1 inches
Specifications: 20% wool; 14% nylon; 5% acrylic; 1% spandex; moisture-wicking; odor-resistant; friction-resistant; mid-calf size; 1 year return policy
Best use: Winter hikes
The Fox River Outlander Thermal Socks are some of the warmest socks ever because of their composition. The combination of 20% worsted wool, 14% stretch nylon and 5% acrylic is bound to keep your feet insulated. The 1% spandex adds to their elasticity but increases their warmth factor too.
We love wool the most because of all its moisture-wicking, odor-resistant and insulating properties. But all its materials increase resistance, including the nylon used to reinforce the toe and heel areas. And to prove the claim of durability, Fox River allows you to return the socks during the course one year if they have manufacturing flaws.
These mix of materials makes the socks heavier, and they're mid-calf sized. The thermalized construction for extra warmth will also prove really soft and comfy for your feet. They're even moisture wicking and eliminate hot spots and friction so that you stay blister-free.
The main downside of these socks regards its main advantage: wool. So you better not put them in the dryer if you don't want them to shrink. That's probably why most of these socks run a little big, to begin with, so they can become smaller after washing and drying.
PROS:
Odor-resistant
Withstand friction
CONS
:
Need to be air-dry
Run big
Wigwam 40 Below Socks
Dimensions: 6-15 shoe size
Specifications: 50% wool; 50% nylon and spandex; nylon sole; low-profile toe closure; normal heel; Grey; mid-calf; 87% fit as expected
Best use: Winter hikes
The Wigwam 40 Below Socks are another example of really insulating socks. They're less expensive than the Fox River socks, but they come with many of the same benefits, starting with insulation.
In fact, since they have more wool, 50% to be exact, they're better at retaining heat, wicking moisture and repelling bad smells. The rest of 50% is synthetic, nylon and spandex, which add to resistance to tears, elasticity and also warmth.
Considering this proportion of materials, these socks are considerably thicker than the previous model. The sole is nylon too, so it cushions your foot completely. The toe closure is low profile, and the heel is normal, not reinforced with nylon like the previous model.
That means these socks may be a little less resistant when climbing, because of the pressure in the heel/ toe areas. The color palette is less generous too since you can only buy them in Grey. But they're mid-calf too, so they're perfect for wearing with boots during winter hikes.
CONS
:
Just one available color
Less resistant in heel/ toe area
JB Field's Icelandic Socks
Specifications: Large (8-12 Shoe); knee length;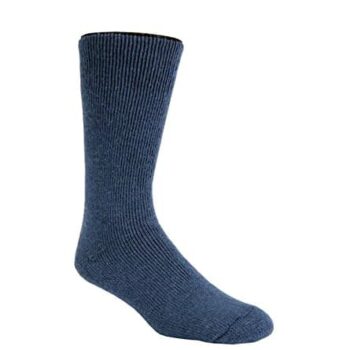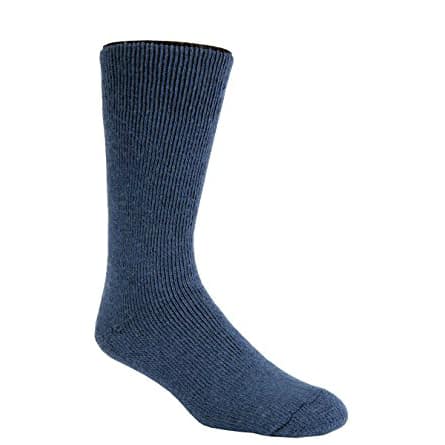 beige; 85% wool; 15% nylon; 73% fit as expected
Best use: Extreme weather
The JB Field's Icelandic Socks are a mix of fabric and synthetic too, with an increased percentage of preshrunk wool of 85%. The rest is nylon, which means they're perfect for extreme weather with temperatures as low as -50°F.
They're knee length and you can only get them in a large size that fits an 8-12 shoe. However, the fit as expected rate is 73%, which is pretty good. You can fit them quite comfortably with your boots, even if this particular model doesn't have a turndown gumboot cuff.
We love these socks because of how warm and thick they are. But that doesn't mean you won't be able to wear them when it's warmer. Wool is really versatile and can keep your feet cool thanks to their naturally forming air pockets.
However, keep in mind that because of how thick these socks are, you won't be able to wear them with running shoes or tight boots. You also need a liner sock for better moisture-wicking and more odor resistance. They're pretty rugged too, so they won't be as comfortable without a liner sock to cushion the feel.
CONS
:
Can only fit large boots
Require liner sock
Really scratchy
Heat Holders Thermal Socks
Specifications: 34 colors; 91% acrylic; 5% nylon; 4% polymer and elastane; long looped cushion piles; insulating yarn; proficient brushing; 2.34 tog; low-mid calf; 91% fit as expected
Best use: Mid-autumn hikes
The Heat Holders Thermal Socks really take the cake when it comes to the models and colors available, with 34 different options at your disposal. Unlike the previously reviewed socks, these also have no wool in their manufacturing, with a whopping 91% acrylic. The rest is a mix of nylon, polymer, and elastane.
This mix of materials renders the Heat Holders cool properties, like you being able to machine wash and dry them. They're also incredibly insulating because they're manufactured with an advanced fiber design, that keeps them moisture-wicking and breathable at the same time.
We love their craftsmanship based on a new knitting technology that makes really long looped cushion piles. Thanks to this, more warm air stays inside the socks. The same can be attributed to a proficient brushing process that maximizes insulation to 2.34 tog.
These socks aren't precisely tall, they can only reach to about mid calf, so they're impossible to wear with taller boots. Also, because they lack any fabric in their composition, they're less durable on the long term. They tend to create lint when washing, plus they pile up with extended use, so it's best to wash them separately in the machine.
PROS:
Extremely warm
Machine wash and dry
CONS
:
Can't fit taller boots
Not durable
Create lint
Warrior Alpaca Socks
Dimensions: 12 x 4 x 2 inches
Specifications: 100% alpaca wool; hypoallergenic; breathable; terry lined; reinforced toe and heel; knap lined; Comfort Band cuff; Small – Extra-large; 96% fit as expected; mid-calf
Best use: Winter hikes
The Warrior Alpaca Socks are at the opposing end of the spectrum since they're entirely made from wool. The type of wool used is natural alpaca, plus some synthetic fibers so that they're hypoallergenic. Your feet will, therefore, stay insulated and breathe even in your thickest boots.
These socks are really thick and terry lined, so you'll be warm, but dry and comfortable at the same time.  We like how durable these socks are, thanks to their reinforced toe and heel. The knap line that runs from your tippy-toe to the end of the sock diminishes the risk of tears, just like the Comfort Band cuff.
The Alpaca socks can be found in sizes ranging from Small to Extra large and have all the benefits of wool and synthetic together. That means you'll have warm feet, with no damp feeling, nor nasty smells, but you can also wash and dry them in the machine. Just select the cold cycle and tumble dry.
Though they're slightly expensive, these socks are a good deal if you're interested in keeping your feet warm. They're mid-calf, so you won't be able to use they with longer boots, though. Plus, there aren't many colors to choose from, just plain gray and black.
Heat Jammer Thermal Socks
Specifications: 100% acrylic blend;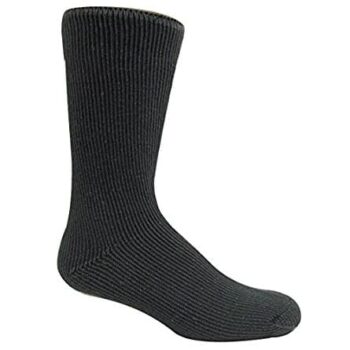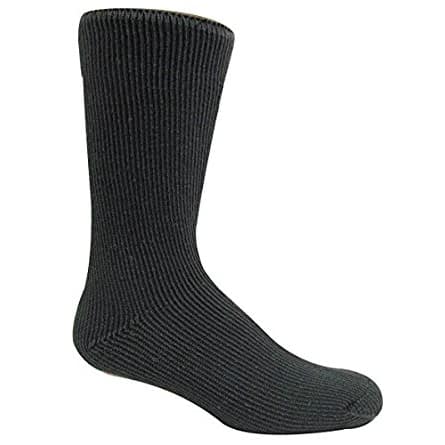 brushed yarn manufacturing; non-binding top; thick; cushiony; larger sizes; mid-calf; 89% fit as expected
Best use: Around the house
The Heat Jammer Thermal Socks have no wool in their manufacturing, as they're made from an acrylic blend. That renders them really soft as well as insulating so they're seven times warmer than cotton socks and three times warmer than thermal socks if you're to believe the official description.
Plus, they're some of the warmest socks ever if you have cold feet caused by circulation issues. That's because they have a non-binding top that doesn't constrict circulation. We love how thick and cushiony they are, but that means you won't be able to wear them with running shoes or tight boots.
The brushed yarn manufacturing makes them highly comfortable too and doesn't let hot air escape. Their design is remarkable thanks to a superior shape retention, that equals durability on the long run. So you can even wear them around the house, with no shoes on.
Another disadvantage is their sizing, which accommodates people with larger feet. If you wear a smaller shoe size, these socks might feel uncomfortable. On the other hand, they're really stretchy, so they work great for people who wear bigger shoe sizes.
PROS:
Reduces cold feet caused by circulatory issues
CONS
:
Can't be worn with smaller shoes
No small sizes
Kakuetta Trail Hiking Socks
Dimensions: 12 x 1 x 5 inches
Specifications: Grey; 92% fit as expected; 100% merino wool; thick; machine wash and dry; arch and heel support; used during different sports; sizes 9-11; ankle-high
Best use: Different weather
The Kakuetta Trail Hiking Socks are entirely made of merino wool, which is a very qualitative type of wool that doesn't let fibers fall apart. So you'll get a very resistant sock, that also feels comfortable on your skin. But this material has other advantages, like thickness and ability to withstand machine washing, without tearing or pilling.
We love the design too because it has additional cushioning for extra comfort. These socks provide support for both the arch of your foot and your heels, so you can hike for prolonged periods of time. However, some users have complained of the occasional slip yarn.
These socks are extremely versatile, as they can be used indoors or outdoors, and when practicing a vast array of sports. From running to rock climbing to hiking, these socks offer good ventilation, and you can use them in rugged terrain, whether summer or winter. You have the 30-day money back guarantee to prove these claims.
But since you can use them in different weather, be prepared for some issues in extreme cold. Unlike the JB Field's, these won't help you at -50°. Also, they're only available in bigger sizes, so they're not meant for people with smaller feet.
CONS
:
The occasional slip yarn
Bigger sizes only
Not for extremely cold weather
Carhartt Arctic Wool Socks
Dimensions: 6-15 shoe size
Specifications: 68% wool; 24% nylon; 1% lycra; machine washable; FastDry technology; thermal regulation; reinforced heel and toe; odor control; brown; 89% fit as expected; knee length
Bet use: Winter hikes
The Carhartt Arctic Wool Socks are among the warmest socks ever because of their manufacturing. They're a mix of fabric and synthetic, with 68% wool. This keeps your feet as warm as possible, wicking away all the uncomfortable moisture.
In fact, thanks to its FastDry technology, the sweat will be wicked away fast. The craftsmanship and materials account for a superior thermal regulation, that keeps the warm air inside. Plus, they're stretchy socks, so they accommodate bigger sizes.
This stretchy material also means there'll be less bulk around your ankles. Plus, the nylon is a great fabric to reinforce the heel and toe area, so there's a decreased risk of tears. And the wool plays an important part when it comes to odor control, which is a definite advantage.
But the wool percentage used to be bigger, which made the socks really great for extreme, arctic weather. Now, they work in colder seasons, especially with a warm boot. Plus, make sure you're not getting these to help with cold feet caused by bad circulation, as you will be disappointed.
CONS
:
Not for extreme weather
Not for circulatory issues
Carhartt Extreme Weather Socks
Dimensions: 11 x 6 x 1 inches
Specifications: 88% fit as expected; 70% acrylic; 15% wool; 14% nylon; 1% Lycra; machine washable; FastDry Technology; reinforced sole; ankle vents; odor control; cushioned; Navy; 5-15 shoe size; mid-calf
Best use: Winter hikes
Speaking of another great example of warm socks, meet Carhartt Extreme Weather Socks. Because they're mostly made of synthetic materials, with just 15% wool, these are comfortable socks that won't let your feet itch. On the other hand, the predominantly synthetic composition means the socks might attract dust particles or tiny hairs.
Besides, this composition allows them to be washed in the machine, while the FastDry technology makes them resistant to sweat. Wool contributes to the moisture-wicking part too, adding to the breathability component. But since wool is in such a small proportion, these socks aren't for extreme weather.
We like the full cushioning of these Navy colored socks most. That means your feet will stay comfortable and warm, and there will be less risk for tears. The reinforcement that runs through the sole is a unique characteristic among the socks we've reviewed here, and that adds to the durability.
The odor control feature is another plus, but we love the ankle vents most because they help reduce any bulk that might gather around your ankle. That is if you choose the right size. For some people, the size 6-12 might be too big, at which point, the socks might slide down and become uncomfortable.
PROS:
Reinforcement through the sole
Ankle vents
CONS
:
Too big
Not for extreme cold
Attract dust
Choose the best
As you can see, we've reviewed extremely different types of socks. So when you're asking what the warmest socks are, that depends on what that is for you. Some of these socks will protect your feet from temperatures as low as -50°, but you might just want a pair to wear on a backcountry hike.
Just the same, most of these socks insulate from cold weather, but you might have cold feet caused by circulatory problems. Or, you want a pair of really warm socks, but still be able to use them when the weather is milder. So tell us, which pair is the right one for you? The comments are right below.
Check out our piece on how to wear the right clothes for hiking for more information.