Hiking is of course a happy adventurous event, no matter where you decide to go. You may go hiking through the forest or hit the mountain tracks. In either case, the weather can either be your friend or your enemy. To avoid the latter case, better be prepared with extra clothes. Hypothermia and frostbite may happen even in the summer season. If you end up wet because of a heavy rain, and you were unprepared, the wind chill factor may lead to serious complications.
[the_ad_placement id="in-text-1-type-a"]
We are certain you want to avoid all that and instead spend a great and memorable time next time you go hiking. We compiled a list of clothing items to save you some discomfort on your next hiking trip. You will also find very useful and in-depth detailed information about all types of clothing and shoes.
Choosing clothes depending on the season
Most items here may end up in both groups – winter and summer, and we will mention that. Nonetheless, there are items absolutely necessary for the specific needs according to the season. There may be times when it would be raining while you're out camping. So read our piece on how to choose the best rain hunting gear for more information.
All seasons
Waterproof boots – You need those in whichever season you go hiking. Water is almost everywhere no matter the weather specifics (unless you decide to hike in the desert). In rainy seasons like spring and autumn, the waterproof boots will save you a lot of chilly moments, and even protect you from potential frostbite. Don't buy some cheap boots. Instead, go to the closest shop for hiking and climbing equipment and ask for reliable all-season waterproof boots. If you still don't know what to choose, we have some great reviews on the best hiking boots that you should check out.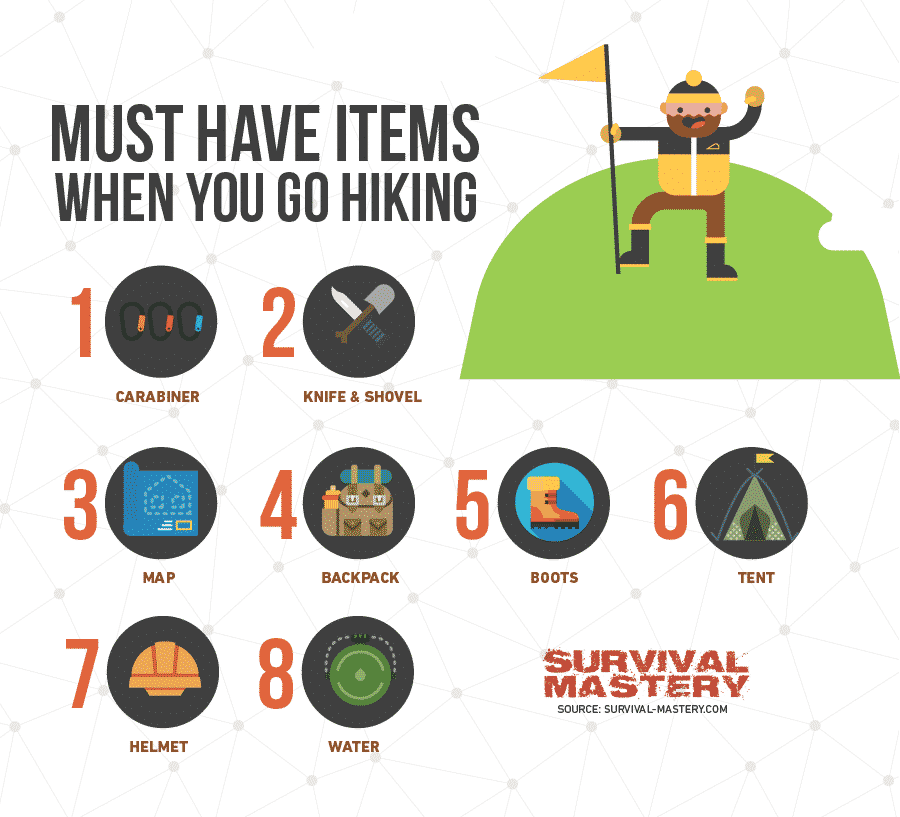 Clothes – No matter the weather, put in your backpack a few layers of underwear, with short and long sleeves. Underwear made of Lycra or Polyester is your best choice, since it keeps the body warm, lets the perspiration evaporate unobstructed and lets the skin breathe. Even in the summer, nights can be chilly.
Another important item is the windproof and water-resistant jacket. In the nature, the water element can be harsh – unexpected rain, too much moisture in the air, strong water currents from melting snow, etc. Your best protection is the waterproof jacket and pants. Being windproof is also as important, due to the wind chill factor that can lower your body's temperature very quickly.
It's also important to understand how layers of clothing work so you should check out our article on this topic.
Summer
Boots (sneakers) – If you're planning a trip in the mountains, maybe you'll come across fewer rivers and streams along your way. We still advise you to opt for the waterproof boots (snickers), but if you're absolutely sure there will be no rain and few water sources, you can take your sneakers. In this case, we advise you to check your track on a map. See if you may come across a river, stream, marsh, etc. Be prepared in advance. Get a detailed map you can safely rely on.
Clothes – Along with the obligatory underwear (for cold nights), you can safely take along a flappy shirt (to let your skin breathe). Don't wear tights clothes unless made of synthetic fabric.  Otherwise you'll feel hotter and that would destroy the pleasure of your trip. Bring also a summer hat with a rim to cast a shadow over your eyes from the noon sunlight (the morning and evening light is healthy). Make sure the hat also has a floppy brim, to cover the back of the neck and even part of the shoulders. The sunglasses are also a must.
As for the rainy days, definitely pack a poncho in your backpack. Only in the winter the poncho may be a bit useless, but in all other three seasons, it's an extremely helpful and valuable item for a pleasant trip. You must be protected against the heavy rain that may surprise you.
Winter
Clothes – To add to the 'All seasons' list, we need to say that your best way of staying warm are some wool clothes. Cotton clothes soak the sweat from your skin and each time your skin feels the wet parts, you feel cold and uncomfortable. Instead, wool clothes are the best idea for winter trekking. Moreover, wool when wet can still be warm. Yet, even if it gets wet, it dries quickly. It also doesn't keep smell (if you go for wool socks, which we strongly advise).
See also: Best Base Layer: A Review of 8 Top Sellers
So, pack wool clothes to go over the underwear, and then the outer layer will be the waterproof jacket and pants. Keep several pairs of wool socks in your backpack. Always use only one pair of socks for sleeping (if you plan to go hiking for several days). Be prepared to use one pair of socks for each new day on your trip.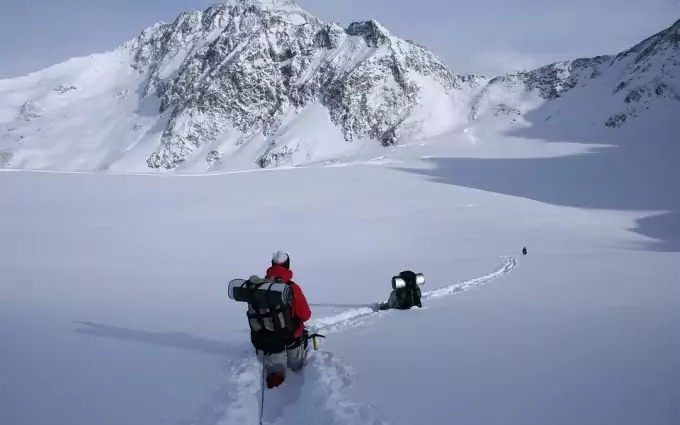 Of course, the list won't be complete if we don't mention the pair of gloves. You can pack up several pairs. Go for warm thin-layered pair of gloves, and include the thicker variant that is water-resistant and windproof. In case of very low freezing temperatures you can use both the thinner and thicker pairs of gloves together. That can also be a way to warm up your hands if they've been exposed to the cold for more than 5-10 minutes.
To make sure you've got absolutely everything, take a look at our list of winter backpacking items. This list was designed by specialists in outdoor activities so it is very reliable.
Some additional tricks from experienced hikers

If you are new to hiking, better off start with borrowing clothes and items from friends. You don't want to spend a fortune for your first hiking adventure, and realize that's not your thing. There are also many websites for borrowing useful stuff and items.
You also need to be aware and familiar with the materials for the various equipment clothing you have to prepare. As we already mentioned, you should, with no exception, opt for synthetic materials, like Lycra, Polyester and even Nylon. Almost all quality underwear is made of these, or other synthetic fabrics. They are the absolute best in the field of hiking, trekking and mountaineering. They release the trapped heat and moisture of your body and keep it comfortably warm. You also can't overheat, since these fabrics are made breathable and light.
For summer hiking (or in warm weather), a good choice for you is the Techwick material. If you go for it, you can even wear a tight t-shirt. As we warned you above, the cotton t-shirt (that is also a tight one) during the summer (or the unstable spring and autumn) can play a nasty trick on you and leave you chilly and lead to hypothermia, upon lower temperatures.
[the_ad_placement id="in-text-3-type-a"]
When it comes to the shirt, you must remember that, you will have substantial amount of skin exposed to the sun. If you're ok with that, definitely prepare some sunscreen with a high UV factor. Also, you may encounter bugs and annoying insects (buy some DEET-based insect repellent). If you're unfamiliar with the hiking area, there may be the risk that you encounter bugs, since not all bugs are as harmless as the fly or the occasional ant.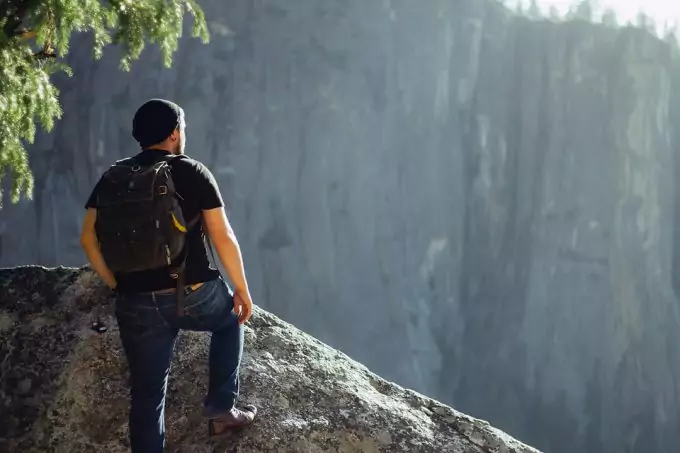 You also shouldn't underestimate the foliage that comes in contact with your skin (especially the legs). There are some poisonous plants, or other allergenic plants, that can cause rashes, pain, etc. The simple harmless example is the nettle, as it causes only short-term discomfort. There are still plants like poison ivy that you definitely want to avoid. To do that, warm weather or not, go for the long-sleeved top and pants. Protect your skin if you don't want some bad experience.
The long-sleeved option is also good if you plan to go hiking in an uneven area, with significant elevation. The higher you go in the mountain the cooler it gets, regardless of the season. Of course, the sun remains hot and can still burn your skin, but the air can be cold and chilly. So, preferably, if you plan such trips, pack along pants that will cover your legs, keep you warm and safe from plants and insects. Optionally, find pants with a zip-off so they can turn into shorts. That's possibly the best optimal choice.
We should also discuss a bit further the boots. They must be well complimented by a pair of fitting socks. If you go through harsher areas, rocky slopes, etc. find footwear that comes above the ankle. That will give support to the ankle and will help against traumas. If you buy such boots, definitely find high socks, to cover your ankle and avoid the boot rubbing against your skin. This may cause painful blisters and may impair your walking. If that happens you may slow down and this will definitely change your plans ahead.
As we advised you above, get wool socks. They are thicker, warm and breathable. Of course, if you don't plan on hiking in such rough conditions and you're not going to leave your main track, get some light summer trekking sneakers and shorter socks. For such conditions, socks made of synthetic material would be best. They are much thinner and again breathable. But be warned that if your sneakers are new and never tested before, you may end up having blisters.
The socks won't be enough to protect your skin, since they are too thin. So, wear your boots or sneakers for several days some weeks before hiking, so they can loosen up a bit and become more flexible and comfortable to your feet.
Lastly, consider the fact that the size of the feet changes during the day. They swell in hot weather, in the evenings, and some other few specific situations. Opt for trekking shoes that provide your feet with some amount of space inside – either to provide your feet with area to move, or to give enough space if your feet swell during hours of walking (which is the usual case). If they feel tight, ask for a larger size.
Tight shoes cause pain, blisters and can impair the blood flow in your legs, which can easily make your feet cold. Also, the sweat can't escape easily and your skin will be basically stuffed, sweaty, cold and painful. In this context, we can advise that you try on the boots you like at the end of the day. In this way, you'll make sure to have a pair of boots slightly larger than the size you'd naturally buy. Also, that will be a useful way of avoiding small and uncomfortable shoes. To learn how to break-in your boots for more comfortable hiking, see our article dealing with this important topic.
There is also the risk of buying too large a size, which will almost feel like your boot is flapping and keeps you uncomfortable. It strains your toes to keep the shoe close to your foot that can also cause pain. A larger shoe size may also mean larger opening, so it won't be tight around your ankle, and that is exactly the opposite of what you want – the boot has to provide support for the ankle. Be aware of these details.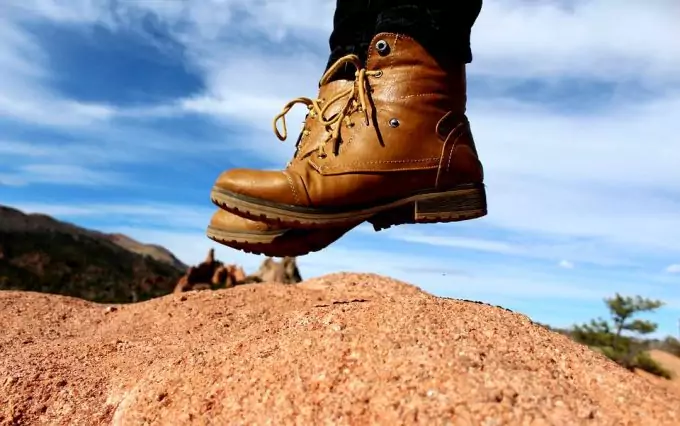 Another good advice to consider is to always be prepared with three layers of clothes. Even during the summer, elevated areas are really cold after sunset. So, for optimal clothing, the first layer should be the underwear, light and breathable. The second layer is the thicker and much warmer clothing, like wool or fleece. And against wind and rain, comes the outer layer.
Look for the following technologies – HyVent, Gore-Tex, NeoShell and SystemThree. If the weather conditions are going to be unstable, and you still want to go hiking, definitely pack all three types of clothing. If you're sure the weather is going to be warm for days and weeks, the underwear and the wool/fleece clothing is going to be just fine.
Another vital thing to be aware of is that there may be conditions or situations that will prolong your stay in the nature or your hiking trip. Therefore, you always must be equipped with extra clothing and crucial items to survive those additional days out there. Don't just assume that everything is going to be OK because the weather will be perfect, nothing wrong is going to happen. So, our advice – always wear extra of everything. Also, be prepared with some extra items that may be of great help in case things go bad. For that, take a look at our article on hiking essentials – you will learn everything there is to know about being prepared.
Extra clothes can be invaluable in case of severe weather, which you hadn't expected. Depending on the level of trekking difficulty, be prepared with more than the absolute base clothing. There are many situations when a simple mountain trekking experience turns bad. A happy hiker is the prepared hiker. Usually, unprepared hikers tend to neglect the need for extra clothing, but advanced mountaineers also tend to make the same mistake. So, don't be tempted to pack light. Avoid risk, and carry a slightly heavier backpack. One day you'll be thankful for that.
When it comes to weather, here is our advice. Check on NOAA before leaving. They offer a five-day forecast. Also, their weather reports are much more reliable than some local forecasts. A very good idea is to also check on the discussion board, where some experienced meteorologists chat about the weather.
Right hiking gear is also important
Never forget the sunscreen and sunglasses. They can save you a lot of pain in case of skin burn.
Also consider well the capacity of the backpack. Are you planning a hiking trip during the winter? Is your hiking trail going through a few-thousand feet above sea level area? Do you just want to go for a one-day hiking for recreational purposes? For a one-day trip, a 35-liter backpack may be enough. If your plans are for a several-day hiking, get at least a 50-liter backpack. You need to fit all in, from clothes to food and water. If you still have doubts about choosing the backpack, take a look at our reviews for the best hiking backpacks – these should help!
Some additional advice on what jacket to choose for your outer layer – there is a type of insulation called down. It is the softer feather layer found on various bird species. Ducks are usually mostly used to produce down for such insulation products like jackets and sleeping bags. It is very warm and light, but can be a bit expensive, and reserved for advanced highly experienced mountaineers.
The downside to down insulation is that it can easily get wet, and then it takes longer to dry than with synthetic insulators. In addition, when the down gets wet, it doesn't retain the body's warmth and you can quickly feel cold. There is also the ethical side to this method since birds are kept in poor conditions and their lifespan is short and unpleasant, mildly put.
[the_ad_placement id="in-text-3-type-a"]
To add a bit to the topic of material, fleece is a very good option for summer hiking or in moderate climate. Used along with warm good quality underwear, the fleece can provide additional comfort and breathability. It is a much cheaper option, light and soft. If you find a heavier fleece, know that it's most suitable for much colder conditions. So, consider the weather before making a decision. The most popular brand on the market is Polartec. Their categories for light, medium and heavy are marked as respectively 100, 200 and 300.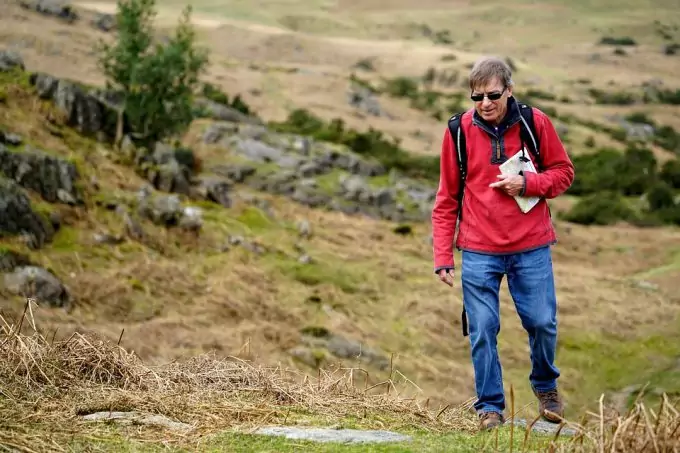 On the subject of jackets, you may wonder if there is a need to consider buying a jacket (or fleece) with a hood. Sometimes, you may have forgotten your hat and regret it, but if you had a hood on your jacket/fleece, you would be saved some later trouble. Besides, companies often produce jackets with removable hoods, so if you don't fancy your jacket with it, remove it beforehand, but then you shouldn't forget the hat.
A final note is about people who may suffer allergies. Some people can be allergic or react against down products. If you know you easily show allergic reactions upon exposure to animal products, fur or feathers, either consult your doctor or simply opt for the synthetic counterpart.
As a conclusion, to enjoy your hiking trip you need to make a lot of conscious and smart choices in regards to the optimal clothing for you. Always test the clothes before you buy them. Avoid online shopping unless you know the brand and have already used their products. Make sure that everything you bought is top-notch comfortable and there isn't even a hint of 'what if… This is especially true for hiking that will last more than a day or two. It is true that even a two-day trekking can turn bad if you made bad choices in the shop. Take the time to check out our reviews of the top hunting clothes for your protection.
Alternatively, if you decide to borrow clothes, test several jackets, pants and boots. You should spend a few days wearing them to see if you feel comfort all the time, and if not, why that is. If you borrow from friends, they can also give you advice and share their personal experience.
So be smart and enjoy your next hiking adventure!
Some of the links in this post are affiliate links. This means that if you click on one of these links and make a purchase, I earn a small commission at no extra cost to you. Also, as an Amazon Affiliate, I earn from qualifying purchases. If the information in this post has been helpful, please consider purchasing through one of the links in this article. Thank you.