Every person has a right, by law, to defend themselves and their property against threats of, or actual, physical violence and harm. We have the right to use a sufficient level of force or violence to prevent suffering. This is quite a complicated subject and the laws surrounding it differ from country to country and within the USA from state to state.
Rules have been developed to decide when self-defense is allowed and how much force a victim can use to defend itself. One of the main rules, which seem to be consistent worldwide, is that a victim is allowed to use proportional force to disarm or deter their attacker, i.e. if someone punches you in the face it would be appropriate to punch them back or deflect their attempts to hit you again. It would NOT be appropriate to shoot them with a firearm.
However, if someone did pull a gun on you, you would probably be justified in trying to disarm them with equal force because the threat is imminent and life threatening. In some countries, there are very strict laws around owning firearms, and where they are legal, there are laws concerning penalties and consequences of using a deadly weapon for self-defense.
[the_ad_placement id="in-text-1-type-a"]
If you choose a firearm for self defense it is important that you learn how to use it correctly and strongly advisable to talk to an expert about your needs and what would be best for you. They will also be able to advise you about the best self-defense ammo that you would need too.
Personal self-defense should be taken seriously. There are a wide range of products on today's market that will suit different circumstances and your individual needs and preferences.
From firearms to melee weapons and pepper sprays to personal alarms, there is something for everyone to help you feel safer and react accordingly in the event of an attack. This article will outline some of the best self-defense weapons available.
Choosing a firearm for self-defense is certainly a big decision. You may feel quite perplexed at the range of options available. Firearms are not legal to own or use in some countries, and in the USA, each state has their own laws about the owning and the use of firearms with differing consequences for those who choose to use them for self-defense.
You may also need to have a background check, evaluations and assessments before you can obtain a license to own a firearm. Please check your local laws and guidelines before deciding if a firearm is necessary. Owning a firearm is a huge responsibility.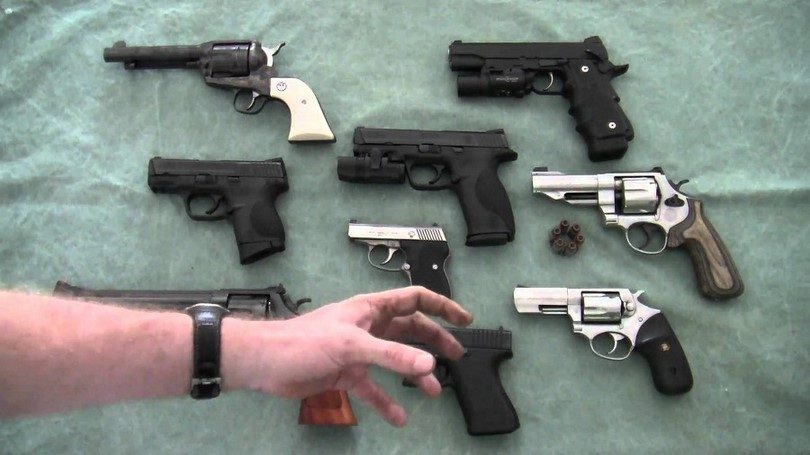 There are basically two types of firearms: handguns and long guns.
Handguns
Handguns are often the preferred choice for self-defense. You can conceal them under a jacket and are relatively small and light in comparison to long guns. They are reliable and portable and can be used with one hand.
They take skill and practice to use, and it's very important to take the time to learn how to use them properly, so that if you are in a situation where you will need to use it for self-defense, you can make sure you don't endanger other innocent people by trying to use it under stress.
Pistols – These are small guns designed to be held and operated in one hand. They have a spring-loaded box called a magazine, which holds the ammunition. Reliability and costs vary but the more reliable pistols are usually branded.
Revolvers – A revolver is a reliable repeating firearm and is very popular. They are designed to be a one handed weapon. Their ammunition is stored in a cylinder, which rotates when the hammer is cocked or the trigger is pulled. Revolvers allow the user to fire multiple rounds without reloading.
Every person is different and it's crucial that you find a firearm that is a good fit for you. Do some research; get some hands on experience to get the feel for different ones before you invest
Long guns
A long gun is a firearm with a longer barrel. It is designed to be held with both hands and braced against the shoulder to be fired. These guns are incredibly powerful and accurate. As with handguns, you should take the time to learn how to use these guns properly so you can maximize the safety of others.
Shotguns: A shotgun is a firearm that is designed to be fired from the shoulder. It uses either a fixed shell to fire a number of small pellets called shot or a solid bullet-type projectile known as a slug. When a shotgun shoots shot, it spreads out and allows a larger area to be hit with each trigger pull, reducing the need for more precision shooting.
Depending on the ammunition used and the range, a shotgun can cause greater damage than one bullet from a handgun; however, shooting lighter shot from a shotgun will have a lack of penetration and will likely be less lethal once it goes through a wall thus protecting innocent family members or neighbors. They can be customized to make them more versatile. The barrel can be changed easily on most shotguns and sights and other accessories can be added to suit your requirements.
Rifles & Carbines: Rifles are designed to fire a single bullet at high speed again from the shoulder. They have a long spiral grooved barrel, which makes a bullet spin making it more accurate over long distances. Carbines are a smaller version of a rifle and are usually lighter in weight with a shorter barrel.
Rifles require a great deal of precision, but the cartridges are more powerful than those used in handguns and therefore they can be fired more effectively over a longer distance.
Although a gun is capable of providing the stopping power you're looking for in incredibly dangerous situations, they are not the only form of self-defense weapon you can have in your arsenal of tools. There are other self defense weapons on the market that are not as potentially lethal but still provide the means of stopping an attacker.
Stun guns
A stun gun is an electrical device and is used as a non-lethal self-defense tool. It uses a high voltage charge to stop an attacker and quickly immobilizes them without causing any serious or permanent injury. Please be aware that in some states there are legal restrictions and stun guns cannot be sold.
VIPERTEK VTS-880 – 25,000,000 V mini stun gun
The VIPERTEK VTS-880 mini stun gun is a compact device, which will fit easily into your pocket or purse. It has an internal rechargeable battery, which will save on costs and comes with a lifetime guarantee.
[the_ad_placement id="in-text-2-type-a"]
It has a bright electric current, which pulsates between the test prongs and sounds intimidating. A jolt from this stun gun disrupts the message the brain sends to the voluntary muscles, which will bring down an attacker and causes a loss of balance and muscle control, confusion, and disorientation. See our article review of the best stun guns to protect you while you're on the go.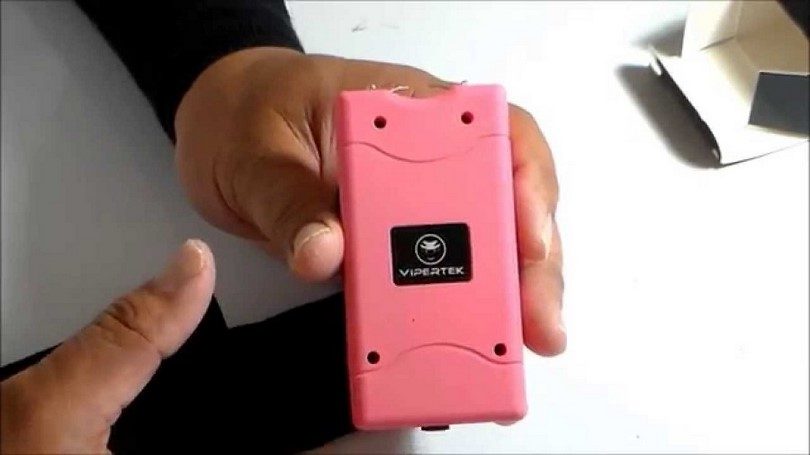 Customers have described this stun gun as menacing and intimidating, easy to recharge and a great size with a rubber grip that makes it an easy to hold device that fits comfortably in the palm of your hand.
If you like this product you can find and buy it on Amazon.
Guard Dog Security Diablo
This device is the first of its kind to combine a 160-lumen tactical field light with the added security of a 4.5 million volt stun gun. It contains patented inner-stun technology with powered probes concealed within the outer layer of the flashlight. It features an anti-roll designed aluminium alloy body and the light bulb should last 100,000 hours.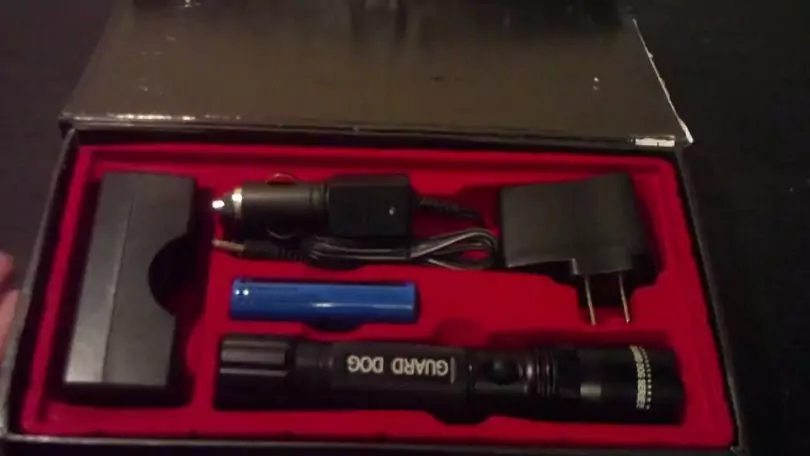 This device can be operated with one hand and an enhanced reflector system to ensure optimum brightness. It comes with its own nylon carry case and fully rechargeable battery. The light and stun features are very powerful and customers who have bought this product in the past describe it as highly durable, very strong, and loud when activated.
If you like this product you can find and purchase it on Amazon.
Police Force 8 million volt tactical stun gun flashlight
This stun gun has been engineered for use by the Police, Military, and Security People worldwide but is also available to civilians. It incorporates Triple Stun Technology, which allows the electrical charge to jump between both edges and the middle of the prongs to create a loud and bright electrical burst.
It is made from Military Grade aluminum alloy and is therefore strong and durable. It has a bright blinding light, which can also be used to temporarily distract and disorientate your attacker.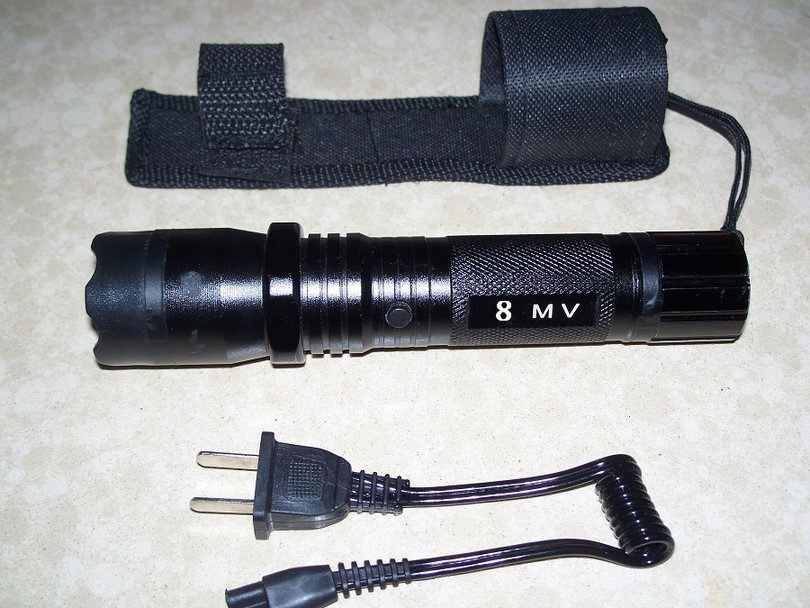 It is fully rechargeable and the flashlight should last up to 100,000 hours. It also has the added feature of a safety switch to prevent accidental discharge.
This device is made from the highest quality components and comes with a lifetime warranty. Customers have commented that this stun gun gives them piece of mind that they have a little protection, the flash-light is actually a first line of defense as it is blinding and the stun gun is super powerful.
If you like this product you can find and check its price here.
Melee weapons
A melee weapon is another non-lethal device which can be used in more confined spaces and is used to inflict injury if, for example, an attacker has grabbed the victim. These weapons can come in many forms from blades and knives to clubs and hand held implements.
FURY Tactical SDK self defense keychain
This handcrafted aluminum Self Defense keychain has been designed in the USA and is the top selling force multiplier on the market at the moment. It has finger grooves for better control and grip and includes a useful key-chain loop. Measuring just 5.75 inches and weighing only 2 ounces, it's a handy compact self-defense tool.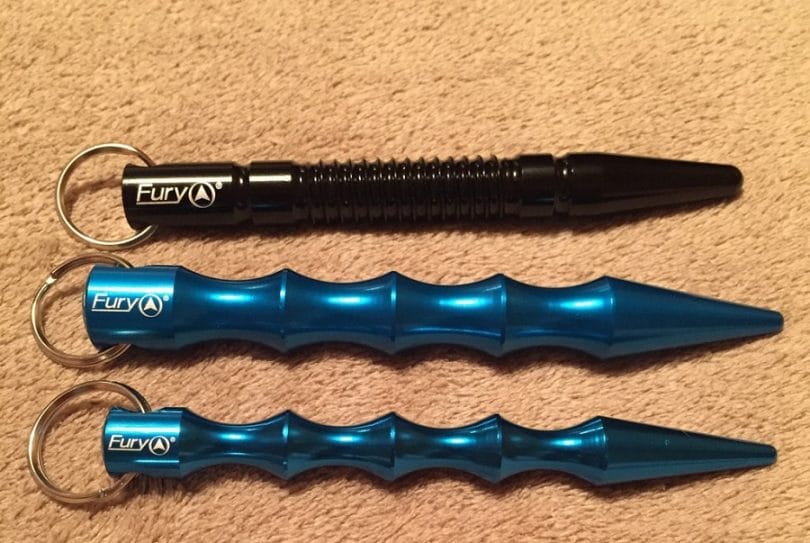 Customers have said it is easy to carry, is sturdy with a very secure grip; it helps them feel safer and has the potential to cause a lot of pain to an attacker used in the correct manner.
If you like this product you can find and buy it here.
Partstock self defense keychain
These impact resistant molded plastic are as strong as metal and easy to carry. They can easily be attached to your keys and come in a variety of other designs. They are very detailed and built of a sturdy plastic material with holes for fingers so that the ears fit over the knuckles.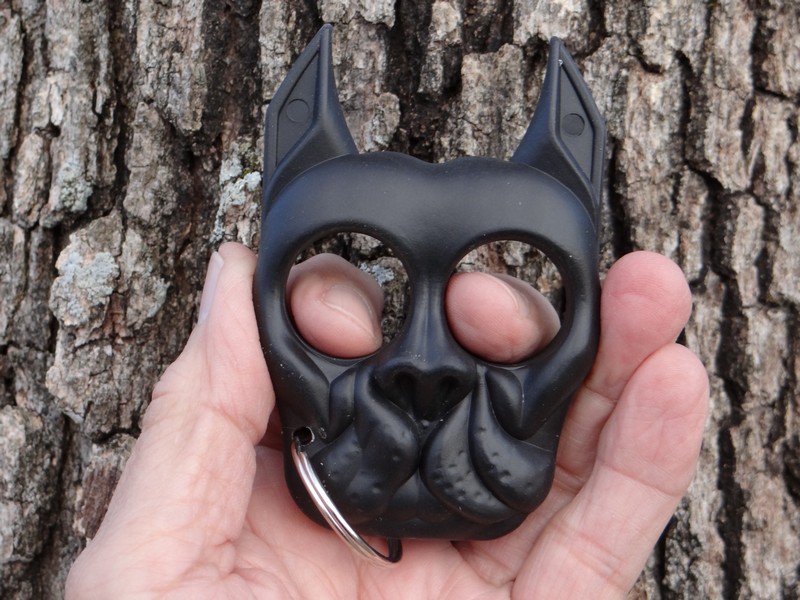 Easily portable and concealable in a pocket or purse, they work best on small to medium hands and fit over the fingers and against the palm of your hand. It can be used as a powerful surprise defense weapon against an attacker. Customers have noted that these self-defense tools are discrete, smooth and compact but tough where they need to be as well as being lightweight and sharp.
If you like this product you can find and check its price on Amazon.
Personal alarms
A personal alarm is typically a hand-held electronic device, which can emit a loud siren-like alarm sound. They are usually activated either by a button, or a pin that can be removed, which sets the siren off.
It is used to attract attention, deter and scare off attackers. Personal alarms are a very safe and effective method of self-defense as they are very easy to operate. They can be used by anyone of any ability, of any age and are very user-friendly.
SABRE personal alarm with key ring
This personal alarm supports RAINN – the rape, abuse, and incest national network. There are other colours and styles of this same alarm available which support other charitable causes. It's sleek, modern and compact style makes it easy to conceal in your hand and easy to carry. You can even attach it to a purse, backpack or bag.
It has a very loud duel siren, which can be heard from 300 feet away. This self defense item comes with batteries included, is easy to use and suitable for all ages.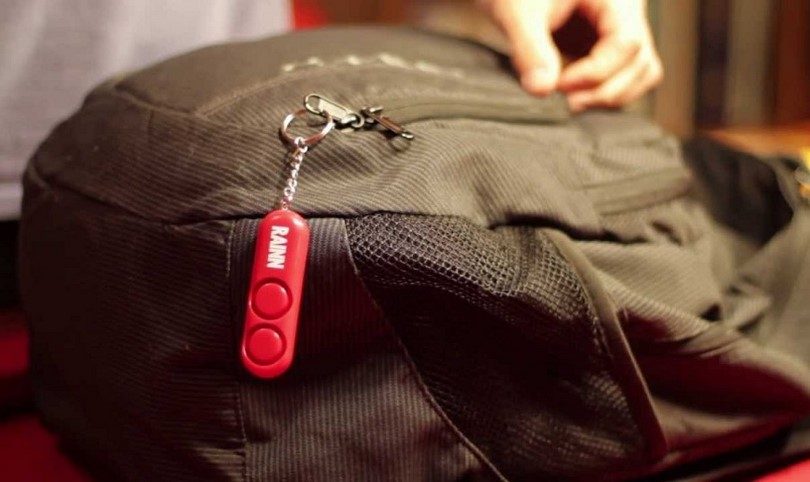 It's very simple to use, just pull the pin out and the sirens will sound, to stop just reattach the pin. Customers have recommended this to anyone concerned about their safety, as it's really good at attracting attention.
If you like this product you can find and buy it on Amazon.
Vigilant 130 dB personal alarm with LED light
This 130 decibel emergency attack alarm comes complete with AAA batteries and has proven popular with college security, joggers, elderly, lone workers, students, and many other authorities. It is an ideal Personal Alarm for self-defense.
It has an emergency activation feature, which like many other devices is activated by simply pulling out the pin. The continuous piercing alarms can last for up to 1 hour and not only will it deter attackers but also draw attention to you if you need assistance. It also has a LED mini flash light for emergency illumination.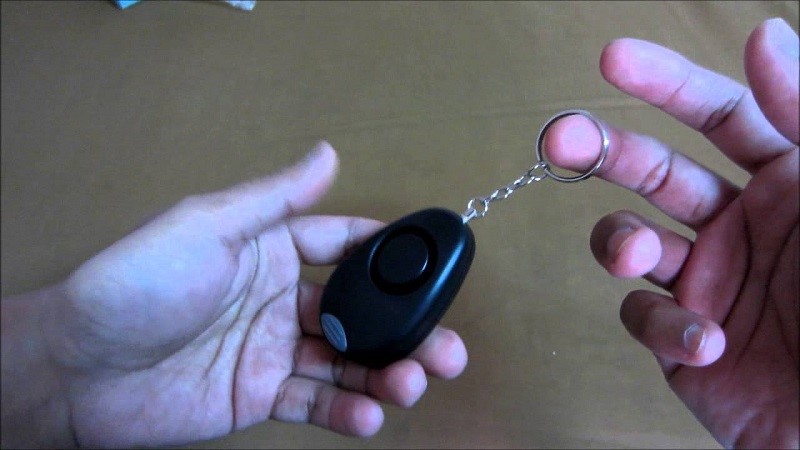 Customers have described this alarm as the best one they have tried. Another said it's obnoxious and annoying enough to scare someone off and would definitely draw attention from others around. The device fits comfortably in your hand and the snug pin prevents any accidental activation of the unit. It gives an added feeling of security.
If you like this product you can find and purchase it on Amazon.
GE Personal security keychain alarm
This personal alarm is a portable security device that you can take with you wherever you go. It has a loud 120-decibel alarm, which activate with a single push of a button with a unique pull pin design. It also has a LED key light for finding your keyhole to your car or front door. It is ultra slim and can be attached to a key-chain or kept in your pocket or purse.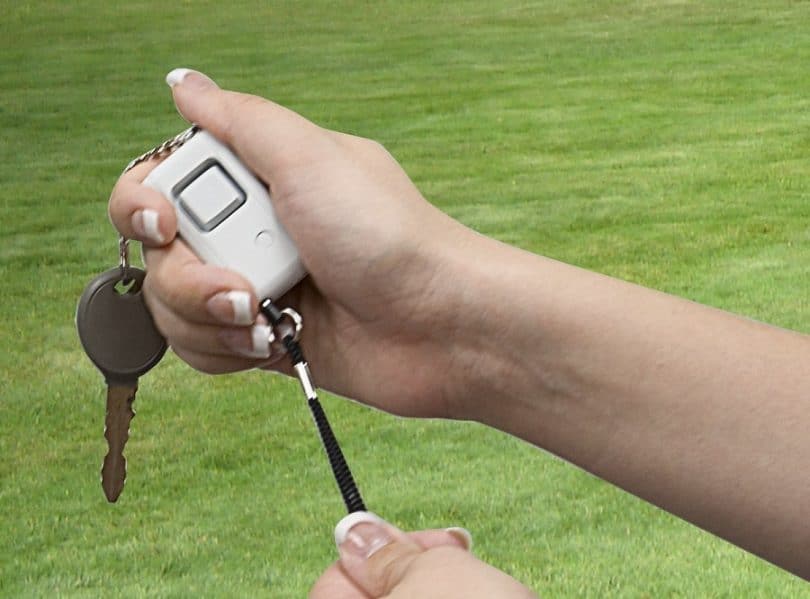 It will draw attention and alert others and because of the pull pin system it's difficult for your attacker to deactivate the alarm. It has a low battery indicator, which will let you know when the battery needs to be changed. It's an ideal personal alarm for all ages. Customers highly recommend this alarm as it works well; it's very loud and reasonably priced. It's an added level of security.
If you like this product you can find and check its price here.
Pepper sprays
Pepper sprays are an aerosol containing oils from cayenne pepper. They are an irritant to the eyes, nose, throat and respiratory passages and can be used as a personal self defense weapon as when it is sprayed into the face of an attacker it causes the eyes to water, burning pain and temporary blindness, stopping them and disabling them momentarily to allow you to make an escape or attract attention to your situation.
SABRE RED pepper spray
This pepper spray comes with an adjustable hand strap so that you can keep it on you and ready to use making it immediately accessible and a perfect practical protection whilst on the move. It will deliver up to 35 bursts and produces a powerful ballistic stream of spray to protect against multiple threats if required.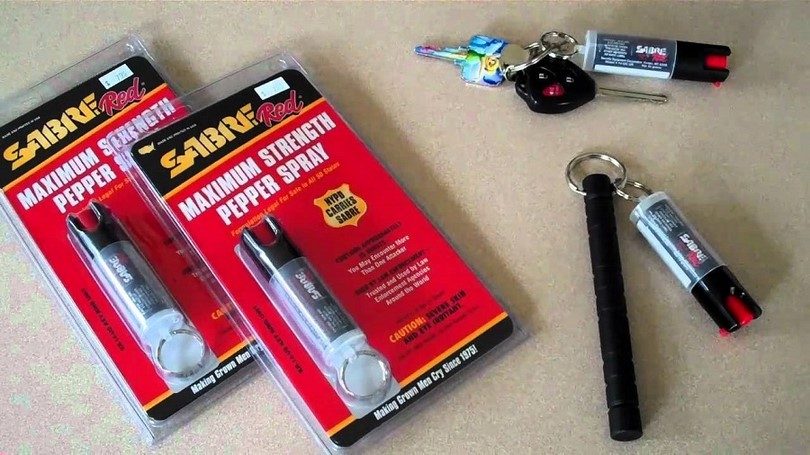 It is a compact design, which fits into the palm of your hand and is available in black and pink. It should last around four years from the date of manufacture. This item is not available in some US states.
If you like this product you can find and buy it here.
Magnum Red pepper spray with UV dye
This pepper spray offers the most powerful concentration of pepper spray allowed by law. It contains 4 ounces of Hot OC Pepper spray and a UV identifying dye. It is easy to operate with one hand and can provide multiple blasts of up to 12 feet. It shoots a strong solid stream with accuracy.
[the_ad_placement id="in-text-3-type-a"]
The nozzle has a safety feature and needs to be turned before use. This product causes no permanent damage. Customers who have tested this spray have commented that it would cause an immensely powerful pain experience for the person on the receiving end and that they felt safer after purchasing this spray.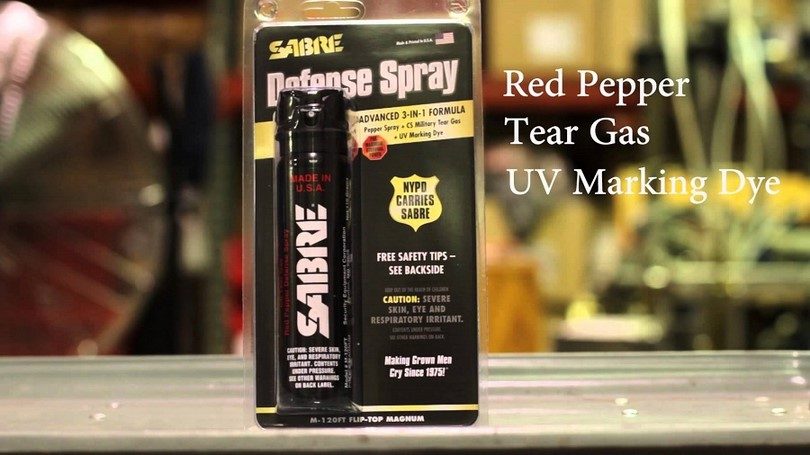 If you like this product you can find and check its price on Amazon.
Mace brand pepper spray pepper gun
This pepper spray gun is an accurate defense spray and uses replaceable cartridges that use bag-in-a-can technology, which means that you can spray a stream of pepper that can reach up to 20 feet.
Its unique design comes with an LED light which can be used to help accurately aim the gun and it will deliver 6 to 10 blasts of spray. Customers have said that it feels like a small caliber gun and changing the cartridge is easy. They also commented that it is easy to aim and to access and use and that it has never failed to function. For tips on how to use pepper spray, see our article regarding this important topic.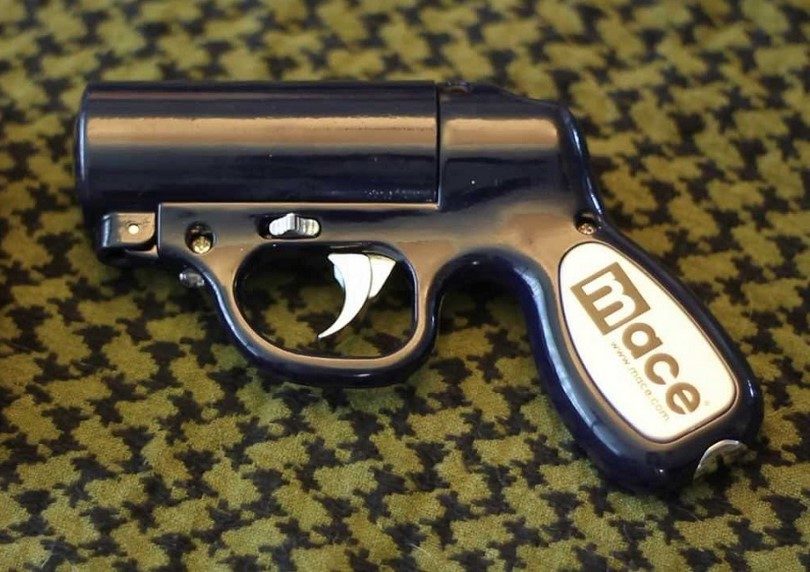 If you like this product you can find and buy it on Amazon.
Which one to choose?
There is a vast array of products on the market that will provide extra support in times when self-defense is needed. Only you can make the decision about what would be best for you. Circumstances and situations may require different levels of defense and you always need to be aware of others, innocent bystanders and repercussions of your actions in stopping an attacker.
Please familiarize yourself with local and governmental guidelines and laws surrounding self defense and know that no matter what weapon you choose, you should learn how to use it properly, so that if you do get into a situation where it is needed, you can feel confident and use it effectively to protect yourself.
There is also a wide range self defense training courses, books and videos that will prepare you to defend yourself, and being smart, being prepared and being safe is your primary concern. Common sense and knowing the area and the potential risks and hazards that you may encounter is important…forewarned is forearmed as the saying goes. Check out our article on the best martial arts – street style to give you more insight.
Whatever you do, and wherever you go, just be safe out there!
Don't forget to read our article on the best shotguns for your homes, it's a useful and popular piece.
Some of the links in this post are affiliate links. This means that if you click on one of these links and make a purchase, I earn a small commission at no extra cost to you. Also, as an Amazon Affiliate, I earn from qualifying purchases. If the information in this post has been helpful, please consider purchasing through one of the links in this article. Thank you.