Some of the links in this post are affiliate links. This means that when you click on one of these links, I earn a small commission at no extra cost to you. Also, as an Amazon Affiliate, I earn from qualifying purchases. Thank you.
The stun gun is a weapon that is both intimidating and effective. If an assailant isn't sufficiently deterred by the crack of the white hot arc, then perhaps a jolt will do the trick. The weapons available on the market, these days, deliver millions of volts and should fit nicely into any budget. Whether you're looking for something to carry on walks or something to carry all the time, you'll be able to make an informed decision about the best stun gun after reading this.
[the_ad_placement id="in-text-1-type-a"]
Stun guns are a good choice for just about anyone who wants to protect themselves because of the following standard characteristics:
No special training required
No ammunition is needed
Non-lethal
Viable in any weather condition
Depending upon the features of the particular stun gun you choose, many models improve on this list.
A stun gun is not a taser
While stun guns and tasers are both electroshock weapons, don't get the two confused.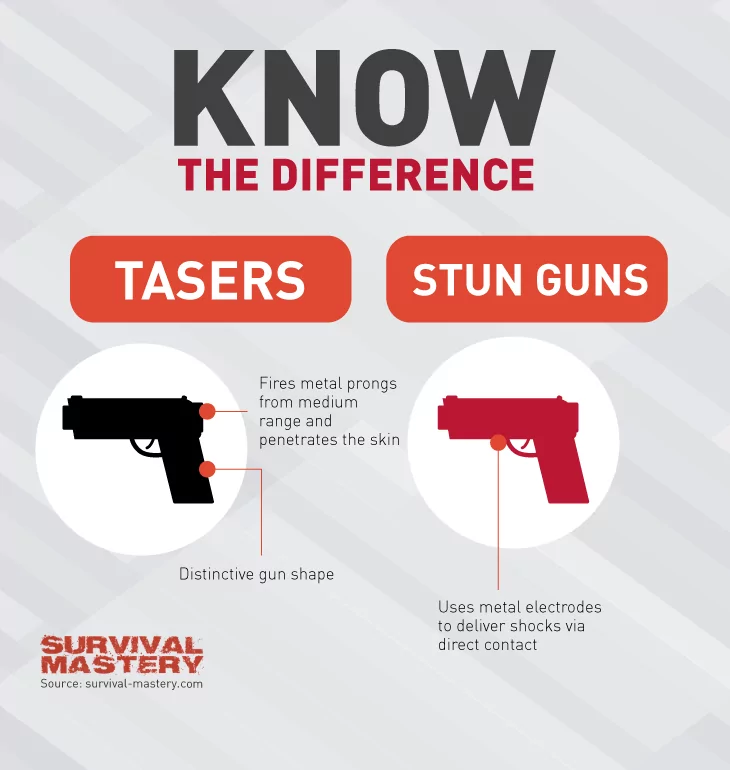 The differences between them are pretty clear to a visual observer:
Stun Guns vs. Tasers
Stun Guns
Tasers
Shocks via electrodes
Shocks via two metal prongs
Requires contact with assailant
Can be used from a  short distance
Inexpensive
Costly to buy and maintain
We also have a comprehensive article on how stun guns and tasers are different so, if you want to know more, make sure to check it out.
If you choose a stun gun, then you will have a weapon that provides you reliable self-defense through, what is referred to as, pain compliance. This type of gun delivers a high voltage jolt of electricity to your assailant when it comes into contact with skin. The arc of white hot electricity is visible before contact and delivers a painful shock and an involuntary contracting of the surrounding muscles.
The goal is to scare off or incapacitate an assailant long enough for you to leave the scene and you don't have to buy the best one on the market to accomplish this goal. You will find they are quite affordable and come in a pleasing variety of shapes and sizes.
Types of stun guns
There are several types on the market to suit many different tastes. For example, there are many models aimed toward women that come in feminine colors or disguised as female items such as lipstick. There are also models that come equipped with flashlights, rechargeable batteries, and other great features. Below are the three main types readily available to you.
Compact – These come in different shapes and sizes and are designed for easy carrying and concealment. In the compact category, you'll find models that attach to your keyring, small flashlights that include a stun gun, and even ones that are shaped like brass knuckles. You will be hard-pressed not to find a model to fit your needs.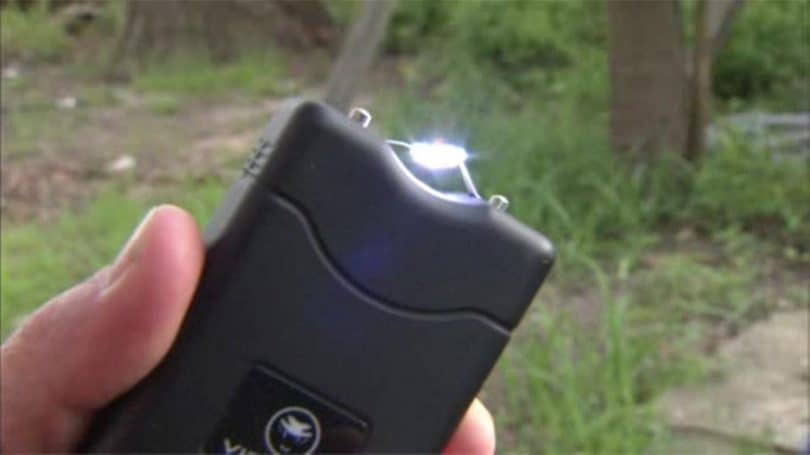 Heavy duty – These are designed for tactical situations or home defense. These models tend to be heavier, have a stronger battery, and cost more. These serve a more profound purpose than compact units which are usually a "just in case" safety measure kind of like a guard dog or pepper spray.
Stun baton – As the name suggests, these models are long like a police baton. The obvious advantage to this is that it allows for more distance between assailant and victim, but that's not all. The stun baton can also be utilized as a melee weapon which is an added feature. If the stun doesn't stop an attacker, maybe a whack or two will.
Are stun guns legal?
If you are seriously considering acquiring one, it's important to know if they are legal in your area; they are illegal in Wisconsin, Michigan, New York, New Jersey, Hawaii, Rhode Island and Washington D.C.
They are also prohibited in a number of cities and counties across the country as follows: Philadelphia PA, Chicago IL, Baltimore MD, Annapolis MD, Crawford County IA, and Baltimore County, MD.
[the_ad_placement id="in-text-2-type-a"]
You can buy stun guns at a variety of places such as hardware stores, sporting goods stores, outdoor gear shops, and your local weapons dealer. You will also find the largest selection at online retailers, but keep in mind that online stores will not ship you a stun gun if your state prohibits ownership. If your location isn't listed above, that doesn't necessarily mean it's fine to own such an item where you live. Many other states have restrictions of the ownership of electroshock weapons. Be sure to research your state, federal, and local laws before you invest.
What features to look for when going shopping
While you're shopping, you may want to keep these things in mind:
Voltage – Don't even blink an eye at anything under 1 million volts. It sounds like a lot, but many of the stronger models deliver anywhere between 5 and 40 million volts. The higher the voltage, the more intense the shock.
Battery – Stun guns come with rechargeable lithium-ion batteries or replaceable batteries. The battery type, size, and strength are important because this determines the duration of the shock you will be able to deliver. Battery type determines the dependability of the shock and the stun gun's ability to deliver its max shock capability. A stun gun with a dead battery is of no use to you. Rechargeable batteries tend to diminish over time, so this is a factor to consider when buying a stun gun.
Size – The size you should consider really depends on what you plan to do with the gun. If you plan to carry it regularly, then a compact model is probably the best choice. If you are looking to protect your property, then a heavy duty device will pack the best punch while maintaining the ability to shock a perpetrator again if needed.
Safety feature – If you have small children or will be shoving your device into your pocket on a regular basis, look for something with a safety mechanism. In addition, make sure that safety feature is robust, but easy to use at the same time. The same safety rules that apply to firearms should apply here.
Best devices on the market
With so many types and the wide array of models available, you must decide for yourself based on the size, strength, and features you want. Below, you will find a buyer's guide that should help you make a well-educated decision before you purchase your own device.
VIPERTEK VTS-880 (TYPE: Compact)
This compact device packs a punch inside its 2 by 4-inch rubberized case. At only ⅞ of an inch thick, it's easy to slide into a pocket or a purse.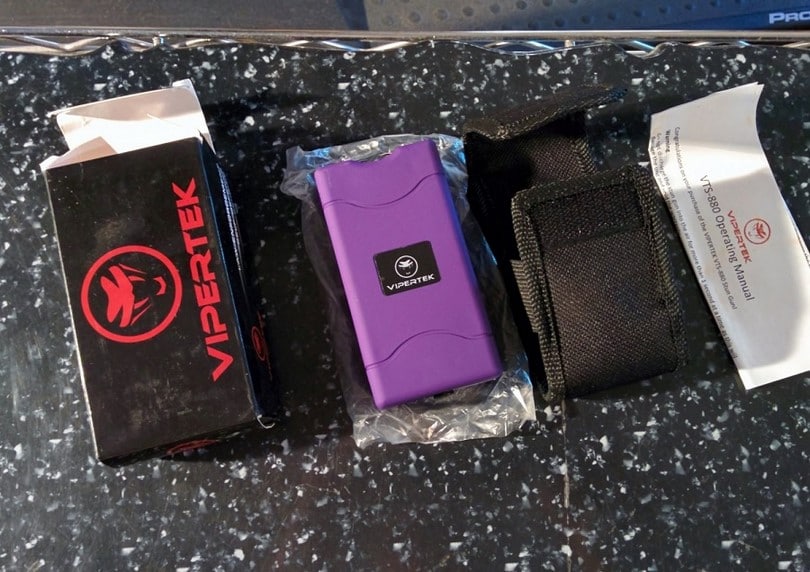 This little zapper emits a loud crack that is sure to announce your intentions should an assailant opt to attack. If that's not enough, 15 million volts will speak for you with enough juice to bring down a 200-pound person. This model includes a LED flashlight and is available in several colors including pink and purple for the ladies.
Pros
Super jolt of 15 million volts
Rechargeable
Built-in charger plug
Lifetime warranty
Cons
Shocks diminish in strength after multiple jolts
What buyers are saying: on the plus side, this device is very powerful and can numb your muscles in a matter of seconds but it seems that in a life or death situation it won't be of much help.
If you like this product you can find and purchase it on Amazon.
VIPERTEK VTS-989 (TYPE: Heavy duty)
Another offering from VIPERTEK, the VTS-989 falls in the heavy duty category with an enormous 38 million volts. This model also boasts an LED flashlight; which seems to be a standard offering from VIPERTEK. The VTS-989 has the ability to send attackers to the ground with a jolt that interrupts the brain's messages to the voluntary muscles.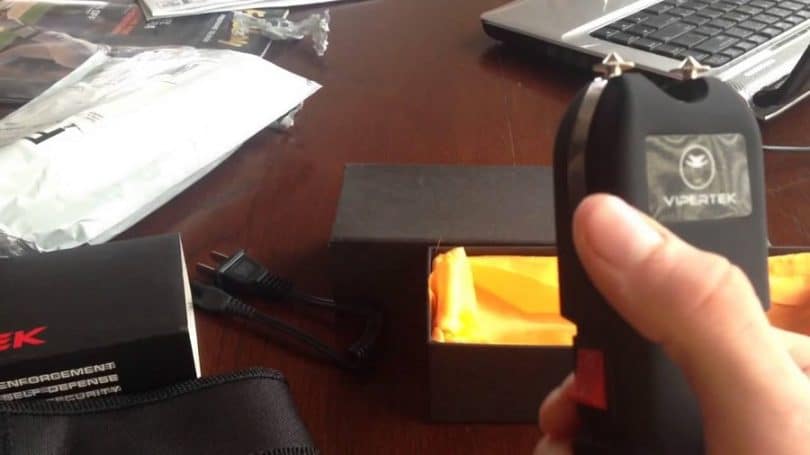 If the sight of the arc of miniature lightning and the sound don't stop the assailant, then you can depend on this one to knock them down.
Pros
Snatch prevention – wrist cord prevents attackers from grabbing the device
Shocking side plates – metal plates around the ends also deliver a jolt
Sharp electrodes to penetrate clothing
Rechargeable
Rubber coating
Lifetime warranty
Cons
Only comes in black
Short charging cord
What buyers are saying: it is a powerful device that will definitely put down an assailant but it can also be easily turned against you if there are more than one attackers.
If you like this product you can find and check its price here.
POLICE All Metal Tactical flashlight (TYPE: Compact/tactical)
This may not be the official brand of law enforcement, but it's designed to be just as tough and meet the same demands. This unit is crafted of military-grade aluminum and packs 38 million volts in a tactical design that is perfect to keep in your vehicle.
It's 7 ¼ inches long making it easy to store in a console or drop in your pocket or purse. This unit also boasts a nice safety feature which makes it a solid choice for daily carry.
Pros
160-lumen adjustable flashlight
Unique design of edge to break glass in emergencies
Rechargeable
Easy safety mechanism
Holster included
Cons
What buyers are saying: the fact that device is made out of metal is very appreciated among users. Also, the adjustable beam function is very popular amongst users.
If you like this product you can find and buy it here.
Guard Dog Hornet key chain stun gun (TYPE: Compact)
This shocker weighs in at less than 2 ounces and under 4 inches long; it is touted as the "smallest stun gun in the world". The Guard Dog Hornet is a solid contender with it's ultra-portable design and 6 million volts. This device allows you to be protected and prepared no matter where you are since you can merely attach it to your keyring.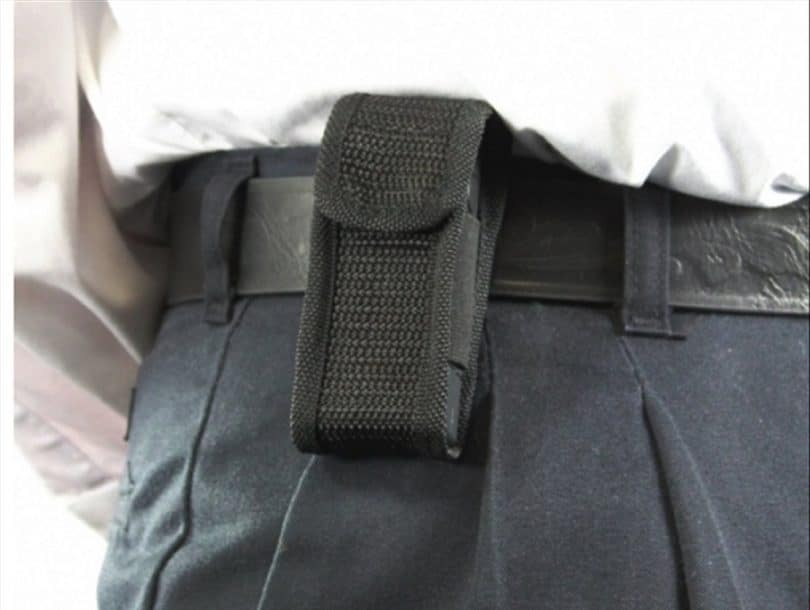 If you are looking for something hardcore, this isn't the best choice. Even so, it's a nice compliment if you also carry additional protection at the same time.
Pros
Powerful and loud
3 LED flashlight
Rechargeable
Built-in keyring
Rubberized body
Lifetime warranty
Cons
Not as powerful as advertised
LED's are in a bad position
What buyers are saying: on the positive side, this device is appreciated for its size and compactness but it seems that it is rather weak and you can't inflict too much damage on an attacker.
If you like this product you can find and check its price on Amazon.
Stun Master lipstick stun gun (TYPE: Compact)
This one is geared toward the ladies disguised as a highly concealable and easy to carry lipstick case. This little stinger with 3 million volts packed in 5 inches is available in black, pink, and purple. That means this stun gun will be right at home in any size purse or dropped into a pocket in a hurry.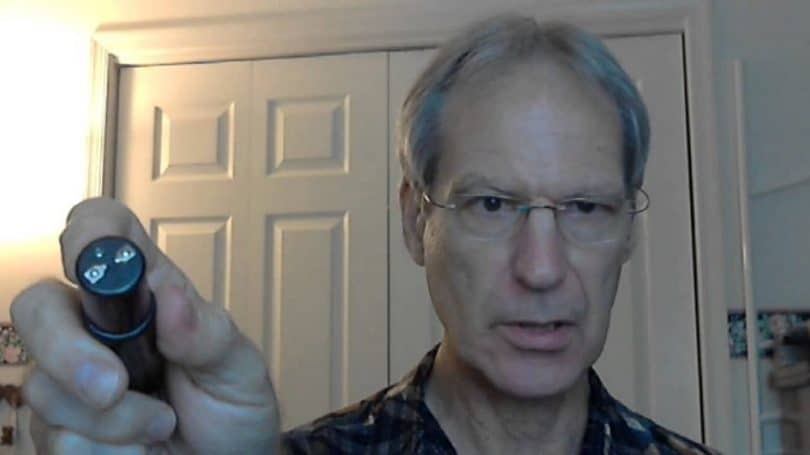 This Stun Master model is really a nice-looking device and is packed with features such as, a built-in charger and flashlight, making it a solid choice.
Pros
Ultimate concealment
Built-in charger
Integrated flashlight
Cons
What buyers are saying: it is a loud device and the sound alone can put someone on the run. On the negative side, if you forget to charge it for long period of time, it may not work anymore.
If you like this product you can find and buy it on Amazon.
Knuckle blaster (TYPE: Compact)
We're breaking our own rule as this stun gun comes in under 1 million volts,but we couldn't pass up the cool factor and tactical application. This is also the only model we are comparing that uses replaceable batteries. The advantage of this is that the stun gun will not diminish in power over time due to an irreplaceable, rechargeable battery. Fresh batteries will bring this shocker right back up to par. No batteries is no problem as you can use the knuckle blaster just like regular brass knuckles. However, if your batteries are good, this model packs an extra punch!
Pros
Nylon belt holster included
2 lithium batteries included (non-rechargeable)
Small and concealable
Intimidating
High-quality
Cons
Pricier than more powerful models
Under 1 million volts
What buyers are saying: it's intimidating and easy to use.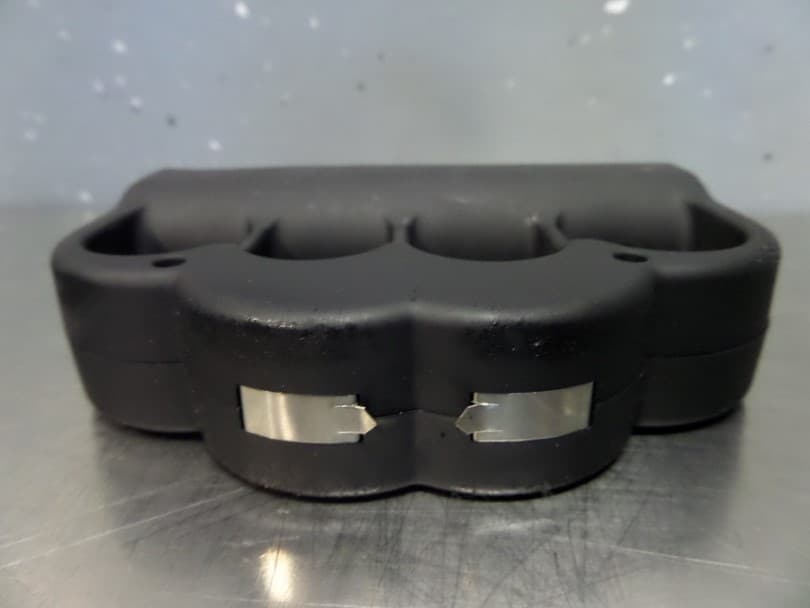 Users appreciate that the best situation to have such a device is when you're attacked in your own car or in a seated position.
If you like this product you can find and purchase it on Amazon.
Guard Dog iStun cell phone stun gun (TYPE: Compact)
That's not an iPhone, it's a stun gun modeled to look like one. You can't browse the Internet or call a friend, but this model offers the ultimate in concealability. According to the manufacturer, they designed this model in response to a 2012 study conducted by the FCC. That study found that 40% of robberies in public involved cell phones, and in some areas across the country, it is more than 50%. The next time an attacker asks for your iPhone, give them the iStun.
[the_ad_placement id="in-text-3-type-a"]
Pros
8 million volts
Integrated LED flashlight
Rechargeable
Safety mechanism
Leather case included
Cons
Charging cord too short
Too thick to look like a phone
What buyers are saying: on the positive side, users appreciate this device as being easy to conceal among other usual things someone would carry in a purse or a bag.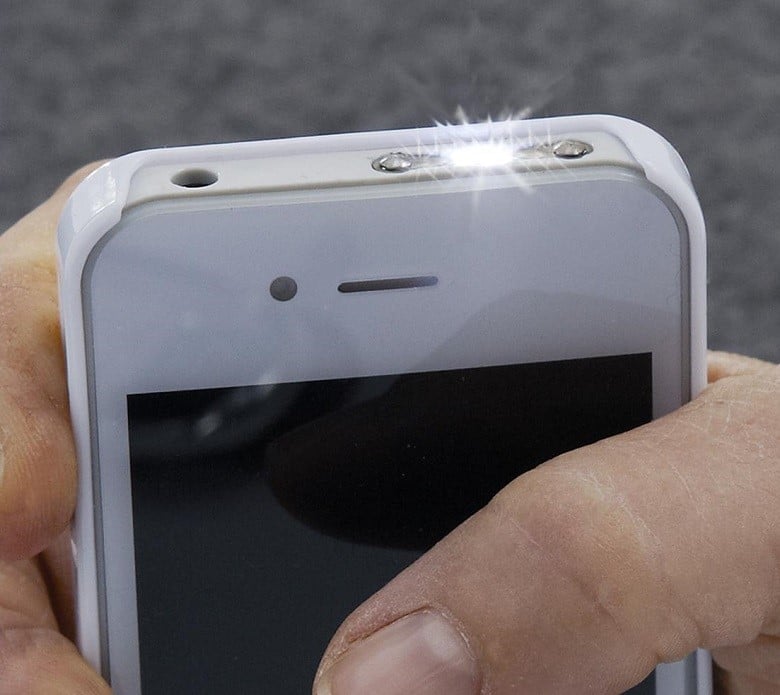 Still, some say that it is too bulky and it doesn't resemble a cell phone when by its own.
If you like this product you can find and check its price here.
Streetwise security products stun baton (TYPE: Stun Baton)
This is a mean machine whether you are a law enforcement officer or just want to protect your home. This tactical stun baton will get the job done in short order. The Streetwise baton packs 9 million volts of shock power while retaining its station as a savage melee weapon so you are protected in more ways than one.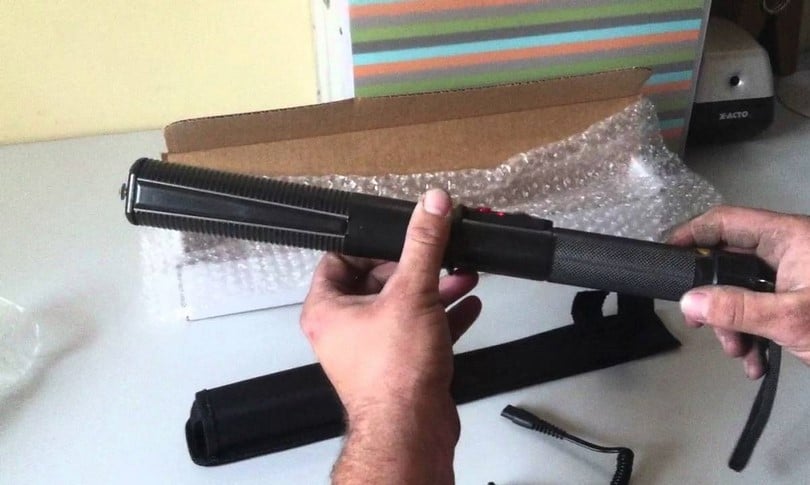 It is constructed of 17 inches of military-grade aluminum alloy and won't back down from a fight due to damage like other plastic or rubber stun batons.
Pros
LED flashlight with 5 modes
Anti-snatch wristband
Lifetime warranty
Rechargeable
Cons
What buyers are saying: this device is appreciated for its loud sound but it seems that it is rather fragile. There are users that complaint about vital pieces falling off, and you don't want this to happen in an emergency situation.
If you like this product you can find and buy it on Amazon.
Peace of mind and safety on a budget
Overall, stun guns are a great way to take extra safety precautions for most situations and in areas where they are allowed. They are one of the best choices when it comes to non-lethal weapons or weapons that don't require any special know-how to use. An added bonus is the reasonable price range since you can buy a decent device for well under $100.
Stun guns will also compliment other self-protection items like pepper spray when you find yourself in a sticky situation. While this guide is not comprehensive, you should find that it's a good starting point if you are in the market for, or are considering, such a device. Even more, if you want to include other survival items in your self defense kit, take a look at our guide for self defense items to have.