The lightweight S.M.A.C.K. Stun Gun by Streetwise Security Products is a small stun gun with a big punch. This stun gun's small size allows you to keep it in a pocket or purse, so it is close when needed.
If you are looking for effective protection without the extensive training required for other weapons, a stun gun is a good option, and the S.M.A.C.K. is a good choice.
In this article, I'll explain why I like this stun gun, and how it provides peace of mind in a small compact package.
More information on choosing a stun gun, ie., explaining the importance of micro-coulombs, can be found in this article, "The Best Stun Gun: Reliable, Affordable and Effective."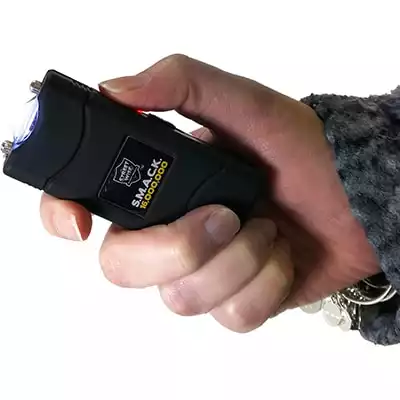 STREETWISE™ S.M.A.C.K. KEYCHAIN STUN GUN
This small stun gun packs a punch, and I like that I can easily carry it anywhere. Features include - 2.88 uC, 180 Lumen flashlight, keychain ring, intimidating discharge, USB recharging cord, safety switch, Weight: .36 lbs., Dimensions: 3 x 1.25 x 0.75
Shop Here
My Criteria for a Stun Gun
This S.M.A.C.K stun gun review focused on a small compact stun gun that I could practically carry and use.
Lightweight/Size – I want a stun gun that is practical, compact, light, and easy to handle, so I can tuck it away in my pocket, glove box or purse.
Power – Being powerful enough to stop or scare away an attacker is important. Intimidation is part of that. I want an attacker to know he better think twice about approaching me.
Safety – The stun gun needs two separate switches so it does not accidentally discharge.
Durable – I'm going to carry the stun gun with me, and will probably not think twice about it when I don't need it so it may get tossed around.
S.M.A.C.K Stun Gun – Specifications
| | |
| --- | --- |
| Dimensions | 3 x 1.25 x 0.75 |
| Weight | .36 lbs. |
| Power ( micro-coulombs) | 2.88 µC |
| Battery | Rechargeable (USB) |
| Color | Black |
| Flashlight | 180 lumens |
| Warranty | Lifetime |
| Current Price | $15.99 |
Stun Gun Competitors
S.M.A.C.K Stun Gun Review – First Impressions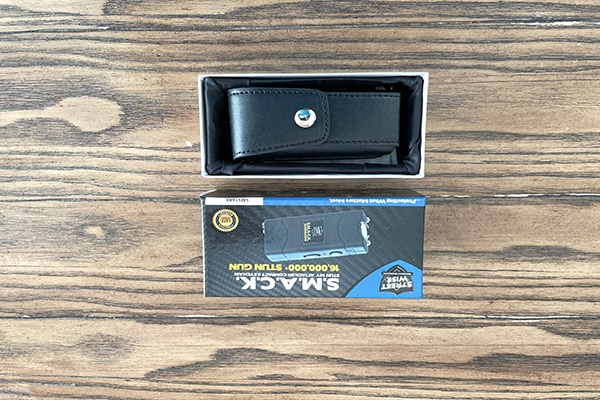 The S.M.A.C.K comes well packaged in a solid cardboard box that is lined and padded for protection. The stun gun itself comes in a soft holster offering further protection. This stun gun has quality packaging for a $15 product.
Size and weight are important to me. This stun gun is easy to hold and grip with it's soft rubber coating and light weight. It easily fits in a purse, pocket or glove box.
Dual switches for safety are important so this is a plus.
I like the fact that it has a light, but I always carry a small EDC light. The S.M.A.C.K has a small 180 lumen LED light under the discharge probes that works well, but I want to see further out ahead.
The electrical discharge startled me! It has plenty of "crackle and pop," and will make even the most aggessive attacker pause if not flat out run away.
Overall, this is a small, well-made stun gun that offers value at this price point.
S.M.A.C.K Stun Gun – Components
The stun gun itself has a solid, soft rubber coating that makes it easy to grip, especially if your hands are wet.
Switches & Indicator Lights
The S.M.A.C.K. has an indicator light on the bottom of it between the charging port and key ring. It lights up when plugged in to charge and is easy to see.
There is an On/Off switch on the side, a small red indicator so you know if the gun is on or off, and an activation button. I'm glad it has a two-step activation for safety purposes.
The button that activates the stun gun is firm enough not to depress easily but still not so firm that you can't readily activate the gun quickly when needed.
The switch and buttons were well made, and I had no trouble using them.
Charging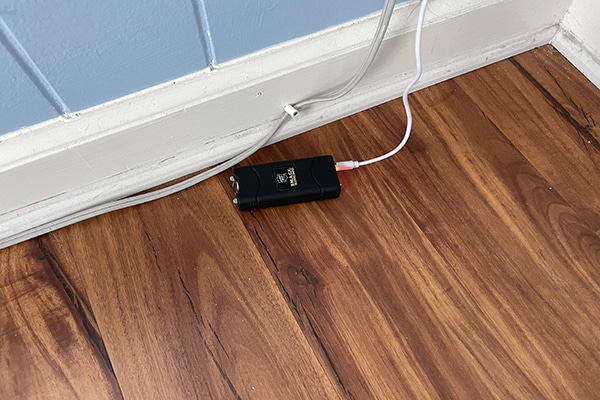 There is a small USB port in the bottom of the stun gun, and the USB cord provided is long enough to place it either on the floor as I did above or on a low table.
Keep in mind that the gun should not be charged over 8 hours, or it may be damaged. This is a little bit of a nuisance since it is easy to forget it is plugged in, but I just set my phone alarm to notify me.
My gun was fully functional out of the box, but I charged it for eight hours to be sure, and it worked fine.
Light and Prongs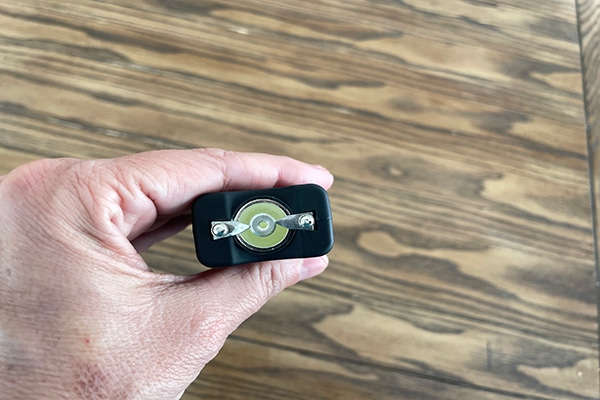 The head of the stun gun has an L.E.D. light and electrical prongs. The light is 180 lumens and adequate for very dark areas.
Honestly, it is not bright enough for me. I want to see what is ahead of me, so I always carry a small tactical light in my glove box (Fenix PD35).
TheHomeSecurityStore has great E.D.C. lights, but I have been a Fenix user for a while and have three of their lights that I use regularly.
Keychain Ring
There is a small keychain ring on the base of the stun gun. This works fine for carrying the stun gun, but I would not call the small metal ring durable.
On the other hand, if you carry your keys and need the stun gun quickly, you can easily pop it off your keychain.
S.M.A.C.K Stun Gun Review – Performance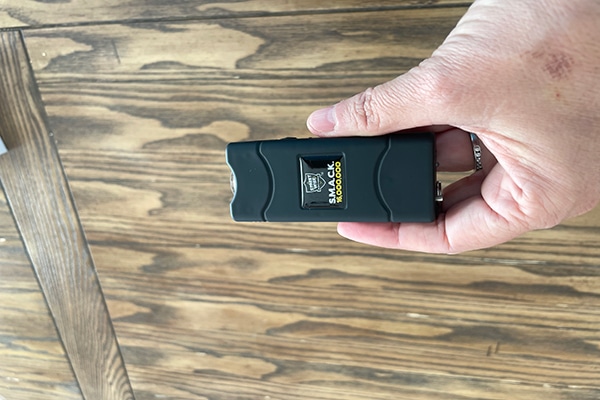 I could not test the S.M.A.C.K. on anything living, but if the noisy, bright electrical discharge is any indication, this little stun gun is pretty effective! I jumped slightly the first time I pushed the button!
Stun Gun Ease of Use
This stun gun is easy to use. I flip the switch halfway if I want to use the light and slide it the rest of the way to use the electrical discharge.
Once the switch is engaged entirely, I depress the discharge button, which produces a loud, sharp continuous popping sound that is quite bright.
If the goal is to intimidate an attacker or intruder so that you scare them away or have enough time to escape, this stun gun is going to make the most aggressive person pause.
S.M.A.C.K Stun Gun Review – Final Thoughts
The S.M.A.C.K. is a small, powerful stun gun that is a good size for travelers and at $15 – $16 you can keep several in glove boxes, packs, or anywhere else you need to grab one quickly.
If you have large hands or want to keep assailants further away, and concealment and carry are not as important, consider a stun gun light or baton.
There is, of course, the more expensive subcompact gun for serious stopping power, but for my purposes, I need something small, compact, and practical that provides me with peace of mind.
As with any weapon, consult a professional before purchasing or handling.
Survival-Mastery purchased and tested the S.M.A.C.K. stun gun for this review and does not write sponsored posts or accept compensation for reviews. If you find this review helpful, please consider purchasing through the links above. Thank you
Related Articles
Some of the links in this post are affiliate links. This means that if you click on one of these links and make a purchase, I earn a small commission at no extra cost to you. Also, as an Amazon Affiliate, I earn from qualifying purchases. If the information in this post has been helpful, please consider purchasing through one of the links in this article. Thank you.