Nowadays campers, hikers and survivalists rely more and more on technology. Whether this is good or bad isn't the main concern. Technology is part of our lives as they are, so we need them, and that's the truth. If in the past, people relied on maps and compasses, today we rely on GPS, smart phones and other such gadgets to shows us the way (and entertain us when it gets boring in the tent).
To make sure these devices continuously help us, we have to charge them quite often. Batteries are still not as efficient and long lasting as we want, so we need to charge them quite often. Both GPS and smart phones have unreliable battery life as they age.
To remedy that, we will introduce the solar chargers. These little compact devices can charge your smart phones and other USB devices on the go, for a few hours. Of course, you need the sun for them to work, but if you don't plan on hiking in entirely cloudy weather, the solar charger can be a very useful item in your backpack. Most portable solar chargers are light-weight, so you shouldn't worry about additional weight. See our must-read article on the best solar backpacks to give you more options.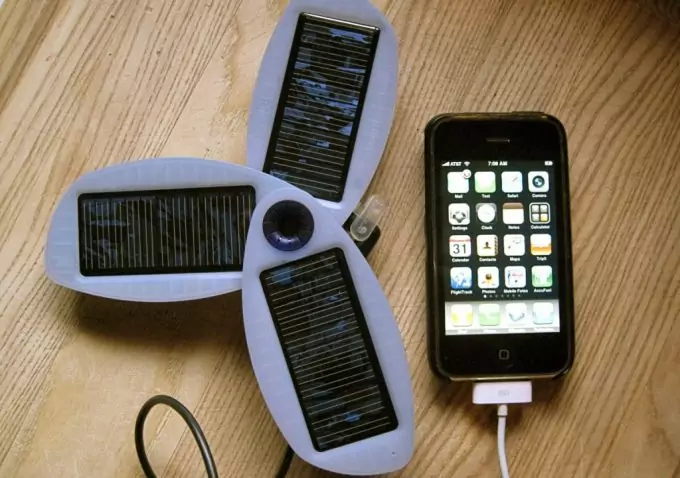 In this article we will present to you the best solar chargers currently found on the market. You can use this information to make up your mind on which exactly you want and which suits your needs best.
List of the best solar chargers
JOOS orange portable solar charger
This solar charger is currently among the best on the market. It's true it's also more expensive than most, but it definitely offers exactly what you're looking for – quick charging and not only smart phones, but also larger devices. For example, iPhone 4s is charged for less than 1 hour, while iPhone 6 Plus can be ready within less than 3 hours. The battery capacity is incredible, reaching up to 5400 mAh, which means that you can be sure that some more 'juice' is left in the battery after recharging all your mobile devices.
The charger also comes with two cables – one to have contact with your computer, and the other (black one) is to be used for plugging in and charging the mobile devices. It may be confusing at first, since most solar chargers don't have these additional cables, but you get used to it with time. When you plug the solar charger in the computer's USB port, you will see the charger's interface on your monitor. You can also see how the battery is going, if it needs recharging and how full it is.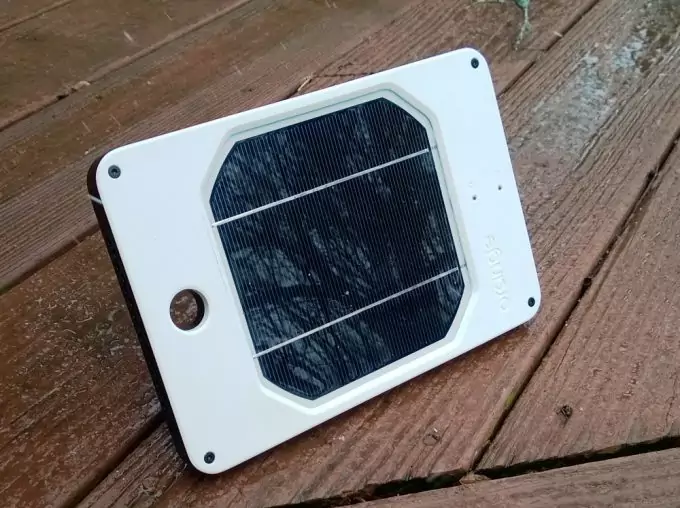 There is also no risk for overcharging, because the battery charges at a steady speed of 5 volts. If it's overcast the charging goes a bit slower, but still much better than other solar chargers. When exposed to direct sunlight, the speed jumps to 6.2 volts.
When it comes to the design of the charger, you will be able to use the adjustable legs, so that you can set the charger at whatever angle you need it to be – depending on where the sun is on the sky. The charger thus picks the sunlight directly. It's a bit weighty, and could be said to be the heaviest portable solar charger with its 25 ounces (slightly above 750 grams), but due to its rugged body, you will at least be sure you can't break it that easily.
The protecting case over the panel is made of steel, and this is in fact the only reason why it's a heavy product. The other part of the body is made of light polycarbonate material.
Overall, customers are very happy and satisfied with the durability and power this solar charger can offer. It is definitely an expensive purchase for just one charger, but it still is worth the price.
If you like this product you can find and buy it here.
Voltaic Amp solar charger
Voltaic Amp is also another highly reliable solar charger. The battery is as powerful as the above, but only slightly less – 4000 mAh, which compared to other solar panels is still impressive. The battery is Lithium Polymer, 5 volts. It can charge any smart phone or smart device, even iPads (which consume more power).
The charger itself is divided in two 2.2-watt solar panels, made of mono-crystalline silicon. According to the manufacturer, each panel can deliver up to 6 volts at a time, with the surprising option of reaching 12 volts thanks to a single switch. Keep in mind though, that if you're on the higher amperage setting, you won't be using it fully, but only half. This means that if you want to recharge a DSLR camera, it will take twice as long.
Also, if you use this higher amperage option it will wear out the battery too quickly, so if you want to keep it long-lasting, you better use it just on a few occasions and when absolutely necessary. The switch is well-hidden and can't be accidentally pushed.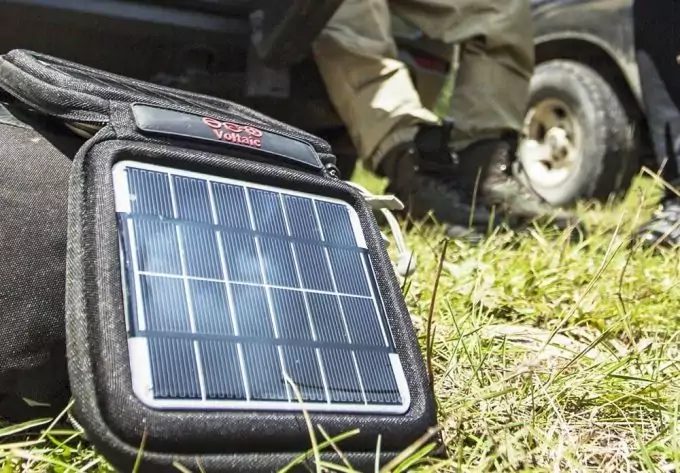 Overall, you can charge the battery, then plug any device you have, and you will even have some more energy in the battery left for one more charge, before exposing the solar panels to the sun again. This makes Voltaic Amp a worthy rival to JOOS Orange solar charger.
Voltaic is constructed so it can charge any 5-volt device. You need to be aware that it may be better to first unplug the battery cable before you plug in your device. First of all, this is for security purposes, and second, the charger doesn't seem to be able to charge the solar charger battery together with a plugged-in device. The device's battery won't show any indication that it's charging which means that too much voltage at a time may not be registered by the smart device and you risk frying it.
The solar panels themselves are protected by an urethane coating, which makes it really durable. Some people tested the panels by bashing them desks, for test purposes, and they got only a few scratches. The urethane finish also makes it very easy to remove any dirt or debris on the screen panels, thus keeping the efficiency to the fullest all the time.
Finally, the battery is removable, while the panels are placed on a portable bag, where you can keep some items inside including your smart devices. It may be smaller for a larger tablet device, but overall, that makes it portable, comfortable and customizable. Most customers are more than happy with all the features and performance of this solar charger.
If you like this product you can find and check its price here.
Suntactics sCharger-5 solar panel
This charger is yet another highly reliable product. It delivers a 1000-mAh (5-volt) charge and can charge an iPhone for about 1 to 2.5 hours, and a tablet for up to 3-4 hours. It can be said that it charges as fast as you could charge at home with the charger plugged in the wall. It's also incredibly light for comprising solar panels and a battery. It barely weighs 8 oz./230grams. This means you won't worry at all that you must carry additional weight.
There's also the so-called Auto-retry technology, which restarts the charging process for those older phones that happen to turn off in the shades. The circuitry is made to be safe and secure, and protects your devices against overcharging. You'll also enjoy mounting grommets to attach to a backpack. The solar charger is also water-proof, and could even be submerged to max. 40 feet without causing problems to the charger. We don't expect that you'll go under water with the charger, but this is a cool feature to know in case it suddenly starts raining.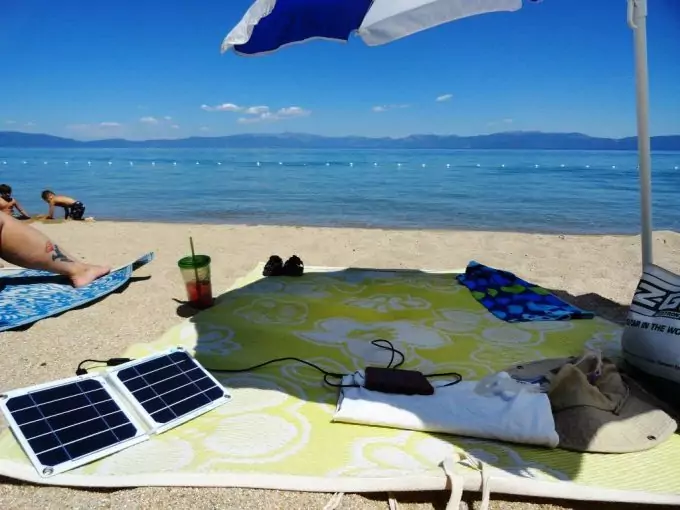 Suntactics are proud to produce their products in the USA, California, using highly paid workmanship. They deliver high quality of product and you won't have to worry about something getting broken or non-functional out of the blue.
If you like this product you can find and purchase it on Amazon.
Like with any other solar charger you should always try and charge your devices as long as you have sun. Don't wait for your device to drop battery-dead until you decide to charge it. It may take half a day until you're sure to have a fully functional device. Overall, people are very happy with this device. Sometimes it may happen that in the shade, the charger will interrupt the device charging, and may even drain the device's battery. This happened to several customers, but the other didn't report this issue.
The charger is still very powerful, and if used in direct sunlight, at its peak (noon hours), you can enjoy charging at the speed you have at home, with devices plugged into the wall socket. Again, it's a great investment and is durable and rugged enough to withstand some rough handling. Definitely a worthy purchase.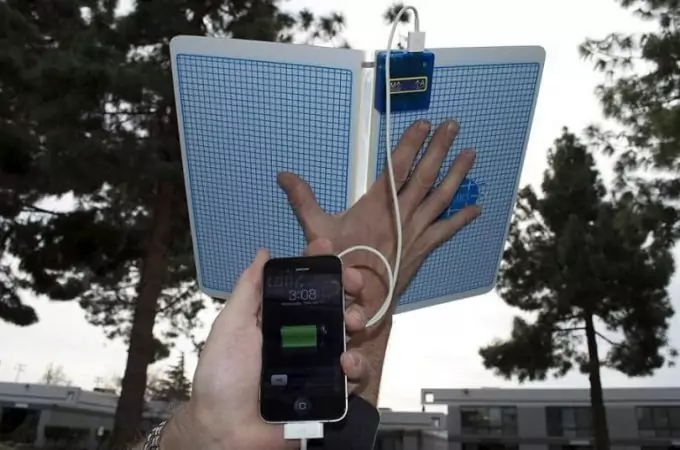 If you need more power and charge more energy-consuming gadgets like iPads, you can get the Suntactics sCharger-14.
Solio Classic2 – battery pack and solar charger
This nice little charger comprises of three small solar panels. They are mounted on a rotating principle, and are nicely folded together when you're not charging the battery. They weigh incredibly little, no more than 10 ounces/280 grams, which makes them a real portable companion to campers and hikers. It is true though that the solar batteries may take a full day to charge, but this is because of the small solar panel area, exposed to the sun.
After all, to make them small and portable, the manufacturer has to sacrifice the charging speed. And yet, when you are ready to plug in your device it will take as much time as when you're at home. An iPhone 4s takes just about 1 hour to charge from scratch. This is because it's a powerful 2000 mAh battery.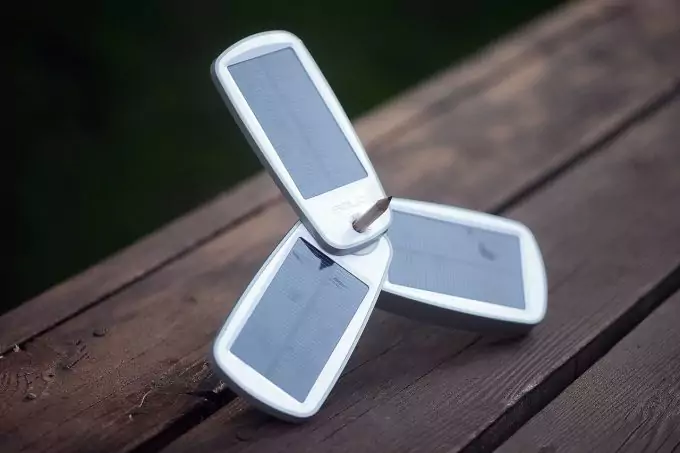 Keep in mind that Solio's charger can be used only with USB devices and can't charge batteries, DSLR cameras, etc. The solar charger comes conveniently with a pencil which can be used to hold the three panels together, but you can use any stick to do that. You can even simply place them on the ground and wait to be charged. They don't necessarily need to be together that way.
Several customers share that the charger battery can actually hold a lot of power, and some tried to charge their smart phones several times a day without additional solar panel recharging. This means that once you charge the solar panel battery, you can use it to fully charge iPhones a few times for the day.
Or you can charge several different phones with one charge. Even if it's a small solar charger, it definitely holds onto being very reliable and powerful. The only drawback is that it's not as sturdy and rugged as some of the above are, but it's after all very light, and that's a compromise in order to achieve this incredible portability.
If you like this product you can find and buy it on Amazon.
Goal Zero Nomad 13 solar charger
This charger packs with a powerful mono-crystalline battery with an open-circuit voltage of up to 20V. The charger is slightly heavier than most portable ones (reaching up to 26 ounces/720 grams). Yet, because of its significantly larger surface area, it captures more light than the small Solio Classic2 for example.
Its rugged design and material make it highly durable. Plus, it's waterproof. It charges any USB device, including GPS gadgets.
The solar panels are themselves sewn nicely in a foldable bag, so that they stay protected from bad weather. When unfolded, the solar charger can be attached to your backpack, and while you're hiking you can charge the batteries without even thinking about it. There is also the option to chain an additional Sherpa 50 battery set to the Nomad 13, thus doubling the charge to 26 Watts. Chaining them together is very easy and almost anyone can do it.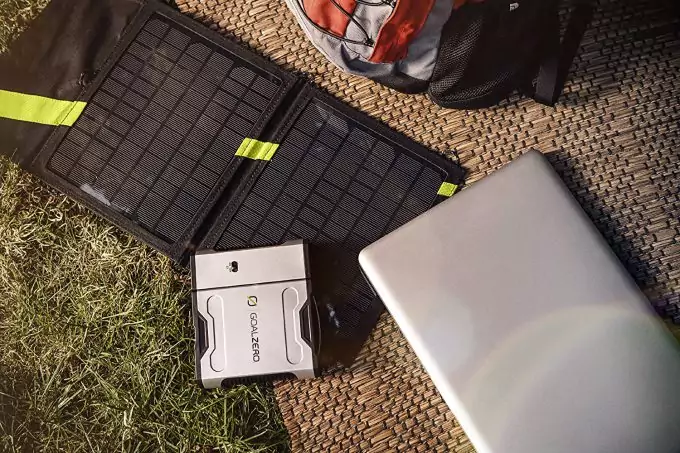 Overall, although the battery is of the old NiMh type, which weighs more, it offers more safety, in comparison to the Lithium batteries. They charge slightly faster and this Goal Zero Nomad 13 is perfect for more consuming gadgets like iPads. There's also a USB port, although some customers wished that it had more than only one, since the battery is powerful enough to charge more than one USB device at a time. Yet, it's a reliable products and many people have used it for several years without sharing any concerns.
If you like this product you can find and check its price on Amazon.
Sunlinq portable solar panel 12V/12W
The Sunlinq solar charger comes with two panels, each weighing barely 1lb/450g, which makes it perfect for camping and hiking. The manufacturer claims that the solar charger can still work even in rainy or overcast skies. It's made so that it can be double-folded and fit in a backpack without any problems.

The battery is also powerful enough to charge not only smart devices, iPhones, iPads, iPods, etc, but also lanterns, batteries, camera batteries, GPS, etc. 4 AA batteries charge for up to 2 hours, while 4 AAA need up to 3 hours.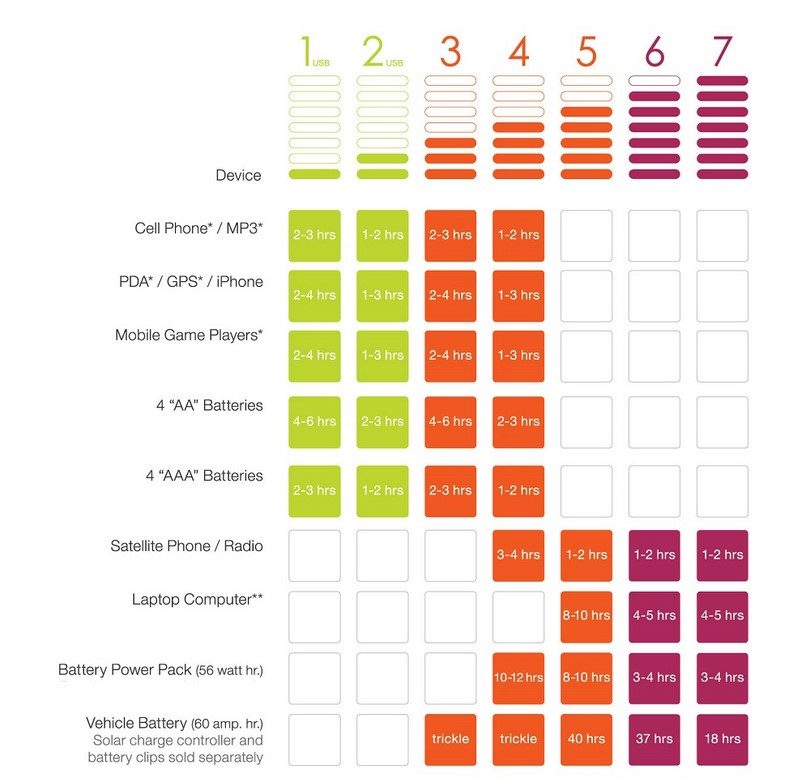 If you like this product you can find and buy it here.
Under the hot noon sun the charger reaches up to 15 volts, which is more than enough for all available portable devices. It has no problem charging even portable game devices, like Nintendo and Sony PSP. The charger doesn't come with internal batteries and if you would like to store some charge until next time you have sunny weather, you may have to purchase an additional battery set. Another thing to consider, if you want to charge mostly power-hungry DSLR camera batteries, you may need a more powerful solar charger, like the Sunlinq 25W.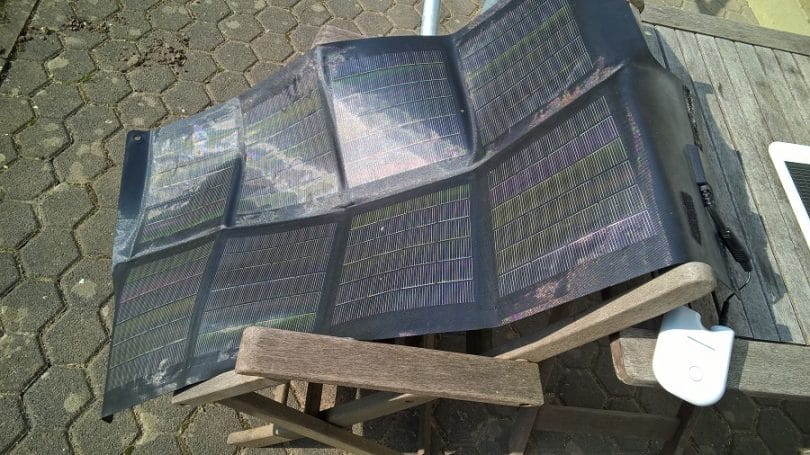 Overall, if you only need to charge iPhones, iPads, e-book readers and GPS, then the Sunlinq 12W would be all you need out there. In case you need to charge AA/AAA batteries, then you may have to rely on the upgrade Sunlinq 25W. Most customers report that if the sun isn't at its hottest and the sun rays don't hit the panels at a perfect 90 degree angle, then your overall charge will be much lower than the optimal – 12W.
You can reach 12W only at the best conditions. If you're not prepared for this, you may be up for a bad surprise. So, to avoid such unpleasant situations, better keep in mind that for smart devices the 12W would be perfect.
A good method of figuring out which solar charger is for you is to first plan ahead your journey. If you're going to a remote mountain area for weeks and months, then better pack a heavy-duty highly reliable solar charger like the Sunlinq 25W. If you're going out there for a weekend, or several days, and don't plan on using heavy technology, then pack the lighter version. If you want to shoot time-lapse videos, the 12W won't be enough for your purposes. See our review of the best solar phone chargers to give you more choices, do read it.
In order to better determine which solar charger is best for you, as we pointed out already, you need to know the details around your journey, hike, camping, etc. Also, if you have a friend who is already using a solar charger, or has experience using several such products, hire one from them, or ask them for more advice on first-hand experience.
If you can test one yourself, before purchasing it, do it in safe environment like your backyard or place it in your car, while you're driving to work or home, and see how the devices behave. This will give you a much more accurate idea of what you need and what the particular product delivers.
Check out our piece on how solar energy works to give you a better idea why these solar chargers work so well. It's an excellent-read for all.
Some of the links in this post are affiliate links. This means that if you click on one of these links and make a purchase, I earn a small commission at no extra cost to you. Also, as an Amazon Affiliate, I earn from qualifying purchases. If the information in this post has been helpful, please consider purchasing through one of the links in this article. Thank you.