The best survival machete can be the difference between life and death when you are stranded in the bushes. It is simply a large heavy knife that you can use as a weapon or for cutting vegetation. Its cutting power is dependent on the blade that is characteristically under 3 mm thick and 32.5 cm to 45 cm long.
Most machetes exist in different shapes and sizes depending on the production but, the toughness is one trait that all of them have followed by edge retention.
Types of survival machete
There are various types of machetes that you can choose from. There are at least 19 types you can buy and each of them has different blade and handle characteristics among other features.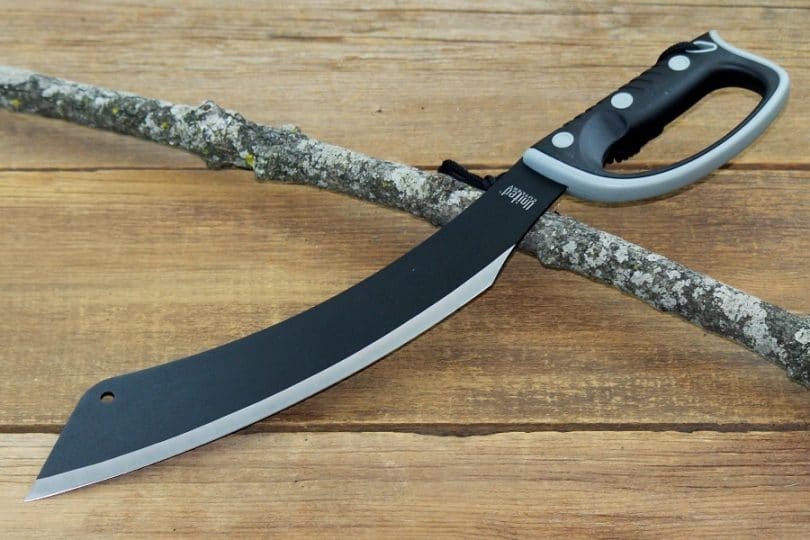 Here are the most common types for survival situations:
The Bush Machete. This is considered to be a multipurpose cutting tool with a normal, straight-back blade, which is normally fairly stout and evenly weighted. This piece is designed to help you manage the workload effectively while you are using little effort. It is just the right tool for chopping as well as clearing bushes to maintain trails in order not to get lost.
Unlike other types of knives, this one is engineered with a precision grind to slice through bushes and other vegetation with minimal exertion. This allows you to maintain greater efficiency and less body strain. Handling is easy because the design is usually user-friendly for most models.  
Kukri Machete. A feature unique to this design is the three-way blade. This type has three parts to its blade, including: a narrow edge, a wide mid-section, and a pointed tip. The narrow edge is good for carving and whistling, the wide mid-section is good for chopping while the pointed tip is effective for stabbing. This design is engineered for utility and double protection when in a survival situation.
The best models in the market have an ergonomic grip handle that will settle securely in your hand. This kind of grip boosts your confidence when using it, because you can cut through vegetation regardless of whether the weather conditions are dry or wet.
Panga Machete. This is a popular weapon in the Caribbean and Africa. The blade's structure uniqueness is observed on the deep belly section near the tip. The overall blade length is usually more than 20 inches while the blade length can be more than 15 inches. Generally, this design is versatile and highly resourceful in a survival situation. The handle of most models may be thick and sturdy and very comfortable.
The weight behind the blade and the deep belly section makes it easy to chop and cut through vegetation. If you are after cutting tools that are affordable, have good finish, made of heavy-duty material, no chipping of finish, no flexing of blade and very rugged; then you should settle for Panga models.
Tapanga Machete. A feature unique to this kind of tool is the back-swept chisel tip. You will love this tip-less design. When you hold this type of cutting tool, you will feel like that you can face any hurdle that does not involve slicing. Models come lively and they are made of such high quality and heavy-duty material, which makes it possible to maintain any edge. They are normally heavy and well-weighted.
If you are after a tool with an ergonomic grip handle and without a tip, then Tapanga models are what you should look for. This is so since it does not take a lot to maintain your grip and the impact will certainly do not bruise your hand.
Hawkbill Machete. Hawkbill models have a characteristic, downward curving blade, which makes them the best cutting tools for survival. They are usually factory perfected on the inside curve for cutting as well as gathering vegetation. It is the perfect tool for piercing due to the downward facing point.
They are full tang and they usually have a natural wooden handle with at least three rivets. This design will sharpen perfectly as long as you do the sharpening correctly and the handle offers a comfortable grip that is easy to handle and maneuver. These are the kind of knives that you can sharpen on both sides apart from the inside of the curve.
Billhook Machete. Billhook models are completely curved at the tip. The blade of most models is made engineered from medium-carbon steel that varies in length as well as weight. However, the blade's length may vary from 20 centimeters to 25 centimeter. Unlike other designs, this particular one can only be sharpened on the inside. The blade is fit with up-to-the-minute handle, which allows you to manage repeated impact effectively. Most handles measure between twelve and fifteen centimeters long.
Billhooks are versatile and resourceful, because their uses range between those of an axe and a knife. Billhook models are good for survival because they can be used for stripping branch shoots, hedging and cutting small branches and saplings.
Sax Machete. If you are after definitive outdoor survival cutting tool, then sax models are the best. What differentiates this kind of knife from the rest is the straight edge blade with a sheepsfoot spine (characterized by a downward inclined point). Most of the models have a blade that measures between 12 inches and 18 inches in length.
The blade is designed for different cutting activities, including smashing, slashing, chopping and cutting. The design is perfect for bring down a game or a fish on shallow waters. The blade of most models is made of heavy-duty material, such as 1055 carbon steel along with high quality anti-rust finish.
Spear Point Machete. This design is characterized by a sharp point at the tip. It is just what you need for bringing down a game and for self-defense when you are out there in the bush. It has a heavy-duty blade with unique features. Most blades measure around 23 inches in overall length and the blade measures around 12 inches.
The material used in designing the blade is long-lasting and resourceful, such as 1055 high carbon. Most models are fitted with full tang for a secure grip and strength. If you are holding a machete made of this design, you will have no problems roaming about in the jungle in search of survival food and firewood.
For more options, see our informative piece on how to choose from the different types of machetes for survival.
Choosing a machete
A dependable cutting tool should be indispensable for a survival situation, including cutting fuel, searching and preparing food, killing and skinning a game, and building shelter. The best tool can have a long, heavy blade that is resourceful for cutting a path through thick vegetation in the bushes.
The best compromise between special purpose knife and the true all-purpose knife is the blade. When you consider the weight of a blade, a good blade should be reasonably well-balanced for chopping, slicing and swinging. Basically, you should choose a blade with respect to how you are going to use it, including slicing, chopping and piercing.
Slicing
The best slicing machete should have a very thin edge and a substantial curvature of the cutting edge. A good model should have a significantly thin blade with regard to the material used and long enough to allow maximum slicing while you concentrate on one direction movement. The blade should be as narrow as possible to minimize friction while slicing. Go for a piece that is wider for grander cut up to allow for repeated longevity and sharpening.
Chopping
The principle force at work with chopping is momentum, meaning that machetes for this particular task are heavy and thick. The edge spatial shape should be thick in order to hold out the chopping blows, this will ensure that the edge does not fail during hacking.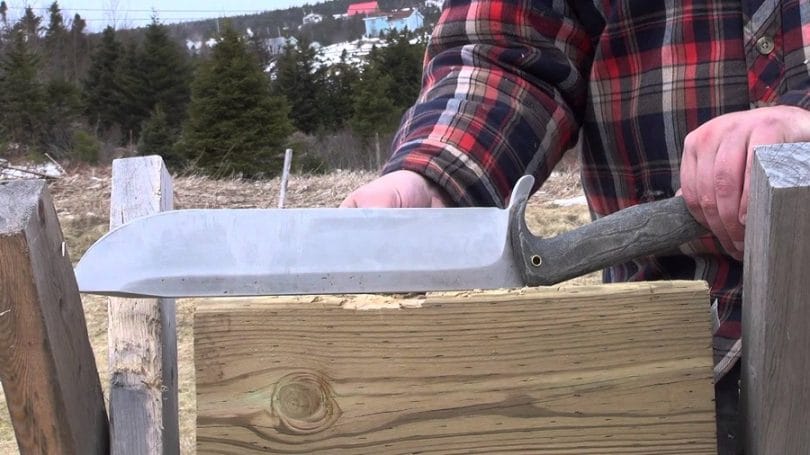 The best chopping knife should be heavy enough to supply you with the thrust you need to cleave through vegetation. Most models in the market are heavier and thicker than normal allowing them to withstand any form of abuse. However, you should go for models that are moderately thick and heavy.
Piercing
One common feature of a piercing machete is that it needs to have a blade with narrow in cross section near the tip. And it should be progressively thicker and wider with the length. The most appropriate piercing blade should have a point of excellent sharpness, usually in a straight line with the handle and in the natural direction of the motion. The shape should need less effort to pierce through a game or specific object. Generally, the piece you choose should be strong enough not to break when stressed.
Blade steel
The abovementioned chores should guide you on the blade steel material to choose. In most cases, specific blade steel may be resourceful in certain survival situation, but may not excel in different activity.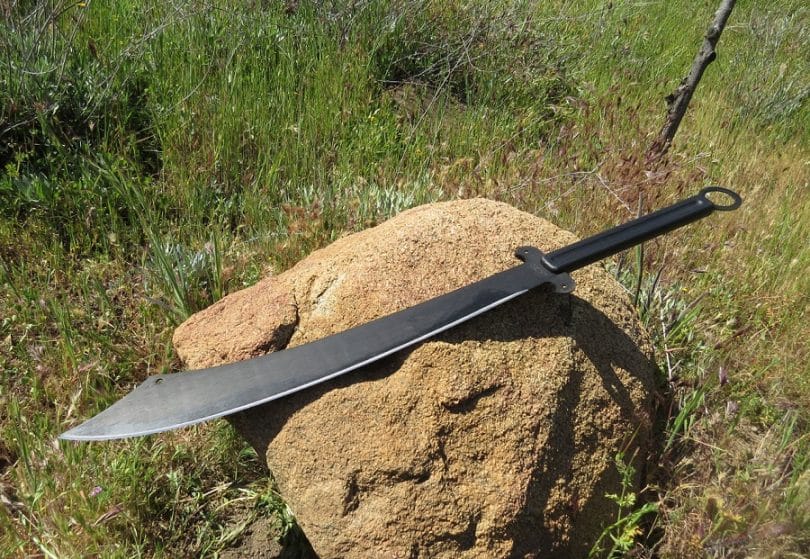 The blade's material simply determines how effective a given machete can be in a survival environment. Select the type of blade steel with respect to the following characteristics: wear resistance, corrosion resistance, edge retention, initial sharpness, ductility, strength and hardness. The popular steel used with most blades constitutes the following:
High Carbon Stainless Steel – this material combines the sturdiness of carbon steel with rust resistance of stainless steel. It is the best material for survival knives; however, it is more expensive.
Stainless Steel – this is the most ideal material for strain resistance, which needs minimal maintenance when compared to carbon steel. However, the material is more expensive than carbon, edge blunts more quickly, and it is softer than carbon steel.
Carbon Steel – if you need an inexpensive model, then choose one that is designed with carbon steel blade. The blade usually retains edge sharpness and it is harder when compared to stainless steel. When compared to the other materials, this one is particularly versatile and resourceful for survival machete.
Blade shapes
Blade shapes determine the type of machete you can buy. There are various blade shapes as discussed earlier under types of machete. The most popular ones include: straight-back, three-way (narrow edge, mid-section and pointed tip), deep belly, back-swept chisel tip, downward curving, completely curved tip, straight-edge with a downward inclined point, and sharp tip.
Handle material and design
Machete handles have been made using different materials. A good contemporary piece that you can choose should be handle-specific in order for it to perform effectively. The best handle should be ergonomic, tough and one which will not crack. The handle of the model you choose should have a comfortable grip. It should not cause you any discomfort after repeated impact.
Handling & maintenance tips
Sharpening a machete
You should maintain a 25 to 35 degree angle on the blade. Clamp the blade in a vise while the edge is up and the tip is pointed toward you. Then use a 12-inch bastard mill file to sharpen and remember to wear heavy leather work gloves for protection.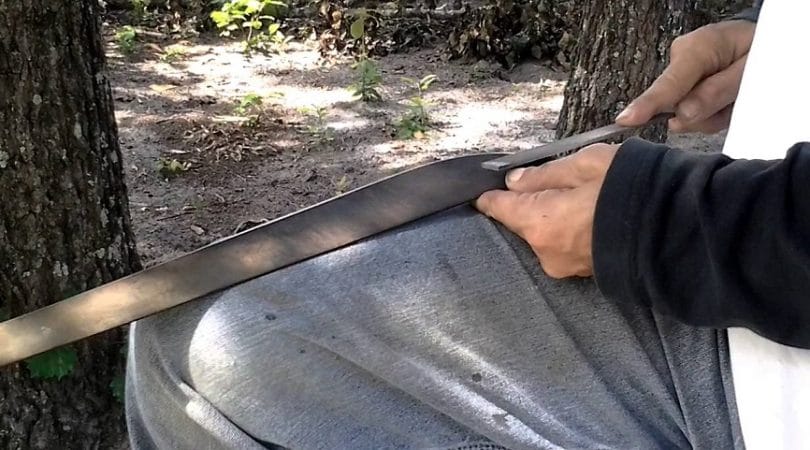 Carefully, push your file into the blade at the desired angle. With an accurate on one side, turn your piece around and repeat. Finish the edge of the blade with a sharpening puck.
Finish your blade with a leather strop
A leather strop will help you remove microscopic rolled edges, nicks, and tiny burrs left by the sharpening tool. To polish your blade's edge with a leather strop, you must be quite keen at the beginning. Once you are done and your piece has achieved the desired sharpness, wipe the blade clean with a few drops of honing oil.
Use a sharpie when sharpening
At times it can be difficult to know for sure that you are maintaining the proper angle and you are actually sharpening the exact edge.
To avoid any conjecture, you can use a sharpie to mark the progress. You should look closely to see if the ink has been removed. If the ink is not there, then you are sharpening the edge. If the ink is being removed, then you are re-profiling the edge to match the original angle. Using a sharpie is in fact the correct way to monitor your progress.
See our article reviews of the top bushcraft tools for survival for more information.
Top 4 survival machete reviews
Ka-Bar 2-1249-9 Kukri
This is an excellent survival machete for the money. You should buy this model if you are fed up with the standard sized ones, which are too long and uncomfortable to carry when travelling off trail. It is fairly short and moderately heavy and it comes out of the box well-sharpened. This is a heavy-duty cutting tool that is useful for cutting small branches, clearing a campsite and chopping down weeds among other chores.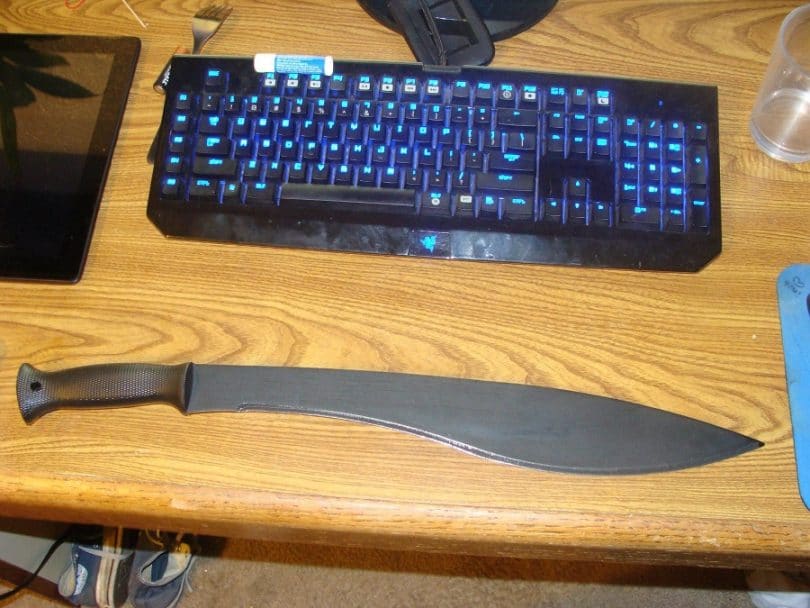 With kukri blade shape, 20° edge angle, 1085 carbon steel, hollow grind, 11.5 inches blade length, 17 inches overall length and the Kraton G handle, the Ka-Bar 2-1249-9 is a highly versatile survival tool.
At first glance, you may not appreciate the power hidden behind the blade, but once you put it into use, you will find out how powerful the blade can be. It may appear to be a little smaller than you had expected. However, when you hold the grip, you will appreciate its resourcefulness regardless of its size. As a survivalist, you will find this knife to be quite handy in more than one survival situations. Generally, this piece is built solid and its blade is well-weighted to cut through branches as well as saplings in a single strike.
Pros: It is comfortable to chop with this cutting tool than with standard sized one. It is also the ideal piece for light clearing when you are out in the woods.
Cons: The blade may fracture after a few rounds of use if not well-maintained.
Like this product? Then you can check the current deal for it on Amazon.
Cold Steel 97BWM12S Bowie
If you are looking for a fast, quick and lively piece that feels comfortable in the hand, then Cold Steel 97BWM12S Bowie is the ideal tool to engage. This is just the tool for piercing thanks to its clipped point. The blade is great and you can run it through your belt sharpener (work sharp). You can use the blade to cut saplings of 1 to 2 inches in diameter and you can use it to clear bushes. It is fitted with sheath that is made from cordura in addition to rivets fitted along the edge. There is also a snap retention at the handle as well as a plastic reinforced tip at the end.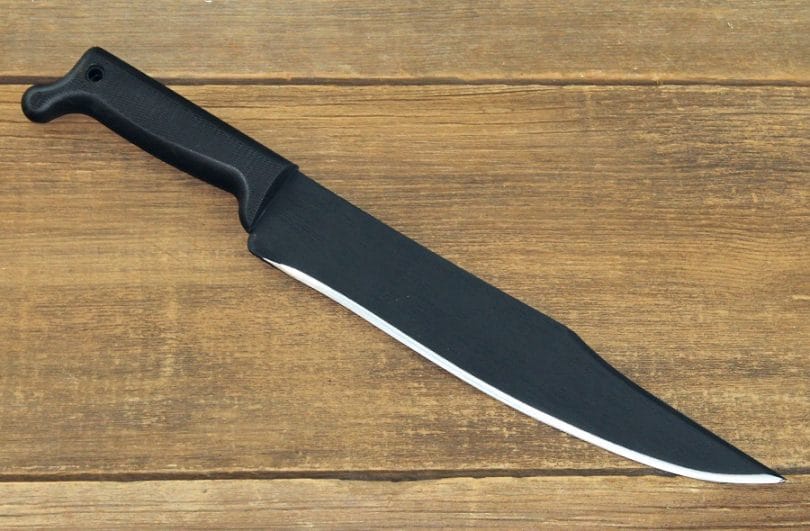 It is not just a cold steel by name, but by design, because the blade has an impressive edge and it is unbelievably sharp. It is fitted with a high-quality polypropylene handle, which is ground into a Bowie. You should not be worried about damaging the blade because it is heavy-duty and utilitarian. As a Bowie, it is engineered to have its weight to the rear, making the blade easy to maneuver in a survival situation. It is the perfect design for strength and the blade will not break off easily as you might have imagined.
Pros: It can penetrate through any obstacle and it can be used in knife-like utility chores.
Cons: At times, the blade may come out of the box not well-sharpened.
If you think that this product could be useful for you, then you can buy it here.
Ontario SP8 (Black)
This is not just a simple cutting tool, but an ideal survival machete for the money that you can use to do what may seem to be impossible such as building a log cabin. It is a multipurpose tool in the sense that you can use it to clear trails and prepare fuel for campfires. It is moderately light-weight, which makes it easier and comfortable to carry around. It is the ideal tool for raking small limbs and splitting logs and you can also use it to chop through two-inch wood in a single swing. You can start a fire by friction by using a bow drill on the rounded tip of the device.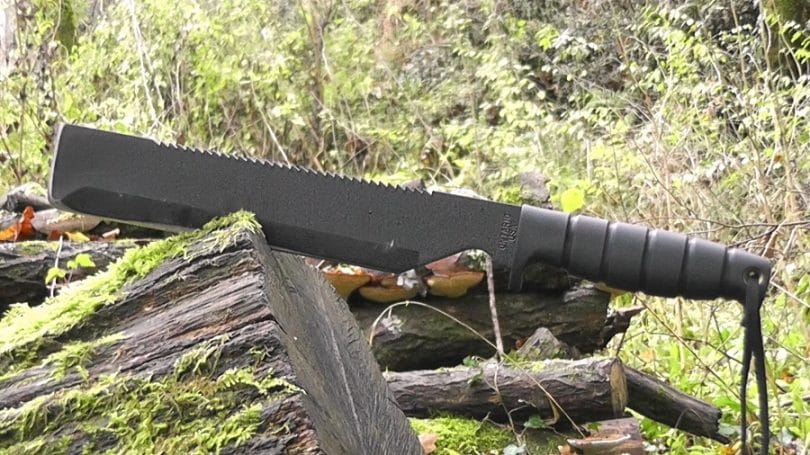 This knife is grander to the historic as well as excellent craftsmanship. It has a uniquely designed sheath that is made ballistic nylon, treated leather and steel hardware. It is fitted with a durable and heavy-duty handle that is made of Kraton polymer. The handle provides the perfect grip that is durable, solid and very comfortable. With 1095 carbon steel, 15 inch open length, 4.06 inch closed length and 10 inch plain edge blade, Ontario SP8 is what you need to survive any harsh conditions.
Pros: It is a multipurpose cutting tool that is designed for clearing trails, preparing firewood and chopping among other chores.
Cons: it is not the best cutting tool for piercing.
Like this product? Then you can buy it on Amazon.
Gerber Gator JR [31-000759]
Gerber Gator JR is an excellent product for the money. This model is unique from other models in terms of features and the chores it can handle. Weighing just 1.5 pounds and measuring 22.8 inches by 6.5 inches by 2.4 inches; it is a light-weight, heavy-duty, versatile and resourceful tool that can help you survive hardship while out in the woods. With a high performance saw blade that measures 9.5 inches, HC steel blade and gator grip handle; this is the ideal tool for sawing and chopping. The gator grip handle is user-friendly and comfortable to hold.
This is a strong piece that can cut through small branches, shrubs and bushes. It is unbelievably durable and it can take on harsh environs as well as treatment. The blade is actually designed to survive both wet and dry conditions. Therefore, it cannot easily be destroyed not unless you purposely destroy it. Generally, its size is perfect, it will fit in your pack pleasantly, the blade's edge is sharp, its grip is comfortable to the touch and its cuts are precise.
Pros: It is highly capable and versatile for sawing and chopping. Its unique gator grip handle offers maximum grip for either dry or wet conditions.
Cons: The steel blade is too soft to maintain an edge for a long time after sharpening.
If this is the best model for you, then find and buy on Amazon.
In conclusion
As you have read through the article, choosing a survival machete is not as challenging as you would have imagined. Your choice should always be guided by the following: the type (blade shape), blade material and finishing, blade length and overall length, and handle design and material.
If you can single out a model with all the aforementioned specifications that fit your cutting needs, then you can easily buy the best cutting tool in the market. However, this does not mean that you have to limit your choices to a specific piece. You can always try out different models for different survival situations.
Do check our article review of the top machetes for your survival needs, it's a must-read for all.