A folding/tactical knife is a cutting tool that has a pivot system installed on its body, which allows it to fold. Since the market is quite rich in offers, there are various types of tactical knives, including: linerlock, lockback, frame lock and slip lock. All these models are actually named based on the locking system when the blade is in use, but the general design is almost the same.
[the_ad_placement id="in-text-1-type-a"]
If it were to discuss the best folding knife, the basic structure should have the following parts:
pivot,
lanyard hole,
handle,
bolster,
flipper ricasso,
primary grind/ bevel,
secondary grind/ bevel,
swedge/ false edge,
thumbstud,
thumb ramp.
But, before we discuss specific models and their benefits, let's first take a look at the main types of folding mechanisms and the main features one should consider when purchasing such a knife.
Types of locking mechanism
Lockback mechanism
A lockback knife is defined by a blade that locks in the open position. A locking folder normally provides the firm support so when you open the blade, the rocking plate, which is visible from the back locks against the blade. To close the cutting edge you simply have to push down the rocker positioned at the back of the handle.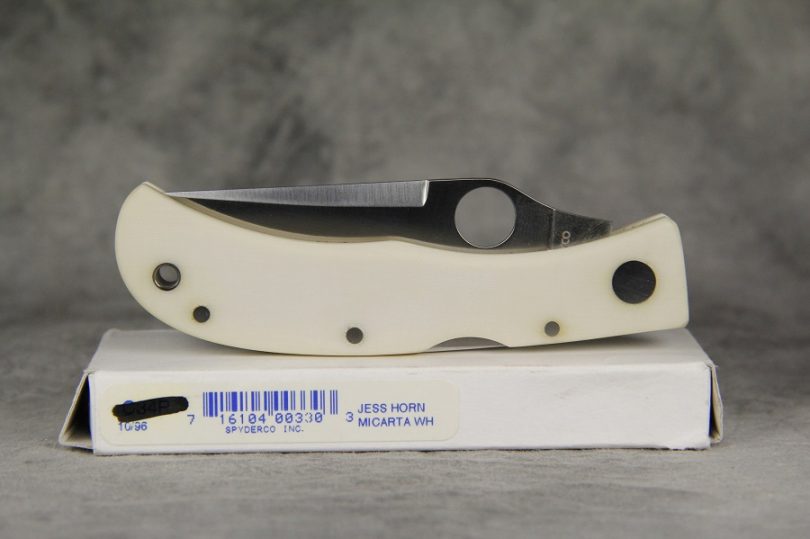 Usually, this mechanism needs two-handed closing, even though there are some models that can be close with a single hand. Knives with this locking system are among the most popular and most resourceful cutting tools to engage.
Liner lock mechanism
A liner lock knife uses a side-spring lock that allows you to open as well as close it with one hand. The basic structure of a liner lock consists of the following parts:
stop pin,
detent ball,
liner lock face,
blade lock face,
blade stop pin cutout,
blade bevel,
blade edge,
thumb button,
back-spacer,
lanyard hole
detent hole.
This locking machinery is a falsely simple yet very effective method of securing a folding blade in the open stance.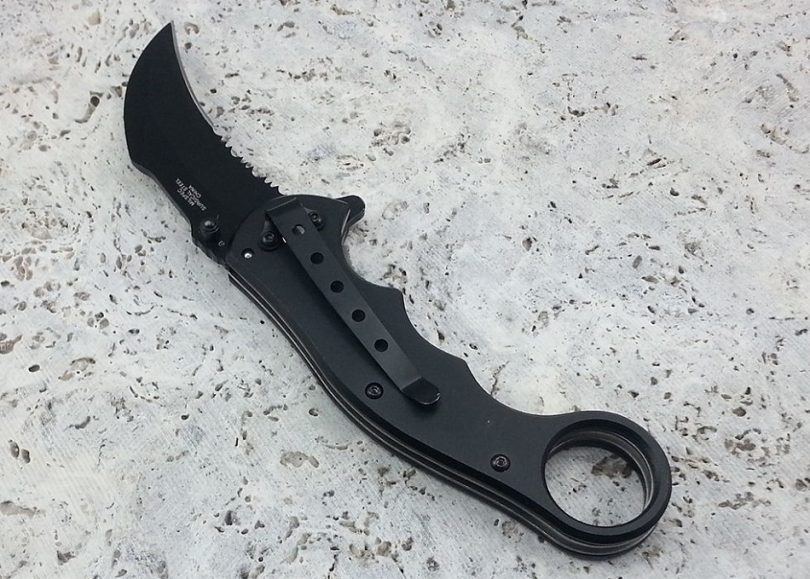 There no moving parts therefore it does not need a very precise fitting. This system is not only easy to clean, but also does wonders in the most awful conditions of dust, mud, and dirt.
Slip lock mechanism
A slip lock knife employs a different kind of system; where the blade does not lock open. Instead, it is held in position by a back spring, which allows the edge to open/close depending on the applied pressure. This kind of locking system is found on designs of most old-style pocket knives, but the system can also be found on other knife types in the market.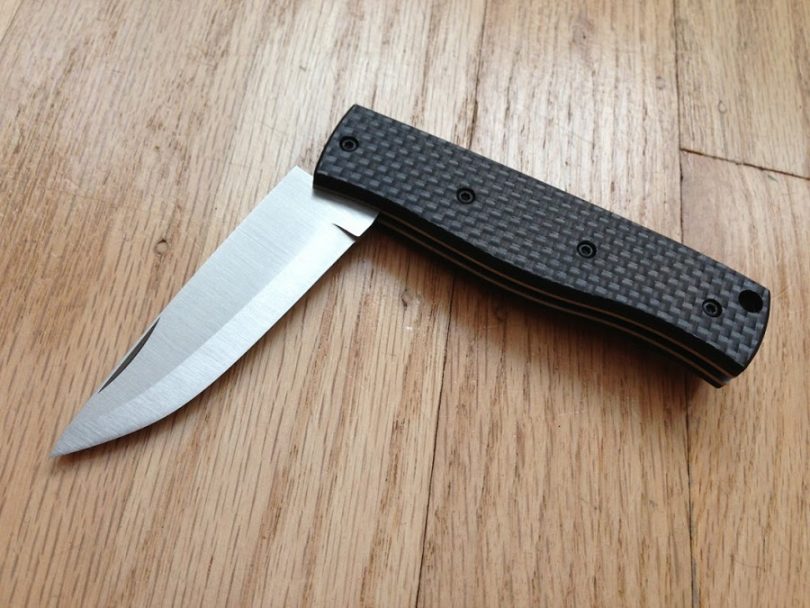 A dagger with this kind of locking is very convenient. A spring will rarely gridlock therefore there is no instance in time when you will experience malfunctioning. In fact, blades under this category are highly resourceful and versatile for fast release and cut.
Frame lock mechanism
A frame lock knife operates in the same manner as a linerlock, but it makes use of a part cutout of the main handle. The frame lock, moves into the handle opening and then locks against the frame when the blade opens. This is one of the best locking systems with the best safety measures and you can use it with either your right or left hand.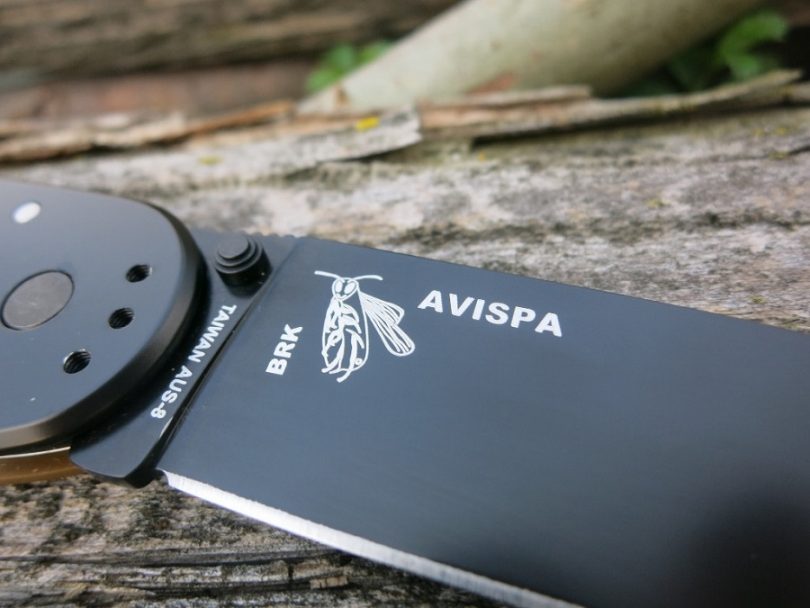 The stiffer joints are well-designed to ensure that you are always safe from accidental closures. You should not be worried about failure because the thickness of the locking bar provides good strength as well as security.
Other locking systems that are used include: Ark lock, ball bearing lock, pick lock, collar lock and tri-ad lock.
How to choose a folding knife
There are three primary features that you need to examine when choosing folding blade, including: locking mechanism, the blade, and ergonomics. As mentioned above, there are various ways of securing an open blade and all the locking systems are effective in one way or another.
See also: Best EDC Knife: How to Choose The Best One Around
However, the most common types that you should consider are: linerlock, lockback, frame lock, and slip lock. You should choose any of the locking systems with respect to the cutting chores you want to execute. You should also choose a system that is easy to manage and maintain.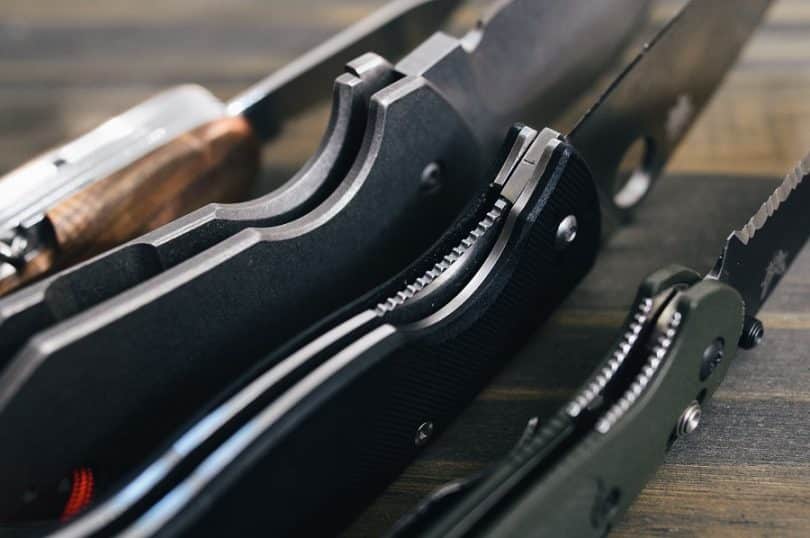 The blade is one of the most important parts of any cutting tool. Therefore, your choice should be nothing but excellent. You need to choose a blade design that suits your needs and you need to take the following parts into consideration: swedge, primary bevel and secondary bevel. A good locking dagger should be able to deal with a cutting blow and a penetrating blow as well. Cutting depends on the sharpness as well as the curve of the cutting edge so, choose an edge with your desired tip and belly shapes.
The blade thickness should go hand in hand with your cutting activities. Keep in mind that a thinner edge will cut with minimal effort compared to a thicker one but, if you are seriously planning to use your knife in harsh conditions, then it is wise to choose a thicker edge.
Ergonomics is one factor you should always consider as you need a knife that feels comfortable to handle and use. Therefore, the whole thing needs to feel natural – it should be an extension of your arm. The handle should be fitted with curves that match up to the shape of your grip.
Reviews of top products on the market
SOG Specialty Knives & Tools TFSA98-CP Flash II
This unique piece is structured for quick access and safety and uses SOG Assisted Technology to provide a convenient one hand opening of the edge.
[the_ad_placement id="in-text-2-type-a"]
This model is equipped with:
a reliable, strong blade locking system;
a half serrated black TiNi coated blade;
a glass-reinforced, contoured handle.
SOG Assisted Technology simplifies everything – all you have to do is begin the opening process and the tech completes it for you. The tech is combined with an effective locking system which is easier to access, more reliable and stronger. There is an extra lock that provides you with increased security when the edge is closed.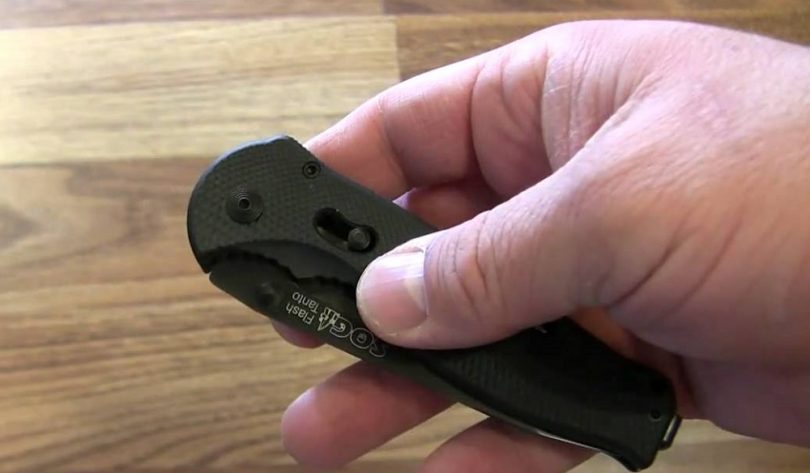 The half-serrated 3.54 inch cutting surface has a hard-cased TiNi finishing, which is elegant and durable. Also, the cutting edge sharpness does not easily wear off, thanks to the cryogenic heat treatment. With all factors included, a folding blade is more comfortable to use when the handle structure is well-designed and the material is of high-quality.
You should not be worried that your piece will slip off your hand when your hand is wet. This is so since the handle is slightly textured and made from high quality glass-reinforced Zytel material. At approximately 3.1 ounces, TFSA98-CP Flash II is lightweight, compact and easy to carry.
Pros: Uses SOG Assisted Technology, making it easier to open with a single hand and it has added security.
Cons: The locking system is not correctly positioned.
Like this amazing product? Then you can buy it on Amazon.
BlizeTec Survival Knife
This is a five-in-one tactical model with magnesium fire starter, glass breaker, seatbelt cutter and LED light. Unlike most cutting tools you know, this particular model is a life saver; it is just the tool you need when in a survival situation. For instance, the LED flashlight, along with the magnesium fire starter allows you to forage firewood as well as start a fire easily.
The knife is fitted with a highly versatile locking system, which is ideal for any occasion. The locking system provides you with easy and safe release, making it the finest cutting tool for hunting, hiking, camping and so on.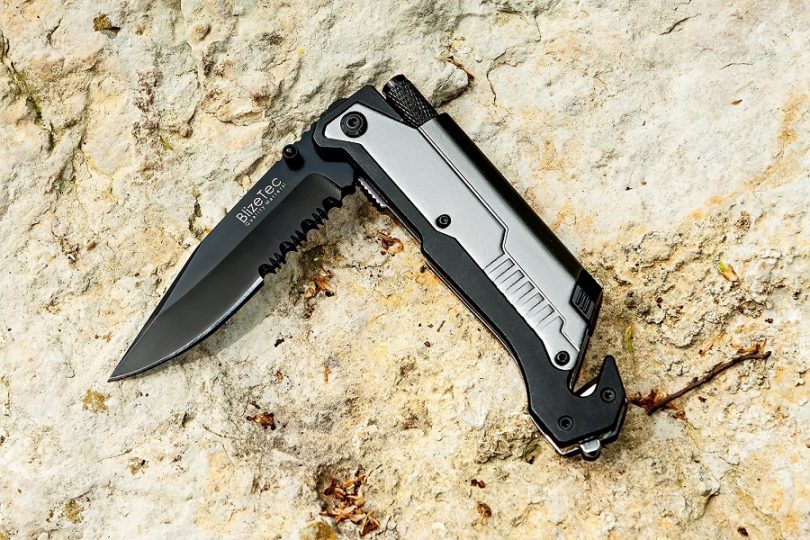 It is an ideal addition to your emergency preparedness backpack regardless of whether you are a camper, hiker, military personnel or just an outdoor adventurer.
A feature unique to folding knives is the portability and this particular model stands out to be the best as far as being lightweight and compact is concerned. At 5.46 ounces, you can easily carry your piece in a nylon pouch or in a belt clip. It is fitted with state-of-the-art handle made from high quality material.
The handle is comfortable to hold and it does not slip off easily. You should not be worried about the quality because it is installed with a heavy duty, 420 stainless steel cutting edge, which is ultra-sharp.
Pros: It is equipped with reliable survival gears, including: LED flashlight, pocket clip, window breaker, magnesium fire starter, seatbelt cutter and serrated saw.
Cons: The blade is not replaceable; you can only sharpen it whenever it wears out.
If you think that this product could be useful for you, then you can buy it from Amazon.
Survival Gear Folding Knife by DigHealth
This is the kind of pocket size cutting tool you need when you are going for an outdoor activity, such as mountaineering, hiking, camping, and so on. Unlike most pocket size knives, this specific model is built for abuse: the partly serrated tanto cutting edge can cut through the toughest surface as long as you put some energy.
One of the things that makes a cutting tool effective is the cutting surface and the one installed on this piece does not disappoint. Engineered from 440C high carbon stainless, the edge is durable, sharp and very efficient when in use.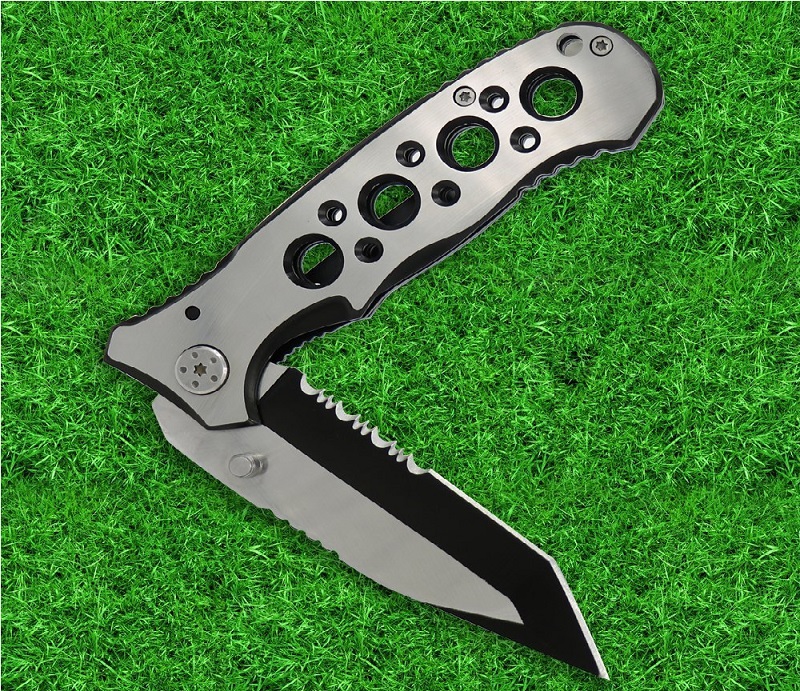 The blade is heavy-duty in every regard, since it has durable stainless steel liners, which conveniently provide lateral strength. A knife that you can easily draw and open within seconds is what you need in a critical situation. This unique model is uses spring assisted technology that deploys efficiently with a single hand.
Unlike most pieces in the market, this specific model a patented double-lock mechanism. This mechanism operates hand in hand with the main primary linerlock to ensure that there is no disengagement when you are using the knife. If you want to operate a tactical stiletto that opens and closes effortlessly, then you should without a doubt choose this survival gear by DigHealth.
Pros: The spring assisted technology supports easy release and deployment, making it the finest piece for outdoor adventures.
Cons: It is stiff when closing the blade.
Like this amazing product? Then you can buy it from Amazon.
Spyderco Tenacious
This is a unique tactical piece that is engineered from high quality materials. Measuring 7.76 inch, this blade can help you execute a number of cutting chores.
This masterpiece is pretty sizeable and the handle will fit just fine in your hand. It is fitted with a G-10 laminate handle that is ergonomically refined with prolonged cutting. The grip's strength and rigidity is maintained by the skeletonized steel liners that are situated inside the handle. The 3.39 inch blade made from 8Cr13MoV stainless steel is glazed in a non-reflective black glaze. It is also ground-flattened from the back to the cutting surface for unending cutting.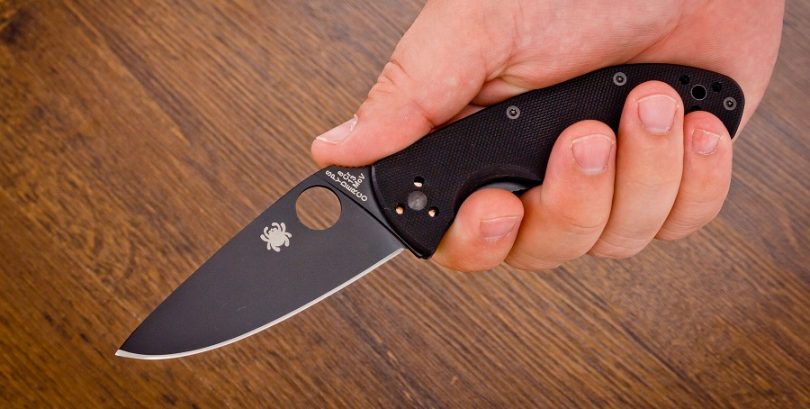 You can easily slide it open due to the shape along with the oversized Spyderco round hole. Unlike most folding stilettos, this specific model is sharp from its very tip to its hilt, providing you with all the cutting power you need. One of the most notable features of this cutting tool is the absence of blade play. This is regardless of how frequent you abuse it in the field.
The blade is well-positioned at the center when it is shut off. You will most definitely admire its resourcefulness; given the fact that it is incorporated with open pillar construction for the free flow discharge of debris when you are cutting something.
Pros: It is made of a lightweight and compact design that does more than just cutting.
Cons: The finishing is not done properly.
If you like this product you can find and check its price on Amazon.
SOG Specialty Knives & Tools FF38-CP Fielder
This is a straight edge folding stiletto that is fitted with a G10 handle and a 3.3 inch steel cutting edge. Apart from its unique and sleek design, this piece is appealing, reliable and comfortable. The 3.3 inch straight edge is made from 7CR17 stainless steel. This material is easy to sharpen; therefore, you can restore the blade without using much strength. This material is highly corrosive resistance and it is exceptionally durable. The uniquely designed blade, handle and the extraordinary satin finishing provides this piece with a classic appearance.
See: Best Knife Sharpener: The Perfect Sharpener For Your Survival Knife
If you are in search for a cutting tool that has a lightweight design and its operation is ergonomic, then you should look for FF38-C P fielder. The handle is well-balanced and well-contoured, providing you with a perfect grip that does not easily slip off. In the simplest words possible; this piece is an awesome one.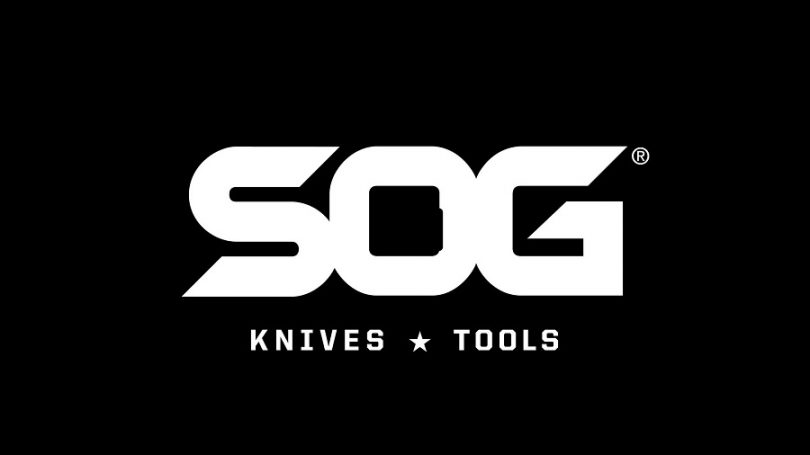 Weighing only 4.4 ounces, it feels comfortable when holding it in a cutting position. Among all the linerlock knives you have come across, this particular model locks in perfectly. The cutting edge is firm and not loose, allowing you to feel the security attached to the knife. Generally, this is an outstanding pocket size dagger that you need to buy.
Pros: It is equipped with the finest locking system for easy release and close. The handle is well-designed and balanced for the premium grip when cutting.
Cons: It is a little bit heavier when compared to the previous versions of the same model.
Like this product? Then you can buy it on Amazon.
OutNowTech Vantage Multipurpose
You might have in your possession all sorts of knives, but without this piece your gear is not complete. It is a multipurpose one pocket stiletto that does it all. This is the kind of cutting tool you need to have in your survival gear when faced with a tough situation while stranded in the woods.
OutNowTech vantage is equipped with a window breaker, a detachable LED, detachable fire starter rod and serrated cutting edges. Apart from the serrated section, the edge has assisted opening along with a thumb rod that allows you to single handedly open the blade. This piece is highly durable and it is fitted with the handiest tools for survival.
The blade material is 420HC stainless steel, which you can easily sharpen without jeopardizing the quality. Unlike other knives that are fitted with blades made of different stainless steel material; 420HC cutting edge offers wear resistance, hardness and extra strength.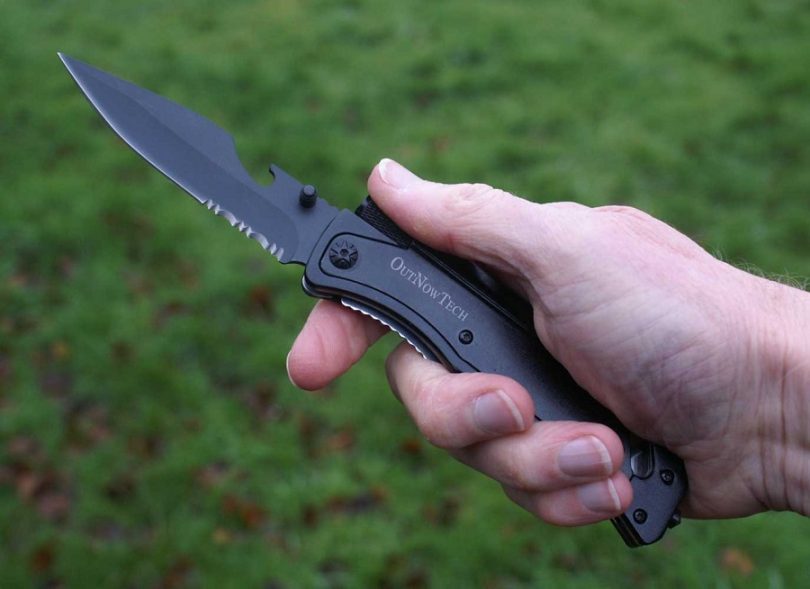 You can actually use this cutting tool for a number of tough cutting activities because the steel material used has high edge holding capacity and highly corrosion resistant. You should not go camping, hunting and hiking among other activities without this multipurpose piece. This is so since it can come in handy at any time while you are out there.
Pros: It is a multipurpose cutting tool that comes along with other survival gears, such as detachable LED, detachable fire starter rod and a glass breaker tip.
Cons: The LED may at time malfunction.
If this is the correct model for you, then find and buy on Amazon.
In conclusion
A resourceful folding blade is one that suits your needs. This simply means that you need to be certain of the cutting chores you wish to execute.
[the_ad_placement id="in-text-3-type-a"]
As discussed earlier, there are various locking mechanism used in the production of folders so you should choose a cutting tool with the most appropriate locking mechanism in order to ensure that you are always safe whenever you are using it to cut something. The blade material needs to be of high-quality, such as 420HC stainless steel and 7CR17 stainless steel. In addition, choose a tactical folder that comes with other accessories, such as a detachable fire starter and a detachable LED.
Before buying your gear, take a look at our review of the top tactical knives to give you more options.
Some of the links in this post are affiliate links. This means that if you click on one of these links and make a purchase, I earn a small commission at no extra cost to you. Also, as an Amazon Affiliate, I earn from qualifying purchases. If the information in this post has been helpful, please consider purchasing through one of the links in this article. Thank you.