Sometimes we enter into situations in life when one of the best fighting knife selections on the market can prove, not just beneficial, but as something that saves your life. A fighting blade is something one would expect a soldier to carry during combat. Some people choose to carry a fighting blade on them wherever they go in an effort to be prepared for whatever might happen.
[the_ad_placement id="in-text-1-type-a"]
A fighting blade is also something the survivalist can benefit from when out in the wilderness. This type of knife is not just about fighting off someone or an animal attack; it is also excellent for using in situations where one is fighting for survival in the wilderness.
See also:
A high-quality, durable knife with a good grip can serve in helping with hunting prey, cleaning the kill so it can be readied for cooking, fishing and scaling the fish, and when camping, the knife can serve in helping make lighter work out of otherwise cumbersome tasks.
Fighting knives & variants
Whatever you plan to use a fighting knife for, you want it to be dependable. At one time only used during hand to hand combat, today's fighting blades serve dual purposes as a self-defense weapon and a utility blade. See our review of the best combat knives for more options.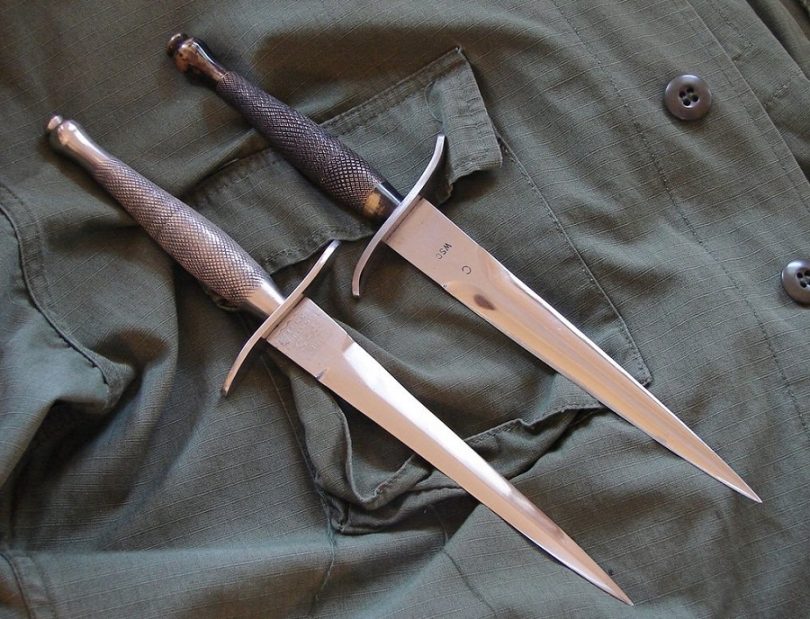 There are different kinds of blades you can choose from and what you choose will depend on need and preference. There are 4 types of knives to choose from when you need a quality weapon:
Knife Type
Features
Push Dagger Combat Blades – These knives make for great one on one close contact fighting knives. The small knives, when used correctly, can create quite a bit of damage. The smallness of the weapon and shortened blade minimizes the utility uses of the blades, however.
Thick blades with double edges sharpened

T-Shaped Handle for secure handling and serious grippage

Can close fist the handle and allow the sharpened blade to protrude from your knuckles

Allows you to make a punch move with blade in hand – a deadly move when done correctly

Dual purpose knife can be used for slashing side to side

Fighting Blades Doubling As Utility Knives – These weapons are the most practical as you get the most use out of them. You won't have to stash them away and use them for combat only – they can be used in hunting, fishing, camping, and survival situations.
Often military issued weapons, but can buy privately

Long blade, single-edged weapon

Steel and carbon tempered blades

Often feature a full tang

Solid handles for secure grip

Serves multiple purposes beyond combat

Throwing Blades – These knives are the most difficult to master in terms of use. They can be more dangerous than other blade and they do not really serve well as utility knives.
Many fighting blades lack the ability to double as throwing knives because they lack the appropriate balance, weight, and they are too bulky.

Throwing blades are light

Made of spring steel material

Some have handles some are handless

Heavy edge leads in the throw

Boot Blades – These are a good defense weapon, but you will need to be able to access the weapon quickly. It may take some practice to become proficient at accessing the knife that is concealed in a boot so you can get to it right away in an emergency. These knives also do not double well as utility blades because they are smaller and lighter than other tactical weapons.
Knives that are concealable in the side of a boot

Often double edged blades

Short blades so they fit inside the boot easily

Light design

Made for stabbing and thrusting moves

Comes with a sheath suitable for concealing in the boot

Sometimes the sheath has a belt clip as well
Don't forget to take care of your knives. Check out our piece on how to sharpen a knife for more information.
Top products you can find
We made a quick list with the best blades you can find on the market and their uses when you are out, in the wilderness.
M-Tech MX8054 Fighting Blade
M-Tech is a company known for making durable and affordable weaponry. The M-Tech MX8054 Fighting Blade is affordable and priced between $29.75 and $42.95 depending on where you buy and the listing price.
The MX8054 is an exceptional weapon for survival training, camping, and utility uses. It is made with a black tanto blade crafted out of 440 stainless steel materials. The handle is made to give a solid grip to the user, even when wet. The knife measures 11 inches in length (this includes the blade and handle). It is a weapon made for tactical use and features saw back serrations that run along the spine and a blood groove.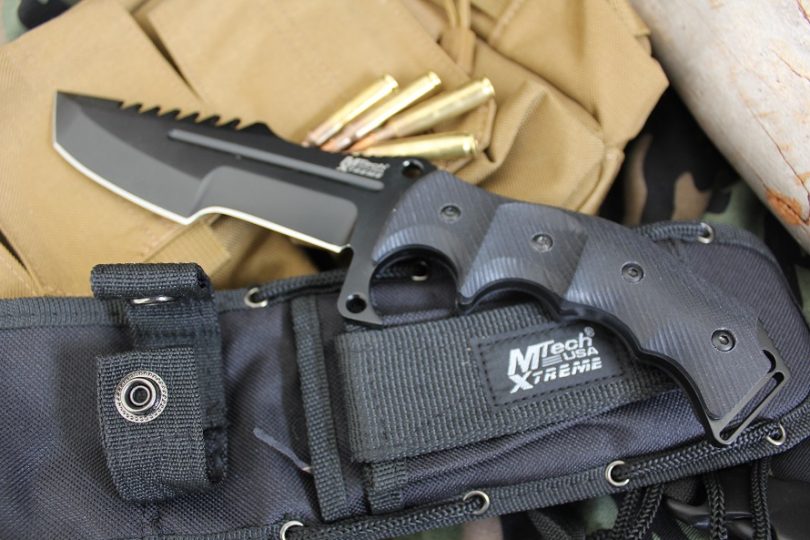 Additional features include:
A 5.5-inch blade that is 5.5mm thick
The blade contains carbon as well as stainless steel, thereby lending to its extra durability. Carbon makes the blade have a better edge retention as well as extra hardness grade.
An extended guard is on the handle to protect the user
Finger grooves are in the handle to maximize grip and the user's control when using the blade
A paracord can be used by attaching it to the lanyard hole in the end of the weapon
The knife is a full tang, fixed weapon
Comes complete with a fabric sheath
Manufactured in the United States
Like this amazing product? Then you can buy it on Amazon.
Ka-Bar US Marine Corps Fighting Blade
The US Marines Corps Fighting Knife by Ka-Bar is a must have addition on the list of the high-quality fighting blades you can buy today. The Ka-Bar Marine Corps Straight Knife is definitely on the more expensive side of the spectrum, but you will find it is definitely worth the initial investment.
The blade runs between $71.21 and $121.62, depending on where you buy it. The weapon features a 7-inch blade, and the blade has been identified by some as "the most famous fixed blade knife designed in the world."
This weapon was originally made to serve military personnel during World War II and the knife is still in use today. It has been available for use for over seven decades.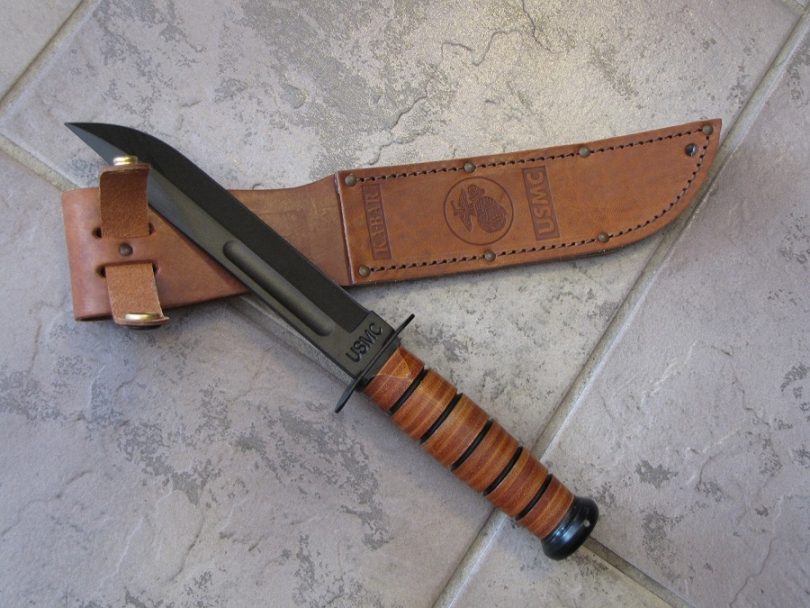 Features of the weapon include:
A sheath made of 100 percent genuine leather
USMC Fighting Knife leather handle
USA made handle
Mexico made sheath
Measures 13.5 inches by 3 inches by 2.5 inches
Weighs 11.2 ounces
Full tang so the blade runs through the entire handle of the knife
Features the USMC stamp
Lifetime guarantee on defects in the workmanship or material
Comes razor sharp and pre-sharpened
Known for its ability to cut through almost anything and its remarkable durability
Ideal for combat or everyday tasks
Blade has a sufficient belly/curve for ease of slicing
If you think that this product could be useful for you, then you can buy it from Amazon.
Smith & Wesson HRT Fighting Blade
Smith & Wesson is not just well-known for the guns the company manufactures as they also make some high-quality knives.
The Black HRT Boot Knife model number SWHRT9B by Smith & Wesson is another exceptional fighting weapon to consider. What's nice about this blade is that even with the well-known branding the price remains exceptional. You can get the SWHRT9B for $16.75.
The weapon is tested to ascertain the maximum durability of the unit and the company makes the knife with the notion of "rough use" in mind during its making. It features a comfortable feel, weight, and is well-balanced. The guard on the knife is just a bit wider than the accompany sheath. The balance point of the blade is fixed just beneath the knife guard.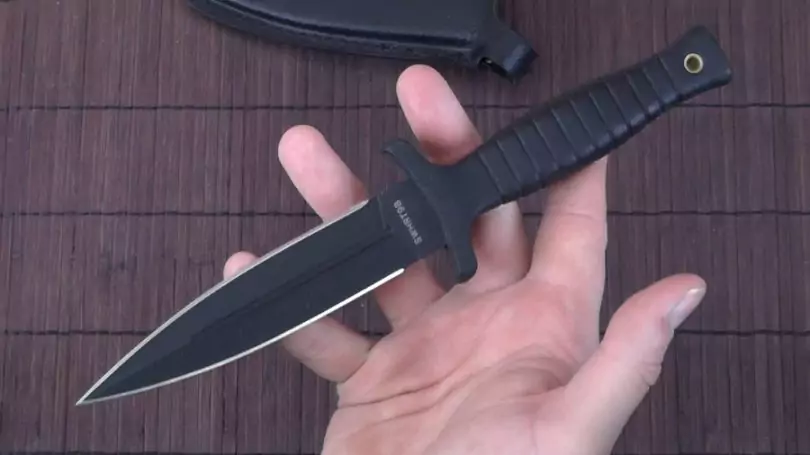 The features of this blade include:
A stainless steel blade that is coated
An aluminum handle – color black
Performance and comfort tested
Spear point blade that is double edged
Rubber handle, easy grip
Sold with a leather sheath
Sheath features a pocket clip
The weapon weighs a mere 7.2 ounces
Measurements of 12 inches by 7.5 inches by 2 inches
Perfect defense weaponry
Full tang weapon
Makes a decent throwing knife because is balanced
Like this amazing product? Then you can buy it from Amazon.
The Ka-Bar Black Fighting Blade
The Black fighting blade by Ka-Bar is also known as the model number 2.1271-0. The weapon is a midrange fighting blade priced around $62.99.
The Ka-Bar fighting knife is one hosting a sturdy 8-inch long blade. The angle on the edge of the steel blade is 20 degrees. The entire length of the weapon is 12 7/8 inches. The steel blade is made of 1095 carbon steel. This knife is easy to grip, comfortable to hold, and well-designed for multiple tasks.
The large size of the knife requires that the sheath features two snap straps on its handle. The speed in which one can access the blade from the sheath it is sold with is mildly limiting, so you might want to invest in a sheath that offers easier access, such as a Kydex sheath. The handle of the weapon is a blackish-grey color.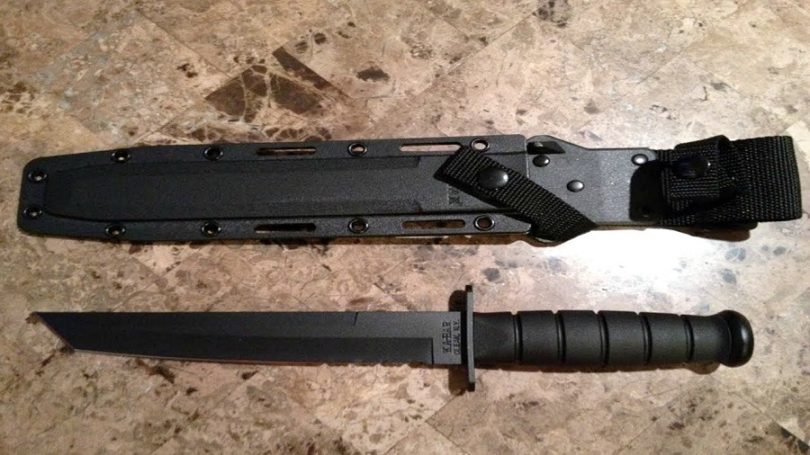 Additional features of this exquisite weapon include:
A single-edged weapon
A light weight of 6.4 ounces
A Kraton G Handle
A butt cap guard inclusion
A powdered metal blade
Serves as an excellent utility knife
Cordura/leather sheath comes with the weapon to protect the blade. The sheath is well constructed. The knife's dimensions are 13.2×3.1×2.2 inches.
The width of the blade measures 1.5 inches
The ka-Bar knife is made in the United States
The knife is flawlessly balanced
The handle is made of Kraton G – a form of highly durable rubber material
Even if the handle is wet you get a good grip
If you like this product you can find and check its price on Amazon.
The Mark II Fighting Knife
The Mark II model number 22-01874 is a product made by Gerber. This knife is a bit more expensive than others on the market, but it still makes the list of the top knives you can choose for survival purposes because it has so much to offer in the way of both feature and function.
The Mark II, has been, and remains, a popular blade – it was used during the Vietnam era and the weapon was used during a number of military operations in the Vietnam, Iraq/Kuwait wars. Military personnel have carried the Mark II in operations staged in Korea, Grenada, Chad, Panama, Saudi Arabia, Kuwait, Iraq, Somalia, Macedonia, Bosnia, Herzegovina, Afghanistan, and more.
The knife has been created in a number of versions between the late 60s and late 90s. In 2001, there was a special edition of the weapon made for the 35th anniversary of the weapon and a year later another limited edition was manufactured. There was a short time when the knife was not being made, and then in 2008, the company took up producing the exceptional blade once more.
The Gerber Mark II has durable, rugged design. It has a 420HC steel blade with a double serration. The blade has a coating of black oxide to give the knife a low profile look. The handle is durable and made of hearty aluminum. This blade is even field tested to ensure its quality.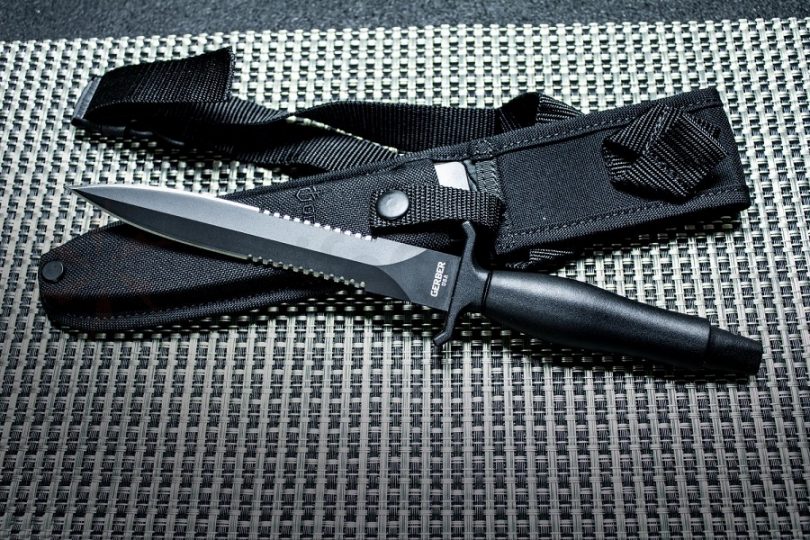 Additional features include:
A blade measuring 6.6 inches in length
A weapon measuring 11.6 inches in its entirety
5 ounces in terms of weight
A ballistic nylon sheath comes with the blade
Comes with a limited lifetime warranty
Can serve as a short range, hilt heavy, underhanded throwing knife if necessary
Manufactured in Portland, Oregon
Like this amazing product? Then you can check its price here.
Chaos Double Edged Fighting Knife
The 80NTP Chaos Double-Edged Fighting Blade is a production by none other than Cold Steel. The weapon is priced around $51.23, so it is clearly affordable. The handle is made of 6061 Aluminum and it is 6 inches in length. The blade is 4.5 mm thick.
The entire weapon measures 13.5 inches long and the blade is a durable SK5 High Carbon Steel blade. The Chaos is a double-edged dagger superior for survival uses, camping, hunting, and fishing endeavors.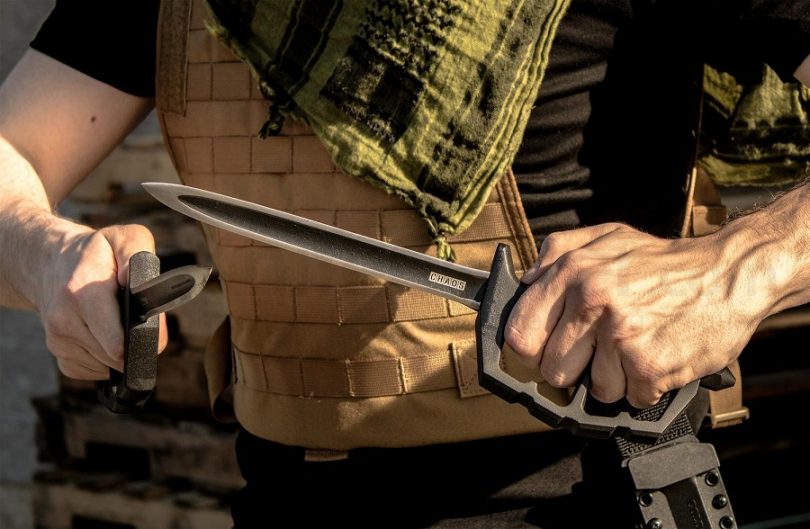 This dagger has been inspired by World War trench knives. The tactical weapon features a fixed blade that is suited to the modern day survivalist. The weapon has a D-ring guard manufactured out of aluminum and therefore lends to ease of handling and a superior grip.
[the_ad_placement id="in-text-2-type-a"]
Additional features include:
Coated in Black Tuff-Ex
Resistant to corrosion
Reduced friction means greater power when cutting
Comes with a Secure-Ex sheath
Sheath is fitted with a belt loop for ease of transport
Both edges are bladed
Will require some sharpening when it arrives
Maintains a sharpened blade for a long period
If you like this product you can find and purchase it on Amazon.
Mtech Bowie-Style Fighting Knife
The Bowie-Style Fighting knife (model # MT–20-12) manufactured by Mtech USA is a visually attractive blade and one that is highly functional. The weapon measures a full 10 inches and features a handle made of highly durable plastic materials.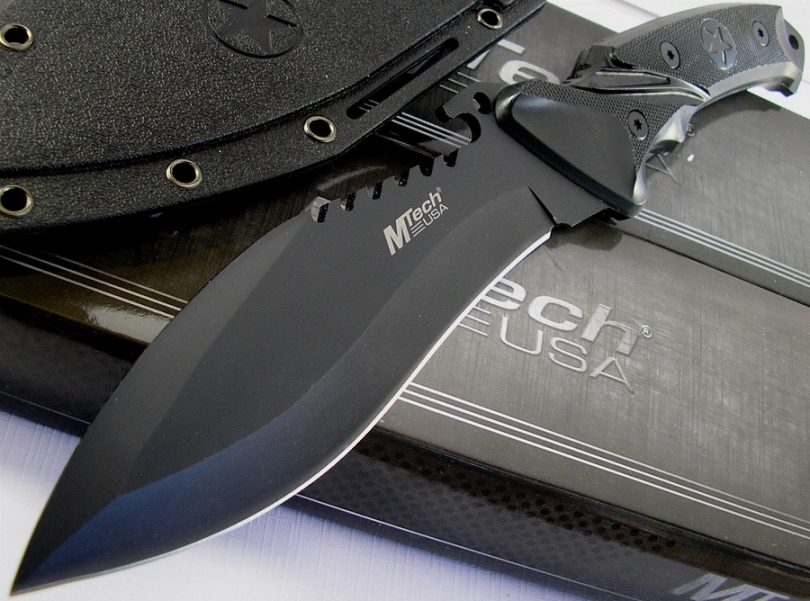 The price tag of the weapon is unbelievably reasonable at $15.71 to $15.99, depending on where you buy it. The weight of the knife makes it less than ideal as a throwing knife, but in other survival situations the knife is well suited. The blade has a superior angle and remains sharp for an extended period.
Additional features include:
A durable, solid, fixed blade construction
A 3mm Black blade for a low profile weapon
A plastic handle
Comes complete with a fiber sheath made of nylon materials
Military style weaponry
Blade covered with a 440 titanium coating
Stainless steel blade
Spear pointed, curved, fixed blade
Sawback feature
Synthetic handle featuring grooves for the fingers
Excellent ergonomic design for comfort when in use
Extended tang
Lanyard hole so you can attach cordage if you desire
Measures 10 inches by 2.8 inches by 1 inch
Weighs 12 ounces
An exceptional weapon for hunting, fishing, and survival
Weapon features a 5.75 cutting edge
The blade is between 5.5 and 6 inches in length
The sheath is trustworthy and durable
The sheath has a clip allowing you to wear the knife on a belt
Like this amazing product? Then you can check the current deal for it on Amazon.
The Schrade Extreme Fighting Knife
The SCHF3 Schrade Extreme model survival knife is an excellent weapon to list among the top fighting knives on the market.
This weapon features a fixed blade and a very comfortable price tag of about $43.00. This full tang weapon has a Bowie Blade that is partially serrated and made of high carbon stainless steel. The blade is black and the handle is both grooved and textured to ensure an excellent grip when the knife is in use.
The weapon is less expensive than the Gerber Strongarm is and it has a more versatile knife tip in comparison. You will find it ideal for carving, batoning logs, and chopping.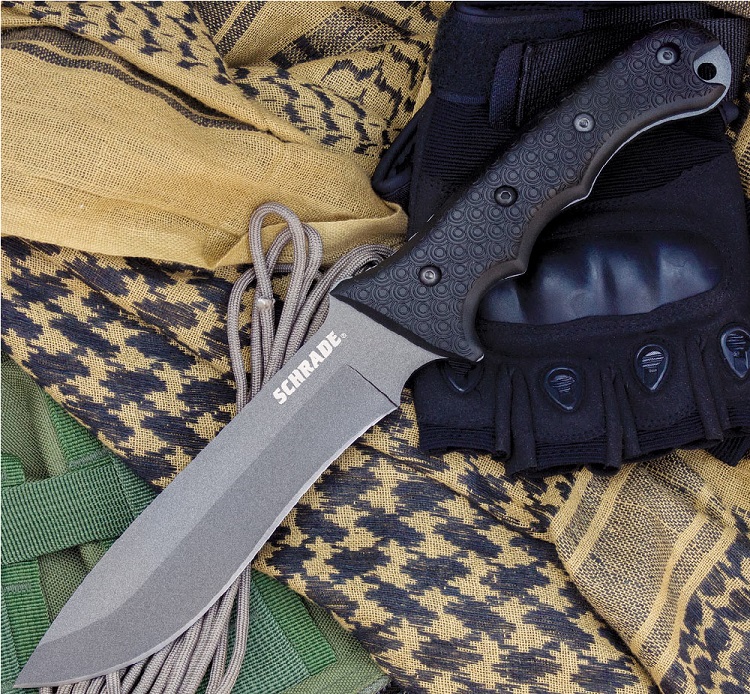 Additional features include:
Wrist lanyard for ease of carrying
Sheath inclusion for protection of the weapon
A 6.4-inch long black blade made of 8Cr13MoV high carbon stainless steel
Features Micarta phenolic laminated handle slabs
Ultra light weight design as it weighs all of 2 ounces
Weight with sheath is 3.4 ounces
Made by a knife manufacturer in the industry for well over a 100-years
Measures 5.6×4.7×10.3 inches
Backed by a limited lifetime product warranty
Perfect for survival situations, camping, fishing, and hunting
Comfortable design, easy to handle
A good, all terrain weapon
Like this amazing product? Then you can check its price on Amazon.
Master USA Series Tactical Blade
The MU-1119 model by Master USA is a tactical blade unrivaled in the industry. The entire blade is 6.75 inches in length, but it is a workhorse of a blade and the price is impossible to beat at $6.88. The color of the blade is black and the weapon features an attractive cord-wrapped steel handle.
The weapon is not intended for use as a throwing knife, but it is great for basic work tasks and self-defense.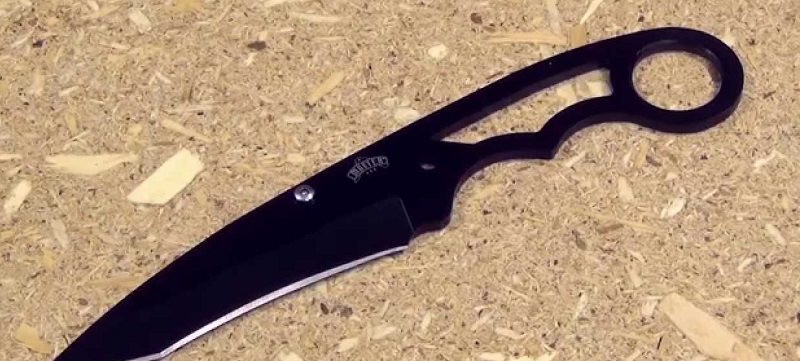 This weapon's additional features include:
A 440 Stainless Steel Blade
The cord on the handle wrap is a steely gray
The knife comes complete with a lanyard and plastic sheath for storing the weapon when not in use.
The blade alone measures 3.25 inches in length making small enough to stash and hide.
The blade sharpens with ease and maintains a good sharp edge
Solid with a slightly dull blade requiring sharpening upon arrival
The weapon conceals easily in a pocket or boot because of its minimized size
The sheath comes with an easy to remove clip
Capable of batoning branches measuring three to four inches in thickness
Great as a daily work blade
If you think that this product could be useful for you, then you can check its price on Amazon.
Coleman Fighting Knife
The Coleman model CM2010 is an exemplary weapon hosting a fixed 9 inch long knife. The weapon is priced between $9.89 and $32.99, depending on where you buy it.
The knife has a 4.7-inch long blade made out of high-quality 3CR13 stainless steel. The blade is a popular choice due to its solid construction, durable design, and low profile style, and is excellent for a variety of work and defense tasks. The dimension of the weapon is 9x2x0.7 inches (length x width x height) and it weighs 5.9 ounces in all.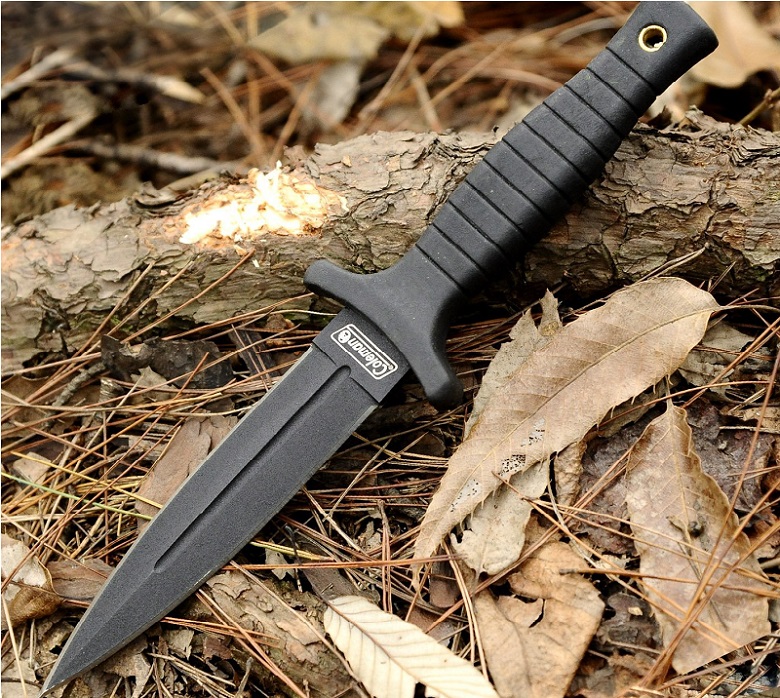 Not intended for use as a throwing blade, the Coleman fighting knife features a handle made of durable, dense, heavy rubber materials. This weapon is also ideal for diving adventures and the blade is a double-edged.
Additional features include:
A nylon sheath for keeping the blade covered and your weapon safe when not in use
Sheath features a useful, nylon, black belt clip
Pocket clip for ease of carrying without risk of injury
The blade is sharp and easy to sharpen.
Lightweight body for ease of portability (weighing in at under a pound)
An attractive boot knife design
Ideal for camping, hunting, and fishing endeavors
If you think that this product could be useful for you, then you can check its price here.
In conclusion
To choose the best blade, you will need to take into consideration the size of the weapon you desire, how you want to carry the weapon, and what you want in terms of special features. The price is another factor that comes into play when looking to invest in a knife that will serve you well for years to come.
[the_ad_placement id="in-text-3-type-a"]https://survival-mastery.com/diy/weapons/best-combat-knives.html
You will want to buy a weapon from a trusted manufacturer that demonstrates a commitment to creating weapons of excellence. Tested products and those made with the utmost safety in mind are the kind of fighting knives you should consider. Do read on our basic knife safety tips for your protection.
In the end, you may even want to buy more than one fighting knife for different types of survival situations and uses. A good, multiple use weapons can be your first choice. You can then make a future investment in a fighting blade that is for a specified purpose like self-defense or use in hunting, camping, or fishing pursuits.
Some of the links in this post are affiliate links. This means that if you click on one of these links and make a purchase, I earn a small commission at no extra cost to you. Also, as an Amazon Affiliate, I earn from qualifying purchases. If the information in this post has been helpful, please consider purchasing through one of the links in this article. Thank you.