Stuff Hitting the Fan abbreviated as SHTF refers to a bad occurrence, which can be anything from getting lost in the woods to a zombie apocalypse. Basically, you can have any an unexpected situation of your own, but one thing is certain – you need weapons to defend yourself if need be.
[the_ad_placement id="in-text-1-type-a"]
The best SHTF weapons are the ones that can successfully help you find your way out when you are entangled between a rock and a hard place. Therefore, your weapon of choice as a prepper does entirely depend on what you are preparing to defend yourself against. Here is some article to read on how to have a best gun for home defense.
How to choose SHTF weapons
To begin with, you are not specifically choosing weapons to hunt down game or predators. You are actually choosing arms that will help you as well as your family and friends stay alive in dire situations. Whatever you select must be legal, since you do not want to mess with the law.
There are so many weapons out there but only a few should make it to your SHTF must have list. Picking the correct weapon is not enough; you need to ensure that it can help you whenever you need it most. This simply means that the artillery of choice is one that you can easily maneuver and get yourself out of calamitous settings.
A firearm should always be your first choice as far as choosing SHTF weapons is concerned. However, carrying one requires you to weigh the reward against the risk, particularly if it is illegal. You need to have in-depth knowledge of international laws, federal laws and local laws.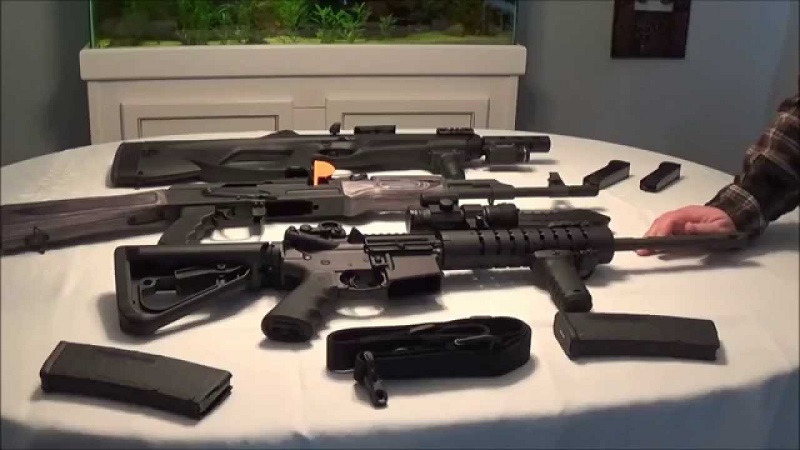 You need to know what is legal and illegal to carry and you should always be prepared not to be a problem for the law. The law will not simply buy your prepper story if you do not adhere with what it states. In simple words, you need to conduct a thorough research as far as firearms are concerned in your State or country.
If you need to walk through a difficult occurrence majestically without a scratch, you need to get yourself something legal, something worth carrying along. The most preferred weapons to have in your gear can include anything from shotguns, semi-automatic rifle, full size pistol, long range rifle and small game rifle. The main clue when choosing these weaponries is to find something that you can comfortably carry with you at all times. Once again, a firearm by itself is not enough.
You need to have training and self-defense knowledge. In addition, other artilleries that can serve you well in a stuff hitting the fan situation may include but are not limited to: archery weapons and survival knives.
With that said, selecting a weapon can be a multifaceted undertaking. Most weapons are devoted to a precise use, such as target shooting, training and hunting. Like any machine out there, weapons are a compromise; particularly when you factor in the following: reliability, power, weight, availability of ammo and cost.
Your choice should strictly be guided by your skill level, projected needs and budget. Unlike other machines in the market, weaponries quality matters a lot. You should not assume that a specific weapon will work just fine.
Top SHTF weapons reviews
Firepower .45 Metal Slide Airsoft Pistol (6mm)
This is just what you need for any stuff hitting the fan situation. This state-of-the-art piece is an outstanding firearm as it is part of metal slide series that is fully packed with unique features and specs. This piece is equipped with a shot velocity of 328 FPS, a 12 round magazine, highly functional safety and a BAX hop-up system for enhanced long range shooting precision.
This is just the piece for extended airsoft combat when cornered with a certain situation. This pistol is engineered for precision and success when shooting. The slide is sweet and smooth when you pull it back and its top part is made of metal while its bottom section is made of plastic.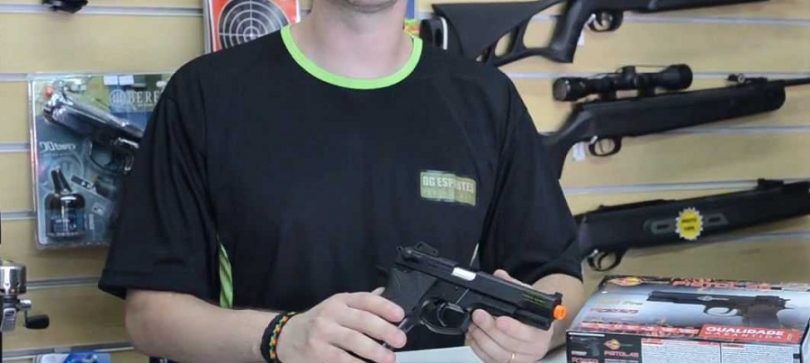 The handle material is heavy-duty, ensuring that you always have a strong grip. As far as weaponries are concerned, this is one of the finest SHTF guns you can buy in the market. This is a precision shooting pistol that discharges quarter-sized groups at approximately fifteen yards. Insofar as the BB feeding is concerned, you will need to feed roughly one dry fire for every three to four magazines.
This is the machine to engage if you do not want any problems with loading the magazine. It is very smooth; all you have to do is ascertain that the BB holding latch is released prior to accessing the speed loader.
Pros: This pistol has great power as well as accuracy. Also, it is exceptionally quiet, allowing you to shoot in a fenced area at night.
Cons: if not properly maintained, the slide may jam, making it harder to fire.
Like this amazing product? Then you can purchase it on Amazon.
Hogue Ruger GP100/Super Redhawk Rubber Tamer Grip
This unique firearm is molded from hard-wearing artificial rubber, which is neither tacky nor spongy. The most amazing thing is that it offers soft recoil that absorbs feel without interfering with the precision.
The flexibility of materials used along with the molding provides this piece with highly comfortable rubber grip that out performs the grips of any other models you know of in the market. The rubber grip is particularly resilient and it will last a lifespan of hard use and abuse.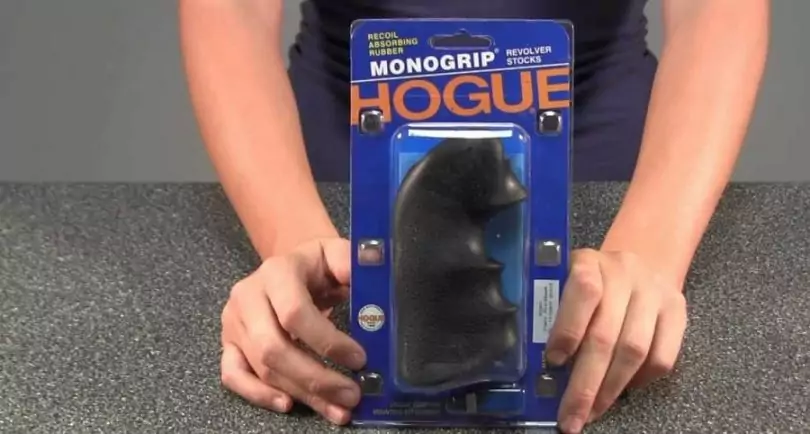 Ultimately, it is the grip that offers you durability and dependable precision. Measuring 4.5 by 1.2 by 8 inches and weighing only 5.6 ounces, this is the perfect weapon for a stuff hitting the fan situation.
If you have never discharged a revolver with the grip pre-installed, then you are missing the comforts of a firm grip that directly promotes precision shooting. Be certain that you will experience an inspiring feel because of the high quality material that defines your finger contours and palm swells.
This piece provides you with better functionality than any of the stock grips you have ever come across. The stainless frame positioned against the black grip offers this unique piece a captivating appearance.
Pros: The high quality rubber tamer grip minimizes vibrational shock by about 20% to your hand; thus giving you full control.
Cons: The rubber material used on the grip may wear out easily at times.
If you interested you can check its price here.
Remington 870 Express Shotgun Ammo Sling
This up-to-the-minute shotgun is manufactured in the U.S. by Remington Arms. This firearm is a two point shotgun as well as shell holder. It is widely used by military along with law enforcement as a defensive armament. Therefore, it is without a doubt the finest piece to engage as a prepper.
This firearm features the following: ammo sling with ammo loops and gripping ring. The ammo loops can hold 20 or 12 gauge shells; has webbing loops that go through the swivels on the stock; and two-inch long-lasting black nylon. In addition, the piece attaches to your one-inch swivels.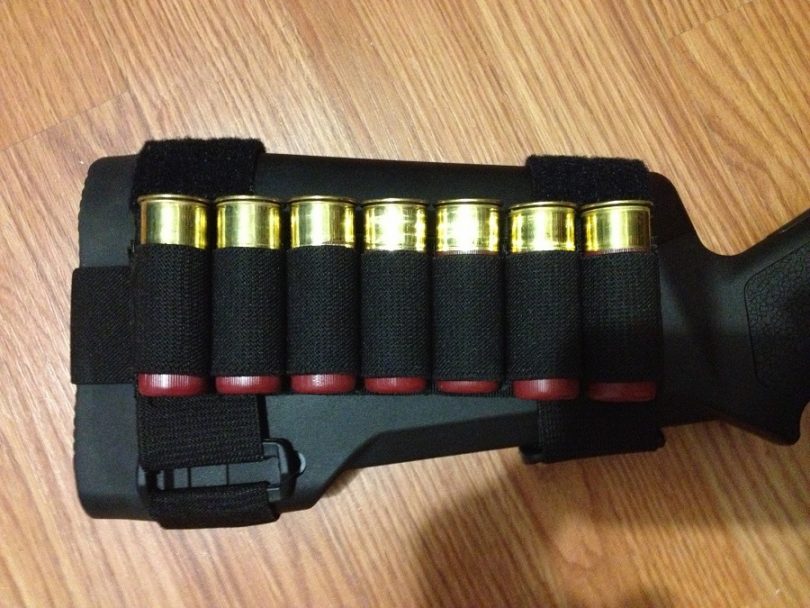 You will like Remington Arms intentions, since the design is well constructed and the overall quality is superb. The webbing is sectioned by good quality plastic links and the stitch appears just fine. The ring positioned in the middle is plastic, but it is not lame and you can optionally remove the loop underneath the ring.
To be honest, being able to carry 25 shells is quite breathtaking. The whole thing will definitely be heavier if you add the weight of the twenty five shells. However, you can always opt to carry around ten shells in order to manage the weight of the shells.
The sling requires a bit of modification since it does not have a clip attached to it. If you are a smart prepper you will appreciate the absence of the clip because it makes the sling noisy with the shaking and rattling. Instead, you can manually tie a knot to firmly attach your sling, which eliminates any rattling or shaking noise.
Some people may find the sling quite hard to manage as far as its ability to carry ammo is concerned. However, you can easily find a way to work with it as long as you make the correct modifications.
[the_ad_placement id="in-text-2-type-a"]
Pros: This machine is made of high quality construction; the sling and the shell holders are made of good quality.
Cons: The webbing is sectioned by plastic, which may not be a desirable material for some preppers.
If you interested you can check the current deal for it on Amazon.
Sig Sauer P226 X-Five .177cal
This is a gas-powered, semi-auto .177 caliber pistol that features a full metal body, tactical rail, Co2 blowback and railed frame. It has a link of 8.8 inches, a weight of two and half pounds. Basically, this is an outstanding piece of metal that fires, feels and looks so much better and accurate than the outdated BB gun that you are used to.
Unlike other models in the market, the presence of plastic material is very minimal on this firearm. There are only a couple of parts that have plastic, including the screw that holds the Co2 gas can and the grip. You will without a doubt admire the structure of the Co2 as well as the BB in the clip.
The screw that holds the can is plastic; however, it will only take you a few moments to access the threads and finally screw in. You will admire this piece the moment you remove it out of the box. It does not have de-cocking lever, but its field strips and functions allows you to feel that you are holding a realistic firearm.
The full metal drop-out magazine is the real deal. With this piece, you are provided with a single action because of the light and short trigger pull. You cannot compare the quality of the sights of this model because they are high quality iron sights.
The functionality and quality of this weapon are terrific. If you are in search for a well-designed blowback machine, then you need not to look any further. See our piece on important data on survival pistols to help you.
Pros: It has even weight distribution, well-structured iron sights, solid quality construction, and full metal drop-out magazine.
Cons: You should not expect the recoil to be harder than it is when you remove the gun from the box.
If you interested you can buy it on Amazon.
UTG Sport Gen 5 Airsoft Master Sniper Rifle (Black)
This is without a doubt one of the finest SHTF guns to have in your weapons' list. It is not only accurate but also more powerful than any firearm you might think of out there. You can shoot through both ends of anything that you choose as your target.
Defining this piece is easy, because anything that is black on it is made of metal apart from the butt pad and bolt tab, which are made of rubber. Anything green is made of plastic.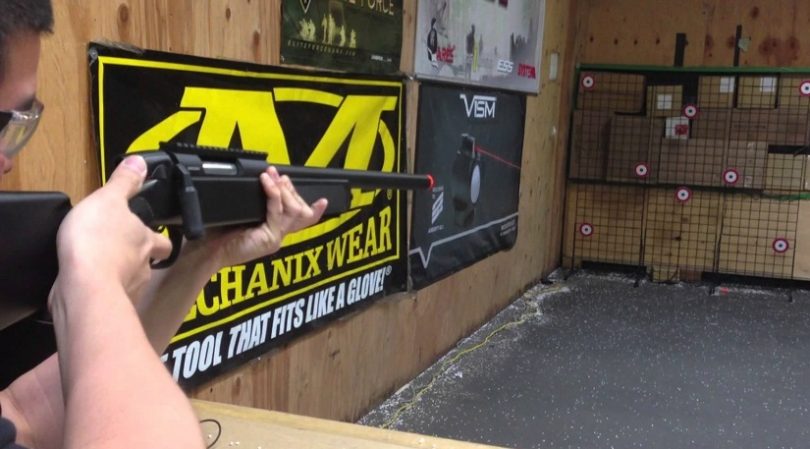 Modifying this machine is easy as you can easily attach your bipod by tightening the weaver rail with a screwdriver. This is an amazing shooting gear because it loads easily and shoots precisely. Normally, you can buy the gun without the scope and bipod.
Most people think that it is a must to have the bipod in place, but the firearm does well on its own since it shoots really accurate. When you shoot the .24 BBs, the shots will be unbelievably great.
As far as the best airsoft master sniper rifles are concerned, this particular one has the finest hop-up adjuster you have ever used with any of your firearms. Other models might have higher FPS, but at only 450 FPS, this unit provides you with precision shooting. The bolt is flawless and smooth. You can get yourself out of unpleasant situation by initiating a shot 200 feet away from your target.
Pros: This is an accurate and powerful airsoft master sniper rifle for any stuff hitting the fan situation.
Cons: If not well-maintained, the mag release may get stuck after a few rounds of use.
Like this product? Then you can check its price on Amazon.
Soft Air Kalishnikov Tactical AK47 Electric Powered Airsoft Rifle
This is the maximum SHTF weapon you can buy. This full metal machine offers the finest quality that makes it a good defense. This unit is inexpensive, made of excellent construction, reliable, high-powered and accurate. Precision is everything when you are fighting your way out of unexpected situation.
Regardless of the fact that the inner bore is approximately 6.08 mm, this is justly an accurate firearm. This heavy-duty machine provides you with the following: nylon fiber foldable stock; removable fore grip; integrated tactical rails; high capacity magazine; and metal upper receiver.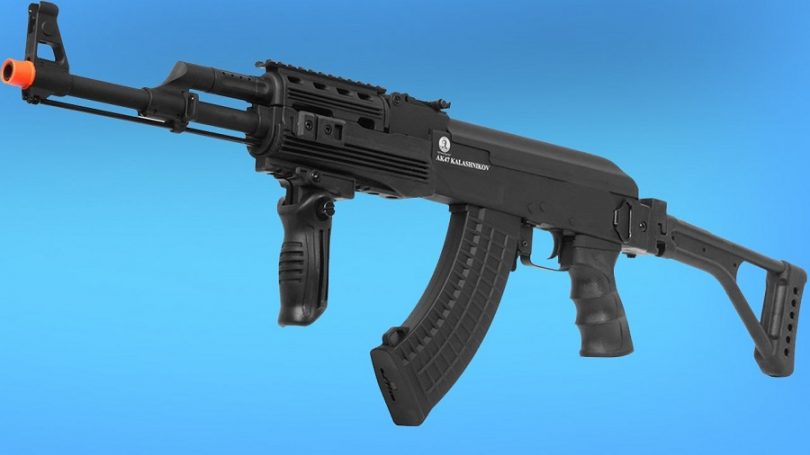 This weapon provides you with accuracy, but the speed is even better. You are presented with muzzle velocity that ranges between three hundred and thirty to three hundred and eighty FPS along with a .20g BB.
The power range and it extends to about sixty six yards. This machine will do you great favors when stranded or cornered. If the .20g pellets float you can always adjust to .25g pellets. It is the best rifle for the money given the fact that it is electric powered. The battery will serve you well, since it will take you at least six hours to run the battery down.
Pros: This is an electric powered unit that has a realistic feel, it is very ergonomic, it is high powered, it is very accurate and it is equipped with hop up system and folding stalk.
Cons: The sling attachment produces some noise whenever the gun is moved.
Like this product? Then you can check its price here.
Crossman Stinger P311 Airsoft Pistol (Black)
Choosing a gun for stuff hitting the fan situation can be quite stressful, particularly if you want a perfect piece. As far as the Crossman Stinger P311 is concerned, you do not need to look any further.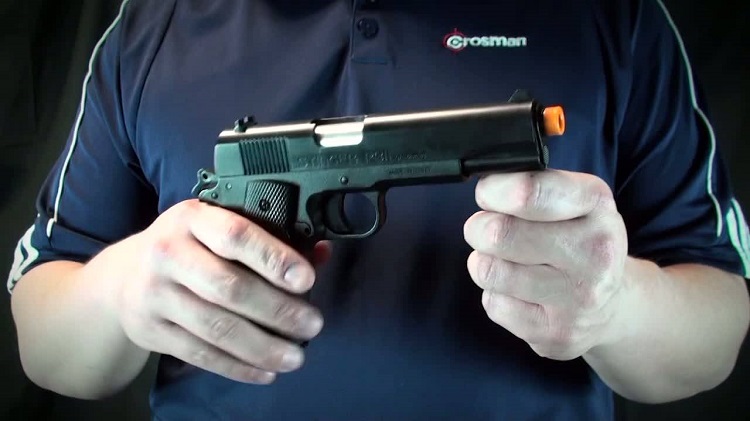 All the unique features that you need to survive are incorporated in this unit. It is unbelievably precise and it does outperform most spring pistols you can find in the market. It has an attractive appearance, has the ability to shoot numerous BBs, it is sturdy, performs great and it is highly affordable. This state-of-the-art pistol is highly durable and it delivers maximum performance.
Pros: This piece is designed for precision shooting, because it is durable, has good FPS, it is cheap, and it is a great starter gun.
Cons: The material used on the magazine is not of high quality.
If this is the ideal SHTF weapon for you, then visit and buy on Amazon.
In conclusion
A stuff hitting the fan situation is always an unexpected one, and you need the best weapon to make it through. There are always several options for defending yourself, but there is no more reliable way than guns. This is a practical choice, which guarantees your success.
[the_ad_placement id="in-text-3-type-a"]
You need to think harder before ruling out firearms as your number one SHTF weaponries. All you have to do is follow each and every guideline provided in this publication. One of the most important things to do in order to be able to possess a firearm is to get everything right with the law.
Don't forget that maintenance is key, so read on our article on the best gun oil.
Some of the links in this post are affiliate links. This means that if you click on one of these links and make a purchase, I earn a small commission at no extra cost to you. Also, as an Amazon Affiliate, I earn from qualifying purchases. If the information in this post has been helpful, please consider purchasing through one of the links in this article. Thank you.