If you are an experienced gun owner, you need to know that the gun oil out there is not created equal. Even though gun oils have basically the same properties, the gun oil that you get from your favorite firearms dealer is going to give you way better results than a can of WD-40 (which most gunsmiths agree should NEVER be used on a firearm).
[the_ad_placement id="in-text-1-type-a"]
Quality gun oil should be lightweight, able to be used at all temperatures, and protect your investment well. If the oil lives up to these expectations, you can bet that you've found a product that will protect your gun and keep it functioning well for years to come.
Veteran gun owners always look for the best product that exists, but if you're a new gun owner, you might have some questions about which one to use.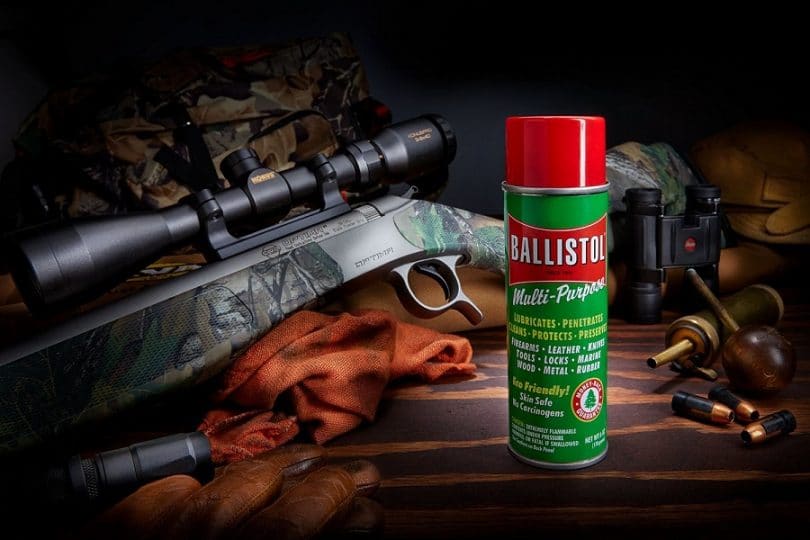 That's why we put together a round up of the best gun oils on the market, as rated by consumers like you, based upon quality, performance, and overall value. We've included a wide variety of gun oils so that you can find the product that meets your specific needs.
Ballistol Multi-Purpose Lubricant Cleaner Protectant
Just as the name suggests, the product packs a three-in-one punch. Reviewers raved about this biodegradable formula. For those of you who wax nostalgic with fond memories of the smell of gun oil while cleaning guns with your grandpa, this solution isn't for you.
The majority of the users appreciated the fact that this non-petroleum based product got the job done, without the nasty smell that lingers on your hands for days.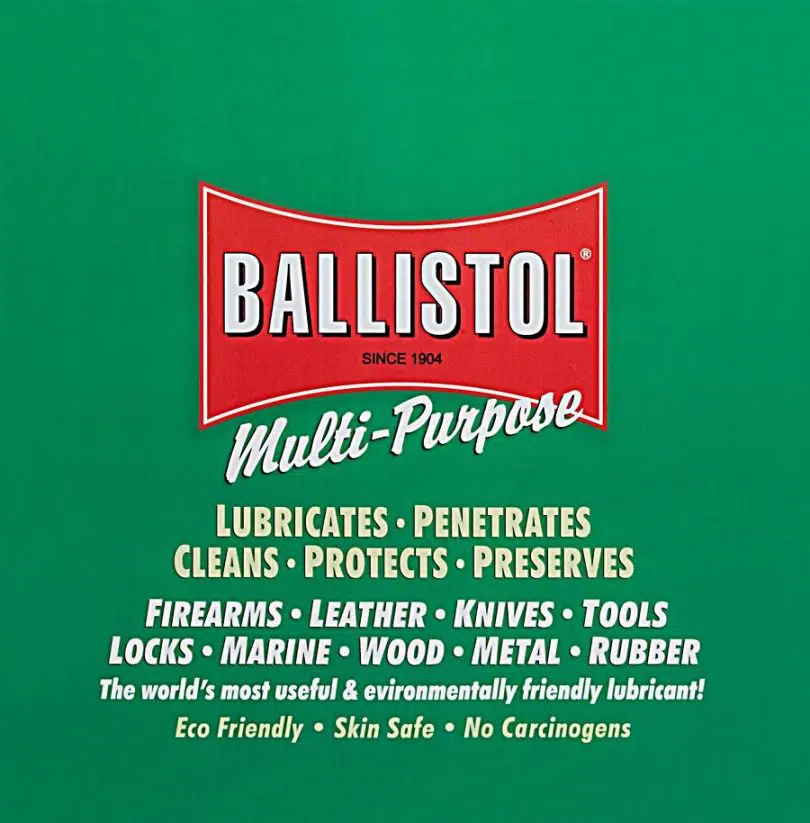 Here are just a few things reviewers loved about this oil:
It can be safely used on leather, wood, and plastic, which opens it up to being used for more than just guns.
It can be mixed with water to clean black powder or corrosively primed ammo. Users suggested using the liquid for this vs. the aerosol
There's no harsh smell, it's completely biodegradable, and won't harm eyes or skin.
Users did report a few drawbacks as well like:
The solution failed to remove copper or lead.
The oil is not penetrating.
It does not work well as honing oil.
Even on the dirtiest of jobs, users reported that, after soaking for thirty minutes to an hour, the solution performed better than expected. After years of using this product, reviewers said that their firearms were in excellent condition.  Because it takes so little of the solution to get the job done, most users felt that it was an extremely good bargain.
See our informative piece on how to safely clean a rifle for your protection.
Break-Free CLP-4 Cleaner Lubricant Preservative
One of the biggest pros for the Break-Free CLP-4 Cleaner Lubricant Preservative is its ability to perform well in extreme environments. This product has been tested in temperatures ranging from -65F to 475 F and still does the job, even after complete saltwater immersion.
The convenience of a three in one product was a big draw to most reviewers since its silicone base means that the smell in your work environment, and on your hands, isn't the least bit offensive, like traditional gun oils. Also, users with breathing issues reported that they had little to no problems when using this product in a well-ventilated room.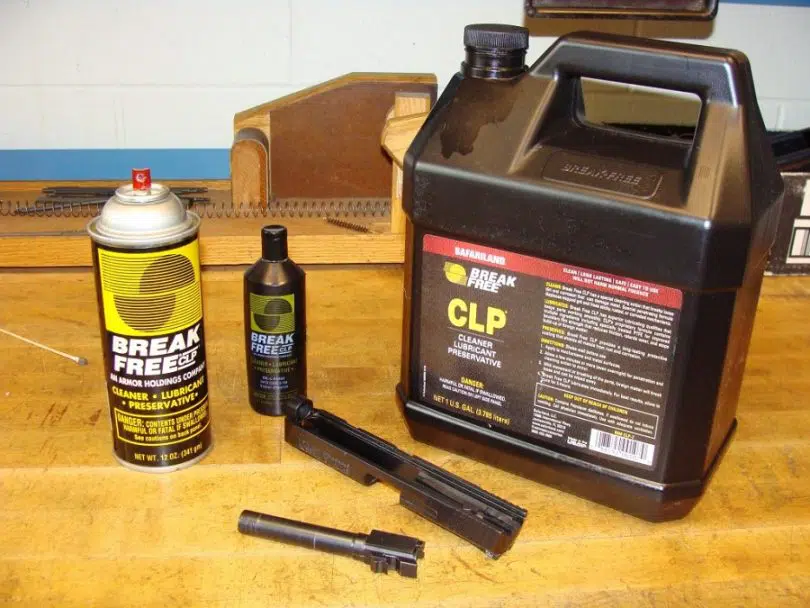 The formula penetrates and glides along surfaces and seeps into every pit and crevice to remove residue and lift away sand, grit, and other abrasives that can damage your gun and cause malfunctions.
The oils don't separate, dry out, or gum up, even over time which is especially important for heirloom guns that don't see much action. Reviewers said that their guns were well coated, without excessive greasiness or oiliness.
Quite a few reviewers mentioned that this product had been recommended to them by members of the US Military, or used it while in the service themselves. However, some reviewers felt that the oil didn't hold up as well when used on Ar-15's as other multi-purpose cleaner lubricant preservatives.
All-in-all this product will save you time, as well as money when compared to more traditional methods of cleaning and lubricating your guns.
Froglube is a multi-purpose cleaner, lubricant, and protectant. This USDA Bio-Preferred Product is made of food grade material, so it's safe for you and the environment, and, unlike petroleum based products that have a heavy odor, this product has a sweet minty smell.
Since this is a paste, you can easily stow it away in a range bag without having to worry that it will spill all over your other gear and damage or destroy it.
People who reviewed Froglube CLP said that they preferred the paste to a liquid because it stays exactly where you put it. This is great for guns that are used in extreme heat, or stored for periods of time.
Froglube is water based and can easily be wiped away, along with the grit, grime, and carbon buildup. For extremely dirty guns, it is still recommended that you give it a good scrubbing and let the solution sit a bit before giving it a final wipe down. Most users reported that they saved time and money by using Froglube CLP over traditional methods.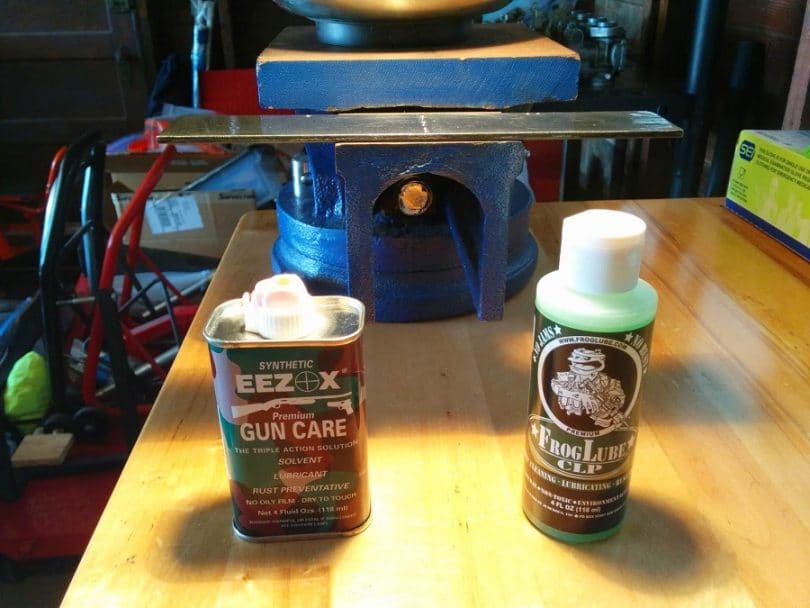 One reviewer reported that Froglube CLP worked way better than standard military issue CLP while in combat in Afghanistan. From grit, to extreme temperatures, users attest to Froglube's ability to get the job done, with no toxic chemicals.
[the_ad_placement id="in-text-2-type-a"]
The one complaint that reviewers had with this product was its tendency to gum up in cold weather. Some users also noted problems with the product gumming up on the gun mechanisms when going from a warm climate to a colder climate and vice versa.
Unlike the other products that we've listed so far, this is only a gun oil and nothing else.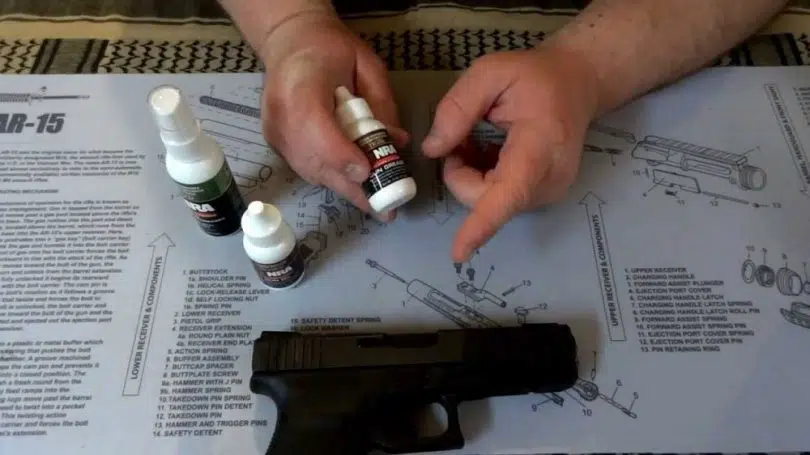 Here's what reviewers are saying about this product:
Mil- Comm is recommended by Sig Sauer Firearms and it is a leading seller of gun lubricant
It can be used in a wide variety of extreme conditions with awesome results
It is non- toxic and non-flammable
The tapered tube is easy to carry in a range bag, and works great for filling syringes. Some users recommend using a pin to puncture the tip, instead of cutting the tip for easier control, a little goes a long way.
On the cons side, we can list the following:
The oil tends to separate from the grease over time. Some users also noted a greenish tinge to the oil after it had sat on their guns for a while. In all fairness, it is impossible to determine if this is the product itself, or a reaction between excess solvent/copper solvent that had not been removed properly.
Some felt that it was messy to work with, and didn't stay put.
After heavy use, reviewers said that the product tended to gum up, causing gun malfunctions.
Users found it difficult to clean off after the product had been sitting in storage.
This is a classic and anyone who grew up around guns will recognize the distinctive scent. This high viscosity oil works great on all types of firearms, fishing reels, knives, and precision mechanisms. It's guaranteed not to gum up, separate, or expire.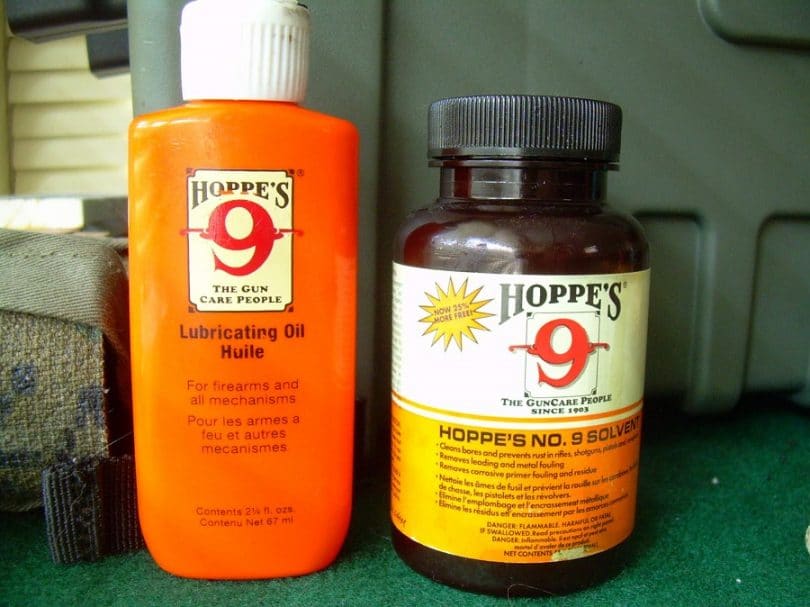 The precision needle eliminates the need for filling messy syringes, and allows for ease of application. And the refillable bottle adds to the value of this classic gun lube.
The biggest complaint that users had with the product itself was that it tended to be a little runny. The upside was that it didn't gum up and left the gun well-conditioned, but not excessively oily.
Another highly rated gun oil product, Rem Oil comes in a pre-saturated wipe for portability and ease of use. No more messy bottles to deal with! This Teflon based formula doesn't contain CFC's or paraffin, and has been proven effective at temperatures of – 20 F to 120 F. The wipes enable the user to get in all the nooks and crannies and whisk away grit and grime, while imparting a thin protective layer to your firearm.
The downside to this product is that it is flammable, and users are advised to use protective gloves while using the wipes. Reviewers did not find that the product had a strong smell when used in a properly ventilated area.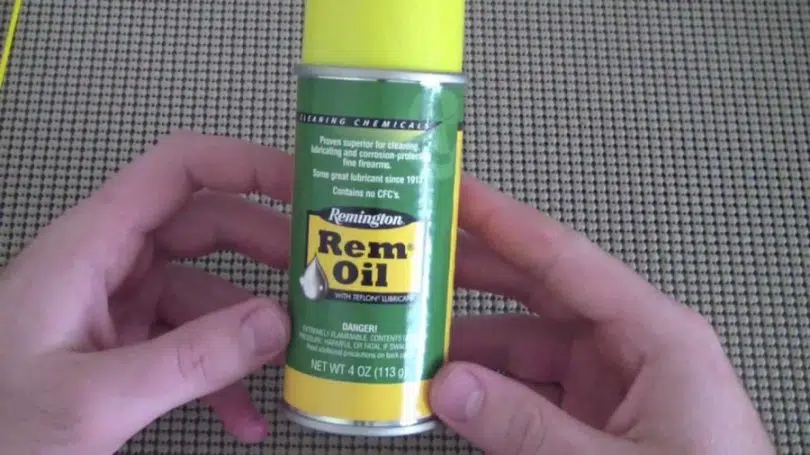 Overall, reviewers felt that the portability, ease of use, and low price made the Rem Oil wipes a great deal for everyday use.
FIREClean Anti-Fouling Gun Conditioning Oil
This is a relatively new product in the world of gun oils, but reviewers gave it five stars as an all in one cleaner/ gun oil. Reviewers loved the fact that all of their gun care needs were met in one bottle, saving them money, time, and work. The non-toxic, biodegradable formula means all around safety for people, pets, and the environment.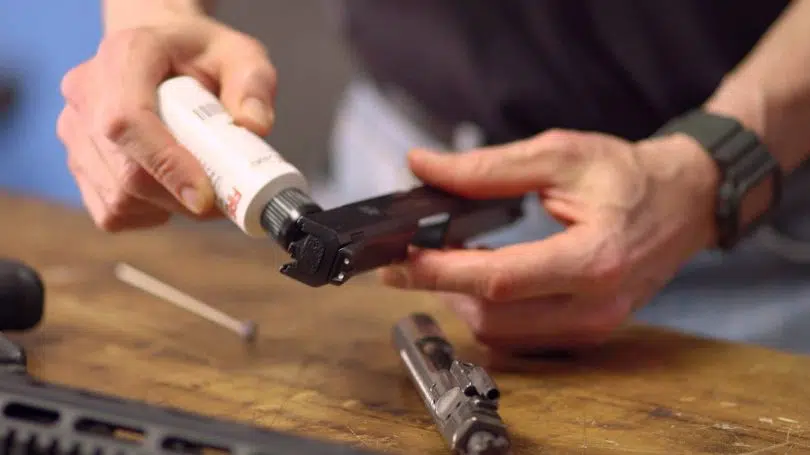 Users reported that the product was extremely heat resistant, and perfectly safe for all finishes. There was no gumming up, or dripping, even after long term storage.  The majority of the users were surprised to get more gunk and grit off when using this product after their favorite solvent/oil combo.
Shooter's Choice FP-10 LUBRICANT ELITE
This product comes highly recommended by Kimber and Dan Wesson for maintaining the accuracy and value of their customer's firearms.
Most of the reviewers felt confident using this product on their high-end firearms and everyday carries alike. They report that the product works well under all conditions, isn't too thin or too oily, and provides an even layer of protection for their guns.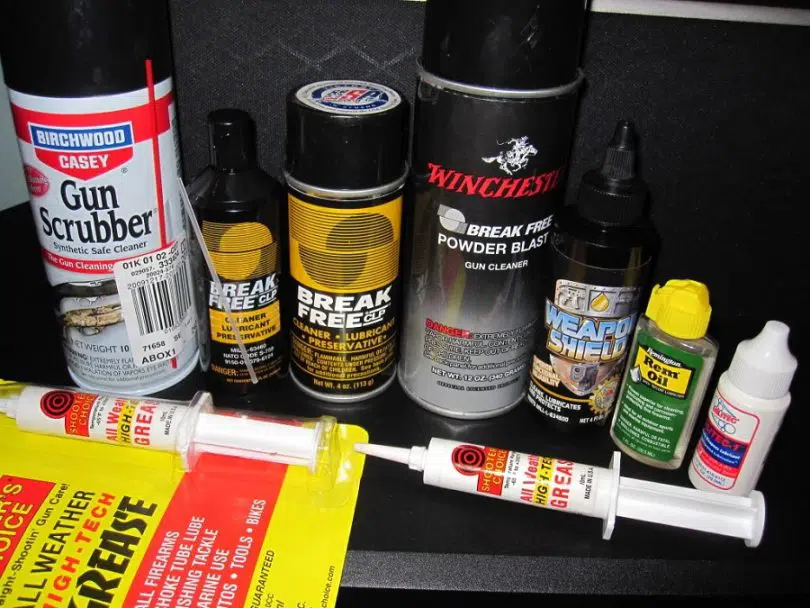 Several reviewers said that they were lifelong gun enthusiasts who had switched to this gun oil from a previous favorite.  The only complaints they had, were that the product wasn't portable and could easily spill in a rifle bag and damage other equipment.
Another three-in-one product that exceeds Mil-Spec standards! This means that it holds up in the toughest environments, without gumming up or running. The formula is USDA Certified with bio-based Ingredients, so it's safe for you and the environment. No goggles or gloves to get in the way!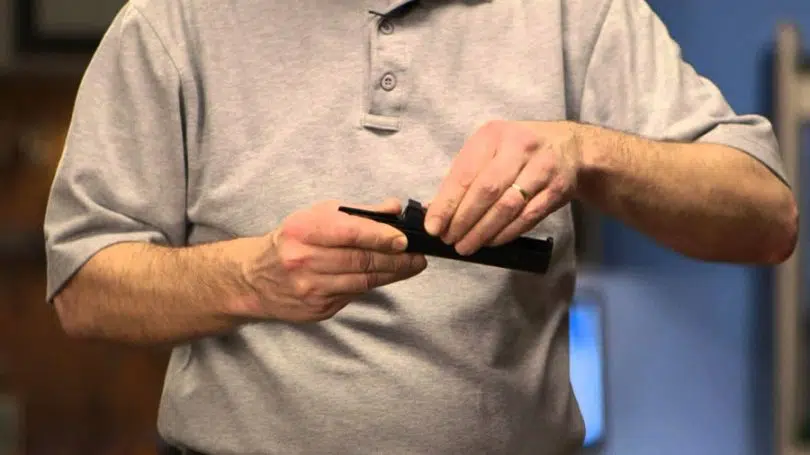 Most of the reviewers commented that this product works extremely well and they were most impressed with the lubricant aspect of the formula. Another thing that impressed users was the pleasant smell, and the fact that it was completely bio degradable. They also liked the fact that the product gave their guns a dry lube, without gumminess or excessive oiliness.
Hoppe's BoreSnake Venom Gun Oil
This isn't your dad's Hoppe's oil! This cutting edge formula uses a patented T3 additive that contains molybdenum and liquid PTFE to offer gun owners the lowest coefficient of friction known to man. The ultra-thin formula provides amazing protection, that doesn't gum up or drip. Users loved the no spill flip top lid for stowing away in a rifle bag.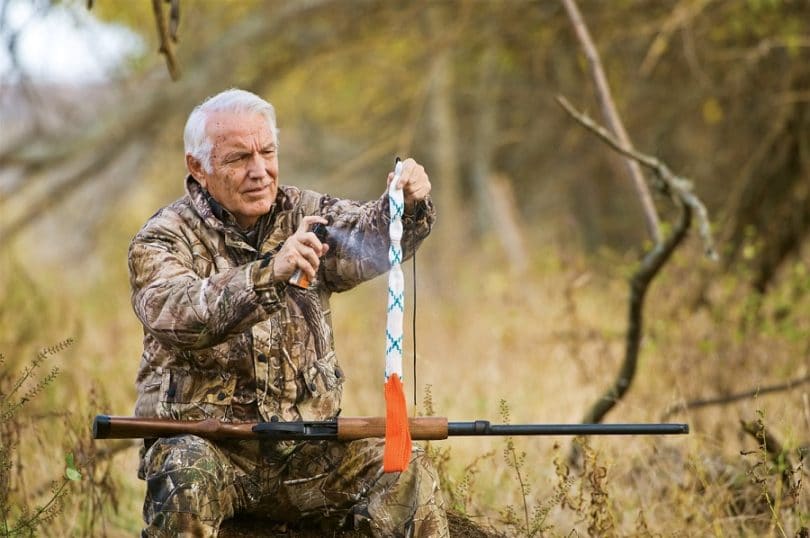 Users reported that their firearms had never looked better. They also stated that the product was a great value for the price.
Wilson Combat 5772 Ultima-Lube II
The reviewers gave rave reviews about this thick, stay put, gun oil. The product is a great combination of price and performance and seasoned gun owners said that this was the best oil that they had ever used. The oil held up well to heavy use, storage, and in adverse conditions. For tips on how to clean a gun, see our article on the topic to learn more.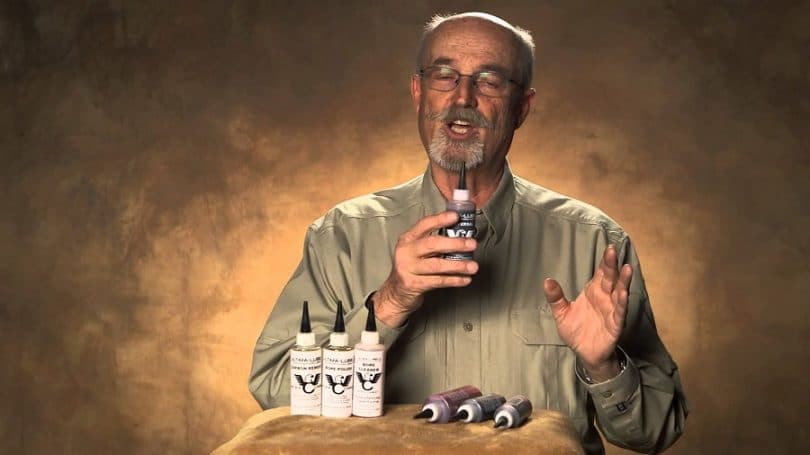 This product contains a blend of petroleum and synthetic oils to give unparalleled lubrication and protection. It received five stars all around from newbies and veteran gun owners alike.
Eezox Premium Synthetic Gun Care
This triple action solution cleans, lubes, and preserves your firearms, including black powder guns.
[the_ad_placement id="in-text-3-type-a"]
This non petroleum based formula is safe for all finishes and is guaranteed not to affect the seasoning of a muzzleloader bore.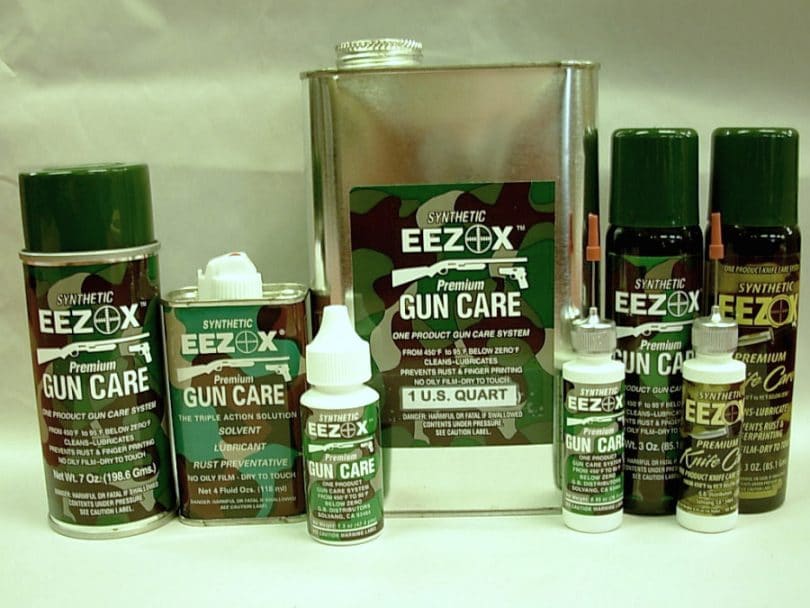 Here are just a few of the things that reviewers loved about this product:
completely harmless to powders and primers
eliminates jamming, residue, and build up
tested in extreme temperatures -95 F – 450 F
offers a dry to the touch layer of protection
Some of the drawbacks that the reviewers observed were:
having to use gloves and goggles, this product is definitely not non toxic
the label lists inhalation dangers, and users reported that the fumes were mildly irritating
the product is very thin, and users reported having issues with spills, and drips
All gun oils out there have their strengths and weaknesses, and we hope that we have helped you to be able to choose the one that will meet your individual needs. You can leave us questions in the comments or, even better, tell us your experience with one of the products mentioned above.
Need to learn more? See our article on the best gun cleaning kit to give you more options.
Some of the links in this post are affiliate links. This means that if you click on one of these links and make a purchase, I earn a small commission at no extra cost to you. Also, as an Amazon Affiliate, I earn from qualifying purchases. If the information in this post has been helpful, please consider purchasing through one of the links in this article. Thank you.