As a true survivalist and a SHTF planner, you surely have a gun or two around to keep you safe and help you defend what's yours in case the situation is calling for it, but what you also need (what you definitely need) is to make sure that your gun is working properly.
[the_ad_placement id="in-text-1-type-a"]
One of the ways you can make sure that everything will work fine when you need it is to maintain your gun often. You can do that by cleaning it regularly – that is why you need to consider buying a gun cleaning kit. We have compiled a list of fine gun cleaners so we could help you choose the best gun cleaning kit.
Let's take a look at our list of best gun cleaners.
Hoppe's Universal Gun Cleaning Kit
Usually, you can't go wrong with Number 1 seller on Amazon when you are looking for the best choice for your gun cleaner. That is the case with Hoppe's Universal Gun Cleaning Kit.
If you want to know that you can rely on quality of a product and make sure that parts won't break as soon as you open the box, this gun cleaner is a perfect choice as Hoppe's designers and manufacturers guarantee that all parts are made of quality materials that will showcase as the best even under the roughest circumstances.
You can use this cleaning kit for both, shotguns and pistols, as all parts are adjustable for universal use. When you open the kit, you will find 3 rods for cleaning. The rods are universal and are made of aluminum. 4 slotted ends and 5 swabs are included in the kit and you will also get 9 phosphor brushes made of aluminum – the brushes fit all calibers, justifying the word "universal" added to the kit's name.  However, in order to clean a gun you also need to have solvent and oil, and since these two products don't come with the kit, you will have to additionally purchase them.
See: Best Gun Oil: Top Products On The Market
Pros: Suitable for beginners and more experienced gun users. Has all parts you need and the price you will pay for it will buy you more than you expect – it is extremely cost-effective.
Cons: You will see that the patches made to hold the rods are made of plastic, so the patches do not match the use it is intended to have: if you are traveling with the kit, the patches won't hold them all in place.
Outers 28-piece Universal Gun Cleaning Kit
Although the kit box looks amazingly sleek given that it is made of aged oak, we cannot say it is very suitable for being carried around while you travel as we can say for Hoppe's kit box. Although, you can still carry it with you and have all the parts of the kit undamaged and safe from outer factors.
With Outers' kit you will get 28 pieces of universal gun cleaning gear, so you get everything you need for regular first-class gun cleaning. Here is what you will get in the kit: 3 brass rods (solid) for rifle, shotgun and pistol, bronze brushes for cleaning (8 pieces), 5 spear jags (pointed) and the same amount of mops.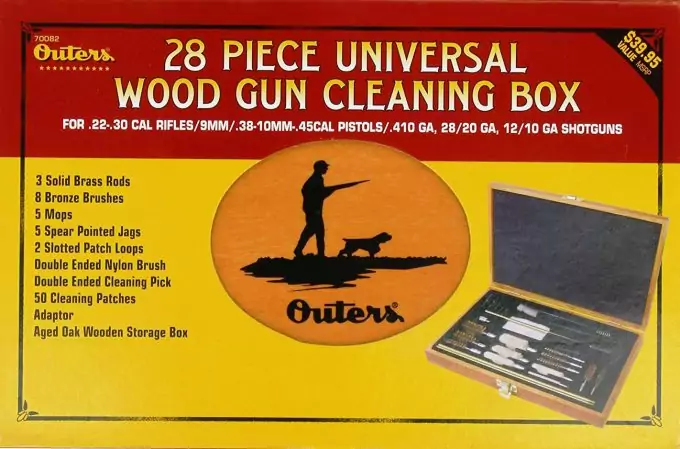 You will also get 2 pieces of slotted patch loops for shotgun, pistol and rifle, nylon cleaning pick and nylon brush, both double-ended, shotgun adaptor and 50 pieces of cleaning patches. You will need to buy the cleaning oil as well as this item is not available in the kit – although you have practically everything you need – all at the more than fair price for this fine looking kit.
Pros: The books looks very neat and sleek, so it may make you buy the kit if nothing else does. The price is fairly low and you get everything you possibly need for cleaning your gun.
Cons: It would be better if the jags for cleaning were made to be brass instead of plastic – brass would definitely make a better choice.
This kit is larger than the previous two put together, so if nothing else attracts you and buys your attention, the fact that this kit comes with 68 pieces will. When you pay attention to its price, you can calculate yourself that each piece of the cleaning gear costs you less than a dollar when the price is divided by the number of pieces you are getting.
To start from the first impression – the bag containing the gun cleaning kit – the bag is actually a case with soft sides. The case looks great and is made to protect the gear pieces from being damaged. It also enables you to carry the gear around easily and it is extremely suitable for traveling.
All pieces available are neatly packed and wrapped for additional protection. Everything you need for cleaning your gun, and even more, is available in this kit. The kit is a bit pricier than the last two, but for the amount of gun cleaning pieces, it comes as cost-effective. In the kit you will get bronze brushes for 14 different calibers, which is more than generous. You will also get mops, respectively matching the needs of 14 different calibers, along with set of solid brass jags, brass rods for rifles and shotguns, 150 cleaning patches  made of cotton.
[the_ad_placement id="in-text-2-type-a"]
The patches come in three different sizes (50 patches for each size) and you will also get more brushes made of different materials such as nylon, bronze and stainless steel. This perfect because you get to use and try different brushes and different pieces of the gun cleaning gear so you could find out what kind of gear and which type of materials match your personal preferences when it comes to gun cleaning.
Pros: The price is very low for what you get by buying this kit. The kit is DEC tested and made of quality materials. You get a case that is made for keeping the gear safe and portable and you practically have every piece of gun cleaning gear you can possibly imagine, try, need and use.
Cons: You may have some troubles with plastic tubes holding the rods (they may break) and there may not be replacements available. The chances the tubes will break are fairly low as everything in the case is well protected. If this is the worst thing that can happen with the Winchester kit, then you have found yourself the best gun cleaning kit.
Guide Gear Universal Gun Cleaning Kit
This kit comes with 62 pieces and it is half the price cheaper than the Winchester's gun cleaning kit. We think that is mostly the case because the Winchester is offering an attractive soft sided case and Guide's Gear Universal Gun Cleaning Kit comes in a secured box that looks like the one you probably hold your tools in.
We don't say this is a bad thing as this box is clearly made specially for keeping the pieces of gun cleaning gear with gaps made for each piece. The kit is like so made easily portable, so you can carry it around with you.
The kit comes with 3 solid brass rods for cleaning rifles and pistols, 3 solid brass rods for larger calibers so you could clean larger caliber rifles, guns and pistols and shotguns (even muzzleloaders), you also get 9 mops and 14 brushes made of bronze, 1 black powder jag made of plastic, 12 spear jags made of plastic, 4 slotted loops 3 muzzle guards and 100 cleaning patches. To make things even better and match the number  of pieces set in  the description of the kit, you will also get 4 polishing cloths, 3 utility brushes and 3 adapters.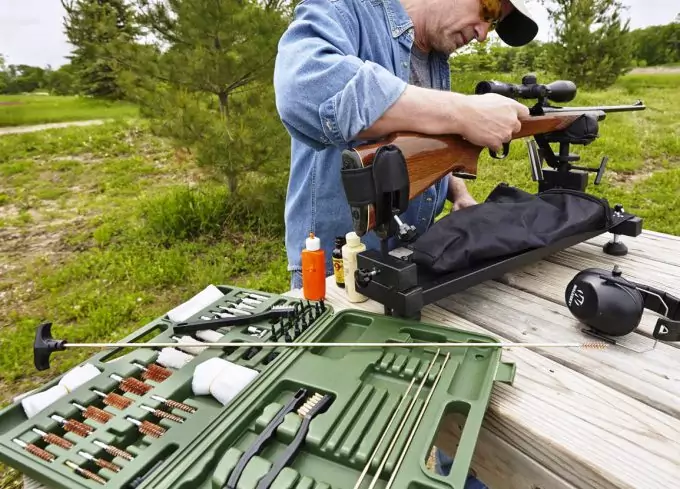 The kit as you see has everything you need and might even not think of needing when cleaning your gun. It is very affordable.
Pros: The cleaning gear is stashed in a well-protected and secured box with a handle so you can carry it around as portable. The kit has everything you need for cleaning your gun and it is fairly affordable.
Cons: The plastic parts of the gun cleaning kit may break easily, the manufacturer should definitely consider replacing some parts with more quality materials. What it also may confuse you is that parts are not marked so you can't actually say which part is for which caliber. That could be a problem if you are a beginner and you don't know exactly how a gun should be cleaned and maintained.
KB003H Classic Gun Cleaning Kit
The carrying case of this kit does not have a handle, but since the kit is pretty small and has only the basics you need, unlike the previous kit's we reviewed, you can probably carry it with you everywhere regardless. The box for the kit is made of reusable polypropylene and it is made with secure gaps for stashing all the pieces of the gun cleaning gear. The rod available in the kit is made of stainless still and provides the full strength for cleaning, the finish of the rod is done with black oxide and it is made with rotating handles for easy use.
With the kit, you also get a muzzle guard so you could have your barrel of the gun protected and secured while the process of cleaning is lasting. You will also get a nylon brush (double-ended), along with Formula 3 Gun Conditioner (this is for every praise as the other kits missed on including gun cleaning formula so you have to add that to the list when buying everything you need for your gun) and cleaning patches made of cotton.
This is a pretty neat starters kit as you have all the basics you need and if you like to keep thing simple, this kit is the right kit for you. You can find it under a fairly affordable price and you will surely enjoy using it as all the pieces are made of quality materials and should last you long time.
Pros: Great safety case for keeping your gun cleaning gear, very affordable and the cleaning pieces are made of high quality materials – they obviously paid a lot of attention to quality, choosing quality over quantity.
Cons: You will probably want to buy other accessories for gun cleaning that do not come with this kit.
This kit is probably and most definitely the most expensive kit mentioned in our post, although there is a good reason for that. You can still find it for under 100$ online (you can follow the link above if you want to purchase it).
Starting from judging the kit by it looks, you will surely fall in love with the case the gear is stashed in. the case is soft sided and secured in order to keep all the gun cleaning gear safe and protected from being damaged or broken. Each piece of the kit has its own specially made place for stacking and the case with the handle makes the kit portable so you can carry it with yourself.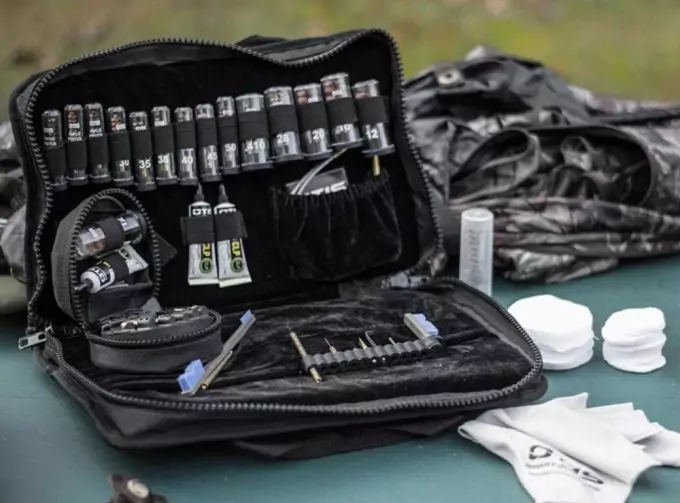 With the kit you get a variety of different bronze bores and gun cleaning brushes, so you can be sure you won't lack of basic gun cleaning gear. With it you get a muzzle cleaning system, along with memory flex road. The memory flex road is coated with nylon and designed and manufactured to have fittings with compression. You will also get 3 sets of different sizes of cotton patches for cleaning  – the patches are all made of high-quality clean cotton without additional materials included as fillers.
You will also have the ability to use over 40 pieces of gun cleaning gear for different preferences, which means that you can use the components for your rifle, shotgun or handgun. What comes with this kit and it's missed on being included in other gun cleaning kits we have reviewed is a complete gun maintenance guide. This will surely comes as helpful, specially if you are a beginner in handling and maintaining guns. You will find all the useful information on all pieces of the gear you will be using for cleaning your gun so there will be no confusion.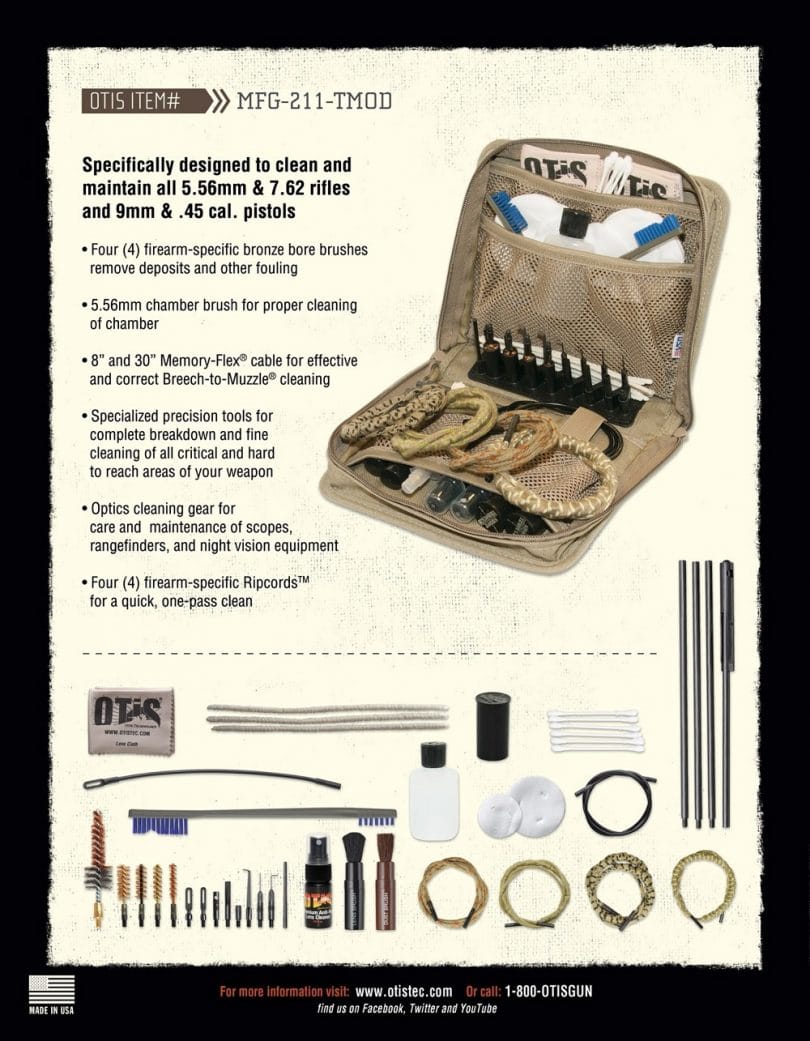 What also comes with this kit and we haven't seen it in other kits are 6 cables (specified as memory flex cables, which means these cables are adjustable and flexible). All cables are in different sizes to match different gun preferences and it should help you clean muzzle parts effectively. You will also get two tubes of Bore Solvent for more thorough and effective gun cleaning. So, basically you have everything you need and even more, which would be expected given that this is the priciest kit we have reviewed.
Pros: You get everything you need for gun cleaning and more. The bag for keeping your gun cleaning pieces is more than perfect, looking nice and being safe and secured. The gun maintaining guide is a great addition to the kit as it will probably help you with finding your way around the gear.
Cons: You may find the kit to be a bit pricey, but you get what you pay for and you are paying for top quality gun cleaning gear when it comes to this cleaning. We think it might be one of the best gun cleaning kits we have seen in a while.
Real Avid Boss Handgun Cleaning Kit
So, this gun cleaning kit is fairly well-made, although it is made and constructed only for handgun users. This is the basic cleaning kit for handguns of calibers from 22-45 caliber, so you have  a wide range of options there. This is particularly good if you are an owner of more than one gun of different calibers. Starting from grading its box, you have a nice kit tray specially made for fitting all the pieces of gear.
The tray is constructed in a way that prevents the gear from falling apart and spilling out when you open it, along with keeping all the gear safe when you close the tray. It is secured and will keep your gear protected. Since the tray is small and compact you can carry it anywhere although it does not have a handle.
You will get 50 cleaning patches of two different sizes with 25 patches for each size. Along with the patches you get the brushes made of bronze, jags made of nylon and slotted tips.
The tray is weather resistant so no matter what you can rest that your gear is safe and protected. This is a nice starters' kit for cleaning handguns and it is available at a fair price.
Pros: The tray is obviously high-quality, made to protect and save your gear from damage. You get everything you need for cleaning your handgun, although you will have to buy solvent and oil separately. The price is fairly low for the high quality you get by purchasing this kit.
Cons: The slotted tips could have been made of a better material. Although, if you handle it properly and with care, you won't have any problems with it.
Another gun cleaning kit from Hoppe's manufacturers – they have stepped up their game with this one though, so the price is higher in accordance with all the additional gear available in this kit in oppose to the one we have already reviewed. This kit is made for the most demanding gun users and is tested for the roughest conditions to match the high quality standard.
Starting from the external look, you are getting you kit in a tool-like box with a handle. The box looks almost indestructible and it is made for holding, keeping and protecting your gun cleaning gear. You will get 3 bronze brushes for cleaning your handgun, 9 brushes for cleaning shotguns and rifles and along with it you get 2 muzzle holders for completely safe and effective gun cleaning.
[the_ad_placement id="in-text-3-type-a"]
Swabs made of cotton come with the kit where you have 3 swabs for shotgun and the same amount of swabs for rifle and pistol. You will also get 13 brass jags with a muzzle guard for each of the jags. Made for shotguns there are two brass slotted tips and two adapters for rifle, shotgun, also matching preferences for small bore rifles.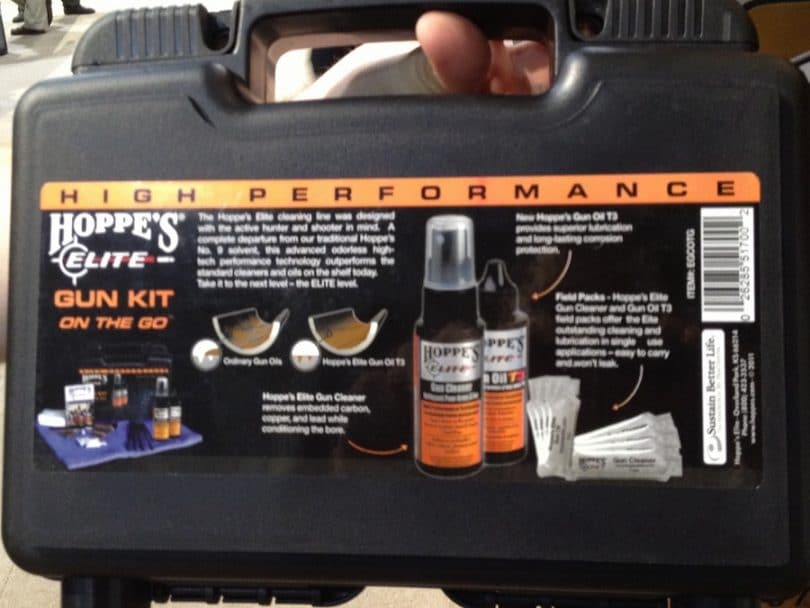 You also get picks and brushes in sets with cotton patches for more effective cleaning. Although solvent and oil are not included in the kit, respectively Hoppe's manufacturers have made two neat spots in the box so you could keep those too in your gun cleaning kit.
Pros: The box with the handle is great looking and as much as functional as it appears on the first sight. You will get everything you need in this kit and if you own more than one type of firearm, variety of this kit will surely suit you as you will be able to clean all your firearms with what comes in this box. Along with everything great about this kit, you will enjoy the price as well.
Cons: No noticed flaws – everything seems great and works fairly well. Overall this is a very decent gun cleaning kit.
We hope our list was of help to you as you are on the lookout for finding the best gun cleaning kit that will never fail you. We have already mentioned a few times that cleaning a gun and overall general maintaining of your firearms is of extreme importance if you want your gun to work properly. That is exactly why choosing a proper gun cleaning is of great importance for your gun performance.
Review our opinion on every top gun cleaning kit and decide which one of the listed above would be the perfect match for you. As you are doing so and exploring your options, make sure you have indeed chosen the best gun cleaning kit available.
Don't forget to check out our must-read article on how to get an FFL license for your safety.
Some of the links in this post are affiliate links. This means that if you click on one of these links and make a purchase, I earn a small commission at no extra cost to you. Also, as an Amazon Affiliate, I earn from qualifying purchases. If the information in this post has been helpful, please consider purchasing through one of the links in this article. Thank you.