Sometimes, either in the heat of battle or in a survival situation, knives are the last line of self-defense. They serve many different purposes, including the ability to cut almost anything, make a fire, break glass, and anything else someone might need to use them for in a tight situation. Each type of knife has its' own use to go along with it. For our purposes, combat, tactical and fighting are the types of knives we will talk about.
The terms combat, tactical and fighting seem distinct, but in reality, they are interchangeable. Combat and fighting knives are the exact same thing; they just have two different words to describe them. A tactical knife, however, is slightly dissimilar from a combat/fighting knife. A combat/fighting knife is used purely for attacking or defending. A tactical knife is also used in close combat situations, but it has other uses as well.
See also: Self Defense Knives: How to Choose The Best Blade for Your Safety
A few examples of tactical knife uses are a flashlight, whistle, or holding compartment. While most of you won't be bringing these knives into war, you might have to use them in dangerous situations. The right knife can save your life, and become a handy tool to have while in the woods. The best combat knives combine close combat ability with tactical ability to form a combat knife that is unlike anything else on the market. These combat knives will be able to excel as survival weapons, but also as tools in times of need.
SOG Seal Knife 2000
The first combat knife to enter the spotlight is the SOG Seal Knife 2000. This particular knife is made specifically for the Navy SEALs, so we know it does some damage. Just like the actual Navy SEALs do, this knife goes through extremely rigorous tests. Among those tests are weight bearing, sharpness, rusting, and handle durability tests.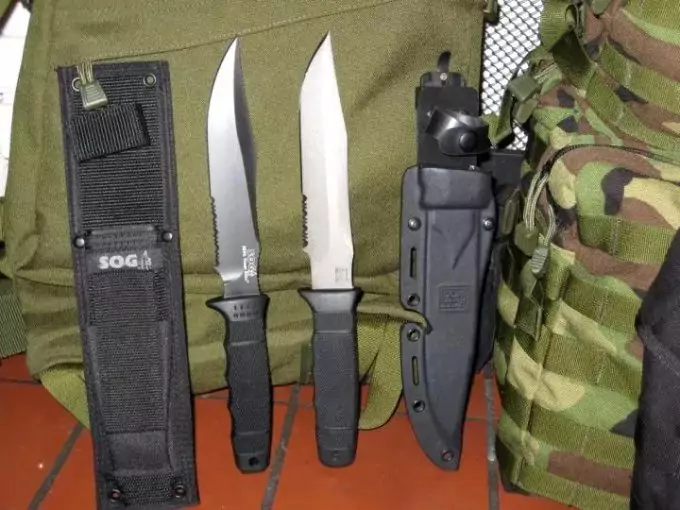 A knife that the Navy SEALs use must be put through the hardest tests, and because of this, a civilian owner should be confident that the SOG Seal Knife 2000 will hold up to the test of time. The knife is a tiny bit over a foot long, and sports a new blade shape, as well as grooves to hold the owners fingers' in place. The blade is serrated, but only partially, about halfway in fact. At the end of the handle is an extended surface that can be used to break glass or hammer something down.
The SOG Seal Knife 200 comes with a Nylon sheath, and can be bought on online for about $85. It may seem a bit pricy but the Seal Knife truly is one of the best combat knives on the market today.
If you like this product you can find and check its price here.
SOG E37SN-CP SEAL Pup Elite
Another combat knife used by the Navy SEALs and made by SOG is the SEAL Pup Elite. This knife is a pure combat knife, but it is also one of the best water knives out there. The SEAL Pup Elite has gone through all the tough tests that it needs to in order to be used by the Navy. One of those tests was a two-week salt water submerging of the knife that proved it could withstand even the nastiest corrosive environment. The knife's successes lead to the conclusion that it could be used as a permanent dive knife, in certain situations.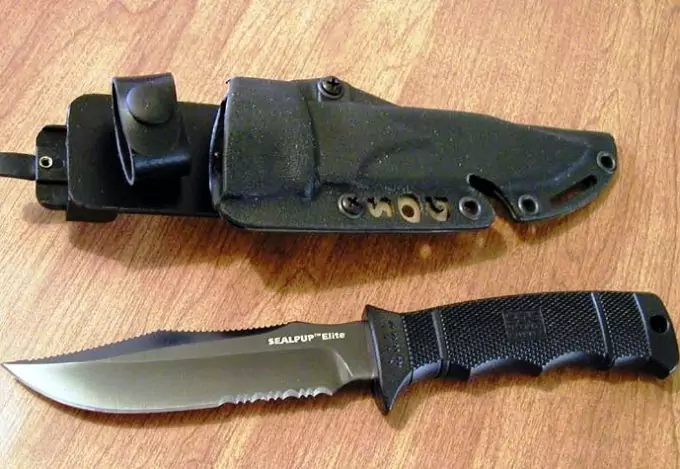 The blade itself is a little less than five inches, but it is made from AUS-8 steel. The handle is reinforced by glass and uses Nylon as its' primary material. The Pup Elite knife comes with a Nylon sheath and pouch to hold valuables or what have you. The knife can be found online for a mere $70 – a small price to pay for your safety.
If you like this product you can find and purchase it on Amazon.
Gerber Mark II
The Gerber Mark II knife is a fighting knife that has been produced for years. Soldiers used the Gerber Mark II in Vietnam, and some subsequent conflicts after that. A proven track record in the military is enough to show that this knife is one of the best combat knives someone can buy. However, sales of the knife went south, when it was determined that the Gerber Mark II was too devastating to be sold to civilians.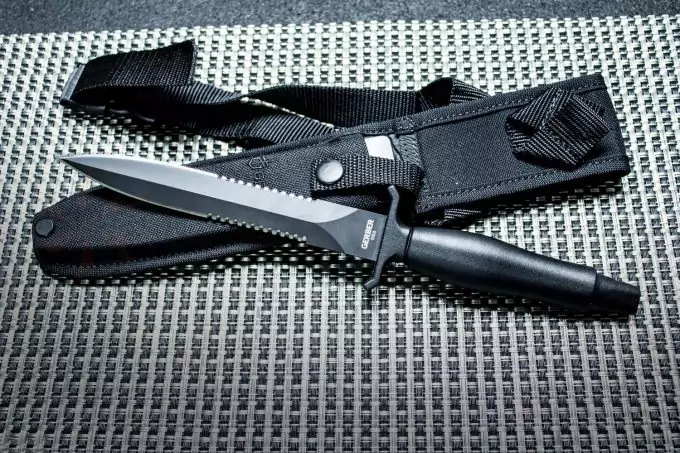 After a stoppage in production, the Mark II got a second chance when Gerber added the serrated edges to the knife. The serrated edges made the knife technically a survival knife, which appealed to consumers and military commanders alike, more than ever.
The knife is 12 inches long, while the blade is a smidgen under seven inches. The blade has serrations on both sides, and the handle is made as one single piece. After a few years in production, then out, then back in again, the Gerber Mark II can be bought on sites like Amazon for approximately $65 plus shipping.
If you like this product you can find and buy it here.
M-9 Bayonet
As you can guess from the name, the M-9 Bayonet is one of the best combat knives to own in a sticky situation. The M-9 is manufactured by Ontario and comes in an Olive or black handle coloration, depending on the users' preference. Originally made to attach to M16s, the M-9 Bayonet can be used to serve many different purposes.
It can be put on a gun, holstered on the owners' belt, or sheathed separately; whichever create the best way to use the knife for the owner. The blade is seven inches long and it has milled teeth on the back edge. Sharpness of the blade is one of the better attributes that the Bayonet has.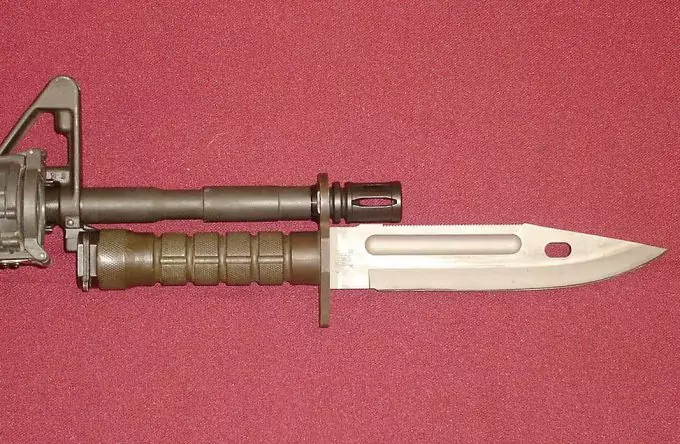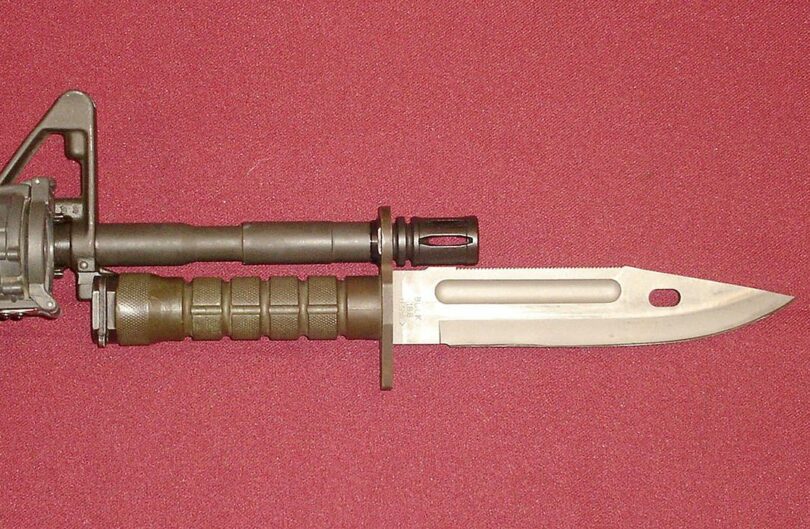 The Bayonet can cut through almost anything, and deliver a devastating attack if needed. The handle is made from Nylon and it has textured grooves, so that the user can hold onto it in any situation. The M-9 Bayonet is made in the U.S. and can be purchased from Amazon for $92. It is a bit pricier than the previous ones but it has some definite advantages to consider.
If you like this product you can find and buy it on Amazon.
SOG Fixation Bowie
Made by SOG, the Fixation Bowie is one of the best combat knives to own. SOG has a reputation for making the best knives possible, as well as testing their products before they go on the market. The Fixation Bowie looks as if it was cast all together as one piece, but it's a trick, the Bowie is made up of a few different pieces. This knife was made with the help of military consultants, so that it would be a top-notch combat knife.
While most of the attributes that manufactures use to promote their product have to do with the physical build of the knife, this SOG designed knife draws praise from other places. To give you more options, see our list of the best bowie knife for your safety.
The balance that the Fixation Bowie demonstrates is hard to duplicate, as well as the agility one can have when using this SOG knife. These two aspects combine to form an excellent combat knife, able to get you out of any dangerous situation. The blade is seven inches, while the handle is around five inches.
Because of this unlikely proportion, the Fixation Bowie is unlike any combat knife available for sale. The handle is made from nylon and the knife comes with a sheath and belt loop attachment, as well as a lifetime warranty. The SOG Fixation Bowie also has the advantage of being affordable as it can be bought online for only $31.
If you like this product you can find and check its price on Amazon.
MTECH USA XTREME MX-8054
This knife is sold as a tactical knife, but it is a devastating killing machine as well. It has no real bells & whistles on it, because it focuses on the intricacies of creating a knife that can be used in any situation. The MTECH XTREME is a fixed blade knife that can be the last line of defense in a survival situation.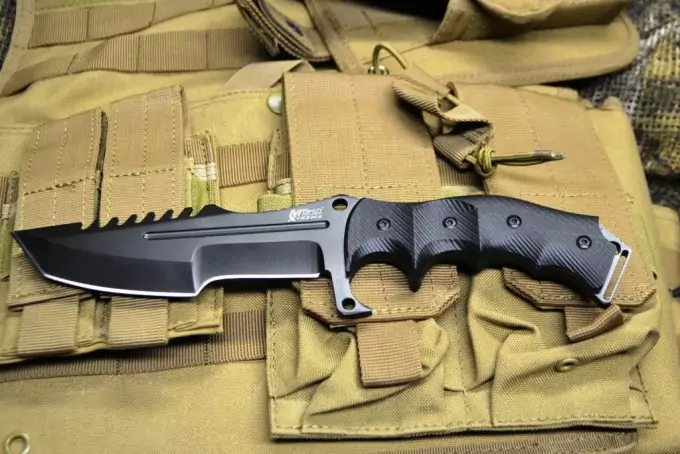 The handle is made from fiberglass, and because of this, it resists corrosion extremely well, and it won't break easily. While the handle is interesting, the pistol grip on the handle is something you don't see every day on a knife. The grip has finger grooves for whenever the knife needs to be wielded strongly.
If the grip is the best part about this knife, then the weight has to be the worst. It is on the heavy side, around 13 oz. Although the knife is heavy and reduces agility, the MTECH does not sacrifice anything else to make such a great knife. The MTECH combat knife comes with a nylon sheath and is affordable as you can find it on Amazon for $30.
If you like this product you can find and buy it here.
Zero Tolerance ZT0160
This Zero Tolerance knife is pricier than most others on the list, but it is for good reasons. The blade of the knife is made from stainless steel, and it rivals the sharpest of blades. The blade also holds up well to time, and stays sharp when it needs to, even in the harshest environments.
The handle is made from a G-10 grip. For those who don't know, G-10 is used in the production of most pistol handles, due to its' ability to maintain grip while also feeling comfortable in the users' hands. Also, the handle is created in a diamond pattern, so that it doesn't stay wet, and sweat does not make it more difficult to wield.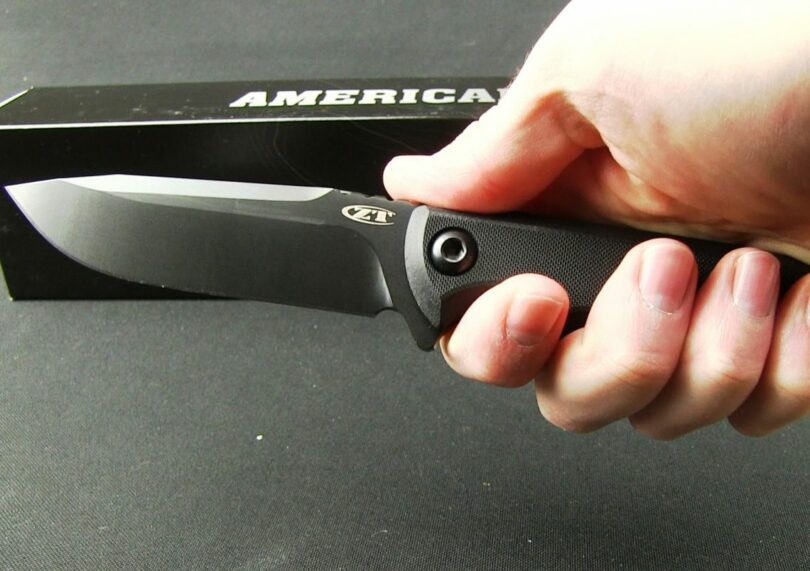 On top of the grip, the overall weight is perfect. The lightweight knife allows the user to be agile, but deadly as well. The whole knife is 10 inches long, while the blade is only five inches. This combination makes for one of the best combat knives on the market right now and you can found it on Amazon for about $100. It is indeed the priciest up until now but this shouldn't be so much of a problem, given the fact that this may be the perfect knife for you.
If you like this product you can find and check its price here.
Smith & Wesson Border Guard 2 rescue knife
Although this knife isn't purely a combat knife, it has the ability to be used like one. The Smith & Wesson Rescue Knife is truly a survival knife with a combat blade. The knife has certain survival parts to it, such as a glass breaker, and a seat belt cutter, which makes this knife perfect for first responders. What makes this knife one of the best combat knives to buy is the dangerous blade.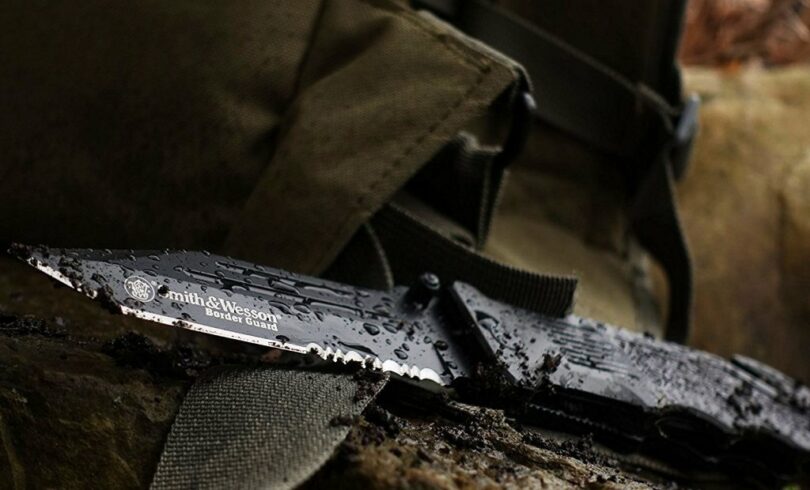 Even though the blade is only 4.4 inches, it is partially serrated, as well as sharper than most knives. It can do a deadly amount of damage to anything in a close quarters combat situation. The handle is made from aircraft aluminum, which only adds to the Rescue knife's sturdy build. Perhaps the best part about this knife is that it can be bought on Amazon for $20. If you're on a budget, this is the perfect knife to have in a survival situation.
If you like this product you can find and purchase it on Amazon.
Gerber LHR combat knife
The Gerber LHR Combat knife is a pure fighting knife. Made in the U.S. by famous knife makers, the LHR has a history of success. It was designed to be used in close quarters situations, especially when it came to military operations. The weight and proportion of this Gerber knife are unrivaled in the combat knife world.
Owners can expect an agile blade that delivers a hard punch due to the handle's slightly heavy weight. Even though the handle is a little on the heavy side, the knife does not lose any of its agility, and is easy to wield because of this. The LHR is a foot long in length, while the blade is just less than 7 inches. The LHR comes with a sheath specifically built for the LHR. It has a safety release that can only be triggered by the wearer of the knife.
The handle is made to deter wetness from gathering on it, and increase grip in those wetter conditions. It might seem as if this is some high tech knife, made for the rich, but in reality, this knife is affordable for anyone. The LHR can be found online and in specialized stores.
If you like this product you can find and buy it on Amazon.
Cold Steel Recon 1 tactical knife
Last, but definitely not least, is the Cold Steel Recon 1 tactical knife. This knife is not only a great cutting knife, but it can also be used in any survival situation, if necessary. Even though the Recon 1 is a pocketknife, its' deadliness cannot be denied.
The blade itself is made from stainless steel that has been well tested. It is 4 inches in length and resists rust, corrosion, and even light reflection. The Recon 1 is light, and can be used quickly and easily, in any situation. A G-10 grip is found on the Recon 1's handle, along with a special texture to create a mega grip. The Recon 1 comes with a belt clip, for easy travel, although it can be concealed well in any pocket.
The Cold Steel Recon 1 price tag hovers around $46, and can be found on Amazon. This is a great buy for a survival enthusiast that also needs a knife to double as a tactical weapon.
If you like this product you can find and buy it here.
Combat knives come in all kinds of different shapes, sizes, and prices. The toughest part in finding the right knife is having to combine the aforementioned attributes in the right way. This will form the best combat knife to buy. Most of the knives mentioned today are perfect combat knives, specifically designed for that use.
Knives that have a lot of moving parts aren't the best choices for a combat knife as they could easily break apart when used in a survival situation. They are effective in using them for chores but when it comes to survival, they would not be the most effective knife to buy.
While combat knives can be used as pure deadly killing machines, they should also have some sort of tactical advantage that allows the owners to help themselves in tough circumstances. For those of you, who like to expand your survival arsenal, look for specialty combat knives that can be used in a multitude of ways. Make sure that the manufacturers of these combat knives put their products through only the toughest of tests. Check out more article reviews of the best tactical knife for additional choices.
A combat knife is no good if it isn't durable, and if the knife isn't in working condition. If the knife cannot be used, especially in a survival situation, then you can definitely say you threw your money on the window. Combat knives may be pricier than normal ones but they are created to be your best pals when everything around you is threatening. You'll definitely feel the value of such a knife if ever caught in an emergency or lost in the woods with no food or shelter.