You're asking, "What is the best pellet gun for hunting?" With so many models to choose from, it may be overwhelming to shop for one, not mentioning there are certain factors to consider that makes picking one even harder. It is indeed difficult to find the right air rifle to use, especially for someone who is new to a hunting activity. You may want to get something right away, but that may not be a good move, as you might not get the satisfaction you are looking for.
We have made a research and compiled some of the most important questions to answer in picking an air gun and then listed a few choices on top pellet guns. And later in this guide, we're going to share some tips on how to pick one as well as discuss few characteristics to consider when finding the right one for you.
Questions to answer in finding a hunting pellet gun
How do you plan to use the gun? Are you going to use it for competition, hunting or general shooting? What kind of competition are you joining, or what animal will you be hunting? Answer this question and you will be able to proceed with the research in making a decision.
Are you going to hunt pests or animals? An air rifle may be a good choice, something between .22 and .25. You can find a number of pellets for .22 and that you can rely on it for shooting game as it has better precision as compared to smaller calibers. On the other hand, .25 is also a good choice even if there are fewer pellets for this size as well as pellets for it may be more expensive than those used for .22 calibers.
How much of work are you willing to do and how strong are you? Remember, spring-powered weapons may require cocking, which is measured in pounds. In this case, a strong adult male may be able to operate it but not a weak one. But aside from strength, you should also be considering how much work you are willing to put into operating the gun?  In some cases, you may want to choose a hunting pellet gun that is easy to cock, such as a CO2 gun or a pre-charged pneumatic gun.
Do you require a repeater? If you are going for a pellet gun with this functionality, then your choices will get even narrower. There are many semiautomatic air pistols, which work like revolvers, meaning they have triggers that are not as light as those of the true semiautomatic gun.  While the repeater models are scarce, they are now starting to take over the market when it comes to pre-charged models.
Would you want to use open sights, or would you like to mount an optical sight?  Your answer here will further help in narrowing your choices because many air guns available are built to allow the integration of scopes, but some do not have provisions for them. Check out our article reviews of the top pellet gun scopes for your information.
How much power do you require? Do not just say that you want to get as much as you can get, but you should be reasonable.  Think if you would need something good enough for the elimination of pests, such as cottontail rabbits. On the market right now though, you will be able to find a few pre-charged rifles that allow power adjustment.
One model that you can consider is Career 707 (or RWS CA 707) that can allow you to adjust the power quickly without using any tool. There are also some models that have the power ranging anywhere between six-foot pounds and 60-foot pounds.  There you have some of the most important questions to ask when shopping for a hunting pellet gun, although they are not all.
Best hunting pellet guns
Gamo Whisper Silent Cat air rifle
Some people do not buy guns only for hunting but also for eliminating pests in their property, and for that reason, there is the Whisper Silent Cat Air Rifle that is dubbed among the best of the best pellet guns today. It comes as a .177 caliber rifle with lovely skeleton stock and a 4 x 32 scope and can shoot up to 1200 feet/second using PBA ammunition. But if you're using match-grade lead bullet, the weapon can target up to 1000 feet per second.
People love this gun because it is stylish and durable and many of them highlight they can bring it for any kind of weather. Many of them also revealed this gun is great for hunting critters.
If you like this product you can find and check its price on Amazon.
Crossman Nitro Venom Break barrel air rifle
An excellent rifle for all your requirements, especially when hunting squirrels, the Crossman Nitro is among the favorites of hunters from around the world. This model comes with a three 9 x 32 millimeter scope that can add accuracy in every shot. You can go on hunting without recalibration up to 250 shots once you have calibrated the scope.
It is also designed and made in helping you make a better shooting position, making it one of the best pellet guns out there and comes with a great stock for both left handed and right handed users and possesses a wider forearm surface for improved shooting accuracy. Overall, this weapon garners a high rating of 4.1 out of possible five stars from 87 customer reviews, as of this time of writing.
If you like this product you can find and check its price here.
Winchester 1400 CS
The product is among the favorite of hunters who want a powerful gun that can help them shoot with velocities reaching 1400 FPS, making it a suitable weapon for both shooting and hunting targets. It also features a composite stock clad in a Mossy Oak Break-up Infinity Camo as well as a thumbhole grip for steady trigger pull and wrist support and has with a fold-down bipod legs that can reach between nine and 13.5 inches.
https://youtu.be/wRllwCBxMnw
It can also provide great support in the field or on the bench. Another great thing of this model is that it includes a web sling for easy carry as well as for shooting stability.
If you like this product you can find and buy it on Amazon.
880 Powerline kit
This is a top-selling multiple pump pneumatic rifle, featuring Monte Carlo wood-grained forearm and stock. It comes with almost everything you would need in target practicing out of the box and it can shoot BBS at a speed up to 750 per second and 715 per second at pellets.
Velocity and power can be adjusted but that would depend on the number of pumps you are going to put into the rifle. For many users, they love this gun's sleek classic design and modern comfort with its synthetic molded stock and deep checkering design on its forearm and grip.
If you like this product you can find and buy it here.
Crossman CCP8B2 Vigilante
This gun is the modern version of the old-fashioned revolver that is loved by hunters from around the world. It comes with 10-shot pellet clip and a 6-shot BB clip; however, it does not include CO2 and BBS, but it features a 6-inch rifle steel barrel and can shoot up to 435 feet per second.
It also comes with a full metal frame, an adjustable rear sight and a tactical rail system.
If you like this product you can find and purchase it on Amazon.
Daisy 985415-442
This is a CO2-powered 177 caliber BB pistol that comes with a very smooth bore steel barrel and 500 FPS maximum speed velocity. It also comes with a 21-shot integrated BB magazine and the kit has targets, shooting glasses and three CO2 cylinders. This product, according to users, is excellent when it comes to learning gripping and shooting techniques using a firearm pistol without report and recoil.  They also love that it has an open rear sight that comes with a blade and ramp fixed sight and a manual trigger for their safety.
If you like this product you can find and check its price on Amazon.
Choosing an airgun pellet
As you know, selecting an airgun is not that easy. For one, there are many types of styles to use with a specific model as well as every rifle is unique from one another. There is also a specific type of pellet to use for every model to ensure both accuracy and speed. The kind of result you are looking for may help you in finding the type of pellet gun to buy.
Considering pellets
One of the most important of all is selecting the pellet weight that will be affecting the flight stability, trajectory, terminal performance and velocity. Take note, heavier pellets are more stable to use in windy conditions and they are able to retain their energy even for very long distances. They can also work well in hitting the target with much force, but heavier pellets are not always good. It is always important to select the pellet weight based on the unique characteristics of your weapon as well as your desired results.
As a tip, you can find pellets that are unique and perfect for your weapon by trying out several shapes, and for this, you may consider the RWS pellet sampler that contains five types of premium pellets, which are made of high quality standards. You may be able to find the suitable pellet from this sample in order that you achieve high level of accuracy in hitting your specific target.
On the other hand, there are hunters looking to get top velocity, and for this reason, they choose lightweight, non-lead pellets to provide their guns with top speeds. But for specific hunting or shooting activities, there are specific shapes that can work better than others.
And so again, choose the pellet weight or shape based on your goal or purpose. Now if you are into informal practice or fun shooting, you may want to select the 7-grain basic pellet, but do not go for just about any kind. Choose a top quality pellet, such as the RWS Diabolos that can leave minimal lead residue in the barrel of your airgun.
And for general plinking, you can find lightweight 7-grain sport pellet to give you that inexpensive but accurate pellet, and one to consider is the RWS Hobby. It is very economical while it also leaves your gun's barrel with minimal lead residue.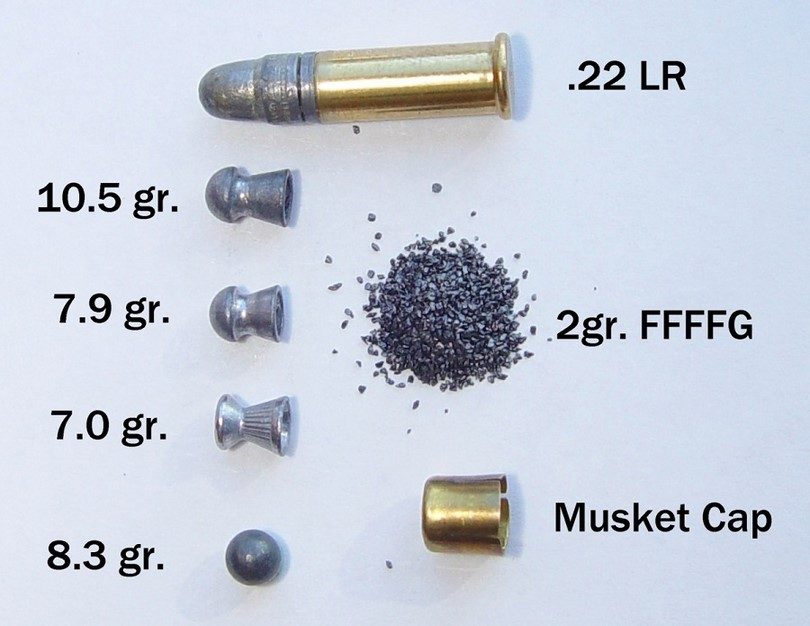 When shopping for hunting pellets, you should also look into high performance and powered ones so that you can knock down your target with accuracy and power.  One of those that hunters use is the English bulldog design that can offer them excellent results. For penetrating power, you can opt for pointed pellets with enhanced accuracy and performance for use with medium-powered pellet guns.
Choosing pellet guns
When it comes to small game hunting or pest control, hunting pellet guns are best in serving either the purpose because they are less destructive and capable to take down a prey without blowing it apart. These guns also are more preferable and safer to use than firearms in many cases.  But when shopping for one, there are some considerations to look into to ensure that you are buying the right kind.
Power and caliber
The first thing to think of when choosing a pellet gun for hunting is that type of caliber you are looking, and for the most part, there are four types of them namely, .177, .20, .25 and .22. In many cases though, either the .22 or the .177 is chosen, and for certain reasons.
The .177 is great for targeting feathered animals while .22 is perfect for hunting furred ones, meaning you can target birds accurately by using .177, and then .22 for rabbits and squirrels, among others. On the other hand, there are also exceptions. For instance, the Winchester 1000 Wood Break Barrel is a .177 caliber but it also works great for hitting small coyotes and rabbits.
Now when it comes to power, there are also several options and the pellets you are going to use will also have an impact on the power system that you are going to settle on. For this reason, you will have to think of what kind of animal you're going to hunt. Online, you can find some guides or manuals or even charts to show you the level of power you need for targeting specific small games at a certain distance. You can use such guides when establishing the power you require.
Scopes
Again, deciding on the type of scopes will still depend on the small game you are hunting, but in most cases, a good scope is needed when hunting small game. So, what kinds of scopes are there to look for? First is to look into whether the type of scope you are looking is designed for a pellet gun.
Remember, air rifle scopes and firearm scopes are not the same, mainly in the manner they're cushioned. Additionally, the pellet gun's power plant can also change the cushioning, and so using a pump-up pneumatic gun scope may shake itself apart if you are trying to use it on a CO2-powered pellet gun.  In short, you will have to select the scope based on the gun you are planning to use.
More so, you can also consider 'zoom' factors because a pellet gun with a good zoom will help you in hitting even small targets as well as in finding elusive small game that are difficult to see because of the camouflage. But before buying one, you should see if the scope comes with an adjustable objective that can help you in bringing both crosshairs and target into view at the same time.
Accuracy
When shopping for an air gun, you should look into its accuracy aside from its speed, especially if you are using it for hunting. Remember, targets are quick and small which make them hard to shoot but easy to miss. It is not also likely to make a second shot. Choosing a gun based on its accuracy is very important, but there are hunters who go for a less accurate gun.
And as an illustration, a hunter may go for it because he wants a gun to be less penetrative and for it he also chooses a model for Wadcutter style pellets. On the other hand, you might consider a pellet gun with a unique loading system to affect accuracy, but then there can be a gun that is more accurate even without a scope.
Airgun/pellet gun safety shooting tips
Remember, your airgun is not a toy, but a functional real gun.  Observe correct handling as well as follow safety procedures to using a live or real firearm. Before shooting, you should read all the instructions and learn of the functions of this pellet gun. You should know that there are rules on proper handling of pellet guns. You can contact the maker if you don't understand any terms included in the user manual.
Do not forget wearing the right eye protection when using a pellet gun. You should also learn how to load and unload, operate, take care and fire your weapon. Additionally, never play with it because this may be potentially dangerous to cause death or serious harm. Do not point it in an unsafe direction and at any person or any object you don't intend of shooting. Keep your weapon unloaded when not using it and only load it when ready to fire.
Before cleaning, ensure that your gun is unloaded for safety. See our article on how to effectively clean a rifle for more insight. Do not put your finger on the trigger unless you are ready to shoot and you are aiming at your target. Additionally, never depend on the gun's 'safety' for protecting you from unsafe handling. You should know that the 'safety' is a mechanical device and so you should not consider it to be something to keep you safe with your weapon all the time. There is nothing to substitute common sense and following proper handling and procedures.
Do not leave the weapon anywhere, especially in places where it could fall and fire, resulting to accidental firing. When a pellet gun is dropped sharply, its internal mechanism may get damaged and may result to the same accident. Additionally, keep the airgun out of children's reach as well as out of untrained people's access.  You can buy a gun safe to keep your weapons which code only you know of.
When shooting, you should know what to target and what is beyond it, so you should ask yourself as to what the pellet will shoot if you miss the small game for instance. Another safety tip would be to avoid brandishing your weapon in public because it may confuse people and make them think you are carrying a firearm. You should not also change or apply any coloration or markings on your pellet gun to resemble a firearm's appearance.  Otherwise, you may be filed a crime.
For additional safety, do not point the muzzle in an unsafe direction, and never let it point in a person's direction. Always treat a gun loaded and do not take any person's word about it is loaded or not. You should always check it to find out if it is loaded when you have received it from another person or you have received it from another person.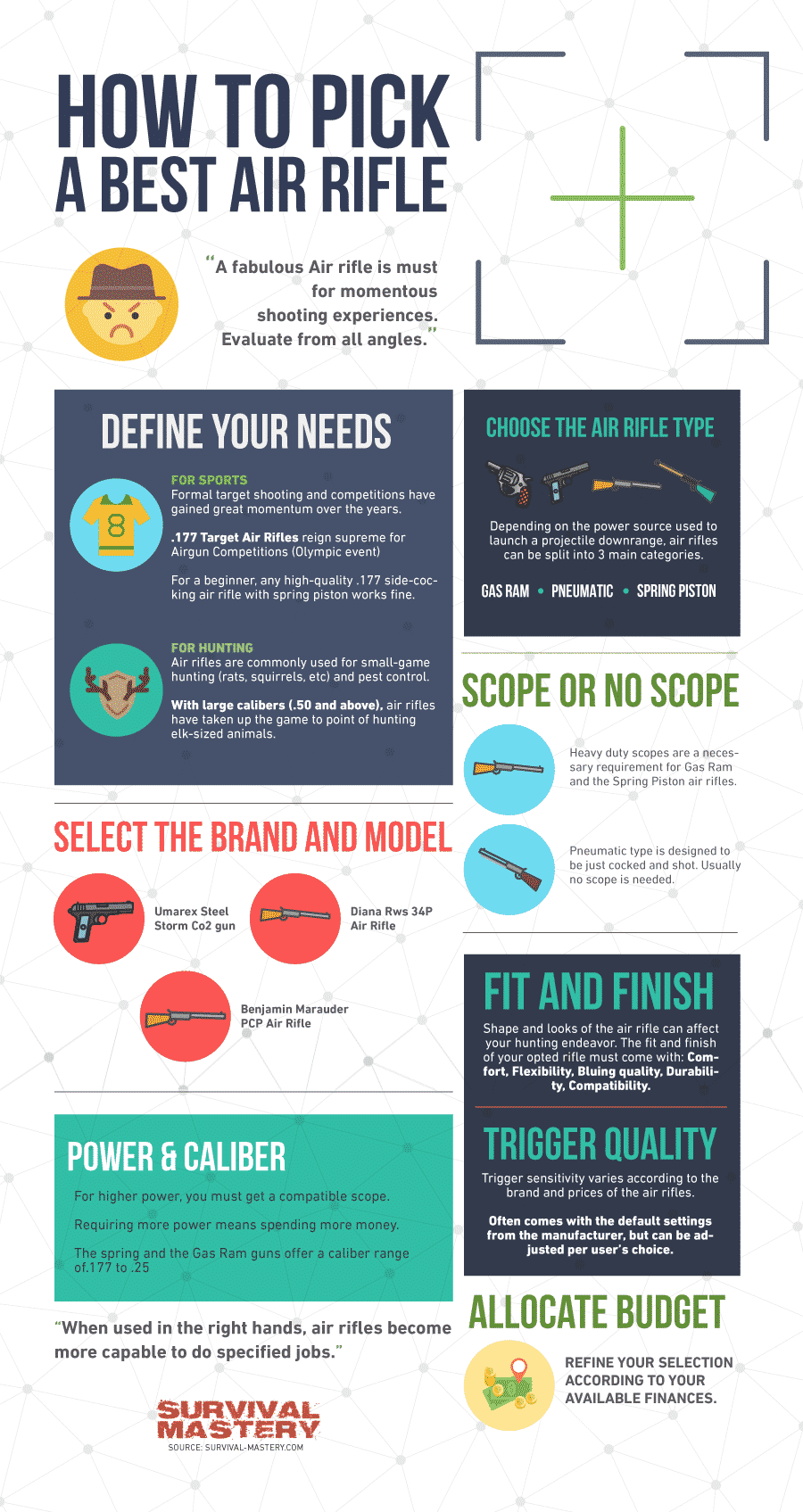 Only load your gun when you are shooting and see to it that no person is on the target area before you fire. You can also check beyond your target to see you have a clear and safe backstop and that there is no property or person in danger.
Additionally, do not jump or climb with it because you cannot control the muzzle's direction if you fall or you stumble. You should also give it to a companion when climbing or jumping over any obstacles or lay it down safely.
Definitely, finding the right pellet gun for hunting may be challenging but following the tips we've mentioned above may make your task easier.  Study your options well and look for the best hunting one based on your desired result.
Finally, practice with proper handling, loading and unloading, among other measures for your safety, and understand maker instructions on proper use, especially if you are a beginner in this field. And lastly, feel free sharing this guide to others who you think might benefit from it.
For more information on how to choose the best air rifle for hunting, see our popular article on this topic.