Some of the links in this post are affiliate links. This means that when you click on one of these links, I earn a small commission at no extra cost to you. Also, as an Amazon Affiliate, I earn from qualifying purchases. Thank you.
The best AR-15 scopes offer A LOT of choices which I'll try and narrow down in this article.
The AR-15 is a remarkable weapon and has become more popular worldwide due to its versatility. Many describe it as a close to a mid-range weapon, and because of this, we will review scopes that work best in that 100 – 600 yard range.
We will also look at scopes and optics that offer quality and value while staying under $500. There is a large selection of scopes, and you don't have to break the bank to find a good, quality scope that will work well for you.
Our Top Picks
Product
Weight
Reticle
Defining
Feature
Price
Nikon P-Tactical .223>

16.9 ounces
BDC 600 reticle
Unique open circle aiming points
Shop Here
UTG 3-12X44 30mm Compact Scope>

20.5 ounces
Tactical Range Estimating(TRE) mil-dot reticle
30-Millimeter tube built on True Strength Platform
Shop Here
Burris Fullfield II
15 ounces
Ballistic Plex reticle
Ballistic plex long range confidence
Shop Here
Bushnell, Banner, Dusk and Dawn>
13 ounces
Multi X reticle
(DDB) multicoated lenses for clarity and brightness
Shop Here
Vortex Strike Eagle>
18 ounces
Illuminated BDC3 reticle
A true 1x on the low end - allows speed
Shop Here
Considerations Before Purchasing
There are a few features to consider before purchasing an AR-15. This list does not include everything, but it highlights some primary features.
Magnification
Reticle
Durability
FFP vs SFP
Magnification
For close to medium shooting, you will not need a scope with a lot of magnification, but you will stand a better chance of hitting your target than if you use a red dot, so you want some magnification. Also, keep in mind that you will have a wider field of view with a lower magnification, which works to the AR's quick, versatile strengths.
The AR is more of a tactical gun, so you want to move quickly in tight quarters and acquire your targets fast. If you are doing a lot of daily shooting, you probably don't need those high teen scopes.
One final note on magnification. If you are hunting and expect a lot of moving targets at a closer range, a red dot or true 1x magnification really may be more beneficial.
Reticle
Your choice of reticles really boils down to what you are using your gun for and your personal preference. Most people will probably use what they are used to using. The one tip I will offer is to learn your calculations. Today's reticles will do a lot of work for you, especially high-end reticles, but understanding how they work and know the specifications will make you that much more accurate.
You have four basic reticle choices.
Mil-Dot – This reticle has a cross line with a small dot but is a bit more complex than other types and requires some calculation.
Duplex – This type has a cross line that is thinner towards the intersection, which means you'll be able to see your target more clearly.
Illuminated – This reticle is good for low light conditions, especially during the night or evening, and in dense forests.
BDC – This reticle is often used for long-range shooting.
Two of the most common reticles used are the Duplex and the Mil-Dot.
The Duplex is often used on ARs used for stationary shooting.
The Mil-Dot is often found on guns that need to move fast and acquire their target quickly.
Durability
Your AR-15 is going to take a pounding, and if hunting, you will be using it in adverse conditions. Make sure your scope can handle the recoil and rain!
Durability is often skimmed over in many guides, but it is important. A nitrogen-purged tube with sealed rings to prevent moisture and fogging is a must-have on those early morning hunts. You don't want to have to deal with a blurry target in those dawn hours.
The construction of the optic is also important. Less separate parts mean less room for points of failure. One-piece, aluminum scopes are common and will go a long way in absorbing and shrugging off repeated recoil.
If you are going to sink a lot of money into an expensive scope, ask these questions. Any solid manufacturer will have the documented.
How are your seals tested – to what depth and under what pressures?
How many impacts are guaranteed on your scope and how many times can I plan to shoot my gun before the scope is potentially impacted?
Finally, what are the temperature ranges under which it has been tested?
FFP vs SFP
Variable power scopes are becoming more and more common, so I just want to mention FFP vs SFP scopes.
The FFP scope refers to a reticle on the First Focal Plane. The size of the reticle stays consistent with the size of the target no matter the magnification.
The SFP scope refers to a reticle on the Second Focal Plane. The reticle remains a constant size no matter what magnification level you use.
An FFP scope will allow more accurate shots at a longer range, but it is also going to be more expensive.
Best AR-15 Rifle Scopes Under 500 Reviews
There are so many choices! Even your choices have sub-choices now. Below is a list of some of the best scopes with the qualities and features often found in more expensive scopes, for under $500.
Nikon P-Tactical .223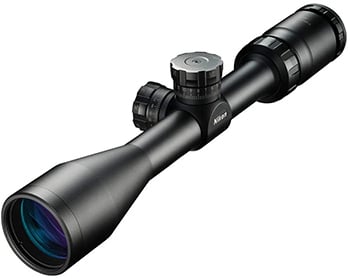 Weight: 16.9 ounces
Objective lens diameter: 40 mm
Reticle: BDC reticle
Specific features: BDC 600 reticle, One inch body tube, instant zero resets turrets, Elevated windage and elevation turrets, Generous consistant Eye relief, multicoated optical systems
Best use: Shooting, Hunting
The Nikon P.Tactical 223 Scope may be what you are looking for if you are a long-range hunter. The extended eye relief and the variable zoom scope make this scope able to adjust to many ranges comfortably.
This may not be the best optic for close-range use or if you are moving quickly in close quarters. The reticle can be difficult to see in tight quarters or dense cover, but this particular reticle is perfect for targeting longer ranges.
This is an impressive scope for this price. The scope comes with a 40mm objective lens and fully coated lenses, allowing for a notable light transmission rate of 98%. The Nikon is also easy to use with easily accessible and adjustable turrets and a zero-reset feature that allows you to aim and shoot.
If all of these features are not enough, you also have the patented BDC reticle and Bullet Drop Compensator that easily allow you to adjust for different ranges.
PROS:
Durable
Good quality for the price
Optics are clear bright and sharp
Waterproof
High end features on a value scope
CONS
:
Reticle not as clear at lower ranges
Only has 100 yard parallax adjustor
BDC circles small with dark background
Related: Most buyers also opted for this Burris AR-P.E.P.R. Quick Detach Mount which will make your gear a bit updated for different shooting disciplines. It's easy to switch to iron sights and change optics and still keep the zero.
UTG 3-12×44 30mm Compact Scope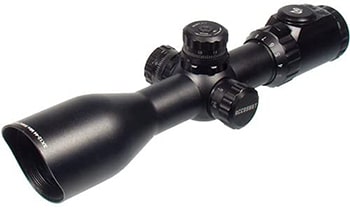 Weight: 20.5 ounces
Objective lens diameters: 30 mm
Reticle: Mil-dot, full 36-color EZ Tap reticle
Specific features: 36-color EZ Tap reticle, 30-Millimeter tube built on True Strength Platform, emerald coated lenses, a front sunshade with flip-open lens caps, illumination even under heavy recoil, individual retainers, zero locking, and zero resetting turrets
Best use: Patrol, Shooting
The UTG 3-12×44 300 Compact Scope offers a lot of scope for the money. With features like zero reset and locking, IE Illumination, emerald coated lenses, high-quality lens caps, and a side-wheel adjustable turret, you really can't go wrong with this scope at this price point.
Durability is a stand-out for this scope with its "True Strength Platform." This platform is also completely sealed and 100% nitrogen-filled, making it shock, fog, and rainproof!
Multi-colored reticles that are easy to adjust make this a versatile scope.
PROS:
Side Parallax Adjsutment
High quality rings
Well-built and durable
Good Relief
Great Price Point
CONS
:
Illuminated reticle too bright
Scope says compact but is a heavy scope
Reticle dim when bright
The focus ring is tight to turn
Related: Although the battery will last up to 3 years, we advise you have Duracell Aimpoint Battery package always in your backpack, just in case.
Burris Fullfield II Rifle Scope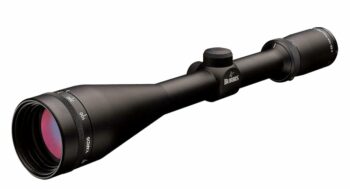 Weight: 15 ounces
Objective lens diameter: 56 mm
Reticle: Ballistic Plex reticle
Specific features: Long eye relief, ultra clear and bright, ballistic plex long range confidence
Best use: Hunting, Target Shooting
The Burris Fullfield II Rifle Scope has outstanding optical performance and is lightweight. It's perfectly suited for mounting on most rifles and maintains the balance of the rifle. With up to 5 inches of eye relief, this scope definitely stands out in its category.
Burris is a recognizable brand, and they did not compromise on the design of this scope when it comes to quality and durability.
This scope also features index-matched Hi Lume multi-coated lens's which will provide great resolution and brightness in low light conditions, with excellent clarity. The Ballistic Plex reticle is calibrated for longer range aiming and shooting, so you'll also be able to take longer shots with confidence.
PROS:
Limited lifetime warranty
Lightweight
Price
Durable
CONS
:
Finger/coin turn turrets are tight
Can't lock eyepiece
Less eye relief than some others
No target knobs
Related: This scope doesn't come with a cover, so we advise you to consider these Scope Covers for protection and to prevent external fogging of the scope.
Bushnell Banner Dusk and Dawn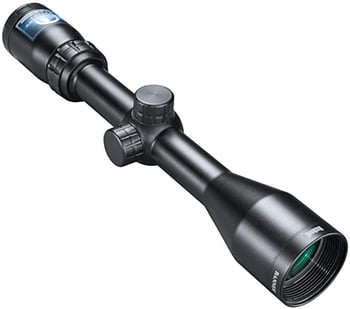 Weight: 13 ounces
Objective lens diameter: 40 mm
Reticle: Multi X Reticle
Specific features: Quality optics with stunning HD clarity, Beautiful design and durability, Low light rifle scope with 3 to 9x magnification, 40-millimeter objective lens, multicoated lenses, Multi X reticle, Fast focus eyepiece
Best use: Hunting, Target shooting
The Bushnell Banner Dusk and Dawn price point will definitely ask you what is being sacrificed in the optic to obtain this price. While there are a few sacrifices (no parallax adjustment, holdover points for windage and elevation, etc.), what you do get is a very well-made, versatile scope.
The "Dusk and Dawn Brightness" lenses are what really set this scope apart from others in this price range. They are specially coated to allow for excellent clarity and brightness, and the fast-focus eyepiece combined with the lenses is one of the biggest highlights of this scope.
Another standout feature is the six inches of relief at the scope's lowest magnification. You won't find this much eye relief in many other scopes.
With the high quality, multi-coated lenses that allow for enhanced brightness in low light situations, Dusk and Dawn is definitely a time of day this scope shines. This is a great scope for hunters if looking to save a little cash.
PROS:
Price
Coated lens – light transmission
SFP Reticle – Fast sighting
Six inches of eye relief
Easy Mounting
100% water/fog proof
CONS
:
No Parallax Turret
No Zero Stop
Slightly lower caliber glass
No adjustable objective
Very simple reticle
No holdover, windage/elevation
Related: This scope is frequently bought with Leupold Alumina Flip Back Lens Cover Kit for maximum protection.
Vortex Optics Strike Eagle Rifle Scope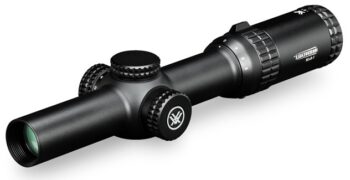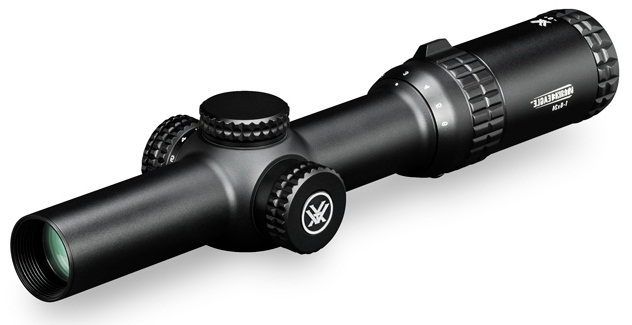 Weight: 18 ounces
Objective lens diameter: 24 mm
Reticle: Dead-Hold BDC
Specific features: Fully multicoated lenses, Fast focus eyepiece, fog proof, shockproof, waterproof, hard anodized finish, fully multicoated, illuminated reticle, unlimited lifetime warranty
Best use: Tactical shooting uses, hunting
The Vortex Optics Strike Eagle Rifle Scope is the best all-around scope in this group. This scope is very versatile. The Vortex is an optimal scope for tactical shooting hunting. Vortex is also a quality brand that you can trust. With this scope, you will have clear optics that perform well in various situations and conditions.
Manufactured from a single piece aluminum tube this scope is resistant to moisture, water, and fog (nitrogen gas will prevent internal fogging), so it's safe to use in all weather conditions. This scope is of course shockproof will withstand most any recoil your AR-15 throws at it.
PROS:
Accurate
One piece construction
Waterproof
Fogproof
CONS
:
Weight
Separate Mount
Turrets a little mushy
Related: We advise you check out Vortex Cantilever Ring Mount and Vortex Switchview SV-4 Throw Lever, so if you want to have a full equipment designed and manufactured by the Vortex brand these two products are usually bought with this riflescope.
Wrapping It Up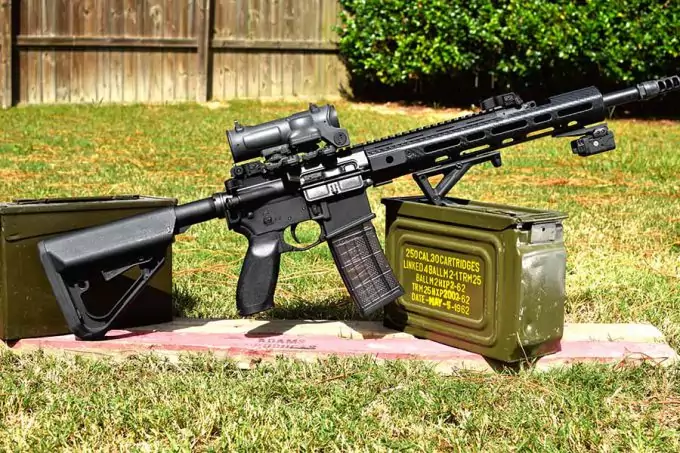 These five scopes will serve you well. They all have solid reviews and come at a reasonable price. In some cases you will find features found in more expensive scopes.
If you are looking for a reasonably priced, quality scope then give any of these five a look.