If you're the type of person that really likes to go out hunting, you've probably had a few occasions where the hunting was better later on in the day. Sadly, if you got stuck with standard equipment, you realized that, as the light dims, so do your chances of actually hitting anything. With the best night vision scopes however, you'll be able to clearly see and target your prey even at night.
[the_ad_placement id="in-text-1-type-a"]
When it starts to get a little darker out or just before it gets too bright in the morning it's the time when most animals tend to move. It's cooler in those hours and you have a better chance of getting some game. So, don't waste your change at glory just because you're stingy when it comes to equipment.
For the best holographic sight, see our article reviews on these useful gear.
Basics of night vision scopes
Night vision scopes come in different types, sizes and strengths and they fit a wide range of guns to make sure you can easily see whatever you need to see at night. The most important thing is that you can choose the scope you want and use it on several guns.
You simply have to swap out the scope from one gun and mount it on any other gun. You may need to get more than one if you're planning on using multiple guns for hunting at night though.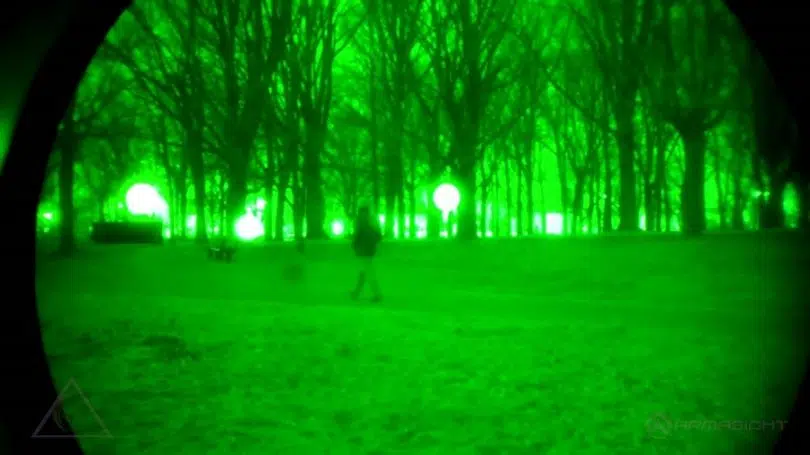 There are three different 'generations' of rifle scopes that you can choose from:
The first, gen 1, is the oldest, as you might expect. It offers a green image that can be a little difficult to stare at for long periods of time and it's generally a lower quality. This is also an analog style which is part of what contributes to the quality problems that many have experienced with these scopes. Newer versions of this scope have started to come with new technology that actually improves the resolution enough to make it worth investing in for the low price.
The gen 2 versions of night scopes are made with white phosphorous tubes. These tubes allow you to get clearer picture and it does this without hurting your eyes. The image is shown in a gray color that balances out the extra light. This is generally a moderately priced scope that will give you a decent result at the same time. As a result, it's the model that is the most popular in many circles, giving the best balance of both sides: cost and quality.
Finally, gen 3 scopes are relatively new and therefore haven't had many changes since they were first released. They use pinnacle tubes to provide the best possible quality, better than gen 1 & 2. They also have the ability to be used during daylight and night which means you only need one scope instead of switching based on when you choose to go hunting. This can be cost-effective as well as providing high quality. In fact, with average conditions for shooting you can even get a good sight from over 300 yards away.
Choosing your night vision scope
The first thing you want to make sure that you're looking at when you purchase a new scope is whether or not it's going to work for your gun. You don't want to spend a lot of money on something and find out that it doesn't even work.
Sure you could take it back or send it back but who wants to go through all that trouble? By paying close attention to the specifications on the scope and your weapon right from the start you can save yourself a lot of hassle in the long run.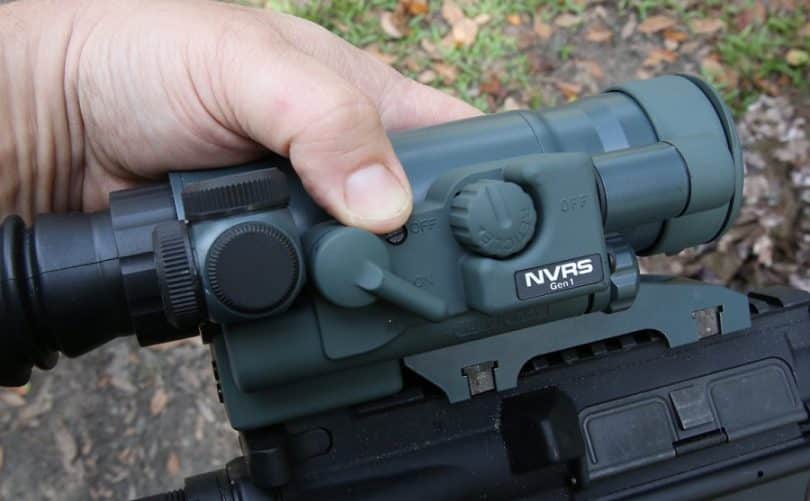 Next, look at the distance that it provides for. Lower generation scopes provide for vision at shorter distances with generation 1 good up to only 75 yards and generation 3 often good up to 300 yards.
If you're going to be hunting at closer distances you can get a lower generation scope that provides for this but if you think you might be hunting from further away the later generations are definitely going to be the best option for you. They are going to cost more however so it's important to pay attention to your budget as well.
You'll also want to check a little further about the cost. In order to get best night vision scope for the money, you'll want to make sure you know what you're capable of spending from the start. Some scopes start at less than $100 but they can go up well over $1,000 as well.
Most people buy somewhere in the middle or closer to the $100-$200 mark, but if you're looking for something really high-quality or something really special you can depend on, you're going to have to spend a little more to get it.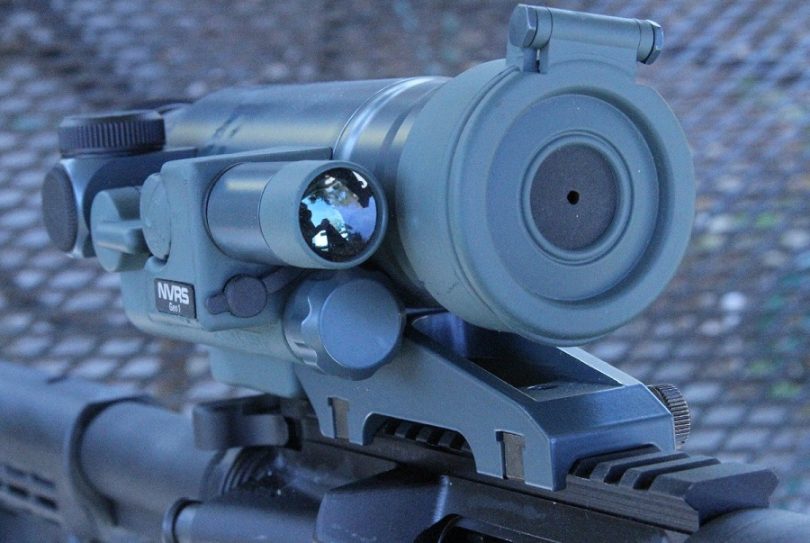 Finally, check what you need to make it work 100% for you. Sure a scope will work out of the box generally, but does it need additional accessories to make it really accurate? If it does, you want to figure that into the cost that you're going to pay. Make sure that you have something that's going to work exactly the way you want when you want it to.
The best scopes to use a night in the market
There are plenty of different night vision scopes out there that you can choose from and they range from relatively inexpensive to extremely expensive. That's why it's important to come up with your own budget and know how much you're comfortable spending before you even start shopping around.
You can find something in nearly any price range so don't feel discouraged if the first ones you see are more expensive than you had hoped, you may be surprised what you'll find when you keep looking around a little longer.
CVLIFE Optics Hunting Rifle Scope 6-24×50 AOE
With a red and green display color, this particular rifle scope provides an objective diameter of 50 mm and a field of view of 28 ft. from 100 yards. It also offers a click value of 1/8 in. also from 100 yards.
If you're looking for magnification it provides 6-24x magnification with an easy to use knob on the top of the scope to adjust the specific level. This is a relatively low priced scope and included in the box is the scope, a lens cover, battery and 2 scope mounts, designed for 20mm weaver dovetail rail. It's not intended for anything else.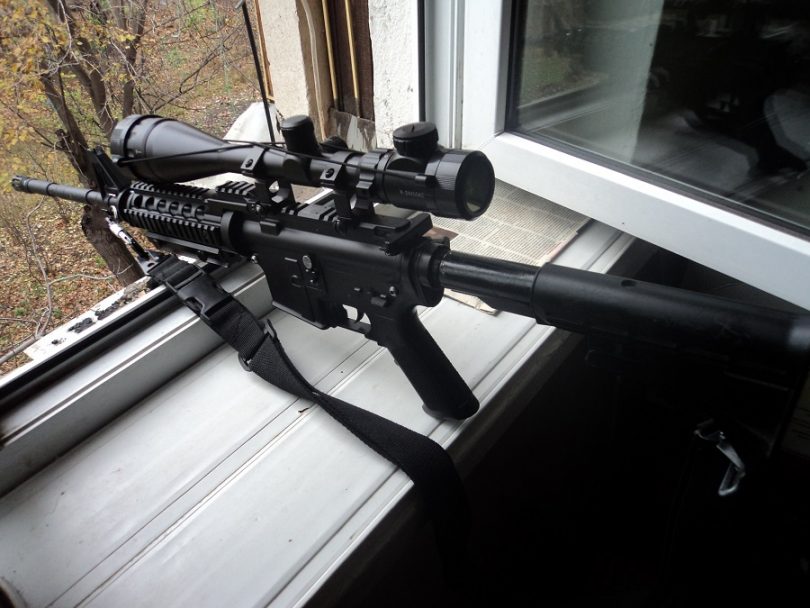 This rifle scope provides level 5 intensity in red and green lights and also has a larger length and narrower barrel than other scopes of its type. Weighing only 630 grams, this scope allows you to easily see exactly what and where you need to in order to shoot. It also has the ability to use the more basic functions of the scope without the lights if the battery dies or there is any kind of malfunction in the process.
If you interested you can buy it on Amazon.
Barska 1-4×28 IR Riflescope
This scope has green, red and black colors for easier vision and offers 1-4x magnification. With a moderate price tag, it also has lockable external target turrets so the scope won't move no matter what you're doing or what the weather looks like outside.
Entirely water and fog proof, it also has a sniper edged sun-shade so you get less glare when you're ready to use it. Inside the box is the mount, caps and the battery you're going to need in order to get this scope working for you.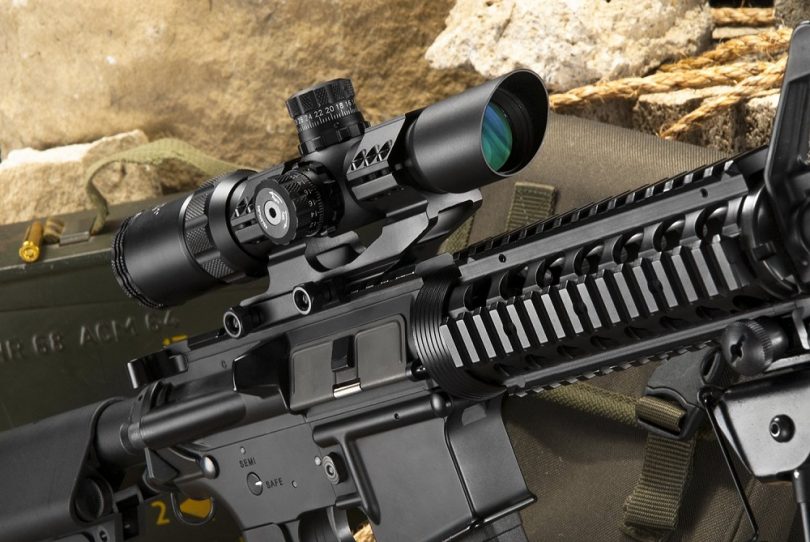 What's really great with this scope is it's really light, only 16 ounces, since every ounce is going to matter if you have to carry that gun with you a long way. It's also easy to adjust for everything from magnification to windage and elevation.
Not to mention it has an objective lens of 28 mm and a click value of ½ inch. If you plan on taking it out right away go ahead and do it and don't worry about how long it's going to last because it comes with a limited lifetime warranty and works at a basic level even without a battery.
If you interested you can check the current deal for it on Amazon.
CVLife Optics Hunting Rifle Scope 2.5-10x40e
With this scope you get magnification of 2.5-10x and illuminations in red and green for easier viewing. It has a field of view of 32.5 feet at 100 yards and comes with several pieces in the box including 2 scope mounts, a battery, the scope itself, a lens cover, Allen key and cleaning cloth.
This makes it easier to use the scope as well as to adjust it as necessary because the knobs are all located on the top and sides to make the process of getting exactly what you're looking for as easy as possible.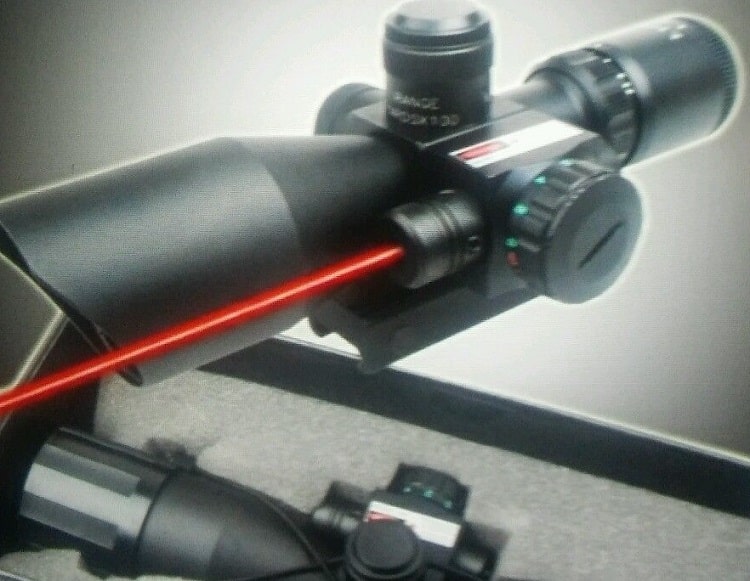 This scope also includes a laser which can be easily redirected by use of the screw at the top. With the 5 intensity level you can see either red or green and the 580 gram weight means that this is going to be reasonably lightweight on top of your gun.
It also has moderate dimensions and a laser that is easily adjusted to provide for better sighting and shooting. This is a shorter scope but that doesn't mean that it's not as powerful as some of the other options that are currently out there.
If you interested you can check its price here.
NC Star 3-9×40 Black Scope/Ruby Lens/Ring
This scope is designed to help you with both hunting and target shooting. It has multi-coated lenses so you get a very clear image and even includes 3-9x magnification in the 40 mm objective lens. With a black matte finish it's easier to keep hidden in the trees without worrying about light reflecting off the scope itself.
The same is true of all pieces including the mount, rings and lens cover which are all included in the box with this lens. There is even a limited lifetime warranty from the manufacturer in case something happens to the scope during normal use.
[the_ad_placement id="in-text-2-type-a"]
At 3x magnification it provides a 36.6 foot field of view at 100 yards and weighs only 16 ounces. This makes it a very light scope and helps with the balance you need in order to get a good shot on your rifle. What's even better about this scope is the versatility.
It's actually rated to be used for a regular gun or an air gun. It's also has a P4 sniper reticle to make it simple to use and highly reliable. This scope is also very inexpensive compared to other models, which makes up for the fact that it's a little bit simpler in the overall scheme.
Like this amazing product? Then you can purchase it on Amazon.
Barska 1×30 IR M-16 Electro Sight Riflescope
This scope is slightly higher priced than most that we've mentioned here but it does have several features. First, it is an electro sight rifle which is designed to be a tactical addition to your gun. It has a 7 position reticle illumination adjustment and the objective lens is entirely removable.
Even more, it has a multi-coated lens which is parallax-free at 100 yards. Inside you will find a red illuminated cross reticle for aiming and a ½ inch click windage and elevation adjustment for easy sighting. It also comes with a 1 year warranty.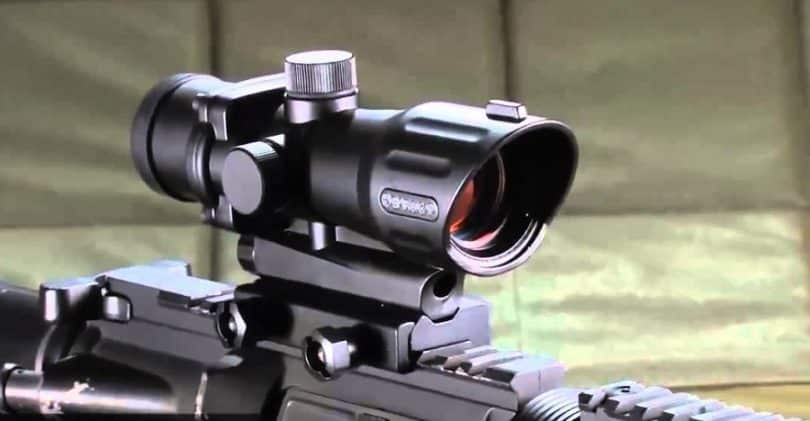 This scope offers only 1x magnification but has unlimited eye relief and includes the battery and lens cloth needed for use. The adjustments are easy to make and the entire scope is actually much smaller than most.
Smaller lengthwise it is somewhat wider than other scopes which allows for the 54 foot field of view at 100 yards but the size means that it weighs only 12.8 ounces, much less than most other scopes of the same ability. It is easily mountable and easy to zero out so you're ready for the next time you want to go hunting or for target practice.
If you interested you can check its price on Amazon.
Other night vision products
The really great thing about night vision is that you don't only have to get a scope for your gun. If you're looking to be observant more so than actually hunting or shooting during darker parts of the night, you can actually get pieces that will help you with this distinction.
After all, if you're going to be moving around at night you want to make sure you can see what's coming up ahead but you don't necessarily want to be pointing your gun at anything that moves. In the middle of the night this could be dangerous.
Night vision binoculars
If you're looking for something to make you more observant this is probably the absolute best thing you could get. That's because binoculars are going to be easy to use and they're going to let you safely take a look at anything that might be coming towards you.
Just like with a scope you're going to get different options on the distance your binoculars can see as well as how much they're going to cost. The best clarity and distance is going to cost you a little more money in the long run. For the best night vision binoculars you can choose from, read our article for more information.
Night vision monoculars
Along the same lines as your binoculars, these are a single eyepiece to help you better understand what's in front of you. They have many of the same options as other night vision products and offer different sizes, strengths and distance capabilities. They also fit over only one eye which can be easier for some to see and still feel confident that they know what's around them as well.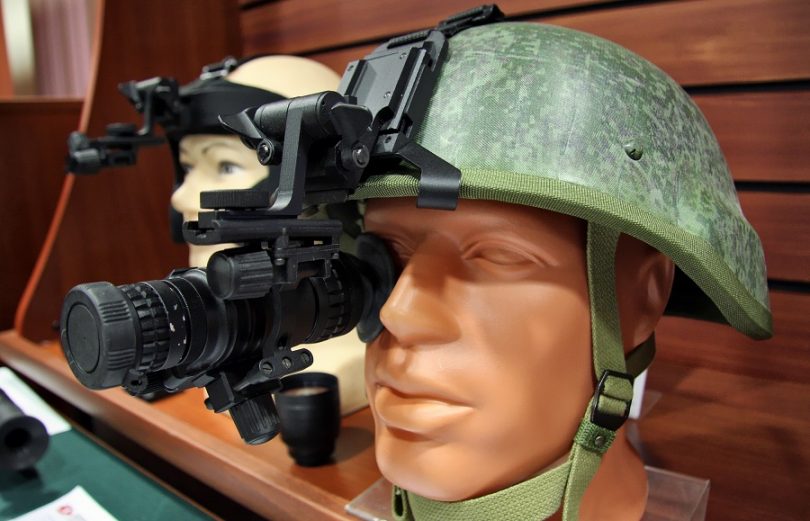 The choice between binoculars and monoculars is entirely up to you and, for the most part, is solely based on personal preference as there is not much difference between the two otherwise.
Night vision goggles
If you want to be able to see what's around you at all times during the night then goggles may be the best option. Though most are not overly comfortable to wear at all times, this is much safer than attempting to hold binoculars or monoculars to your eyes for longer periods of time, especially if you are walking.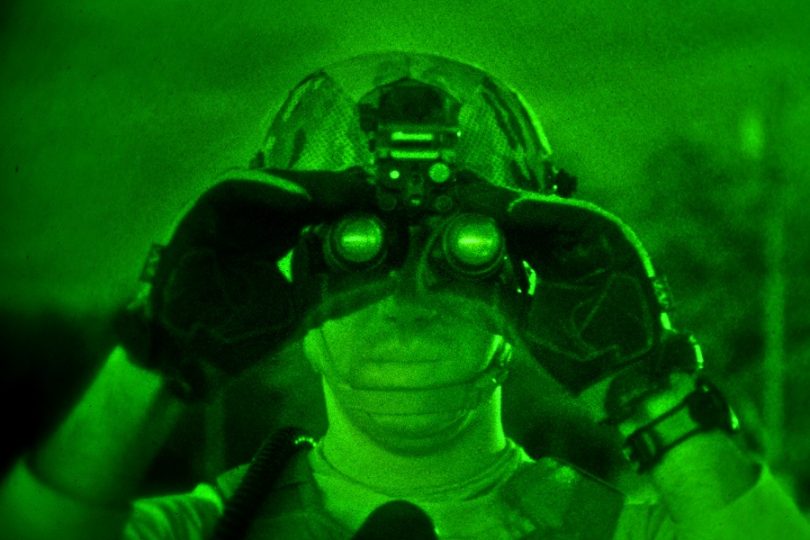 They allow you to have a better idea of your surroundings at all times with many types being head-mounted or helmet mounted so they're easy to use when you want and push off to the side when you don't.
What you should know about night vision
This is a method of sight during less than desirable conditions that was used primarily by the military for a very long period of time before coming into relatively common use by the general public.
There are not a lot of instances where night vision is needed, but for those who do use it this can be an important aspect. It has proven to be extremely useful for the military and for many in the private sector at the same time but it is also a tool to be used carefully.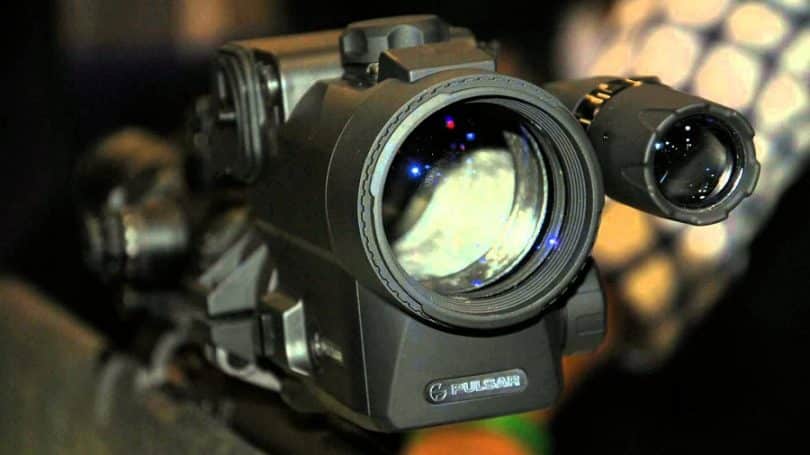 As we continue perfecting different aspects of technology, night vision is also gaining in popularity and ability. Generation 3 is relatively recent, but there is already much talk about a generation 4 that may be currently in use by the military.
At the very least, these are being discussed and tested within the military. This is extremely likely not only because technology is constantly changing, but because the needs of the military constantly continue to increase and it is important to stay on top of the things that are happening around the world.
In our opinion, night vision for civilians is already at an extremely high quality and there is little need for anything further at this point.
Conclusion
In the end, even the best night vision scope can't do wonders when outside is pitch-black. That's why you need to make sure you think about what you really need to use the night vision for. For instance, if you need to be able to see at all times, you will want to choose goggles or binoculars/monoculars rather than a scope.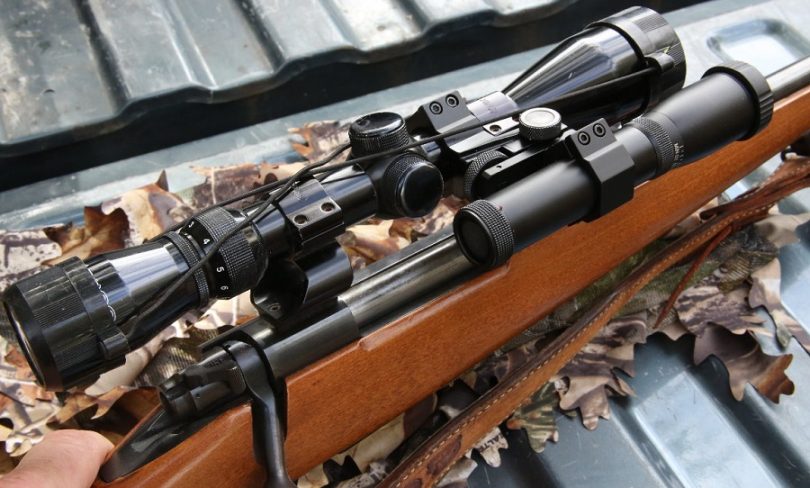 If you are intending to use a night vision scope, then you want to make sure you're getting the right one. Make sure you do your research and find the best scopes that were specially designed for your gun. You definitely don't want to find something that doesn't work or is made improperly.
[the_ad_placement id="in-text-3-type-a"]
At first, it may be difficult to choose the exact right scope but you should be able to find something if you're willing to look a little harder. There are plenty of options out there for any gun and definitely for any needs you may have.
Check out  more affordable night vision gear to help you see your mark in the dark.
Some of the links in this post are affiliate links. This means that if you click on one of these links and make a purchase, I earn a small commission at no extra cost to you. Also, as an Amazon Affiliate, I earn from qualifying purchases. If the information in this post has been helpful, please consider purchasing through one of the links in this article. Thank you.