There are two kinds of people: monocular people and binocular people. And if you're here reading this article, we know in which category you fit, right? Well, we assume you've done your research and made an informed decision about which one works best for you. Now you need the best monocular out there to do the job.
And we're here to offer you our input, experience, and assistance. We aim to help you get the most suitable product on the market, that fits your budget and your style. Yes, you can have them both.
So we think it's important to know the main characteristic of the coolest monoculars on the market, which we've summarized in the table below. Then, we'll discuss the capital factors that influence your buying decision before actually talking about 8 amazing products.
Our Top Picks
Things to consider before buying
Let's review some factors that influence your purchase decision. As you can see, most of them are summarized in the table above, but now we'll explain why they're so important.
Distance to use it at
This is given by the magnification, the first measurement in the official specs. A smaller, 8x magnification is better for brush hunting. A bigger, 15x magnification can even be useful for star gazing.
Conversely, the bigger the magnification, the smaller the field of view. That's why many people prefer a medium magnification which allows a versatile use, both up close or further. Also, make sure the lens design fits the magnification. For instance, a prism design works for bigger magnifications while a Galilean design works better for smaller magnifications and wider fields of view.
Image clarity
This is courtesy of the layers of coating for the lenses. A better, more complete coating like the fully multi-coated design is the best, while the simply coated lenses are the worst. Just make sure you really need this much clarity, depending on your budget and purpose. If you just want a monocular in your glove department, a smaller price range might be your deciding factor.
Dim light vision
This depends on how much light can pass through the lens. A bigger diameter of, say, 50mm accounts for an increased light transmission, and a clearer image in dim light. Conversely, a smaller, 25mm diameter can only be used in full daylight.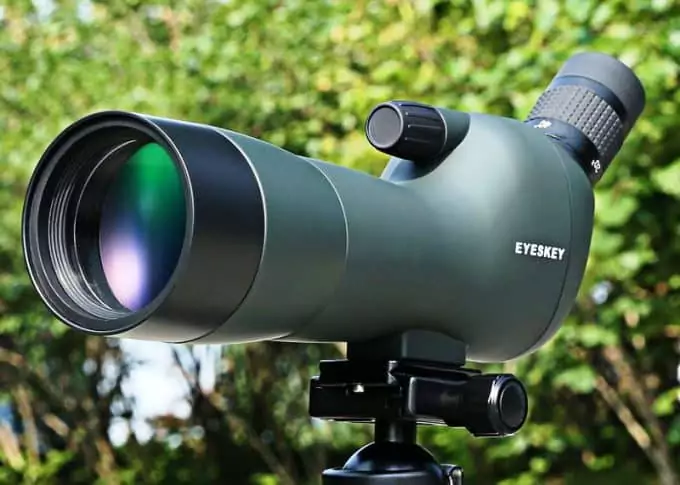 Besides, some monoculars state they can be used at nighttime too, not just dusk or dawn. But be careful to thoroughly read the specs: they might only work with an available light source, like in a moonlit night.
Tripod connection
If a monocular is heavier, or if you want to do extensive hunting/ bird watching, you need at least a tripod connection. Some items come with their included tripods too, which is always best for avid bird watchers. However, that's not excellent for portability reasons, because an added tripod increases the overall weight you'll have to carry.
Extras
There are various things that come included in the package. We always appreciate a well-written user manual, for instance. A sturdy, reliable carrying case wins points for portability, while a microfiber clean cloth works wonders for easy maintenance.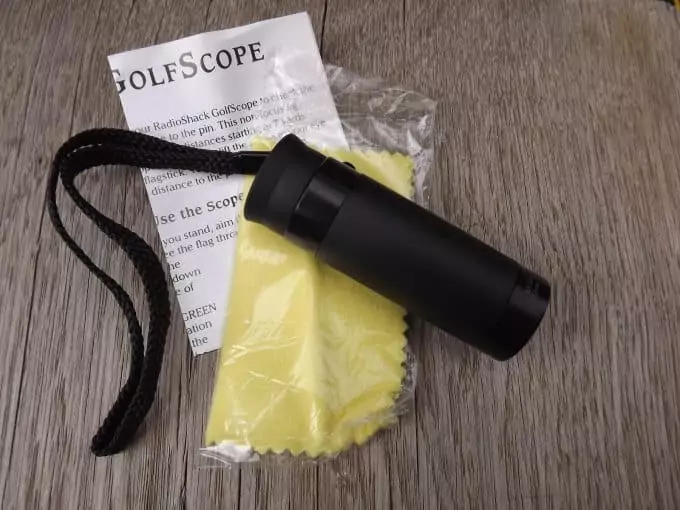 Lens and eyepiece covers are necessary too, seeing as they prevent dust and debris coming inside. A lanyard or a belt clip are additional advantages for portability.
Construction
We love a sturdy build and qualitative materials. So look for waterproof, fog-proof and dustproof monoculars, courtesy of O-ring seals and nitrogen gas purging. A rubber armor build is great in terms of grip and shock resistance.
See also: Best Night Vision: Buying Guide and Comprehensive Reviews
But a qualitative construction comes at the price of, you guessed it, price. So if you have a smaller budget, but you need to use the monocular constantly, it's worth investing in a better design, materials, and craftsmanship. A smaller budget and amateur-purpose doesn't really require grade A materials, though.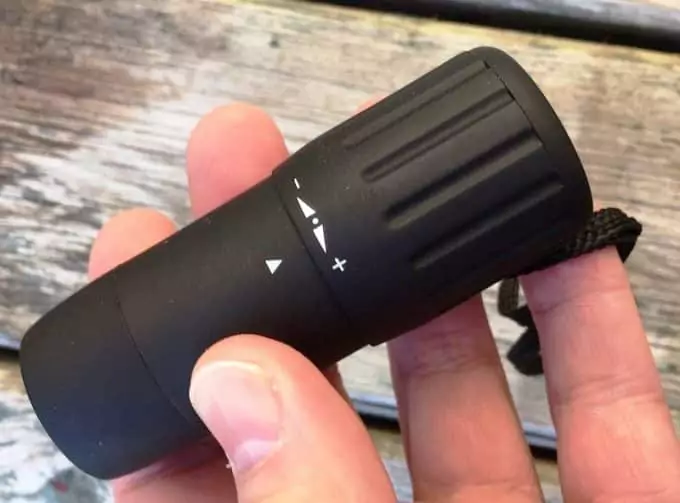 So in the end, it all depends on your needs and purpose. Take a look at the monocular reviews below: you'll see all these characteristics blended together in different proportions. That's going to help you make the best decision.
Best products on today's market
We'll start you off with the smaller price range for the first four items, then move on to a bigger price range. We've listed the price, purpose, as well as the pros and cons for each product to help you compare faster between your favorite monoculars below.
Barska Blackhawk Monocular
WEIGHT: 10.9 ounces
DIMENSIONS: 2 x 6.25 x 2 inches
SPECIFICATIONS: Bk-7 roof prism design; 10x; 40mm; 60° FOV; multicoated optics; nitrogen-purged; O-ring seals; rubber grips
BEST USE: Hunting
The Barska Blackhawk Monocular is definitely one of our favorites for various reasons, starting with its construction. The lens have a Bk-7 roof prism design, which means they work well with a bigger focus and a bigger magnification. Nonetheless, the eye relief is something that definitely needs improvement,
The 10x is good enough for most purposes. You can see enough details at a considerable distance, and also have a generous field of view. In fact, you'll get a 60° wide angle, so you can scour your surroundings easily. The 40mm diameter is also good for maximum light transmission and nighttime visibility.
The multicoated optics are responsible with a clear, bright picture with no parallax. But the nitrogen-purged and O-ring seals also contribute to reducing fog and rendering this monocular waterproof. However, while one thing is in focus, you'll notice the other part of the image is blurred.
Plus, the rubber grips on this thing – great! They help with your steady grip, but they're shock-absorbing too, which helps since this monocular is rather bulky. And don't forget the many included extras: lens covers, cleaning cloth, wrist strap, and carry pouch.
Authentic Roxant Grip Scope
WEIGHT: 7.8 ounces
DIMENSIONS: 5.5 x 2 x 2 inches
SPECIFICATIONS: 6x30mm; fully multicoated; all glass; molded grip; retractable eyecup; included cloth, neck strap, and carry pouch
BEST USE: Hiking
The Authentic Roxant Grip Scope is one of the more inexpensive gadgets in our monocular reviews, and it works for different outdoor sports which demand a lesser magnification and a wider field of view. That's because it has a 6x, which would only work for things like hiking or brush hunting. The 30mm is good too, but only during the day.
Also, as opposed to the Barska monocular, this one is more compact, although equally priced and sturdy. Its lens is all glass, and the retractable eyecup is a definite plus for people who wear glasses.
This one has a molded grip too, which is a good thing to have in terms of grip and shocks. The optics are multicoated, which minimizes the glare and offers a clear picture. You'll also get most of the same extras provided by Barska, like a clean cloth, neck strap, and pouch, but there aren't any lens caps included.
Another downside is that the focus ring is a bit tricky to handle, meaning it's hard to focus the thing when time is key.
The focusing ring can't be operated quickly, so you can't focus this monocular as fast as you'd want to on moving targets. So don't use this for hunting. Plus, there isn't any tripod hole or connection piece for prolonged use, which is definitely needed for hunting/ bird watching.
RELATED: if you're planning a trip into the wild, we recommend this SE CC4580 Military compass. It's a lightweight gadget with a camouflage design and a sturdy construction. This liquid-filled capsule is also thermoelastic and includes a floating dial as well as a rotating ring. Plus, the units are written in both inches and centimeters, so you don't have to operate the transformations yourself.
Wingspan

Optics ProSpotter Monocular

WEIGHT: 11.6 ounces

DIMENSIONS: 2.1 x 3 x 5.3 inches

SPECIFICATIONS: Fully multicoated; waterproof; fog-proof; shock-proof; dustproof; adjustable eyecups; 10×42; 305 FOV; 2.5m close focusing distance; tripod capability

BEST USE: Bird watching

The Wingspan Optics ProSpotter Monocular is another reasonably priced item, but this one has the best optics so far. The reason is that its lenses are fully multicoated, which gives you the least blur around the edges and a very bright picture. That means you'll see all the details you want, which is why we think this one is great for bird watching.

The construction makes it sturdy for constant on-field use. This monocular isn't just waterproof and fog proof. It's also slip-proof and dustproof, and easy to use regardless of the weather and conditions. We also appreciate the adjustable eyecups for eyeglass wearers, which are easy to twist up and down.

The prism design is good in terms of focus, the 10x magnification works for medium-long distance viewing of most details, and the 42mm diameter entails you can use it in low light. We also like the generous 305 feet field of view, as well as the 2.5m close focusing distance. The only thing we could find wrong with this thing is that it doesn't have a zoom feature.

The tripod capability is yet another plus for bird watching purposes. And you'll get various extras, like a case, cover and cloth for the lenses and shoulder straps.

RELATED: We love the Gosky Universal Cell Phone Adapter Mount and we think it goes well with this monocular. In fact, it can work with any monocular that has a lens diameter of 28 mm – 47 mm, and it helps you record all the images you see. And if you're into bird watching, something like this really comes in handy.
Archeer Monocular Telescope
WEIGHT: 0.7 pounds
DIMENSIONS: 2.5 x 2.8 x 6.8 inches
SPECIFICATIONS: 16x52mm; roof prism design; 66m at 8000m FOV; multi-coated optics; dual focus; fog-proof; waterproof
BEST USE: Bird watching
The Archeer Monocular Telescope is another low-priced monocular, but this one gives you the biggest magnification up til now, 16x, which is great for bird watching. The field of view is 66m at 8000m, which is still pretty good, considering the big magnification, and the roof prism design works well with the 16x too.
The 52mm lens is considerable, so you'll have a powerful dim-light vision. In fact, this monocular allows nighttime vision too, provided it's not completely dark. The multi-coated optics are great for better light transmission and crisp images, and we also appreciate how easy it is to focus this monocular. That's because it has a dual focus with a zoom that can be adjusted both front and back.
We also like that this is a fog-proof and waterproof item, as well as lightweight. Regardless, it's not that compact, and it would've been nice to see a better eye relief. If you have eyeglasses or long lashes, it might feel a bit rough.
There are all sorts of extras here, like the carry pouch, neck strap, cleaning cloth and 18-month warranty. However, this is the only monocular that has a user manual included, but there aren't any lens covers to protect it from dust.
RELATED: If you're looking for a monocular in the same price category, and with similar dimensions, you can consider the Miluo Tech Monocular Telescope. This one also has 16x52mm, multicoated lens, and a dual focus. However, the field of view is bigger, with 98m at 8000m, but it doesn't support night vision. We like its rubber armor construction too, as it provides a good grip and shock resistance.
Bushnell Legend Monocular
WEIGHT: 10.4 ounces
DIMENSIONS: 4 x 4.6 x 6.5 inches
SPECIFICATIONS: 10x42mm; BaK-4 prisms; fully multi-coated; ED Prime glass; PC-3 prism; waterproof; fog-proof; twist-up eyecups; Picatinny rail
BEST USE: Bird watching
The Bushnell Legend Monocular is a much more expensive monocular than the ones reviewed above because it has much better optics and a construction that warrants this price increase. For one, its ruggedness and superior functioning is the result of extensive testing, as Bushnell accustomed us. The 10x magnification allows medium distance viewing, and the 42mm diameter a decent dim-light vision.
Secondly, its design consists of BaK-4 prisms which work well with a bigger focus and a bigger magnification. The fully multi-coated lens will give you the clearest image of them all, and the lenses are made entirely of ED Prime glass. Don't forget the PC-3 prism that stands for phase coated.
This construction is waterproof and fog-proof, and the monocular is both compact and lightweight. We like the eyecups that are comfortable and easy to adjust with a twist-up. The Picatinny rail included allows an easy mount on top of the rifle, and the carry clip is a nice addition.
However, this product has a fixed zoom and you can only adjust the focus. For the bigger price, we would have expected an adjustable zoom too. Also, the included carry pouch is somewhat bigger and loses points for portability.
Vortex Optics Solo R/T Tactical Monocular
WEIGHT: 12.8 ounces
DIMENSIONS: 7 x 3 x 3 inches
SPECIFICATIONS: Roof prism; 8x; R/T ranging reticle; fully multi-coated; O-ring seals; nitrogen gas purging; rubber armor; flared adjustable eyecup
BEST USE: bush hunting
The Vortex Optics Solo R/T Tactical Monocular is the first in our monocular reviews that offer reticule marking range estimates. The construction is very solid and provides an easy grip thanks to the rubber armor build.
There are two controls, one for the image and one for the reticule. That means the reticule never gets blurry, and after you set it up, you don't need to fix it again. The reticule is extremely accurate and gives you the correct distance.
We like the very clear optics two, courtesy of a fully multi-coated design and roof prism lenses. The 8x magnification is also good for small-medium range distance vision, so it can work for brush hunting, for instance.
When it comes to the included extras, the carry case is as bad as it gets, since the monocular doesn't feel secure at all inside it. There aren't any lens caps either, so the monocular isn't dustproof. But we do like the lifetime warranty that's both transferable and unconditional.
RELATED: We recommend the Vortex Optics Flip Cap Optic Cover that's a size 6. That's considering this monocular doesn't have its own lens caps, and you need something that doesn't allow dust to accumulate inside.
Enkeeo Dual Focus Monocular
WEIGHT: 7.1 ounces
DIMENSIONS: 6.7 × 2.4 × 2.4 in
SPECIFICATIONS: 16×52; fully multi-coated optics; water resistant; rubber armor; Includes carrying case, lanyard, cleaning cloth, a user manual, and protective covers
BEST USE: Camping
The Enkeeo Dual Focus Monocular is another inexpensive monocular that promises a huge magnification of 16x, which would allow you to see minute details. The 52mm diameter is also a good dimension for optimal light transmission, and good dim-light vision. We also appreciate the fully multi-coated optics from such an inexpensive item, since they increase the image brightness.
However, this monocular isn't waterproof. It's just water resistant but doesn't let moisture and debris get inside it. That means you can use it in different weather and environments.
It's also pretty light and compact, plus the carrying case and lanyard renders it easy to carry. The external rubber armor is ergonomic and rather durable for the price. It also includes a cleaning cloth, a user manual, as well as protective covers.
So for this price, you might be wondering what's wrong with it. Well, it's good for 100 yards, but it doesn't have a fast point or focus for moving wildlife. It's also not the highest quality monocular available, as opposed to the Polaris, for instance.
Wingspan Optics Explorer

Monocular

WEIGHT: 1.41 pounds

DIMENSIONS: 3.31 x 4.41 x 7.72 inches

SPECIFICATIONS: 12x50mm; 1000 yards distance; tough external armor; waterproof; fog-proof; lens and eyepiece covers; nylon mesh case; microfiber cloth

BEST USE: Long range hunting

The Wingspan Optics Explorer Monocular is another great item, that offers a big 12x magnification for minute details. It's a powerful monocular too, thanks to its 50mm lens diameter, for good light transmission and clear images. And remember it provides a clear view up to 1000 yards.

The external armor build is very ergonomic, secure, not to mention sturdy. We love the included tripod stand too because it allows you to use your hands for something else. And considering that it's a bulky, heavy monocular, it would have been a shame not to be at least tripod compatible.

The construction is both water and fog-proof, but it doesn't allow dust and debris to get inside either, which makes it work well regardless the weather and terrain. There are also lens and eyepiece covers to protect it in bad terrain, while the nylon mesh case is also a good protector. And there's also a microfiber cloth included, which is non-abrasive for a smooth cleaning.

RELATED: The Gosky Titan Monocular and Quick Smartphone Adapter Kit offers the same 12×50 magnification which makes the monocular a powerful device. However, it includes a smartphone adapter to help you record the images you want.
Your monocular
When all's been said and done, consider which monocular fits your purpose better. If you want a tripod connection, consider the Polaris ProSpotter or the Bushnell monoculars. If you want a long distance range, the ARCHEER is the gadget for you. Otherwise, the Vortex Tactical Monocular is perfect for bush hunting.
Great image clarity is worth having at medium-long distances and for professionals, so get the Polaris Explorer if that's you. So let us know what you've chosen and why. The comments are right below.
For our top choice of the most affordable night vision scopes, take a look at our earlier article for more options.
Some of the links in this post are affiliate links. This means that if you click on one of these links and make a purchase, I earn a small commission at no extra cost to you. Also, as an Amazon Affiliate, I earn from qualifying purchases. If the information in this post has been helpful, please consider purchasing through one of the links in this article. Thank you.