It's one thing to choose the best scope, and another to choose the best scope for 22 rifle. Things can get complicated here because your choice needs to be more specific. A .22 rifle is a great survival tool, and it's good for shooting smaller and larger game alike, but we're sure you know that.
See also: Best Shotgun Scope: Getting the Most Accurate Shot
So this article aims to get you the best scope that can work great alongside such a rifle. We'll start you off with some important factors to take into account, most of which you can see in the table below. Then, we'll talk about 7 great items, which work for different purposes, budgets and styles.
Our Top Picks
| Name | Dimensions | Reticle | Coating | Rings Included | Price |
| --- | --- | --- | --- | --- | --- |
| BSA Sweet 22 Rifle Scope | 6-18x40 mm | Duplex | Multi-coated | No | Shop Here |
| Simmons 511039 Black Riflescope | 3-9x32 mm | Truplex | Fully coated with HydroShield | Yes | Shop Here |
| BSA Sweet Reticle Rifle Scope | 3-9x40 mm | Duplex | Fully-coated | No | Shop Here |
| Tasco Rimfire .22 Riflescope | 3-9x32 mm | 30/30 | Multi-coated | Yes | Shop Here |
| Barska Plinker-22 Riflescope | 3-9x32 mm | 30/30 | Fully multi-coated | Yes | Shop Here |
| Leupold 113872 VXRimfire Scope | 2-7x28 mm | Fine Duplex | Multicoated with DiamondCoat | No | Shop Here |
| Nikon P- Rimfire Rifle Scope | 2-7x32 mm | Nikoplex | Multi-coated | No | Shop Here |
Things to consider before buying
Most of the factors that influence your choice are summarized in the table above. So let's see why they matter so much.
Dimensions
Let's take two examples from the table. The 6-18x for the BSA Sweet tells you this scope offers a wide range of magnification between the smaller 6x and the bigger 18x. Consequently, you'll be able to sue this scope both at a closer and at a further distance.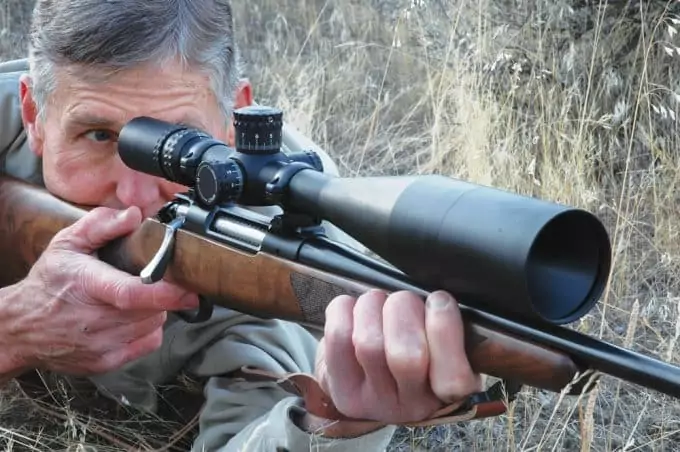 On the other hand, the 2-7x magnification offered by the Nikon P- RIMFIRE tells you the image rendered will only be two to seven times bigger. That means you can only use this scope for brush hunting. Ensure that you aim right. See our piece on how to sight in a rifle scope for more information.
The third number you'll see after the x represents the lens diameter. The bigger this diameter, the more light can pass through the lens. So a 40mm diameter works well in faint light, while a 28mm diameter will not.
Reticle
You need to choose a high-quality reticle in order to get good aim points. The Duplex reticle is your basic model, while the Nikoplex is more advanced. This will tell you the shape of your crosshairs.
Moreover, make sure the reticle doesn't start to fail or spinning too much after a few uses. Conversely, if you're not that interested in constant hunting or shooting, that might not be an issue for you. A qualitative construction with a grade A reticle costs more.
Coating
The coating is responsible for a better image, crisper and brighter. As such, the fully multi-coated option is the best, and you can even see this characteristic on lesser priced items. The simply coated scope is the worst option, so look at least for a fully coated scope.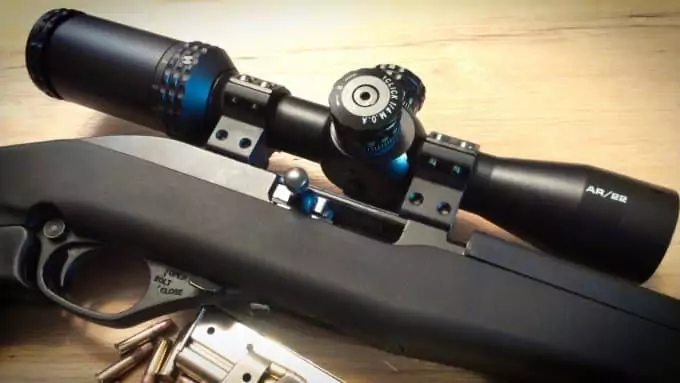 More than this, coating contributes to light transmission too. So although a scope might have a small diameter, more layers of coating can help you use it in dim light too. But remember that the more layers of coating your scope has, the heavier it will be.
Included rings
It's not only a nice courtesy for the rings to be included in the package, it's also a necessity. That's because you might not easily find rings that fit, and if that's the case, your scope might prove impossible to use. Just make sure these rings aren't flimsy. If that's the case, ensure you can easily replace them with sturdier ones, and order them early.
Extras
This factor doesn't appear in the table above because we don't think the extras are mandatory. They're just a nice touch, and we love it when a brand shows interest in the user experience.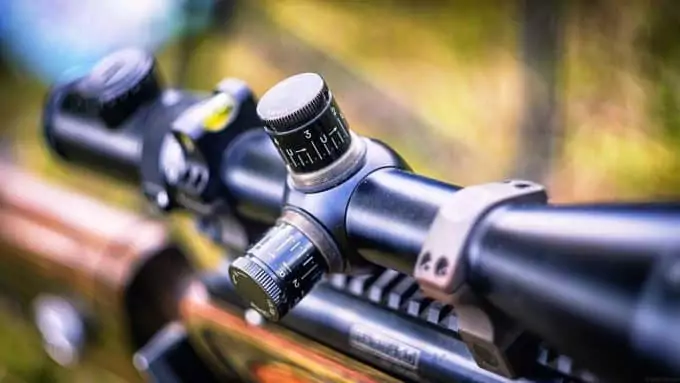 So a cleaning cloth and protective covers are always a plus, but we'd rather see scopes that are dust and shock-proof on their own.
With that in mind, let's see how these characteristics appear in various scopes available for a .22 rifle.
Best products on today's market
These products below can be used for different purposes, such as for target shooting, varmint hunting or brush hunting. They have different weights, price ranges, and dimensions. We've explained their official specs extensively, but we've also summarized the pros and cons for each, for an easier read.
BSA Sweet 22 Rifle Scope
DIMENSIONS: 18.8 x 2.15 x 1.7 inches
SPECIFICATIONS: 6-18x; 40mm; 4-14 yards at 100 yards FOV; 10 yards to infinity parallax setting; 3 inches eye relief; Duplex Reticle
BEST USE: Target shooting
The BSA Sweet 22 Rifle Scope is a fairly accurate scope, and it's versatile too. You can use it for both varmint hunting as well as target practice because it has an adjustable objective and an adjustable magnification between 6-18x.
That means you can look at things from up close or from really further away. And corresponding to these two dimensions, the field of view is between 4-14 yards at 100 yards. Even the 40mm diameter is good enough for dim light vision, though it doesn't work at nighttime.
The turret system is something we really like. It can be changed quickly and it works with different grain weights for a .22 rifle. The parallax setting is another top advantage, as it can be set between 10 yards to infinity.
On the other hand, we don't really love the eye relief, which is less than 3 inches. Plus, that adjustable objective we told you about is pretty difficult to adjust when you're also using the scope. And the included user manual doesn't even tell you how to focus the reticle since it just has generic illustrations.
PROS:
Works with different grain weights
CONS
:
Small eye relief
Difficult to adjust the objective
Generic user manual
RELATED: These Accushot UTG High Profile Picatinny/Weaver Rings are great for 1-inch rails and come in a 2-piece package. These are basically hex screws to help you mount this scope on your rifle, and we like them because of their retention feature, easy setup, and secure fit. Plus, they go on all rails, whether Weaver or Picatinny, and they're sturdy enough due to their aircraft-grade aluminum alloy manufacturing.
Simmons 511039 Black Riflescope
DIMENSIONS: 15.2 x 3.2 x 3 inches
SPECIFICATIONS: 100% glass optics; 3-9x; 32 mm; 3.75 inches eye relief; Truplex reticle; fully coated with HydroShield; 50 yards to infinity parallax; mounting rings included; rubber surfaces
BEST USE: Brush hunting
The Simmons 511039 Black Riflescope is a qualitative item since its optics are made entirely from glass. The lens is fully coated, to minimize any blur around the edges, but the image is still not as good as in the case of a fully multicoated lens. However, we appreciate the HydroShield coating that's qualitative enough to face the different weather.
Another difference is the parallax can be set to infinity, but starting at 50 yards, not 10 as in the case of the previous BSA scope. But we really appreciate that this riflescope comes with included dovetail mounting rings that are Rimfire 3/8".
The rubber surfaces are also a key point here because they allow an easy adjustment of different conditions. The overall weight is also half as for the BSA Sweet, and the eye relief is bigger at 3.75 inches, although it's still not satisfactory.
However, the magnification is smaller, 3-9x, which makes it less versatile and more appropriate for brush hunting, considering the field of view is bigger: 31.4/10.5 at 100 yards. The 32mm diameter doesn't allow that much light transmission so it works worse in dim light, but the Truplex reticle is better than the Duplex one used on the BSA Sweet.
PROS:
Good optics
Mounting rings included
CONS
:
Small eye relief
Not that good in dim light
RELATED: Although this scope comes with its own mounting rings, consider the Weaver Quad-Lock 1-Inch Medium Detachable Rings too. We like these because they're detachable, secure, light, and have a sturdy aluminum construction.
BSA Sweet Reticle Rifle Scope
DIMENSIONS:11 inches length
SPECIFICATIONS: 3-9x; 40 mm; fully-coated; Duplex scope; 15.7 – 36.6 inches FOV at 100 yards; 3 inches eye relief; adjustable objective; adjustable windage and elevation; water, shock, and fog proof
BEST USE: Varmint hunting/ brush hunting
The BSA Sweet Reticle Rifle Scope has a reticle that's just like the other BSA Sweet scope, a basic Duplex, that will start to fail after using it more. What will happen is that the crosshairs will rotate counterclockwise after a while, messing with your shots.
The magnification range is also smaller, varying between 3-9x, which makes this scope better for up close shooting. Just consider the field of view at 100 yards is 36.6 inches at 3x and 15.7 inches at 9x. The fully coated optics are better since they make for a clearer image, but the 20 ounces weight is a bit on the heavy side.
The 40mm diameter is also good enough for dim light shooting, but the eye relief is just 3 inches here too. However, the objective is still adjustable, as are the windage and elevation. The included lens covers are a plus here, considering this scope is fog, shock and waterproof.
CONS
:
Poor quality reticle.
Small eye relief
RELATED: We recommend the AccuShot Picatinny/Weaver Medium Profile Rings to mount this scope on your rifle. You'll get 2-piece 1-inch rings that fit Weaver dovetails and work with lens diameters as big as 53 mm.
Tasco Rimfire .22 Riflescope
DIMENSIONS: 14.1 x 3.5 inches
SPECIFICATIONS: 3-9x; 32mm; mounting rings included; 1-inch Monotube construction; multi-coated; 50-yard parallax setting; 17.75 – 6 feet FOV; 3 inches eye relief
BEST USE: Brush hunting
The Tasco Rimfire .22 Riflescope is another affordable scope and we appreciate that, as opposed to the BSA scopes, it's a much lighter one. Its construction is strong and qualitative, and we like the HD clarity of the images it renders. Another point in its favor are the included mounting rings, though they're somewhat flimsy.
The 1-inch monotube construction us full-sized and reliable. We like the 50-yard parallax setting which is responsible for the crisp images you'll see, but we would have liked a bigger diameter for the lens. With just 32mm, we're not convinced you can use this scope in dim light.
The 3-9x magnification is good enough for versatile brush hunting, but it's not that versatile. However, we're fans of the multicoating used, which is one reason why this thing offers such qualitative images. Its good craftsmanship and extensive testing bring their contribution in that regard too.
The 30/30 reticle is good enough, but consider that such an inexpensive item isn't very durable. After firing enough shots, the crosshairs on the reticule will start spinning.
We also think the field of view could be larger for the 3-9x seeing as it's just 17.75 – 6 feet at 100 yards. And the eye relief is only 3 inches here too, but it's still a small price to pay for the… small price you actually pay.
CONS
:
Poor quality reticule
Poor quality mounting rings
Small FOV
Barska Plinker 22 Riflescope
DIMENSIONS: 12.4 x 2.2 x 2.2 inches
SPECIFICATIONS: 3-9x; 32mm; water, fog, and shockproof; fully multi-coated; 10.7-3.6 exit pupil; 3.5 inches eye relief; 0.375 inches dovetail rings, lens covers, and cloth included; 30/30 reticle; 13-36 FOV
BEST USE: Brush hunting
The Barska Plinker 22 Riflescope has basically the same dimensions as the Tasco Rimfire Riflescope. As such, its 3-9x magnification is great for up close when you're brush hunting. It can even be used for some bird watching during the day if you're close enough, considering the field of view is 13-36 feet at 100 yards.
The 32mm diameter could be bigger, and it's not great for faint light, but we really love to see a fully multi-coated product in our reviews. It's also good that the eye relief is bigger, at 3.5 inches, but the 30/30 reticle poses the same problems with spinning crosshairs after constant use. Regardless, this is the first product up till now with no parallax adjustment, which is a definite minus.
We appreciate the construction that's resistant to weather and terrain since this is a water, fog, and shockproof scope. On the other hand, both the body and the knob are made from cheap aluminum, so they're incredibly easy to scratch.
We also like how complete the package is, as it includes the 0.375 inches dovetail rings, lens covers, and cloth. However, the rings are cheap and flimsy too.
PROS:
HD clarity
Resistant to weather
CONS
:
Poor quality body and knobs
Flimsy mounting rings
No parallax adjustment
RELATED: At the other end of the price spectrum, we recommend this ATN X-Sight II Smart Riflescope. It has a wide range of magnification adjustment, between 3-14x, and it can record images and videos. With this scope, you'll get Wi-Fi streaming too, as well as GPS for geotagging and elevation. The zoom is smooth and you can control this scope with an app that's easy to install on your smartphone.
Leupold 113872 VX Rimfire Scope
DIMENSIONS: 14 x 3.2 x 2.9 inches
SPECIFICATIONS: 2-7x28mm; fine Duplex reticle; multicoated with DiamondCoat; Quantum Optical System; Index Matched Lens System; Argon/Krypton Waterproofing
BEST USE: brush hunting
The Leupold 113872 VX Rimfire Scope is a more expensive scope, but we like how light it is. We also love the clarity of the images it renders. That's courtesy of several factors, included the multicoating 4, which increases light transmission and decreases reflections.
As a side point, the ability of the DiamondCoat and the Index Matched Lens System to enhance light transmission works great to counteract the rather small 28mm diameter. So, normally this lens diameter would be too small for dim light vision, but that doesn't happen in the case of this scope.
We also appreciate the overall construction that's resistant to abrasions thanks to the DiamondCoat used. Plus, this thing is waterproof thanks to a second generation Argon/ Krypton mix. We would have liked the official specs to state it's fog and shockproof too, but that's not the case.
Other disadvantages are the windage and elevation adjustments. Although they're marked in 1/4 MOA increments and they're micro-friction, these aren't easily adjustable. And we're not that crazy about the 2-7x magnification, which is only good for a small distance.
CONS
:
Difficult to adjust windage and elevation
Not fog and shockproof
RELATED: Since there aren't any lens covers included here, we recommend getting these Leupold Alumina Flip Back Lens Cover. For one, they're also manufactured by Leupold so you know they'll fit. Secondly, they're flip-back and have a lockable design for a fast adjustment. Not to mention their machined-aluminum build, with neodymium magnet, holds and triple O-ring seals that make these covers durable and secure.
Nikon P- RIMFIRE Rifle Scope
SPECIFICATIONS: 2-7x; 32mm; Nikon eco-glass; multi-coated; 1.4 inches adjustments for windage and elevation; Nikoplex reticle
BEST USE: Brush hunting
The Nikon P- Rimfire Rifle Scope is another scope that works better for a smaller range since it only has a 2-7x magnification. The 32mm diameter is not that good for faint light either, but we appreciate the lens construction. These are manufactured from Nikon eco-glass, which doesn't include any lead or arsenic.
The multi-coating is another strong point since it's antireflective so you'll get a bright image. This scope is for people who like to shoot at a known distance and dial-in their shots, which is the purpose of the 1.4 inches adjustments. These are precise and target style, but they're hand-turn.
The sighting speed is another plus, and we like the Nikoplex reticle used. This comes with a Rapid Action Turret system that only requires you to sight the gun before rotating the turret. There's also the option of choosing a BDC 150 reticle, where you'll get different aiming points between 50 and 150 yards.
Either way, we like how sharp the reticle is and the fact that this scope holds the zero so well. We don't like that the elevation turret doesn't look like in the official picture. It has a BDC style instead of click counts, which could be deemed as false advertising.
PROS:
Top-notch glass
Crisp clarity
Perfect eye relief
CONS
:
BDC style for the elevation turret
RELATED: We like the Nikon P-Series Riflescope Picatinny Mount for 1 Inch Tube for this scope. One of the reasons is its durable and light alloy manufacturing. It's also a reversible mount made from two pieces, so it's really flexible.
What will it be?
When considering getting a new scope for your rifle, you don't want things to be hit and miss. But that all depends on what you need. For instance, the Leupold 113872 is good in a smaller range for brush hunting, while the BSA Sweet 22 Rifle Scope works for bigger distances.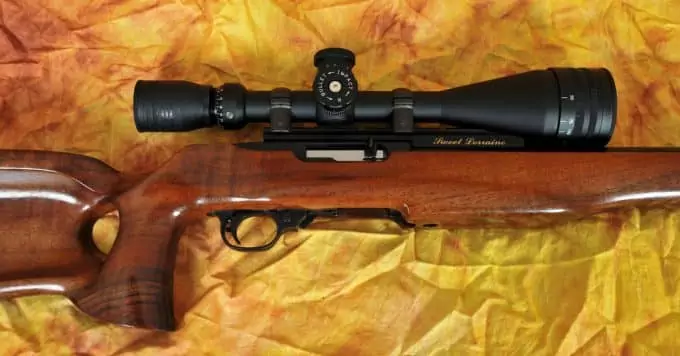 You might also be willing to invest more in a good reticle like the Nikoplex one offered by the Nikon scope. Conversely, you might be just fine with the 30/30 reticle of the Tasco Rimfire, if you're an occasional shooter. And if image clarity is a priority for you, consider the fully multi-coated BARSKA Plinker. You might also be interested in scopes that come with their own rings, like the Simmons 511039.
In the end, it's all up to you. Whether you need this scope for brush or long-range hunting, or even for killing varmints, you have a wide array of choices in this article. Let us know what you end up choosing, the comments are right below.
Take a look at our article on how to choose the top rifle scopes to give you an accurate shot.
Some of the links in this post are affiliate links. This means that if you click on one of these links and make a purchase, I earn a small commission at no extra cost to you. Also, as an Amazon Affiliate, I earn from qualifying purchases. If the information in this post has been helpful, please consider purchasing through one of the links in this article. Thank you.