You are probably wondering why you need a shotgun scope or optic for turkey hunting. Not all hunters use scopes or red dots for hunting turkeys, and there are a few things to consider when you decide if you want one or not.
Hunting turkeys takes work, so when you finally get that shot, you want it to count!
Reasons to Consider a Shotgun Scope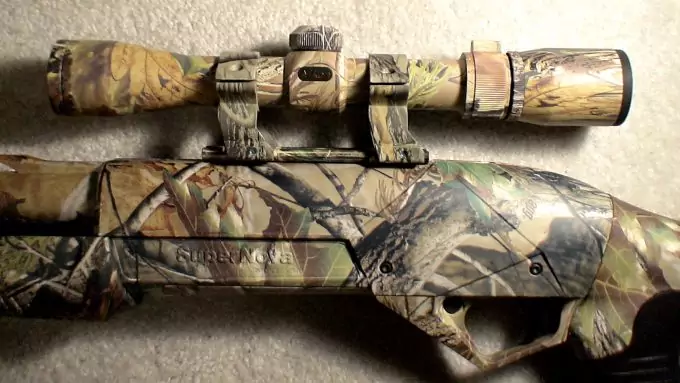 Some hunters will argue that a shotgun scope is just another thing to worry about or break. You might hear that it is not worth the weight since shooting turkeys often involves close shots.
I personally think the advantages outweigh the disadvantages and an extra pound or so does not bother me.
Even though the bird may be close and the pattern is large, the same advantages are found when shooting any gun with a scope.
An optic forces you to focus on the front site and get into the correct position to shoot. It minimizes shooter error.
You are going to miss fewer turkeys – period. A scope forces you to site the bird at long or close range.
It's a fact that your depth of focus is going to decrease as you get older. A scope lines up the bird at a distance and helps compensate for the loss.
This article will suggest some of my top picks, and then take you through the pros and cons of specific scopes.
Features to Consider
There are several features to consider when purchasing a scope. I'll briefly take you through them so you can make an informed decision.
Weight and Dimensions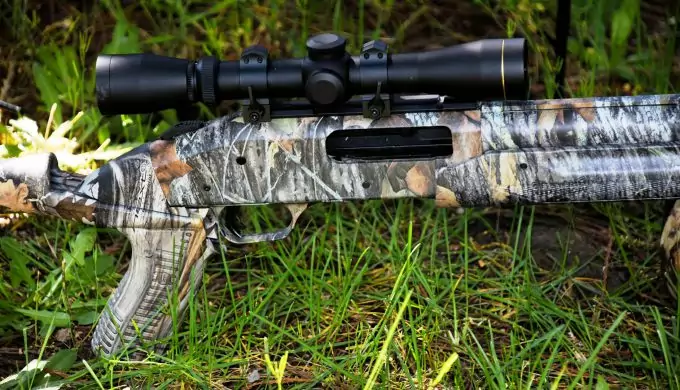 Keep your scope light. It's no fun to walk several miles and then have to trudge back with your two large Toms.
You can purchase a good scope for around a pound, and less than 18 inches long – even less for a Red Dot.
Crosshair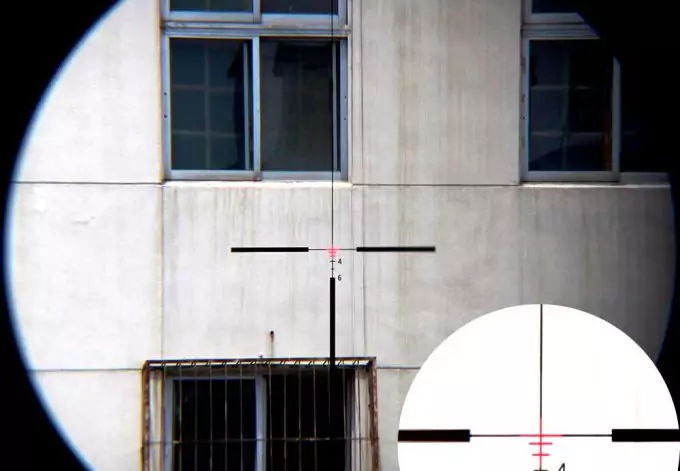 The cross-hair in your scope forces you to focus on your shot. Your shots are more accurate, and the misses reduced.
A cross-hair or aiming point is also referred to as a reticle, and there are several types to consider. This article on Reticles does a nice job of describing the different types and uses.
Bullet Drop Compensating Reticles
MilDot Reticle
Illuminated Reticles
Clear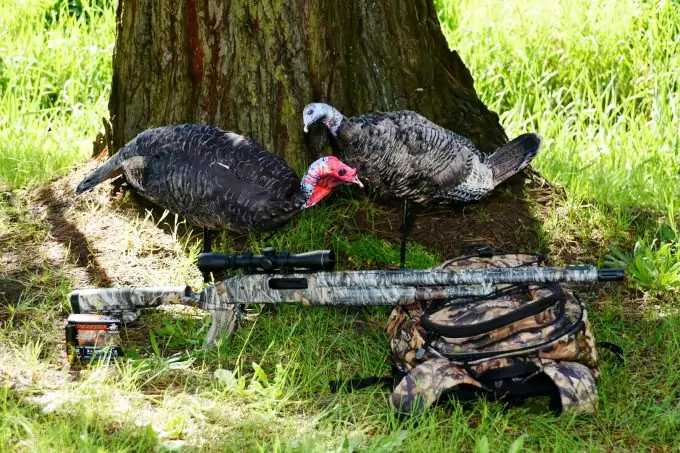 When hunting for turkey, your target is often close. It is important your scope optics be crisp and clear, but you don't need high resolution. Make sure you have a clear view of your target, and you will be in good shape.
Shock Resistance and Durability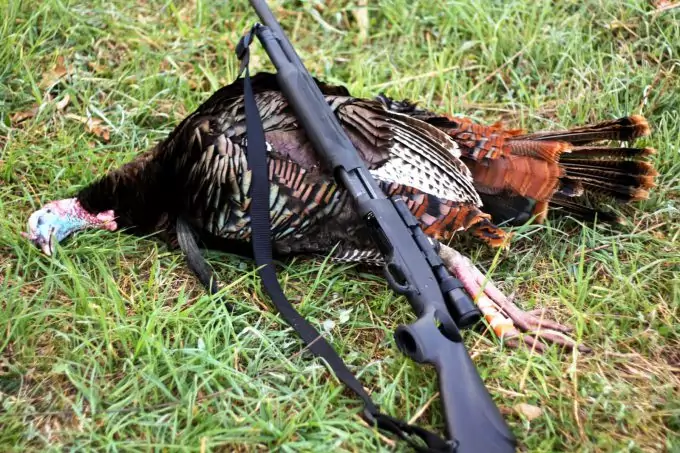 There are a few things to consider when it comes to durability.
You are going to be out in the woods, and potentially moving fast if hunting something other than turkey, like rabbits. Make sure you have a scope that is going to hold up to being handled and moved around a lot in tough terrain.
Weather is another factor. It may be cold, rainy (especially during turkey season), snowy, etc. Your scope needs to be able to stand up to these conditions.
Finally, don't forget recoil. A shotgun typically has a good bit of recoil, so make sure the scope you choose is shock-resistant.
Magnification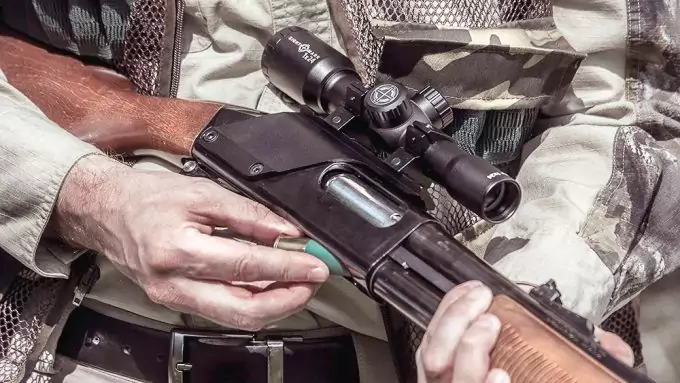 The correct magnification is important for a turkey scope. You won't be shooting from far away, so a 2-7 32mm is acceptable. Ultimately, magnification is a personal choice.
Keep in mind that with a scope, you won't have as much eye relief as you will with a red dot, and it will be harder to swing around to sight a fast-moving bird.
Top Product Reviews
The scopes I have listed below off good value for their prices, and provide a variety of different features in solid scopes.
TRUGLO Traditional 30mm Red-Dot Sight
Weight: 7 ounces
Dimensions: 9 x 5.8 x 2 inches
Specific features: Adaptable, has a flip lens, eye relief, elevation adjustment
Weight: 7 ounces
Best use: Low light, short distances
The Truglo Red-Dot APG Scope is a versatile red dot that can mount on a Weaver or a Picatinny mount. The ability to adapt it for different mounting systems is one of its strengths.
The 5-MOA red-dot reticle is crisp and clear, providing optics often found in more expensive red-dot scopes. The lens is clear, and you have a nice wide view, and with a lower magnification, this is an ideal red-dot for a shotgun.
At this price point, you will be hard-pressed to find a more durable optic that is dependable and reliable when you need it.
PROS
Great price
Good eye relief
Wide field of view
Versatile/Easy Mounting
CONS
Durability/Quality complaints
Covers not attached to sights
The red dot is not a sharp dot
Screw covers instead of twist knobs
Simmons Truplex Riflescope (3-9X40, Matte)
Weight: 10.08 ounces
Dimensions: 15.40 x 3.10 x 3.30 inches
Specific features: Wide view, non-reflective coating, multi-coated lenses
Best use: Low light, a short distance
This is a budget scope at a low price, but it receives strong reviews. If you prefer a scope instead of a red-dot this scope provides a good magnification range @ 3-9 x 40mm.
The Simmons Truplex is a simple, sleek scope with features found in higher-priced models – 8-point riflescope, Fully-coated optics, 1-4-MOA SureGrip audible-click windage, and elevation adjustments, Waterproof, fog proof, recoil proof, Truplex reticle.
If you are considering moving to a scope on your shotgun, give this scope a try. You might find that your "test scope" ends up becoming your "permanent scope."
PROS
Sleek, low profile design
Low price
Durable against recoil
Versatile/Easy Mounting
CONS
Some durability/Quality complaints, ie., plastic knobs
Adjustments click a little "mushy"
Average eye relief
Some parallax complains
Bushnell Trophy TRS-25 Red Dot Sight Riflescope, 1x20mm, Black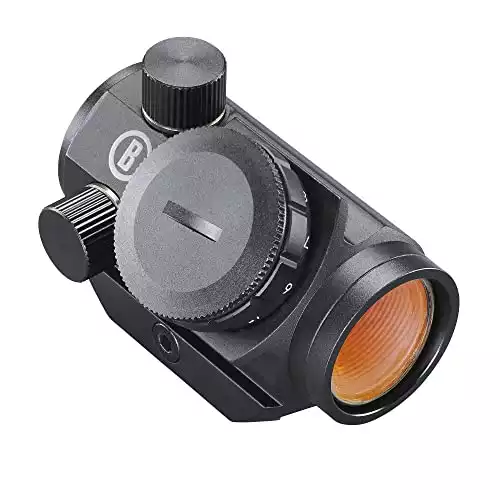 Weight: 3.7 ounces
Dimensions: 5.4 x 3.4 x 2.2
Specific Features: Compact, Light, 1x Magnification
Best Use: Low light, close targets, tough terrain
The TRS-25 is known for its rugged durability. This red dot sight has nitrogen-purged fog proofing, and the optics are O-ring sealed. You can count on this optic to perform and heavy humidity and big temperature swings, so you can always see your target.
This red dot optic has 11 brightness settings, which illuminates the 3 MOA reticle, making it easy to locate your target. Your ability to adjust the brightness settings also allows you to conserve the battery while you are out in the field.
At less than $100, this is a great price for a quality optic. The TRS-25 receives many good reviews, and at the time of this article, the four and five-star reviews were 86% of the 11,000 plus reviews. This is a very popular Red Dot Riflescope.
PROS
Price
Shock Proof
Waterproof
CONS
No auto on/off
The dot is not a sharp dot
Low Battery Life
Vortex Optics Spitfire 1x Prism Scope – DRT Reticle (MOA)
Editor's Choice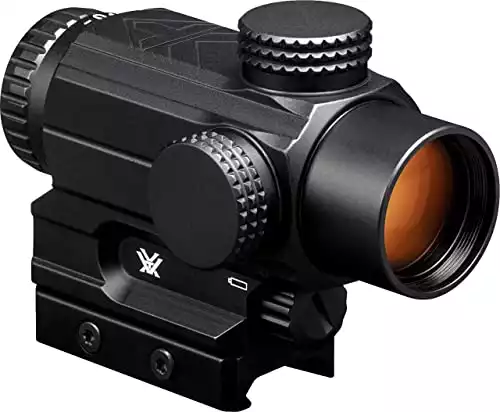 Weight: 14.4 ounces
Dimensions: 6.75 x 2.5 x 4
Specific Features: dual-ring tactical reticle, 3.8 eye relief, fully-coated lenses
Best Use: All Weather
The Spitfire also serves nicely on a shotgun. The generous sight picture and forgiving eye box allow you to target effortlessly in any scenario. Fully multi-coated lenses offer true to life clarity and brightness.
The etched dual ring tactical reticle provides a visible point of aim whether powered up or not. At least, this is the claim by the manufacturer. There are ten brightness settings and an option between red or green illumination.
The machine cast aluminum optic claims shockproof, fog-proof, and waterproof by the manufacturer, and reviews give high marks for durability.
PROS
Durability
Regular Batteries
Waterproof
CONS
Too high for backup sights
Related: If you need some 2 piece rings to go around the scope to keep it on your shotgun, the AccuShot Picatinny/Weaver Rings will work for you. They are made to use every day and can work with scopes up to 61 mm.
Sightmark Mini Shot M-Spec LQD Reflex Sight
Weight: 7.6 ounces
Dimensions: 3.7 x 1.8 x 2.2 inches
Specific Features: Lightweight, 10 brightness settings, waterproof
Best Use: All-weather, close-range precision
The Sightmark Mini Shot M-Spec LQD Reflex Sight is a quality scope. This scope is fully coated for a bright view, no matter the time of day – dusk, late-night, and early mornings. The view is clear with high contrast, and the scope allows you to easily and quickly place your target.
The low-profile mount is good for shotguns and pistols, and quick finger adjustments for wind and elevation help sight your target quickly and accurately.
10 brightness levels give shooters perfect reticle options from low light situations to the brightest days. An ambidextrous digital switch allows the M-Spec to be easily turned on and off by left and right-handed shooters.
PROS
Clarity
Ease of use, quick adjustments
Durable
CONS
Price
Circle in scope could be larger
Related: Check out a favorite turkey call of mine. The Woodhaven Custom Calls Turkey Call comes in a 3 pack and is highly durable and versatile so that you can change calls.
Final Thoughts
There are many good scopes and optics. The ones chosen for this article provide both price and quality options. Reviews make them some of the best in their categories for features and affordability.
The optics you choose don't need to be the most expensive but should be what works for you.
Some of the links in this post are affiliate links. This means that if you click on one of these links and make a purchase, I earn a small commission at no extra cost to you. Also, as an Amazon Affiliate, I earn from qualifying purchases. If the information in this post has been helpful, please consider purchasing through one of the links in this article. Thank you.