The Fenix HM65R Headlamp is a powerhouse, which is no surprise. I'm a Fenix fan already, and my HM50R currently goes with me on all of my backpacking trips.
Recently, I needed something to use when working in more rugged off-trail conditions. As a result, and based on recommendations I trust, I decided to give this light a shot.
If you want a headlamp in an emergency, then this is your light!
This light is rugged, holds a charge longer than I expected, and lights up the night like no other headlamp I currently own!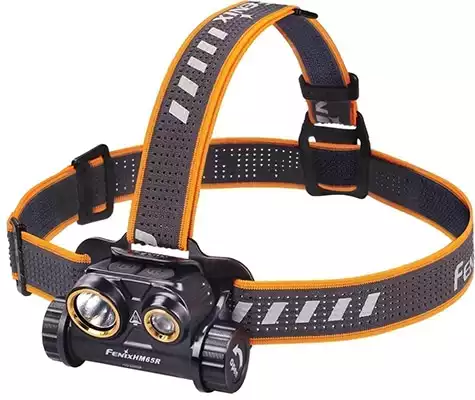 Fenix HM65R Headlamp
This headlamp is a beast! I purchased it for work and cross-country backpacking trips. The light is rugged, light for all its features, and incredibly bright. I find myself grabbing this headlamp more and more often.
Check Price
Pros
Durability & quality construction
Comfortable fit
Brightness and dual Spot & Flood beams
Cons
Have to tilt to use top switches easily
Low lumens or red light for camp
Fenix HM65R – Summary & Specs
| Specifications | Fenix HM65R |
| --- | --- |
| Lumens | 1400lm |
| Runtime | Up to 300h in Floodlight mode |
| Weight | 3.4oz (w/out battery) |
| Distance | Up to 535 ft. in Spotlight mode |
| cd | 6,677cd in Spotlight Turbo mode |
| Water Resistance/Proof | IP68, Up to 2m underwater |
| Size | 3.2 x 2.2 x 1.6 |
| Battery | Rechargeable li-ion 3500Ah |
| Price | $94.95 |
Competitors
The HM65R has a few competitors, but none are as bright or straightforward as this light.
I like the dual lamps and that there is no separate battery pack or extra bothersome cords.
Personal Headlamp Preferences
My reviews are not as technical as a site like Zeroair or some other technical lighting sites, but I put my lights through their paces and then provide unbiased feedback based on real-life experiences.
Everybody has their own needs when using a flashlight, headlamp, tactical light, etc. My preferences work for me and have not changed much.
Weight – I don't want a heavy light to distract me and become uncomfortable.
Comfort – My headlamps can be worn for hours so a comfortable strap and lamp is important.
Price – There is "get what you pay for" and "stupid expensive." I try to find a balance, but don't want to risk my lights letting me down in tight spots.
Bright – I night hike and can get caught climbing at night. I also like a good "camp light."
I'll briefly touch on candela vs. lumens since this is one of my priorities.
Candela (cd) vs Lumens (L)
I'm relatively visual, so I'll explain it as it makes sense to me.
Think about a general bulb vs. a light beam. The beam concentrates the light on a small point or location, which means it has a high candela value. The light is condensed into a single point and projected in a single direction.
A bulb has high lumens, and the light is spread over a greater area than the spotlight.
Fenix HM65R Headlamp Package Contents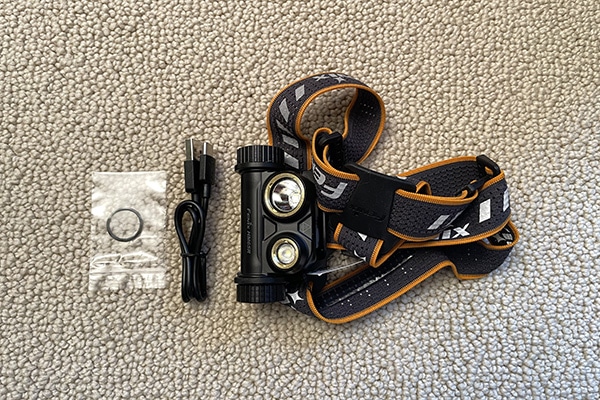 The HM65R packaging is plastic – not my favorite since I always try to reduce the packaging and plastic I use.
The components included with the light are pretty standard.
ARB-L 18-3500 Rechargeable Li-Ion Battery
Headband and headband mount
Spare Ring
USB-C Charging Cord
Users Manual (Sheet)
The Users Manual is a single laminated sheet, providing the essential information and specifications you need to use the headlamp.
If more information is needed, the company website always provides good additional information on operating instructions.
Fenix HM65R Headlamp – Materials/Components
Fenix is well-known for its durable construction, and this ruggedly built headlamp is no exception.
In a nutshell, the lamp uses a hard, durable magnesium casing, toughened glass lenses with anti-reflective coating, and is impact resistant up to 2m.
Lamp Exterior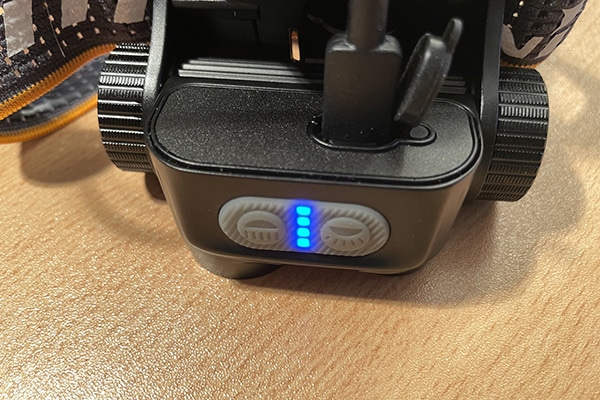 The casing is primarily magnesium and very durable. The lamp itself is mounted in a thick plastic mount and can be tilted down via seven adjustments.
There are two lights (Cree XM-L2 U2 white & XP-G2 R5 neutral white LED), giving you the ability to use both a floodlight and spotlight simultaneously or separately. This is why they claim 1400 lumens.
Two light switches on the top of the lamp allow you to quickly turn on and off the lights. Unfortunately, if you have large fingers, you may have to tilt down the light since the switches are halfway under the top of the mount. This is a little irritating.
The battery indicator is a series of blue lights between the switches. They worked fine when charging and indicated a full charge, but when clicking them once to check the status of the light, they only showed one bar instead of the four bars indicating a full charge.
Power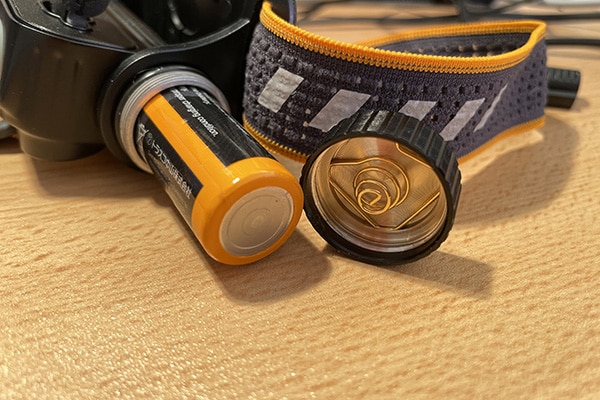 The 18650 rechargeable Li-ion battery is included with the headlamp, and the battery compartment is under the lamp.
There is a small tab over the battery, so make sure you open the battery compartment and remove it.
There are what looks like two caps with knurling. The one on the right (facing the lamp) is marked "Open" with an arrow. The threads are well-milled, and the O-Ring and threads provide a smooth tight fit for the cap.
When you tilt down the light, you will see the port for the USB-C charging cord on the back of the light. There is a thick rubber seal with a good fit.
Headband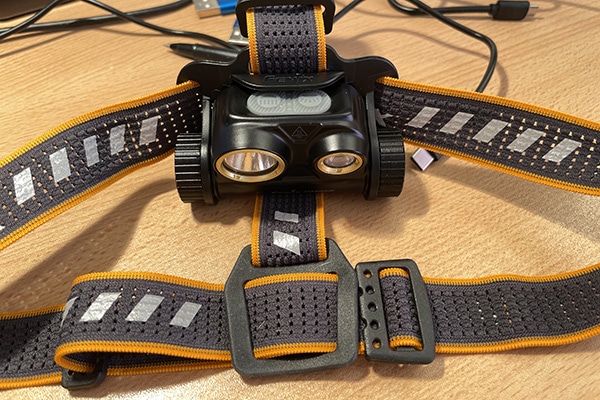 The headband is one of the features I like. It is very comfortable, even after a couple of hours of night hiking.
The band is made from perforated material to keep your head cool and has a clear sweatband around the inside front of the band. This funnels sweat away from your eyes.
The headband is adjustable, and the top band can be removed if you prefer the headlamp without it.
Fenix HM65R Headlamp – Performance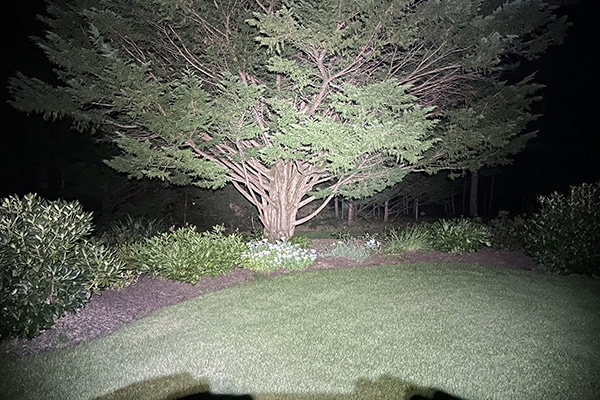 After hiking and working with the HM65R for two weeks, I can say that I had more than enough light for my needs.
Highlights included…
I really appreciated the Floodlight when hiking at night, and 21 hours at night really ended up being more like 17 hours, which was still more than enough.
Lumens are still a little too bright around camp. I prefer 2 or 3 lumens, or a red light, so I don't blind everyone.
Turbo lasted for 3.5 hours and not the 4 stated.
Charging only takes about two hours which is good.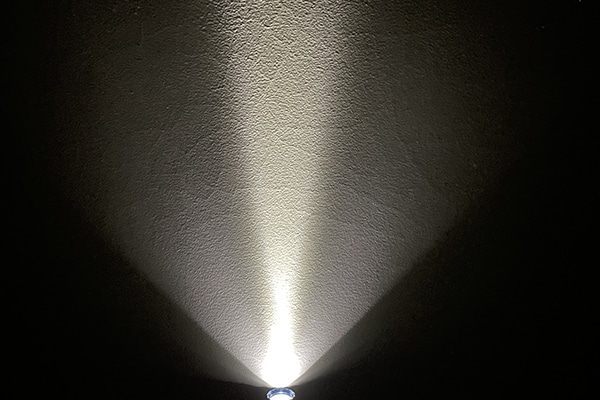 Floodlight Emitter
The Floodlight Emitter is what I find myself using most often around camp since 8 lumens is about all I need in close quarters. Below is the low beam on the right and High on the left.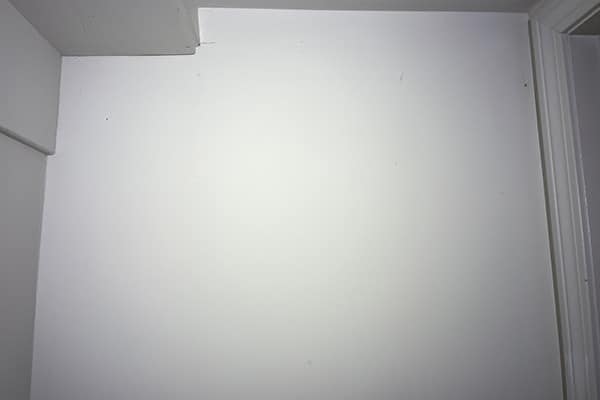 Spotlight Emitter
The Spotlight emitter provides more than enough light when I'm night hiking or chasing critters around the back of the property. Below is Turbo on the left and low on the right.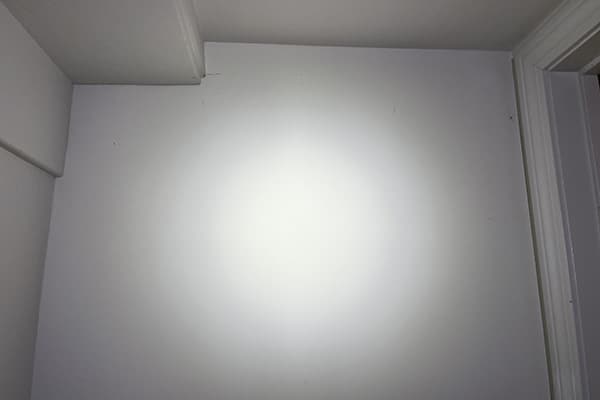 Fenix HM65R Headlamp – Final Thoughts
While this is a lightweight headlamp, it is still too heavy to take for a run unless you want a bruise on your forehead. I don't often run in the dark unless being chased, though, so that's not a problem for me.
What this headlamp is, is a workhorse. The Fenix HM65R provides plenty of run-time and lumen options for working, camping, hiking, or hunting.
Related Posts
Olight Warrior Mini 2 Review – New Light!
Fenix provided this headlamp in exchange for an unbiased review. I was not paid to write this review and do not write sponsored posts. If you find this review helpful in making a decision, please consider purchasing through the links above. Thank you
Some of the links in this post are affiliate links. This means that if you click on one of these links and make a purchase, I earn a small commission at no extra cost to you. Also, as an Amazon Affiliate, I earn from qualifying purchases. If the information in this post has been helpful, please consider purchasing through one of the links in this article. Thank you.