We all hate that nasty feeling of a neck strain. And if you're like us, you can picture it just as you're reading this. That's why you need the best binocular harness to take the pressure off your neck when hunting or hiking.
See also: Best Compact Binoculars for Beginners And Professionals
But since choosing one isn't easy, we're here to tell you all about how to get a reliable item. We'll start by offering some advice regarding the most poignant characteristics you should check before making a purchase. And because some practical examples are always a good way to understand what you need, we'll talk about seven amazing products of 2018.
Our top picks
Product
Back Support
Padded Straps
Included Pouch
Compatible Optics
Price
Bushnell Deluxe Binocular Harness
Wide back panel, excellent support
No
No
Various Binoculars, cameras, and rangefinders
Shop Here
Vortex Optics Binocular Harness
X-shape straps, medium support
No
No
All binoculars and the majority of cameras and rangefinders
Shop Here
Badlands Hunting Binocular Case
No back support
Yes
Yes
Most 10x50 binoculars, rangefinders and PS's
Shop Here
Badlands
Bino Binocular Strap
No back support
Yes
No
Lightweight binoculars
Shop Here
S4Gear LockDown Binocular Harness
Vertical strap on backbone, medium support
Yes
Yes
Fits 6 – 7.5 inches optics
Shop Here
Leupold Quick Release Binocular Harness
Vertical strap on backbone, medium support
No
No
Lightweight binoculars
Shop Here
Crooked Horn Outfitters Binocular Strap
X-shape straps, medium support
No
No
The majority of binoculars, cameras, and rangefinders
Shop Here
What to consider before buying
The factors to take into account before buying a harness are summarized in the table above. But there are others too, so let's take a moment to talk about all of them.
Back support
A harness should take the weight of the binoculars off your neck, but that doesn't mean the shoulders have to be the only ones to support that weight. In fact, a good, even weight distribution on your back is a real positive for prolonged hours hiking or hunting.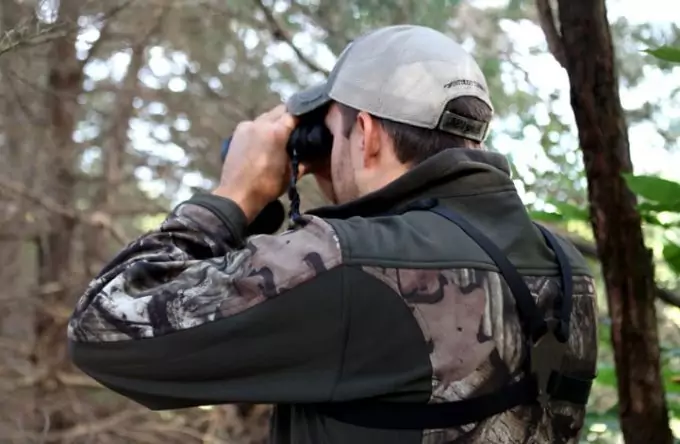 On the other hand, if you're not using the harness for hours at a time, if you're just horseback riding for one hour, or if you don't own a pair of heavy binoculars, the extra back support isn't an issue.
Padded straps
Your shoulders need to feel comfortable enough, and that's what the padding is for. Again, the more hours you spend standing, and the heavier your optics are, the more comfortable you need to feel.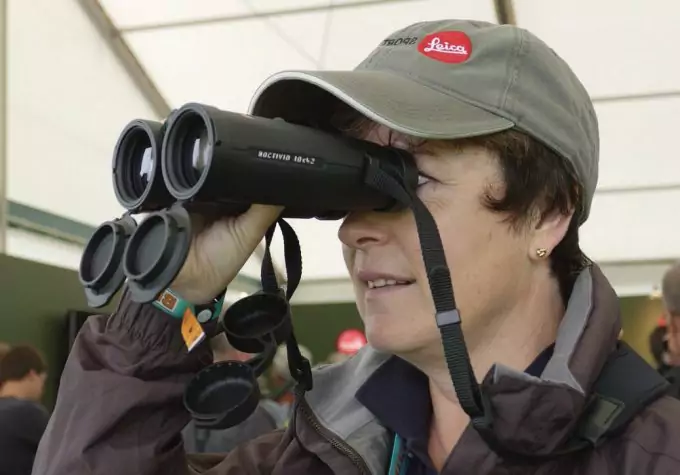 But padded shoulder straps will also account for a better weight distribution too, and they're sturdier. Padding doesn't only relate to more expensive products either, so you're not going to invest a lot in a quality product.
Included pouch
This can become an asset if you need to protect your binoculars from stormy weather, debris or mud. You also have enough space for a hydration bladder or maybe a rain jacket inside, which is really convenient.
However, you might not be able to take your optics out as fast. Though it's sure you'll be able to carry heavier items, the pouch itself weighs more than the average harness. Also, check that the open-close system isn't zippered, for minimal noise.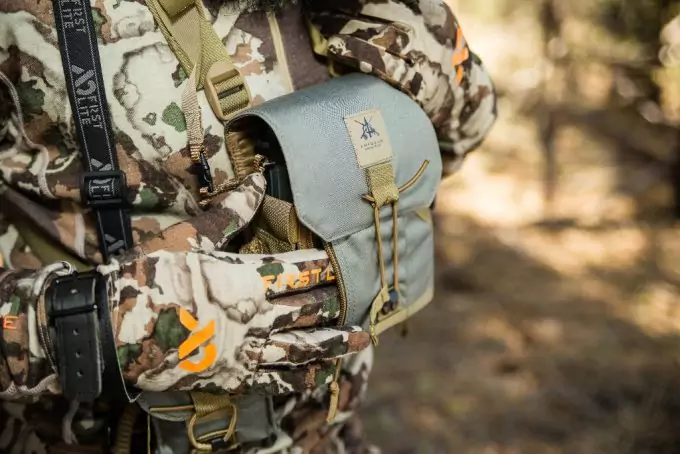 Optics it works with
If you have various optics, including cameras, rangefinders or maybe even other binoculars, you can make sure the harness you get fits all of them. Otherwise, make sure you don't need to buy additional straps or rings to connect the binoculars to the strap. For the top choice of binoculars for hunting, check out our piece to find out more.
Durability
Some harnesses have elastic straps. The advantage of these straps relates to adjustability, but the bigger disadvantage is they're easy to wear down with prolonged use.
Plastic clips used for connecting the binoculars to the harness are problematic too. They can break really easily, which is why metal clips are better for a secure, durable use.
With that said, the products below are the best in their category. They have different characteristics, which renders them appropriate for different purposes.
Best products on today's market
The products below are considered the creme de la creme in 2018. We chose them because they're qualitative and resistant, manufactured by trustworthy brands. However, they meet different purposes, so read carefully about them before ordering one.
Bushnell Deluxe Binocular Harness
Dimensions: 5.9 x 1.3 x 7.6 inches
Specifications: Fully tested, wide back panel, elastic strap, adjustable
Best use: Brush hunting/ bird watching
The Bushnell Deluxe Binocular Harness is a sturdy, qualitative item because it's been fully tested, like all of the Bushnell products. So it's a given that we love its construction and resistance, as well as its versatility. This can go with various binoculars, cameras, and rangefinders, made by Bushnell or other brands.
Regardless, you'll find that this harness doesn't fit automatically any Bushnell binoculars. In fact, you need some extra rings that connect the binoculars to the harness, which aren't included with the purchase of this product.
That can be somewhat frustrating, especially if you want to use the harness right from the box and have no time to find and order the needed rings. We like the back panel that's wide enough and perforated for an even weight dispersion of a heavier pair of binoculars on your back.
That minimizes back pain and helps you carry your binoculars for hours at a time. Plus, using this harness, the binoculars hang right under your chin, for easy and fast use.
On the other hand, the elastic strap used for positioning the harness on your chest isn't that great. It's sturdy enough and it'll definitely hold, but it's uncomfortable for women. But if you're a flat-chested man, this can definitely work for you because you can bend over with no problems, and even navigate through thick brush.
CONS
:
Not a women-friendly design
Requires additional rings
Related: If you're looking for a good rangefinder to hang at the end of this harness, we recommend the Bushnell Bone Collector Edition. This is a 4 x 21 mm rangefinder, that's perfect for brush hunting because of its small magnification and wide field of view. It's also a laser type, so you can even use it during the night, while its weather-resistant housing is another plus.
Vortex Optics Binocular Harness Strap
Dimensions: 6 x 5 x 8 inches
Specifications: Nylon and lycra straps, flexible sliding, one size, adjustable
Best use: Hunting
The Vortex Optics Binocular Harness Strap is another type of harness you can consider. When it comes to portability, this item is on par with the Bushnell harness, considering its similar weight and dimensions. So you can make sure it's a comfortable wear for those long hunts or hiking trips when you're out and about constantly.
However, this is a different sort of harness, since it has straps that take the weight of the binocular away from the neck, but on the shoulders. As such, the weight distribution isn't even throughout your upper back, which isn't that bad if your binoculars aren't hefty. That said, we like the mix of nylon and Lycra used for the straps, though, because it's sturdy and comfy.
These straps are flexible, so you can use your binoculars easily. You can slide them fast, and the binoculars will stay in a fixed position around the neck. We also like that this harness is adjustable, so the one size thing isn't a problem.
It's also a harness that works with all binoculars, as well as the majority of cameras and rangefinders. However, there's a recommendation to use the tie wraps to attach a Vortex binocular to it. So the harness can't substitute the included shoulder strap of Vortex binoculars, which means you're wasting precious time using the tie wraps.
The other disadvantage is that the small straps that keep the binoculars in place aren't really sturdy, with the possible alternative to using cable ties instead.
The plastic clips can also be substituted with metal clips, if you have some handy, so they don't wear out on you. So our biggest disappointment here is that this product needs improvements, though it's not an inexpensive product.
CONS
:
Can't attach binoculars fast
Weak plastic clips
Related: Since we've already talked about how you need a connector to attach your binoculars to this harness, we recommend the OP/TECH USA Utility Loop Connector. This connector makes it easy for you to attach your binoculars to the harness because it uses swivel hooks. The other advantages are that it will only add 3 inches for the overall length and that the connection is perfectly secure.
Badlands Hunting Binocular Case
Dimensions: 9 x 9 x 5 inches
Specifications: Realtree Ap-Extra color, hydration compatible, 1 pocket, padded shoulder straps, Zip-No™ technology, for 10 x 50 binoculars
Best use: Hunting
The Badlands Hunting Binocular Case is a different sort of harness because it comes with its own carry case that fits on your chest. So if you're hunting/ hiking in bad weather, during lots of rain, this can be considered an advantage. But if you need extremely fast access to your binoculars, you discover this doesn't come in all that handy.
Nevertheless, the case itself is easy to open by a simple tap. It also uses a magnetic sort of closure without any zippers, so you can remain quiet and stealth when hunting. The Realtree Ap-Extra pattern used is another thing we like, seeing as it can camouflage you well.
This product costs almost four times as much as the other previous two, but we like that it's a hydration-compatible pack. You can carry a 1 L water bag max and works with various water reservoirs from Badlands.
Conversely, it's not compatible with that many binoculars and cameras, though it works with most 10×50 binoculars, rangefinders and PS's.
We love the harness itself because it has cushioned shoulder straps for a comfortable use. It can go well on most hunting backpacks too, though it's heavier than the other harnesses we talked about before. However, we are crazy about the unconditional lifetime warranty, which means that you can get anything fixed.
PROS:
Hydration-compatible pack
Badlands Bino Binocular Strap
Dimensions: 7 x 4 x 6 inches
Specifications: Wide shoulder straps, cushioned Bino Strap, unconditional lifetime warranty, AP Camo, adjustable, plastic clips
Best use: Hunting
The Badlands Bino Binocular Strap is in a different price range than the other Badlands harness, but it's equally as qualitative. And if you need easy and fast access to your binoculars, this is the harness to get, because it keeps them handy.
This sort of harness uses a neck-to-shoulder weight transfer, just like the Vortex harness. But this one aims to distribute the weight of your binoculars evenly on your back, thanks to a bigger patch of material that covers the area between your shoulder blades. So it's arguably more comfortable for longer hours hunting.
Plus, the shoulder straps are wide and padded, so they can prove quite comfortable. And though it weighs a couple of ounces more than the Bushnell and the Vortex harnesses, it's still a lightweight product. Besides, you have the same Badlands unconditional lifetime warranty in case something goes wrong with it.
Which might easily happen because of the front elastic straps. These can stretch out with constant wearing, so the binoculars might not hold so well. Plus, they can easily slip, which requires constant re-tightening.
PROS:
Unconditional lifetime warranty
CONS
:
Poor quality front straps
Related: If you're out hunting with a bow, we recommend the Primos Bow Sling. This is a tough, reliable product, manufactured from high-quality materials. We love the EVA molded manufacturing, seeing as this accounts for a no-slip grip. Plus, it can be slipped on fast and quietly, to keep your bow secure.
S4Gear LockDown Binocular Harness
Dimensions: 6.5 x 4 x 9.5 inches
Specifications: Tension free glassing, anti-bounce technology, low-profile lens protection, belt loop, included clip-on case, adjustable, fits 6 – 7.5 inches optics
Best use: Hunting
The S4Gear LockDown Binocular Harness looks good and it's comfortable, at a decent price range. It's also small and relatively lightweight, considering it has its own included carry pouch. The downside of this carry case is that it's clip-on, so it might take longer to open as opposed to the Badlands case, which is more expensive.
Still, we like that it doesn't use a zipper, so it keeps you stealth when needed. The black and green mix of colors have the same purpose, plus they look really elegant. You also have some cables and carabiners going from the front straps, so the case is easy to adjust.
However, these elastic straps are a bit flimsy and can stretch out over constant use. Also, consider that the added case isn't an actual pouch, it's more like a shell that has to be a perfect fit for your optics. That's why the recommended length for your binoculars is 6 – 7.5 inches.
And the lenses also have to be covered, as they won't be protected by the shell alone, although the product brags with a low-profile lens protection. However, we love that this has an anti-bounce technology for a comfortable use, as well as tension free glassing.
The harness itself consists out of two straps that go around your shoulders, and a vertical strap that fits on your backbone. We appreciate the comfortable padding, especially because the front part of the straps, the one on your chest is also padded. The back strap and belt loop are also a nice addition, for added support and comfort.
PROS:
Extremely supportive
Tension-free glassing
Anti-bounce
CONS
:
Fits a limited range of optics
Flimsy elastic straps
Requires lens protection
Related: If you're interested in new binocular harnesses, you might consider these system connectors. The OP/TECH USA Adapt-Its are inexpensive, short and easy to attach. They're nonmarring so they work with swivel hooks for your optics, they're compact and versatile.
Leupold Quick Release Binocular Harness
Dimensions: 5.1 x 1.2 x 8 inches
Specifications: Prevents swinging, X-shaped strap, quick-release, adjustable
Best use: ATV driving
The Leupold Quick Release Binocular Harness is a good harness for ATV driving, or another sort of bumpy outdoor activity because it keeps the binoculars securely on your chest. So the good news is that there will be no swinging to inconvenience you.
However, doing stuff like horseback riding doesn't take you a whole day. This harness isn't that well suited for prolonged activities because it isn't that comfortable seeing as the shoulder straps aren't padded. They also form an X-shape on your back for some added back support, but they aren't as supportive as the Bushnell harness.
Regardless, we love that this is a fairly priced, lightweight product, that allows for a quick release and fast adjustments. The two loops used for connecting the binoculars are a bit weak, though, so they don't work for medium/ bigger weight binoculars.
CONS
:
Flimsy attachment loops
Not comfortable for prolonged activities
Related: If you already have binoculars, get this Leupold Lens Pen to clean it easily and thoroughly. We love this item because it's compact and it's made with natural hair. Plus, the cleaning tip that's made with microfiber will replenish automatically, which is great for multiple outdoor activities. And remember that it's a retractable pen for safe keeping when you're not using it.
Crooked Horn Outfitters 

Binocular Strap

Dimensions: 7.8 x 5.8 x 1.2 inches

Specifications: Elastic straps, adjustable, X-shape, no padding, black; works with the majority of optics, lifetime guarantee

Best use: Horse riding

The Crooked Horn Outfitters Binocular Strap is another good item for horseback riding or other bumpy activities, for most of the same reasons as the Leupold harness. So don't expect the most comfortable fit for prolonged activities, like hunting or hiking hours at a time. However, this harness is light and compact enough to gain portability points.

We like that this is an adjustable harness, so it can fit you regardless of your body type. The X-shape straps offer a convenient back support, so the weight of heavier optics can be better distributed on your back.

The Bino System promise is that you can use this harness with most optics out there, not just binoculars, but cameras and rangefinders too.

We're not that crazy about the elastic straps, though. These can stretch out with time and let the binoculars swing on your chest, especially if they're heavier. Or they might not prove a secure fit at all. But the good news is you have a lifetime guarantee is case anything like this happens.

 CONS

:
Not really comfortable for a long-haul
Related: You might want a pair of binoculars to strap to this harness, which is why we recommend the USCAMEL Military Binoculars. These smart-looking army green binoculars have a 10x magnification, which translates into seeing enough details at a considerable distance and with a wide field of view. Plus, they render HD images, they're waterproof and come with an included rangefinder compass.
What will it be?
There are various harnesses for various purposes. Some offer minimal back support, like the Badlands Bino Basics, while others are obviously intended for prolonged use, like the Bushnell Deluxe with its wide back panel.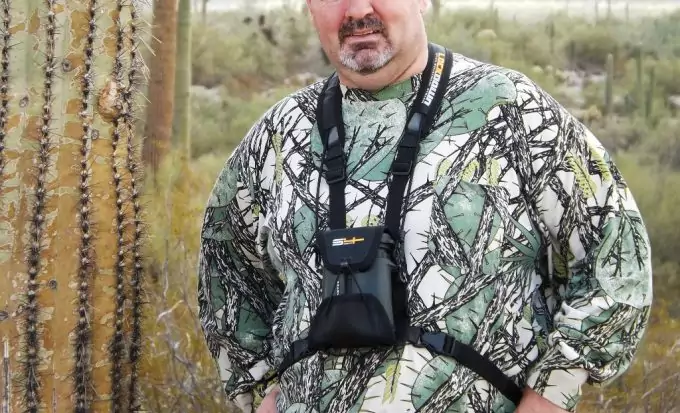 Plus, some harnesses work with the majority of optics, like the Vortex harness, which is always good if you have various optics. But if you just own one pair of lightweight binoculars, you can consider a harness that works for that, like the Leupold harness. And if you need a pouch to carry other stuff, consider getting a harness that has one included, like the S4Gear LockDown.
Do check out our informative piece on how to choose the top hunting gear to give you more choices.
But in the end, the choice is yours. Just tell us what that is, will you? The comments are right below.
Some of the links in this post are affiliate links. This means that if you click on one of these links and make a purchase, I earn a small commission at no extra cost to you. Also, as an Amazon Affiliate, I earn from qualifying purchases. If the information in this post has been helpful, please consider purchasing through one of the links in this article. Thank you.