It seems that in our dynamic lives compact items have a special appeal. This is especially true for the hardcore survivalist and wilderness enthusiast. It's not hard to understand why this is so. Compact items weigh less, fit in small pockets in your backpack or your jacket and yet, they do the work they are expected to do. This means that wherever you go you can always expect to just pick up your pocket fire starter, compass, or cook with a compact stove in a compact pot, to finally even have a compact binoculars.
[the_ad_placement id="in-text-1-type-a"]
This can be a very useful item for hunters and survivalists because if you go out there in the wild you're expected to spend hours and even days away from civilization and yet, rely entirely on yourself.
All that you pack in your backpack is of immense value. There's nothing useless. A pair of compact binoculars can help you locate animals, both prey and for food, and also help you figure out your environment, etc.
You may simply be a bird-watcher. If you're a mountaineer, you may need the binoculars to see the mountain path up ahead and study it before you tread it. There are an enormous amount of options and you won't regret purchasing a pair of binoculars.
See also: Best Night Vision Binoculars: Top Products of 2018 & Buying Guide
Here is the tricky part though. How to find the best compact binoculars, when there are so many out there? This article will get you acquainted with the best binoculars currently available and help you determine which is best for your needs.
List of the best pairs of compact binoculars
Kowa YF-30 Binoculars
These are entry-level porro-prism binoculars that are also suitable for kids. Parents or novice binoculars users can absolutely benefit from the simplicity and ease-of-use of these binoculars.
Don't be discouraged by the large focus ring – it's very easy to access and use. This is exactly what's needed by novices and beginners. Also, these binoculars are cheap and affordable, and yet they offer the most important features a pair of binoculars should have.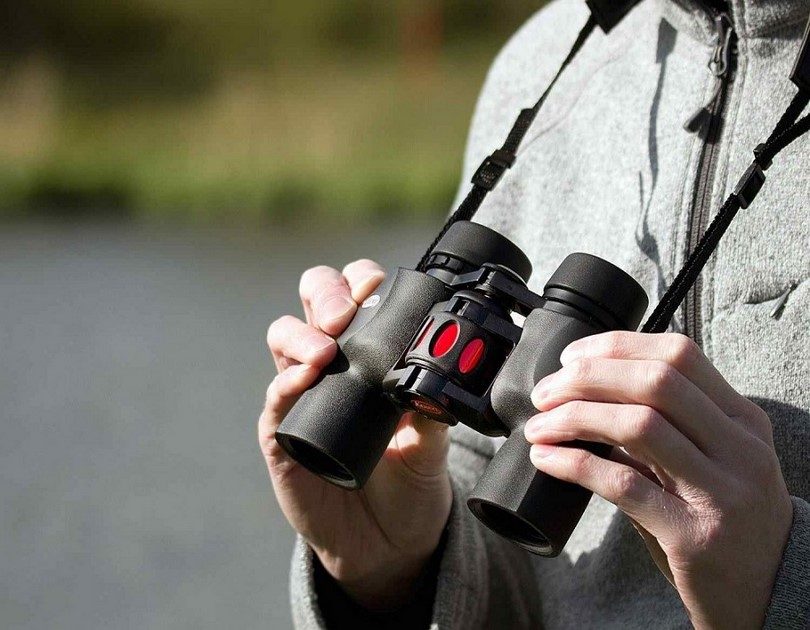 This product also has a wide inter-pupillary range, thus fitting both eyes close to each other (children's) and adults' as well – from 50mm to 71mm in its full unfolded range. You will also enjoy a rubber grip, thus they can't slip from your hand that easily.
As for the focus, the range is from a very close focus to nearly infinity, which takes about 70% turn of the knob. For a beginner this is great, since they don't have to rotate the knob all the way to the end in order to get what they want.
Another great thing about this pair of binoculars is that for the 30mm range it has, it actually lets surprising amount of light. This makes the view and image resolution very high quality, crisp and sharp.
Of course, it can't compete with some high-end binoculars, but for beginners these are just perfect. There's very little, hardly noticeable, chromatic aberration, and the white is always white (which isn't true for all binoculars, as some produce slightly blue-ish white).
Finally, you'll have a water- and fog-resistant binocular set, with nitrogen inside, to prevent from inner fog, a fully coated optics. As a whole, this is a great first binocular for anyone who has never used such. You won't get a better deal for this price and quality of image.
If you like this product you can find and purchase it on Amazon.
Nikon Compact Zoom Binoculars, 8-24×25
Again, another entry-level affordable binocular set, this time by Nikon. Once more, you will enjoy a fog-resistant (but not water-proof) product, so no worries about moisture or particles inside the body. The coating is made of rubber, so it can't slip from your grip that easy.
You'll have a 8x magnification with up to 3x zoom with 24 times power – you will enjoy a beautiful crisp, sharp and clear image through these binoculars. The Eco-glass lenses are multi-coated and the popular Bak-4 prisms will deliver brightness and light to your eyes. Thus, you can see well even in dusk and after sunset. The Field of View (FOV) is 241 feet per 1000 yards. It weighs about 1 pound.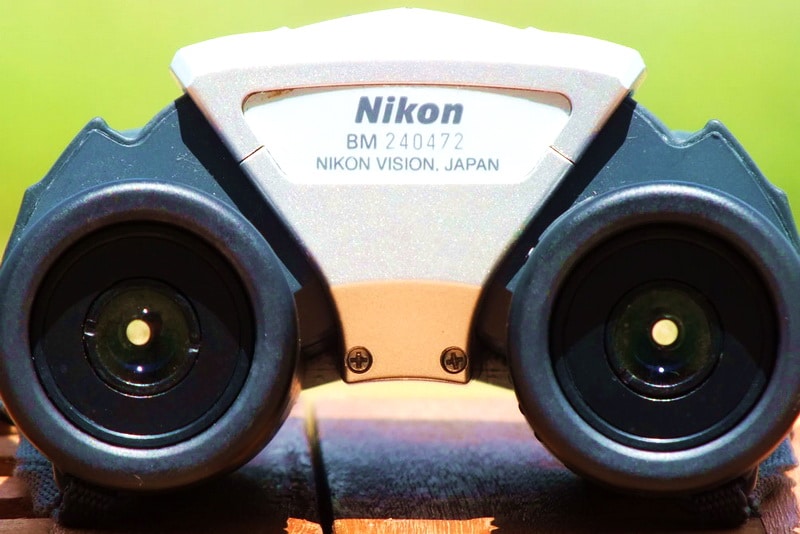 Most customers are pleased and some even have their expectations exceeded by these binoculars. They have exactly what most people need – proper zoom, good deep focus, good light-gathering properties and of course, great sharp image.
And the fact that it's compact makes it even better. If you haven't owned binoculars before you may be amazed at how good the quality of this set is. Some people don't even consider the need to upgrade to a more pricy product as they are perfectly satisfied with these Nikon binoculars. The affordable price is definitely worth this purchase.
If you like this product you can find and check its price here.
Bushnell Bear Grylls 8 x 25 mm Compact Roof Prism binoculars
Once more, fully multi-coated lens binoculars, water-resistant and fog-proof with Bak-4 prisms to amaze you with incredible sharpness and clarity of image. The prisms let enough light and give brightness so you can see even in gloomy weather or dusk.
The body is rugged enough to give you the feeling of something stable and reliable in your grip. There's nitrogen inside the body to prevent fogging. Thanks to the O-ring no moisture or particles can get inside the body. The rubber coating won't let you lose your grip on it.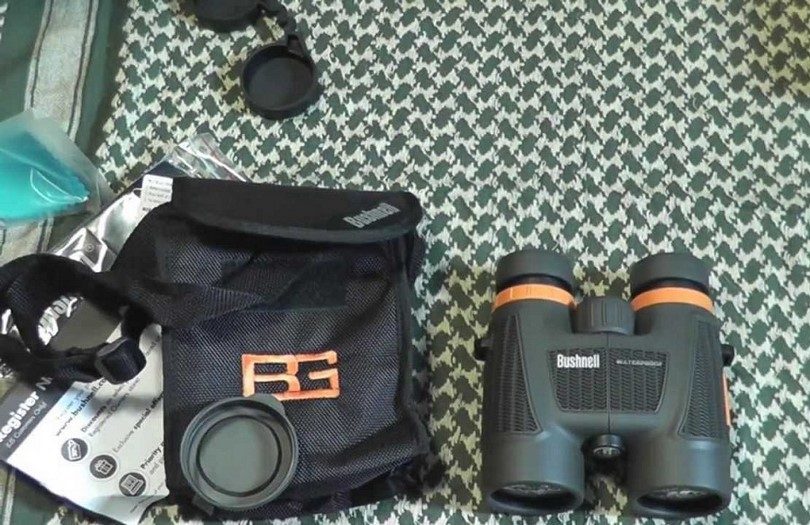 The Field of View is 360 feet per 1000 yards. The eye cups can be adjusted according to your facial specifics and needs, and if you are wearing glasses. The focus knob is large enough for easy access and manipulation.
Overall, the customers having used these binoculars enjoy the fact that they are rugged enough that you can safely use them, without being worried that they may break. On the other hand, the image quality and overall capabilities are just enough and entirely covered by the price.
It's not an expensive item, thus you won't be able to enjoy high-end lenses, zoom and focus, but for the needs of a bird-watcher, beginner or even a kid, these binoculars are more than you need. And you will actually be surprised how good they are provided that they are affordable.
If you like this product you can find and buy it here.
Eagle Optics Denali 8 x 42 D082
These binoculars are among the top rated and here is why. They feature a multi-coated lens, thus they increase the proper transmission of light through the lenses and have an anti-glare coating on those lenses which have full contact with the air.
Furthermore, one loved feature is that it's water-proof and has an O-ring seal. This feature is often found among many other survival gear and items, because you can be sure that the binoculars in this case won't be damaged by moisture, dust particles or even small debris from the environment.
An impressive feature is that it's fog-proof. Thanks to the nitrogen which is found in the barrels inside, no fog can occur inside the sealed internal area of the binoculars.
The outside of the binoculars is covered with rubber, thus preventing them from slipping from your grip, either because it's rainy or because your hands are wet or sweaty.
The eyecups are comfortable and even adjustable according to your needs. They are even suitable for people wearing eyeglasses, so you just need to rotate the eyecups depending on your eyeglasses' shape and size. There is even a center focus wheel, which is useful to adjust the two pairs of barrels and you can do this at the same time.
The Eagle Optics Denali also features a right eye diopter if you need to adjust the diopter according to your own. You can adjust only the right eyepiece. Finally, you can also use the binoculars on a tripod if you have one. You will need a 1/4-inch standard threading.
Almost all customers like these binoculars a lot because of the different features allowing them to fit many different needs. People will glasses had no problem adjusting the eyecups and liked the comfort they offer. These binoculars aren't for professionals, but for beginners and amateurs they are ideal.
If you like this product you can find and check its price on Amazon.
Pentax Papilio II Binoculars 6.5 x 21
These binoculars are of the porro-prism category. Their single body shape has a dual-axis (typical for porro-prisms) and the eyepiece is adjustable. The lens is aspherical and this gives the opportunity for incredibly sharp view from the binoculars.
The previous model has been discontinued by the manufacturer, but most customers recommend the new U series. It's true that they are a bit more expensive, but much more worth the additional money. The new series are also multi-coated like the Eagle Optics Denali.
Yet the previous discontinued version has the drawback that while you're looking through the binoculars light may be reflected from behind you and thus you may not see clearly though them.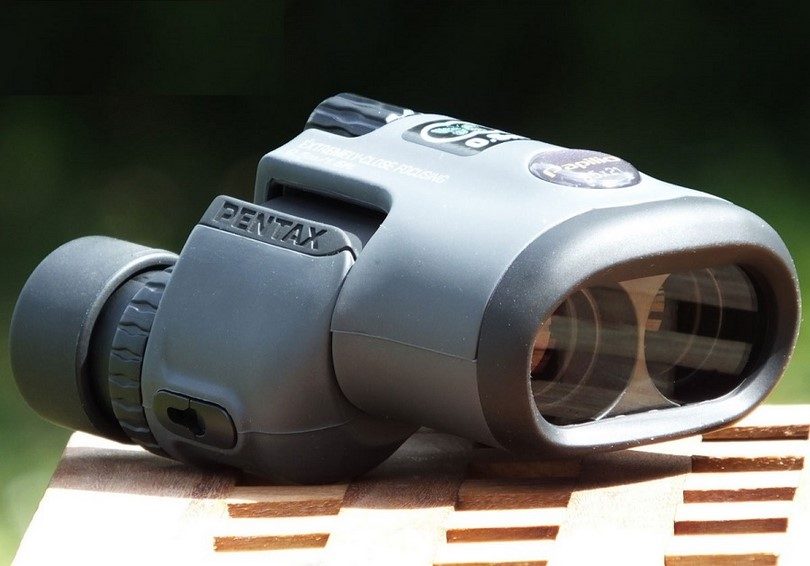 Overall, these binoculars are great for both close-range bird watching including spotting objects or animals at a much greater distance. There is of course the option to mount them on a tripod for more stable watching. They weigh as little as 300 grams. They can focus to a very close range of nearly one foot.
Most customers are amazed at the sharpness and quality of the view from the Pentax Papilio II. It is worth noting that the magnification of these binoculars isn't very high, and may result in slightly foggy views. As long as there is good light entering the binoculars's barrels this issue disappears.
[the_ad_placement id="in-text-2-type-a"]
If you wear glasses, you will be very comfortable using the Pentax binoculars because they have a retractable eyepiece rubber. You can roll and unroll them according to whether you're wearing glasses now or you want to remove them, or simply switch the binoculars among people with and without glasses.
The retractable eye cup rubber tends to break upon too much rolling up and down, but with the Pentax binoculars this isn't the case because they are helically mounted.
Overall, customers are highly satisfied with this set of binoculars and recommend it warmly to birdwatchers and other wild-life enthusiasts.
If you like this product you can find and buy it on Amazon.
Vortex Diamondback 10 x 42 Roof Prism binocular
These binoculars aren't only for bird- or butterfly-watching. Vortex Diamondback are also loved by hunters because they deliver very high quality and performance. Exactly because of this you can enjoy hunting or watching even during the night or at least in very low-light conditions.
Just like the above products, these binoculars also feature multi-coated optics; they are water-resistant and fog proof, and feature phase-corrected prisms. The eyecups are also made of quality soft rubber, while the body rubber is hard and rugged, for a good grip.
You will also enjoy lens covers and neck strap and finally, the entire product will be delivered to you with a carry case right out of the box.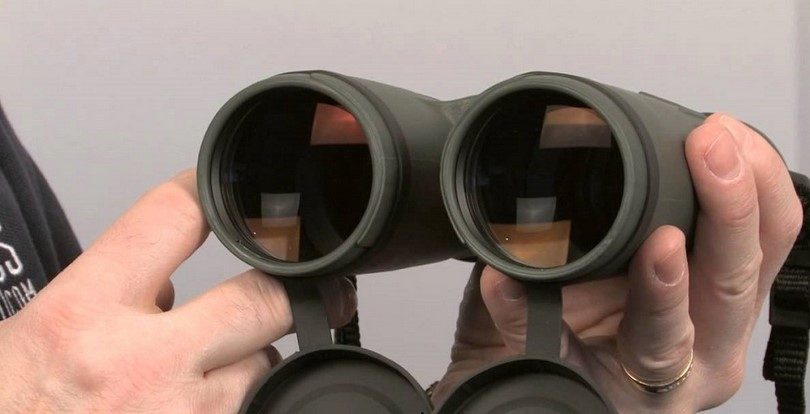 The magnification is 10x and the lens is 42mm. The manufacturer offers a life-time warranty with no questions asked.
One particular customer went in detail in explaining the pros and cons of this set of binoculars and claims that the clarity of Vortex's binoculars is as good as that of other much more pricy and high-end products, because he could compare them.
The customer was also amazed at how well you could look through them in low-light conditions. He also once lost a lens and contacted the manufacturer and received an entirely new set of binoculars, praising the high-quality customer service and attention to details.
Overall, the verdicts is that for this low price, it could be virtually impossible to find a better pair of binoculars, providing sharp view, customer support and all the other features that were found with the previously listed products.
If you like this product you can find and purchase it on Amazon.
Carl Zeiss Victory Compact 10×21 T
Carl Zeiss are a popular manufacturer of photography, telescopic and binocular lenses. They produce very high quality expensive products because of the technologies they use and incorporate in their lenses. You can be sure that if you ever own a Carl Zeiss lens you will never regret that purchase.
This particular product has a 10x magnification and features an asymmetrical folding joint. The lens mirror coating offers you incredible sharpness and clarity of image. The offset hinge design is an award-winner; the eyecups twist according to your needs.
The lens diameter is 21mm. The exit pupil is 2.5mm; the eye relief is exactly 13.5mm. Of course, the binoculars are water-proof and perfectly sealed from the environments moisture and particles.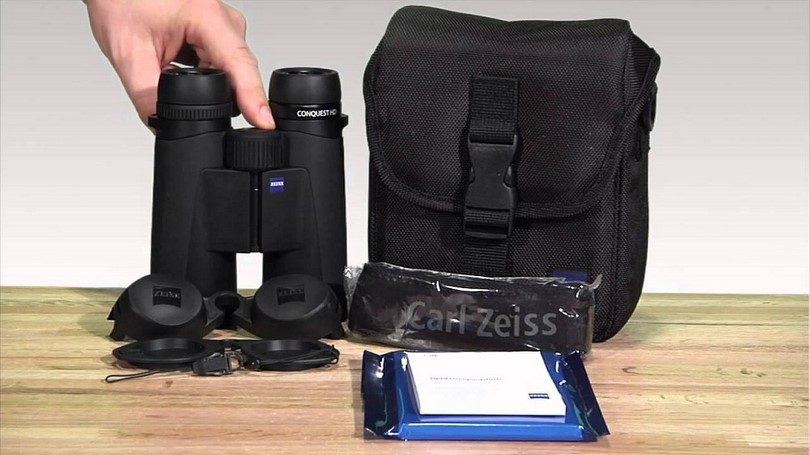 The overall life-time warranty includes the optical components. The electronic ones are repaired within 5-year warranty period. 2 years for the camera parts and 1 for the purely cosmetic components like the neck strap, lens caps and such.
Overall, these binoculars are great for any type of hunting, hiking, or any other wilderness activity you may enjoy. There are customers who claim that the clarity of view provided by the Zeiss lenses is clearly superior and anyone can undergo an experiment by testing ordinary yet high-quality binoculars, and then try the Zeiss binoculars.
People were astounded by the sharpness, which is achieved by the huge amount of light which the lenses let through. This makes any image, close or far away, feel like it's just at a hand-distance.
Most customers admit that the price is definitely high, but not unreasonably, because these lenses provide extraordinary quality of image and view and these binoculars are worth every penny you spend on them.
If you like this product you can find and check its price here.
Leica Compact Ultravid 10 x 25
Although Carl Zeiss definitely produces amazing products and are a world-wide trusted optics manufacturer, these Leica Compact Ultravid binoculars are a serious competition to the Zeiss binoculars. There is too much plastic all over the Zeiss binoculars, which makes them seem slightly 'cheap' and even a low-end product.
Whereas Leica's are mostly using metal for the eye-cup slide-up element. Almost all parts are made of metal, which makes the binoculars very sturdy, and yet not at all rugged or ugly.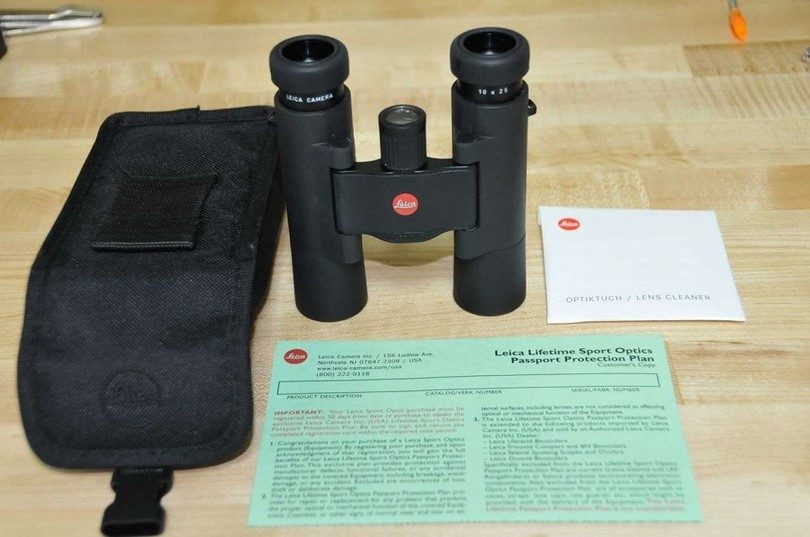 The diopter and the focus share the same adjustment dial button, but thankfully there is a small switch which can be depressed and then you can engage the diopter. Press it one more time, and you will adjust the focus. According to one user this can also work as a protection lock against using the wrong feature when you need the other one.
The binoculars come with a strap and lens cover, which are useful enough so you don't need to change them to better ones. People get used to these very quickly and find them comfortable enough.
When it comes to the sharpness and clarity, these Leica binoculars are ahead in comparison to Zeiss. They offer incredible image resolution and details even in large distances. Their lenses have almost no visual chromatic aberration effect, which very few binoculars can pride in.
The overall quality of the Leica binoculars is outstanding and hardly any other binocular set can compete with theirs. If you can afford the price, which is definitely high, you can have a binocular set for many years without the need to upgrade to another one. If you're a professional hunter you will hardly be able to find a better pair of binoculars.
If you like this product you can find and buy it here.
Swarovski CL Pocket 10 x 25 binoculars
To begin with, you need to know that this is one of the really top-quality high-priced compact binoculars you can come across on the market. Swarovski can compete only with Leica's quality, and yet, Swarovski are definitely in the lead. By getting these binoculars you'll enjoy a double-hinge design. The binoculars are, as you may expect, water- and fog-proof.
You will also be impressed at the wide FOV (field of view) which is 357 feet covering about 1000 yards. The product has phase-coated roof prisms, plus 'Swarobright' coatings. And of course, it has fully multi-coated lenses.
[the_ad_placement id="in-text-3-type-a"]
Swarovski's binoculars are very comfortable to hold in your hands because of its typical ordinary shape (nothing fancy about its shape). You can very easily adjust them according to your eyes, because of the hinge option – exactly what all other compact binoculars have. When folded they are really very compact and small.
While the body isn't fully rubber-coated, and has rubber only on some significant areas around the eyecups and barrels, the user can very easily keep his firm grip on the binoculars. It's true that the metal areas are a bit too much and thus can give less protection against impact. This doesn't mean though that they can easily break.
It's actually a bit heavier and yet more durable. Polyester-coated binoculars may be lighter but the protection they offer may be questionable.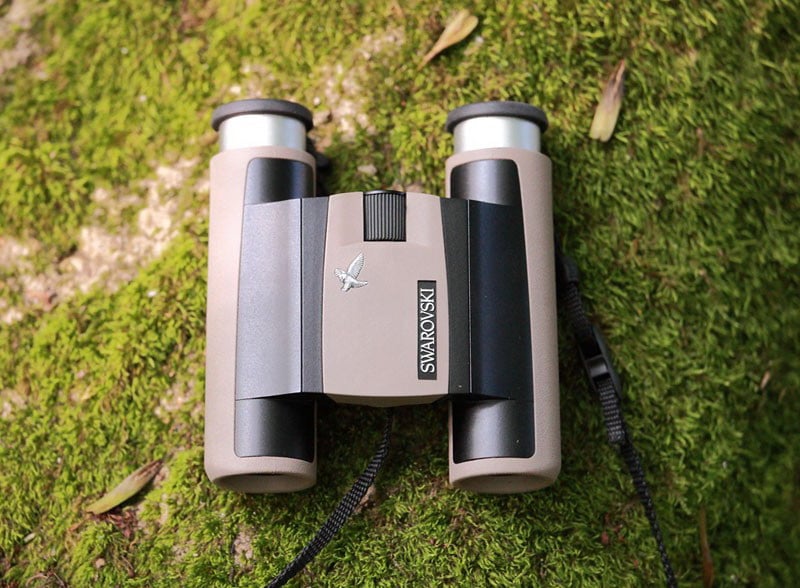 This set of binoculars has also nitrogen gas inside the body to prevent fogging inside it. Most quality binoculars have this feature.
The focusing wheel is a bit small and it may be a bit tricky to rotate it if you're wearing gloves, so keep that in mind. The wheel is of metal again, but the ridged track is rubber. This may help you get the rotating grip you need.
As for the focus itself, the rotating can reach up to 720 degrees, which is virtually infinity. You can also enjoy a diopter adjustment feature, which is a must for professional binoculars. The eye cups are comfortable and smooth.
Overall, this could be a great addition to your hunting gear, if you can spare the money. It's definitely a high-end product that would be fully appreciated by professionals.
If you like this product you can find and check its price on Amazon.
After reviewing these pairs of binoculars we can say that the first several options are ideal for beginners and novice bird-watchers or wilderness enthusiasts, while the Zeiss, Leica and Swarovski are among the top quality gear for professionals and people with many years of experience in the field of binoculars.
Don't forget to check out our popular article on how to choose the best binoculars for hunting to give you more options.
Some of the links in this post are affiliate links. This means that if you click on one of these links and make a purchase, I earn a small commission at no extra cost to you. Also, as an Amazon Affiliate, I earn from qualifying purchases. If the information in this post has been helpful, please consider purchasing through one of the links in this article. Thank you.