What can be nicer than being able to hunt in pitch dark, right? It's such a disappointment when you have to cancel a hunting trip or a bird watching trip because you don't have the best infrared binoculars to help you out.
See also: Best Binocular Harness: Best Products Reviewed
And since choosing between all the available products isn't a walk in the park, we promise to help with the best advice, as well as our personal experience. That's why we'll start you off with the most important factors to consider. Then, we'll tell you all about the products we think you'll like, according to various differences in budget, purpose and even age.
Our top picks
| Product | Magnification | Diameter | Coating | Price |
| --- | --- | --- | --- | --- |
| Bestguarder WG80 Night Vision Binocular | 6x | 50 mm | Multicoated | Shop Here |
| Yukon Tracker Night Vision Binocular | 2x | 24 mm | Multicoated | Shop Here |
| Factop Black Sakura Binocular | 30x | 60 mm | Fully coated | Shop Here |
| Night Owl Explorer Pro | 5x | N/A | Fully coated | Shop Here |
| Bushnell LYNX Gen 1 Night Vision Binocular | 2.5x | 40 mm | AR coated | Shop Here |
| Spy Net Night Vision Binoculars | N/A | N/A | Multicoated | Shop Here |
| Firefield FF25023 Tracker Binocular | 2x | 24 mm | Fully multicoated | Shop Here |
| Armasight Dark Strider Gen 1 Binocular | 5x | 80 mm | Multicoated | Shop Here |
Things to consider before buying
There are many factors to consider when buying a product, such as budget, quality of construction, and personal style. But it's obvious that, given your financial means and purpose, you'll choose the best product you can afford. So we'll discuss the main characteristics that appear in the official specs, to help you decide between products that are on par in terms of budget, craftsmanship, and purpose. Check out our guide on choosing the top night vision products to help you out.
Magnification
The magnification will tell you how much bigger you'll see an image. For instance, a 6x tells you the rendered image is six times as big as the original one. You need a bigger magnification for long distance vision, while a smaller one is good enough for brush hunting or walking.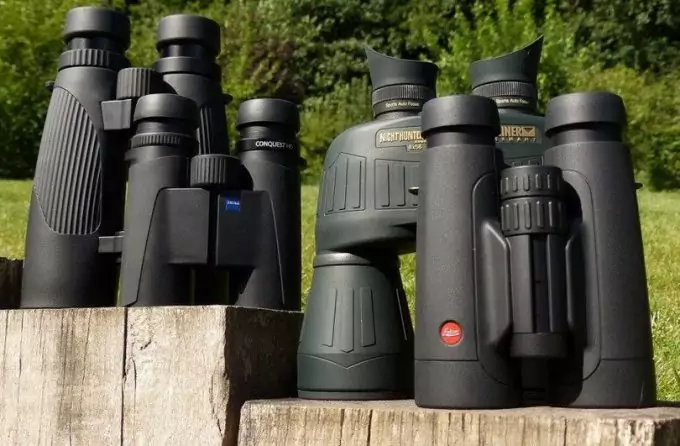 Regardless, you're getting infrared binoculars. So, during the night, you won't be able to see extremely far as is. That's why a bigger magnification, bigger than 8x for instance, is only useful if you're planning to use these binoculars during the day too.
Diameter
The lens diameters influence light transmission. If more light can pass through the lenses which have a bigger diameter, then you'll get a better image in faint light.
And though you're looking at infrared binoculars, most nights aren't pitch black. So if there's a moonlight or if you're starting your hunt earlier, you might consider a bigger diameter lens.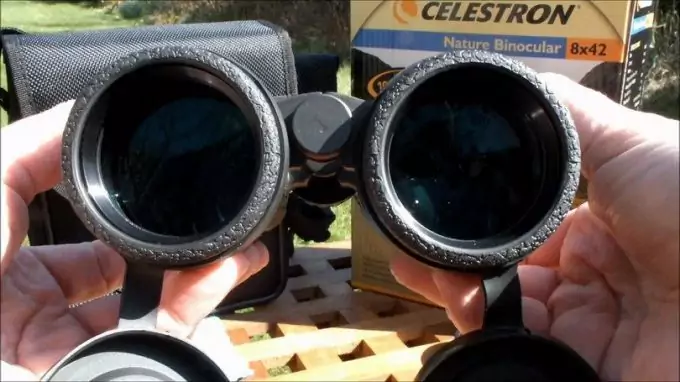 Range
The range of vision is something else you should consider. It's important to see as far as you can, and that's when features like adjustable zoom and adjustable focus come into play.
You should also consider the field of view, as well as the angle of view. But if you're looking at infrared binoculars and goggles, you won't get an impressive range of view, like you would for daytime optics.
Coating
A full multicoating is best in terms of image clarity but adds to the overall weight of your binoculars. The simply coated binoculars are at the opposite end of the spectrum in regards to quality, but they're lighter.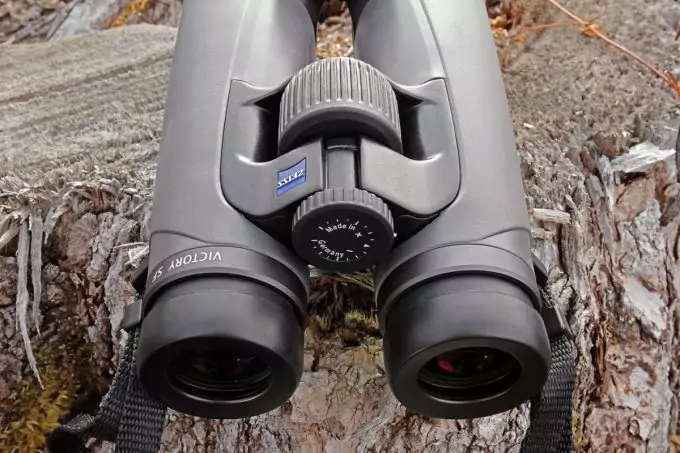 However, the coating counts more for day vision, because the IR illuminator will reduce blur considerably for night vision. Plus, the night images are clearer because the objects you look at aren't that far. So take this into account if you're planning to use the binoculars extensively during the day too.
Recording capability
If you want to use these binoculars for surveillance, for bird watching, or for search and rescue, it's important they can record images and videos. That's because you can play them back and notice various details you might have missed before.
Not all binoculars have this capability, but it's true to say that binoculars don't have to be expensive in order to record HD images.
Batteries
Lithium-ion batteries are considered more qualitative than simple AA or AAA batteries. That's because they can function for a bigger amount of time, and they have a longer shelf life too. The downside is they're harder to find and more expensive.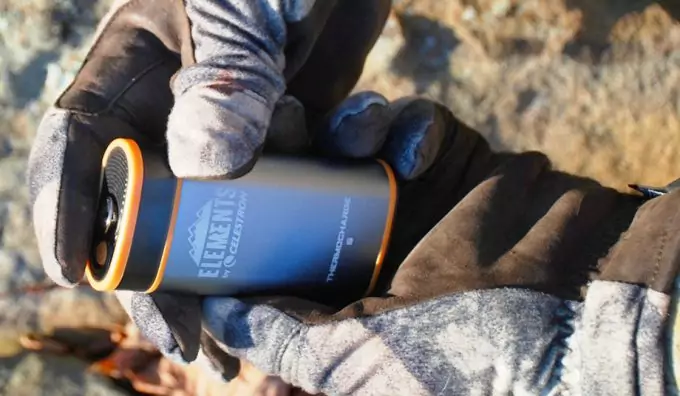 If you're looking for a longer battery life, make sure your binoculars come with a pulsing IR illuminator. Also, it's particularly nice when they include a low-battery indicator.
Best products on today's market
The products here have different price ranges, weights and serve different purposes. That's why we hope you have a comprehensive list to help you make a good purchase.
Bestguarder WG80 Night Vision Binocular
Dimensions: 9.5 x 6.3 x 3.1 inches
Specifications: 6 x 50 mm magnification; 1-5x digital zoom; camera and camcorder function; day use available; video out capable
Best use: Hunting/security
The Bestguarder WG80 Night Vision Binocular is a good product, that allows you to see crystal clear images. We like that it's not only performant when it comes to night vision but works well during the day too.
The 6 x 50 mm dimensions with the 1-5x digital zoom allow you to see well as far as 1150 feet. That's considered pretty well for night vision, but can be lacking for day use. So you can use this binoculars for brush hunting, or maybe even surveillance.
The surveillance use is thanks to its video out capability, which means you can record various images and videos with it. That can also help you when you're out hunting or bird watching, as you can record various images to look at them later. However, the batteries need to be replaced quite frequently.
We like this product because it has a user-friendly adjustable eyepiece, a wide field of view of 20.5 feet at 100 yards, and a 2 tripod jack built-in. That's particularly handy because it's a heavy enough gadget at over 2 pounds. The IPX-4 water resistance is another advantage, meaning it's resistant to drops, fog, and debris, but you'll also get a protection bag for safe depositing.
The package itself is pretty comprehensive. You'll get a user manual, a cleaning cloth, and two cables: one for TV and a USB one to connect the camera to your computer. However, make sure you're not using Windows 8, as it won't work with this product.
PROS:
Good focus
Quality images
Weather-resistant
CONS
:
Short battery life
Doesn't work with Windows 8
Related: This gadget doesn't have an SD card included in the package, and it works with one that's up to 32 Gb. That's why we recommend the SanDisk Ultra 32GB microSDHC. This comes with an included adapter, it works great with various smartphones and allows an 80 MB/s transfer. Not to mention that's waterproof, shockproof, immune to extreme temperatures, as well as X-rays and magnets.
Yukon Tracker Night Vision Binocular
Dimensions: 7 x 4 x 9 inches
Specifications: 2 x 24 mm; multicoating; Eclipse protective lens covers; central focusing; pulse IR; rubber armor design; dual eye diopter adjustments; carrying case and neck strap included
Best use: Brush hunting
The Yukon Tracker Night Vision Binocular has smaller dimensions than the Bestguarder WG80. With 2 x 24 mm, the magnification is smaller and the light transmission less, so it's not a good binocular for daytime use. However, thanks to a wide field of view, a maximum detection distance of 200 yards, and a viewing range of 150 yards, it's great for night vision.
We love the pulse IR illuminator because this enhances the battery life to up to 20 hours. We also appreciate a sturdy build, since the rubber armor used is resistant to weather, rain and various impacts. The multicoating is another asset, which renders crisp images.
Other characteristics such as the Eclipse protective lens covers, the central focusing, and the dual eye diopter adjustments show this is a user-friendly product. The protective carrying case and neck strap are also useful, but the binoculars weigh more than 1 pound, so they might strain your neck.
PROS:
Clear images
Good battery life
Related: We recommend this Surefire Battery 123ALithium Batteries. Since these binoculars need three such batteries to work, having a 12-pack means you'll have three other changes at your disposal. We like these particular batteries because they're high-performance, they have a 10-year shelf life and are resistant to extreme temperatures.
Factop Black Sakura Binocular
Dimensions: 4.4 x 3.3 x 2 inches
Specifications: 30 x 60 mm; day vision; fully coated; instant focus lever; 126M/1000M; 7.2° angle of view; plastics mirror bracket; rubber cover; soft rubber eyepiece; 2 cleaning cloths and 2 carrying cases included
Best use: Walking
The Factop Black Sakura Binocular is an example of what a lesser price can get you in terms of night vision. As such, these binoculars aren't infrared although they are described as such in the official specs.
They aren't high quality either. The rubber cover, soft rubber eyepiece, and plastics mirror bracket are resistant enough, for the money. On the other hand, these materials make for a lightweight product, the lightest so far.
We like the fact that this binocular can be used for day vision well. The 30x is a big enough magnification to render minute details at a bigger distance. However, if you compare the 30x of these binoculars to a 5x magnification of a more expensive gadget, you'll see they're quite on par.
The 60mm lenses are wide enough to allow more light transmission and therefore a good vision in faint light. That's why we think they're great for walking at dusk or dawn, maybe even some beginner bird watching. The full coating is a good deal for the money, accounting for enough brightness and clear images.
We appreciate the instant focus lever so you can focus these binoculars fast, as well as the fact that there are two cleaning cloths and carrying cases included in the package. These show an interest for user experience, which is always nice to see.
CONS
:
Bad night vision
Medium-quality materials
Related: A better product for night vision, albeit not using infrared, is the DAXGD Night Vision Binoculars. These are waterproof and fog proof, with an 8x magnification and 35mm diameter lens. What we love most about these particular binoculars is the auto focusing feature, as well as the visual distance that can reach 9800 feet.
Night Owl Explorer Pro
Dimensions: 8 x 10.5 x 5.5 inches
Specifications: First generation; 5x; steel stringer system; 700 feet FOV; 575 feet range of view; 3-V CR123 lithium-ion batteries; low battery indicator
Best use: Star gazing
The Night Owl Explorer Pro are a good option for infrared night vision. That's because you'll get a wide enough field of view of 700 feet. Even the 575 feet range of view is pretty ok, considering the 5x magnification.
At 3.4 pounds, these binoculars are considerably heavy, the heaviest in our reviews so far.  However, we appreciate that they use a steel stringer system that might add to this weight, but it's a real positive to accurate control.
Although these are first generation binoculars, the built-in infrared allows you to see when it's pitch black. You'll get quality images, and the good news is you can even use them during the day. Just like the Yukon Tracker, these binoculars work on 3-V CR123 lithium-ion batteries, but you only need one for this pair.
And when the battery's almost over, you'll know thanks to the built-in low battery indicator. But even if you can't change it then, the infrared will still work.
CONS
:
The range of view could be better
Bushnell LYNX Gen 1 Night Vision Binocular
Dimensions: 6.5 x 6.3 x 3 inches
Specifications: 2.5 x 40 mm; AR coated lenses; glass optics; weather-resistant; requires 2 AAA batteries
Best use: Brush hunting
The Bushnell LYNX Gen 1 Night Vision Binocular is a sturdy enough item, and we like how it's built. The optics are all glass, which explains why you're getting crisp images. Plus, Bushnell is renowned for conducting extensive testing on its products, to offer its customers quality gadgets.
The 2.5x magnification is good for brush hunting, considering that you won't be able to see really far. The night vision distance range reaches a maximum of 90 yards, which is good for brush hunting, maybe even walking or camping. However, the field of vision is wide enough.
The 40mm diameter works well for increased light transmission, so you can use the Bushnell binoculars during the day, at dusk or dawn, and you'll get bright images. The AR coating is good for night vision, but it needs some improvement for day use, and so does the focusing which isn't extremely precise. What can we say, it's a gen I binoculars.
However, we appreciate their durability, considering they're weather-resistant. The design is qualitative, so they have a secure grip, without weighing too much either. The two required AAA batteries don't cost much and you can find them anywhere.
PROS:
Night vision distance is 90 yards
Wide field of vison
CONS
:
Bad focus
Day vision could be better
Related: Bushnell is a trustworthy brand, which manufactures other top-grade optics like this Bushnell 24MP Trophy Cam. This camera catches HD images, at a fast trigger speed of 0.2S. It has a color viewer and a 100-feet detection distance, plus pre-set menus. We love the black LEDs the most since they render it no-glow, so you won't be spotted by animals or other people.
Spy Net Night Vision Binoculars
Dimensions: 11.5 x 4 x 12 inches
SPECIFICATIONS: 50 feet range of view; dual eye display; handheld; 4 color IR; digital camera sensor; low-resolution screen; color display; adjustable mirror system
Best use: Children aged 8-15
The Spy Net Night Vision Binoculars are a pretty cool toy, which is specifically intended for children aged 8-15. It works well up to a distance of 50 feet, it has a dual eye display for optimal vision and an ergonomic handheld design.
When it comes to night vision, it has four colors you can use: green, gray, red and blue. The gray and the green are the best, but the red color can be used when it's pitch dark. These binoculars can be used in the daytime too, but it might damage the lens.
The IR used serves its purpose well for night vision, but it's not the sensitive kind that detects thermal plumes. But we like this gadget for kids because it has two IR LEDs, a digital camera sensor that also IR-sensitive, and a low-resolution screen with a colorful display.
The screen is split in two with mirrors, and that creates the binocular vision. So don't expect a stereoscopic vision with accurate depth perception. These telescopic binoculars are great for seeing at a distance, though the zoom isn't adjustable.
We like that you can see in the dark, and the color display is another positive. You can even adjust the mirror system according to how far apart your eyes are, so even adults can use it. We also appreciate the focus adjustment, as well as the fact that you can use these even if you wear glasses.
PROS:
Cool toy
Good night vision
CONS
:
No adjustable zoom
Not for day use
No depth perception
Related: You can get more things from SpyNet, for the same age group, like the Spy Net Ultra Vision Goggles. These goggles help you see at a maximum 50 yards range when it's pitch black, but it has enhanced day vision too. You even have a record mode available, for capturing various videos and images, and it only needs 4 AA batteries to work.
Firefield FF25023 Tracker Binocular
Dimensions: 9.2 x 7 x 4 inches
Specifications: 2 x 24 mm; generation 1; dual tube design; pulsing IR; 72-hour battery life; flip-up covers
Best use: Brush hunting
The Firefield FF25023 Tracker Binocular are first generation binoculars, that offer a qualitative image and resolution. We like their dual tube design that accounts for an accurate depth perception, as well as their ergonomic and compact rubber build. However, the 1.6 pounds isn't the lightest on the market.
The 72 hours of the battery life is another asset, and this happens when you're not using the IR. But with a 2x magnification, these binoculars can only be used for brush hunting and they're not the best for daytime use, either. The small 24mm diameter doesn't let too much light pass through the lens, so they won't work really well is faint light.
But when it's dark out, you'll get a crystal clear vision thanks to the IR illuminator. This is the pulsing type, so that's why the battery life is so long. We also love the lens cap system, the Eclipse Lens Cover, with flip-up covers you can rotate in different positions.
Plus, these covers allow you to use the Tracker even during the day, with closed caps. The dual diopter adjustment maximizes precision, just like the central focusing knob. And we appreciate the full multicoating, which renders extremely bright, blur-free images.
CONS
:
Poor quality day vision.
Could be lighter
Related: If you're into Airsoft, you might consider this Lancer Tactical Airsoft Maritime Helmet. Its size can easily be adjusted with a rear knob, and it has side rails for gadgets like a tactical flashlight. Plus, you can attach a pair of night vision goggles to it.
Armasight Dark Strider Gen 1 Binocular
Dimensions: 8.9 x 5.9 x 2.3 inches
Specifications: 5 x 80 mm; multicoated; aluminum build; rubber armor; water resistant; fog resistant; adjustable diopters; eyepiece-only focusing; 14° FOV; 10 feet to infinity focus range; 12 hours battery life; tripod capability
Best use: Bird watching
The Armasight Dark Strider Gen 1 Binocular is another qualitative binoculars which offer a 5x magnification. Their construction isn't qualitative, although it's made from sturdy aluminum and covered with rubber, so it's resistant to water and fog. But the rubber armor is fairly loose and you won't have a firm grip.
The loose intensifiers, as well as the adjustable diopters,  can easily fall too. Even the power and IR switches are somewhat flimsy, just like the battery cap.
However, the image intensifier tube and multicoated glass lens account for good light transmission and bright enough images. Plus, they're easy to use with their control buttons, while the eyepiece only focusing optics render these binoculars quite practical.
The lens diameter is 80mm, so that makes it great for faint light vision thanks to a high degree of light transmission. The field of view is only 14°, though, which could be better. The range of focus goes from 10 feet to infinity, and that we like.
We appreciate the low battery indicator, as well as the high range for the operating temperature, between -30 to +45 °C. However, the battery life is just 12 hours with the IR on, so you'll need to change your 3V CR-123 lithium battery quite often. We also love that these binoculars have a tripod capability, which is an asset for prolonged hunting hours.
PROS:
Bright images
Large range of operating temperatures
CONS
:
Short battery life
Flimsy
Related: If you like Armasight, you can get the Armasight Predator Thermal Imaging Weapon Sight. This has a 2-8 x 25 mm and is designed with the uncooled FLIR core technology for thermal imaging. You'll get six patterns for your reticle, and a qualitative OLED display, which renders it quite an asset for hunting.
What will it be?
Seeing as there's such a vast plethora of products out there, and we've only presented eight of them, you might still have a lot of research to do. That's if you haven't made up your mind yet. We've made a list of the most affordable night vision for you to consider, so check it out!
But consider how far away you want to see, whether recording capability is important for you, and how crisp the rendered images should be. That should summarize everything we talked about. So after you've made up your mind, let us know what your choice is. The comment section is right below.
Some of the links in this post are affiliate links. This means that if you click on one of these links and make a purchase, I earn a small commission at no extra cost to you. Also, as an Amazon Affiliate, I earn from qualifying purchases. If the information in this post has been helpful, please consider purchasing through one of the links in this article. Thank you.