Backpacking has been having a resurgence of sorts in our present culture as more and more people are now heading for the outdoors to explore and discover more of our world than before. While it is true that majority of the much younger generation are glued to their cellular phones and laptops, some of them have taken the road less traveled and decided that exploring the nation's top backpacking spots is more enjoyable than taking selfies or playing repetitive video games.
In practice, backpacking involves getting a sturdy backpack and packing in some essential tools that will help you survive whatever the great outdoors can think of bringing your way. This set of tools excludes the basics like food, shelter, water and clothing and are usually made specifically for backpacking. See our piece listing the top non-perishable food to give you more information.
The best backpacking gear are those that are lightweight, easy to carry, tough and dependable. Many brands available in the market tout this claims and some have been proven to be true due to their excellent quality and these tools are often tested in real life situations wherein if they fail, the user will be in a much tighter spot.
Essential backpacking gears
The list below includes some of the items that you may want to consider including in your backpack gear. Some may not be applicable especially if you are just planning on a day trip of a nearby trail or may not be applicable if certain rules and regulations will prevent you from bringing them along.
Tent
Tents are a great addition to any backpacking gear as they would allow you to stay in an area for more than one day and can serve as your base camp when you go exploring the surrounding area.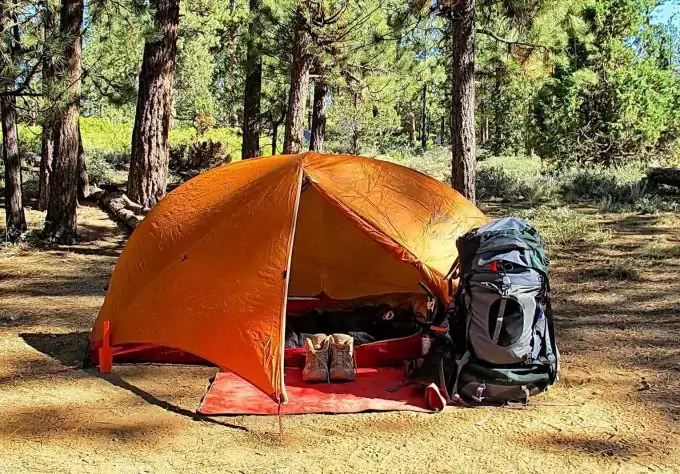 Tents vary in sizes but a tent made for 2 will be sufficient for a personal hike as the additional space can be used to store your bags and stuff instead of them serving as your pillows and footrest. Modern tents are lightweight and already waterproof and some even offer fireproof materials.
Rain cover
Rain covers not only serve to protect your gears against rainy weather, they can also be used to wrap you gear around when doing a river crossing.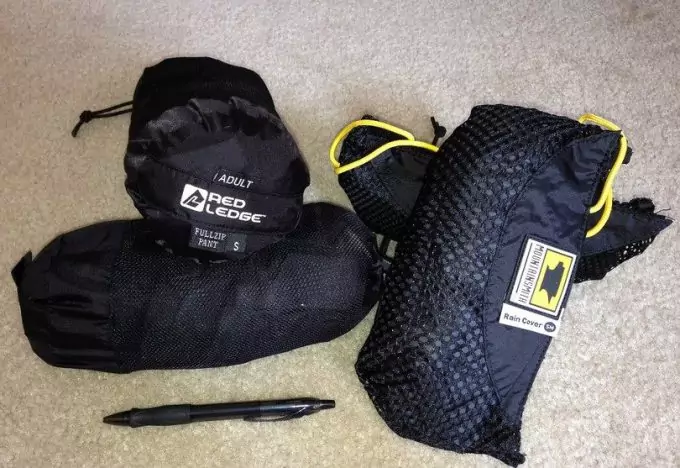 Rain covers not only apply to bags but it can also be used on tents for added water protection, you can even use it as a makeshift umbrella or a blanket if needed. It usually is made of plastic with a rubber lining that can help trap heat inside when wrapped around a person.
Sleeping bag
Sleeping bags, in the beginning, provided you with warmth and added comfort when camping out but they tend to be bulky and weighed a lot. Nowadays, sleeping bags almost weight nothing and can be compressed to a more manageable size with the help of compression bags and straps.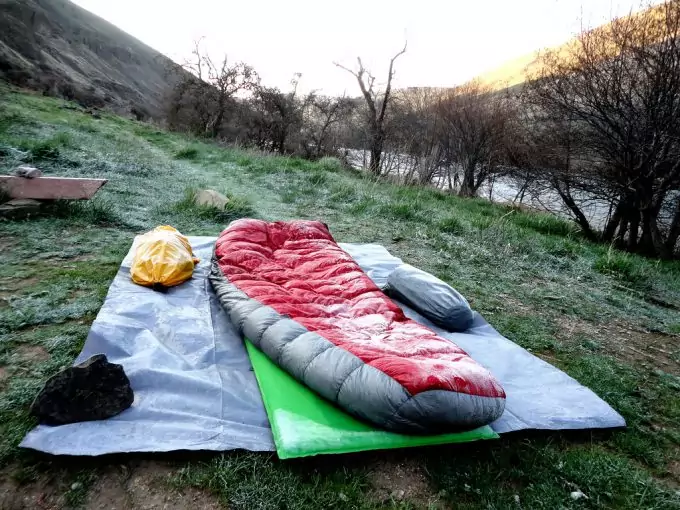 The best value sleeping bags offer a full body zipper, an insulated hood and down collar that help guard against drafts.
Water filtration system
A portable water filtration system is a new addition to the backpacking gear line. This looks like an over sized straw with charcoal and other minerals stuffed inside. Some models would have a miniature pump while some act as straws where you can directly sip water when placed in open water like a pond or stream.
Some innovative folks have even invented a filtration system that uses the heat of the sun to make water in a container evaporate and then condense in a provided lid which can then be placed in a cup and drank as is.
Bag
This is quintessential backpacking gear as without a bag you are just left with gears that you would have to carry with your hands. But seriously, backpacks that are made of mesh and other synthetic materials are the top choice for outdoor activities as they are strong and flexible enough to hold a heavier load than most bag materials available.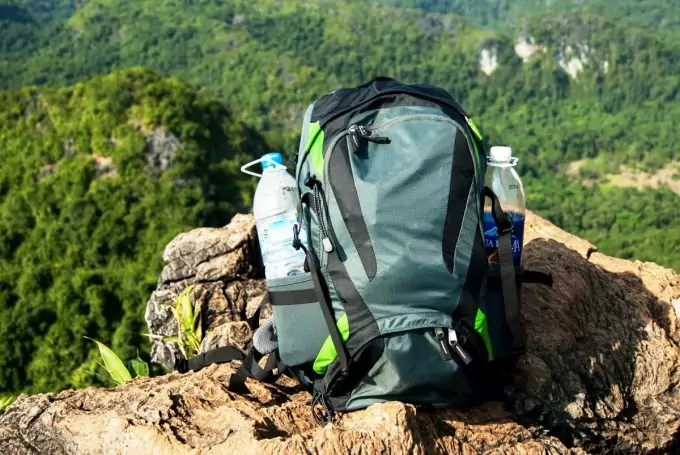 There are different kinds of backpacks as well. You have your top load bag that are often used on overnight and/or extended stay trips; then you have your day pack that utilizes a zipper and has several external pockets for gears and tools; and then there's the external frame packs for heavy duty mountaineering.
Headlamp
Most overnight trips will require you to have a dependable headlamp that will help you navigate through the darkness as well as help you cook or find your things.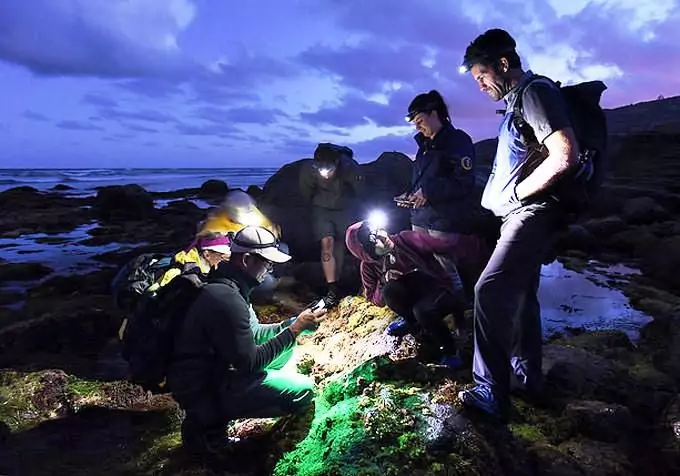 Headlamps nowadays are equipped with LED lights that last longer and use a minimal amount of power to run and they often come with rechargeable batteries and an adjustable head strap which can go around your head or arm or chest, depending on where you think it will help you best. Check out our piece on the best survival flashlights to give you more choices on lighting.
Stove
Camping stoves help you survive out there. They are light and can be folder to fit in any container, even your pockets. Most models run on assortment of fuels while there are a few that still use butane or propane canisters as the source of fuel.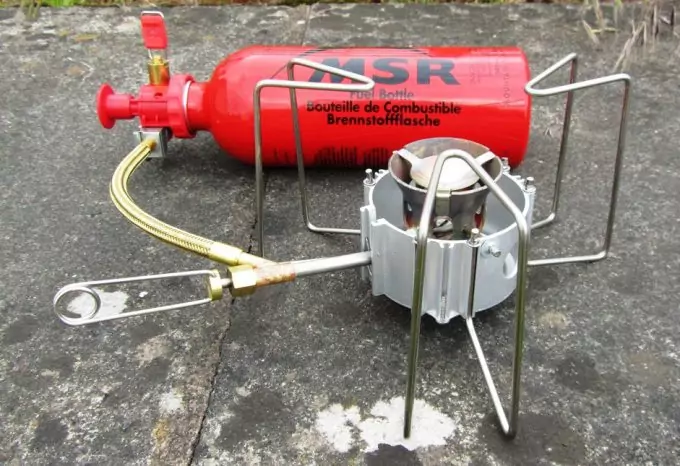 Most airlines will not allow you to bring these canisters aboard as it goes against federal aviation regulations.
Hammock
Hammocks can replace your tent and sleeping bags during day trips or even overnight if the weather permits. You can tie hammocks between trees to give you a relaxing rest while being swayed by the wind and if trees are not available, you can always jerry rig them on rock walls using climbing pins, kernmantel ropes and carabineers.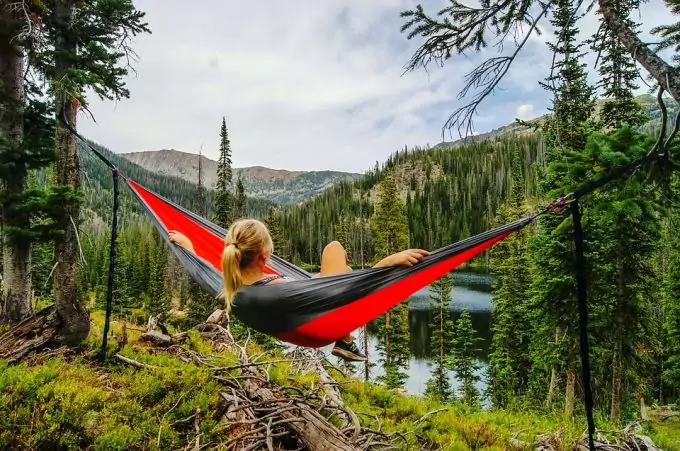 Natural wall climbers use hammocks extensively during overnight trips and they even use specialized hammocks that provide weather protection.
Trekking poles
Trekking poles are an optional item for experienced mountaineers but other than assisting climbers on long assaults, trekking poles can be used to fend off wild animals, be rigged as a fishing pole and even a flag pole if in need of emergency assistance. In choosing the best hiking poles to help you, see our article reviews of these useful gear.
Jungle knife
A jungle knife or a utility knife should be included in your backpacking gear especially when doing an exploratory hike or when wild animals would pose a danger to your safety.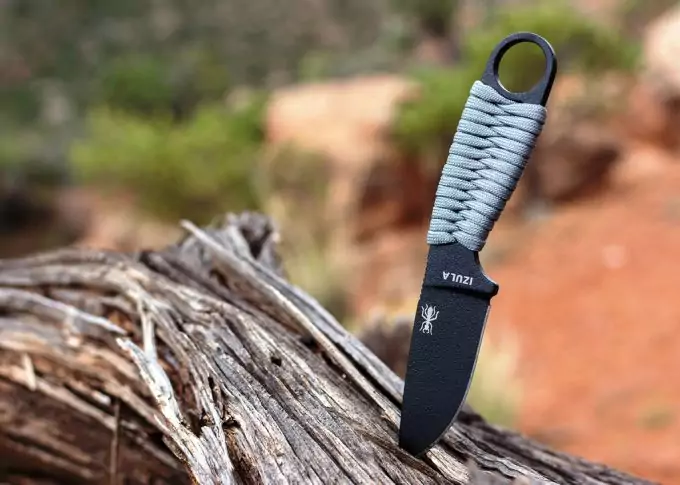 Knives have also proven to be useful in life and death scenarios in cases of emergency amputation and/or surgery. Do read our piece on how to select the best survival knife to keep you safe.
Kernmantel rope
A good backpacking gear set does not come without a length of good sized kernmantel rope; some would often bring along ropes of different sizes for variation. These ropes are great for having your clothes to dry but their main purpose in being part of your backpacking gear is to serve as belaying ropes in case you need to rescue someone deep down a ravine.
Or they can serve as emergency guy lines and bag straps as needed. For medical emergencies, you can use them as tourniquet and as ties for splints or fractures.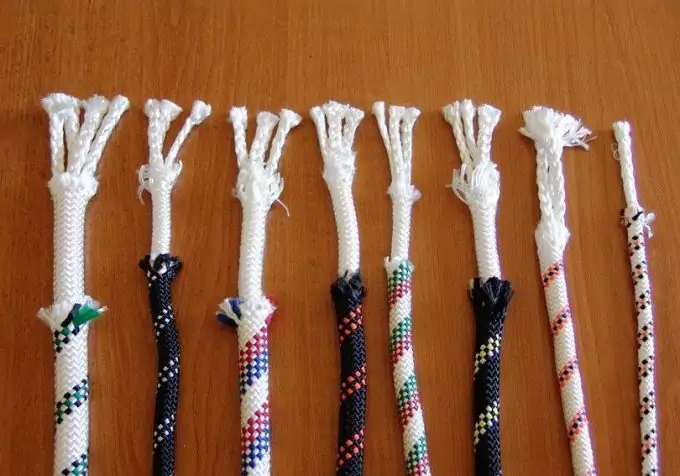 Available products on the market
Eureka! Solitaire – tent
The Eureka! Solitaire is a two-hoop bivy style solo tent that can withstand spring, summer and fall. The Solitaire has a large mesh roof that serves as the tent ventilation and is also great for stargazing during those summer nights.
The cords used to put the tent up is tension corded, meaning it would only take a few seconds to set it all up. A flysheet is included in the package and it rolls up on the side when not in use.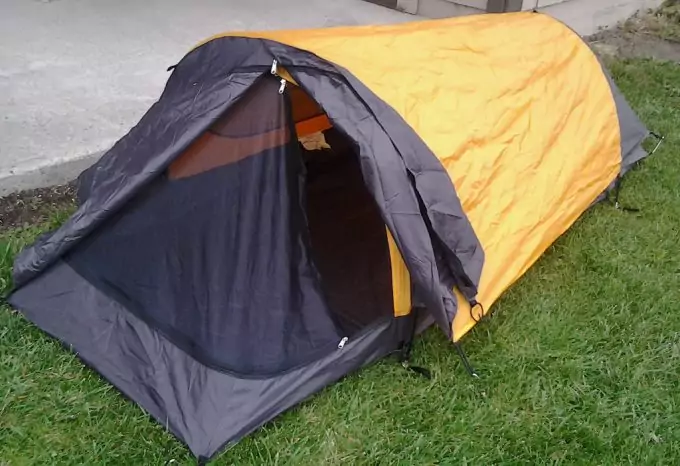 New Solitaire users are overwhelmed by its lightness and its quick set-up time. A few users have also commented that the after sales service is excellent as well going as far as replacing their poles for free when it broke. Top complaints for the Solitaire seem to be the condensation that forms in the middle when the fly sheet is over the tent but only when it is covered, otherwise it keeps you relatively dry.
One major concern that seems to be consistent is the cramped interior; users could not change clothes inside and could not store things inside while they are in it as well. This is a security concern since you never know if the people you encounter have their own greedy motives.
If you like this product you can find and buy it on Amazon.
Coleman Dakota 1 backpacking tent
The Coleman Dakota 1 is a tadpole type of tent wherein one end is higher than the other. The purpose of the tapered height is to maximize the aerodynamics of the tent, making it less susceptible to wind drag. The Dakota 1 is a one-person tent with a mesh roof ventilation system and comes with its own flysheet that can be folded away.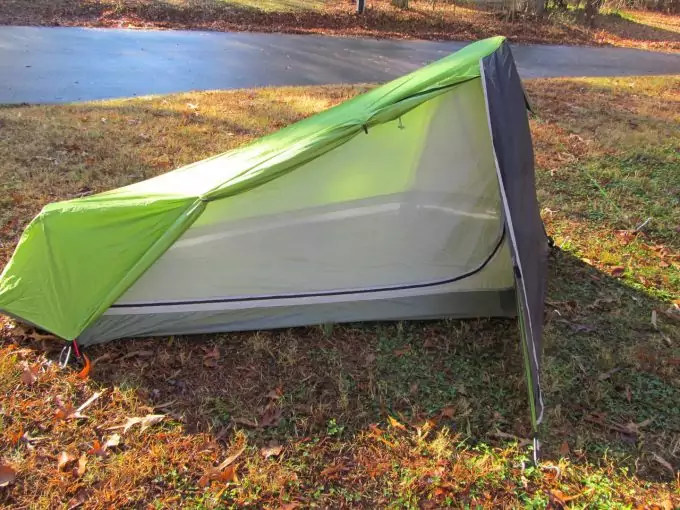 Coleman users have given this tent kudos for being lightweight and sturdy with the mesh ventilation keeping things cool during hot summer months. Some cons includes the fly sheet becoming an obstacle when you try to enter the tent after you've set it up and the poles being made of rather cheap materials and are easy to break if exposed to the weather for a long period of time.
Another complaint is that there is no head room for standing up although smaller users can sit-up inside.
If you like this product you can find and check its price on Amazon.
ALPS Mountaineering Blue Springs sleeping bag
The Blue Spring is a mummy type sleeping bag that comes with a hood and side zippers for easy ingress and egress. Given its design, the Blue Spring is only suitable on colder weathers although caution is advised when using it during winter time.
ALPS customers commented that the product is lightweight and can easily be squished and rolled into a manageable size and then shoot it back in the bag.
They also like the fact that it is warm and toasty inside making it perfect for early spring conditions and offers a lot of room for a personal sleeping bag. Only one user has complained so far but it's mostly due to a bad experience with the after sales service.
If you like this product you can find and buy it here.
Sea to Summit Talus Series TSI 23F / -5C Ultra-Dry DownTM sleeping bag
The Sea to Summit Talus sleeping bag is another mummy type sleeping bag available in the market and it boasts of its sturdy and comfy construction. It is made of water resistant down that is also anti bacterial and anti microbial at the same time.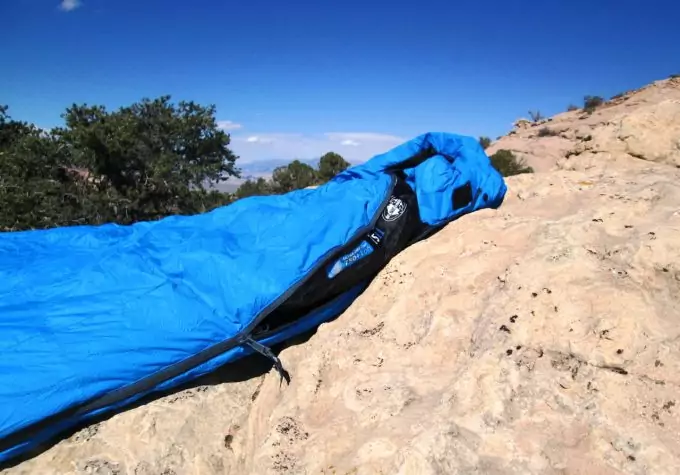 No users have provided any comment about this product but given the company that made it, we can rest comfy knowing that we are fully covered.
If you like this product you can find and check its price here.
KingCamp Favourer Light super warm duck down
The KingCamp sleeping bag offers warmth and comfort at a very low price. This particular model is very lightweight and has a form fitting hood that ensures that you are warm all over your body.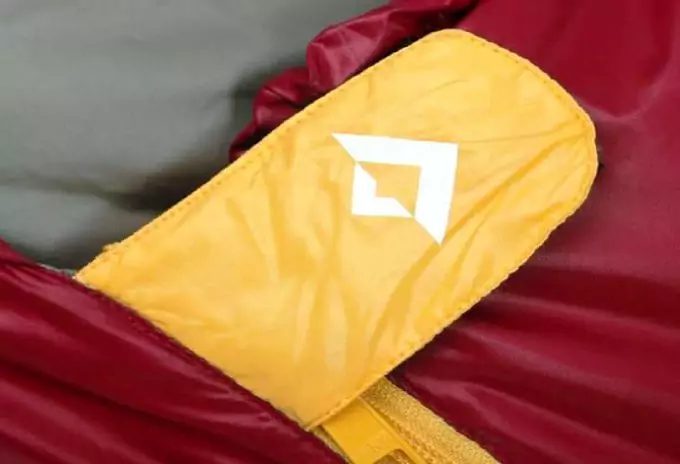 Users have agreed that this is a great sleeping bag with plenty of foot room but one user complained that this sleeping bag did not warm them enough.
If you like this product you can find and purchase it on Amazon.
Water filtration system
Sawyer products mini water filtration system is a type of water filtration system that fits right into your hand and weighs almost nothing. It also comes with its own water bottles and drinking pouch for easy use, the advanced filtration system removes 99% of all water borne bacteria and protozoa.
Customers have commented that the filter works perfectly and its ability more than surpasses its size and works perfectly under normal circumstances.
A user have noticed a couple of cons for this product; one being the filter not being gravity fed, so you would have to sip through the filter in order for the unfiltered water to pass through; and the last is that the filter retains the unfiltered water after you use it and there would be no way for you to flush it out unless you sip through the other end.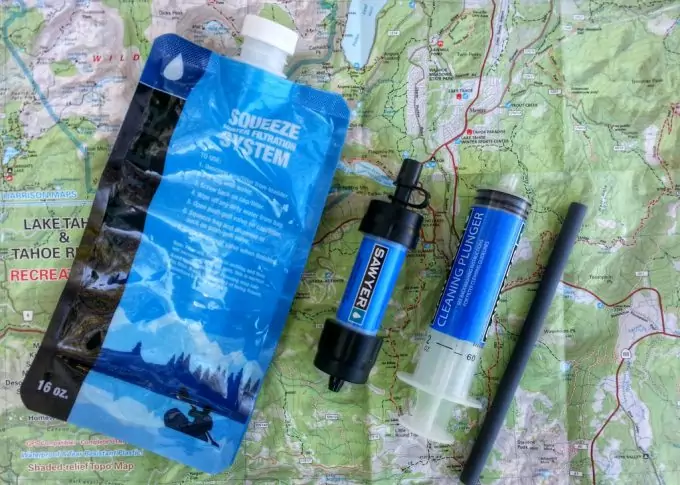 One major concern that another user expressed that the filter's material does not last long as the plastic will break if you detach and attach the parts a few too many times. Overall though, users have found the product to be lightweight and filter water fast.
If you like this product you can find and check its price here.
MSR Miniworks EX microfilter
The MSR Microfilter is a pump-type water filtration system that uses durable carbon/ceramic element that can be cleaned repeatedly with using any special tool. The air spring pump speeds up the filtration process giving you about a liter of clean water in under a minute.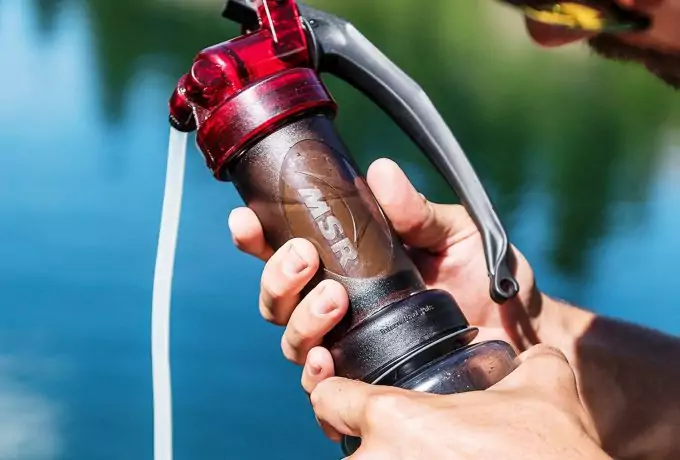 Some pros include being easy to use and has a good input to output ratio and the bottom or output spout fits into almost any camping water bottle. Cons include the bulk as it does take up additional space although its weight more than makes up for it. Another con is that it doesn't seem to remove all traces of foul tastes in the water.
If you like this product you can find and buy it here.
Petzl Tikka Improved Lumen output Xp 2 headlamp
Coming from a known manufacturer of outdoor products, the Tikka is an impressive headlamp that boasts of a sliding wide angle lens and a red LED night vision mode. Like most headlamps, the Petzl Tikka is not water proof but it is water resistant up to a certain depth.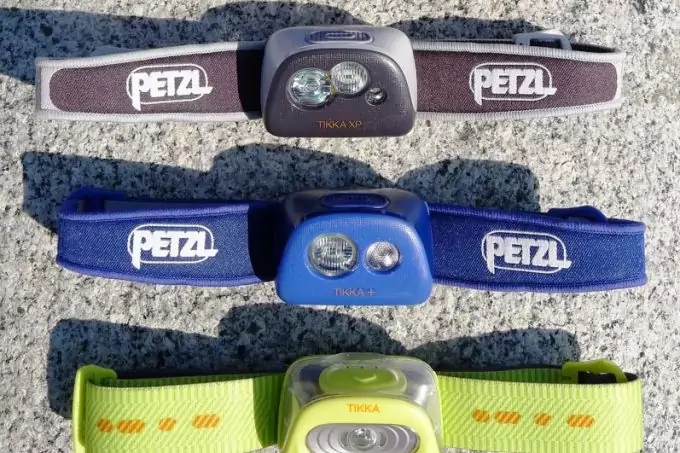 Users have commented that the rechargeable batteries that Petzl uses are not that reliable and it is much better to use disposable batteries instead of the included ones. Another user has commented that the night vision mode on this model is dim as compared to the previous model.
Several users on the other hand are happy with the product and have had other Petzl products in the past and they all say that this model is rugged and dependable.
If you like this product you can find and check its price on Amazon.
Black Diamond spot headlamp
The Black Diamond headlamp comes with a patented Power Tap Technology that allows for fast transitioning between dimmed and full power and it also comes with LED battery level indicators and a night vision mode that can be engaged without going to white light first.
Users have commented that the Spot is water resistant and is great to use outdoors with the dimmed settings being extra useful on scenarios where it is needed. Cons from users were on the technical side especially the non-uniform focal area and the yellow light in the middle of the white lights. Another con is the battery compartment which takes time to get used to and is not just user friendly.
If you like this product you can find and buy it on Amazon.
Coleman Exponent F1 ultralight stove
The Coleman Exponent stove is touted as one of the lightest camping stoves available in the market with a gross weight of only 2.7 oz. This stove is operated using propane or butane canisters and has an adjustable heat mechanism.
The Exponents pros include its amazing weight and it doesn't need priming and it is easy to use. Possibly the glaring disadvantage of this product is its fuel source. If you are planning on using it on areas where no flight is needed and you know that propane/butane cartridges are available then this is the stove for you, otherwise, it will be better to use a multi-fuel camping stove.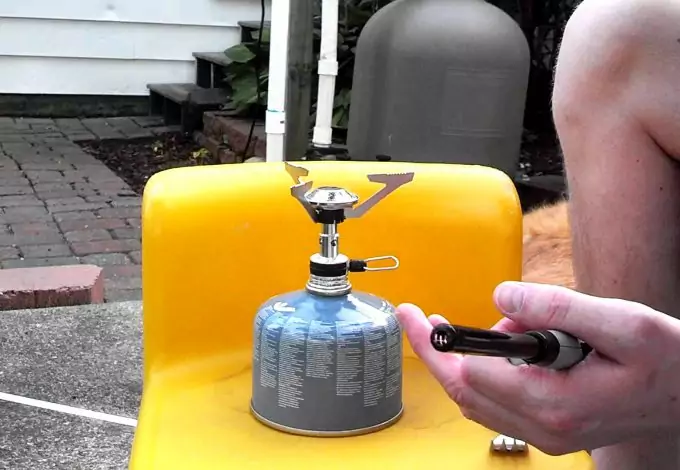 If you like this product you can find and purchase it on Amazon.
MSR superfly stove
The MSR Stove is a multi-fuel stove that has a large burner for even flame distribution with a glove-friendly control and has automatic ignition.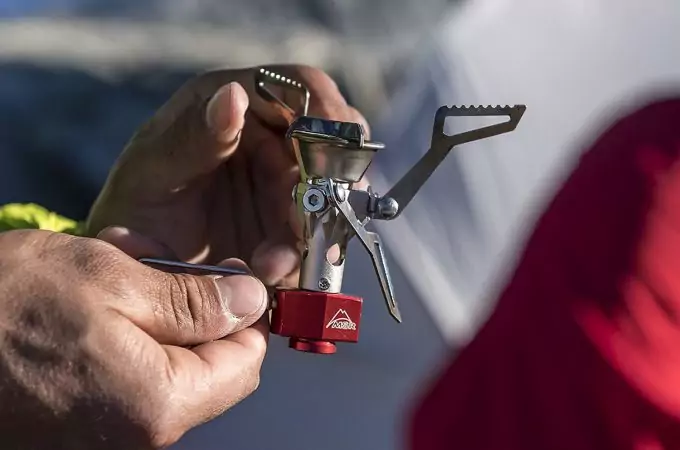 MSR users have commented that they prefer a whisperlite than the Superfly as this model uses up way too much fuel and pots and pans have a tendency to slide even on even surfaces. Most users agree that is light and compact and they have not encountered any problems lighting it. The same users have said that they find this unit bulky since it cannot be folded unlike other models.
If you like this product you can find and check its price here.
Hammock bliss ultralight
The Hammock Bliss is made of ultralight parachute material that is soft and breathable and can resist mold and mildew. The Bliss Ultralight is lightweight and comes with a travel bag that can double as a gear pouch when the hammock is in use.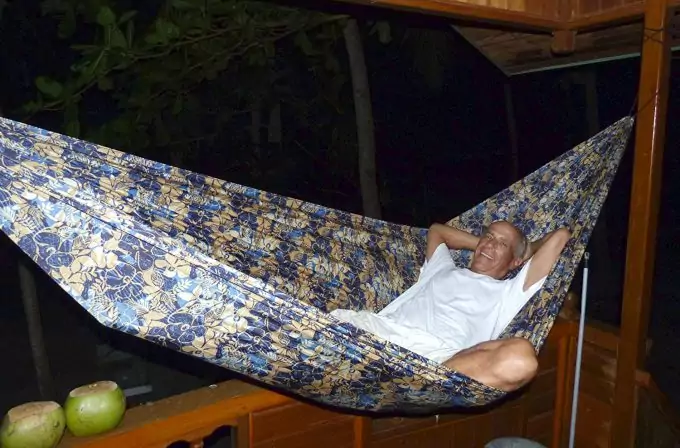 Users have praised it for its weight and material although they were a bit hesitant at first due to the materials thinness. No negative reviews related to the material for this model yet.
If you like this product you can find and buy it here.
KingCamp® durable canvas parachute hammock
The KingCamp Parachute Hammock is easy to set-up and take-down and has a better wear resisting performance than other products. Only one user has provided a review and they really liked how the product delivered to its promise.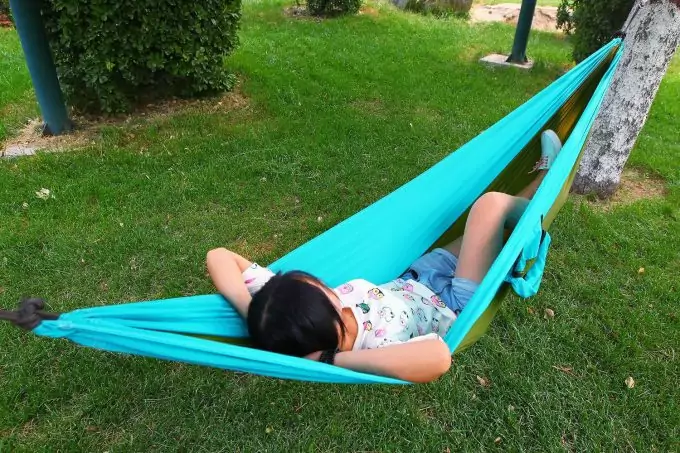 These are just some items that you can include in your backpacking gear. While reviews will help, it will take some personal trial and error before you can settle on the perfect gear for you. Also remember that there are smaller backpacking gears that are not listed here but are also essential, this includes portable medicine kits, two-way radios, carabineers and belayers.
If you like this product you can find and buy it on Amazon.
Some of the links in this post are affiliate links. This means that if you click on one of these links and make a purchase, I earn a small commission at no extra cost to you. Also, as an Amazon Affiliate, I earn from qualifying purchases. If the information in this post has been helpful, please consider purchasing through one of the links in this article. Thank you.