Knives come in a wide variety of shapes and sizes. Each of which is designed with a particular purpose in mind. When searching for the best fixed blade knives on the market, there are a number of features and factors to consider before making your purchase. In many cases, outdoor and survival enthusiasts tend to build up quite a collection of gear, and this usually includes at least a couple of different knives.
[the_ad_placement id="in-text-1-type-a"]
The best approach is to figure out exactly what you want to use your knife for, and then go out and by the appropriate one. Some are more durable than others and, in the event of loss or damage, it's good to always keep a spare on hand as well.
Pros and cons of fixed blade knives
Compared to other types of knives, those with fixed blades have their own set of advantages and disadvantages. It's good to understand what to expect from these knives as well as keeping these expectations realistic.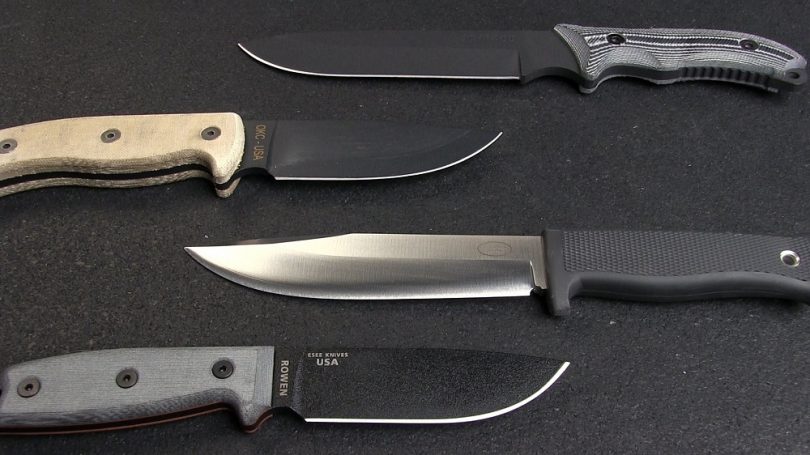 For the most part, you will find the fixed blade models to be relatively large. Blade size and shape varies from knife to knife but, in general, they're not all that compact. This size, however, does make them significantly stronger and tougher than many other types.
So, you can really put them to the test and, since there are no moving parts, they won't break or become faulty. Because the blade remains in one place, it does not need to be limited to fit inside the handle (like a folding knife). This means that the fixed blades are significantly longer and, therefore, they can perform tasks that your smaller folding knife cannot.
Folding knives do not require any kind of special casing whereas your fixed blade knife just might. If you want to carry the knife on you while hiking, for example, it should be kept in some kind of sheath to prevent injury and damage.
Features to look for
When choosing the right knife for the job, there are a few points to consider.
Firstly, take note of the size of the knife. Larger knives are great for tough jobs, but a smaller knife works well when you want to perform tasks like more precise carving or delicate food prep (like cleaning out fish or small game). This is why many outdoor enthusiasts keep more than one knife on hand.
For the sake of durability and reliability, you should look for a "full tang" knife. This means that the knife and handle are both made from a single piece of metal without any joins. If you have ever cut with a regular knife, you will know that the blade can become loose with regular use, and this makes it dangerous, and you never know when it might let you down.
If you are concerned about safety, then opt for a sharp pointed tip. This style of knife will allow you to strike down predators quickly and effectively. You can even attach a stick to this type of knife and turn it into a spear! In most cases, a single blade knife is the best option since it proves more useful and versatile. Dagger-style survival knives are good for various uses but not for every task.
Potential risks and safety
The first rule when it comes to knife safety is to always make sure that you keep your knives in a safe place. Keep them out of reach of children. In fact, if you hide them well enough, your kids don't even need to know where they are! Often, not knowing will help relieve their curiosity.
When carrying your knife, make sure that it is always done in a responsible manner. Be aware of anyone near or around you when using your knife. You don't want to injure them accidentally while spearing a target, for example.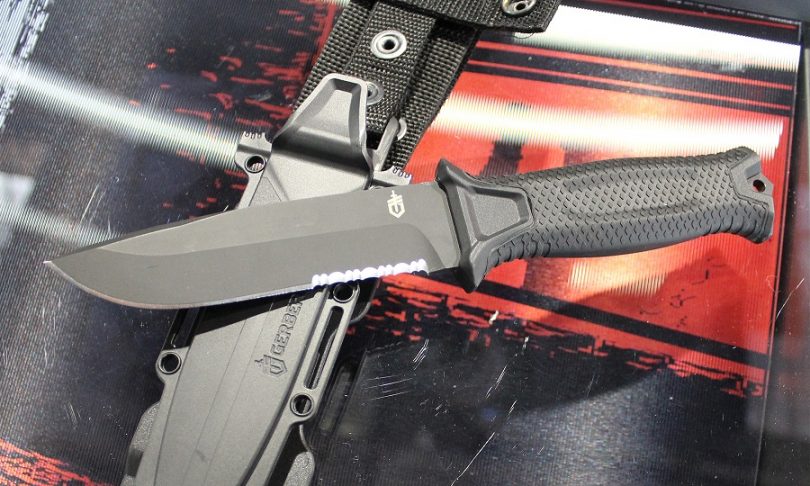 Make sure that you choose a knife with some kind of handle guard or means of preventing your hand from slipping. If your hand slips and there are no protective measures in place, you could end up with a nasty cut. You should also remember not to put too much pressure on your knife. For example, if you want to use it as a prying tool, make sure that you do so carefully and without anyone standing close by.
Check out our popular piece on how to make a paracord lanyard that can be attached to your knife to avoid slipping.
Uses for fixed blade knives
Fixed blade models have a wide variety of uses. When you buy your first knife, it won't be long before you wonder how you ever managed without it! Similarly, if your knife has had more than its share of wear and tear, then you could find yourself in a bit of a mad rush to find a suitable replacement.
These knives have some obvious uses like cutting, slicing, food preparation, and even as a prying tool if you need to remove the lid from a tin can, for example. That said, other uses include splitting (wood), digging, hammering (using the back of the knife), and even as a kind of screwdriver if need be.
While we don't like to think of knives as weapons, it's important to understand that they can definitely be used as such. Whether you are defending yourself from a wild animal or hunting game, your knife should always be ready. You can even use your knife in the event of an injury. Use it to cut bandages and make a splint to steady and injured limb. Finally, your knife can also be used in emergencies like if you get caught on some rope and you need to cut yourself loose. Never underestimate the potential of this handy tool!
Popular fixed blade knives
Morakniv Companion Fixed Blade Outdoor Knife
This outdoor knife is available for about $15. This is a considerably low price for this versatile knife. Made with hardened Sandvick stainless steel and a patterned, high-friction grip, it's understandable that this is a popular choice.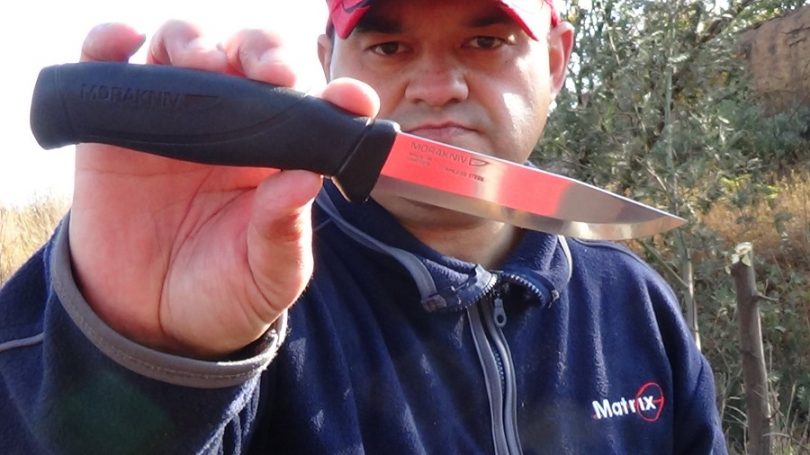 The blade is 4.1 inches long and has a thickness of 0.1 inch. The overall length of the knife is 8.6 inches and the manufacturer also includes a limited lifetime warranty. Made in Sweden, this particular knife can be used for cutting tinder, small limbs, and other forms of food preparation. It comes with a matching sheath with a belt clip for added convenience. This product has received a great number of positive reviews thanks to its versatility and reasonable price.
If you interested you can buy it on Amazon.
MTECH USA MT-528C Fixed Blade 10.5-Inch Knife
At less than $10, this is one of the most competitively priced knives on the market. It measures 10.5 inches in total with a 5.5-inch blade made from 440 stainless steel. Also included is a nylon sheath which is perfect for safety and storage purposes. There have been some concerns about the handle and difficulty sharpening. However, at this price, it's worth a try.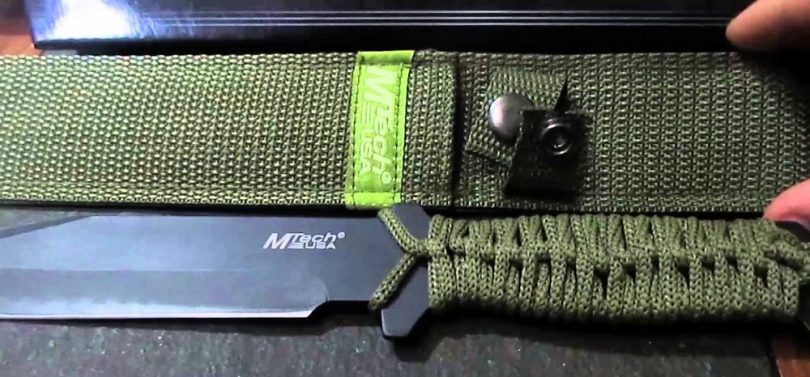 Like this product? Then you can check its price on Amazon.
MTech USA MT-20-12 Fixed Blade Hunting Knife
This MTech knife retails for about $15, and its total length is 10 inches. The nylon fiber sheath is included and perfect for protecting the black titanium coated stainless steel blade. The black synthetic handle is textured for extra grip and comfort. The black nylon fiber sheath has a belt clip for safety and convenience.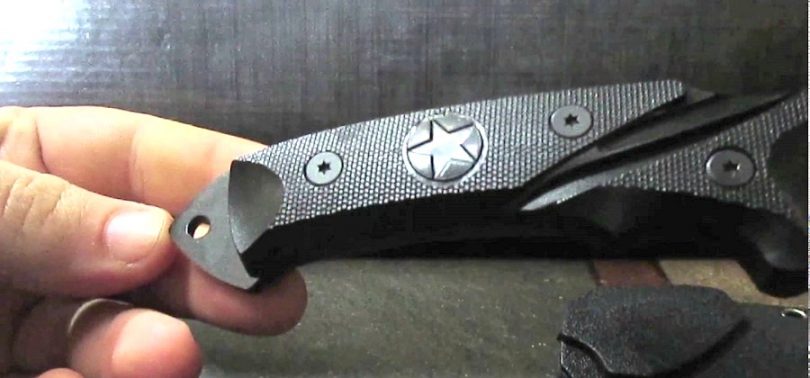 In general, this product has been well received by outdoor enthusiasts and hunters alike. The competitive price is what attracts most buyers. Some have made negative comments regarding just how comfortable it is to work with. However, like any tool, this does come down to the size of your hand and your personal preferences.
Like this product? Then you can check its price here.
Schrade SCHF36 Frontier Full Tang Knife
This Schrade knife retails for less than $25. The high carbon steel is powder coated and the blade measures 5.05 inches. The handle is textured and measures 5.36 inches. Some of the benefits include the blade length which makes it suitable for a variety of uses. The thickness of the blade makes it extra sturdy, and it can take a fair share of punishment. It's a full tang blade with emphasizes the stability of the knife.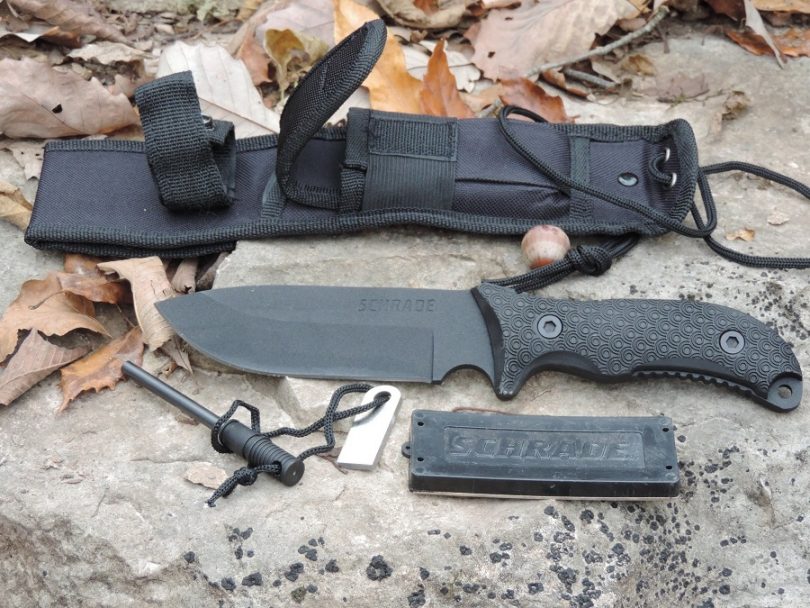 The blade coating is considered a selling point for the manufacturer but many buyers agree that it can inhibit cutting by causing extra drag. That said, the coating can be removed if it really bothers you. Another possible disadvantage is the handle. Depending on the size of your hand, it can either be comfortable or uncomfortable. Not all knife handles suit all users which means that it's good to understand the size that suits your grip.
Like this product? Then you can check the current deal for it on Amazon.
Elk Ridge ER-052 Fixed Blade Hunting Knife
At less than $17, this beautifully made knife consists of 440 stainless steel. It has a full tang handle, and the leather sheath is also included. Remember, any kind of natural skin or fabric has a habit of attracting and absorbing moisture. No matter what your knife is made from, it's always good to make sure that it is not excessively exposed to moisture.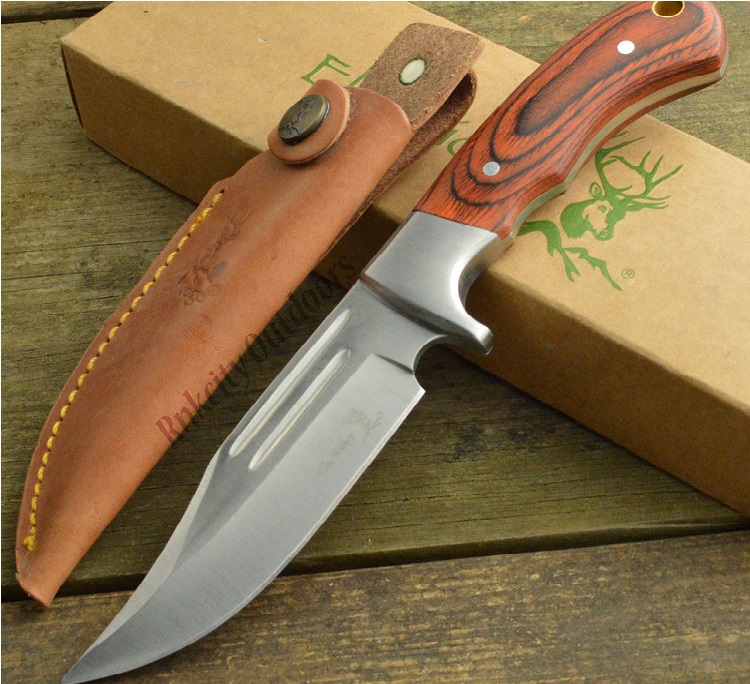 Users agree that it is a good knife for the price. There have been some concerns regarding defects, however, these are generally isolated cases. Whenever purchasing any kind of knife, it's important to read about the satisfaction policy. This way, if you are not happy with the condition of the product when it arrives, you can return it for an exchange or refund.
If you think that this product could be useful for you, then you can check its price here.
Master USA MU-1121 Series Tactical Knife
At $8, this is one of the most reasonably priced knives of all. It measures 6.75 inches, and the blade is partially serrated.
[the_ad_placement id="in-text-2-type-a"]
So, depending how you hold it, it can be used to perform a number of tasks. It has a cord wrapped handle and, included, buyers receive a tough plastic sheath with lanyard.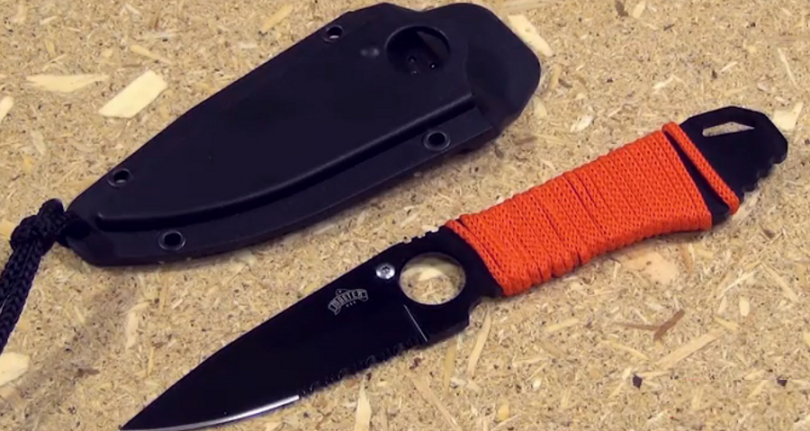 The price, sharpness of the blade, and belt clip are some of the main pros of this knife. On the downside, some have remarked that this knife is too heavy to wear around your neck. In addition, the sheath is not seen as reliable when wearing around your neck. The knife can come loose, and this could result in injury. That said, you can wear it on your belt instead. It will be just as easy to access and completely out of the way.
If you think that this product could be useful for you, then you can check its price on Amazon.
Gerber StrongArm Fixed Blade Knife
This is one of the higher priced knives at about $70 each.  It has a full tang steel blade with a ceramic blade coating and a comfortable rubber diamond-texture grip. The pommel at the bottom of the handle helps you break through tough surfaces. It's perfect for everyday use as well as emergencies and recreational purposes.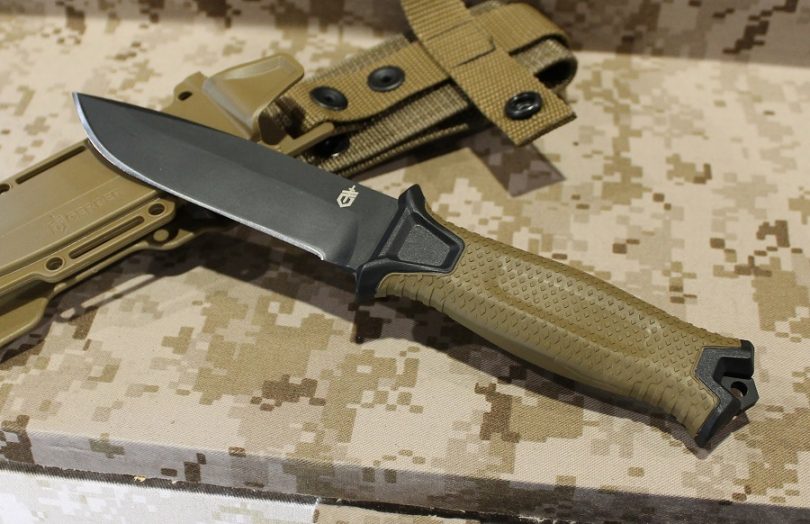 The sheath system allows for vertical, horizontal, or drop-leg carrying. Made in the United States, many users choose this product due to the fact that it is made locally. Due to the higher price, a greater level of quality is to be expected, and the design is equally superb. This knife is also praised for being comfortable to work with.
Like this amazing product? Then you can check its price on Amazon.
Buck Knives 0119 Special Fixed Blade Knife
This knife also fetches about $70 a piece and is made from 420HC steel for superior strength. The total length is 10 ½ inches, and it weighs 7.5 ounces. The handle has a brass pommel and is an excellent safety feature. Along with the knife, the manufacturer has also included a leather fitted sheath. This is great for safety and transport.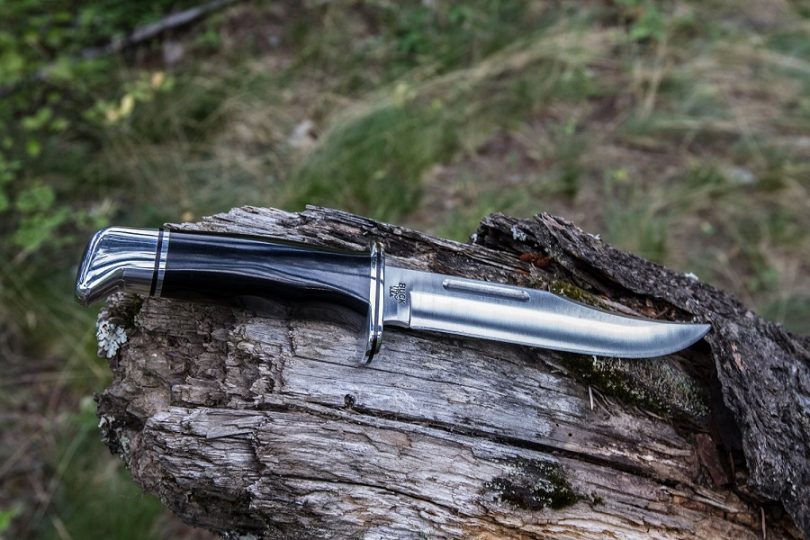 Made in the USA, this product is backed by a Buck Forever Warranty for added value and peace of mind. Buyers agree that this knife has one of the best designs in terms of aesthetic appeal. Some have mentioned quality concerns and, considering the price, top quality is to be expected.
If you think that this product could be useful for you, then you can purchase it on Amazon.
Smith & Wesson CKSUR1 Bullseye Search and Rescue Knife
Smith & Wesson don't only make guns. They also make this handy fixed blade knife! Retailing for about $25, this knife is one of the reasonably priced products on the market. It's not the cheapest one out there, but it also won't break the bank. The 440 stainless steel blade measures 5.88 inches and the total length of the knife is 10.5 inches. The grooved blade is covered with a non-reflective black coating.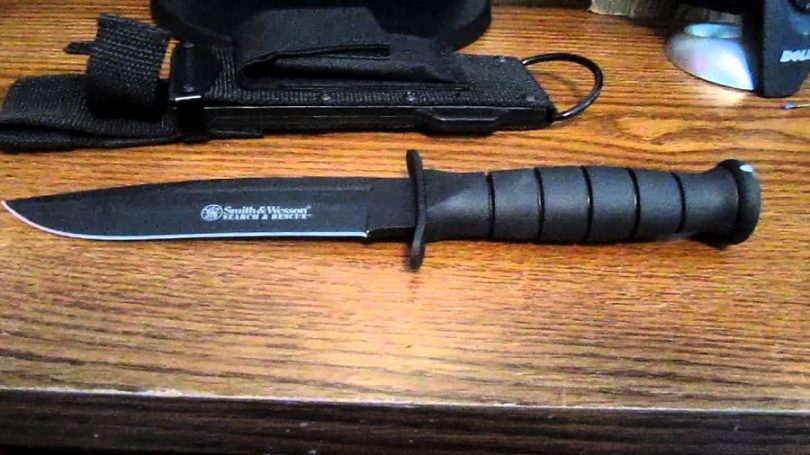 The aluminum handle is also rubberized for maximum comfort and grip. It also comes with a tough nylon sheath (which has a synthetic liner) and a limited lifetime warranty from the manufacturer. Some users agree that this product needs to be handled with a fair amount of care.
There have been instances where the knife was either dropped or thrown which apparently caused the blade to break. It's important to understand that this is not a throwing knife, and the manufacturer does not advertise it for use in this capacity. That said, an outdoor or hunting knife should not break that easily.
If you think that this product could be useful for you, then you can buy it here.
13″ TACTICAL SURVIVAL Rambo Hunting FIXED BLADE KNIFE
This tactical knife will certainly make you feel like Rambo as you make your way through the woods! At just $18, just the idea of holding it in your hand and using it on your next adventure might be enough to convince enthusiastic buyers.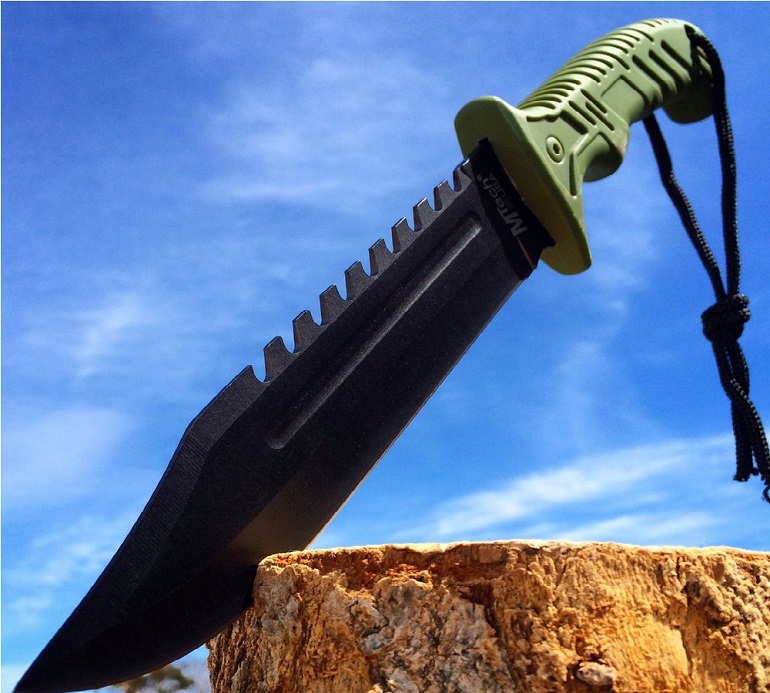 The stainless steel blade measures 7 inches and the handle is rubber coated for extra grip and comfort. It comes with a nylon sheath for storage and to make this knife that much easier to carry and transport. Use this rugged tool to cut through woods, weeds, and much more! It's easy to sharpen and, in general, this knife has been well-received.
Like this product? Then you can buy it on Amazon.
Ace Martial Arts HK-1036 Fixed Blade Tactical Combat Knife
This is another cheap option at less than $9. The overall length is 13 inches, and the blade is made from stainless steel. The rubber handle offers a greater amount of comfort, and the tactical sheath is also included. Buyers agree that, considering the low price, it's quite a good knife. It's comfortable, and the handle offers amazing grip. That said, you might find that the blade does not stay sharp for too long. It is also quite lightweight which is great when you are carrying it, but this can also make it less durable.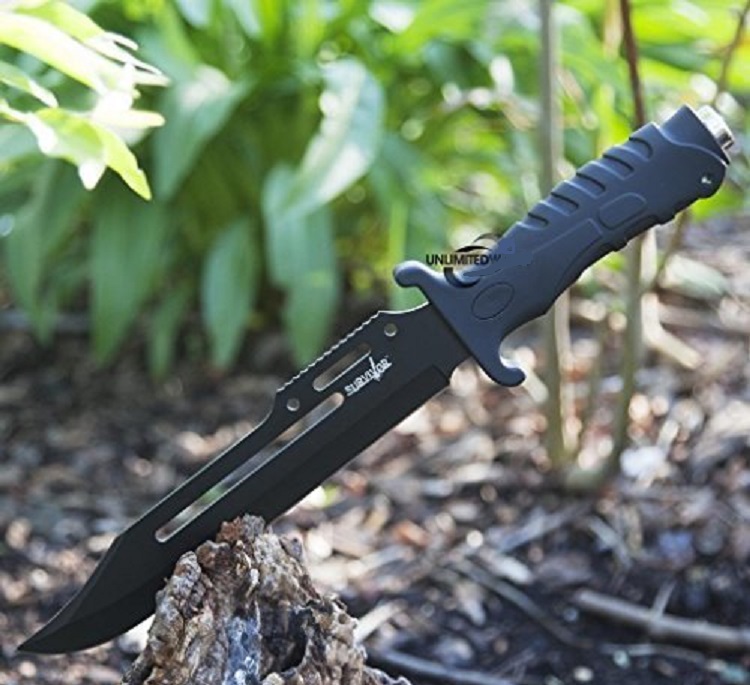 A heavier knife is usually better for tougher tasks, and they won't buckle under pressure quite as quickly. That said, this is a good knife if you need one for average tasks and those that are not considered too tough.
If you think that this product could be useful for you, then you can buy it on Amazon.
Survivor HK-1035 Fixed Blade Outdoor Knife Set
This set retails for just $12! It's great if you are looking for two knives of different sizes to each fulfill various purposes. Smaller knives are good for more intricate tasks while the larger knives are most often used for tougher jobs. It's not only a matter of durability but also comfort.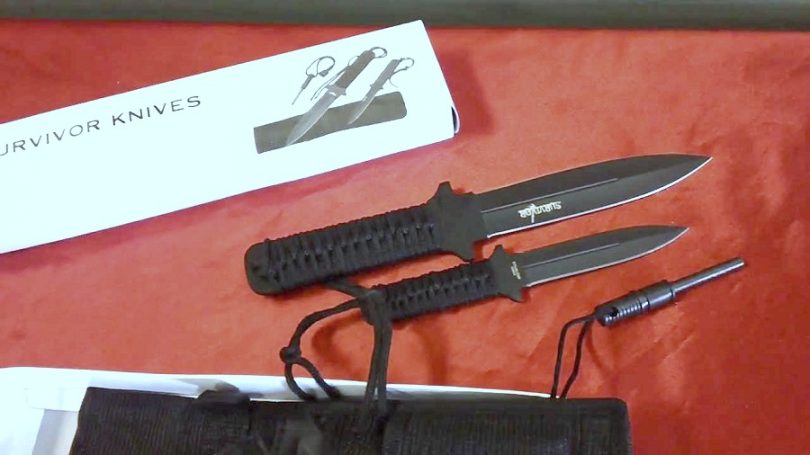 Can you imagine preparing wood chips with a small knife? It might seem fine in the beginning but, after a few minutes, those muscle cramps will set in and your once comfy knife will become your new nightmare. This set also includes a fire starter and carry case. The handles of these knives are wrapped with tough cords for extra grip and comfort. Those who have purchased this product often remarked that it did not arrive sharp. That said, it is easy to sharpen, and it can cut through a number of materials with ease.
Like this amazing product? Then you can check the current deal for it on Amazon.
SOG Specialty Knives & Tools M37N-CP Seal Pup Knife
At less than $40, this is not the cheapest knife out there, but it might not be suitable for everyone's budget.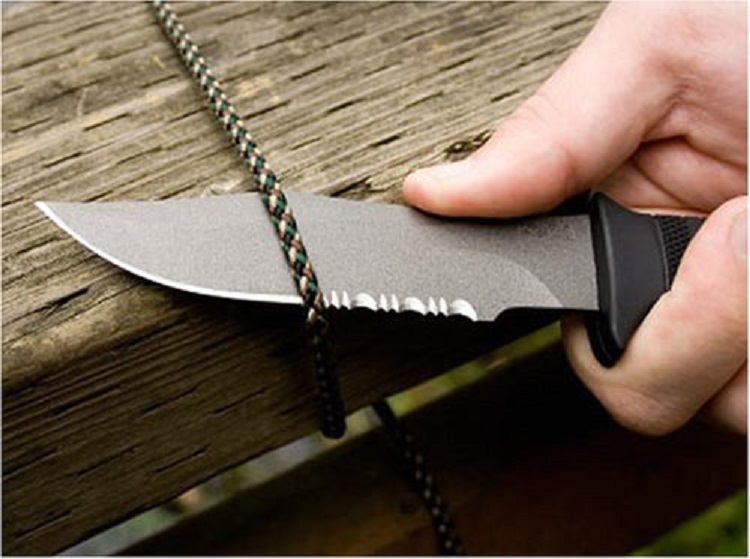 The blade measures 4.75 inches and is made from solid steel. The black handle is made from glass-reinforced nylon and the blade has a partially serrated edge. It also comes with a limited lifetime warranty and the general consensus is that this knife means business!
If you like this product you can find and purchase it on Amazon.
Maintenance, cleaning, and storage
The key to getting the most out of any tool is proper maintenance and care. Knives are no different and, the better you take care of yours, the more you'll get out of it in the end. The first important rule to remember is to keep your knife clean.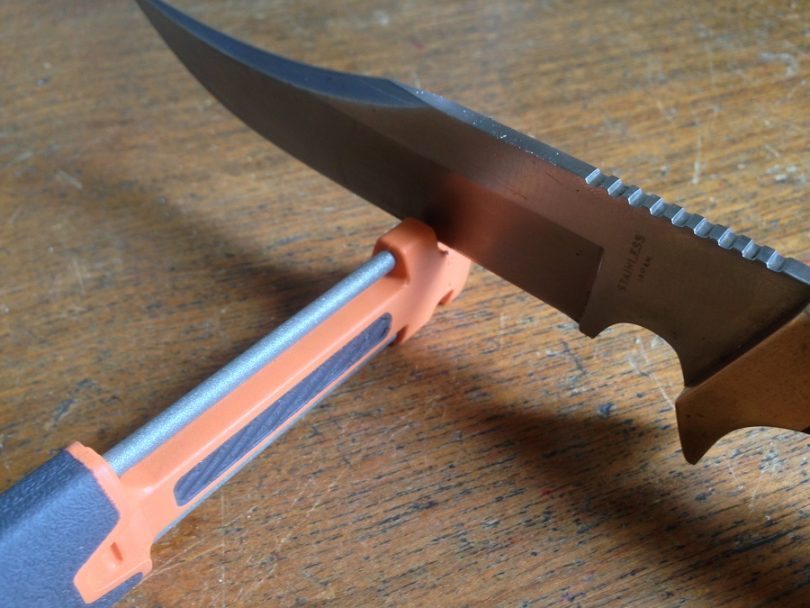 Do this by following the manufacturer's cleaning instructions.
For the most part, they will recommend that you steer clear of harsh chemicals and just use soapy water and a non-scratch cloth or sponge.
Never scrub your knife since this will cause it to become scratched.
Always rinse of all that soap with clean water and take the time to dry your knife thoroughly before packing it away.
Make sure that you store you knife in a dry place and keep it away from humidity since this can cause it to rust.
Many hunters apply lubricating oil to their knives in order to protect against rust. This is particularly important during the colder winter months.
Some people choose to store their knives in a scabbard, but it's better to use a nylon or acrylic-polyvinyl sheath instead because the scabbard draws in moisture.
Finally, keep your knife sharp and ready at all times. There are many sharpening tools out there, and it comes down to personal preference and experience. Always take your time and sharpen your knife with care. Be sure to clean your knife after you sharpen it. For more tips on how to sharpen your blade, see our piece to learn more.
Consider your preferences
As you can tell, knives can come in handy in many situations. There are also a number of styles and sizes available which makes it that much easier to find the perfect fit for you! Remember, we are all different and, no matter how much your friend might love their knife, you might feel more comfortable using something different.
[the_ad_placement id="in-text-3-type-a"]
Give yourself a chance to experience and experiment with different knives until you find that perfect fit! Don't forget to invest in the proper accessories if they are not included in your knife purchase. Clipping your knife onto your belt and containing it in a protective sheath make for better safety and convenience.
Check out our article reviews of the best hunting knife for your protection.
Some of the links in this post are affiliate links. This means that if you click on one of these links and make a purchase, I earn a small commission at no extra cost to you. Also, as an Amazon Affiliate, I earn from qualifying purchases. If the information in this post has been helpful, please consider purchasing through one of the links in this article. Thank you.