Ammunition needs to be ready when you need it and knowing how to store your ammunition is a big part of the solution.
Whether you want to create your own storage or purchase a pricey solution, having a good plan for long and short-term storage is where you need to start.
Why Should You Store Ammunition?
There are several good reasons to store ammunition.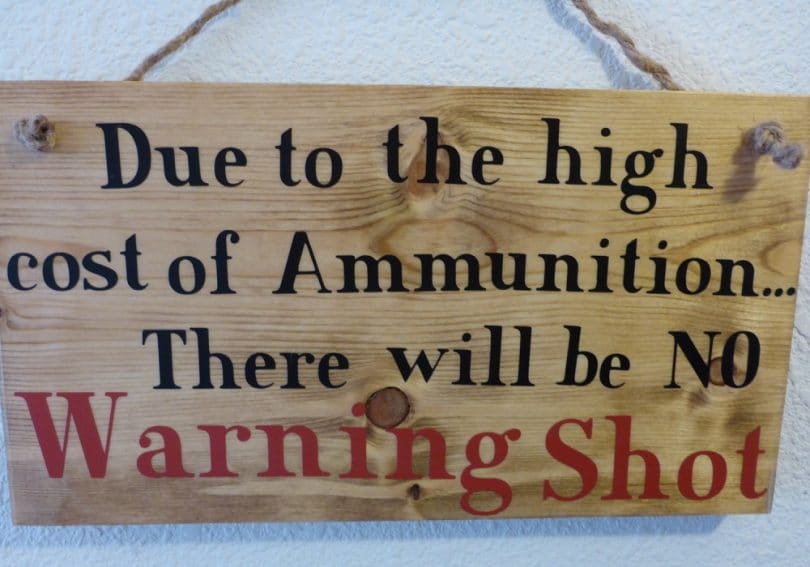 Scarcity – When times get tough, or worst-case scenario, we lose the ability to easily manufacture ammunition, ammunition is going to become very valuable. Ammo may even become your primary means of trading and bartering.
Prices – Along with scarcity is a drastic increase in prices of course, but even just a change in government and policies can greatly drive up the cost of ammunition.
Protection – Protecting yourself and your family is important, and you can quickly go through a lot of ammunition in dangerous situations. You won't have time to run out to the store to purchase more, so make sure you have it when you need it.
There is any number of reasons to make sure you have ammunition on hand when you can't easily resupply.
What Happens When Ammunition is Not Stored Properly?
Not storing ammunition properly is dangerous and expensive. You don't have the ammo when you need it, and have to purchase more when it is not necessary.
There are consequences involved when storing ammunition improperly.
Loss of sensitivity in primers
Deterioration of charges over time
Weakened cartridges that can rupture when fired
Corrosion
See also: How to Reload Ammo: A Guide to A Simple Ammo Reloading.
Poorly stored ammunition can be dangerous and useless. Poor storage methods can alter the characteristics and size of the ammo, leading to explosions, duds, and even fires.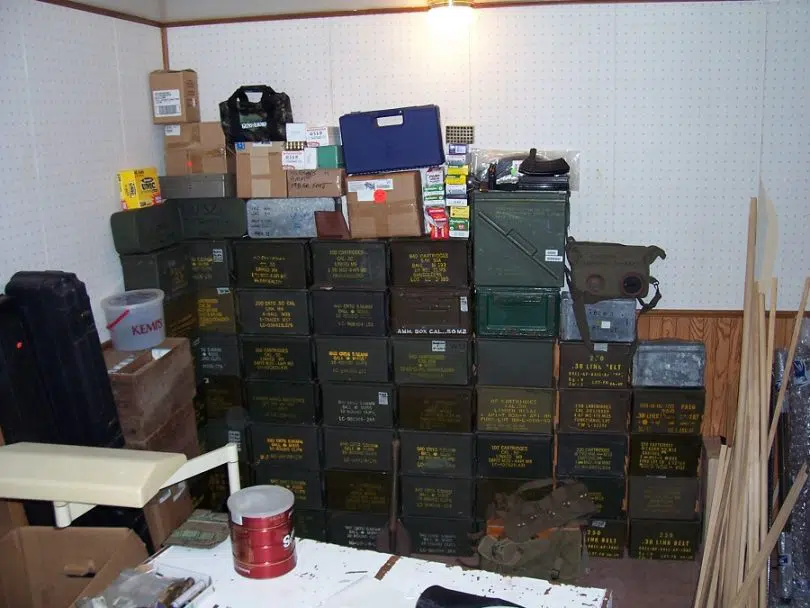 Corrosion and rust are an issue for poorly stored ammunition. Check closely for any type of rust or corrosion on metal jackets, shell casings, and primer pockets. Rust, corrosion, or discoloration is a sign of deterioration.
Overall, ammunition has a lifespan of 50 to 60 years if it is stored properly and not exposed to conditions that can alter it in any way, ie., humidity, temperatures, etc.
How to Properly Store Ammunition?
Storing ammunition properly is as important as a well-stored gun. A gun is pretty useless without good ammunition unless, of course, you plan to beat an intruder with it.
Generally, ammunition should be stored in a cool, dry place without a lot of temperature swings. There are some other steps you can also consider when storing ammo.
Keep ammunition away from humidity – A dark basement or attic is not usually a good place to store ammunition, due to humidity and temperature swings, unless you run a dehumidifier.
You can also use silica gel dessicants to absorb moisture, but these will need to be changed out every 12-24 months. These small packets will absorb up to 40 percent of their weight in moisture.
Neither of these methods are as effective as keeping your ammunition in a cool, dry place like a closet in your house.

Silica gel dessicants are worth mentioning separately. Although they will do the job, they need to be monitored closely. Also, not all of them are reusable, so check them before attempting to dry them out in the oven (4 hours @ 140F).
Kitty litter and stockings is an alternative used by some gun enthusiasts. They believe that kitty litter can act the same as silica gel desiccants so they this instead. The point of using stockings or other nylon socks for women is that they have multiple tiny holes to allow air and absorb moisture. This method works, but is not among the ones recommended since it can be messy.

Keep your ammunition away from heat and temperature swings. Heat is the enemy of ammo and worse than cold. Breakdown begins at around 150 degrees Fahrenheit.
You definitely don't want to throw your ammo in the trunk of your car and drive around on a hot summer's day. Heat will effect the chemical composition of bullets and result in weak shots.
When it comes to cold temperatures, you don't need to be as worried. You should be concerned about big temperature swings though, and work to maintain a constant environment.
Store your ammunition in it's original boxes. This should be done for a few reasons. 1) Reselling ammunition is difficult if it is not in it's original box 2) The less you move your ammunition, the less chance of damaging it. 3) Organizing and knowing what ammunition you have stored.
Organize and Rotate Your Ammunition. Keep your ammunition clearly labeled, especially if you are storing it outside it's original container – size, caliber, date stored, etc. If packing your own casing, also list whether or not you are using new powder and when you packed.
Rotating magazines is important if you want to maintain a few loaded magazines. Make sure they are also stored in similar conditions as ammo, or rotated frequently if they are not.
Use a vacuum sealer to protect your bullets. A vacuum sealer extracts air from a bag made for storage. This protects ammo from humidity and water. Theoretically, this method allows you to bury ammo without a container, although there are drawbacks. A vaccuum sealer is more expensive, and you can't periodically check your ammunition without resealing the package.
What Do I Need for Storing Ammunition?
There are many choices for storing ammunition – original boxes, ammunition cans, cabinets, etc. I should note there is some debate on original boxes since cardboard absorbs moisture from humidity, but this is minimal in the right storage conditions.
If you do choose to store ammunition outside the original boxes, you should consider something like a labeled Ziploc bag.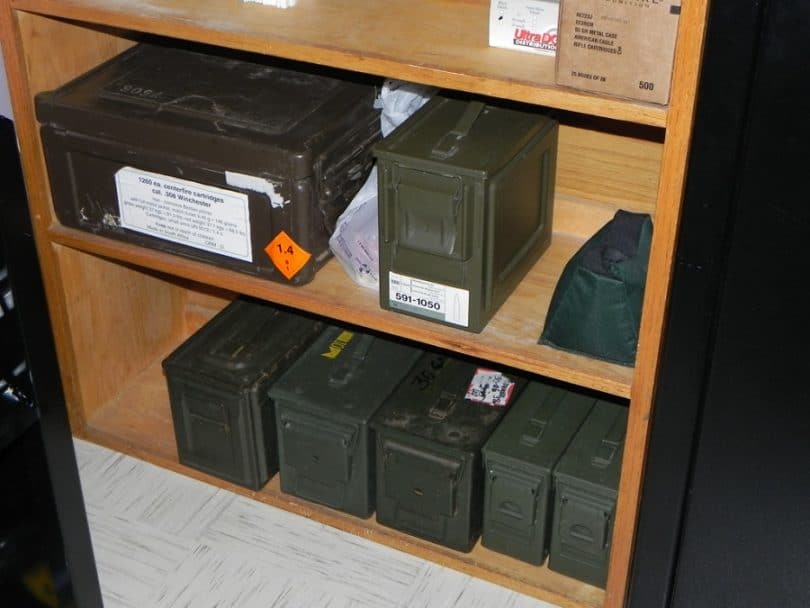 Below are some options for ammunition storage, and accessories to support proper storage.
I also like "Stack-On" cases and safes. I think they are well-made and reasonably priced.
There are a lot of choices when it comes to storing ammunition. I've only provided a few. If none of the standard Amazon options suit your needs you can also take a look at more specialized, hand-crafted engraved or wood Options.
See also: Hidden Gun Storage: Ideas And DIY Projects.
Final thoughts
Storing ammunition is not complicated. Plan out your short and long term options, and then determine your storage needs.
How much ammunition do you need for practicing on the range?
Are you going to purchase in larger quantities when prices are low?
Will you store ammo far away from anywhere you can resupply?
Are you storing with the expectation that you may need to barter or trade ammo?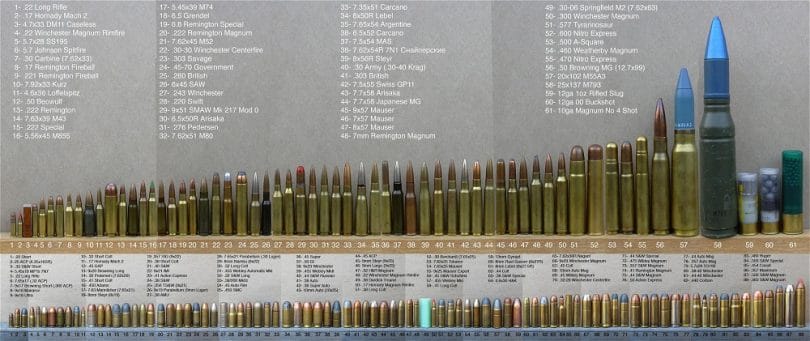 There are a lot of considerations, and some may require you purchase large quantities of ammunition over a long period of time.
Ammunition is not inexpensive, but if you have a good plan and place to store it, it will not be overwhelming. You can make purchases when you have the money.
Related Posts
Some of the links in this post are affiliate links. This means that if you click on one of these links and make a purchase, I earn a small commission at no extra cost to you. Also, as an Amazon Affiliate, I earn from qualifying purchases. If the information in this post has been helpful, please consider purchasing through one of the links in this article. Thank you.