Some of the links in this post are affiliate links. This means that when you click on one of these links, I earn a small commission at no extra cost to you. Also, as an Amazon Affiliate, I earn from qualifying purchases. Thank you.
Hidden gun storage is important, and making sure you have quick access when you are attacked is crucial. Guns you use for self-defense should not be hung on your walls, and leaving a weapon unsupervised in your home can be deadly.
When storing a gun in your house, it's important to ensure you know exactly where it is and that no one can stumble upon it by mistake. Create a hidden gun storage area to keep your weapons away from family, friends, and enemies alike.
Traditionally, people put their guns in a safe for safety reasons. It is indeed safer, but it is also more expensive. If you are interested in a safe, check out these Reviews for Gun Safes.
The issue with gun safes is that they make access to your weapons difficult in an emergency. Finding and unlocking the safe can be difficult if there is an intruder in your home and you have to move fast.
There are many ways to keep your guns safe and inconspicuous.
DIY Projects – You're going to need a few handyman skills to build structures. The projects are not too difficult and will help hone the skills you have.
Manufactured Products – We will also review manufactured products that you can buy.
We are going to discuss some of the most popular ideas among firearm owners. You can get creative and invent some of your own hiding places, but remember what a wise man once said – the best hiding place is in plain sight!
Hiding Guns When You Live Alone
When you live alone, you don't have to worry about children finding your guns. You only need to hide your gun where a thief or intruder is not going to find it.
Below are a few examples.
In the pantry, in a cereal box – thieves are probably not going to start a search in your pantry. You just need to make sure you can access the pantry quickly.
Behind fake electrical outlets – this is a clever place to hide a gun, especially if an intruder is going to make you sit against or lie near your walls. It would have to be an awfully small gun.
Inside the front door – if you are answering the door, this is the most convenient place to have a gun.
Bathroom cabinet – an intruder might allow you to go to the bathroom, or this may be the closest room to your bed.
Under your pillow or bed – this is popular in the movies for a reason. It is the closest place to keep a weapon.
There's no way you can keep your firearm under the bed or stacked under towels in the bathroom when there are children around.
You need a clever hiding place that can perfectly conceal weapons and still be easily accessible when you need them.
Find a place on one of your house's walls where you can fit a full-body mirror or a large painting. These items (the mirror or the painting) conceal the hidden cabinet behind them. If you're careful with the work, or if you hire a professional, no one in the house will be able to tell.
It's challenging to find an adequate space for hidden gun storage because it needs to look natural. Avoiding plumbing and wiring is also an important consideration.
General Gun Closet Set-up
Time Needed: 2 Days
Steps for Installation
Cut the Hole – The hole should be smaller than the object you use to cover it (the mirror in this case). This object will be on the cabinet door. Cut the hole but not the insulation. You only need the cabinet to be about 5″ deep.
Build the Box – Measure the length and width of the hole, and build a box that will fit exactly in the hole. On the backside of the box, install plywood or paneling. The box will be the inside of the gun cabinet. After you finish, slide the box into the hole and screw it in place. You can add hooks to secure any weapon.
Install the Door – This will be a large piece of wood on which you install a mirror or painting on one side and hinges on the other side. Mount it on the frame of the box inside and make sure it looks natural.
Install a Lock – Use a traditional lock and key, or a keypad-activated lock hidden somewhere else in the house.
Bookcase Storage Location
People have used bookcases to hide secrets for centuries. Regardless of what you use a bookcase for, it is still one of your best hiding places. This is a fun DIY project that won't take more than one afternoon, it doesn't involve any demolition or cutting.
Bookcase Set-up
Time Needed: 4 Hours
Steps for Installation
Building the Box – The box should be the same height as the book spines with no overlap. Make sure your weapons fit easily in the box.
Installing the Spines – Decide which side the book spines go on. Glue the book spines on, making sure they look as natural as possible.
Inside the couch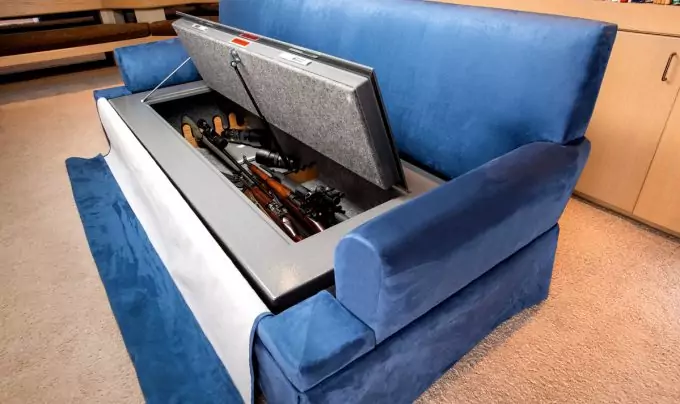 Modern sofas don't have as much open space in them for gun storage, but older sofas have plenty. Take a look to see just how much room you have. This is an excellent location to store weapons, especially the sofa used often.
Use a system of hooks and belt fasteners to keep the guns in place, and when everything is attached, you cover the system with the couch's cloth again. This is not a good system for your go-to guns as they are difficult to access in case of a robbery, but you can use the sofa to hide weapons you have around the house.
Be careful when hiding weapons in a sofa, as it is easily accessible for people who are searching for weapons.
False Bottom Drawer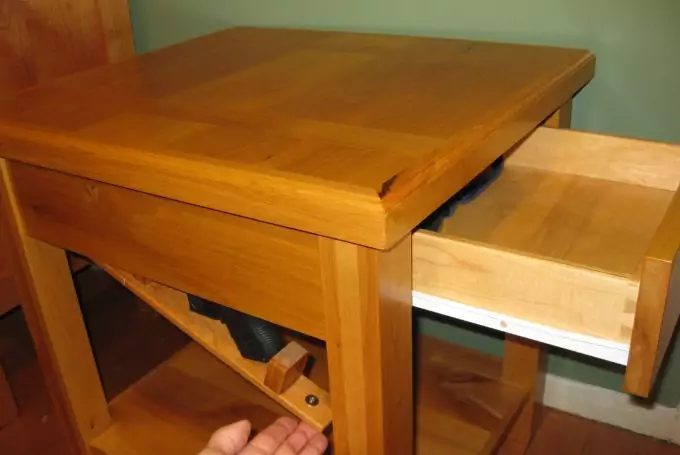 This looks like a complicated job but with patience and some skill, it's not too difficult. This rewarding DIY project will also teach you important carpentry skills.
False Bottom Drawer Construction
Time Needed: 4 Hours
Steps for Installation
Measurements – Take a drawer out of its existing location and measure it. Make sure the weapon fits. Measure the height of the weapon, so you know how high the compartment needs to be and that there is enough space in the overall drawer.
Cut Supports for False Drawer – Cut 4 small pieces of wood and make sure their height is slightly bigger than the weapon. These will be placed in each corner of your drawer to support the false bottom. Cut the false bottom from a piece of wood, making sure it's thick enough to support the weapon and it fits easily in the drawer.
Installing the False Drawer – Glue the four pieces of wood in the corners and wait for them to dry. Next, drill a small hole in the bottom of your drawer. You can use an ink cartridge, a small metal rod, or something similar to open it.
If you install the drawer in a bedside table, make sure you store normal items in the drawer, or it will look odd if someone opens it. I like to place easily removed items, like magazines, papers, tissues, glasses, notebooks, etc.
Below is an educational video that illustrates the completion of a secret drawer.
Also, I know this sounds obvious, but build the drawer AFTER you purchase the weapon. If you are still shopping for gun survival options, you can also check out this Review on the Best Survival Guns.
If you are not a handyman, or your time is limited, you can also purchase hidden storage locations online or from tactical stores. In the sections below, I'll discuss a few options.
A shelf on the Wall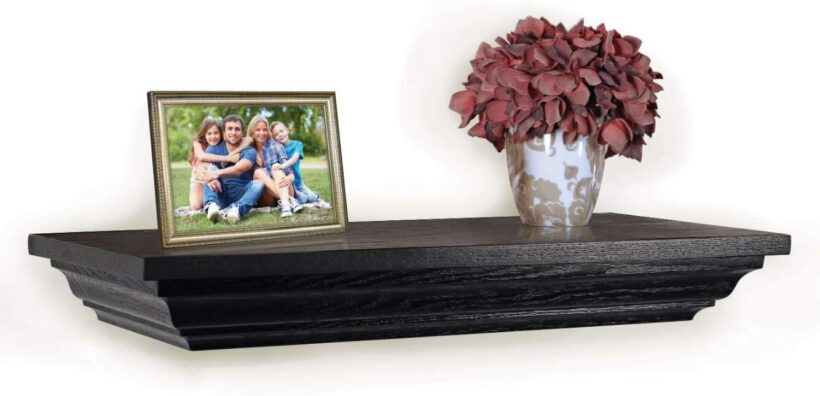 This is a simple shelf with a hidden compartment. It is a nice-looking shelf with a dark wood tone that matches many interiors.
The shelf is made from solid wood and opens from below, holding multiple weapons. You can remove the foam so you can adjust for whatever size weapon you have.
This is a popular shelf, and at the time of this article, 84% of the reviews were rated 4 or 5.
---
Concealment Clock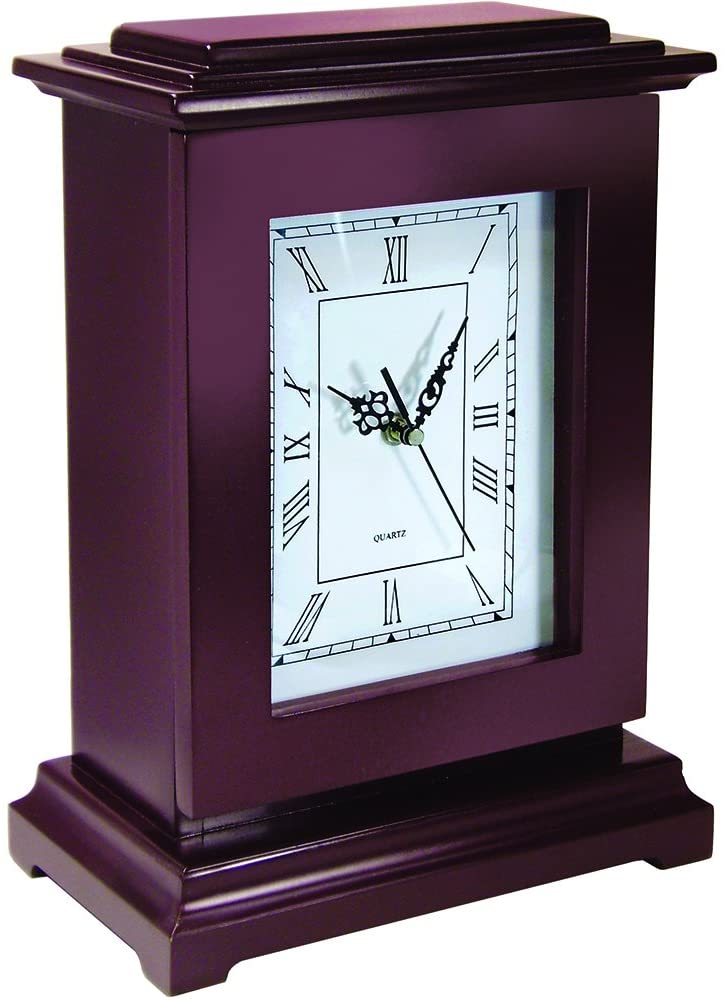 This is a nice-looking wood clock that is both decorative and functional. It is the perfect place to conceal weapons up high and still have quick access to what you have concealed. The clock locks with a magnet, and unless you already know where to push it, it isn't easy to open.
When seconds are precious, this clock is a good place to hide the weapons you need quickly!
---
Faux Book Safe Set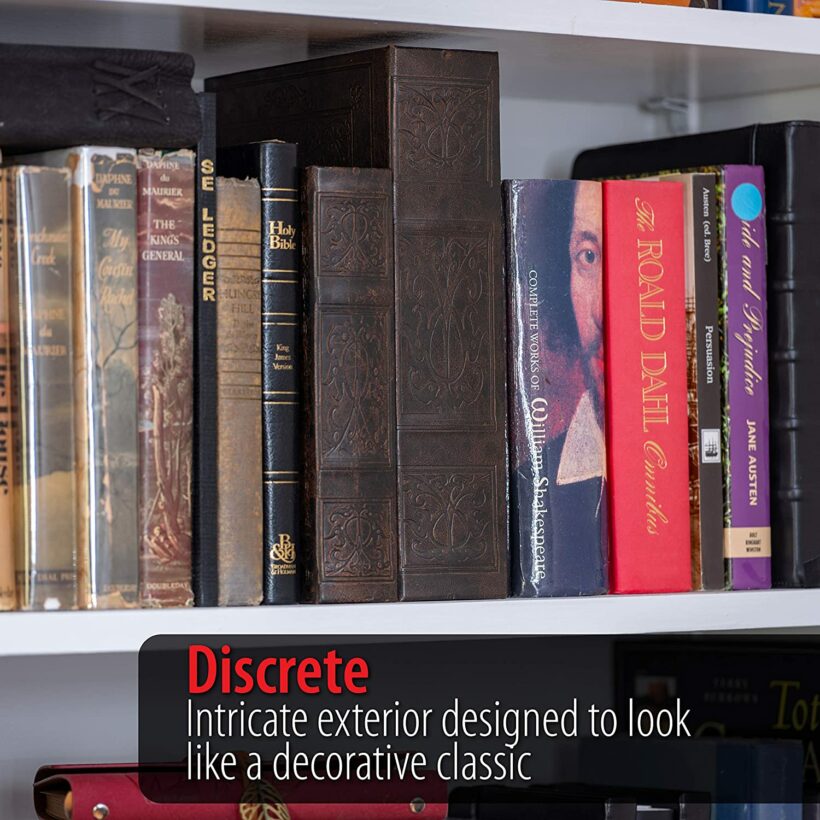 The faux book sets actually have many uses. You can place it high on a shelf to hide a weapon or hide important papers. The good-looking book can also be placed on a desk or table to hold items or keepsakes.
Not only are these books very practical but the antique finish makes them attractive no matter where they are placed.
Final Thoughts
There are so many places you can store weapons and valuables in your home. This article provides a few ideas on how to build your own or to purchase them if time is limited.