Preparing for disaster is definitely not a pleasant experience and many people dread to deal with anything related to disasters. Preparing a special safe room can take time and money so you need to be ready to pay a minimum of $2000. Prices can go as high up as $5000 but you can agree that saving your own and your family's lives is far more important than paying such a price. As high as it may be, it's worth it. You should know though that prefabricated safe rooms cost less than shelters built on-site and accommodated to the specifics of your house.
[the_ad_placement id="in-text-1-type-a"]
Also before you embark on the journey of making your own tornado and disaster safety room you need to read these documents by FEMA: Taking Shelter from the Storm. Thanks to this document you can understand the criteria for a safe room and how you or professional builders can proceed to create such a room, which follows the requirement by FEMA.
Preparing the design for your safe room
Before you ever begin with purchasing any products for building the room, or employ any builders and professionals you (or they) can assess the area of your house. First of all, the safe room should ideally be in the basement. In case your house doesn't have a basement, you can build the safe room on the ground floor. You need to build the room in an area easy to access (you shouldn't search for it if you panicked; you should be able to immediately locate it during a critical moment).
The room shouldn't have any windows and also shouldn't be built in an area prone to flooding. The idea of the safe room is also to withstand strong winds (like 250m/h). It should be strong enough to protect you from flying debris, falling heavy parts from other houses, vehicles, etc. Also, all connecting parts (hinges, etc.) should be strong enough to not break under the wind's pressure.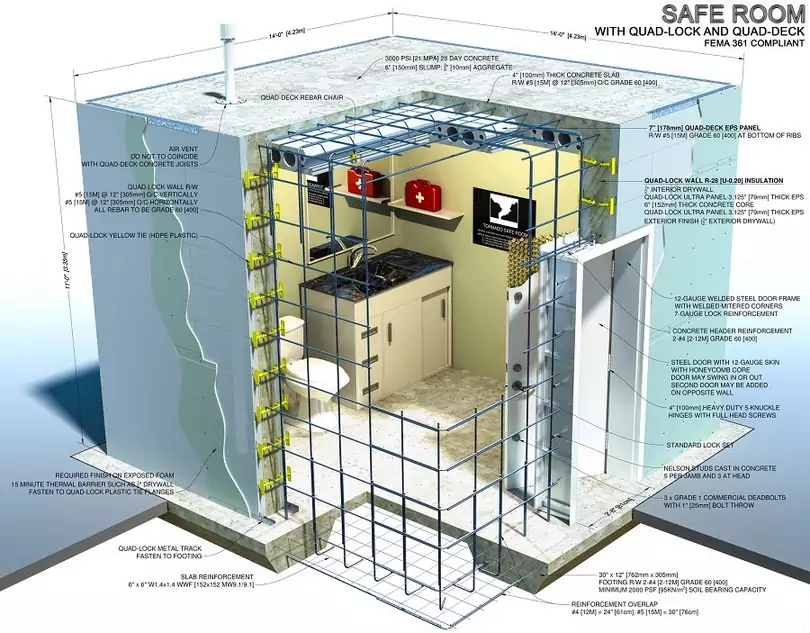 Keep in mind that if you build your safe house at the ground floor, there are several places, which are highly recommended by FEMA – the bathroom, closet, laundry room and one of the corners in the garage.
You need to know that closets, bathrooms and laundry rooms have the added advantage that they usually don't have windows, and thus the walls are much sturdier and often offer some level of security during mild storms, hurricanes and earthquakes. This is especially true about bathrooms, since there are metal tubes for the water supply, which give additional safety boost. This is why, building your safe room near one of these built-in rooms, part of your house, has a great benefit to your security. Of course, you should also be aware of the recommended safety tips to apply during a tornado so don't forget to take a look at our article here, to make sure you are up to date.
It is not recommended to build the safe room outside the house, but if you still prefer that option, the room should be no further than 150 feet from the house. After all you need to get there quickly during a disaster and not waste precious time getting to the safe room. This last option is good in situations when you need to build your safe house on a budget. It's slightly less expensive to build a safe room away from the house, without having to do any retrofitting of the house. However, if you prefer the outside area, it is most recommended to consider building a tornado shelter. If you want to know how much it will cost what it implies, we have a great article on this topic, here.
[the_ad_placement id="in-text-2-type-a"]
Retrofitting means that you have to accommodate and change the house according to the safe room you plan to build. This means that you have to prepare a budget, which can cover both the safe room building and the retrofitting of the house. In case you can't prepare such a budget, it's much more convenient to build the shelter outside (no more than 150 ft away from your house). You can also fit the safe room in another existing building you already have in your yard. This is another cheap way to add a safe room to your plans.
There is also the option to build the safe room below the house, and thus it will be surrounded by soil. FEMA does not recommend this, but if you still plan on doing that you would need more finance to support the cost, as you need to first dig below the house and then build the room in the hole. It takes a lot more resources and it's time-costly.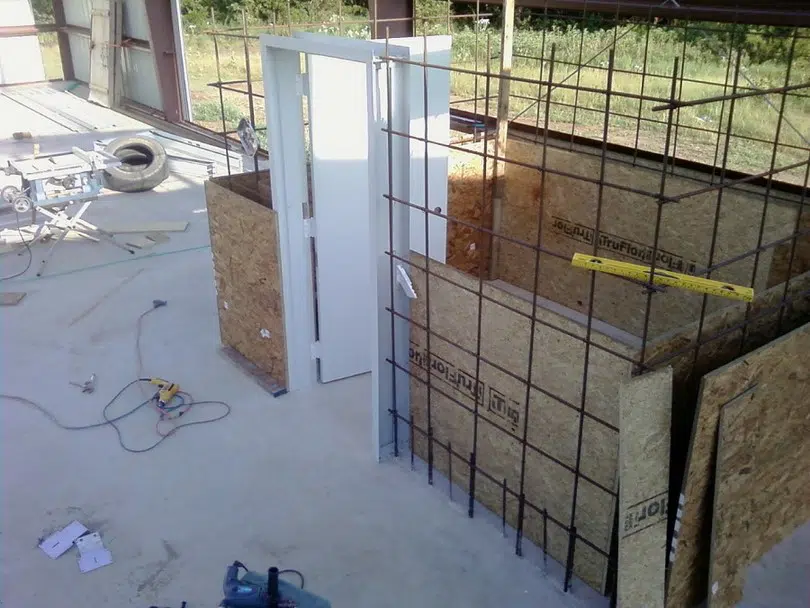 Yet another option is to build the safe room as an attachment to the house. You should decide on the location depending on whether you can get into the room as quickly as possible if disaster strikes.
Anchoring the safe room is just as important, so it doesn't fly up if lifted by the wind. In addition to that, the door must open inside, so that when the tornado is gone you can open the door. If debris is fallen in front of the door and it opens outwardly you may not be able to move it at all.
Knowing how many people the safe room would accommodate during the tornado is important to know before you build it. Since tornados are shorter in duration in comparison with hurricanes, the room shouldn't be built with comfort in mind. Up to 3 to 7 square feet per person is the average requirement by ICC 500. You have to calculate the needed area if there are any bedridden members of your family and prepare accordingly. The same applies for wheelchair dependent relatives. The height of the room should be about 8 feet.
FEMA recommend that you can plan the room, according to whether you will build it above or below ground. For example, if you want to build it in the basement area, you should integrate the room to be part of the house construction walls. This is an economical way to save material and time, and yet reinforce the construction.
Of course, you can build the safe room as a separate construction and that's perfectly ok, since it won't rely on any previously built wall(s). While both of these two are fine, the safest method would be the latter.
For the above ground versions, there is the so called slab-on-grade. This means that the safe room's basis is below the house's level, and rooted into the soil (if the house doesn't have a basement area). Thus, even if the house is damaged during a tornado, the 'roots' of the safe room will keep it in place. After all the room should be built of concrete to be as solid as possible. You are also advised to talk to a professional to assess the solidity and structure of the soil and ask them whether such a slab-on-grade safe room can be withheld in that type of soil.
You need to know that making a concrete slab (slab-on-grade) should require soil reinforcement; otherwise the stability and protection of the room may be compromised. Also, such a room should have steel interior within the walls, roof and floor. This helps against cracking and any other shifting of the safe room.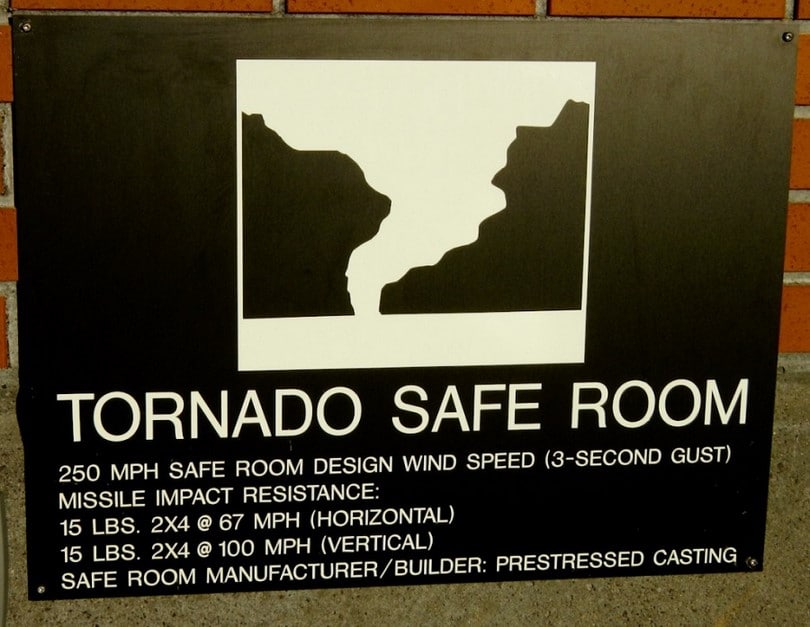 To keep the safe room safely anchored to the ground it also needs to be heavy enough. This means that the shelter must have sufficient dead weight to supports itself and withstand any uplifting drafts from strong winds. In case your safe room doesn't have sufficient dead weight you need to make some retrofitting to add that needed weight. To achieve that you can add some extra slab at the foundations or just reinforce the footing of the room itself.
To determine whether any existing safe room needs such weight reinforcement you can consult a professional architect or engineer to assess the room. They will also tell you whether the room's walls need more thickening or not. Basically, any wall reinforcements will require the addition of steel frame or other support.
For houses that have crawlspace below, you can design the safe room to be both part of the first floor, and yet extend the room's legs to go into the soil, as part of the house's construction. This may require additional restructuring of your house. Also, there shouldn't be crawlspace left between the safe room and the soil. This means, you have to place soil right below the safe room and block the crawlspace below it.
An important thing to consider is that build a safe room in existing houses may require a bit more effort, building plans and material, thus it may be more cost-effective. You have to adapt the house to accommodate the safe room, in a way that the two exist symbiotically and the construction of the house doesn't suffer because you changed something about it, to attach or build the safe room. So, generally it's much easier to build a safe room along with building the house itself.
Thus, you can safely integrate the room into the house, so you use much less material overall and the room and the house are complementing each other. This option costs much less.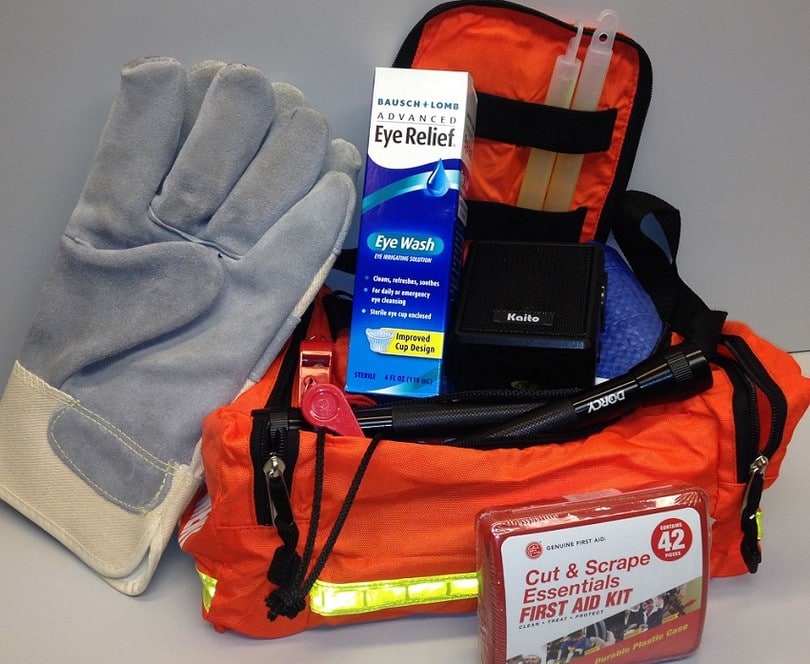 Additional important information to consider is that you have to keep a first-aid kit inside the room at all times. An emergency kit is also a-must. Keep some flashlight with extra batteries, emergency radio, some necessary and life-saving medications, warm blankets, some dry food or snacks and of course, water. Prepare these so they are in the room at all times. You can learn more about the items you'll need in such a situation from our article on disaster preparedness.
Further considerations
When it comes to choosing the door for the safe room you need to consider very well what the material should be and the elements that will attach the door to the safe room. Often people mistakenly believe that steel doors can be used in such cases, but the truth is that steel doors can't withstand extreme wind pressure and can create risk situations and even cause death. Many such doors can't hold flying debris (especially heavier ones).
You are advised to talk to a professional about the appropriate choice for such a door, but all the components should be specifically designed and tested to withstand strong winds and falling debris during tornados. To be sure about what you purchase, look for a certificate on the product and that it's tested by authorized agency.
Also, look for the information about how the door is tested. For example, many FEMA-approved doors and prefabricated shelters are tested with missiles, which weigh 15 pounds and travel with 100 m/h. These tests are performed on the vertical constructions, e.g. walls. With objects traveling vertically, tests are performed with missiles traveling at the speed of 65 m/h.
Also remember that all parts that come with purchasing the door should be used only with this door and you shouldn't substitute any of them for other parts. This may compromise the safety the door provides and may be even dangerous during a disaster. If you're looking to purchase such a door you have to know that you can get one only through some building construction suppliers or special safe-room components supplier.
When you prepare to employ a builder or decide to do the whole thing yourself you can use the supplied pdf materials and blueprints provided in detail as to how to build your safe room. You can find that document in the link provided in the introduction of this article.
All the design drawings go into detail about how to build four different types of safe rooms: concrete, concrete masonry, insulated concrete and wood-framed. If you follow closely the design drawings when you build the room, it has a high chance of performing as expected – saving your live. This is why FEMA recommends that you employ a builder as they have engineer education and you will be sure that the job will be done appropriately. Also, a professional builder would be able to execute the job as best as possible.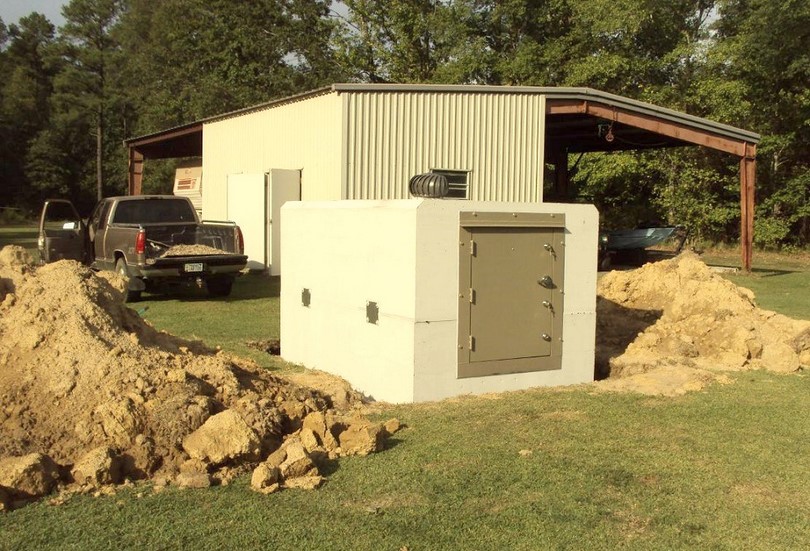 If you desire you can have additional amenities like phone wires, power outlets and even a toilet. Since these aren't part of the design drawings you will need to hire a professional builder who can accommodate these needs to the safe room. Also you should make sure to keep the manufacturer's and builder's name.
[the_ad_placement id="in-text-3-type-a"]
An important step to assess before beginning with the building process is the area where you live and whether you live in a flood-prone area or nearby the coast. With this in mind, the builder should be able to construct the room in such a way that it will let as little water (if any) as possible.
Also, the professional build should know where it would be best to position your safe room. For example, if there is risk of flooding or water surges, you are discouraged to build the room in the basement or underground. There is risk of water accumulation in areas below sea level (like basements) and even if you're safe in the room, it may not be safe when you open the door after a tornado strikes.
If you decide to do the building yourself, please check the ICC 500 standards.You can't build your safe room along without purchasing it. This document will show and help you in detail with all the required material and the construction itself.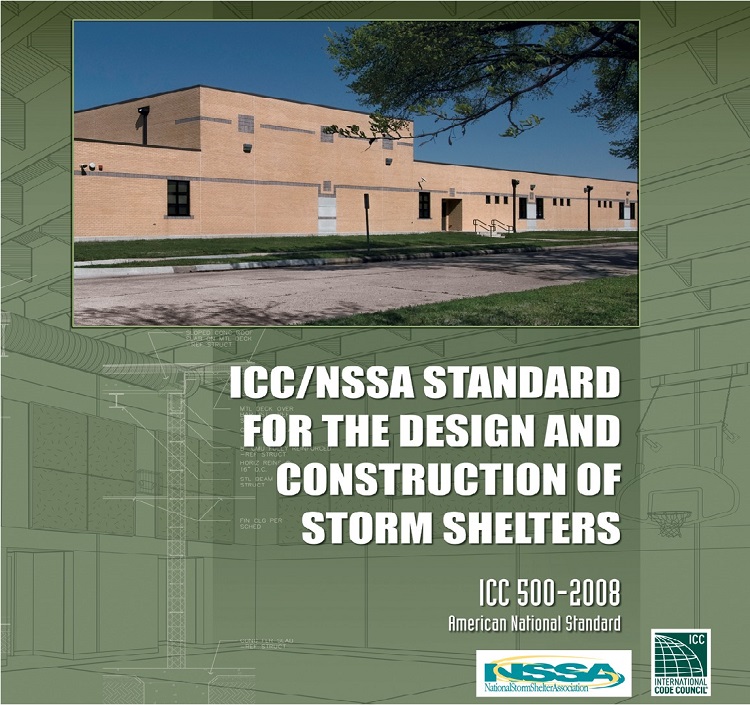 Next you need to gather all the necessary items, materials, construction manuals, etc. and begin building the safe room. You can use anchor points which are driven by an outside force thus minimizing the risk of horizontal movements of the safe house itself, especially during the tornado.
When it comes to vertical anchors we advise you to consider Simpson Strong Tie materials. Here is a sample anchor, and it has many positive reviews from customers. Often they report that these anchors are very sturdy and give perfect support, even in other constructions like porches, decks, etc.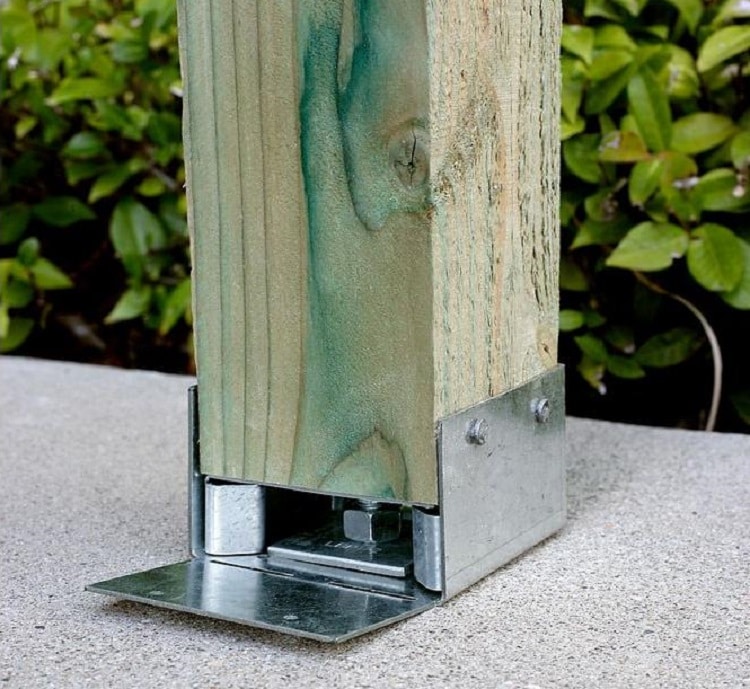 When you have assembled the structure's material, attach the walls and roof to the base plate and anchors, and you're ready to add the door. It should be according to the FEMA certification. You can also add some plywood interior walls but below the plywood layer there should be a steel frame to keep the room solid and stable.
Prefabricated tornado safe rooms
There is of course as already mentioned the option of purchasing a prefabricated safe room and save time and resources on building one yourself. If you don't have the time to build such a shelter, prefabricated shelters are your option.
Most popular is the Securall manufacturer, whose safe rooms and shelters are FEMA approved and certified. They have passed the tests we mentioned in this article and can give the protection they claim they offer.
This Securall fully welded shelter is one such affordable option. It can fit up to 4 individuals and it doesn't cost a fortune. The room provides two ventilation openings to ensure fresh air comes in the room and to prevent any pressure build-up during your stay in the room. Purchasing this safe room will ensure you also have various safety kits, foldable shelves and benches.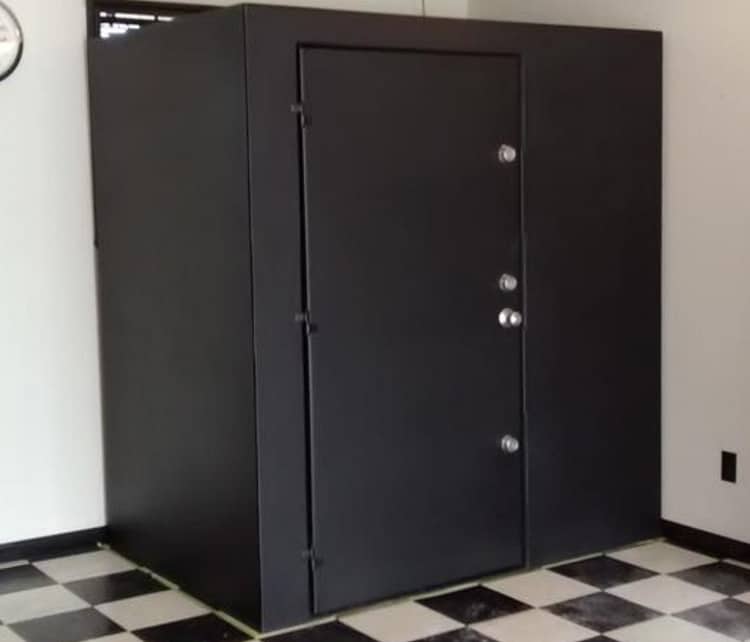 The manufacturer offers various sizes for their prefabricated safe rooms, so feel free to explore these products. They are made so they fit either a small family of 3-4 members or an entire community of 20 people.
Building a safe house requires a lot of planning and assessing the existing resources. Employing a professional builder also requires more finances, but in the end the lives of you family members can't be compared to paying several thousand dollars.
Some of the links in this post are affiliate links. This means that if you click on one of these links and make a purchase, I earn a small commission at no extra cost to you. Also, as an Amazon Affiliate, I earn from qualifying purchases. If the information in this post has been helpful, please consider purchasing through one of the links in this article. Thank you.