Almost any SHTF scenario is impossible to imagine without thinking about the need for firearms, but as preppers are getting ready for the worst, many forget how important it is to secure your weapons and keep them out of reach, making your "treasure" accessible only to you. The answer for keeping your weapons safe and hidden lies in choosing a gun safe. With this solution new question arise: how do I know what gun safe is the best for me?
[the_ad_placement id="in-text-1-type-a"]
Even though you are willing to take a chance with gun safe and try it out, there are thousands of different gun safe products and to make your choice even more difficult to make, almost all safes look alike.
The key is in different specifications and possibilities each safe has to offer. To put you out of trouble where you would probably need to try out a dozen of gun safes before you find the best, we have made a list of some of the best gun safes currently available on the market. Hopefully, you will find the right safe for you on our list.
Mesa safe company MBF6032E: digital lock riffle gun safe
We are starting off with one of the most popular gun safes on the market and given by great reviews faithful customers have left, Mesa is probably one of the best gun safes for the money you have decided to invest in getting a safe for your weapons.
To make sure that your weapons are completely and without any doubt safe, Mesa's entire construction is all made of steel. Once you buy Mesa, you will see that its construction is definitely thicker from most other safes, as it is pretty much heavy. This safe can withstand high temperatures for one hour as it is made to be fireproof for maximum security.
There is 13 cubic feet of storage place at your service along with secure anchor that will keep the safe stabile once you set it up and find a god spot for your new Mesa gun safe. This safe is operated by electric energy, by using a battery. It also has a security spring that automatically locks in case someone tries to randomly guess your password and types it.
What is maybe rated as the best feature Mesa crew came up with is the backup key: in case your electronic lock fails or gets broken, you can use the backup key you are given to access your guns. Overall safe is pretty much easy to use, although some customers can't confirm that; it appears that some of the products from this series are prone to malfunctioning.
Some customers even say that you can basically see right away that the safe, as it is made in China, is not worth the money you are investing. However, there are thousands of satisfied customers who can prove them wrong. Given that prices for gun safes can go up to 5000$, this safe may come as pretty inexpensive as you can also get it at additional discount.
Pros: All steel construction, 13 cubic feet storage, which means that you can store bigger guns, and affordable price. Backup key I case your electric lock gets damaged is also a huge plus.
Cons: Some users claim that Mesa safe might remain locked regardless of the fact that your password is correct, so it just might be possible that some of the products from the series are malfunctioning.
If you like this product you can find and check its price here.
Biometric hand gun safe: hand in hand with gun safe design evolution
Even the name: "Biometric hand gun safe" sounds promising, making you feel safe already.  There are lots of satisfied users to confirm that this sleek looking safe works great. It works by memorizing than reading your fingerprints, which of course means that no one except you will be able to open the safe and take your gun. What you might not find as favorable if you are a gun person and have more than one gun in your home, is that you will be able to hold only one gun in your safe.
Since the price is everything but high, you will probably be able to solve that problem by buying another biometric hand safe gun. If you, however, are a riffle owner, you have no use of this safe even though you would certainly like to give this biometric system a try. This gun safe comes with USB ports, so you could be able to charge it, and it also has a spare battery included in the package. The safe is fully portable, so you are able to take it with you anywhere you go.
There are also a number of features included, such as car adapter, lock and cable that has to be purchased separately, but the safe can work properly even without those features included. In case the biometric system fails you which is less likely to happen, there is a small part of the mechanism in form of a screw that can be removed for you to safely open the safe. All in all, this safe is a handy to have around.
https://youtu.be/P_EJ3slVeMI
Pros: Portable, design is aircraft aluminum and there is no need for remembering a password since the only thing you need in order to access your gun is the palm of your hand.
Cons: Since there is a safety lock in case the biometric system fails you, that means that anyone who knows about this catch can open the gun safe regardless of the fact that the safe can only be opened by reading your fingerprints.
If you like this product you can find and purchase it on Amazon.
First Alert 2092DF: waterproof and fireproof solution for smaller storage
If you are not planning on reserving a highlight of your room to a massive gun safe, then this First Alert model is probably what you are looking form. What we have here is the classic gun safe with confirmed quality and tested functionality with thousands of satisfied customers and users. Although First Alert is not entirely made of steel, but also has plastic and cement included in design, this gun safe is, both waterproof and fireproof. That means that your gun will be completely safe from fire and water in case of an emergency.
This safe can withstand fire at temperatures up to 1700 degrees Fahrenheit for one hour. What you might find as very favorable is that you will get a 5 year warranty by purchasing this safe, so in case your First Alert gun safe gets destroyed or damaged in fire, you will get another one. The safe is operated by electric energy and requires batteries.
[the_ad_placement id="in-text-2-type-a"]
There is a battery included in the package. In order to open the safe once it is locked, you will need to use a digital keypad on the gun safe and in case you forget your password there is a key included that will enable you to open it safely and gain the access to your gun. As there is a removable shelf included that can also be adjusted, you can store more than one gun at extremely affordable price and tested quality of this classic gun safe.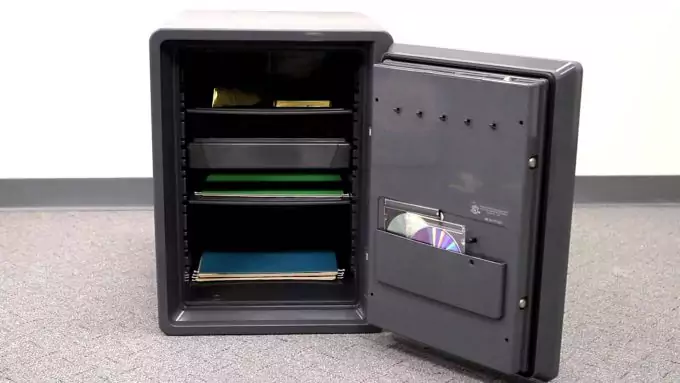 Pros: A classic reliable safe that is very easy to use and can store more than one gun thanks to the adjustable shelf that comes in the package.
Cons: There are some complains about the manual that comes with First Alert safe where there are many errors reported in the matter of changing your password and picking the new one. The manual doesn't stresses out that you first need to type in your password, before you press the reset button and then type your new password twice. All in all, for the money you are investing in it, this gun safe is a perfectly solid choice.
If you like this product you can find and buy it on Amazon.
Winchester Silverado Premier 49-7-E: massive capacity and maximum security
If you have more than 5 guns, including riffles then you probably won't find much use of the previous gun safes we have listed as you would in that case need to buy more than one safe which is not, either, practical or cost-effective.
That is exactly why Winchester Silverado Premier gun safe is on our list; with up to 54 guns capacity and 49 cubic feet of storage space, this gun safe also has additional brackets added to the inner side of the safe doors, so you could keep your ammo along with your guns. AS the capacity of this safe is huge, naturally, the safe is a lot heavier than previously listed alternatives.
Unlike majority of other safes, Winchester can withstand fire for 2 hours at the temperature of 1400 degrees Fahrenheit, which makes this safe more resistant. Increased durability in extreme cases is due to the presence of extended fireboard in the doors and within the body of Winchester gun safe.
The safe is protected by a vault handle with five spokes and eighteen bolts made of solid steel, which can really convince you that everything you lock in your Winchester safe will be safe and remain out of reach. The lock is, of course, electronic and operated by batteries. Although this safe is pretty much great, the chances that you will need to store 54 guns are extremely low, so you might as well want to go for another gun safe with smaller capacity.
Pros: Massive storage space, 2 hours of fire resistance and solid steel bolt lock system. Given that the safe is massive and extremely functional, if you decide to buy Winchester, you will be certainly buying the best gun safe for the money you are investing in it.
Cons: Con for this gun safe is at the same time one of its main advantages: massive storage space. In case you don't need to store 54 guns, there is practically no need for buying a gun safe this big.
If you like this product you can find and check its price on Amazon.
Sentry safe home defense center vol. 2.1: genuine home defense stash
At the price just a bit over 500$ and free shipping option for almost all parts of US, Sentry safe is the type of safe for which you can actually say it is affordable, yet designed to fit the top of the gun safes list. Sentry Safe is especially designed as a center for home defense and there is practically no need to say that this design could fit into any SHTF scenario. It has an electronic lock, enabled to be programmed for choosing and changing your password and in case the system fails you, an override key is available at your service.
This home defense gun safe is extremely sleek as it doesn't require much space to be placed and you can keep it in the hallway of your home or anywhere where you can easily reach it. Unlocking and locking is quiet, so you could operate it silently during the most extreme situations, i.e. if your home is invaded you certainly wouldn't want the intruders to hear the sound of your gun safe unlocking. It has enough storage space for one riffle and a handgun. Speaking of handguns, if you haven't yet decided on the type you want for your home defense tactics, we can give you a helping hand in this article with reviews and tips.
There is a nicely designed storage space especially intended for the riffle and a small shelf above it where you can store your gun and ammo. Batteries are not required and corner bolts and pry resistant doors are a part of Sentry Safe design for increased security.
https://youtu.be/ZB6GaGQ2cHw
Pros: Real example of a solid good home defense gun safe that will help you have your firearms readily available when you need them the most.
Cons: This gun safe is not resistant to fire unlike all the safes we have previously listed, so that might be a deal breaker for you if you are looking for a safe that will protect your firearms from fire. According to some users, if you put too much pressure on the lock, it will easily break.
If you like this product you can find and buy it here.
GunVault NV200 NanoVault: on the budget and reliable
We have decided to put the Gun Vault on our list for several reasons even this gun safe is a bit different from the gun safes we have previously listed. The first reason for letting this safe make it to our list is its simplicity. Why we thought this was so important?
Well, going through customer feedbacks for many different gun safes, we have noticed a little pattern regarding the electric system used for the safe guns: whenever there was something wrong with a safe, the malfunction would be testing the users' nerves with digital keyboard failure. The following solution for opening the safe would be by using an override key that usually comes with every gun safe. If this is the case with most gun safes, why not try a gun safe that can only be opened by a key?
GunVault has no batteries or the electric system as a part of its design, but it is extremely easy to be used and safe for keeping your gun. As a big plus, it is light-weighted so you can place it anywhere and carry it with you.
Of course, if you need a gun safe for your riffle, you have no use of it. In case you have a handgun that needs to be protected and kept safe and out of the reach of children, then GunVault might be the perfect solution. The interior and bottom of the gun safe is coated with memory foam and as the foam is thick, your gun is safe from potential causes of damage. The key lock is extremely easy to operate and will not fail you in a way that digital keyboard often can. It is made of steel so it is unbreakable and safe for your gun.
[the_ad_placement id="in-text-3-type-a"]
For extra safety, a security cable is included and what you might like the most if you are buying on the budget, this gun safe is available for under 100$, making it the safest cheap option on the market with thousands of satisfied users. GunVault might be the best gun safe for the money you have for investing in buying a gun safe.
Pros: Extremely easy to operate, portable and cost-effective.
Cons: It seems that the security cable included in the package is not as reliable as you would expect, unlike the GunVault gun safe itself.
If you like this product you can find and purchase it on Amazon.
There are number of reasons why you would want to keep your guns locked up in a gun safe and to really make sure that your gun will be out of the reach for anyone else except you, you need to buy a solid good gun safe.
Based on your preferences and the type of guns you have, you can go ahead and pick one from our list to fit your budget and your requirements as we have picked something for everyone. Some of the most important factors to help you decide which gun safe is the right for you, are: storage capacity, fire resistance, water resistance, reliable lock system and probably the price. After you find the best gun safe to fit your needs, you will certainly feel safer knowing that your firearms are also safe.
If, for any reason, you don't want a gun safe in your home, but still own a gun, here are several cleverly disguised hiding places you can employ around the house.
Some of the links in this post are affiliate links. This means that if you click on one of these links and make a purchase, I earn a small commission at no extra cost to you. Also, as an Amazon Affiliate, I earn from qualifying purchases. If the information in this post has been helpful, please consider purchasing through one of the links in this article. Thank you.