Every survivalist knows that besides form taking care of food and water supplies, one must have a bug out plan in case the potential SHTF scenario plan forces you into leaving your home or shelter, a solid bug in plan with energy supplies and everything else you need to survive and of course, any survivalist knows that if SHTF happens you need to find a way to protect your home, supplies and everything else you have.
[the_ad_placement id="in-text-1-type-r"]
There are several SHTF scenarios where you would definitely have a use of having a solid good defense gun around so you could use it in case the situation calls for it. In order to make your choice easier and narrow down all possibilities you might have in mind when it comes to picking the best gun for home defense, we have compiled a list of best handguns for home protection.
You know that you have to be ready for anything and our list is here to help you prepare as a true survivalist. Take a look at our list and decide which handgun for home defense suits you the best.
Also check out our article review of the top concealed carry holster for your safety.
Doublestar 1911 Combat 45 ACP
Almost every gun enthusiast appreciates the hard work and attention for details Doublestar manufacturers put into developing, designing and making their handguns. People who are not much of a gun fans but think that having a gun might just save their lives should know that there is a true star lying in this Doublestar handgun. 1911 Combat 45 ACP also looks great on the first sight and if it is to judge the book by its cover, this gun is super great and extremely sleek design.
We all like pretty things and aesthetics are usually what makes us buy something in the first place, but what about its functionality? – let's face it – great looks won't help much when SHTF if the gun is not working properly. That is not a problem with Doublestar 1911 as its makers practically thought of everything when it comes to functionality in handguns.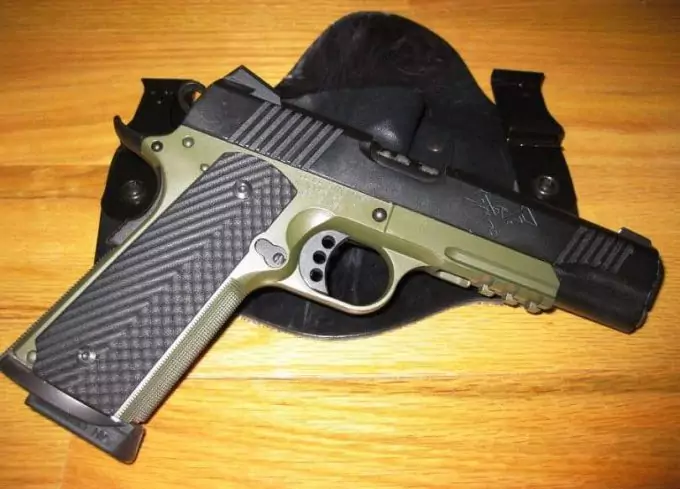 Even those who are not particularly, or not at all, familiar with the world of guns and the way guns work and are maintained, will find this gun very easy to use and clean. That means that Doublestar Combat is great for beginners and experienced shooters.  Even if you are one of the picky shooters' kind, you will surely love this handgun at least for its high quality design, top functionality and all the features this handgun has.
Even though its shooting performance is high-speed, you can rely on its functional safety as you can easily switch the safety mode on or off. You will be noted by a sleek sound of clicking that the safety on your gun is on our off. The gun is easy to be used and it is comfortable to be held due to its great design. Everything is in its place and it will surely make a great handgun for home defense as well as making a solid good gun for beginners to practice their shooting skills and learn how to handle a gun.
Pros: The gun is very well made with attention to details and it has only the best to offer both, for gun enthusiasts and beginners. The design is sleek and the handgun is extremely functional – high-speed shooting and reliable features with high functional safety control.
Cons: There are no known or reported cons for this Doublestar pride. Doublestar fans will surely like this treat.
Glock 17 Gen 4
Glock is on the market for over three decades now and there is a good reason why Glocks are still on the numerous must-have survivalist's lists and best handgun top picks – ever since the first Glock has been created, there were numerous improvements added so the shooters could get the best experience there is and take the best out of their gun choice. Glock 17 Gen 4 is basically a show off of all those changes and as such this gun makes a great addition to your home defense locker.
Starting with Glock's design, you have a sleek and elegant gun that is pretty light-weighted and easy to operate with and yet you can feel the sustainability while holding it – it really gives out a sense of safety when using it as it is made of durable and high quality materials. It is resistant to water and oils and as such it makes a good defense weapon even in the most stressful circumstances. The gun is really easy to maintain and it requires minimal maintenance.
Any Glock fan will love it and it will come as a great first gun for any beginner that has already to meet the world of home defense handguns. Firing is pretty simple as you have the target as soon as you press the trigger. The only thing you need to do is press the trigger and fire – you will need to release for the reset and you can then immediately fire again – extremely simple and easy to use.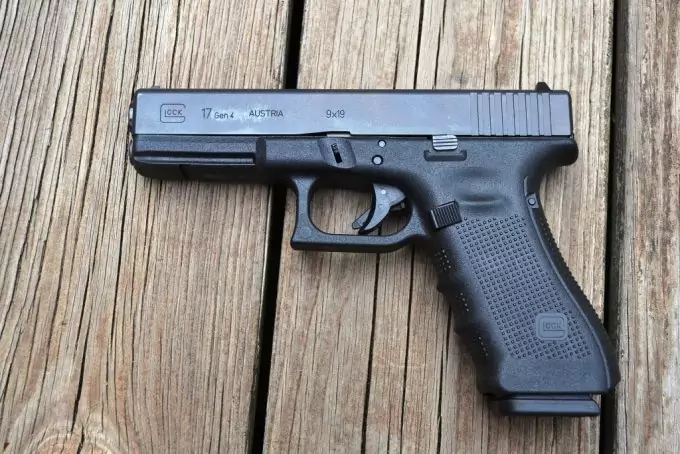 This is a semiautomatic handgun with 9mm caliber and one tap will give you 48 rounds. It sounds like a perfect home defense gun to have around. Although the frame of the gun is pretty light-weighted as we have already mentioned, the frame is really strong which makes Glock durable and extremely reliable – after all, it is one of the guns from the Glock family we are talking about.
You will most certainly like it and precisely for adding another great handgun on the list of great Glocks, we have decided to put Glock 17 Gen 4 on our list of best handguns for home defense.
Pros: Durable, high standard semiautomatic weapon that is pretty easy to use and even easier to maintain. We all know that Glock's are generally some of the best handguns there are on the market. You basically can't go wrong with picking this one.
Cons: Con in a Glock? Hardly. There are no reported malfunctions or bugs.
CZ 85 B
CZs are some of the oldest handguns still available on the market. Just like it is the case with our previous pick, there just has to be a good reason for that. This is also probably the most copied gun ever, which can tell you a lot about CZ. The locking system on CZ is Browning-type and with a double action mechanism that will surely make you grateful for having this gun in your home defense locker.
Besides form keeping their tradition of making high quality reliable guns that will not fail you and thus are used in sports, military and carried by armed police force officers, CZ 85 B is made to impress you as well. When we say "impress" we actually mean that this gun really looks great and you can even choose between several models where you can get a nickel finish, satin nickel, glossy blue and black polycoat. Most of the models available come in two finish tones – really sleek and modern look.
It looks awesome, yes, but modern shooters will also find CZ to be one of the best handguns for home defense they have ever used. Grip panels, steel slide and frame makes this gun pretty easy to use at it allows you the additional support you need so that holding the gun feels natural and comfortable.
[the_ad_placement id="in-text-2-type-r"]
The lever made for the gun is placed on both sides of the gun so you can be sure you are safe and protected, knowing that your gun won't fire when you don't need it to – after all, safety always comes first. The barrel and slide on CZ are made to be placed low so that you can be sure your gun will last long and be durable and reliable, which is another good thing in CZ design improvements.
You will also get a rear sight that is fully adjustable and ultimately functional. You also get 2 magazines of 16 rounds. This is a perfect combat gun which is pretty easy to use and indeed reliable. That is precisely why we would witness to see more improvements coming from CZ manufacturers.
Pros: Given by all the great features you are getting by having a CZ around, the starting retail price for it is really low and you are getting a fully operational, combat handgun will make a great addition to your home defense plan.
Cons: Experienced shooters imply that the gun would be better with a magazine bumper and melted sights, but the lack of the mentioned can be hardly considered as a major flaw.
Smith & Wesson M&P9
As soon as you hear the name Smith and Wesson, the first thing that comes in your mind as an association is a gun of course – that is because Smith & Wesson have never failed us by far. As it seems M&P9 is one of the guns they can be particularly proud of.
Starting off with some features, here is one that might come as particularly handy: the frame of the gun is made with three back straps so you are able to adjust it to fit your hand size, which is more than great as you can be sure that the gun will fit comfortably in your hand – that is very important for aiming.
Smith and Wesson thought of lefties as well, so the firing control is made for both, right-handed and left-handed users – not many gun manufacturers think of this problem when designing the guns, so we thought of giving a tribute to M&P9 designers. It is basically a 9mm caliber gun, but there are several more calibers that will fit perfectly. You are also getting 2 17 round magazines.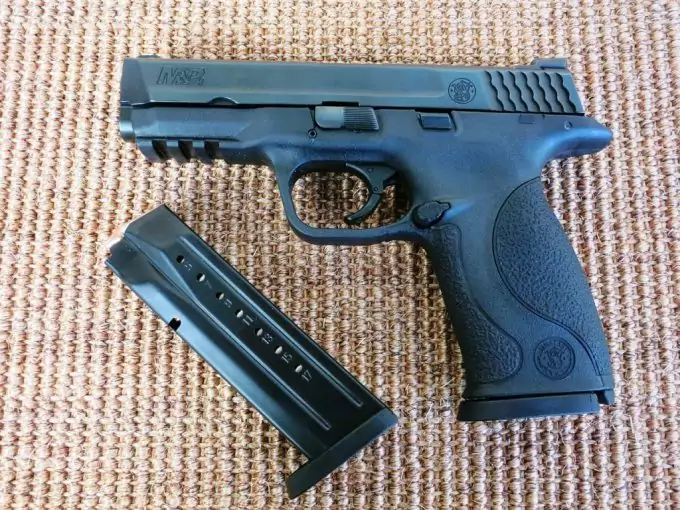 When it comes to appearance and aesthetics, the gun looks pretty ordinary, but still sleek. It is not too heavy so it fits in the hand perfectly, but you can still feel its coexistent mass, which gives a sense of security. The gun is made to enable installation of laser sights and flashlights, so you can add those too if you need them and the slide lock is easily accessible from both sides, which leads us back to mentioning that the gun is perfect for lefties as well.
To make this gun even more likeable and functional above all, there is a feature in a form of an indicator that allows you to see the loading chamber without actually having to move the slide bar. The indicator works great, so you are able to see the loading chamber even when there is not much light around. You also have a trigger safety which is pretty well designed and simple to switch on and off.
Pros: Lefties will not be disappointed with this gun as all controls and features are equally accessible to right-handed and left-handed users. The gun handle back straps can be adjusted to almost any size, so the gun easily fits any size of hand.
Cons: There are no reported malfunctions or flaws. The gun is almost perfect.
Springfield Armory XDM 4.5
This is one great looking tactical gun that can be used for home defense but could also find its purpose on the field as a part of your bug out plan. This gun has a sleek looking crisp design and it really does give out a sense of a fully operational tactical gun that you can use even in the harshest environments, which is completely true and accurate.
This gun is basically a part of the US history as this caliber has served the troops pretty well in a couple of wars, including WWII – if the army used it and still uses it, that can only testify in favor of its functionality, capacity and reliability.
This gun practically offers everything you need, where you are also getting a sleek ergonomically made weapon. When you are holding this gun you can feel that it fits the hand perfectly and given that its construction is made of light-weight but strong materials, you are getting a handgun for home defense that is light-weighted and easy to hold but still reliable and durable.
Even older SA XDM series have large capacity magazines just as the gun we are talking about, which is great because the gun doesn't gain on its weight but it gains more capacity. As far as the functionality concerned, we have a real combat gun here that is made for home defense and is extremely operational even in competitive sports.
The trigger reset is not per say perfect but it is fairly well made while the stroke is long and predictable. This is a single action handgun that has a safety lock that is pretty easy to switch on and off.  SA XDM will shoot at the point of aiming when you pull the trigger and it is extremely reliable and easy to use and operate with. You will also come to realize that maintain this gun is as easy as using it. You will certainly fall in love with Springfield Armory after trying this gun out.
Pros: This is one great looking and functional combat gun that makes a perfect home defense weapon. It is functional, durable, has great capacity and clear sights for clear aiming and accurate shooting.
Cons: If you are a Glock fan and faithful user wanting to try something new, you might have to get used to differently designed safety lock, although Springfield Armory XDM 45 has one truly functional and elegant safety lock with a metal pin to indicate when the safety is on and when it is switched off. The sights are not that usable with less light around – that can be considered a flaw.
Taurus Slim 740
As the name suggests this is one small handgun, but what you couldn't have concluded from the name if you are not familiar with Taurus guns is that this gun is a full power small gun – Taurus Slim 740. It is smaller than standard handguns, but that only makes it easier to be held and the case where the gun is too small even for bigger hands is not an actual issue.
As this handgun is smaller, the rounds are smaller as well, so instead of 17 and 16-rounds magazines as with the previous guns on our list, you will get 7 rounds. The slide on this gun is made of steel while the frame is polymer made. The gun feels good in the hand and it is light-weighted but solid as expected. The sights on the Taurus are pretty well made as well, and although the sights are low profile manufactures, you can still get a good use from them, although not exactly in the darkness with low lights.
The safety lever is really easy to operate with and manage, and it is not likely that you will get it accidentally switched off or on – that is great as you have your safety in your own hands.
https://youtu.be/niFZMzUMgV0
What it's pretty interesting at this gun is that Taurus is actually a single action and double action, both. That means that this handgun will be firing single action shots subsequently, but if the case is that the gun fails in firing, you will get to see a double action working – the trigger action pull becomes active and you will be able to fire your second shot.
When using the gun as single action, you will be using this gun as strike fire handgun.  Even though Taurus Slim is kind of great because of its light-weighted construction and ergonomic design, this gun has a couple of flaws that might get in the way of considering it as a perfect gun to have around. One of those flaws is that the recoil is a bit too harsh and there are some actions performed with Taurus that will make you feel like this handgun is not as reliable in not-so-perfect conditions, and SHTF is everything but perfect, right?
However, we still believe that Taurus deserves a chance to be tried out – there are many satisfied shooters that wouldn't trade this gun for a different one.
Pros: The gun is smaller than regular handguns for home defense, which makes it a great carry gun for bug out plan and home defense. The gun is well made, nice looking and made of solid strong materials. The price you can find it at is affordable. Even though the gun is small, it is not too small and fits well.
Cons: Sights are not as perfect as you would probably like them to be, so you won't have much use of them when there are no high lights around – in the darkness, those are practically useless. The recoil also seems to be a bit harsh, but only when compared to other guns listed among our best handgun top picks.
[the_ad_placement id="in-text-3-type-r"]
When choosing the best handgun for home defense, you need to make sure that the gun you are purchasing is the gun that will fulfill its own purpose – to protect your home and what you have stashed for a possible SHTF scenario.
Whatever the SHTF case might be, you need to be ready and to make sure you are in fact ready – you need to pick a handgun that is reliable, durable, has a solid good capacity and great features that will grant you a proper shooting experience – there might be a situation calling for you to use the gun you choose, so think about purchasing the perfect one.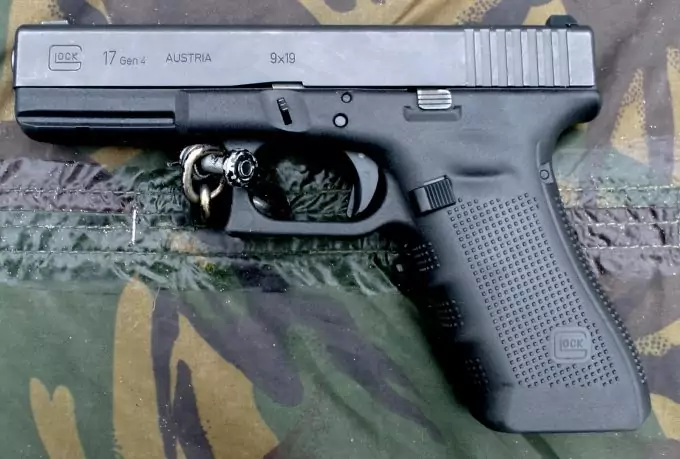 Consider our suggestions and have in mind that all shooters have different preferences when it comes to guns, but what is worth in general will suit everyone's needs. Don't forget to check out our must-read article on how to choose the best gun safes for protection and safety.
It is smart to first consider the features and performance you are getting in a gun and then compare its price with your budget – remember at all times that you are investing in your safety and safety doesn't come with a price tag, unless of course we identify safety with the best handgun for home defense.
See our list of the top shotguns for home defense to protect your home and family.
Some of the links in this post are affiliate links. This means that if you click on one of these links and make a purchase, I earn a small commission at no extra cost to you. Also, as an Amazon Affiliate, I earn from qualifying purchases. If the information in this post has been helpful, please consider purchasing through one of the links in this article. Thank you.