Since the atomic bomb was dropped so many years ago to end World War II, there has been constant debate on the use of atomic weapons. While no country has brought the pure power of this bomb to another country's doorstep, recently, certain consequences of launching the first atomic weapon have crept up in recent years.
[the_ad_placement id="in-text-1-type-r"]
For the last decade or so, more people than ever are talking about the end of days, or the apocalypse. From guns to shelter to food, survivalists are stocking up so that they will be ready when the end comes. But where do we get this notion of the end of the world anyway? For starters, religion, rumors, weapons, and hearsay.
I'm not trying to say that any of these sources are wrong, just demonstrating how the apocalypse has become part of our every day lives. With the end of the world on the majority of minds, it can be difficult to just sit around and do nothing. Most people feel as if prepping is the only way to combat the end of the world.
Even though we don't know when or if the world is going to end, in some situation, it is better to be prepared, and I would think the apocalypse is one of those situations. Of course, doomsday preppers tend to go the whole nine yards and build a shelter, stock food, and prepare an arsenal of weapons. For our purposes, we want to look at the best bug out weapons on the market. Here's an important article featuring survival weapons for self-defense, do check it out.
Bug out background
After hearing the phrase bug out for the first time, you might feel slightly confused. The word bag usually follows this term. A bug out bag, for those of you who do not know, is essentially a survival bag that will allow you to stay alive for up to seventy two hours until you need to resupply.

This bag includes copious different helpful items such as food, weapons, medicine, bandages, and anything else that could make the end of the world a little more sufferable. All these items are well and good, but they are missing a very important part to the bug out bag. The one thing they need to make the bag complete is the best bug out gun.
With a perfect bug out gun for you to take along with your bug out bag, you shouldn't have any trouble putting down even the toughest enemy, assuming they don't have a massive weapon that is.
Types of bug out guns
As you just read about what it takes to make a complete bug out bag, think about what type of firearm you want to join your doomsday team. Because you will only be using this gun and bag when you have to make a quick, less than three-day trip, you will want to have a gun that won't hinder you or your movement in any way.
With that being said, rifles are not completely out of the question, because if you find the right rifle with the right combination of deadliness and carry ability, then you have the problem solved. However, buying a bug out weapon that is an average gun and is heavy, then you probably won't have as much luck out in the apocalypse than if you had an easier gun to carry.
When looking for the best bug out guns, you want to look for shotguns, pistols, and some rifles. Pistols, because they are lightweight, easy to reload, and can deal a ton of damage given the right gun.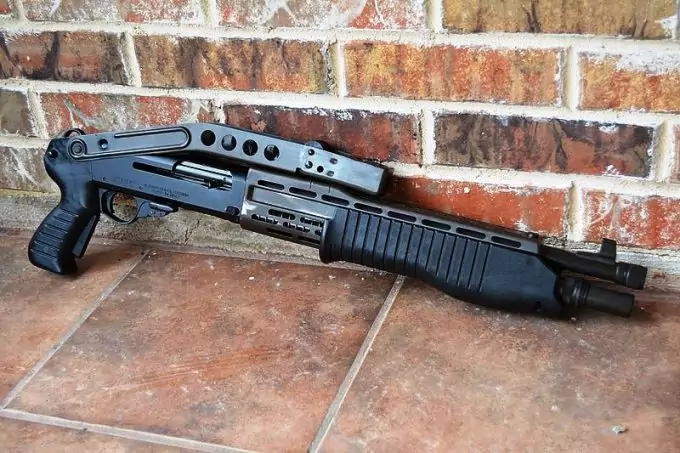 Shotguns are also a good choice, although you want to keep the weight and length to a minimum so that you can carry it around with losing a step. Finally, as for the rifle, pick what you want, just be sure to know how much harder you will have to work to keep on the same time schedule. Even though this seems like a tough life and death decision, if you do your research, then you will come out with a proper gun for your doomsday bug out bag. Have you heard of SHTF weapons? See our article on the best SHTF weapons to protect you and your family from any harm.
[the_ad_placement id="in-text-2-type-r"]
So, without further adieu, we have picked multiple guns that are deemed worthy to take on a quick bug out trip, until you can get more supplies.
Taurus Judge 4510PLYS
For our first great doomsday weapon, we have the Taurus Judge. This firearm is a black matte revolver that delivers a surprisingly amount of power. There could not be a more perfect gun for a bug out bag. It is extremely lightweight, at 23 ounces, and it is easy to carry around and handle. With 5 shots to hit your target, this weapon makes a great purchase. The gun is only a couple inches thick and the barrel is a few inches long, so you know that you can hide it when needed.
If you need to make a quick decision, then you can just point and shoot and the Judge will have made a most devastating kill shot. This weapon is so cool that even the sights themselves help out immensely.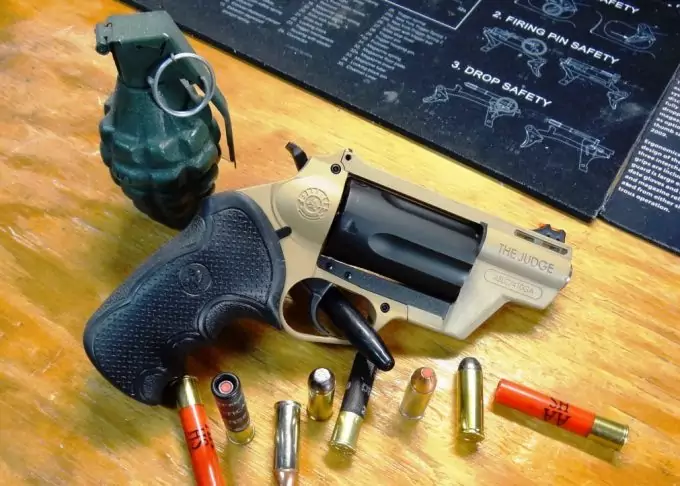 Because they are made with fiber optics, target acquisition is at an extremely high rate. Not only do you get a powerful, deadly shot the first time, you get a hardy gun, made from stainless steel that can take even the most brutal weather beatings. Revolvers are made for gritty survival situations, try not to miss out on this one. Don't let yourself pass up this beauty any longer; it is one of the best bug out guns on the market right now. If you find yourself in a bind, then the Taurus Judge won't be very far behind.
T/C Encore Pro Hunter
The next vital weapon to anyone's bug out bag is the T/C Encore Hunter. It is a pistol that has the body of a rifle. In truth, the pistol could be reassembled to make an actual rifle, but that really isn't convenient in a dangerous situation. Made by Thompson/Center, the Pro Hunter is built for hunting. While most longer pistols can feel uncomfortable on the grip, this pistol has one of the best feels in the business, and it feels like a protector of the realm.
You won't be lacking nay sort of confidence when you have this pistol holstered to your hip. Since this weapon is made specifically for hunting living things, it sports a beautiful stainless steel look and artificial pistol grip that won't slip when you need grip. Whether you want to hunt game or fowl, this pistol can take care of it all in a heartbeat. The true test of a doomsday bug out weapon is how it does when you need to defend yourself.
The short answer is flawlessly. With such a massive round in the pistol, you won't have trouble stopping or at least slowing down anything that is in your path. Although reloading is extremely slow in a situation like this, one shot is usually all you will need with the Pro Hunter. When it comes to the best bug out gun, you can't ask for much more than the T/C Pro Hunter pistol. It is accurate, deadly, and performs fairly well at defense.
All these attributes you will need if things get a little hairy with your bug out bag. With the right vision, you could be sitting on top of one of the best apocalyptic arsenals out there. Just make sure you obtain reliable, deadly guns, not something that is prone to jam.
Springfield Armory EMP
Now that you have been able to see two great bug out guns available for purchase, it is time you look at an older, classic pistol, the Springfield Armory EMP. For those who do not know, the EMP stands for Enhanced Micro Pistol. Although it is pretty self-explanatory, it makes a huge difference when you have to travel light in a dangerous situation. Based on its' 1911 version, the Springfield Armory has a lot to offer.
With almost no recoil, you won't have even the slightest amount of trouble when you try to reacquire your target. Instead, you will easily have your sights set to kill.  Probably the best aspect of the Springfield Armory is that it comes in a compact size.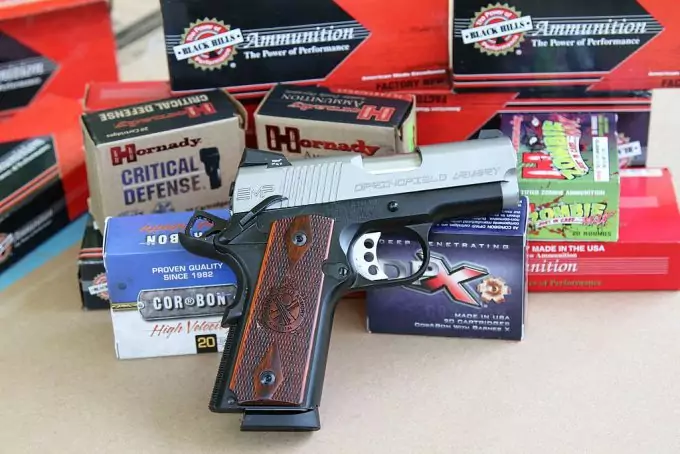 This allows for even more concealment than any other weapon that has been previously listed. The overall length is a mere 6.6 inches, which is remarkable and will help out drastically in close quarters combat. Because the pistol is made from an aluminum frame, the pistol ways next to nothing, which means it will be extremely easy to handle when also trying to maneuver around the terrain.
This pistol was directed towards survivalists so much so that the trigger is even specially made. Springfield has made a bug out trigger for all those people out there that want to put an undersized valuable pistol in their doomsday bug out bag. In summary, the Springfield Armory EMP is one of the best bug out weapons to buy because it is light, small, a good defensive weapon, but it can still kill just about anything.
Smith & Wesson Model S&W500
Because you have seen smaller and larger weapons, it is time to introduce you to one of the most damaging guns money can buy. The Smith & Wesson Model S&W500 does not have a traditionally common caliber in it, which means that some of the more untrained shooters could have a problem with the gun.
Don't let that discourage you from adding it to your arsenal however, because when the apocalypse comes, there will be time to learn how to properly shoot the Smith & Wesson.  This Smith & Wesson Magnum will literally destroy anything it goes up against. From bears, to mountain lions, to grizzlies, to cars, this devastating gun will make sure it doesn't work any longer.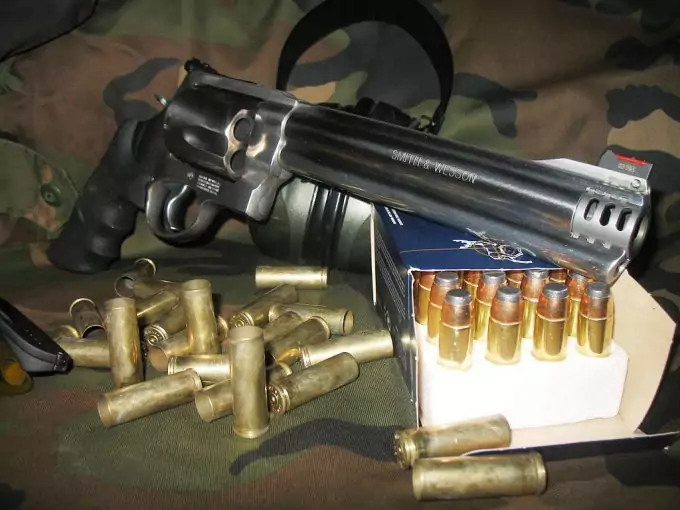 With five shots waiting to make a move, you won't have to be even the slightest bit of nervous when trouble comes knocking. This gun is the most powerful production revolver made. That's a high bar to live up to, but once you shoot this beauty, you will agree. If for some reason, you are hanging out near some bears, or even some smaller game, you will have a defense mechanisms that nearly every other living thing cannot come close to equaling its power.
While you can attach varying sizes of barrels to this gun, it is recommended that you stick with the short four inch barrel, it will get the job done. So, if you are ready to make the next best bug out gun purchase, then you need the Smith & Wesson Model S&W500.
Bushmaster Enhanced Patrolman
Since there have really been only pistols and revolvers in the list so for, a rifle is the only appropriate end to a survival list, or at least a gun that shoots like a rifle. The Bushmaster AR Pistol is one of the greats. The barrel is a little over ten inches, but it is stainless steel, so you know it can take any beating it is given. Some people call the Bushmaster a mega pistol, and that's exactly what it looks like. The mega pistol even comes with a red-dot scope or reflex sight standard.
You can't ask for more when it comes to precision firearms than a stock enhanced sight. It also comes with a Barnes Precision quad rail, which lets other attachments like a vertical grip or laser sight as viable options. If there is a downside to this weapon, it hasn't been found yet. When it comes to an apocalypse, most of the situation you will find yourself in will most likely be close quarters or medium length combat.
Now, there is a reason no rifles make the list for your bug out bag. First, they are just too difficult to carry without makes sacrifices like slowing down or losing defense capabilities. This Enhanced mega pistol is a magnificent weapon because it takes the best parts about a revolver and a pistol and combines them with attributes a rifle would posses.
Even though this mega pistol can seem a little overwhelming, once you get the feel of it in your hands, it will become one of the most natural firearms you own. Not to mention a reliable one that won't weather very easily. This Bushmaster Enhanced Patrolman will not let you down, and that is why it is one of the best bug out guns to put in your bag when it comes to doomsday.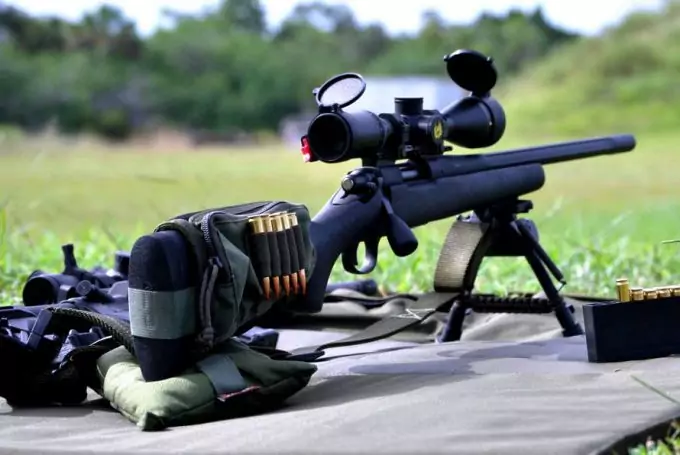 So, you want to prepare a bug out bag for all your survival needs? Well, you have seen what the best of the best has to offer, and now it is time to make a decision. There are too many good guns to choose from, because they will all protect you in a life or death situation.
[the_ad_placement id="in-text-3-type-r"]
The key to surviving for a few days out in the apocalypse is to have a weapon that is primarily used for defense, but can put down any animal or living thing that tries to hurt you. With those qualifications in mind, the Smith & Wesson Model S&W500 takes the cake.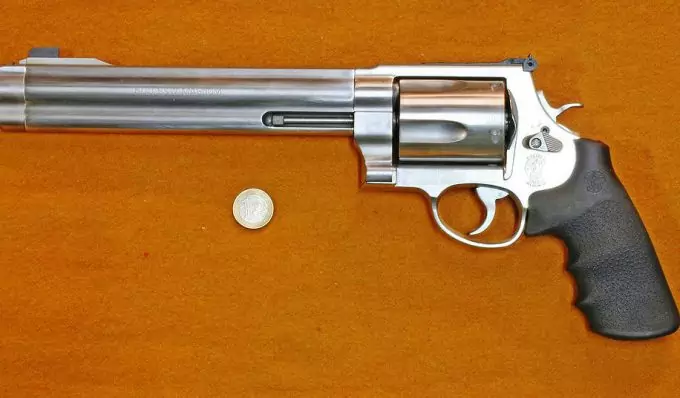 For starters, you are getting a defensive weapon at its foundation, but you know that the Smith & Wesson can also be moved easily. Possible the most favorable attribute this gun has available to it is the pure power it unleashes when fired.
Nothing, and I mean nothing, would stand in your way when you are holding this gun. With the unrivaled power, ease of carry, hardiness, and overall awesomeness, this gun is the perfect gun for any bug out bag, especially if you need to stand your ground.
When you are in a survival situation, if you aren't prepared, then you most likely won't make it through. However, if you plan ahead, and make the right firearm and supply choices, you shouldn't have a problem keeping yourself alive long enough to reach your destination. Because that's what this is all about: survival.
And if you can't survive, then all of this research will be put to waste when it comes time to shine. Don't let yourself underestimate the necessity of being ready to combat doomsday; it might come quicker than you think.
Do you know that you can make your own weapons yourselves? See our article on DIY homemade weapons for survival and defense.
Some of the links in this post are affiliate links. This means that if you click on one of these links and make a purchase, I earn a small commission at no extra cost to you. Also, as an Amazon Affiliate, I earn from qualifying purchases. If the information in this post has been helpful, please consider purchasing through one of the links in this article. Thank you.