Ultralight sleeping bags are lightweight, warm and padded to insulate and protect you whilst camping, trekking or for many other reasons you may sleep outdoors. There is a range of sleeping bags available on the market today, each with their own particular pros and cons. Finding the perfect one for you depends on a variety of factors, which will be discussed in this article.
[the_ad_placement id="in-text-1-type-a"]
When back packing or camping, you need to ensure you have a decent night's sleep so that you can feel refreshed to enjoy, and perform better, throughout your long and demanding trekking day ahead.  The worst thing at the end of a long hike is spending the night being too hot or cold or feeling uncomfortable, so it's vital that your sleeping system meets your needs.
You also want to reduce the amount of weight you are carrying around with you during the day so keeping your pack as light as possible and choosing the best lightweight sleeping bag for your needs is crucial.
See also: Best Sleeping Bag Liner: Stay Clean and Cozy
You need to make sure that the sleeping bag you choose will be suitable for the possible temperatures you may encounter.   Each bag has a temperature rating which will tell you the potential temperatures at which that the bag will keep you cosy. The sleeping bag works by creating a space where the flow of air is restricted which results in your own body heat warming the air in that space to keep you feeling toasty.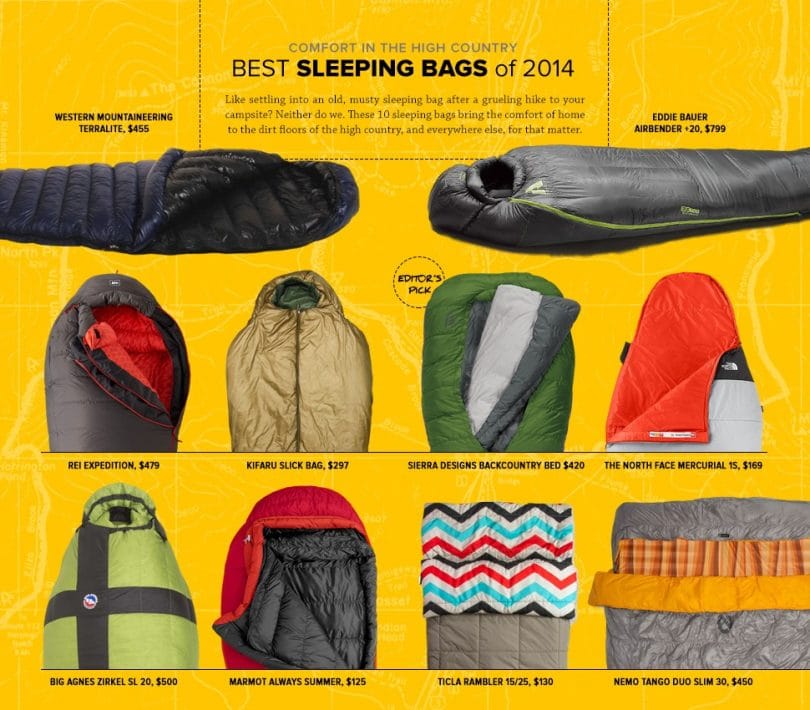 Another thing to consider when choosing a sleeping bag is the clothing you will wear too. You can always add layers such as a jacket, long underwear and a hat to keep you warm if you feel chilly or use a sleeping bag liner which is the most underestimated piece of kit but which could actually add an additional 10 degrees of warmth.
Lightweight sleeping bags are designed to keep you warm and comfortable without taking up the space you may need for other equipment in your backpack.  Along with your sleeping bag you will need a sleeping mat and pillow, which could potentially add more weight, so finding a whole sleep system for less than three pounds in weight, should be your goal if you want to keep the weight of your pack as low as possible.
There are different types of insulation that you can choose to help keep you warm:
Feather down – this is definitely warmer and easier to compress than synthetic insulation.  It provides comfort and is highly durable, however it doesn't perform well in wet conditions although some companies are making their down more resistant to moisture and help it to dry out more quickly.
Down comes from birds which may be killed or plucked of their down feathers whilst still alive but some sleeping bag manufacturers use down that is not harvested from live birds or that comes from eider ducks who use down to line their nests and don't go through the painful live harvesting process.
Synthetic – These types of insulation works in a similar way to down fibre and are spun into a lofty material to provide padding and insulation.  They are good for extended trips or conditions where you expect your bag to get wet. Synthetic materials tend to be heavier and harder to compress.  For those of you concerned with using down for warmth due to ethical reason, this type of sleeping bag would be a suitable choice.
Even with a lightweight sleeping bag there are ways to reduce the overall weight further to make it ultra light.  Some suggestions are:
Find a bag without a hood as they are usually uncomfortable, hard to use and are not really necessary for summer or mild weather conditions.
Look for a half zipper that will save on weight but still provide easy access to the bag itself.
Be smart about what other layers you take with you that you can wear while you sleep so that some of the warmth will come from this and allow you to choose a lighter bag for added insulation.
Look for bags that come with less insulation in the foot area and instead have a single layer of fabric.
Advancements have been made in sleeping bag technology from the fabric used to make them to the fibres used to fill them, coatings used to make them waterproof and breathable and linings to keep you snug and warm.
The temperature ratings are a great indicator for what will keep you at a comfortable temperature but remember that what is comfortable for you may not be for someone else and your own personal core temperature, metabolism, gender, circulation and whether you're a cold or hot person when you sleep at night will have a bearing on this too so treat these ratings as a guideline and not as an absolute. See our tips on how to choose the right backpacking sleeping bag to help you with options.
This article is a compilation of the best ultralight and lightweight sleeping bags on the market at the moment and will outline the features, benefits and things you need to take into consideration of each to help you make an informed choice about which would be best for your needs.
Airbender 20
This sleeping bag is ultralight and is made of the best materials.  It is filled with goose down that is treated to keep it's loft and insulation even when wet due to DownTek technology and is suitable for temperatures as low as twenty degrees Fahrenheit.  The shell and lining are made from Nylon and it weighs around three pounds.
It is the only sleeping bag in this article to come with an integrated inflatable sleep pad, which is fully insulated and means you don't need to worry about having a separate one, which will take, up extra space.  The stuff sack even comes with an inflating pump for the sleep mat.  The baffles are situated across the chest area and around the legs to evenly disperse and trap the heat.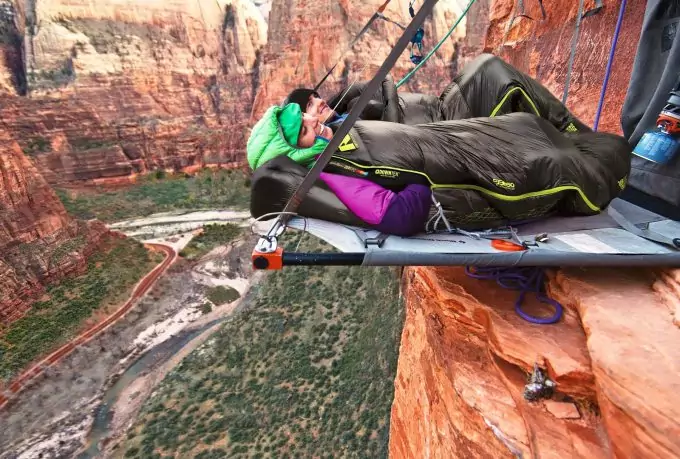 The bag also wraps around the shoulders and has an internal pocket to keep your personal items safe.  For cutting edge technology and incredible performance in all weather and conditions, this bag will cost you around $800.
If you like this product you can find and check its price here.
Marmot Lithium 0
This sleeping bag is ideal for tackling colder temperatures as low as six degrees Fahrenheit.  It is filled with goose down and is incredibly warm for its weight.  The down is treated to resist moisture and retain warmth. The hood has six down filled baffles, a neck collar, a draft tube the fill length of the zipper and a face muff to surround your head and keep you nice and warm.
The foot box is shaped like your feet to give more comfort and it has special zipper guards to prevent them from opening if you move around a lot in your sleep.
This bag is ideal for cold sleepers, packs down very small and is strong and sturdy but also very lightweight and soft to the touch.  This sleeping bag is quite pricey at around $650 but if cost isn't an issue this bag comes highly recommended with features that other bags just can't match.
Western Mountaineering Versatile 10
If money is no object you can't get any better than this sleeping bag as it offers the best warmth to weight ration on the market at the moment. It weighs just two pounds and is insulated with goose down, which provides a ten-inch loft. It is exceptional in temperatures as low as ten degrees Fahrenheit and so can be used across all seasons although may be a little too warm for summer, the neck baffle loosens easily and the hood can be a little uncomfortable.
It retails at around $500 but uses high quality materials and the best down available.  It is ideal for people who are cold sleepers and for those who want one bag instead of separate ones for the colder and warmer seasons.
It has horizontal baffles, which allow you to move the insulation around to adjust where the most insulation is placed which is great if you need extra warmth at your core during chilly nights or it can be spaced more evenly when the temperature is warmer.
If you think that this product could be useful for you, then you can buy it here.
Sierra Designs Backcountry bed
This sleeping bag is different to most in this article. It has an inbuilt comforter which can be removed and has no zippers so you climb into the bag through a large oval opening making it easy to get into and the bag can be sealed by the comforter to keep you nice and warm no mater how much you move around or how you sleep.
It has a temperature rating of twenty degrees Fahrenheit and is suitable for use from spring through to fall. When it's warm, the comforter can be removed or used as an over blanket.
The duck down has been treated to resist moisture in colder conditions and it stays dry ten times longer than untreated down and is lined with soft taffeta so is extremely comfortable.  It is a highly compressible bag and weighs only two pounds. This bag will cost you around $500.
If you like this product you can find and purchase it on Amazon.
Feathered Friends Penguin Nano 20
This sleeping bag is designed to be part of a two person sleep system, light enough to be compact enough to be easily carried but warm and with enough room for both partners to be comfortable during the night.  On its own it is semi-rectangular in shape, which gives you enough wriggle room and is filled with down and lined with soft fabric.
[the_ad_placement id="in-text-2-type-a"]
It has a full neck baffle to cinch around your neck to keep out the cold air unlike other bags, which don't always provide enough padding in this area.  It is suitable for all kinds of pursuits but is slightly heavier than other bags made for the same conditions but is of exceptional quality and some may prefer slightly more weight for the luxury this bag has to offer.
The craftsmanship is exceptional and at around $450 this is not one of the cheapest bags on the market but for a good night's sleep that feels like you're at home in bed, this one comes highly recommended.
Sea To Summit Trek TKII
This is a semi-rectangular shaped bag designed for comfort and to give a little extra room for those who like to move around while asleep.  It is made from a high-density weave shell fabric which is treated with a water repellent finish to protect the insulating duck down which has also been treated to ensure less moisture can be absorbed and so that it can retain 60% more loft than untreated down if it gets damp.
It is suitable for temperatures to eighteen degrees Fahrenheit and has a specially cut inner layer made from soft breathable nylon, which ensures a consistent thickness of insulation to prevent cold spots and a full length zipper which wraps around the foot box to enable the sleeping bag to be opened into a comforter.
The sleeping bag also features an internal security pocket to keep your personal items close to you while you sleep and will cost you around $285.
If you like this product you can find and buy it on Amazon.
Mountain Hardwear UltraLamina 15
This sleeping bag is ideal for use in wet climates and due to its synthetic Thermal Q fibre it keeps its loft and insulation qualities even when you're wet.  It has a hood with a small opening and a full neck baffle, which helps to keep the warm air inside.
It is surprisingly light and exceptionally warm and comfortable compared to other synthetic filled sleeping bags and has the added bonus of being weather resistance due to the quality of the materials and its construction that uses a laminated method which results in a hole-free seam to stop the water getting in.  Although this bag doesn't compress as well as down bags it is a must-have if you're going to be facing wet conditions especially on extended trips.
The hood has a draft collar and pulls cords and only needs to be used when the temperatures are at the bag's lower temperatures.  If you are a cold sleeper, this bag offers a little extra room so that you can wear extra layers if you need to and it comes with a ¾ length zipper to save weight and a comfortable foot box. It retails at around $260.
If you like this product you can find and buy it here.
Rei Igneo
This is a mummy style sleeping bag features waterproof and breathable fabric at the hood, sides and foot box.  The nylon cover also has a water repelling finish to protect the polymer-coated duck down insulation.  It is lightweight, weighing less than two pounds and is suitable for temperatures around nineteen degrees Fahrenheit.  It has an outstanding weight to warmth efficiency and features vertical baffles in the sidewalls for extra warmth and for a better fit.
The hood features a face muffler and separate draw cords for the hood and neck so it is easy to adjust and along with the full-length draft tube, this sleeping bag ensure the warmth cannot escape.  It is well constructed, easy to compress and the zipper is smooth to operate.  This sleeping bag will cost you around $260.
Slumberjack Latitude 20 Degree
Another mummy style bag designed for comfort and warmth. It contains synthetic "Slumbersoft" insulation and a draft tube along the full length of the zipper to keep the cold out and the warm air in.  Inside the soft polyester taffeta ensures comfort and a feeling of luxury.  This bag features a flip-over hard that you can either draw in around your head or leave flat.  It also has a draft collar to prevent losing heat from around the neck and shoulders.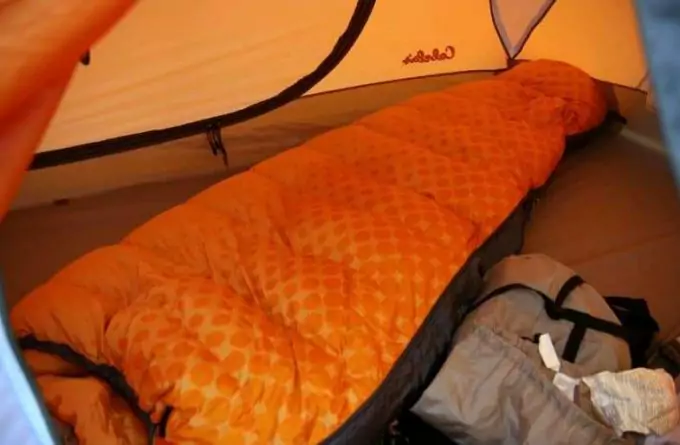 The foot box is roomy for the feet and allows them to lie in a natural position for added comfort.  This bag weighs around 4 pounds so is lightweight and easy to compress too so easy to pack and will cost you around $120.
If you like this product you can find and check its price on Amazon.
Teton Sports Trail Head
This sleeping bag is larger and wider than most and is designed for people who may have larger frames or who like to wear extra layers on cold chilly nights.  It has a built in foot box and ensure comfort your feet.  It also has an interior pocket for valuables and a full-length baffle behind the zipper to stop the cold air getting into the bag.  It has a mummy style drawstring hood with a shoulder baffle and the fabric on the outer shell is water resistant.
It is filled with synthetic fibre but it's still fairly light and will provide warmth even in damp conditions. The inner lining is made from a soft breathable double-brushed fabric making it lovely and cosy. It is a space saving bag and packs down to a nice small size with the help of the stuff sack and for the price it offers exceptional quality and comfort.  It will cost around $60.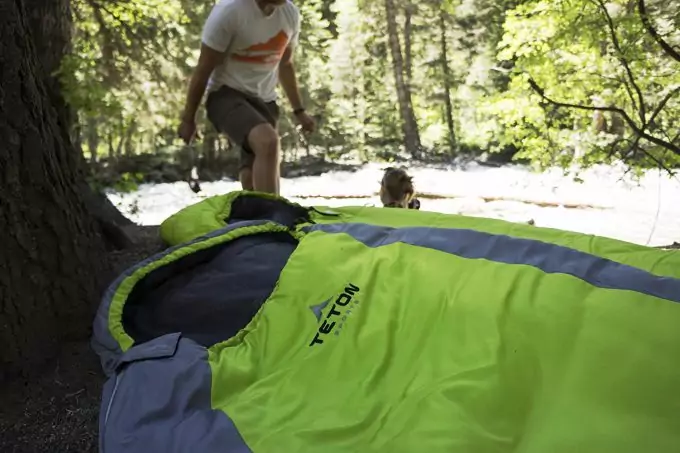 As you can see from this article, sleeping bags differ in shape, size and the amount of room you have to move around. If you sleep on your back, your front, and your side or in a variety of positions, there is a sleeping bag for you. You may be a cold or hot sleeper depending on your own individual makeup and body type.
The bags come with different types of filling, synthetic or natural down fibres and come with a variety of horizontal or vertical baffles, hoods, zips and seams, some are weather proof, some have been treated to resist moisture and some have been specially designed for one season and others are suitable for more.
When your out on the trail after a long hard day, you're aching and tired and you need a good night's sleep, what better way to bring a sense of comfort, a part of home to your camp in the middle of nowhere, than to have somewhere warm and cosy to rest and recuperate with a sleeping bag that will wrap you up and keep you safe all night long.
[the_ad_placement id="in-text-3-type-a"]
Remember to find a sleeping bag that will suit your needs, the conditions you will be camping in, the layers of clothes you may be wearing as well as the weight of your overall pack.  It's best to do some research and this article is the first step with many suggestions suitable for all kinds of budgets and to cater for your other needs too.
Don't forget to find a good stuff sack, many sleeping bags already come with their own, but you can buy separate ones that will help you to compress your sleeping bag down even more.  This makes it much easier to carry and much less bulky so you can pack other essentials that you may need for your trip. A great sleeping bag will be one of the best pieces of kit you can possibly choose to ensure you not only get good sleep but so that you keep yourself safe and, in many cases alive, during cold climates where temperatures can plummet and you need something to help keep you warm.
With this in mind, you need to be prepared to pay for quality, but you can be assured that if you find a piece of kit that may cost a little more than the dusty, old, thin sleeping bag you've had in the cupboard for the last twenty years, you'll be making a wise investment to see you through the next ten to fifteen years of adventures and exploration as you enjoy your travels.
Before your next adventure, check out our article on how to choose the best weather sleeping bag for more choices.
Some of the links in this post are affiliate links. This means that if you click on one of these links and make a purchase, I earn a small commission at no extra cost to you. Also, as an Amazon Affiliate, I earn from qualifying purchases. If the information in this post has been helpful, please consider purchasing through one of the links in this article. Thank you.