There are high generation scopes, but everybody knows they are costly, aren't they? Their performance may be good, but the price differentials they portray are in some instances exaggerated. For those who are not on a tight budget, there is no limiting factor from trying them.
However, if you are a person who is always trying to maximize utility, then there are best gen 2 night vision scopes in the market which will offer you the excellent qualifying features of a real view enhancement device. There are some ergonomic features added on scopes just to make them expensive without value addition, and these are not the kind of options you will get.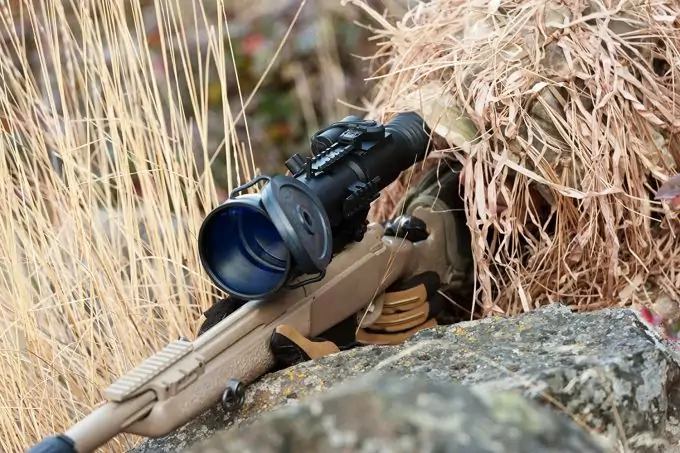 The review below will help you make a concrete decision while on your way to spending your hard earned money. It will make you get the value of every coin you devote to the purchase of the night vision device. Furthermore, the majority of the selections covered have at least two-year warranty, and thus there is no fear in trying out the devices.
To get an overview of what is in the content; take a look at the table below to see which Gen 2 night vision scope is likely to meet your needs.
Our Top Picks
Things to Consider Before Buying
Since this is a long term decision, you need to consider some factors in deciding whether you will purchase a scope, monocular, or goggles. Each device has its own set of drawbacks, but after a thorough analysis, you will realize that each is suited for specific conditions and tasks.
For example, goggles might blur your eyes up to one hour after removing them since it covers both eyes but a monocular on the other hand does not keep your hands free to perform other tasks. Other factors like from whom to buy the device depend on many factors.
Magnification
A night vision device capability to offer the best focus at both short and long range is a factor you cannot assume while in a mission to buy a scope. For example, a scope with a magnification of 1X means that you can almost read using it at night and one with a magnification of 15X means that you can see long distance with the scope but a narrower field of view.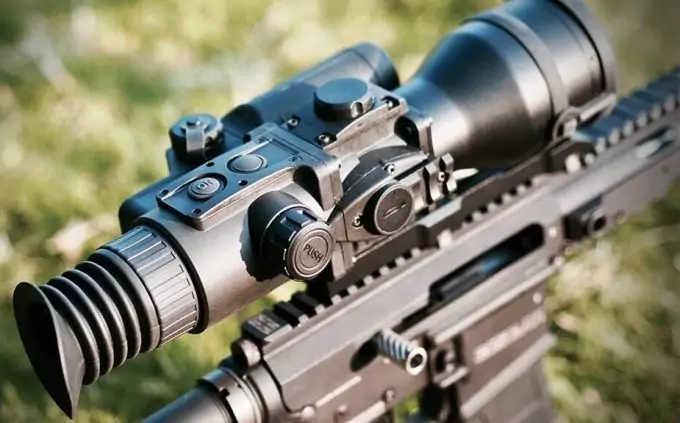 In most of the cases the higher the magnification, the wider the diameter of the objective lens; this is to allow enough light to pass through.
Coating
It is one of the elements which determine how bright an image will be while sighting or focusing on a target. The more the layers there are in a scope, the better the image, and this capability to increase the coats is limited by the weight they add to the device.
Thus an optimum level should be maintained to avoid unnecessary weight on the night vision device.
Field of view
It is the right to the left distance of the area you can see when you look through the optic. In most of the cases, the distance is measured at a range of 100 yards though it may vary depending on the level of magnification in use.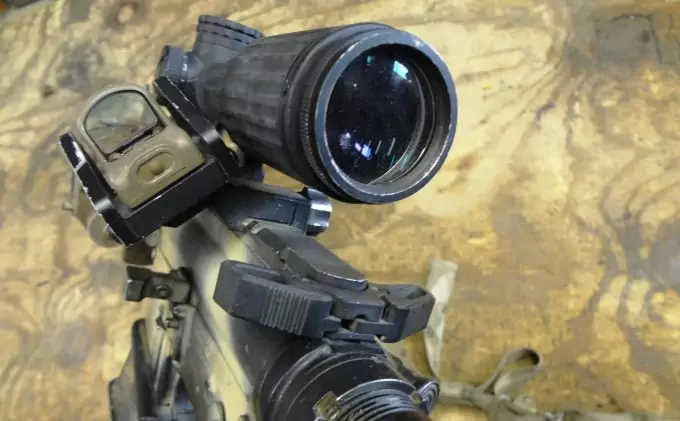 The higher the magnification used, the smaller the field of view and vice versa. You can use high magnification to scan around and zoom in on anything which attracts your interest.
Clarity And Line Pairs Per Millimeter
The more the lines, the brighter the image relayed. Usually, the higher the LP/mm number on a scope the better is the device. Good quality scopes have a clarity level of more than 60lp/mm. However, this is not the only determinant for clarity as other factors like the lens materials also determine the quality of the image, the lens should be made of pure glass and not plastic or polymer.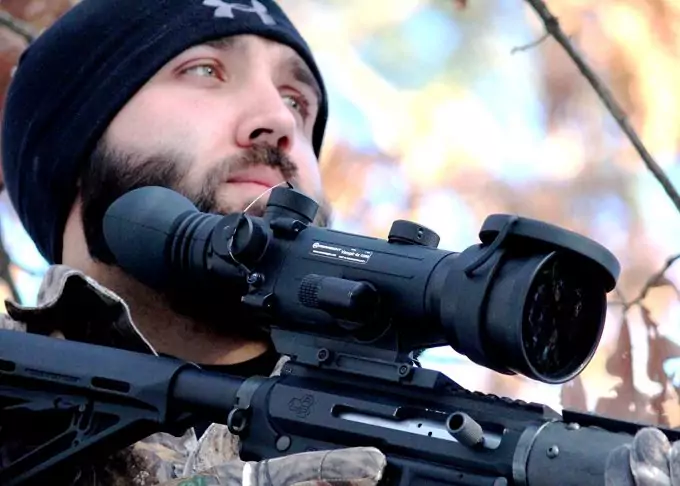 Generation
There is a total of four generations. These are the phases of development in night vision devices. A generation zero is biggest and in most of the cases offers the lowest utility for your money. They are not in the market due to their sizes.
As the generation increases from 1 to 4, size decreases and power of the night vision device increases. Gen 2 night vision riflescope is the one mostly used among all the generations because it maintains a healthy balance between price and efficiency.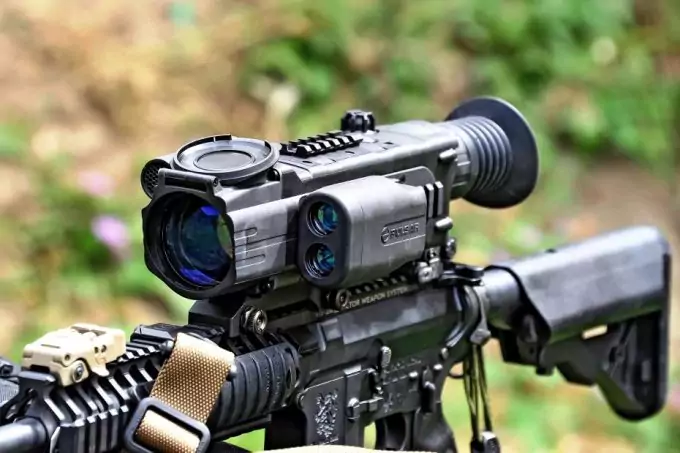 Thermal or Enhanced
A thermal device is the one that uses differences in temperature to identify a target. It thus does not require any lighting to spot something. These are the best night vision devices, but they are the most expensive ones. The second option is the night vision devices that enhance available light to get a clear focus.
Best Product Reviews
Following the above outline, you might require a detailed analysis of a particular model of the night vision scope. The section below will offer a comprehensive analysis of the top product selection based on a thorough analysis while putting all the necessary features into consideration.
NAIT PVS-4 Night Vision Scope
Battery: 3v CR123 or 2 AA battery
Magnification: 3.6x
Weight: 4 pounds
Specific features: The scope has a resolution of 36 LP/mm, and it can be used in a variety of rifles among them the 5.56 mm and the 7.63 mm. Its range of detection is 600 m while that for recognition is 400 m. It has changeable field reticles
Best use: It is best for search and rescue operations, street gang observation as well as patrol and security. Also good for hunters and professional shooters where precision is a key factor
NAIT PVS -4 Night Vision Scope is one of the most efficient scopes you can get in the market. The AN/PVS night vision device uses a 25 mm MX-9644 screw type in the image intensifier tube. Its reticle brightness can be adjusted.
It can be utilized under any lighting condition whether bright moon, sunny or nights; as a result, you can quickly boresight it during the day without any risks of damage.  These capabilities ensure that the reticules are not easily burnt out.
The reticles are highly interchangeable to accommodate a variety of weapons though primarily it was designed for M14, M16, M60, and M249 automatic weapon. Two knobs located on the left hand side operate it; the upper one controls the reticle illuminator while the lower one switches the image intensifier on or off.
The objective lens adjustments control the elevation and windage settings of the scope. It is weather resistant and has a high level of ruggedness.
PROS:
Adjustable reticle brightness
Automatic brightness control features
High quality image
Does not produce visible, infrared signals which can be used by the enemy
Related: If the rails are short or not long enough to accommodate other additional devices apart from the scopes, you might require a Dovetail Weaver Picatinny Adapter to extend the length of your mounting base. The one under consideration converts an 11 mm to a 20 mm rail.
Armasight Nemesis 4x Night Vision Scope
Battery: 3v CR123
Magnification: 4x
Weight: 2.7 pounds
Specific features: Since it is made of aluminum, it is a light weight scope. It has a 10 degrees field of view at 100 yards with a resolution of 45 LP/mm and a detachable long range illuminator
Best use: The device is used by predator hunters or tactical marksmen who need a safe distance and precise focus
Armasight Nemesis 4x Night Vision Scope is the device you have been waiting to see in the market. Its design is made to offer quality value and ease in operation. The windage and elevation adjustment knobs are strategically placed. Its reticle is precise and thin to provide maximum precision.
It has a three mount rail, and thus the illuminator is easily accommodated on the scope. It has both infrared and low battery indicators. It has bright light protection capabilities which give the scope more diversity. It is fitted with a Picatinny mount for easy positioning on the rifle.
It's an all glass multicoated transmission tubes and has a detachable infrared illuminator. It can run for 60 hours without the illuminator and 30 hours when the infrared illuminator is used.
The purchase kit includes the packaging box, a carrying case, one lithium battery, remote control; lens cleaner, instructional manual and a 2 year warranty card.
PROS:
Resistant to water, dust, and sand related damages
Reticle can be easily internally adjusted for precise shot placement
Auto bright control feature
CONS
:
Its field of view is small in comparison to the pricing
Related: Armasight A-focal Doublers convert bits and drone pro plus other scope models from Armasight from their respective magnification and double them. If you are not contented with the amount of magnification on your scope, there is no need to buy a new one. Just look for the appropriate doubling lens.
Reconditioned NAIT PVS-4 Night Vision Scope
Battery: 3v CR123
Magnification: 4x
Weight: 3.5 pounds
Specific features: Their objective lenses are 95 mm with a field of view of approximately 15 degrees. Its focus range is excellent starting at 25 meters to infinity with an eye relief of 25 mm. It operates well within the temperature ranges of negative 60 to positive 120 degrees F
Best use: Night time game hunt where increased accuracy is required for example hunting of raccoons and coyotes
The initials NAIT stands for North American Integrated Technologies, and they are the patent holders for these devices. Reconditioned NAIT PVS-4 Night Vision Scope is referred as reconditioned because initially they were meant for military use only, but later a consensus was reached to make it available to hunters after some adjustments.
Taking the initial use into consideration, it proves to be an excellent scope with enhanced features and extra precision. It fits well in a variety of rifles and guns including but not limited to 5.56mm and 7.62 mm respectively. Its lenses are enhanced for a high level of image clarity and are multi coated.
The wide objective lens also boosts the viewing capability of the scope.  It has a built in rail designed to fit any weaver rail.  Its reticle brightness is highly adjustable.
PROS:
Fits in a wide variety of weapons and rifles
Built in rail mount
Exact focus
CONS
:
Very rare to get and there are only limited quantities
Related: In some instances, the batteries of your infrared illuminator can run out; to avoid cutting the mission short in such incidences, it is wise to have an extra illuminating device which can be held by hand. The best option to consider is the Evolva T20 IR Flashlight Torch since its batteries last longer and it can also be mounted on a rifle with the appropriate adapter.
Armasight Nemesis 6x Night Vision Scope
Battery: 3v CR123A
Magnification: 6x
Weight: 4.2 pounds
Specific features: Image intensifier tubes are of excellent quality; it is easy to use its internal windage and elevation adjustments. Its reticle is enhanced with an illumination for precise focus; also the cross hairs are extremely thin but well defined. Its resolution is approximately 50 LP/mm and an eye relief of 46 mm. Its field of view is 6.5 degrees
Best use: Long range game hunt where a safe distance is required between the hunter and the game. Best for use on small games like raccoons
Armasight Nemesis 6x Night Vision Scope is fitted with weaver mount for easy positioning on the rifle. It is easy to mount the long range illuminating device since there are three mounting sections. The enhanced rails make the scope highly compatible with other supporting devices.
It is resistant to rust and water since it is made from aluminum. The material also makes it extremely light, and this offers very great operational efficiency. Since being out in the wild for hunting or competition mission requires total preparation, the scope is fitted with back up iron sights in case the lens or any other part of the gadget fails.
It has a low battery indicator light on the field of view to warn you before time. The purchase is protected with a two-year purchase warranty. Its range of focus is 25 meters and beyond with operating temperatures between -40 and +60 degrees Celsius.
The battery can run for more than 60 hours in normal working conditions. Do not put on the illuminator if you can see through the scope to save on battery; it will also avoid excess lighting on the target.
PROS:
It adjusts its light usage capabilities depending on the brightness or dullness
Detachable infrared illumination
Remote and digital control capabilities
Related: Considering the amount of weight some of these rifle scopes add to your gun, it is just logically wise to have a bipod on a standby mode to be used when an opportunity arises. Some of them will not hold firm on the ground and thus fail to give a fixed gun position. However, with a Harris Engineering 6-9 Inches Bipod, you can scan your area of concern while comfortably lying behind your rifle and save yourself the carrying weight of the rifle.
ATN Night Spirit Night Vision Scope
Battery: 1.5 volts AA or a CR 123A
Magnification: 3x
Weight: 2 pounds
Specific features: Its range of focus is 3 meters and beyond with a field of view of 18 degrees. It has both IR and low battery indicators. Its optimum operation and storage temperatures are in the ranges of -40 and +60 degrees Celsius
Best use: Good for short range viewing in areas with dim light or total darkness
ATN CORPORATION is a renowned night vision devices manufacturer who has for a long time been supplying US military and FBI with weapon enhancers. Due to this fact, you can expect the best from the company.
The ATN Night Spirit Night Vision Scope is a gadget which can act as a monocular as well as a scope. To use it as a scope you need to buy a mount kit or an adapter so that it fits in your rifle or gun. It should be noted that it does not have a cross hair or a reticle despite its multi-purpose use. These facts make it qualify more as a monocular rather than a scope.
When used as a monocular, you only need to hold it with your hand and look through to see or monitor the poorly illuminated area. You can also use a head mount to free your hands. Its batteries can run for more than 30 hours under normal use and at least 12 hours while the illuminator is on. Its resolution is in the range between 40 and 50 LP/mm
PROS:
Infrared illuminator for enhanced performance
All glass multicoated optics
Automatic light control features
Weather resistant
CONS
:
Use for a limited distance of approximately 100 yards
Highly sensitive tubes if exposed to bright light
Related: Due to some reasons or just for convenience you want your hands to be free so that you can be able to coordinate things out in the dark properly. To achieve this while using the ATN night spirit, you ought to get a Pulsar Compact Head Mount to set it well on your head. The design is made in a way that it can fit small, medium and large heads with convenience.
Armasight Nyx7 Night Vision Goggles
Battery: CR123A or AA alkaline battery with an adapter
Magnification: 3-8x
Weight: 1 pound
Specific features: It has a resolution of 47-54 LP/mm. It is water, fog, and mist resistant and has a high level of ruggedness making it best choice for tough operations. The goggles can be flipped up the face with ease, and its multipurpose capability enables you to hold with the hand when a need arises
Best use: Due to its excellent short range focus capabilities it can be used to read maps or survey your compound
If you are a regular hunter or you drive regularly on poorly lit rough roads, these are the devices you should look out to buy. Or would you rather trample on something or other wild animals because you never saw them on time?
The Armasight Nyx7 Night Vision Goggles will eliminate all the inconveniences associated with darkness; once well mounted on your helmet or with head gears, you are set to go. It is a durable device with instances of more than 5-years in use and still growing stronger recorded more often.
The in-built IR light source helps in reading maps and short range illumination. A power infrared illuminator enhances long range viewing. During the day or when a bright light is sensed, it cuts off the transparency to avoid damage.
The batteries are long lasting with more than 60 hours if the illuminator is not used and approximately 20 hours of full time use of the illuminator. It however, has a low battery and an IR Indicator. Its optimum operating temperatures are -40 and + 50 degrees Celsius.
PROS:
The infrared illuminator is invisible to naked eyes
Focusable rings around each eye
Can be fitted with a wide range of magnification lens
CONS
:
Its images are not quite clear to allow its use while on aircraft or when driving fast
ATN PS28 Night Vision Scope
Battery: CR123A battery
Magnification: 1x
Weight: 1.8 pound
Specific features: After mounting on your daytime scope there is no need to neither re zero, shift impact nor adjust the eye relief. It uses the latest technologies in image intensifiers tube
Best use: It is mostly used by hunters who do not want to undergo all the hustles of changing scopes when night falls or of buying a whole new night vision device for night time use. It is also good for law enforcers and snipers
ATN PS28 Night Vision Scope is an American technology network device that has the capability of enhancing your typical day scope to a night vision device. It is mounted in front of the scope, and it can be used on any weapon of choice. It has catadioptric front lens system and an automatic brightness control capability.
It is resistant to adverse weather conditions for example rainfall or fog and is corrosion resistant. It is easy to mount or remove it from the rails since it has a quick release mount. The purchase kit consists of a 2-year warranty card, an instruction manual, a lens cleaner, and an excellent package box to avoid instances of breakages.
It is a real money saver since no matter the scope you are running; it has a unique that fits well in majority of the brands though it is specifically meant for ATN scopes.
PROS:
High ranges of resolution
Can be used independently from the rifle
Lightest in the night vision devices
CONS
:
It has no low battery or infrared signals
ITAR controlled item with no export outside America
Related: The purchased scope will not fit on your rifle until it is properly mounted; the best option is to buy the customized ATN PS 28 Mounting System which is specifically meant for this scope. It fits well and leaves no room for a play but offers a broad range of adjusting area.
Conclusion
Night vision devices are a significant value addition to a gun or rifle holder, aren't they? Would you like to miss opportunities to hit your target due to poor illumination?  Or not spot strangers before they get close to you?
The chances are high that you won't like any of those to happen to you, wishes which are not backed by actions are futile, and that is why we have made it incredibly simple for you to decide by offering you a comprehensive analysis of the best vision devices. The final decision lies with you, but we hope you have found value in the content.
Some of the links in this post are affiliate links. This means that if you click on one of these links and make a purchase, I earn a small commission at no extra cost to you. Also, as an Amazon Affiliate, I earn from qualifying purchases. If the information in this post has been helpful, please consider purchasing through one of the links in this article. Thank you.