Tactical knives have become part of an outdoorsman or survivalists arsenal and although it is often mistaken to be a fighting knife because of its rugged design its main purpose is really oriented towards being a utility knife. This means that a tactical may be used as a weapon only as a last resort; otherwise its use should only be for hunting, cutting rope, rigging, slicing meat and fish, preparing stakes for traps, and a variety of other uses.
[the_ad_placement id="in-text-1-type-a"]
Introduced to the military service during World War II, its variety of functions and tough design has made the tactical knife part of a civilian's arsenal with different brands, varying functions per design as well as the make and portability. Generally, the blade of the best tactical knives would be around 3-5 inches with some extreme designs having longer blades but with less of the other functions shorter knives tend to have.
Telling the difference
The terms "tactical" and "fighting", when attached to the word "knife" sometimes become interchangeable but this is mostly due to their similarities. Some folks who don't have enough information tend to call both as regular knives. Well, in a way, both tactical and fighting knives can act as regular knives but their main difference is their purpose.
A fighting knife is mainly used for fighting, as the name suggests. The tactical knife is sort of an all-purpose utility knife. A regular knife is something you use in the kitchen. It's pretty basic but without prior knowledge, differentiating them thru purpose can be quite hard.
Another notable difference is the design; most fighting knives are pretty straightforward with their design with the short wooden/leather handle and a straight blade with one or two sharp edges. A tactical knife, on the other hand, can either have a straight or a curved blade. The handle is also short but the most popular tactical knife design nowadays is the folding knives.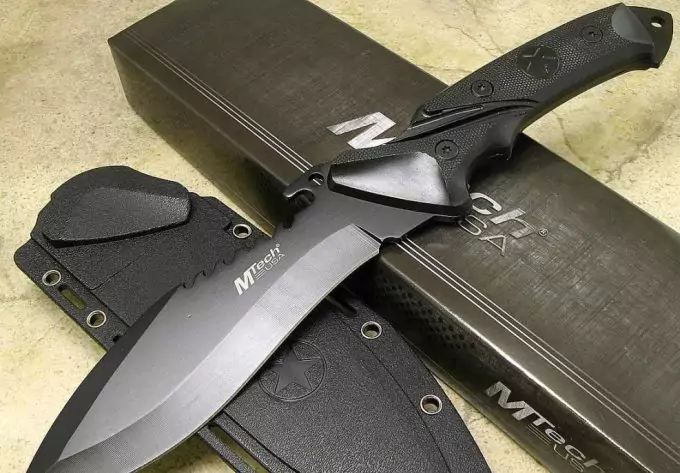 Folding tactical knives have hinges where the blade meets the handle and the handle serves as both the grip and blade protector. This particular feature is what makes folding tactical knives a best seller to civilians and military personnel alike. For the best folding knife reviews, do check on our article on the topic.
Choosing the best tactical knife
In extreme situations, tactical knives can mean life and death and making sure that you have the best tactical knife possible increases your chances of survival. From mass-produced models to custom made tactical models, experts have thrown in their two cents in choosing the best tactical knife.
Blade material
It has been said that the best material for tactical knives is Damascus steel. Now, this type of steel is widely disputed as the method of forging this type of steel has been lost for ages and the current Damascus steel that is currently being produced are made through a new process that aimed to duplicate the old forging process.
See also: Best Steel for Knives: Cutting Strength, Reliability, And Precision
The current process is quite expensive and cost prohibitive making it inaccessible for commercial use. Knife collectors and enthusiasts usually go for this material. There are alternatives to Damascus steel like AUS-8, Cr17 High Carbon, Sandvik 14C28Nm among others. Some of the newer materials have also been proven to be more reliable than new age Damascus steel.
Handle
A tactical knife has two main parts, the blade and the handle, and although most tactical knife discussions tend to rotate around the materials used for the blade let us not forget the value of the handle's material. Handles often tout the steadiness of their grip and their ability to absorb moisture and prevent slip ups.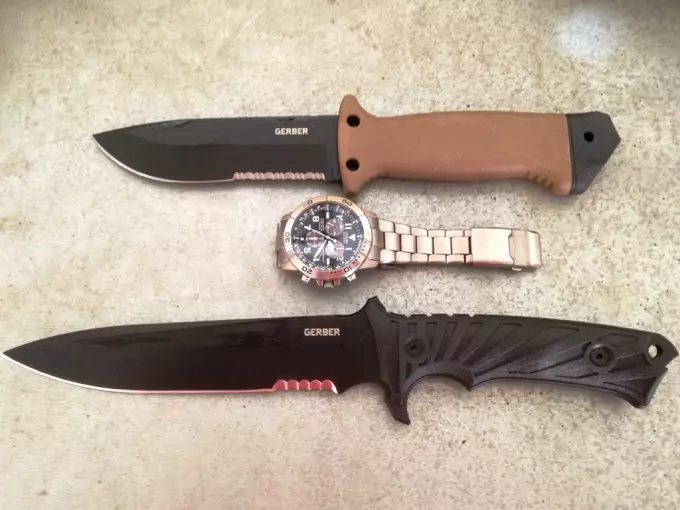 Materials range from hard plastic to leather and stainless steel. Some materials last for years while some will shrink and crack through wear. Ideally, the material to be used for the grips or handle should be one that fits snuggly, not too slippery and does not crack or tear under extended pressure.
Size
It does matter. The size of the tactical knife should fit its purpose. Sometimes the greater the tasks, the longer the knife should be but this is not always the case. Shorter knives have proven to be more effective than longer ones in tight situations and longer ones are more useful for general purposes.
Comfort
Design experts call it ergonomics. Call it what you may but choosing the best tactical knife should involve how fit it is with your hands. Are you comfortable handling it in any possible position? Are you feeling any pinch points along the grip? Any sharp corners? The handle should feel natural and the knife's overall weight should be light and agile and still be able to provide a sense of strength coming from it. Knowing that it can withstand extreme pressures.
[the_ad_placement id="in-text-2-type-a"]
Enthusiasts have argued that for the best ergonomic feel, the knife should be able to fit comfortably in your hands regardless if you are using a forward grip or a reverse grip. Also, the most comfortable knife would not have any grooves or contours on the handle forcing your hand to hold it just this way and that.
Transport
It is a general term but this factor refers to how you can always carry your knife. Fixed blades and folding tactical knives are the top options when you think about it but it's not always about the blade being foldable or not. Some would consider a tactical knife with clips that can be mounted on the handle for better sheathing while some would prefer knives that have their own sheaths and some without clip or sheath. It's a matter of personal choice really.
Design
Probably the most important factor of all. In choosing the design for your tactical knife, take note of your knife's purpose. What tasks do you see yourself doing with the knife, are you going for a weapon-ish tactical knife? Is your knife going to be part of an emergency kit?
The purpose of the knife goes hand in hand with the design. Some tactical knives incorporate one or more purposes into its overall design while some retain just one purpose per knife. A typical tactical knife would have its cutting edge and its point. No knife should go out of the forge without either.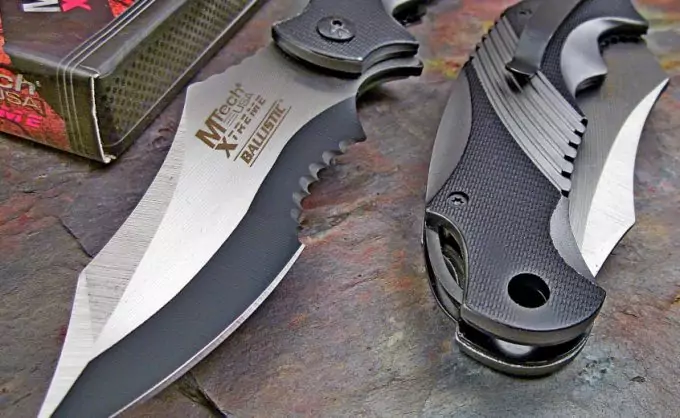 The knife can be used to poke at wood, dig a hole in the ground, and stab an animal or an attacker. The cutting edge should be sharp enough to cut through leather and clothing and yet long enough to function as an improvised saw. The best tactical knives usually have serrated edges to prevent it from dulling. Most serrated edges are visible while a few have mastered creating miniature serrations that are almost invisible until closer inspection.
A knife's design is what makes it a knife. The best materials in the world can be used to make a knife but if the design is just bad, then the materials were wasted and what you have is the world's worst tactical knife.
Comparing the top choices
As discussed in the previous section, choosing the best tactical knife seems to be a matter of purpose and design. Several companies have come up with the best possible tactical knives using these guidelines and they are all available at amazon.com. Tactical knife specialists have added brand reputation to their list of factors to consider when buying a tactical knife, which has its own reason.
Reputable brands tend to be more stable and reliable than those from shady companies. This, however, does not mean that brands other than those listed here are of poor quality, it's just that the brands here are those that have had more reviews than others.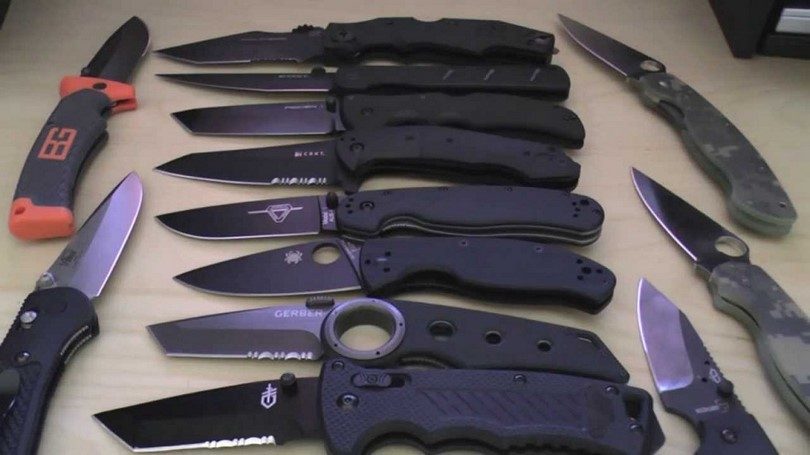 Buck knives
One of the oldest brands when it comes to knife making, Buck Knives pioneered the folding knife design in the 1960's and have come up with several innovative new products and designs.
A fine example product for Buck Knives is the 0870 Bones Partially Serrated Tactical Folding Knife with Clip. This knife has a 3-inch modified tanto serrated steel blade and comes with a thumb stub so you can open it with one hand. The whole knife is coated with tactical coating and comes with a curved handles that enables a better, more secured grasp when handling it.
The frame lock and thumb stud combo makes for a safe, smooth and reliable deployment when needed. Most users have high praises for this model with one calling it a "solid tool" that can be used to puncture hard objects, scrape items and other materials. Others have also reinforced the notion that Buck Knives are always a good buy.
If you like this product you can find and buy it here.
Kershaw knives
Relatively a newcomer in the knife-making industry, Kershaw Knives started out in 1974 when the founder, Pete Kershaw, left Gerber Blades and decided to form his own company. Several innovative improvements in their knife designs have won them several industry awards.
The Kershaw 1990 Brawler Folding SpeedSafe knife is one of their top models and it comes with a strong and light weight handle that is made from glass-filled nylon. The blade is also of the modified tanto style and, like the Buck Knives, also come with a thumb stub for one-hand opening.
Current owners and users have praised their Kershaw Brawlers as being an affordable work knife that they can use for a wide array of tasks and sits comfortably in their hands no matter the position. The relatively lower price does not reduce its quality but given the material used for its blade, it tends to dull quicker than other models.
If you like this product you can find and check its price here.
Smith and Wesson
Here is a brand that is more known for its line of firearms and other armaments than its tactical knives. Established in the mid-1800's Smith and Wesson gained popularity due to their pistols and revolvers that have become a standard issue among law enforcement officers as well as the weapon of choice for certain Hollywood celebrities.
The Smith & Wesson Border Guard 2 Rescue Knife SWBG2TS is a high carbon, stainless steel bladed tactical knife with an aluminum handle and is 4.4 inches long. This model comes with a belt cutter and glass breaker which makes it perfect for rescuers and first-responders.
Users have commented that this model is perfect for law enforcement and firefighting as well as for EMS personnel. The blades' ability to cut through seat belts is its finest point and matching this point is its easy-open clip. The most dominant con for this knife is its size and weight. It is not something for an EDC pack but can be part of any first-responder's kit.
If you like this product you can find and purchase it on Amazon.
TAC Force
This brand has a slowly growing fan base due its affordable price and quality products. Most of their blades are made of either high carbon steel or stainless steel with most models having a glass breaker tip and a seat belt cutter, making this brand excellent for first responders.
The Tac Force TF-705 Series Assisted Opening Folding Knife 4.5-Inch Closed is one product from TAC Force's line-up. This model features a 4-inch high carbon, stainless steel blade that comes with serrated edges and assisted-opening. This comes with the standard glass breaker and a slot for opening bottles after a tiring at work.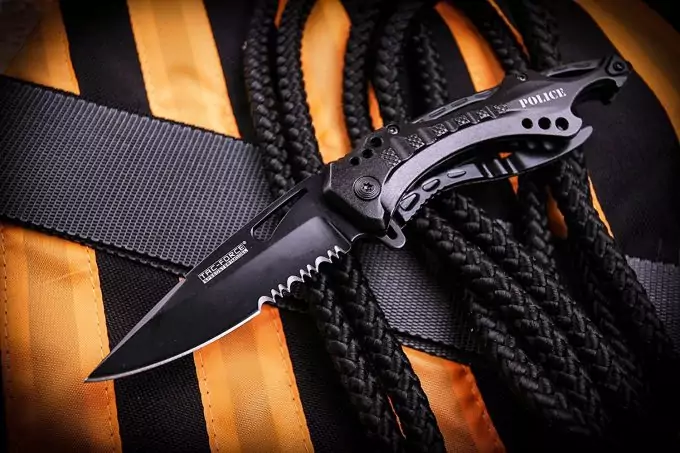 Buyers have touted the low cost of this model that also comes with great quality. Some users have complimented the knife for its solid construction and well-oiled locking mechanism making it feel like a $100 knife instead of it being much lower than that.
Some downsides for this model is it's clip that affects the comfort of the grip while handling it as well as the knife having to be open for you to be able to use the bottle opener.
If you like this product you can find and buy it on Amazon.
Gerber Gear
Far from its gentle, baby-loving namesake, Gerber produces a number of outdoor gears including camping tools and equipment. The company started out in the 1930s as a cutlery business eventually branching out to tactical knives and other outdoor gears.
The Gerber 31-001098 Remix Tactical is one of its top models and it features a serrated cutting edge and a tanto tip. The blade itself is constructed from stainless steel and the handle is made of a combination stainless steel and G10, a hard composite made of fiberglass and epoxy. This model also has a thumb stud for easy opening and comes with a lanyard hole at the end.
Reviewers have praised its relatively low costs and light weight. Some have complimented its excellent grip and the central hole towards the center makes it easier to transition from one hand pose to another, like a revolver in a Western movie.
One constant negative feedback is the stiffness of the blade when opening it but it's something that wears off with constant use, like most knives out there.
If you like this product you can find and check its price on Amazon.
SpyderCo
One of the more uniquely designed brands out there, SypderCo has always been proud of their tradition of eccentricity and peculiarity. Their radical innovations include serrations on a folding tactical knife and the pocket clip, allowing their knives to be clipped directly to a pocket.
The Spyderco Tenacious G-10 Combination edge black blade is a prime example of the companies varied designs. The stainless steel blade is shaped like a leaf and is serrated on one side. The design does not diminish the knife's performance and adds to its beauty. The handle, made of G-10 composite, allows for prolonged fatigue-free handling and SpyderCo's 4-way pocket clip will allow you to carry and draw this knife on your preference. Check out our reviews of the best Spyderco knife to give you more options.
[the_ad_placement id="in-text-3-type-a"]
People who have bought this model are impressed on how dependable the product is regardless of the tasks it is being used on. Most reviewers were communications personnel who use this knife to strip down wires and cut through boxes. One reviewer in particular was amazed on how the knife blended into the background.
If you like this product you can find and buy it here.
SOG
Named after a US Special Ops unit that served in Vietnam that carried a special combat knife into battle while deployed. The full story of the company wasn't available previously due to some information being classified but is now known to many and their brand holds a special place in any law enforcement member.
The SOG Specialty Knives & Tools TFSAT8-CP Flash II Tanto Knife is one of their best products and it sports an AUS-8 steel blade with a strong tanto tip that is ideal for piercing. The patented lock and release mechanism allows for quicker draws and safer release when using this product with one-hand.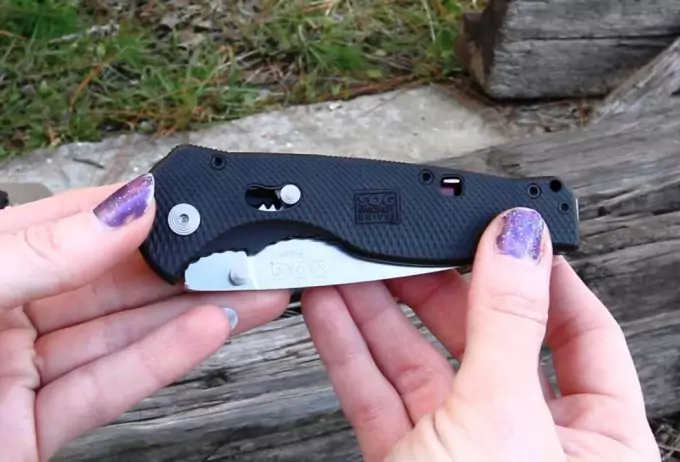 Pros listed include its quick opening mechanism with zero play. Its durability and reliability are also among the top reasons why they bought this item. The grip is one of the features that have gathered the most negative comments as some have found that it is not textured enough for their taste.
If you like this product you can find and check its price here.
Which one will fit your needs?
Purchasing the best tactical knife is a big decision to make as a lot will depend on it given the situation. Make sure to consider the purpose first before looking for the right design, size and materials.
Do check on our tips on knife safety to keep you protected at all times, it's a must-read.
Some of the links in this post are affiliate links. This means that if you click on one of these links and make a purchase, I earn a small commission at no extra cost to you. Also, as an Amazon Affiliate, I earn from qualifying purchases. If the information in this post has been helpful, please consider purchasing through one of the links in this article. Thank you.