Wireless emergency alerts are lifesavers. According to studies, 33 percent of seniors slip and fall accidents happen at home and so caregivers' worries never really end, especially if their parents choose to stay home alone, an option most preferred by the elder as much as possible. And just imagine what would happen if your father has heart attack or if your mother falls? What would happen if there was no one home or if your elder parent couldn't get the phone to dial for help?
Peace of mind is only a click away with the latest technology you can depend on wireless alerts. Also called personal emergency response systems, a medical emergency response system or a medical alert works almost in the same manner, although some features may vary from brand to brand or model to model. Briefly, most of these alerts are small emergency responders for police, medical or fire and are worn around the neck, belt buckle or on the wrist or placed on the wheelchair.
A senior would usually press the transmitter's button during an emergency without reaching for a phone. Without even saying, an emergency responder may be what to get for that peace of mind you need because all it takes is a press of a button and help will arrive.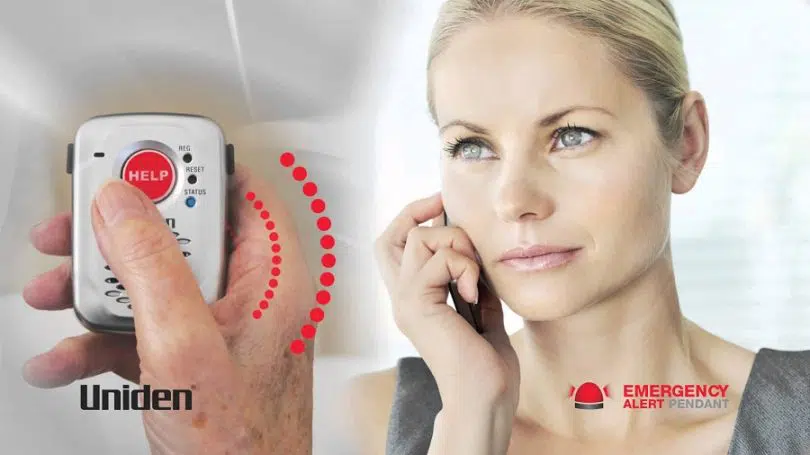 Because emergencies can happen any time, emergency systems such as those we are going to tackle in today's guide may be what to choose from if finding the right product. We understand that it may be very overwhelming to selecting one based on the selection you can now find online. In this case, we did the research so that you can have a guide into some of the top alert systems on the market today. And later, we'll discuss a few tips to shopping for one.
For some more tips on how to make your home safe, see our topic on ways to safe-proof your home for any emergencies.
A few choices on emergency alerts
LogicMark Guardian Alert 911 is a 911 emergency alert system that is offered without a monthly fee, contract and service charges and without any need for monitoring. This product can be used directly to talk with a 911 personnel 24/7 and provides complete coverage in and around the home. It can be used for independent living without any worries.
Some of its features include a splash resistant pendant, battery test functions, speed test and voice confirmation and has an auto standby feature after four minutes of inactivity. And best part is that it has a blue activator button, which should be pressed for a minimum of two seconds when initiating a call, to avoid accidental activation.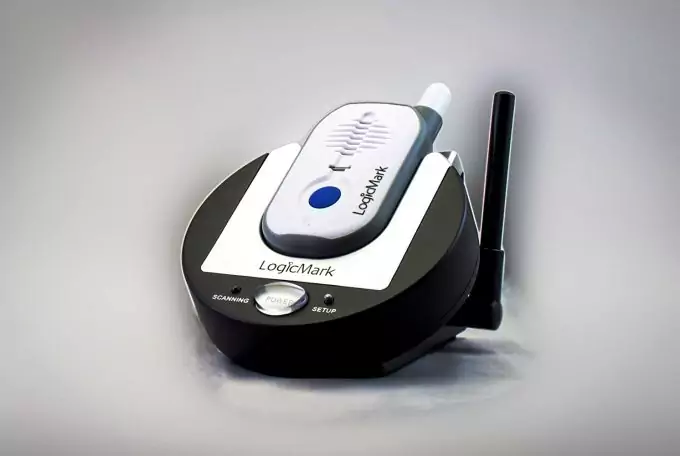 There is also the V.ALRT VSN400, a personal emergency response device that allows a press of a button when summoning for help and can notify up to three important contacts by sending them urgent SMS or calls. It is Smartphone enabled and has no monthly fee and no charging required.
Another option is the Medical Alert System offered without monthly charges or fees, but you will only pay once and that's it. It comes with a 6-day return policy. This product has straight out range of up to 600 feet and one million square feet of coverage area. And with it, you can store up to five contacts, including your family, friends and 911, if desired.
This product is water-resistant, pacemaker safe and works as if just using a cordless phone. Because emergencies can happen anytime, the use of a product like it can save a life or lives and can ask for quick help from a neighbor, a friend or a family member.
You can use it as a portable communicator efficiently and safely from anywhere around your home with just a push of a button. It allows you to saving dollars because you can just ask help from friends or family using it without the need of calling an ambulance for emergencies.
You can also opt for the Emergency Alert System that takes only a one-time payment, without any monthly cost or fee.  With this water-resistant wrist pendant with batteries included, you can have peace of mind that help is only a push of a button away. It also works with a regular phone line and as a two-way communication device that you have to establish using a speakerphone on the base unit.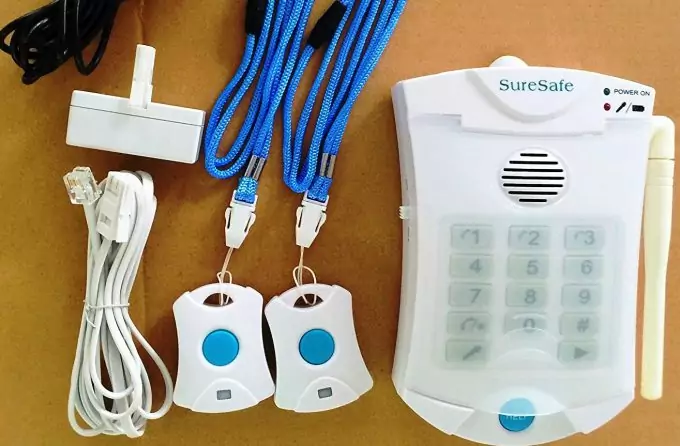 You can also opt for Medical Guardian and its Classic Guardian option that allows your mother or father of moving up to 400 meters in any direction from the unit's console, while he stays protected. This product comes with improvements than earlier models, and this one has a longer battery life to last up to 32 hours and a sleeker and smaller appearance.
This device can also offer both mobile and in-home systems and it is GPS-enabled so that users can actually take the product out of his home. It also comes with a fall-detection technology with a premium package upgrade that means that this system can summon for help if it detects a fall. However, this company is not offering any carbon monoxide monitoring, although its consoles can detect for any extreme temperature during a fire.
Ease of operation on this device is a breeze and it doesn't require any special knowledge or skill for installation, and the company offers free equipment delivery, too. If ordering online, you can get a free lockbox for use in key storage outside. They don't require any activation, cancellation fees and long-term contracts.
The company also has a 24/7 helpline and live chat and their staffs are 911-certified, meaning that your loved one can get an ambulance directly to your home. You can also discuss your parent's need of specific doctors, trusted friends and family members who will be contacted or notified in case he suffers an emergency.
There are also LifeFone's waterproof pendants that offer up to 146 meters of coverage range in any direction. For seniors who do not want to wear necklaces or bracelets, this alert system also comes with pocket clips and removal belt clips, and for customer requiring a larger range, they also offer a base model with 32-hour battery life that enables the device to covering up to 305 meters, without any additional cost.
Apart from pendants, they also sell help buttons, which can be mounted to walls through VELCRO and be placed in trouble areas, including the hallway or the bathroom. This company also offers carbon monoxide and smoke detection, gives an option for pendant upgrade, a product to detect falls and offers customers options of connecting their systems to a cellular network or a landline.
How do emergency alerts work and what to expect of their features
Commonly, an emergency device comes with a small radio transmitter, a base station and a console that is connected to the phone and an emergency center for monitoring calls. Its console dials the monitoring station, which the system can dial out even if your phone is off the hook or if your phone is in use, also called as a seizing line. Apart from dialing a response center, the operator, once notified, also dials friends, neighbors and family members.
In some cases, you will need to pay a fee for monitoring services to the medical alert companies, but you should be able to compare pricing, servicing and features of every system. Remember, some companies raise their charges every year and some of them charge a hidden cost or an upfront cost. According to experts, you should not pay for the monitoring console or transmitter, but these should be included in the monthly fee should they be charging for it.
More so, remember not to sign a long-term contract because you should also be able to cancel at any time without any problem. Therefore, you should read and understand the agreement or contract before signing it for your guidance. When choosing a company for monitoring and signing up for their emergency response services, find out how long have they been in the business.
In this case, you will have a clear idea on whether this company has a solid background in the industry, with good client or customer satisfaction. For portability, you should check if the wireless emergency alert system can be used even if the elder or person wearing it (if a device or a pendant) even if he or she is away from home. There are companies that provide a small base unit with the size of an answering machine.
Additionally, you should try out the response system to see if it is easy to use and if its user manual is easy to understand. You should check if there are complicated instructions, console buttons or other features, which elders may find difficult to understand or operate. Apart from these things, you should check if the system is waterproof, ensuring it could be worn in the shower or in the bath.
When buying one, you should also see to it that the company has trained operators; perhaps, it is all about their service you are paying for. You should know what kind of training their staffs had before operating in the monitoring center. As you know, every second counts in an emergency so you want qualified personnel to assist you and your parent.
Speaking of checking out on their personnel, you should also see if they are available 24/7 for both of their customer service and emergency monitoring service. You should not be having difficulty in using this emergency responder at all, but if you do, the company should always be ready to assist if you have questions about it.
When it comes to testing, the company should have the system tested regular to ensure that their product is working properly, so before shopping, ask them what kind of procedure they do to test your responder at home. And if the device were broken, what would happen? Are they going to provide replacement or repair services? As you know, obtaining the right product is very crucial, so learning of a few tips to use is equally important.
Living in a remote area? See our article on the best satellite phones for easy communication to give you more options.
What to consider
When shopping for an alert system for your senior or disabled parent living alone, you should understand their medical needs, so you may want to consider a reliable system that will offer an immediate help when needed.
What are the characteristics of the alert system to buy?
Battery power
A pendant or wristband alert system works on batteries, while its base on electrical power. You can get a product that can convert electrical into battery power during a power outage, ensuring your parent is safe with a responder that works even if there is no electricity. When comparing, you should see to it that the system can be charged and run longer hours than other products and that the base unit can still give alerts even on a low battery status. Therefore, you should also check the battery on the wristband or pendant to see if it has enough power to operate or run.
Range
Remember, medical alerts and emergency responders are designed and made to give medical help during medical emergencies at home or during accidents, so most of them work within a limited space range.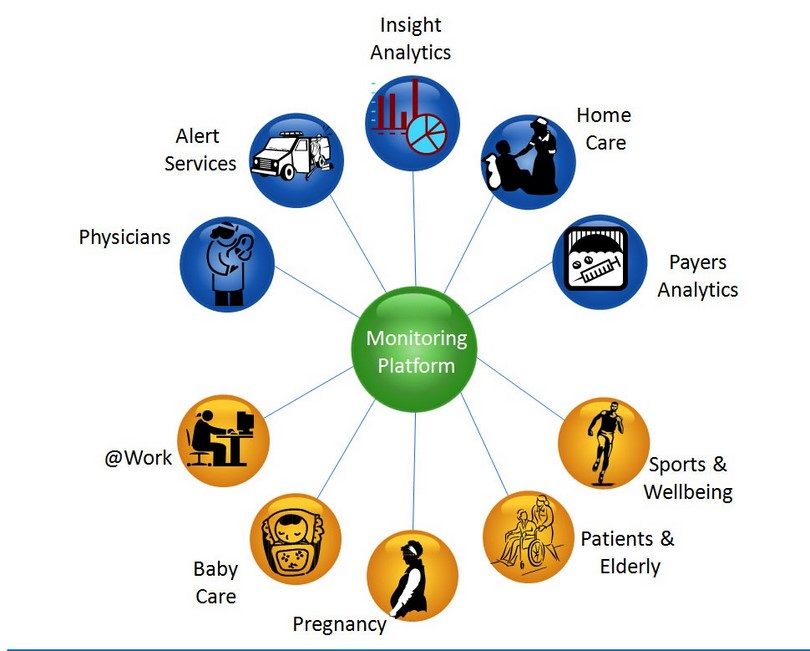 On the other hand, there are products on the market offering varying ranges, but then, you should determine your home's size to see which system can suit your range needs. If unsure, you can ask the company's representative about it.
Simple interface and operation
These alerts are designed and made for seniors living alone, so it is common sense to understand that it should be very easy to use. For instance, see to it that the base system's screen is large enough for seniors to read and then the buttons in the hardware should be large enough for them to press easily when needed. The system should also allow easy battery replacement and that it should come with a basic easy to understand operation manual.
Response time
It is a no brainer to understand that this device is to be used during emergencies, when every second counts and matters for life. The alert companies should be available 24 hours a day and that they follow the national standard time of responding to a call for summoning help within 60 seconds. They should follow these rules to operating with a response time that should even be less than one minute when possible.
Waterproof
As we have touched on briefly earlier, the system to buy should be waterproof so that it can be worn in the shower, in the pool and any other places.
While there are various options on style, usually a pendant alert button or a wristband type, you should be looking for one designed to work even when submerged on the water. Did you know that most seniors fall in the bathroom, according to the National Institute on Aging? In this case, it is very crucial that you find a waterproof model or product so that you can achieve that peace of mind when buying an emergency responder for your parent who lives alone.
Additional tips to remember on emergency systems
It should offer a wide range of options. Remember, however, that cords around the neck may be a cause of strangulation and then wristbands may not be advisable to those with sensitive skin or skin ailments.
It should be able to function well for a specific disability. For example, a user should be able to activate the device with one hand in case he is a stroke survivor. This is one of the most important to consider for the safety of your parent or loved one. Assess and compare the products and see to it you are looking for one that can work based on the specific need of your patient, for instance.
You may want to look into products that include help buttons for an option of wall mounting near the floor in different rooms so that the elderly can push the button even if he is not wearing the pendant when he slips and falls.
The product has to offer different choices when it comes to people you can contact for help (neighbors, friends or relatives nearby). In this case, an elder will get an emergency response if he is having a heart attack.
There should be a battery backup during power outages, and as mentioned earlier, you may consider a model that can convert into battery power during an outage.
The alert system should have a base station available for contact from anywhere in your home or property even at your mailbox or in your garden. In this case, you may want to opt for a product with a larger range of over 300+ meters.
The company to choose for monitoring has a monitoring headquarter in the US and its operators are trained to handle emergency calls, an important characteristic of the company to choose for emergency response.
There you have our guide in choosing the right emergency responder system for your parent who chooses living alone, making him prone to emergencies, including slip and fall accidents. When buying a system, you may want to consider these features to get the best product on the market.
Finally, feel free sharing this guide with friends you think might also benefit from it, or bookmarking it for future reference. If you think we missed listing an important wireless alarm characteristic here, tell us in the comments.
For more information on how to communicate effectively in an emergency situation, see our link on this all-important topic.
Some of the links in this post are affiliate links. This means that if you click on one of these links and make a purchase, I earn a small commission at no extra cost to you. Also, as an Amazon Affiliate, I earn from qualifying purchases. If the information in this post has been helpful, please consider purchasing through one of the links in this article. Thank you.