For all the hype we hear about how electricity from solar energy has become cheaper, little has been said about how sunlight can be concentrated for cooking purposes. Actually, did you know concentrated sunlight using a parabola is 5-7 times more efficient than photovoltaic panels?
Most people may be aware of solar ovens and homemade solar cookers from school science projects, but few have heard about the high-powered cookers that have now become available.
One of them is the SolSource Solar Cooker, claimed by the company One Earth Designs to quickly heat up to temperature levels of 550°F. Having learned how such a solar cooker can enhance Preparedness by not having to use any fuel for purification or cooking, is the SolSource Solar Cooker really as good as it is supposed to be? We decided to test it ourselves.
Unpacking
We received the package a few days after purchase. The product arrived in a big box containing many parts. The hardware was all stainless steel, and the reflectors came with a thin protective
film. Inside the box, there were two wrenches, nuts and bolts, and a user manual that contained clear instructions on how to set up the cooker.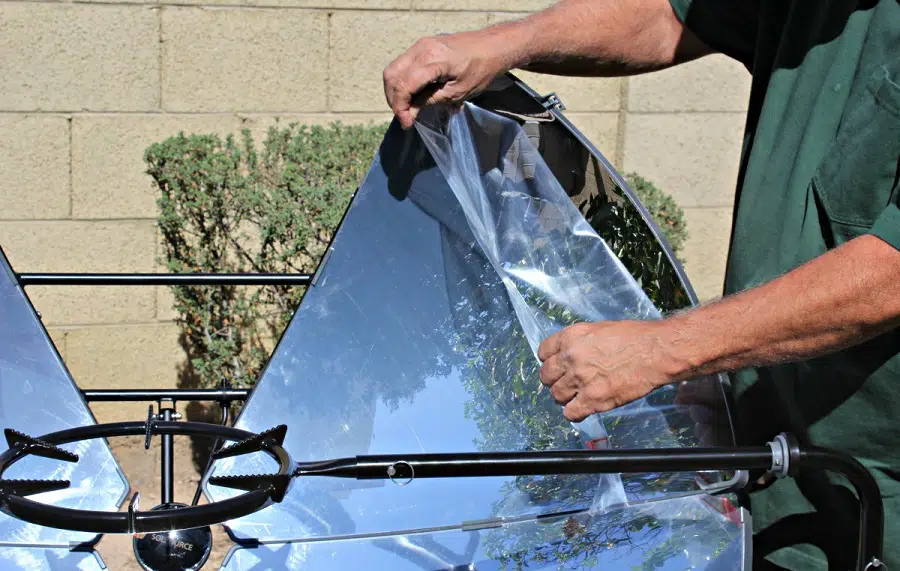 These instructions were important, as there were lots of pieces and not so easy to know exactly where to start the assembly. By ordering the bundle deal, we also received a cast aluminum pan and a cover that came to good use. The pan has certainly been created for this cooker, as it fits nicely into the ridges of the pot stand and convey a quality feel.
Assembly
To assemble the unit, we first had to put up the basic metal framework and put the pot stand on top, before we attached the parabola that concentrates the sunlight into one single spot. The
parabola contains five reflective mirrors made of plastic, that are held together in a perfectly shaped circle by 18 screws.
Even though the instruction manual was easy to follow, the assembly videos on the company's website came in handy to understand the full assembly task.
In total, it took us around half an hour to get the whole unit set and ready to go. That said, we could have speeded up assembly by using a handheld electric screwdriver. This solar cooker is smartly designed.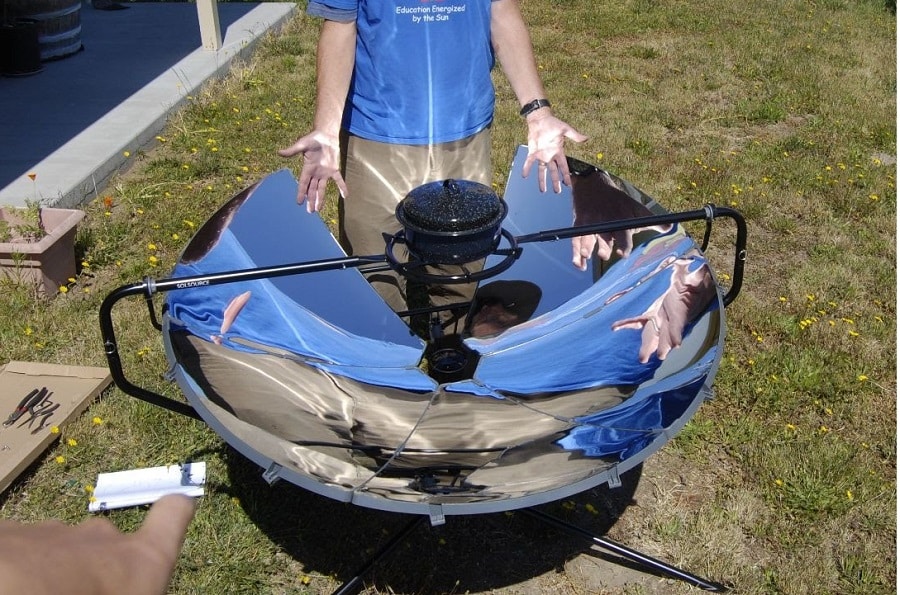 There is a small black mirror below the pan that you can utilize to make sure the parabola is correctly aligned towards the sun. If you need to realign the parabola, you simply adjust it left or right, or tilt it up or down. It's quite intuitive.
Actual Use
As there will be times in a survival situation when you need to boil water and rehydrate food, we decided to put it to work by heating up a pot filled with dehydrated spaghetti and one quart of
water. Immediately, we were surprised by the sheer power of the cooker. For nutritious camping recipes that are easy to prepare, see the link to our article.
Keeping track of how the water heated quickly, it took less than ten minutes to get the water into a full boil. As we were getting hungry, not having to wait was exactly what we needed.
olar Cooker is how quickly it generated incredible heat. This opens up many opportunities for an experienced prepper. Purifying water for drinking and cooking small meals would be easy to do.  Make sure  you know the top five ways of purifying water to increase you chance of survival.
The cooker can also be used for other practical purposes, such as heating water for bathing and to stay warm in the evening (with a hot water bottle) or even bending PVC pipes directly.
Tips
Even though you would quickly get a hang on using it yourself, here are some quick tips:
Choose cookware with a mat / dark bottom which absorbs heat better.
Heat tinned soup and food directly with a metal mesh to hold the tin up.
Never look directly on below the surface of the grill pan to assess alignment. Instead, use the small black mirror and realign accordingly.
When not in use, detach the parabola and hang it on a wall for easy storage.
Speed up the the assembly by using a handheld electric screwdriver.
Keep the box that arrived with the unit, to safely repack the solar cooker and easily transport the parts in a survival situation.
Verdict
Positive:
How the cooker reaches surprisingly high temperatures in few minutes.
The versatility, that lets you easily cook food and purify water
It doesn't generate any fumes when being used, which is important if you need to hide. / Enhancing your capability to survive when hiding, the cooker doesn't generate any fumes
Stainless steel that enhances the durability.
Easy to clean by using a soft cloth.
Particularly useful in sunny environments
Negative:
You need enough sun to use it consistently, may not work on a cloudy day.
Setup and disassembly could have been easier. Though there could be creative ways to do
a partial disassembly.
Can only use one pot at a time.
It's relatively heavy due to its sturdy construction.
Wrap Up
As a tool for disaster preparedness, the SolSource Solar Cooker is surprisingly applicable for many purposes. See also our top ten camping cookware to ensure durability that will last for years.
By not having to gather or transport any fuel such as wood, charcoal or LP gas, you are always ready to purify water or heat up your food, as long as you have sunshine.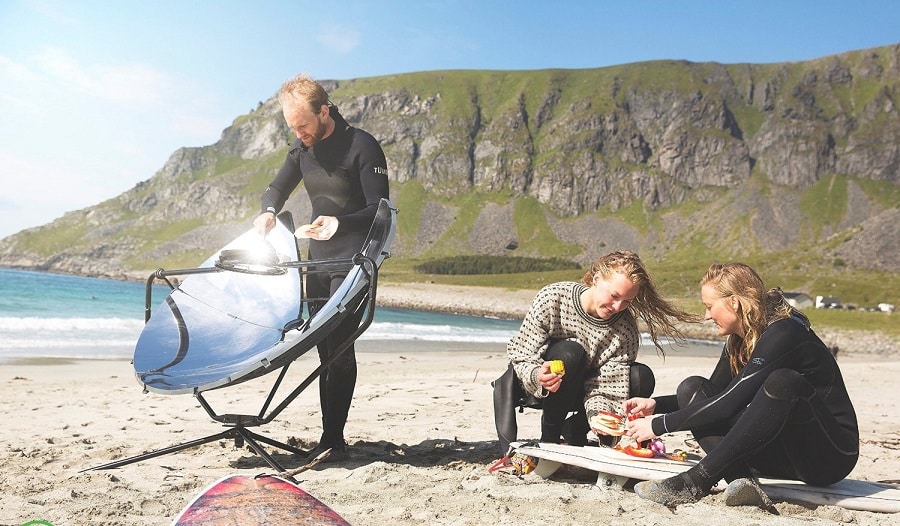 In fact, we were surprised by the power output of the cooker, which would be important in a situation where things need to happen quickly. To conclude, this solar cooker could be a very useful tool for a disaster prepper, as long as you live in a sunny area.
If you want to learn more about how the SolSource Solar Cooker can enhance your survival capabilities, click here: https://www.oneearthdesigns.com/solar-cooker-for-disaster-preparation.
Some of the links in this post are affiliate links. This means that if you click on one of these links and make a purchase, I earn a small commission at no extra cost to you. Also, as an Amazon Affiliate, I earn from qualifying purchases. If the information in this post has been helpful, please consider purchasing through one of the links in this article. Thank you.