Axes and hatchets are far more efficient and useful in the wilderness as they can be used to chop wood, to speed up game preparation, to hunt, etc.
Even more, it has been scientifically proven that prehistoric humanoids that used tools similar to our axes and hatchets were more advanced and had better hunting skills. After all, as an active survivalist, hiker, or trekker you the best survival axe for self-defense, hunting, and building a shelter or a fire during your adventures.
An axe is a tool you shouldn't leave home without, but it can also be a burden if not chosen correctly. But how do you select the best axe for your needs? Well, this is not as difficult as it may sound; you just need a few pointers to guide you through the plethora of products available on the market.
Top Survival Axes and Camp Hatchets
Now that we know a bit about the most important features, let's take a look at the best survival axes and hatchets you can find currently available on the market.
They will help you in any emergency situation like when you need to break some wooden pieces after a tornado or chop wood or logs during your journey into the wild. In whichever situation you find yourself, the axe will be an invaluable item in your inventory.
SOG Voodoo Hawk Axe
Weight: 23.01 oz.
Size: 2.75 inches blade length and 12.5 inches overall.
Body Material: Drop-forged high carbon steel with a non-slip GRN handle.
Special Features: One single piece axe to increase durability. It comes equipped with an elegant sheath for blade protection.
Best Use: great for outdoor adventures.
Here's an axe to offer that has the incredible durability and sturdiness of a drop forged stainless steel head and lightweight. The drop forge means that the steel has been stretched during the making of the axe head to increase the resistance and durability, and provide you with a product with very low chances of breakage. The handle provides you with a reliable grip, thus minimizing the risk of slipping from a sweaty or wet hand.
The SOG Voodoo is short (12.5 inches) and very light. This, of course, may not provide you with the sturdiness of a heavy strong axe and you shouldn't expect to be able to chop thick wood or logs with the SOG Voodoo axe, but it's perfect for hikers and trekkers, including survivalists spending days and weeks alone in the wilderness.
As long as they can chop kindling for the fire and prepare the game they caught, and of course, defend themselves against wild animals, the SOG Voodoo is more than enough.
If we still need to be fair, we have to mention the downside as well. For most customers, this negative aspect is that the blade gets dull very quickly which means that you need to maintain the sharpness more often compared to the above-mentioned axes. If you don't think this is a problem for you, you can fully enjoy this high-quality product by SOG.
SOG Base Camp Axe
Weight: 2 pounds and 1 ounce.
Size: 3.4-inch straight edge steel blade, 16 x 5.7 x 1 inches.
Body Material: the head and handle are fully forged, with a rubber over mold for better grip.
Special Features: comes equipped with a nylon sheath for protection. The handle is curved for an easier use.
Best Use: chopping wood, casual activities while camping.
This axe could be seen as an average product with average performance. It's not very heavy and also, not as large as most truly reliable axes. It's a definitely more economical choice, and can even be taken along to a hiking expedition (hence the name 'Basecamp').
The head top is flattened so that you can switch from an axe to a hammer with a single flip of the axe. Some customers find the edge a bit blunt even right out of the box and believe it needs substantial sharpening to deliver the best results.
According to them, when they tried to chop some wood at the beginning, the edge gets stuck in the wooden piece, halfway through. The explanation could be because the head is slightly thicker for an axe, and it stops along the wooden piece's length.
The head of the SOG Base Camp Axe is forged as a 'cutout' so that it minimizes the friction, thus making it easier to chop heavy objects like wood or bone.
One of the greatest features, much appreciated among customers, is the rubber handle, which provides truly reliable grip and gives a feeling of stability in your hand. The axe couldn't slip from your grip even if it's wet or rainy. The handle is also comfortably curved so that your grip remains firm.
Nonetheless, if you don't need some incredible axe with great performance and have never owned an axe or tomahawk before, this SOG Basecamp axe could be your best choice. It will get you used to the axe and you will also learn in your tempo to chop and cut thicker pieces or material.
Snow and Nealley Hudson Bay Axe
Weight: 1 pound and 12 ounces.
Size: 23 x 8 x 1.5 inches.
Body Material: high carbon steel head and a hickory handle.
Special Features: a hybrid combination between an axe and a tomahawk.
Best Use: chop branches for starting a fire, skin an animal or chop bone.
This axe is a bit better than the above one, in terms of weight. You won't be able to fell trees of course, unless they are young and thin. The axe's head opposite side is again the idea of hammer-work. It's also shipped with a leather head, to protect the edge and ensure safety for the people around you (including you).
While Snow and Nealley axe is slightly pricier, and some customers expected more durability and higher performance, the axe is perfect for hikers and campers needing the axe to chop firewood. For more than that it may not provide enough support and strength, so consider that before purchasing an axe.
Estwing E24A Hatchet
Weight: 1 pound and 12 ounces.
Size: 13 x 5 x 1 inches.
Body Material: 1055 carbon steel – forged in one piece.
Special Features: a beautiful leather grip. Increased durability.
Best Use: firewood, branches, and kindling.
Here's an axe made entirely in the USA. Only the axe's sheath is made in Taiwan, but that has nothing to do with the performance and quality of the axe itself. This hatchet resembles very much the above S&N axe, but is far more durable and long-lasting.
It is a light and yet a sturdy little piece of a metal axe. The head and handle are forged in one thus the head can't break and be off the handle.
The truth is that for the price you pay to own Estwing E24A Hatchet, you can actually expect little. The reality is the opposite – you get even more than you get with the above two axes. This makes the Estwing Hatchet one of the most preferred products among survivalists, foresters, fishermen, etc.
While this axe is a great addition to your inventory, it's still not ideal for chopping thick wood. All the above uses we listed as still applicable for this axe. This is why this product is perfect for hiking and camping. Heavier axes could cut through thick wood but would be too heavy to be considered survival axes.
Overall, this axe is much loved and appreciated by customers and they value it highly. So you will get surprisingly more stability and durability for the price you will pay.
Cold Steel Trail Boss Hickory-handle Axe
Weight: 2.2 pounds.
Size: 23 x 8 x 2 inches.
Body Material: American Hickory wood + Drop Forged 1055 Carbon Steel.
Special Features: It features a wood handle. The axe requires sharpening and even a few adjustments out of the box.
Best Use: chopping kindling, clearing the path of bushes and vegetation, and even felling trees.
While this axe boasts a European style and look, it's made (unfortunate for most customers) in China. This doesn't make it necessarily useless and unreliable, but some people may question its stability and ruggedness.
It has a carbon steel head and the handle is made of an American hickory. In comparison to the above axes this one is quite a weighty piece and it's also quite long, with a cutting edge of nearly 5 inches.
The manufacturer claims that the Cold Steel Trail Boss Hickory-handle Axe has been tested on the field in harsh conditions. Yet, according to some customers, the axe needs polishing and sharpening right out of the box, plus several more modifications like, securing the head to the handle with screws, since it felt loose or entirely loosened among certain customers.
This is, of course, unpleasant, since you want to receive a product ready to use when you unpack it, but after a few modifications, it works like a charm.
If you're willing to pay the low price for this axe and be aware that some slight malfunctions may appear, but can fix them, you will have a perfect handy axe at your disposal for chopping kindling, firewood, etc.
SOG Tactical Tomahawk
Weight: 1.5 pounds.
Size: 15.8 x 8.2 x 0.8 inches.
Body Material: 420 stainless steel for the head and though ballistic polymer for the handle which is also glass-reinforced.
Special Features: the handle is textured for a better grip. The tool is delivered with a nylon sheath for extra protection.
Best Use: for regular chores and defense.
This tomahawk is an upgrade to the above axes, since it's a perfect working axe and also a reliable weapon (either for defense or attack). It's an improved model of the Vietnam Tomahawk, which even to this day is a reliable military and soldier inventory item. No part of this axe is wooden, so there's no risk of breaking the handle.
The head is made of 420 stainless steel and is attached to the fiberglass nylon handle, with bolts and steel ferrule for even better stability and reliability. The SOG Tactical Tomahawk is almost 16 inches long and is relatively slim compared to some of the above axes.
It's ideal for harsher handling like breaching doors, throwing, chopping, hacking and even digging. It's a hard-core item for those survivalists expecting harsher conditions or environment (including a face-to-face meeting with aggressive animals). Impressive enough the axe is light, which makes it great for any type of environmental work, military activity, and even emergency situations requiring hard-core survival skills.
We were amazed at how razor-sharp this SOG axe is, and even had to secure the head in case it flies off (which didn't happen to any user). So there's no need for sharpening, as is the case with some of the above axes. The handle of the SOG Tomahawk may become slippery if your hand is sweating too much, so you can use some tape to increase the friction and heighten the grip feel.
Check out some tips on how to throw a tomahawk by reading our earlier article on this subject.
Overall, it's among the best axes reviewed so far and customers love it for years. It's rugged, sturdy and reliable and you will be highly surprised with its performance. This axe, for this price, could be your best choice.
Gerber Gator Axe
Weight: 19.2 oz.
Size: 13.2 x 8.8 x 2 inches.
Body Material: Forged steel head + Ballistic nylon sheath.
Special Features: the handle is equipped with a fixed blade knife and the handle is textured for a better grip.
Best Use: chopping small wood, kindling, or clearing a path through vegetation.
This amazing axe will actually surprise you with how compact it is. Not only that, but it comes with a knife, which can be held in the empty space inside the hatchet's handle.
While knives are often more useful because of how light and easy-to-manipulate they are, the manufacturer decided to include the knife along with the hatchet. This means that you have two compact items for your inventory without them taking much of your precious space. You may immediately feel that this Gerber Gator Axe may become your most preferred hatchet from among all products we listed here.
Both the knife and hatchet are made of forged steel, and the handle (which has a rubber coating for better grip) is made of glass coated with nylon. This makes it virtually impossible to break. It could be said that this is the most reliable hatchet/axe you could own.
The only thing you need to keep in mind is that, due to its low weight, it can't possibly withstand rough handling or chopping thick wood or logs, or the hatchet itself may break. Again, it's ideal for survival situations when you simply need to chop small wooden pieces, kindling, clear your way of thick vegetation, etc. When it comes to that, you can fully rely on it.
Browning 231 Outdoorsman Axe
Weight: nearly 3 pounds.
Size: 2.5 inches and a long handle.
Body Material: high-quality 1055 carbon steel for the head and polypropylene and fiberglass for the handle.
Special Features: the design is quite unique and increases the ease of use.
Best Use: great for outdoor activities like chopping, splitting, or game processing.
This axe is among the really rugged and strong axes you may find on the market. It's lightweight of course and is ideal for campers. It has a relatively long handle and the head is one incredibly strong and durable piece of metal. The head has an extension tang into the handle for more safety and security, and to minimize the risk for the handle to fly off.
If you look at the Browning 231 Outdoorsman Axe you may consider the head to be visually a bit small (about 2 inches and a half), but that is compensated by the long handle, which provides for better leverage. The only thing you may have to consider before committing to purchasing Browning is that the handle may not be capable of too much pressure if you want to chop some thick wood pieces or large logs.
Some customers who tried to chop such thick logs suffered a broken handle. Since the head is small, you may only want to chop thin branches, kindling, vegetation, etc. Obviously, the Browning axe isn't suitable for heavy hard work, so keep that in mind.
Otherwise, it's ideal for small jobs like removing the branches of a tree, etc. and also, the blade is very sharp and some customers are surprised at how sharp it is indeed. If you use it only for small and simple jobs you can use this axe for a long time.
Gransfors Bruks Wildlife Axe
Weight: 1.5 pounds.
Size: 14.5 x 6.5 x 2 inches.
Body Material: wood for the handle.
Special Features: extremely sharp blade and a very rugged design.
Best Use: backpacking, casual activities while camping, shaving.
Gransfors Bruks are among the most valued manufacturers among outdoorsmen, preppers, survivalists, hunters, etc. The company is popular with its high-quality and highly reliable products, that withstand the time and abuse of harsh handling in the wilderness. Despite the high price, in relation to the previous axes, you definitely can rest assured you will get a lifetime of a quality axe/hatchet.
Most of Gransfors Bruks axes suit mostly hunters because they are useful in removing the skin and chopping through bones and ribs without a problem. Although this Gransfors Bruks Wildlife Axe is great for heavy work and harsh handling, it is quite lightweight, which is impressive considering the fact that it's so durable and rugged.
You get 20 years warranty on every product by the manufacturer. Having that in mind, you can definitely invest some money in this axe and get an amazing quality, and rely on the axe's performance for many years.
I would claim that the blade is so sharp that you can even shave with it, as it's razor sharp. While this is a heavy duty axe, you still have to be careful how you handle it, in order to avoid injuring yourself.
After all, if you take good care of this axe, it can be by your side for a lifetime. All customers who are more than happy with this purchase claim that, spending more money on this product will actually pay off because you will virtually never need another one unless someone steals it from you.
Overall, almost all customers are impressed with the quality, beauty, and craftsmanship of this axe, bringing them back to how craftsmen used to spend a lot of time crafting very high-quality axes and swords.
The manufacturer actually values more the quality and isn't purely after the buy-and-throw-away process, but actually believe in the long life of products, when they are crafted. This means that you can definitely get the best axe if you invest in this Gransfors Bruks product, and you wouldn't be disappointed at all.
Main Specs to Look For in a Good Axe
Below we will list and discuss several of the features that make a great axe so pay attention and make sure you understand everything. If you have questions, we'll be more than happy to reply so please leave us a comment.
Spec #1 – Grip
You won't be able to do anything with your axe or hatchet if it slips from your hands as soon as they get a little wet. You will sweat while you chop wood or prepare the game and you may also encounter rain or snow in your travels.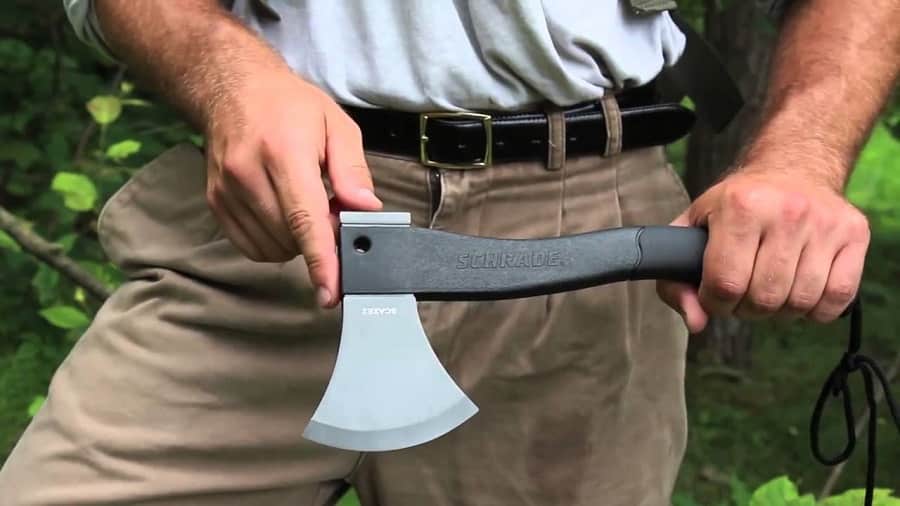 The tail must be specially designed to fit naturally in your hands and the materials must be non-slippery even in conditions of high humidity.
For this, the best materials for the tail are rubber and wood. Also, some axes feature a special pattern that increases the grip and comfort while holding and using the tool.
Spec #2 – Sharpness
A dull blade on an axe with a good grip can only be used as a fancy club. That's why you will need to make sure that the blade is sharp when you leave home and that it stays sharp for as long as possible.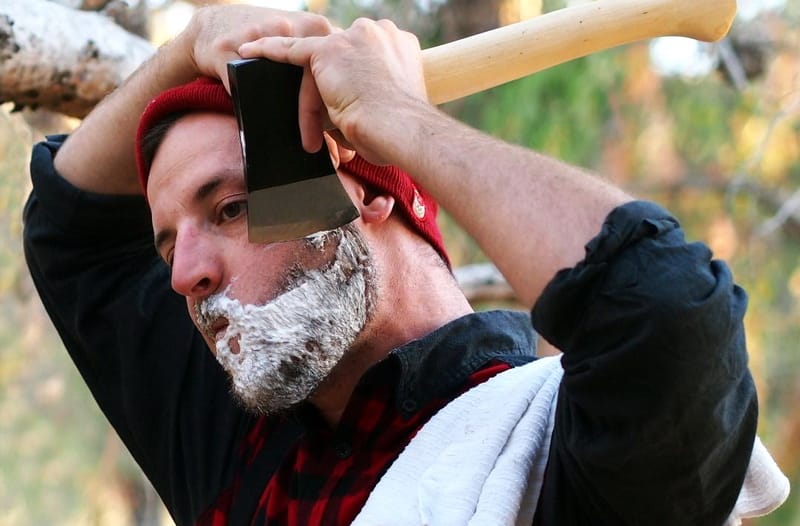 This may require carrying an axe sharpener with you, but it also matters the material used to make the blade. The sharper the blade, the easier your work will be. Check out our article for tips on how to sharpen an axe properly.
Spec #3 – Balance
An axe is a fine tool and must be designed with a balance between the tail and the head in mind. As a beginner, you might miss this fine aspect when you hold the tool for the first time, but you will definitely feel it while working.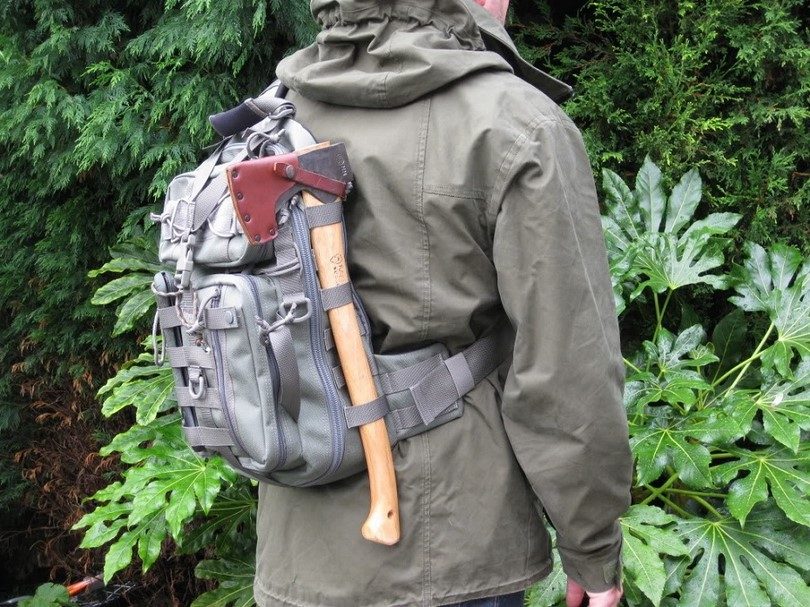 An imbalanced axe will make your work more difficult and you will get tired faster. On the other hand, a balanced axe will make chopping wood a pleasure and you won't even notice when the job is done.
To test out the balance, don't just point and buy. Take the axe in your hands, swing it, feel it, balance it in one hand and then the other. It doesn't have to feel heavy and it doesn't have to lean more to one side.
Spec #4 – Durability
Yes, even axes get totaled and you want to make sure you'll have it sturdy and ready for use when you need it the most. For this, you have to pay attention to the materials used for the tail. Wood is a more traditional material, but it is susceptible to rot and splintering.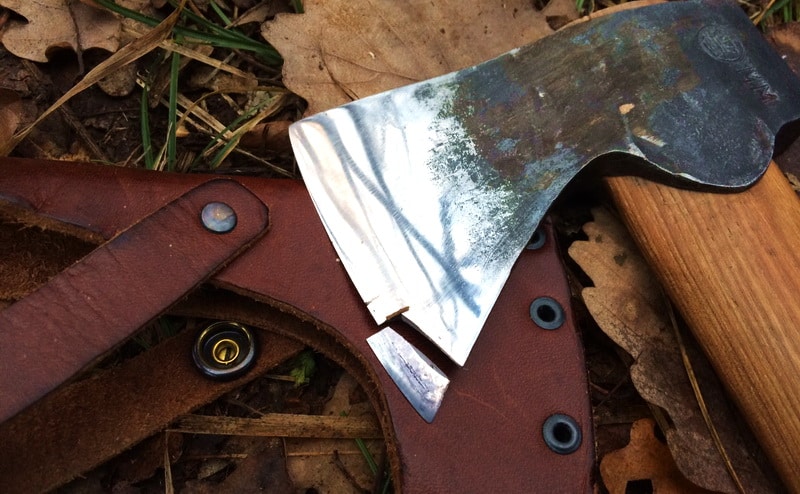 You must also consider the material used for the head and blade – make sure it is rust resistant and that all the elements are assembled correctly. Check out the different types of axes to give your more understanding of this practical gear.
Wrap Up
The list above introduces you gradually to some impressive designs and high- quality axes, to give you the option to decide for yourself. Now, according to your budget and how often you plan to use this tool you have the possibility to select the right product.
Of course, there are other producers and products out there. So, if you like another product, we can't wait to hear why – leave us a comment and tell us your story.
Some of the links in this post are affiliate links. This means that if you click on one of these links and make a purchase, I earn a small commission at no extra cost to you. Also, as an Amazon Affiliate, I earn from qualifying purchases. If the information in this post has been helpful, please consider purchasing through one of the links in this article. Thank you.