Owning and using a survival bow and arrows can be both fun and a real hunting or defending tool. In the wilderness, hunting game for food can be a great skill and anyone who claims to be a serious survivalist and environmental enthusiast, who relies on wild game for food, and spends weeks on end in the wilderness, should own a survival bow and arrows.
While some Hollywood movies made archery a popular sport, it has been a means of survival among tribes for many centuries. It's one of the oldest ways to wound and capture an animal. It is still popular (and the main source of food) for many tribes currently existing in some countries, where civilization hasn't yet stepped in. You can even learn how to make a DIY bow and arrow – read our tutorial piece to learn how.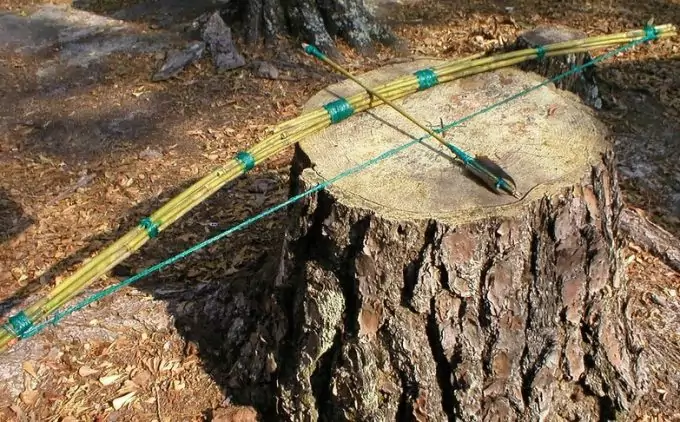 In this piece, you will learn about some of the best bows and arrows which you can purchase, who got hundreds of reviews and high rating from customers who used them first-hand.
6 of the best survival bows
Spectre Compact Take-down Survival bow and arrow set
This first bow in our list, could be said is one of the really compact and light bow and arrows in one kit. It is also compact and can be attached to your backpack while hiking, or simply place it in your car and drive where you plan to practise or hunt. What makes it so compact and such a good trade off for the affordable price is that you can detach the limbs (which are made of fiberglass and resin), in order to fit the bow in virtually any tiny cramped space. The riser is also made of fiberglass and has, as expected, an arrow rest. Together this set can snuggly fit in a compact bag.
Another useful thing about this bow is that it is a perfect back-up for more professional hunters, who tend to purchase highly expensive bows and arrows sets. Even if the Spectre survival bow isn't considered professional, many professional archers will find it very useful and reliable.
When you purchase the bow, you will get also three additional arrows. You can purchase more separately. You will also get a carrying case, where you can keep the bow and arrows. You will also get an instruction booklet, with plenty of hunting techniques, and even detailed explanation on how to preserve meat without any special set-up, plus many more tips and techniques.
Most customers are very pleased with the low weight of the bow and arrow set, and also they find the possibility to disassemble the bow into smaller parts one of its strongest features, since it can be transported almost in any imaginable way. They also like the feeling of durable material, and not a cheap easily breakable material. As a whole, it's a product you will definitely enjoy and appreciate, although the low price may make it cheap in your eyes.
You will still be able to find it helpful and highly reliable. Anyone who didn't follow some of the warnings in the manual broke some parts of the bow. As long as you adhere to these warnings, you can use this bow and arrows for long.
Genesis Pro bow
This bow is a step-up from the above product. It's much more professional with a 15 to 25 lb draw weight, which is considered among the best. You, as a user, can freely adjust the bow according to your stance and height. This will also ensure that you pick the best draw weight for your personal measurements. Thus, you can have a good stop (or 'solid wall') when you pick the bow and shoot an arrow.
According to Genesis, the manufacturer, the user will often activate a mechanical release aid. This happens without the user knowing about it, but it happens automatically. This may sound strange at first, but with time you will realize that this feature is actually helping your shooting technique and accuracy over time. Your shooting will become much more consistent.
Another adjustable feature is that whenever you want to use the arrow rest, you will have a greater clearance area. This is true in case you use large feathers/vanes. This feature is up to you whether you would want to take advantage of it or not.
Another thing worth mentioning is that the Genesis bow series were implemented in a revolutionary new way among other bow products, meaning that Genesis bows have the widest draw weight range than any other bow on the market. This means that these bows are suitable for both kids and adults alike. With simple adjustments, the bows can suit almost any person's needs.
Overall, this bow is great for both beginners and people of different ages. It can be both an entry-level bow, and a survival bow. It's lightweight and can easily be attached to a bug-out bag.
If you like this product you can find and buy it on Amazon.
Primal Gear Unlimited bow
Primal Gear Unlimited is very popular among survivalists. One of the strong features of this survival bow is that it can be used by both left- and right-handed people. While many other bows are either left- or right-handed, survival bows must be made ambidextrous to be so effective and convertible. Again, just like the first bow review in this article, the Primal Gear Unlimited bow is made of durable fiberglass. It's flexible and not easy to break.
This bow can be folded and in its shortest form it's 23 inches long, as compared to its extended version when it gets as long as 59 inches. It weighs slightly above 2 lbs.
When you receive the packaged bow, you will have to assemble it. While most bows are very hard and difficult to string, this bow is in fact extremely easy, and even a person without any experience in stringing bows can do it in a matter of seconds. It takes very little time to set up the entire bow – from string to limbs. This makes it a perfect survival bow. You don't waste time assembling the product, and yet you receive a light compact bow, which is just as reliable as any other professional bow.
While all these pros are definitely appreciated, there is a slightly negative side to this product, and that is that there is no sight on this bow. For people without experience in using bows and setting up extras on their bows, it may prove hard to attach a sight. This isn't a problem for professional archers though. Yet, you may see this lack of sight as a positive and challenging feature, since it will be close to a traditional bow, just like our ancestors didn't have sights on their bows. This may even help you to get better at archery in the first place.
Overall, this is a great deal for the price, since it's affordable, and you get a long-lasting product for your backpack.
The manufacturer (Primal Gear Unlimited) has three models for this bow. One with 40 lb, the second with 50 lb, and the third with 55 lb draw weight. It is up to you, which will suit your needs.
October Mountain Product's Adventure 2.0 recurve bow
Here's another useful product for survivalists and adventurers. This bow can be triple-folded, and thus quite compact and easy to carry in your backpack or bug-out bag. While it's not a full hunter's bow, it can still be used for small game and close targets. Yet, the folding feature makes it highly preferred among adventure enthusiasts.
The bow is very beautifully crafted and has a lamination of oak, hard maple, and walnut construction. It is also very light – 1.6 lb. The draw length is about 30 inches making it ideal for adults, but not for younger archers. If you want to purchase this bow, though, you need to specifically note that you won't either a right- or a left-handed bow, since this isn't an ambidextrous product, like the Primal Gear Unlimited's bow.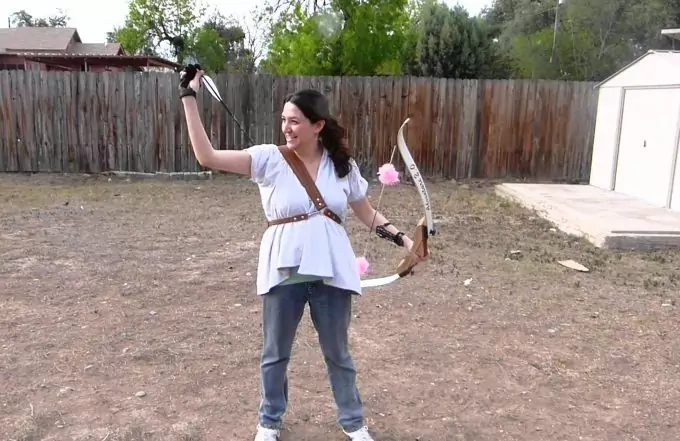 For almost all customers the strong sides of this bow are that it is made of quality material and has a durable construction. It has metal limb pockets. It is easy to set up or disassemble. In addition, there are mounting points in case you want to use additional accessories on this bow.
Some consider the rising to be a bit rough and find it a bit like a negative, although it won't influence your archery skills. Also, unfortunately, there's no rest included with the bow. As we mentioned above, this could be used as an advantage, since it will polish your archery skills. Overall, you need to be aware of these minor drawbacks.
After all, you can use the mounting points to attach the missing elements, like a sight, rest, stabilizer, and a plunger button. You can definitely optimize and customize the bow according to your needs.
If you like this product you can find and purchase it on Amazon.
Xpecter Nomad Take-down survival bow
Xpecter, Inc. is a company that specifically focuses its attention on manufacturing survival bows. It is behind the Spectre Compact bow from this list. As this is what the Xpectre specializes in, you can count on them doing it really well. This arrow can be taken down to mere 16 inches in length, making it ultra-compact for your backpack. It can be said that there virtually doesn't exist a better take-down bow currently on the market.
Along with the bow ships also a carrying bag, which is also small and the bow can snuggly fit inside. It has also a shoulder strap. The carrying case can also be broken down to a waist pouch, where you hold the bow and arrows.
About the bow itself: its limbs are made of fiberglass filled with resin, while the riser is entirely made of fiberglass. You'll also have an arrow rest (which is missing from some of the above products). The arrow rest is made of rubber-coated metal so that the arrow release can be made smoothly. Thanks to the specific position of the arrow rest, this arrow suits both left- and right-handed people, which is a great plus. As some customers share, in order to make it left-handed, you can simply turn the bow upside down, and voila. This can't be done with other bows.
As we said, the bow can be taken down to its more compact form. Since there is no need for special tools to assemble it, you simply have to slide the limbs into the main element, where you see the edge brackets.
You are not advised to hold the string attached to the bow when you don't use it. This will deform the bow over time. As for the poundage, the Xpectre offers only one version – 45 lbs draw weight, with 28 inches draw length. This arrow, as you can judge by the draw weight, isn't suitable for too large animals, but can be used on medium-sized deer, goats, boars, etc. at a distance of no more than 40 yards. More than that may not provide you with the results you are looking for and will simply injure an animal, but not kill it.
And finally, this bow comes with 4 arrows, made of carbon, with grain-filled tips. You can unscrew the parts of the arrow, to make it as compact as the bow. Otherwise, at full length, they are about 31 inches. A note – the arrows are made of Warrior, and not Xpectre.
Don't forget that you can improve your aim. See our piece on the best bow sight for the money to help you.
Xpectre Raptor Universal Compact Take-down bow, 40/50
Here's yet another Xpectre product. This one features all the above properties since it's a survival bow made by Xpectre. This difference is that you can customize the draw weight, and choose between 40 and 50 lbs. It's a 30-inch draw. You will again get a carrying case, 3 arrows, and the option to choose between right and left-handed products. Since it's an ambidextrous bow, you can flip it upside down, and have either the left or right side.
The design follows slightly different than the above, with its aluminum skeletal shape. The difference with the arrow rest is that you will have the option to use one arrow with four different configurations. Thanks to the special design of this bow, the skeletal shape stock offers a sight of the sort, since it provides you with an opening (window) that you can use to align to the target.
The two rises have a durable anodized finish surface, providing you with a reliable grip on the bow. The limbs are again made of fiberglass filled with Supersil resin – this is the exact same material, which Xpectre relies on for its other bow products.
While the market isn't filled with numerous amounts of survival bows, the above are the most popular among customers and survival enthusiasts. While they are not created equal, some are definitely better than others. Xpectre and Primal Gear Unlimited are among the most trusted manufacturers.
See our article featuring the best bow hunting tips to make you a better hunter.
Some of the links in this post are affiliate links. This means that if you click on one of these links and make a purchase, I earn a small commission at no extra cost to you. Also, as an Amazon Affiliate, I earn from qualifying purchases. If the information in this post has been helpful, please consider purchasing through one of the links in this article. Thank you.