Even though you might be looking for a tactical pen only out of pure curiosity, you can't miss on noticing that this handy tool is more than just a fancy gadget. Tactical pen can come as very handy when it comes to defense tactics and when you need a sleek weapon. Even when other weapons fail you, tactical pens if chosen wisely won't. For all those who are not familiar with the term "tactical pen", this neat gadget is actually a pen that is made to contain a hidden blade. For the purist, see our article on the best techniques for martial arts to arm yourself.
[the_ad_placement id="in-text-1-type-a"]
The word "tactical" implies that military principals are involved in constructing and designing this pen. You can add it to your set of regular pens and hide it perfectly! If you prefer another mode of protection, see our article review of the best self-defense products for your use.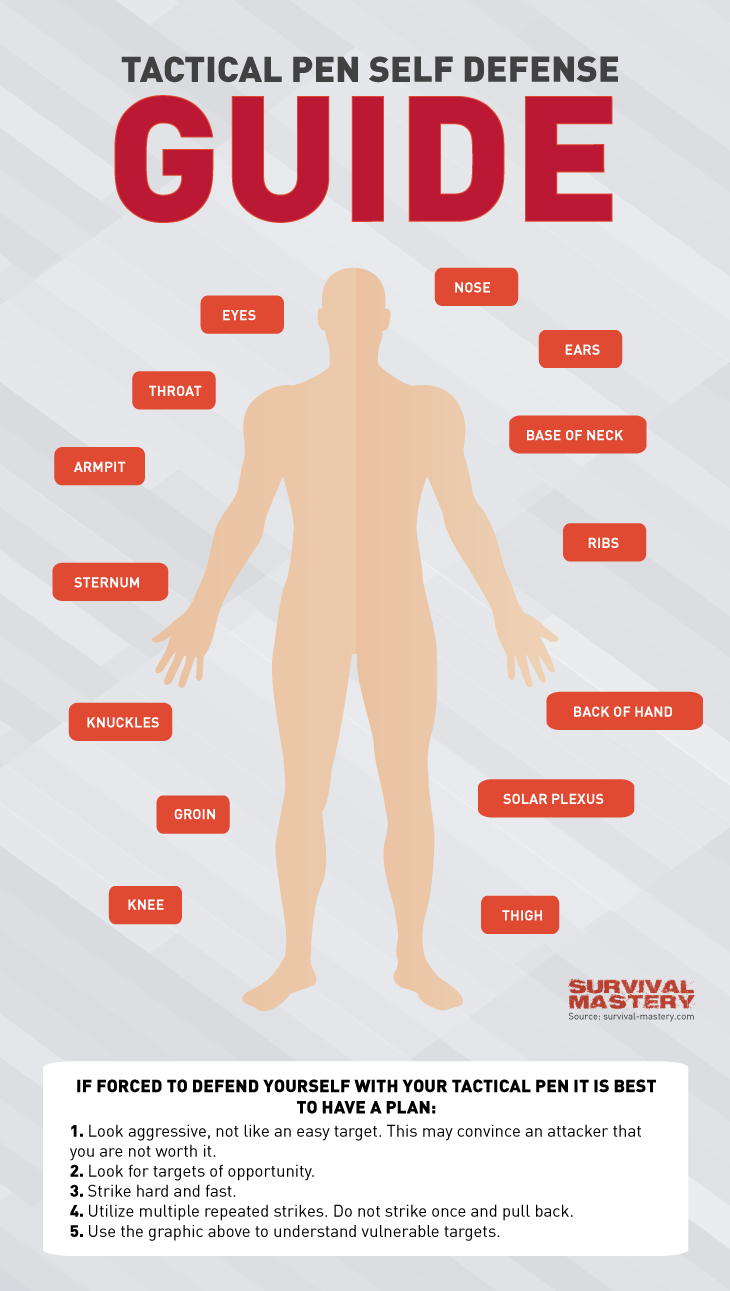 When it comes to dramatic life threatening situations, a tactical pen might even save your life. To make sure you will buy the one that is completely functional and well designed, check out our top picks list.
Schrade Tactical Fountain pen
This tactical pen looks like that type of pen most of us give out as a gift as it looks classy and sleek. Some might say that design and aesthetics go under steam punk style, so if you are a fan of that look, you will certainly like it.
You can use this pen as any other pen – for writing, but you can easily use it as a tool or a weapon as it is designed to do so. Just as any other fountain pen, this Schrade might feel a bit heavy in your hand and that is only because this tactical pen is made of metal.
There is actually nothing special in it, but the looks of it and the perfect functionality will probably make you think this pen is a keeper. When carried around with the full cap on, you might also have a problem with the size of it as it becomes longer with the cap on. That is not a problem unless you want to carry it around in your pocket – that's a bit tricky and does not feel as natural.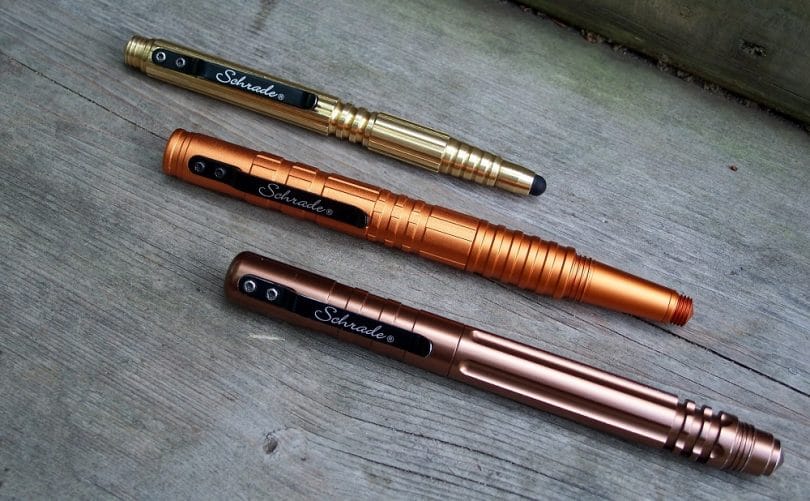 Again, when carried in the pocket, it might happen that the pen gets unscrewed, but those are only minor "issues" affected by the law of physics, so nothing to worry about. Is this pen really a weapon? Well, yes. That means that you won't be able to go pass the airport security with it.
So, basically you will be purchasing a pen that has fully functional fountain tip and the ball, along with a nice strong clip that will enable you to carry it around clipped to your pants and pocket. It won't fall out despite of its weight. When it comes to weight again, it won't get in your way of writing smoothly and easily.
Pros: Very elegant, smooth looking, sleek fountain pen. It works great when writing and it can easily turn into a weapon or a tool when you need it. Scharde is also very cost-effective as you can find it and buy it for under or just a little over 20$.
Cons: Although we think its heaviness is a good thing, people who are not used to using fountain pens might find it a bit heavy to be held and used for writing. The cap that gets unscrewed occasionally by itself when held in a pocket might also be considered a con, but this is just a minor issue that doesn't affect the quality of Schrade tactical pen. All in all, Schrade has made and designed a nice and solid tactical fountain pen.
If you like this product you can find and buy it on Amazon.
Smith and Wesson Military and Police tactical pen
This model is probably a classic in the world of tactical pens. That is probably because the design is more that simple and functional, perfectly describing how a tactical pen should look like. This tactical pen works great as what it looks like at first: a pen; and although the point doesn't look sharp it can easily be used as a blade. So, what you are getting is a combination of a tactical knife and a pen.
If you decide to buy this pen only top carry it around as a defense weapon, you can make sure that no one will notice it as such. I mean, who would guess that a perfectly normal pen might help you fight off attackers. At least at first. Why? Well, you've noticed the name of the pen up there? Smith and Wesson, yes.
Everyone knows that Smith and Wesson are manufacturing and designing weapons. In fact, they are so famous in their business that even those who are not enthusiastic about weapons know who they are. This wouldn't be a problem if Smith and Wesson didn't decide to print their logo on the pen, so it is easily visible.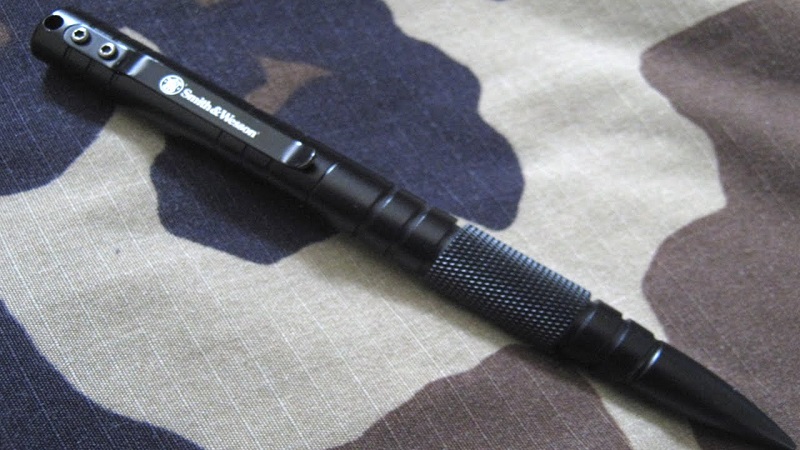 If someone notices it, they will probably know that this is not "just" a pen, but a tactical pen that you are carrying around for defense. If you are a police officer or a soldier, this is not a problem. We have to admit thought that it is strange to see a civilian walking around with Smith and Wesson product. If you want to close your eyes for this con, you can just scratch the paint out and leave the metal surface.
It would probably be worth it as this pen fits great in the hand and it is pretty easy to carry it and hold it. It's not too long or too heavy, so you can even carry it in your shirt pocket. It is made of aircraft aluminum which means it is solid but also not too heavy.
It also has click cap for on and off modes and it comes with ink cartridge included. Just so there is no confusion at all, the pointy end is not the one you are supposed to write with, the writing end is on the blunt end cap, just under the cap.
Pros: Smooth and sleek design and very easy to carry. Smith and Wesson tactical pen is designed for police and military purposes, so you can be sure that this fine looking gadget will be at your hand and fully functional when you need it. Another great thing is that you can purchase this beauty at a very low cost.
Con: The cap is a bit difficult to be removed at first so you might have a feeling that you will break it if you pull too hard. That is just a case until the cap gets loose a bit. The thing we've already mentioned is Smith and Wesson logo printed on the pen so it is fairly visible, which is not as good idea as you are carrying a tactical "weapon". Don't even try to get it pass the airport security.
If you like this product you can find and check its price on Amazon.
Columbia River knife and tool Williams tactical pen
Well, who is better for designing tactical defense weapons than an ex Military Force officer and a martial arts master. This is exactly who designed this amazing tactical pen. Besides from being made as a perfectly functional pen you can use for writing, Mr. Williams has designed a pen that will most definitely come as handy as a defense tool.
The pen is designed to have an easy grip and it is ergonomically designed to fit your hand comfortably so you can use it properly and without any discomfort. The point is very sharp, so in case you need to use your pen as a tactical defense weapon, you will most certainly be able to seriously wound someone.
When it comes to aesthetics, Williams' tactical knife really looks good and when you combine the great looks with the firm grip feature, you really get an extraordinary tactical weapon that appears as a regular pen.
[the_ad_placement id="in-text-2-type-a"]
Mr. Williams has really thought of everything and designed a perfect tactical pen. However, some users claim that the cap is not as quality as it could have been made to be. The O-part of it tend to change shape very quickly until it is not longer able to fit the pen, but that is not always the case as other customers and happy users haven't had that problem.
All in all, you will certainly be happy with it, both, using it as a pen and as a tactical weapon and tool.
Pros: Easily fits in the pocket, firm grip is enabled as the pen is ergonomically made to fit the hand. You can barely tell that this pen is a tactical weapon which is a gre4at undercover strategy.
Cons: Well, there is nothing wrong with the pen except the testimonial where the cap is said to have changed its original form and does not fit the pen anymore. That however, doesn't affect the pen's functionality.
If you like this product you can find and purchase it on Amazon.
Surefire tactical pen
Surefire tactical pen is more than twice expensive than the previous tactical pen models we've reviewed. Is it worth it? Let's see. On the first look, you could never tell that this pen is actually a hidden weapon and you probably won't believe that it could make damage until you have it confiscated at the airport security.
It even looks more natural than Williams tactical pen and is as good for writing.
Unlike all the other pens on our top list, this one doesn't have a cap. Instead you have a retraction mode made as at any other ball pen. Unlike other ball pens, this one is made of aerospace aluminum that with a hard-anodized body.
This pretty much makes it impossible to be destroyed by a human hand. Surefire tactical pen, given of what material it is made of, is properly heavy, but yet not too heavy to make it uncomfortable to use it as a pen or a defense weapon or tool.
You can carry it around in your pocket and use the clipper to make sure it won't fall out. Even if you drop it, it won't break due to its high-quality material. That is probably the reason why its price goes over 70$. We are, however, not sure how many people are ready to spend this amount on a tactical pen when there are many other pens that work perfectly fine and can be purchased at significantly lower prices.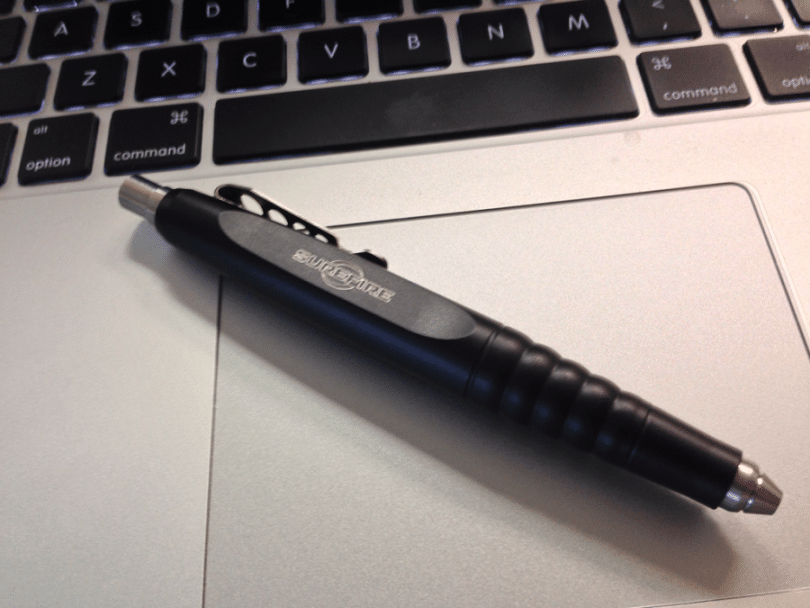 This one looks pretty great, though; and as we have already mentioned, no one would suspect that your pen is an actual weapon. It is also pretty easy to use it as a pen. Due to its balanced construction and sleek design, you won't have any problems when writing.
One thing that can be considered a faulty is the absence of a cap. Some customers claim that the tip can accidentally unscrew and spill ink all over your shirt, bag or pants – not the thing you exactly want.
As you get no-hassle warranty, you can ask Surefire to send you a cap and they will, although you will wait for a while until they do. Even though you are getting a warranty that guarantees that they will cover anything that goes wrong, that is not a case.
If you are considering buying this pen only because there is a warranty included, you mind as well go ahead with a different choice. Other than that this pen is pretty nice and functional, both, as a pen and a tactical weapon.
Pros: Very well designed, heavy but balanced and great looking tactical pen. You can barely say that it is a weapon you are carrying around and not just an ordinary pen. It is made of high-quality materials and practically indestructible.
Cons: No-hassle warranty doesn't actually cover all the hassles that might get in the way of completely enjoying this pen. If you are not extra needy and you are ready to pay good money for a tactical pen, you will surely find owning this pen satisfying.
If you like this product you can find and check its price here.
Boker Plus Titan tactical pen
So, another one of few solid tactical pens we have found. As far as the price concerned, Boker Plus is somewhere in between the prices we have had before, so you can find it and purchase it at the price of 40$. That is not expensive, but it's neither cheap. However, you will be purchasing a solid tool that can be used as a pen and a tactical weapon or a tool.
Even though at first this weapon doesn't look like it could do more than writing that is far from truth as Boker Plus has more to it than being just a tuff looking pen. Yes, you can write with it and it will work great with standard ink and in case you would need to use it as a weapon, you could with no doubt cause serious harm.
To prevent someone from truly getting in life threatening situation, Boker Plus has its tip blunted instead of extremely sharpen – that way this tactical tool is constrained to hurt in defense but not to kill (and you definitely don't want that).
Other than that, this pen is worth being considered your top choice as it has an easy grip design, made to fit your hand perfectly, so you can make sure the pen is fully operable. What some users stress out is that the pen is not exactly the right size for every or any hand as it could have been made to be longer, but its current length is good for another aspect – it allows you to carry the tactical pen without actually making it visible.
As the tip is blunt but still functional as a weapon or a tool, you won't be asked to leave it as you are going through the airport security, which is a good thing as your tactical pen won't be confiscated, forcing you to buy another pen.
The pen is made of aluminum with matte finish which prevents it from slipping out of your hand. Another thing, the one that makes this pen stand out from a bunch of similar products, is bolt action integrated into its design. Pretty good investment at fair price!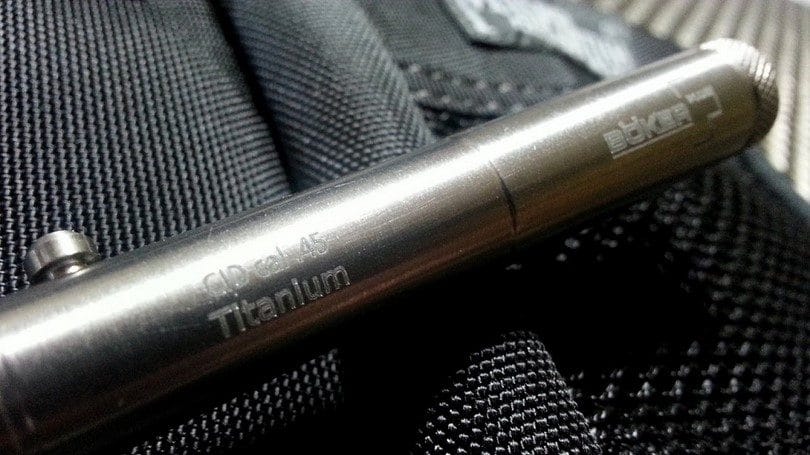 Pros: Bolt action is one of the features that will probably make you pick this tactical pen. Boker Plus has easy grip design and is pretty comfortable when used as a pen or a weapon. The tip is blunt but it can cause damage and wound someone – the part with blunted tip is pretty good as it constrains things you don't actually want to happen.
[the_ad_placement id="in-text-3-type-a"]
Cons: The pen seems to be smaller to be held in larger palms, which can make it almost impossible or fairly difficult to use. However, this could make a great tactical weapon for people who don't have problem with that.
If you like this product you can find and buy it here.
When picking the best tactical pen, you want to pick one that is fairly priced, easy to hold and easy to use, as a pen and as a weapon or a tool. Our tactical pen reviews have something in offer for everyone, so you can rely on each product's functionality, also being aware of all the cons there are.
See our useful tips and guidelines on how to use a tactical pen for more insight.
Some of the links in this post are affiliate links. This means that if you click on one of these links and make a purchase, I earn a small commission at no extra cost to you. Also, as an Amazon Affiliate, I earn from qualifying purchases. If the information in this post has been helpful, please consider purchasing through one of the links in this article. Thank you.