There is no knife that compares to the durability and high functionality of a Swiss Army knife. The latter contention is especially true if you are looking for a durable, long-lasting, and highly functional knife for survival purposes. Manufactured for more than 100 years now, Swiss Army knives are a well-known and trusted name in the industry of knives and tools.
[the_ad_placement id="in-text-1-type-a"]
Made by Victorinox (and Wenger SA since the year 2005), the Swiss Army knife is one that comes in a wide range of combinations when it comes to the tools and gadgets that come with each knife. With so many configurations to choose from, finding the best Swiss Army knife for your survival needs is easy.
The history
Originally called the Offizersmesser knife, World War II American soldiers coined the now-well-known term "Swiss Army knife." The knives are multi-tool selections and a pocketknife all in one. The knives often feature a red colored exterior with the Switzerland coat of arms on the side, but some also feature a cross or the Wenger or Victorinox logo as well. Of course, red is not the only color these knives come in and you can get them in black, babinga, camouflage colors as well.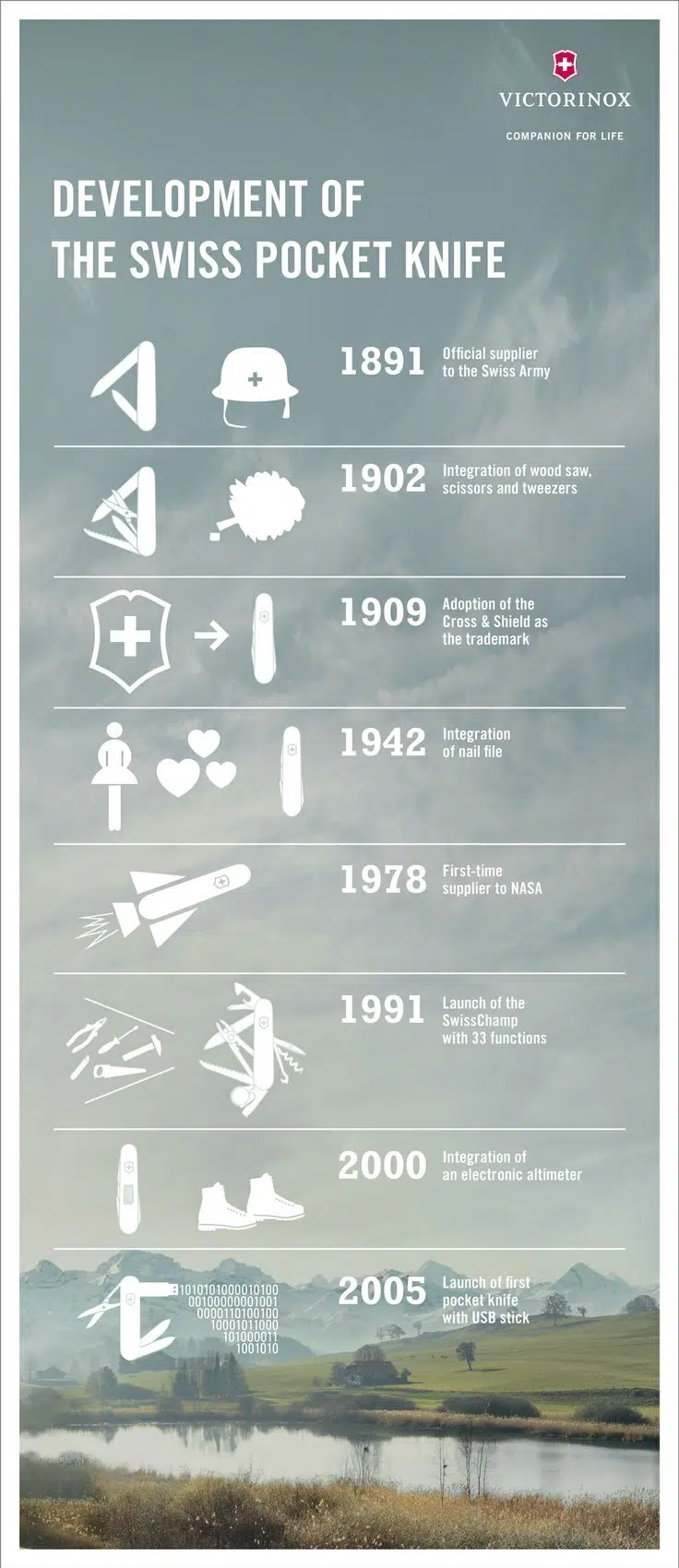 The pocket knives are well-made and commonly feature one or more sharp blades, can openers, and convenient tools you might find you need when you are on the go, traveling, hiking, or camping, like scissors, tweezers, and pins. For more options, see our piece on the best EDC knife.
A pivot point component inside the knife handle allows for a series of tools and gadgets to be connected all at one point. When in need of a tool or gadget, you can grab it by its edge and pull it out of the handle.
In the late 1880s, a new pocket knife was ordered by the Swiss Army so they could be given to the soldiers. The knife that was requested by the Swiss Army needed to be able to disassemble the Schmidt-Rubin, a service rifle, which would require a screwdriver, and it had to be able to open canned foods as well.
In 1891, the knife was then designated as Modell 1890. It featured a screwdriver, a can opener, a reamer, and a blade while the exterior were made of a gorgeous Oakwood. Later, the exterior was replaced, at least in part, with an ebony wood. At the end of that same year, Karl Elsener began making the Modell 1890s. Karl Elsener is the cutler who started the knife company that made the first Swiss Army knives. This company was located in Ibach, Switzerland and later became Victorinox.
Knife design
The Swiss Army knives on the market today are made primarily of stainless steel parts. Brass rivets, flanged bushings, and rivet hold all of the scales, aluminum separators, and tools together in the knife. The inclusion of aluminum separators helps to make the knife lighter. The blades of the knives are crafted out of martensitic stainless steel alloy: This makes them highly resistant to corrosion. The alloy contains manganese, molybdenum, carbon, silicon, and chromium as well.
The Swiss Army knife's unique assembly consists of separators and a flat steel spring to which a tool with a brass rivet is installed. Before the next tool is installed, another separator and spring are put into place. The layering process continues until all of the desired tools are included. A final separator is placed at the end of the compiled tools, and all of the metal components are then connected with a fastened brass flanged bushing to the brass rivets. Any remaining rivets length is removed so that it is made flush with the knife's bushings.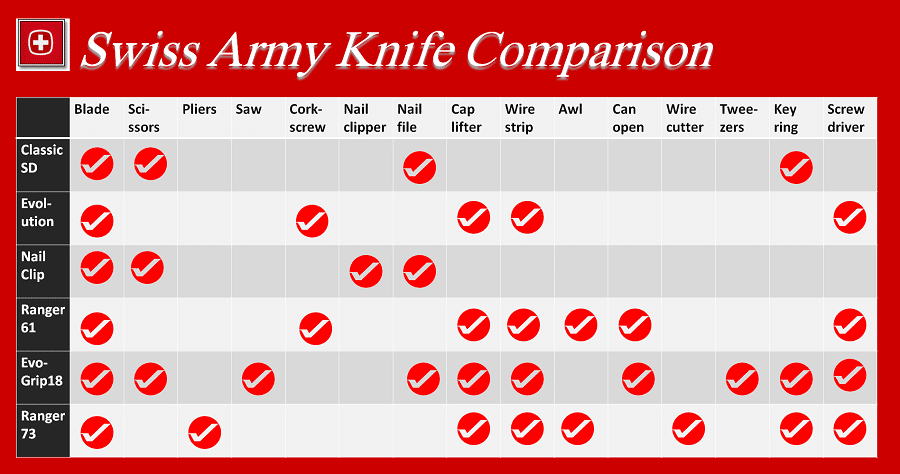 It is also flattened into the flanged bushings. Once assembled, the Swiss Army knife's blades are sharpened, specifically at an angle of 15 degrees so that a steel cutting edge that is V-shaped and 30 degrees is established. A laser reflection goniometer is used for testing the knife to ensure the blades have the correct angles. Then scales, as a final step in the process, are pressed onto the flanged bushings.
Victorinox makes its Swiss Knives in very specific sizes. It is important to note that the most diverse knife with the most functions and design flexibility are those measuring 91 millimeters or 3.6 inches. The sizes the knives are made in vary and include:
| | |
| --- | --- |
| Millimeters | Inches |
| 58 | 2.3 |
| 74 | 2.9 |
| 84 | 3.3 |
| 91 | 3.6 |
| 93 | 3.7 |
| 100 | 3.9 |
| 108 | 4.3 |
| 111 | 4.4 |
Survival knife uses
When you are in a survival situation, a Swiss knife will serve you well and you will be more than glad you had the knife with you when you need it the most. A Swiss Knife can be used for a variety of survival purposes, and can make your life a whole lot easier in an otherwise stressful situation. Some uses for the pocket knife and multi-tools include:
Tweezers: When out in the wild you may encounter a parasite or two: Ticks. It is important to get the ticks out of your sink if you are bitten and as soon as possible. A Swiss knife with a pair of tweezers can help you do the job. These same tweezers are also excellent for the removal of slivers.
Fishing excursions: If you are fishing for food, you will want a sharp knife for cutting the fishing line, and cutting/skinning the fish you want to cook and eat. Some Swiss knives come with tools that you can use to help in the removal of fish hooks as well.
Food consumption: Depending on where you are, the situation you are in, and the food you have with you, you may find your Swiss Knife in handy, especially if you are looking to open canned goods with a can opener. A bottle opener is also included so you can always get beverages open. If you happen to be out in the wild and you find some edible fruits or wild vegetables, the Swiss Knife is great for chopping up your findings or peeling the fruit you want to eat.
Special needs: In a pinch, your Swiss Army knife can help you perform a bit of first aid, particularly if you have no other option to cut up fabric to make an emergency bandage or tourniquet.
Swiss Knife Chief features
Victorinox does not make custom knives, but does offer enough in terms of unique configurations that it is easy for you to find the army knife that will best suit your needs. Each knife typically has four to ten tools as standard features.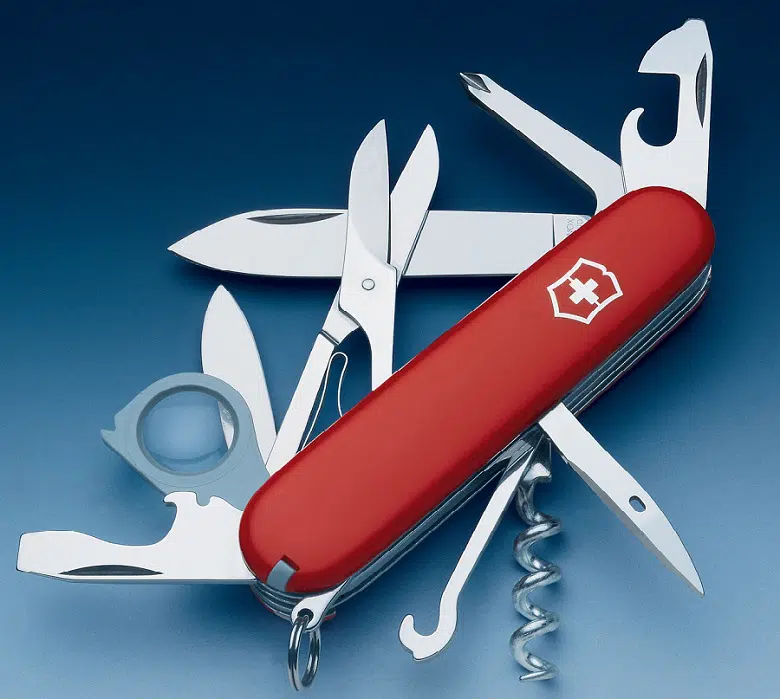 The typical inclusions on a knife are as follows:
A 3mm flat head screwdriver
A 6 mm screwdriver featuring a bottle opener
A can opener typically merged with a screwdriver feature
A corkscrew
A hole punch and reamer
A key ring
A small blade, a large blade, or both
A wire bender and stripper sometimes merged with a screwdriver
Toothpick
Tweezers
Nail/File and Cleaner
Fish scaler, hook disgorger and even a ruler to measure your catch
Cuticle pusher/pharmaceutical spatula
Magnifying glass
In addition to all of the latter mentioned features, the most modern Swiss Army knives are made with some innovative technological advances, including digital clocks, flashlights (great for the outdoorsman), and USB drives. If possible, you may want to opt for a knife with the aluminum oxide handle. This is durable and ideal for outdoor use.
[the_ad_placement id="in-text-2-type-a"]
These knives are also equipped with some scale tools like:
Barometer
Stainless Pins
Pressurized Ball Point Pens
Tweezers
Toothpick
Survival Knife Uses
Pricing
As you search for the perfect Swiss Army knife for your needs, the price will definitely be part of your considerations. Thankfully, Victorinox makes knives with a wide range of prices, so finding an affordable knife really will not be so much of an issue. You will find however, the bigger the price, usually the more features the knife has as well. Since the knife is for survival purposes, you might decide to go all out and get a top of the line, higher priced model.
You will definitely want to spend more if you plan to use the knife to dress game, cut ropes, or for heavy duty purposes, since, when it comes to outdoor survival use, ruggedness and reliability are two important factors you will need to demand from the knife you buy. Keep in mind that the knives with bigger blades will likely serve you best as well, since you'll have bigger cutting tasks to deal with out in the wild than the average individual would have to deal with in the home or office.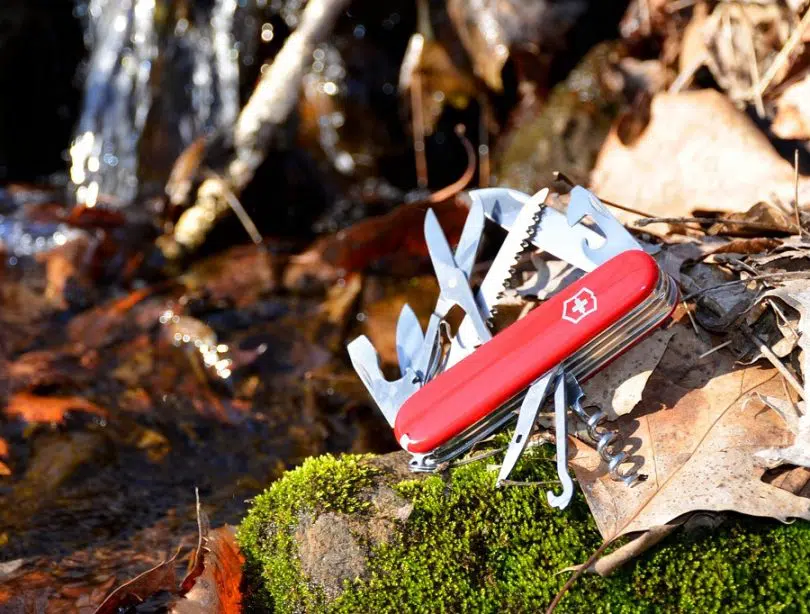 If you have a budget in mind for buying a knife, you can stick to it better if you make a note of all the tools you do require and the tools you think you can do without. For instance, you might forego visual appeal for ruggedness although you won't be compromising much as Victornox makes visually appealing Swiss Army knives whether the knives are more modestly priced or not. You may find, however, the lower costing knives do not have every tool you desire or perhaps it is available in fewer colors.
Whatever features you decide on getting in the knife you ultimately choose, an investment in a Swiss Army knife means you are getting a seriously durable product and one that can withstand a lot of use without demonstrating extensive wear and tear.
The knives are long lasting, covered by a lifetime warranty, and the typical need for replacement of a Swiss Army knife only comes after the original is Swiss Army knife is actually lost by the owner or user.
The Swiss Army Huntsman knife
Victorinox makes the Swiss Army Huntsman Knife, a five-star knife featuring the Victorinox logo on the side and presenting with an array of remarkable features. The pricing of the knife is reasonable too, as it is priced between $34.99 and $55.00, depending on where you buy it.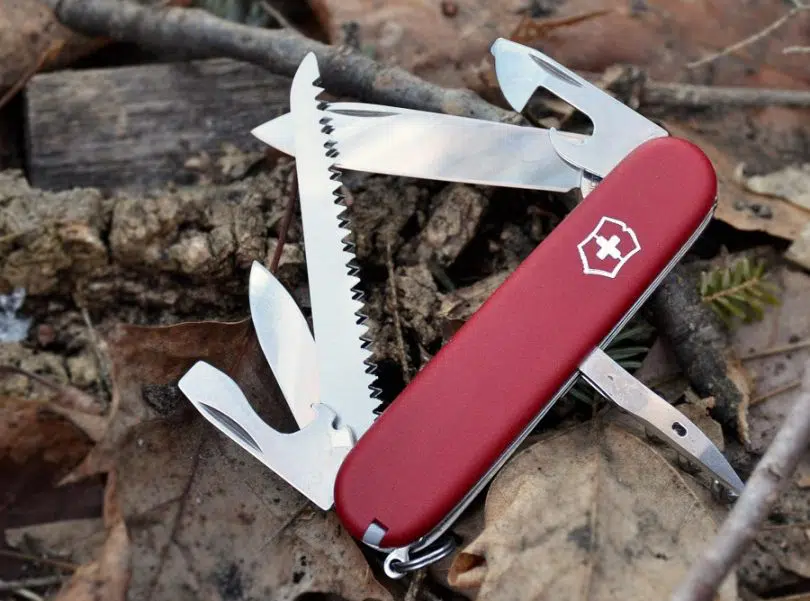 The knife features a sleek design and is perfect for hunters, campers, and the average user in need of a handy gadget like the Swiss Army knife. You get a lifetime warranty on the knife and it is definitely on the list of the best Swiss Army knife for survival. It even comes with a free pouch for ease of carrying.
Additional features of The Swiss Army Huntsman include:
The knife measures 3.6 inches long by 0.8 inches
It is lightweight at 3.4 ounces
The knife is available in one of four colors including SilverTech, Blue Transparent, Camouflage, and Red
The included list of tools is amazing for such a small gadget:
3-millimeter screwdriver
5-millimeter screwdriver
Can opening device
Corkscrew
Large blade
Multipurpose hook
Opener for bottles
Ring for Keys
Scissors
Sewing awl, punch, and reamer
Smaller Blade
Stripper for wires
Toothpick
Tweezers
Wood saw
The Swiss army Swiss Champ knife
The Swiss Champ Knife is a bit bigger than the Executive Pocket knife or the Huntsman by the same manufacturer as it is part of Victorinox's medium-sized knife line. Priced between $58.96 and $89.95, this knife is for the individual seeking high functionality out of a Swiss Army knife.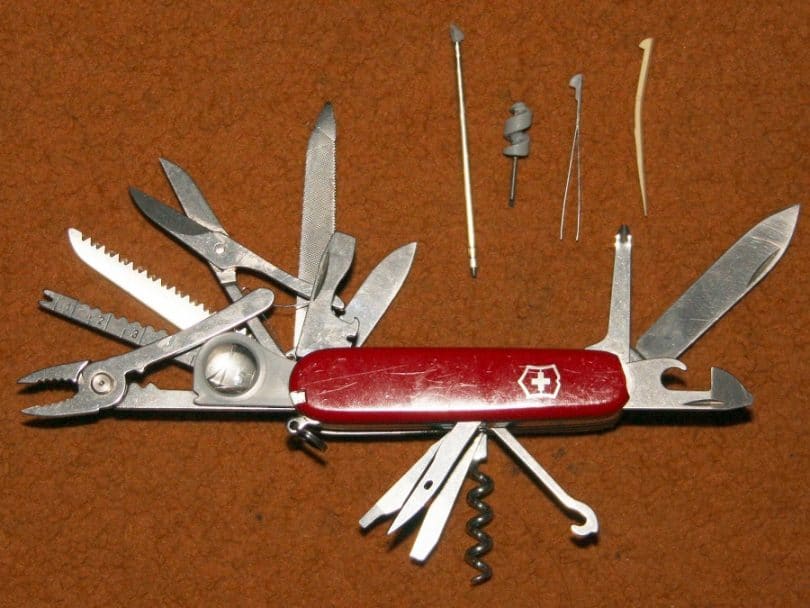 The Swiss Champ literally equates to a tiny tool box in the carrier's pocket, as it features 33 gadgets and tools for use: This is what makes it among the best Swiss Army knife selections you can buy. The knife still remains small enough to be convenient and light. It measures 3.6 inches long and 1.3 inches high, and only weighs 6.5 ounces. Personalizing the knife is easy as well, as it is available in four colors: Red transparent, Bubinga, black, and red.
Additional features include:
Two blades: one small and one large
Sewing awl, punch and reamer
2mm 3mm, and 5mm screwdrivers and a 1.5 mini-screwdriver
Can and bottle openers
4mm chisel
Corkscrew
Scaler for fish
Hook disgorger
Key ring
Magnifying glass
Metal file and saw
Multi-purpose hook
Nail cleaner and file
½ Phillips screwdriver
Stainless steel pin
Pliers
Pressurized ballpoint pen
Ruler in centimeters and inches
Scissors
Toothpick
Tweezers
Wire bender, crimper, and stripper
Wood saw
Swiss army knife Hercules
On the list of the best Swiss Army knife for survival is the Victorinox Hercules. The knife is priced between $61.99 and $106.00, and is loaded to the brim with useful gadgets and survival tools. The knife is available in one color, red, and has as many as 18 functions. It measures 4.4 inches long and 1.1 inches high and weighs 6.3 ounces. It comes complete with scissors, and comb pliers, as well as a sturdy, compact attractive design.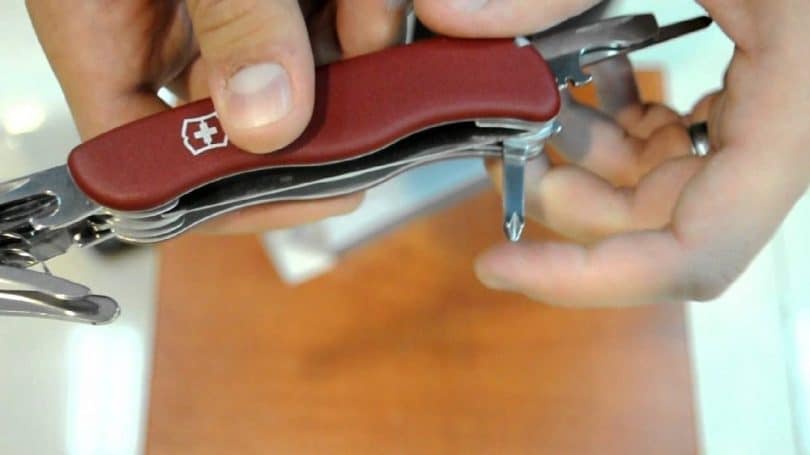 The knife comes with all of the following features:
A large blade
A bottle and can opener
Corkscrew
Key ring
A Phillips screwdriver, small and large
Pliers
Sewing awl, punch, and reamer
Scissors
3mm and 5mm screwdrivers
Toothpick
Tweezers
Wire stripper
Wood saw
Workchamp Swiss army knife
The Workchamp completes the list of the best Swiss Army blades on the market that serve the survivalist best. The knife is priced between $89.99 and $127.00 so it is one of Victorinox's more pricy models. It is 4.4 inches long by 1.1 inches high and only weighs 7.2 ounces, but it is jam packed with functional tools. So much so, it is called a toolbox for in your pocket. The gadget features a metal file and saw as well as combi-pliers.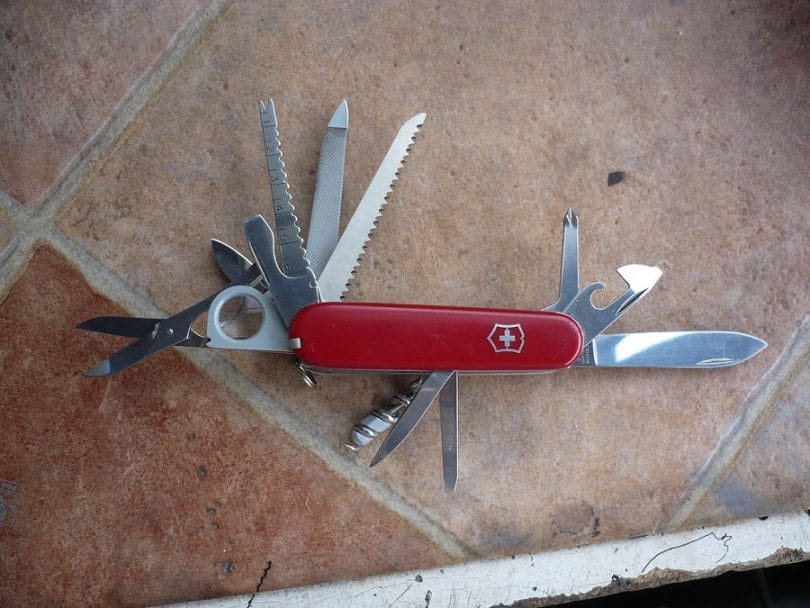 Additional features include:
A large blade
Bottle and can opener
Corkscrew
Key ring
Metal saw
5mm mini screwdriver
2 Phillips screwdrivers
Pliers
Sewing awl, punch, and reamer
Scissors
3mm and 5mm screwdriver
Toothpick
Tweezers
Wire Stripper
Wood Saw
Caring for Your Investment
When you make an investment in a Swiss Army knife, you will want to maximize the use you get out of your investment. The best way to ensure the longevity of the knife you choose is to care for it correctly. Thankfully, the components of the knives made by Victorinox are manufactured out of high-quality stainless steel so corrosion is not necessarily an issue. Nevertheless, the knife should be properly lubricated to ensure the ease of movement when accesses the various tools within the knife handle.
A touch of 10W-40 motor oil on a cloth is perfect for oiling the hinges of the knife. You can also buy a lubricant from the knife manufacturer. It is a good idea to oil the knife monthly so it will remain in good working order no matter when you need it. If you end up running the knife through a wash cycle in the washing machine, make sure to re-lubricate it.
[the_ad_placement id="in-text-3-type-a"]
Occasionally, it may become necessary to sharpen the knife blade(s) on your Swiss Army selection. Some people prefer the use of an emery wheel versus a whetstone when sharpening the blades on the knife. The emery wheel preference is simply because the blades are thin and take longer to sharpen than those constructed out of carbon steel blades. For a list of the top knife sharpeners in the market, see our article to learn more.
In conclusion
The best Swiss Army knife you can buy will serve as a tool you should have at your side for every outdoor excursion, camping expedition, hike, or for when you travel out in the woods. You never know when you will enter into a survival situation where such a knife and all the tools that come with it can serve you well. The high-quality production of a Swiss Knife makes it something that is durable and dependable. Once you have chosen the right blade for you and your needs you will have the tool for years to come.
The most difficult thing now is to make a decision on which of all the outstanding Swiss Army knife offerings you really want to buy.
Don't forget to protect yourself. See our guide on knife safety for more information.
Some of the links in this post are affiliate links. This means that if you click on one of these links and make a purchase, I earn a small commission at no extra cost to you. Also, as an Amazon Affiliate, I earn from qualifying purchases. If the information in this post has been helpful, please consider purchasing through one of the links in this article. Thank you.