A wonderful family adventure is camping with kids—a dream every parent wishes to come true. But while it may be very enjoyable feeling the sunny skies, rolling in the fresh, green meadows, breathing fresh air and cooling down with a glass of fresh fruit juice, camping isn't all fun, if no sufficient preparation and planning were made.
[the_ad_placement id="in-text-1-type-r"]
The dream of simple fun outdoors with kids making new friends with other campers, learning how to ride a bike, building a fire and playing games could all be ruined if injuries or accidents, along with other mishaps, happen while camping. But these are all avoidable if you would spend enough time to planning your next family adventure. And the next thing you know, you will be having the best time outdoors ever!
Planning for camping
Camping outdoors is one of the best family activities to spend the weekend! Rather than spending it in theme parks, cinemas and arcades, nature camping is more than just taking the time to be with family, it's a fun-filled, quality time that you shouldn't miss. Without even saying, it is very crucial to plan it ahead so that you can totally relax and enjoy the bonding rather worrying and consuming all your time doing so.

First thing is the place where you want to go, an important consideration to dictate how much budget to spend for the holiday because doing so is a real must to save you from the stress associated with overspending. After that, you may have to look for a place where there are the important facilities you are looking for or see if this place is a heavily-booked campsite where families crowd during the weekends.
See also: Kids Camping Gear: Enjoy A Fun Family Weekend
But before booking, something you have to measure is how gregarious or misanthropic you are to be around with many campers and to have your tents side by side with them. One good thing though is that being with other family campers gives your children plenty of opportunities to have some fun with holiday playmates.
Then, check on the weather forecast in the place where you plan to spend the holiday, something crucial for everyone's comfort and safety. It's a no-brainier to know that a rainy day won't allow great outdoor games with kids and a landslide warning might indicate you have to postpone the camping for another day when the weather is forgiving.
[the_ad_placement id="in-text-2-type-r"]
Know that campers can fall into different camps, and at the very least, experienced campers can go with just about anything beyond a penknife, a tent, a box of matches and a sleeping bag, but if you were camping with children and not wanting to forgo the pleasures of making them feel at home, you should be preparing so many things other than just these basics, but something more (sunscreen lotion, insect bite repellents, roof rack…).
Doing a trial camping
Before the camping day itself, you can do a trial camping in your backyard so that you can orient the kids of the outdoors and get their suggestions for a fun camping. You can also talk about the places to go, such as places of interest outdoors that kids will love. You can also pick activities to do and talk about how to shop and plan your meals.
You can also discuss about preparing and packing the supplies, equipment and materials together as well as assign each of them a task to do for this packing. It would also help if you would be able to teach them ways on how to set up the tent, how to cook outdoors and what it feels like to sleep in sleeping bags. You can also demonstrate and teach them how to use camping tools and equipment.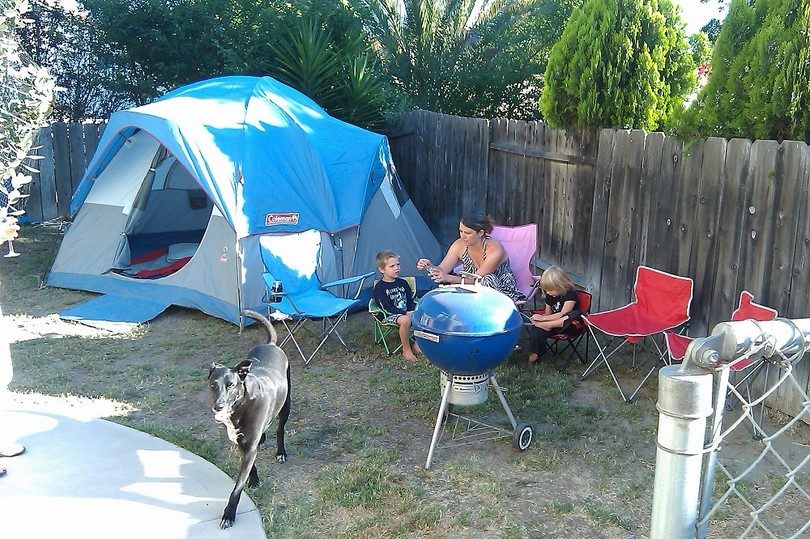 During the evening of this trial camping in your backyard, you can do fun activities, including listening to night sounds, locating constellations or telling stories. Additionally, do not forget preparing nighttime snacks for your children so that you can let them experience this real outdoor activity, which will also help them get rid of any fears of camping, if they have.  Plus, remember to teach them of outdoor ethics and skills and respect for nature.
Choosing the tent
If you don't have one yet, it may be appropriate you get one, as it is the only protection you and your family have against insects and weather elements. Before getting one though, there are some things to decide on. What is your budget? Are you looking for one that can allow you to stand up in it, or do you want it to have an extra room where you can have a living space? Are you looking for one that is enough for you guys to sleep on?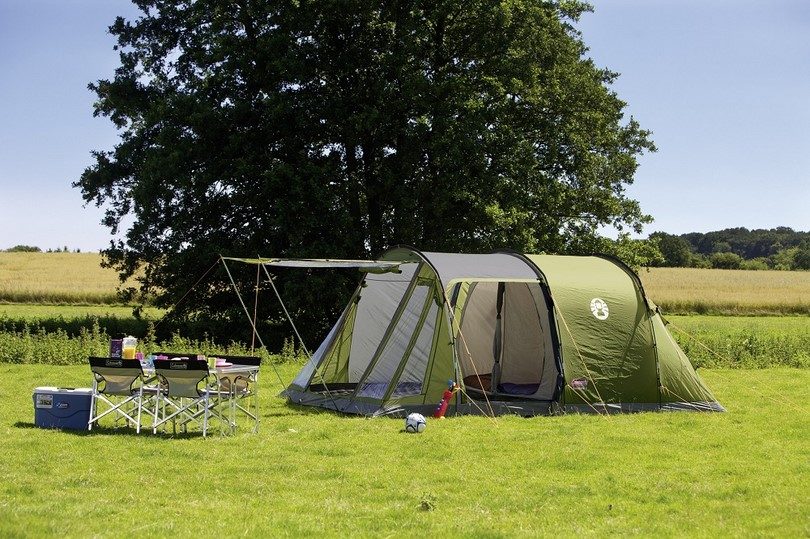 When deciding on a tent, you should also determine if you would love to sleep next to your children in a bedroom or them sleeping at the tent's opposite end? And then if you already have a collapsible/fordable garden gazebo, you may want to take it with you, too, so that you and your family can have some place to play or sit outside the tent.
When shopping around, you have to find a tent that can allow you to assemble and disassemble it easily, even though many of them reads 'easy to set up.' But hey, setting up a tent is like setting up a Christmas tree, sometimes. And then decide based on the comfort it can offer you and your family, something to determine sleeping comfortable or sleeping in a sort of purgatory.
According to sources, you should also look for airbeds when shopping for a tent so that you and your children can be elevated from the cold, damp ground. Then, you may also want to consider buying a twin sharing airbed for your children and double sleeping bags for you and your husband.
Checklist of the things to bring in camping
| | | | | |
| --- | --- | --- | --- | --- |
| Kettle | Head torch | Pee bucket | Bottle opener |  Ear plugs |
| Sleeping bags | Potty | Blankets | Waterproof clothing, including coats, trousers and hats | Windbreaks |
| Insect repellant lotion or spray | A flag and a flagpole | Tent with stakes, poles and rain fly | Tarp | Rope |
| Extra plastic tarp | Vestibule mat | Sleeping pads | Screen house | Pillows |
| Underwear | Soft wear | Socks | Base layer, bottom and top | Fleece shirt and pants |
| Down jacket | Zip-off travel pants | Fleece/down vest | Fleece hat | Light gloves |
| Rain jacket | Rain pants | Shorts | Bathing suit | Sun hat |
| Pajamas | Laundry bag | Footwear | Hiking boots | Sneakers |
| Sandals with straps | Water shoes | Flip-flops | Camp booties | Little tykes/toys |
| Portable crib | Front-loading baby carrier | Baby backpack carrier | Reusable water bottles | Portable high chair |
| Camp chair | Battery-powered night lamp/light | Adult/children sized sleeping pad | Camp kitchen | Camp stove |
| Pans | Pots | Skillet | Fuel | Grill rack |
| Knife | Cutting board | Measuring cup/spoons | Big spoon | Spatula |
| Strainer | Long-handled tongs | Plates | Cups | Bowls |
| Insulated coffee cups | Water bottles | Utensils | Marshmallow sticks | Corkscrew |
| Pot lifter | Large/small plastic bags | Aluminum foil | Plastic tablecloth | Tupperware containers |
| Lighter, matches or fire sticks | Water purifier | Collapsible water container | Coolers | Washbasins |
| Sponge with scouring pads | Old washcloths | Small scrubber brush | Soap | Baby wipes |
| Clothespins or clothesline | Fire-starting tinder | Tinder (gathered at the site) | Larger sticks | Fire starter |
| Paper or plastic plates | | | | |
*This list does not cover all that you have to bring in camping because there may be other things to include here, all depending on what kind of camping you would do.
Preparing and packing these essentials help you gear up for the coming family holiday. But then, you should not also forget about personal and daily hygiene of the family, so to include in your packing list are hand sanitize, moisturizing lotion, toothpaste, toothbrush, deodorant, lip balm, dental floss, hairbrush, shampoos and soap, towel and washcloth. You should also not forget about glasses and contacts, garden trowel or small poop shovel, toilet paper, trash bags and diaper rash cream (for babies).
Cooking in the camp
It can become a challenge cooking in the campsite, not mentioning it is also a challenge to keep everyone well-nourished. You can bring a picnic for the first night so that you don't need to cook anymore. You can bring canned food, such as sweet and sour chicken that only needs to be warmed before serving with bread or boiled rice or bring some ready-made food in Tupperware boxes to avoid any hassle on the first night.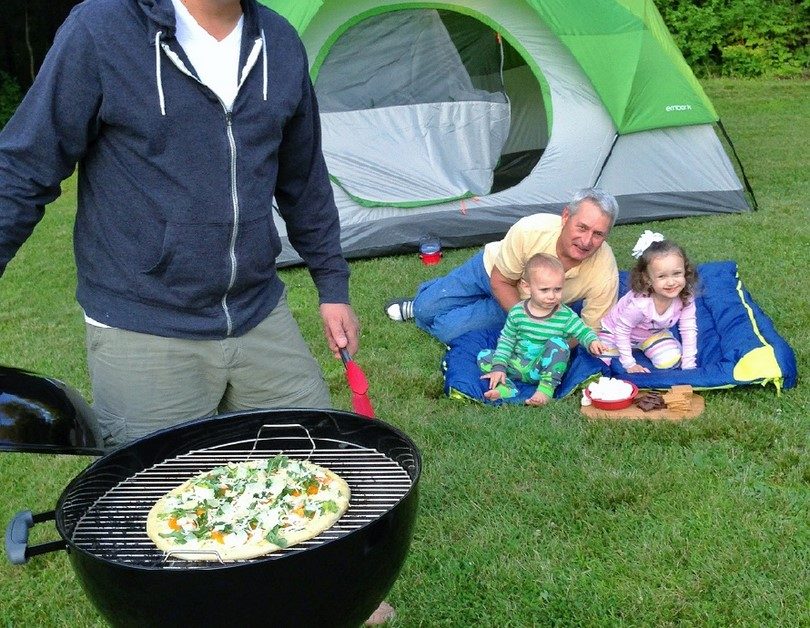 You should keep meals easy and simple and that you only need to pack needed utensils and cookware for the meals you plan of cooking. You can also start looking over the planned daily menus to take note of the utensils and cookware to bring, but some indispensable ones include a skillet, pots and pans, oven mittens, a flatware, knives, paper plates, a can opener, spoons and tongs.
Plan every meal before leaving to keep things organized and write down the menus for every day. But don't forget about healthy, easy to prepare meals for breakfast, lunch, dinner and afternoon snacks. You can bring versatile food, including beans, potatoes and rice, which can be cooked in different ways. Take note of the food you can chop and cook before leaving, especially meat, so that you can save time cooking and cleaning up dirty utensils and chopping board. Perhaps, it may also be unsanitary to chop beef, chicken or pork in the campsite on wood blocks.
Apart from cooking at the campsite, it is also important to know of food storage, meaning you have to secure everything to avoid spillage and spoilage. Choose easy to prepare fresh food and keep it at a cool temperature (preferably using ice blocks). Then you should also wrap frozen meats with other food to keep them fresh and also to keep the ice chest longer. To avoid frozen food from going bad, check the cooler from time to time and remove melting ice.
When packing for food, you should pick lighter ones to open up more space in the food crate or cooler for other items and use recyclable paper plates rather than common dinner ware. You can also pack and drink on plastic cups and not on glasses. You can also skip taking ketchup, mayonnaise or mustard bottles, but bring condiment packets.
Additionally, you can skip on packing pasta, cereal and rice boxes, but pour food into sealed plastic bags. You can also store leftovers in airtight containers and take plenty of garbage bags for easier cleanup and aluminum foil for cooking. Because space is at a premium in the backpack and car, you only have to take the essentials.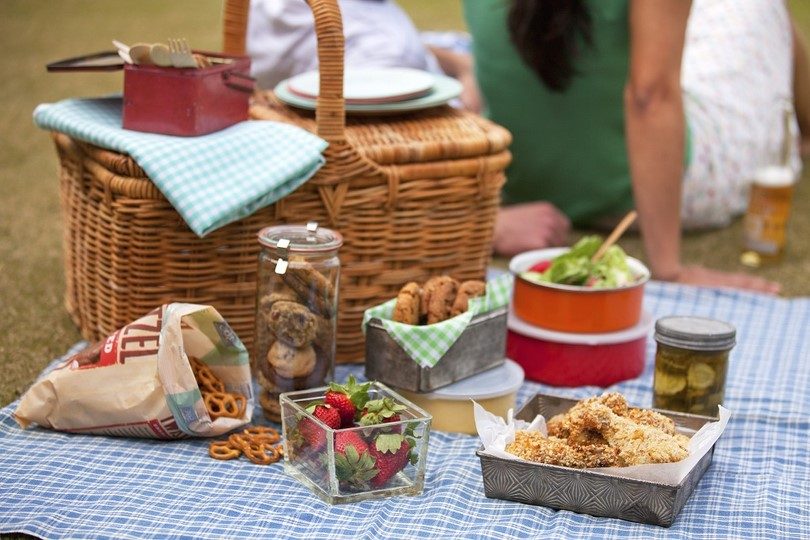 One of the most important to take note of when planning and preparing for camping is to consider meal planning with breakfast being the most important one. Around the campfire, you can fry easy to cook food, including bacon, eggs and sausage and then enjoy fruits from the cooler. You can also have muffins, bagels and cereals for a delightful campsite breakfast. In the middle of the day, you can have energy-boosting snacks, including dried fruit, nuts and granola bars as well as hard cheeses.
You can also consider raking some different kinds of sandwiches for your camping, and this includes the pita bread. If you're camping for several days, take note that mold will build up in the bread due to condensation forming inside the bag, not mentioning if it's  the summer when the temperature is hot, too.
For dinners, you can have the traditional hot dogs and hamburgers because they are easy to prepare over the campfire, but make sure to cook them thoroughly by poking a hole in the middle of them as well as on the edges and on the center of hamburger patties.
Alternatively, you can also consider preparing one-pot meals before leaving home, something practical to do so that you don't have to cook, especially when feeling exhausted after a day full of activities. But when cooking in the campsite, be sure to cover the pots with lids so that heat won't escape and cooking will be faster.
Sleeping in the campsite
To keep the kids warm at night is essential, so each of them should sleep in a double-layered sleeping bag that comes with zip-on sleeves. You can also consider doubling the number of children to stay in one room to keep them warm.
And because sleeping inside tents in the day is impossible due to the hot temperature, you can carry a buggy with a sunshade, one of the things to put in your camping with kids checklist, if you have a baby. When camping with babies, you can bring some glow sticks for light source at night and always have his essentials, including nappies and baby wipes, accessible.
Camping with children activities
Everyone loves the outdoors, and what more if there would be lots of activities to do? One of the most enjoyable to do in camping is the chores! Kids in particular love to participate in different chores, including filling water container, collecting firewood and hammering tent stacks. To make these chores even more fun, you can start competitions, such as collecting the most kindling, most organized camping gear and top camp cook.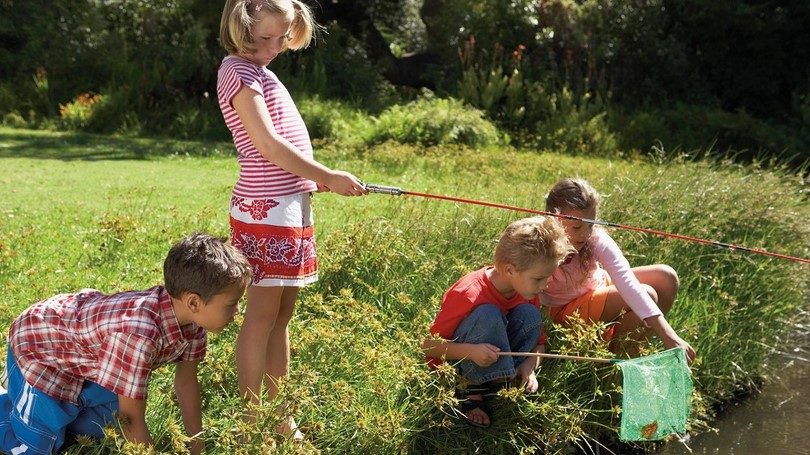 Other activities, aside from these above, are taking a small day hike in a nearby park or visiting a nature center. You can also take your kids for fishing at a local stream or pond or take them for an evening walk.  In the morning, you can also go on a picnic and let children read or tell some stories. You can also play scavenger hunt, wherein you are going to ask them to scavenge or hunt for items and whoever finds them the fastest wins!
When playing with kids, however, do not forget to take needed gears and supplies to use as game materials and bring extra shoes and pieces of clothing (as kids will eventually get dirty). Don't forget taking their toys and letting them play games because you want to keep them both busy and entertained, too.
If going for a walk or a stroll in the campsite in the evening, remember to dress kids in layers because it may be chilly and to apply insect repellant on their skin because they may get insect bites. If playing or going outdoors in the morning or daytime, remember to apply sunscreen on their skin for protection from the harmful UV rays. Then on a rainy day, keep them dry with a rain gear.
Camping games with kids
Kids can do a lot of camping games, and they simply love to do just about anything, with your watchful eyes, of course. They can play card games, nature rubbings and blowing bubbles.  You can also go hiking in the woods with your kids. On the other hand, you guys can play nature's bingo, scavenger hunts, memory games and round robin stories.  They can also do easy lashing projects—that are not only fun but educational, too. Do read our piece on camping activities for kids to get more fun ideas during your stay.
You can also ask them to make a teepee tent to play, a camp activity that lets them decorate a camp teepee to play in, or you can let them make twig castles (just like they make sand castles in the beach). If you're planning to include this camping activity, make sure to bring glue and a pair of scissors and ask your children to collect small plant twigs before they start building a twig castle.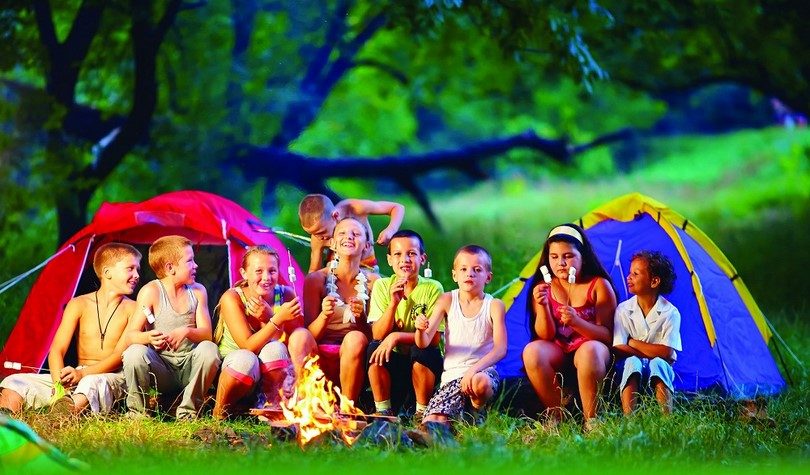 You can also play group storytelling with your children when camping, but you can add in a little twist to this game. And one way to do that is to begin it by letting one person to start telling a story with a line to set the scene and then the next person adds a line to it, an activity that isn't only fun but creative, too.
Or play the chubby bunny! As you may already know, a camping trip will not be complete without marshmallows. In this game, you will ask every player to put a marshmallow into his or her mouth before putting another and another.
[the_ad_placement id="in-text-3-type-r"]
The person who can fit the most number of marshmallows into his or her mouth will say, "Chubby bunny," and he or she wins! Part of kid's games in camping is to sing songs, a fun activity for the whole family. You can choose a song and then use the pans and pots as musical instruments. To make it more fun, you can also have a dancing contest around the campfire.
What else to bring when camping with toddlers
Don't forget to take some bedtime items, such as stuffed animals and dolls, glow sticks, snacks and drinks. And to make memories together, you can bring a camera (and additional batteries) to capture your moments. Be protected and proactive. Check out our wilderness first aid kit for your safety.
Alternatively, you can buy a few disposable cameras for each of your children. You can also record memories on videos or on a journal and describe the details (with photos) about this camping. You can also ask each of your family members about their experience, or better yet, let them write each of their own experience. You should also save crafts and other memorable items from the camping.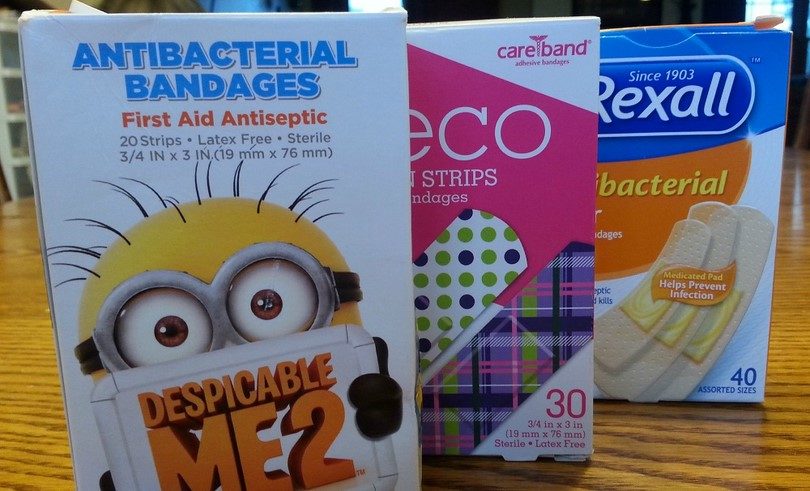 Before leaving, make sure to pack a complete camping first aid kit that will include all the items needed in case an emergency arises because it is sometimes unavoidable for kids to acquire injuries while having fun (burn, cut, wound…). Some essentials to include in your first aid kit include wound and burn care composed of bandages, gauze pads, moleskin, medical tape, Q-tips, antiseptic wipes, hydrogen peroxide and burn ointment.
You should also take important medications in  the first aid kit, and these include prescription medications, sunburn care lotion, allergy medication, hydrocortisone cream, topical antihistamine, pain reliever, antacid, eye drops, anti-diarrheal, cold medication and Vicks Vapor rub. Other essentials are tweezers, scissors, bee sting kit, snake bite kit, sunscreen, insect repellant, hot/cold packs and first aid handbook.
There you have our comprehensive guide to camping with children that you have to know from planning and preparing meals to camping activities and games that you can include in your checklist. Bottom line is to do the planning early, prepare for the materials, plan the meals, activities and games to keep everyone happy, productive and safe and that you can all do by spending enough time when preparing for this fun-filled family camp adventure.
See our article on camping safety tips to have a safe and wonderful time with your family.
Some of the links in this post are affiliate links. This means that if you click on one of these links and make a purchase, I earn a small commission at no extra cost to you. Also, as an Amazon Affiliate, I earn from qualifying purchases. If the information in this post has been helpful, please consider purchasing through one of the links in this article. Thank you.