Hunting requires quite some time spending in nature, just like hiking. So, if you're out there planning to spend some time hunting you need to be prepared for a lot of walking and trekking. It's virtually hiking, but with a hunting element. You may have to do some bush-crafting and perform some tricky moves in terrain where people don't usually walk. You will need sturdy and durable boots to take you as far as you need to go. Hunting and hiking boots are often interchangeable, but with the added stability and durability.
[the_ad_placement id="in-text-1-type-a"]
In this article we will share with you some of the best and most reliable hunting boots currently on the market. These boots are tested in hard conditions and you can be sure that the rating is based on real experience in the wilderness, and not in some artificial and controlled environment.
Danner Men's Gila 6-inch Optifade
These boots are a mixture between military and hunting boots and can provide enough comfort for either of these two activities. They are camouflaged and blend naturally with the environment. The rubber footing and external layer on the boot creates reliable friction and can help you keep going on almost any terrain.
Also, if you plan on hunting on slanted terrain the specific design of the entire foot part lets your foot lay naturally inside – the boot follows the curvature of the foot sole nicely and accurately. Your legs and feet will feel far more natural and at-ease even on demanding terrain.
Of course, the boot is made of Gore-Tex (R), which means it's totally waterproof and yet keeps your feet breathing – it provides the needed ventilation. The entire footbed is in fact made of polypropylene, thus giving additional breathing and air circulation inside the boot.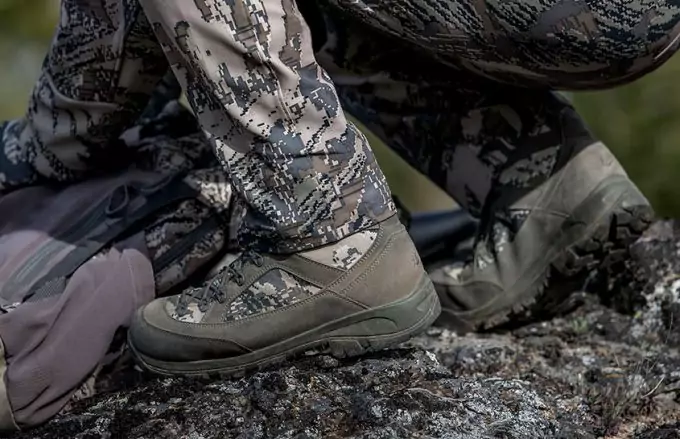 Also, the camouflage is part of the Gore (R) Optifade (TM) technology, since it mixes nicely and naturally with the environment, thus animals like deer and elk mostly will not recognize you as a predator. This feature is a nice addition to the comfort the boots provide.
The pair weighs on total about 50 oz (1.4 kg), which is considered an average weight and almost no customer reported that to be a problem of any kind. Almost all customers share that they had hardly any issues with the boots and used them both for hunting and hiking. The boots let your feet rest nicely inside without putting any pressure on your foot soles. If you spray the boots with waterproof spray, this can add further to the protective feature the boots have.
Otherwise, they are comfortable, withstand different weather conditions and you can rely on them in any terrain and situation. Of course it may happen to tear the shoelaces, or scratch the rubber part but that can happen to any shoe.
If you like this product you can find and buy it on Amazon.
Under Armour Men's UA Speed Freek Chaos
Unlike the above hunting boot, these aren't that tall and are much lighter. They weigh less than half of the above per pair – 19.2 oz (0.5 kg). These boots will also get you almost anywhere, whether you're hiking or hunting and running through a tough terrain. They are also made to attract as little attention on you as possible – exactly what you need when you're out there hunting. They feature a UA Scent Control technology so you can stay undetected. They are also built so that they produce as little noise as possible, which is due to the high-traction outsole.
You can also enjoy the Gore-Tex technology offering a water-proof resistance, although it's often highly recommended you use a water-proof spray. The foot sole of the boot cushions your feet nicely, so that your feet receive as little pressure as possible. The footbed is made of memory foam (Ortholite technology) thus remembering your feet's specific shape and curves. This makes them customize with time.
The shoes are made of synthetic material, which is usually more breathable and provides better air circulation inside.
Most customers share that the traction of the rubber part is really good and reliable especially in wet grass, slippery rocks or wood, etc. There was also another customer who tried the shoes the first day he got them and walked about 10 miles on a rough terrain and after coming home he didn't have blisters, even though the shoe is new and not as flexible as used shoes.
Overall, these boots are among the most reliable and the manufacturer delivers high quality for the price. People are very happy with their purchase and would highly recommend these hunting boots.
If you like this product you can find and check its price on Amazon.
Lowa Men's Tibet GTX
These hunting boots are more similar to the first in our list. They are much taller and wrap snugly around your ankle. The rubber part (nubuck VIBRAM AppTrail) enfolds more than half of the lower part of the footsole itself. They are also made of leather and there wasn't used any synthetic material. Your foot will also enjoy a stabilizer at the heel area thus making any long trekking or hunting comfortable and less tiring.
LOWA's boots are also hand-crafted thus every part of the design and preparation are very well thought of. The best thing about this is that the labor work is fair and the conditions for the workers are good and caring.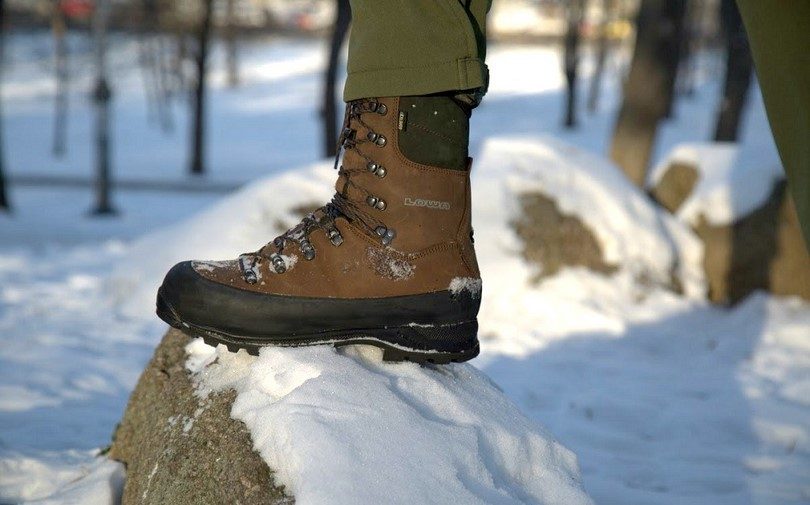 Finally, although these boots are considered trekking boots, they are featured in many magazines and users very good for hunting too. All the needed features are present. As a hunter you will need your boots to be comfortable, durable and water-proof, which is exactly what LOWA's boots deliver.
Most customers have used LOWA's boots for more than 6 years and can still rely on them, claiming they are still in good condition. Some people recommend you buy a slightly larger size so your fingers can have several more millimeters of room to move. Otherwise, other customers share that they have purchased their own size and the boot fit their feet perfectly.
If you like this product you can find and buy it here.
LaCrosse Men's Aerohead Mossy Oak Infinity
LaCrosse's boots are mostly military and hunting boots and specifically made for rough and hard terrain and conditions. The Aerohead boots are tall, almost knee-high. They are made of a layered liquid polyurethane material and the inner layer is made of neoprene of either 3.5 or 7.0 millimeters of thickness.
The end result is a comfortable and warm boot. Your feet will be provided a nice cushion so your soles aren't stressed too much after hours of walking or hunting. Thanks to the tall boot your legs are protected to a knee-height from bushes, thorns, insects and most of all they are water-proof so you can even cross shallow rivers, swamps, etc.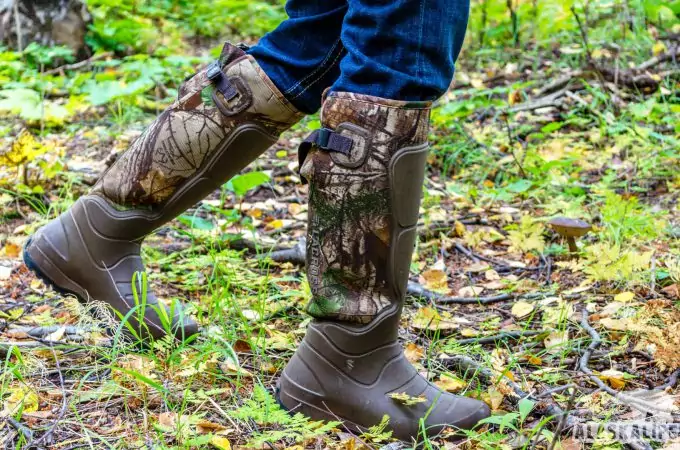 The boots are also nicely camouflaged, thus blending naturally with the environment and foliage around you. You have four choices for camouflage pattern.
The upper part of the boot can fit different circumferences for calves – from large to small and even more muscular men can find these boots comfortable and protective enough. You can also tuck in your pants in the upper part without the boot getting too tight around your calf. Also, getting exactly your shoe size isn't going to be any problem – the boot's size corresponds to the standard sizes and you won't have any bad surprise if you make an online purchase. Simply pick the size you're naturally used to and you won't regret it. The boot will fit your foot.
And finally, you can use the boots immediately, almost right out of the box, in on-the-field conditions. There is no warm-up period needed. As you go hunting or hiking the boots will naturally fit to your legs and you won't suffer blisters or sore areas. You can jump right into them and go hunt.
The boots are light, keep your feet dry, easy to remove compared to ordinary rubber boots, and also keep you warm. One customer reports that the neoprene layer kept his feet warm for a couple of hours sitting in the snow. He explains that if you plan on being stationary for longer than 3 hours during the winter you should purchase the 7-mm neoprene version, in order to keep your feet warm.
If you like this product you can find and check its price here.
Kenetrek Men's Mountain Guide
Kenetrek's boots had already won a few awards, being highly durable and reliable product. You can go on any terrain with them and you can be sure they will keep your feet comfortable, warm and dry. They are made of leather. The sole is of VIBRAM material and you have nylon on the midsole section of your foot, that has steel shanks for additional comfort and support. The abrasion resistance of high quality as it features enhanced rubber guard for your toes and soles.
The leather itself is 3.5 mm thick and can ensure that you will be protected against moisture and cold. Thanks to the Thinsulate (TM) you will enjoy warmth inside the boot no matter the weather.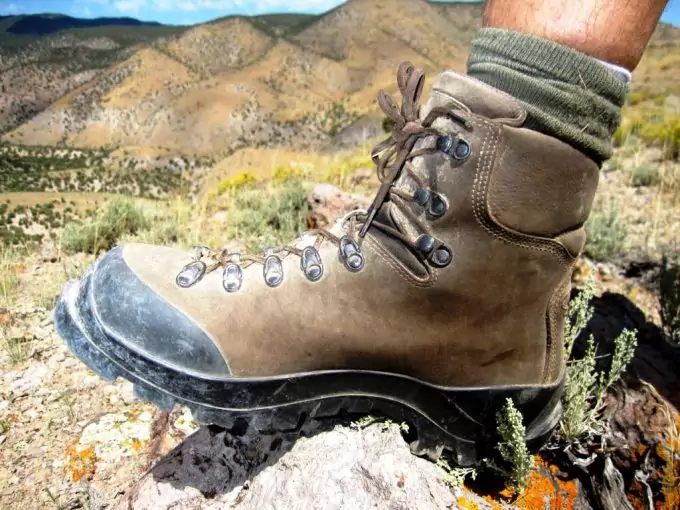 The upper part of the boot is made of polyurethane leather coating and is seamlessly connected to the boot's tongue. This improves the resistance and abrasion feature, and it adds more water-resistance to the Kenetrek boots.
[the_ad_placement id="in-text-2-type-a"]
The only drawback is that they are fairly stiff when you first try them and you will need to give them some time to loosen up. This may take up to a few weeks until they feel softer so don't rely on them to hunt for miles and miles the first time you get them, otherwise your feet may hurt and you may end up with blisters after the hunt. After that you can fully rely on them, and as most customers report, they keep you warm, dry and can withstand very rough terrain.
If you like this product you can find and purchase it on Amazon.
MuckBoots FieldBlazer
This almost entirely rubber boot will not let any moisture or water inside. It's conveniently camouflaged so you can naturally blend in the environment and be less noticeable among the foliage and bushes. The boots are knee-high and protect your legs from thorns, bushes and insects.
Even though the boot is almost entirely made of rubber it still has a flex foam layer plus an air-mesh nylon lining, which let your feet breathe, and yet stay warm and dry. When it comes to low temperatures your feet can stay warm at low temperatures like -20 degrees F. Applied to warm and swampy areas, you can definitely go well protected against the harsh weather. To keep your toes comfortable, you will have a wrap-up bumper protective bed combined with shank reinforcement.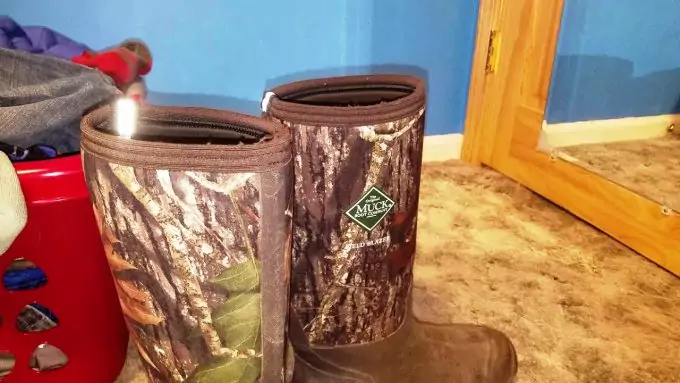 One customer explains in detail how he managed to endure up to 10 hours of hunting in freezing water and rough terrain without ending up with blisters. His feet also remained warm the entire time, despite the cold water he was standing in for some time. The boots are entirely water-proof and will keep water away.
Other customers already had used Muck boots for many years and swear by them that they are as reliable as ever. Most customers regularly purchase new Muck boots because they definitely deliver the quality they advertise hence the clientele comes back to the manufacturer. There are also customers who used the boots right out of the box and didn't have any problems in regards to comfort and blisters.
On top of that, even if the weather is hot your feet won't overheat inside the boots. Your feet will remain in a comfortable temperature. It depends on the weather of course. If it's more than 86 degrees F/30 degrees C your feet may feel slightly too hot, because their purpose is to provide you warmth during colder seasons, so plan according to your weather conditions if you should rely on these boots. They are not supposed to be entirely breathable like hiking boots. Overall, customers are fully satisfied with what the Muck manufacturer claims and advertises.
If you like this product you can find and buy it on Amazon.
Under Armour Men's H.A.W.
These synthetic boots have a neoprene upper part made of rubber, which is entirely water-proof. The boots have modest weight and won't burden your legs and overall hunting experience. Under Armour's boots also have an air-mesh inner lining, improving the air circulation in the boot to keep it well ventilated and prevent from overheating your feet inside.
The memory foam will help your feet lay nicely snug into the foot bed, making your boots customizable just for you. With time you will be able to spend hours and days hunting without having any problem whatsoever.
The traction outsole rubber is highly abrasive, thus preventing the boots from slipping from your feet while your in deep mud or lifting your legs. The mud won't attach to your boots as much as with ordinary boots and will make your hunting much easier to handle.
The boots are also slightly wider around the calf area, so that you can tuck your pants. The upper part will keep the boots on your legs all the time without slipping. The air-mesh will keep your feet dry without letting them sweat and thus risk getting cold. It is also easy to remove, just like some of the above hunting boots, so you can quickly slip out of them and relax. Some people use them to handle cattle and are walking in mud and manure all day long.
When you need to think about the size for your UA boots, better get half a size larger than your normal size. Even for people with larger calves (or slightly overweight) half a size more would let their legs rest inside nice and have enough space to feel comfortable. Almost all customers love these boots and use them for various activities aside from hunting. The harsh conditions while you go hunting or hiking can be entirely endured by these boots.
If you like this product you can find and check its price on Amazon.
Bogs men's classic High New Break Up boot
Bogs' boots are some of the best when it comes to camouflaging. Again, the boots are made of rubber and yet they keep your legs warm and well-ventilated. As usual they are entirely water-resistant and yet let the perspiration from your feet escape, preventing them from overheating. You can also be sure to stay warm even in as low as -40 degrees F.
The sock-liner wicks moisture efficiently enough to stay dry inside. There's also a neoprene upper to keep the boot nicely fit around your leg. The rubber on the outsole has incredibly good traction and can keep you steady even on slippery rocks, wood, wet grass, etc.
Bogs boots are, according to some customers, far more comfortable than the Muck's, and as we pointed out above, they can keep you warm in colder conditions in comparison to Muck's boots. On top of all that, the price is really affordable for the quality you will get from these boots.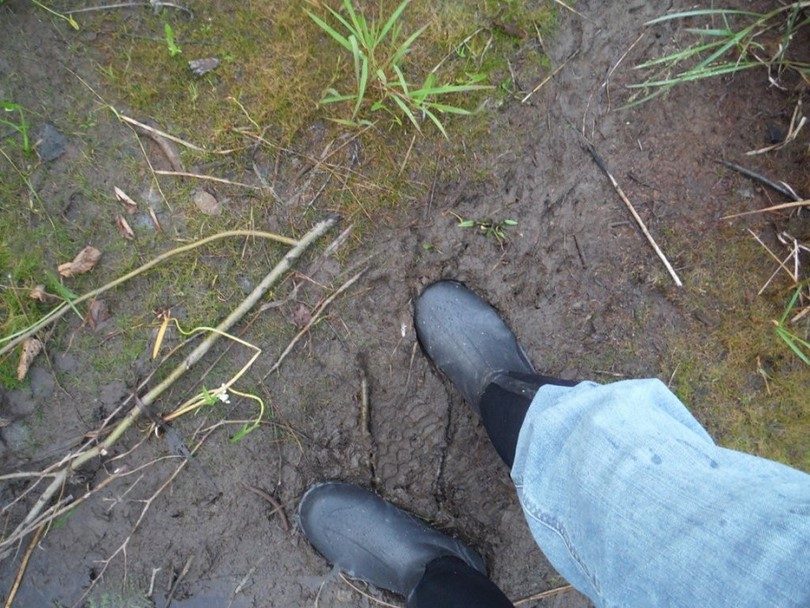 These boots are also highly recommended by experienced hunters and hikers, so you won't go wrong by purchasing Bogs' boots. No matter the weather – warm or cold, wet or you must also go through swamps and marshes – you can fully rely on these boots. There is hardly any unsatisfied customer.
If you like this product you can find and buy it here.
Irish Setter Havoc WP Upland boot
Unlike the rubber boots, these are made of leather and have a rubber outsole. The boot shaft is approximately 9 inches of height. The upper is made of leather, imported from the USA. The collar and the tongue parts are padded. The entire boot is hand-made and hand-sewn. Because the boots are made of leather, they have water-proof protection thanks to the Gore-Tex technology, which also provides good air circulation and breathability. The foot-bed is made entirely of polyurethane cushion to provide you with comfort and stability.
[the_ad_placement id="in-text-3-type-a"]
People are happy with the incredible comfort these boots provide, including the durability and protection from any unpleasant and harsh conditions. Most have used them for several years without any signs of them wearing out or cracking. Also, even if it's quite hot outside, your feet will stay nicely warm, without getting too warm and overheated inside. The boots are also of medium weight and won't bother you in any way when it comes to that. You can wear them all day long and your feet won't hurt and there won't be even a hint of blisters and such.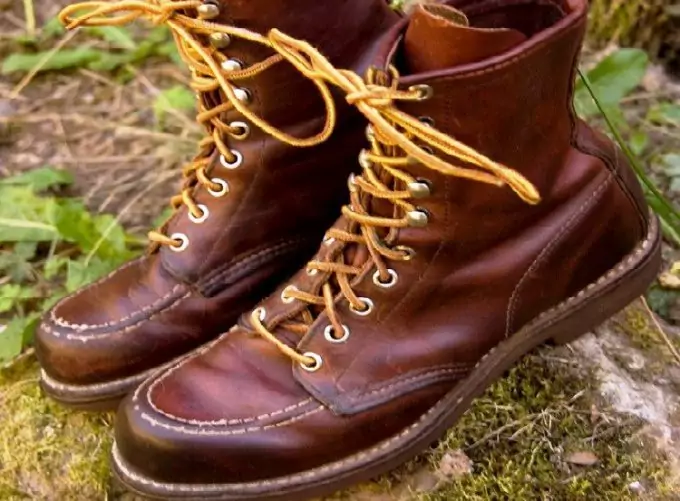 Also, even if you wear them the first time, straight out of the box, they won't cause any discomfort. There's virtually no need to break them and let them soften with time – they will provide you immediately with comfort and stability. One customer even claims that after one year of hunting, the boots still look like new – no cracks, no scratches, etc, despite the rough experiences he had. Overall, customers are fully satisfied with these hunting boots.
If you like this product you can find and check its price here.
Kamik Men's hunter boot
These synthetic boots are entirely water-resistant with an approximate height from the shaft to the arch about 13 inches. The heal height is roughly 1.20 inches. The fact that these boots are made of rubber doesn't mean they may overheat your feet, but in fact the opposite – they will stay nicely cooled, but will be warm enough in colder seasons and weather. The thermal guard liner will keep the area inside nicely ventilated.
The company has more than 100 years of experience manufacturing such hunting boots and offer highly dependable boots for very harsh conditions. You will have everything you need from hunting boots – warmth, comfort and dependability.
See also: How to Waterproof Boots: Methods And Products to Keep Water Away From Your Shoes
It's best to get a half a size larger than your normal size, as most customers report that slightly larger boots give them a few millimeters of room, but then the comfort won't suffer as a result. Almost all customers share how satisfied and happy they were by purchasing these boots. You won't regret getting these Kamik boots for your next hunting trip.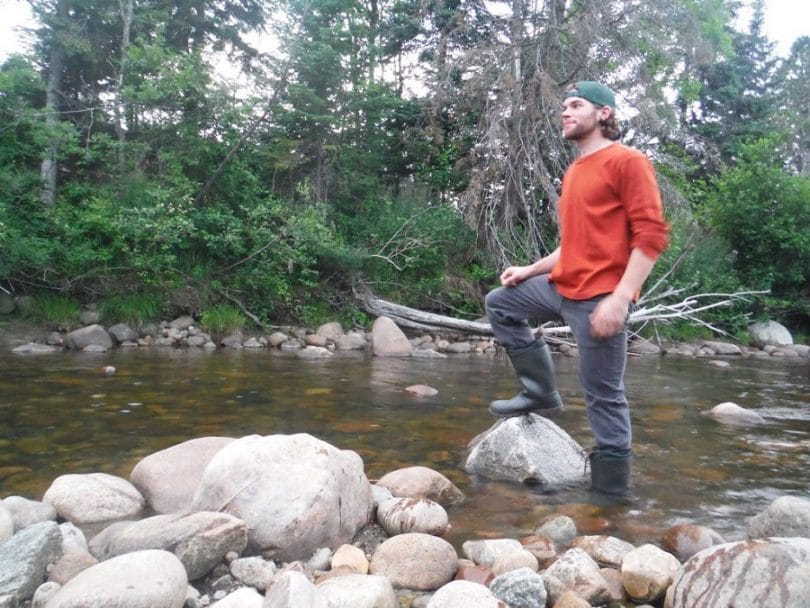 Generally, all of the above boots are among the top high-quality boots we could gather. Also, the manufacturers listed above have many years of experience manufacturing hunting boots. As a result they know how to provide high quality and they know what their clientele needs.
If you like this product you can find and purchase it on Amazon.
Any of the above products are ideal for hunting and whichever you decide to commit to will not disappoint you.
To help you choose on the best hunting gear for you see our article on this very informative piece.
Some of the links in this post are affiliate links. This means that if you click on one of these links and make a purchase, I earn a small commission at no extra cost to you. Also, as an Amazon Affiliate, I earn from qualifying purchases. If the information in this post has been helpful, please consider purchasing through one of the links in this article. Thank you.