Water these days goes through many processes of cleaning and purifying, and some countries and states in the USA, would even treat the tap water with fluoride and even add some pharmaceuticals. If we add also some factory pollutants nearby water sources, we end up drinking an entire periodic table of chemicals and elements.
[the_ad_placement id="in-text-1-type-a"]
Only some of them are needed for the body to function properly, but as we all know, there are also elements like metals and even heavy metals like lead, mercury, cadmium, etc in our water. These accumulate in the body over time and difficulties in cleansing them lead to health issues and deterioration, or even more permanently damaging illnesses. See also our review of the top reverse osmosis system for more options.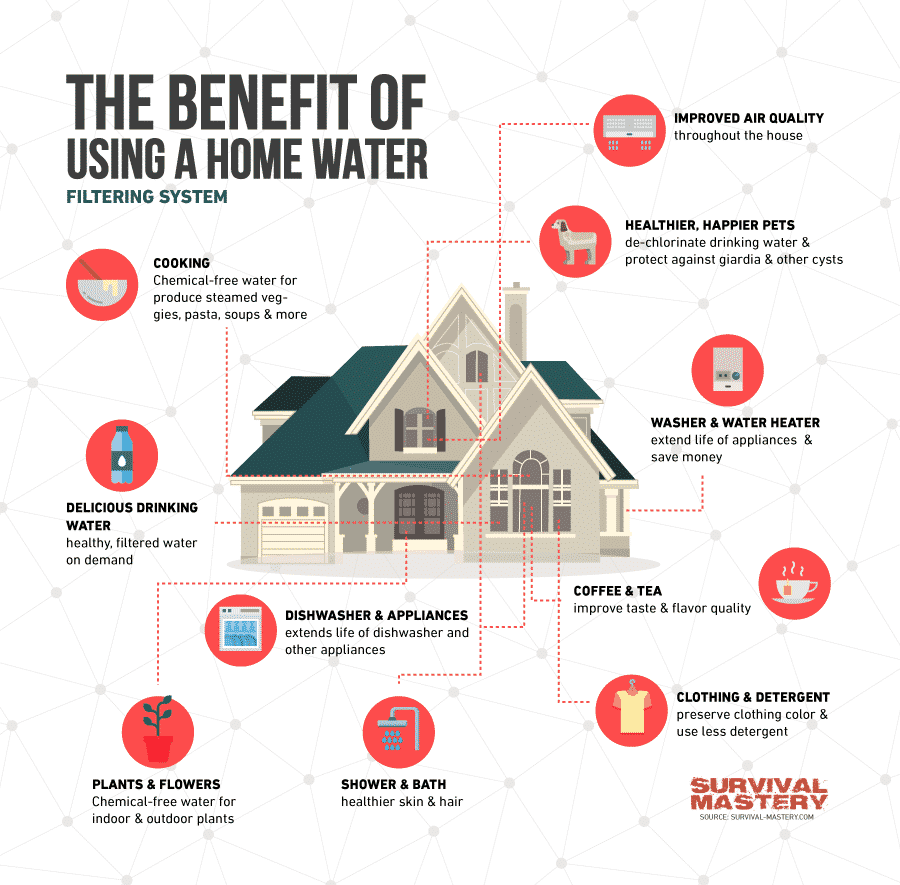 This is one of the main reasons why so many people commit themselves to purchasing water filtration systems for their home, so their entire family can enjoy clean and tasty water, and avoid the negative side effects of metal accumulation in the body. Some families find solace by installing a Ukf8001 filter, while others won't be comfortable until the entire house is brimming with clean, purified water. In this article we have compiled a list with some of the best water filtration systems that you can find on the market and trust with your health. We will share some customer experiences and reviews with you, so you have a broader view on each product and be able to make a more informed choice.
Highly rated home water filtration systems
Multipure AquaVersa MP750SB Carbon Block
This home water filtration system relies on carbon (active carbon) to filter the impurities and elements. The filter is placed in a stainless steel container, which is placed under your sink. You can attach a faucet – one that comes prepackaged with this purchase.
The carbon filters tend to clean the water faster than ordinary membrane filters, thus reducing the amount of time you wait to fill a glass of water. The activated carbon filters effectively clean the most regular elements and organisms, found in drinking water, like lead, cysts, chloramine, arsenic, mercury, asbestos, etc. The taste of the water improves significantly, including the odor and color.
If you tend to use up to 750 liters/gallons a year, then you need to change the filter once a year. Otherwise, if your water consumption is much higher (maybe you are a larger family), then you may have to change the filter more often, twice a year. If you notice that the water runs slower, that's a clear signal that the cartridge needs replacement. The system is very easy to set up and takes little time to get to know the installation procedure.
The system itself is small and compact and takes little space on your kitchen counter. You can also connect it to the fridge if you want to have regularly ice cubes.
As a client, you will benefit from a 90-day guarantee period, when you have the time to test and see for yourself the qualities of this product. Otherwise, you have also a life-time warranty, if something doesn't function properly, and it's clearly none of your doing.
The only negative side to this filtration system is that the faucet may often break, and you have to change it with another one, as it's made of cheaper material. Otherwise, the quality of the filtered water is top-notch and you won't be disappointed.
If you like this product you can find and buy it on Amazon.
WaterChef U9000 Premium
This filtration system is capable of filtering about 1000 liters/gallons a year before you have to replace the cartridge. This is more than enough for an average family. The system also has an Intelligent Monitor (TM) screen on which you can see an indication about when to do the replacement.
No need to guess any more. It is NSF tested and certified, with Standards 42 and 53 NSF/ANSI. It has essentially the ability to filter almost anything and features a 3-ply pre-filter, removing dirt and sediments. On top of all that you will be offered a lifetime warranty, thus safely enjoying this product. The maximum pressure this system can offer is 125 psi.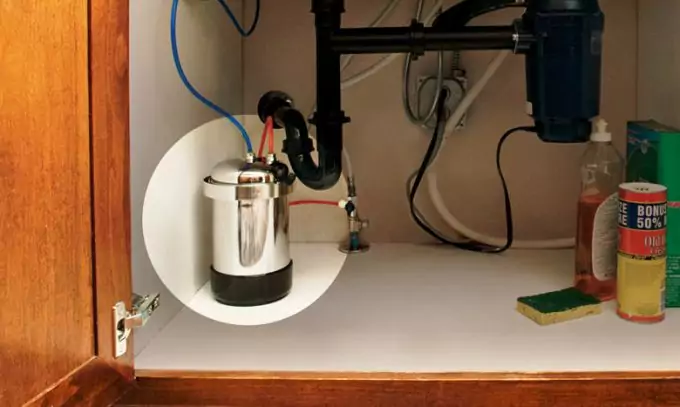 The entire system isn't made of cheap plastic material, but in fact of metal, thus ensuring you won't end up with a broken faucet. The system also takes far less space than regular reverse osmosis units. Setting up the system takes less than 30 minutes and no special tools for the installation. Almost all customers enjoy a lot this product, saying that they never had any leaks from it. And the taste of the water is clean and fresh.
Mount the filtration system under the sink and you will nearly forget about it being there at all. Nonetheless, you will enjoy purified water on a daily basis.
You will also be offered customer support on a high level. Almost all clients said that the support was very good and people were nice and polite, including very helpful. You will also receive instruction manual along with the system. It is required that you run the water (for the first time) for about 15 minutes before you drink the water.
If you like this product you can find and check its price on Amazon.
Aquasana AQ-5300.55 3-Stage water filter system
The manufacturer advertises a 25 percent faster speed for the filtration system, thus significantly reducing the waiting time to have a glass of water ready to drink. It is NSF certified and removes up to 97% of all known chemicals, microorganisms and bacteria.
This product also has an indicator which shows when the cartridge and filters need to be replaced. There's no need to guess when that is. The faucet is made of nickel and fits nicely on your kitchen counter. As all of the above products you can install this one right under the kitchen sink and keep the faucet on top, thus completely fitting the kitchen environment.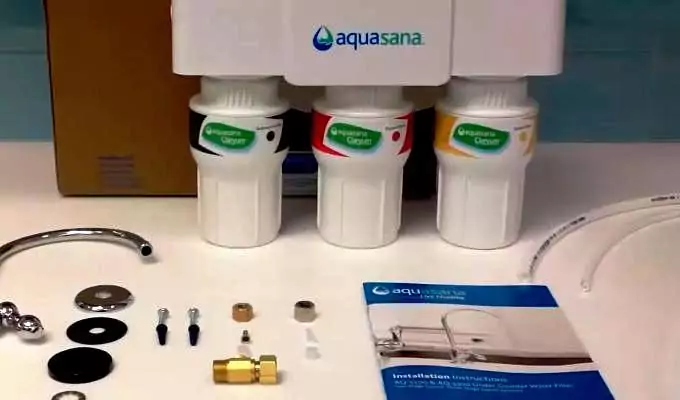 While the product effectively filters metals and elements, like chlorine, lead, mercury, etc. it also leaves some minerals, which are beneficial for the human health, like calcium, magnesium and potassium. These minerals also keep the water's taste fresh and nourishing.
In many cities, water may be contaminated with chlorine, which is successfully filtered, but chloramine is an element, which very few systems manage to remove from the water. Aquasana is this product, which can definitely leave the water without this element.
As for the installation, while it is easy to install the unit by following the instructions you still need to know that to tighten the faucet on the counter, you will need some help. Two people can make this installation happen – one holds the wrench under the sink, and the other turns the faucet on the counter, from above. This may take some time if you're alone, so keep in mind that you will need a hand with the installation. That doesn't make it difficult, only, you need additional help. Optionally, you may call a technician to install it himself.
If you like this product you can find and buy it here.
Brita 10-Cup Everyday water filter pitcher
The small filtration system can be used on a daily basis and doesn't require any set-up or installation. You just fill in the pitcher, which holds 1 liter/gallon of water, and as you pour it in glasses, you end up with clean filtered water. The plastic pitcher is also BPA-free, so you shouldn't worry about plastic particles in your water.
There is also a way to track when you need to change the filter. The sticker on the filter shows explicitly when to replace it. As the filter is small, you may have to change it quite regularly.
The steps to setup the pitcher are as follows:
Take out the filter, but make sure your hands are clean.
Then place the filter into the pitcher, lining the notches right where the grooves on the pitcher fit in with those on the filter
Secure the filter and press it tightly in place
The first three times you fill the pitcher you may see some carbon dust, so you may discard that water. Use the water after filtering three times the pitcher
The pitcher itself is made of recyclable material, which is ecological and offers a sustainable choice for a filtration system.
[the_ad_placement id="in-text-2-type-a"]
Overall, people are happy with the resulting taste – it's clean and fresh and removes unpleasant odors and as some people say, it also removes the 'pipe' taste of tap water. Another person with arthritis claims that the pitcher can be slightly heavier to pick, but it's after all one liter of water, which is roughly 1 kg.
If you like this product you can find and check its price here.
APEC Top Tier Premium 5-Stage RO Filtration System
Using reverse osmosis, this filtration system makes sure you will drink pure and clean water with more than 98% of elements and contaminants removed. You will end up with fresh and sweet taste of your water, the sediments and impurities will be removed, colors and odors will be wiped out, and the water will be safe for drinking by anyone – you, your family and even your pets.
This system is WQA certified, ensuring virtually no noise, it lasts long and it's highly reliable. You will be offered a customer support, which is located in California (the headquarters of the company). The machine is easy to set up and gets hidden right under your sink. You will have only the faucet, on your kitchen counter. APEC's products are very popular and highly trusted world-wide, thanks to the unbeatable quality it provides.
You will also get a manual with instructions on how to set up the system. They are very easy to follow and you don't even need additional help to do that. With its five stages of purification and filtration of the water, you will be ensuring good health and quality for the price you paid.
There were virtually no dissatisfied customers as all of them got what they needed for the money. They are happy with the end result, with the easy-to-set system, they didn't report any leaks and recommend this product.
If you like this product you can find and purchase it on Amazon.
Going camping? Choose the best compact filter by reading our piece on the benefits of a lifestraw personal water filter for more information.
The best whole house water filtration systems
Aquios Full House
This is a product which fits a large family, living in a house. It will ensure that you have clean water set up for the whole house. It helps descale and soften the water, and not only to purify and remove contaminants. The product doesn't require anything special from you – any maintenance, electricity or programming of any sort. You just set it up in your house, and it will work on its own.
The cartridge that ships with the filtration system offers 40,000 gallons/liters of filtered water. The company also offers 20 years of warranty, including customer support in case you need some help. One cartridge will have to be replaced every 6 months for an average household.
As mentioned, the filtration system ensures that it will remove sediments, calcium, chlorine and magnesium. These usually tend to build up into your water system pipes thus polluting more and more your drinking water. If you use Aquios system, it will effectively remove this build-up and leave your pipes clean as long as you use it. The system behind this is that it uses polyphosphate (aka Siliphos), which can help reduce the scale deposits and protect your pipes, faucets, fixtures, shower heads, etc.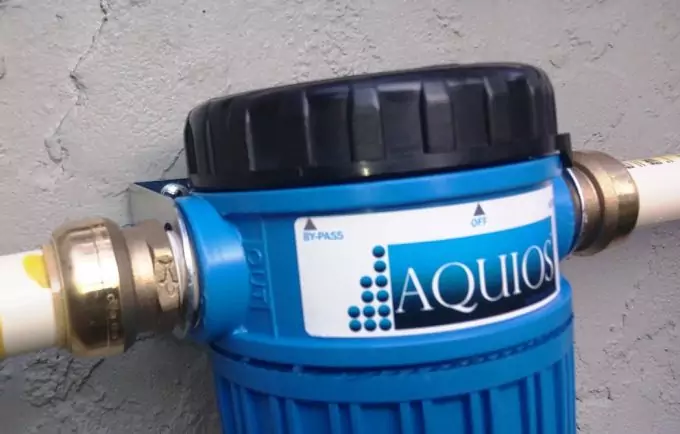 Along with this, you will have a carbon block in the filter, which ensure you will always drink and use clean fresh water. The pressure used for the production of water keeps the water loss at a minimum, without the speed of filtering to suffer. On the other hand, the pressure is almost never changing and nothing could affect it. It may happen so that it will be reduced when the filter needs to be replaced, so that is an indication to do so.
You could install and do the setting yourself, but some customers prefer that they rely on a skillful plumber. Most people would like to be sure that the installation is set properly, so they don't risk damaging the system.
Overall, customers are very much happy and satisfied with the product, they report that they get everything they expected – from clean drinking water, to fresh taste and lack of odors, including fresh crystal-clear color. There is no lack of pressure, no need for electricity and people are more than happy to use it. Most of them highly recommend it.
If you like this product you can find and buy it on Amazon.
Aquasana Rhino EQ-1000
The Aquasana manufacturer is among the most highly trusted companies, creating filtration systems. This one can filter up to 1,000,000 liters/gallons of water and the quality of the filtered water doesn't suffer even a bit, although huge amount of water goes through it. The filter is effective because it works with a pre-filter, and also features a copper-zinc KDF, including an activated charcoal/carbon block. It also has a post-filter.
Also, by purifying and filtering your water throughout the entire house, you can be sure that there will be no chemical vapor from the bathroom shower and the water stream from it.
This system kit also has brass fittings, shut-off valves (no risk for accidental flooding) and also best supports. Some water softeners may require electricity, but this one doesn't. It also doesn't need salt or any back-flushing to produce high quality, clean and fresh water. As the tank can process 1,000,000 gallons of water, this would mean that you don't have to change anything for the next 10 years after you install the system.
Customers are happy to be drinking and using clean water with no unpleasant odors. The water is virtually colorless after it goes through the filter.
Otherwise, one customer warns that it's good to be prepared with O-rings for the fittings and pre-filter candles. This can otherwise lead to some leaks, but O-rings would fix any problem that may arise.
Also, when you need to change the pre-filter candles (which may have to be done every 6 months), you also have to be sure to turn off the inlet valves, and then turn on the cold water taps. This will empty the water pipes, thus preventing air pressure through the pipes from blocking the unit. Still, changing the candles may leave you with some wet floors, so be prepared. You are handling your water pipe system after all.
[the_ad_placement id="in-text-3-type-a"]
One customer shares that he, his entire family and even his dog and fish seem happy with the filtered water and his flowers are thriving even better than before.
Otherwise, another customer experienced breaking a fitting, and was disappointed to find out that Aquasana's are a different standard and it's virtually impossible to find quickly a replacement, so he had to call the manufacturer for a replacement. They were happy to help him and sent him one. Still the system delivers the quality it promises – clean water, no odor or colors, no scale build-up, no foul smell after showering, etc. Most people recommend this filtration system.
If you like this product you can find and check its price on Amazon.
DuPont WFPF13003B
DuPont's product can effectively filter 15,000 gallons/liters before you have to replace the filter. It can be setup in a house or even offices. It has a universal 500-series Poly Block cartridge. If you need an upgrade, you can do so, without disrupting your already installed DuPont system. The installation is very easy and almost anyone can do it. It ships with a 3-year warranty.
The product includes also a wrench if you need to replace something or upgrade your system. One customer reports that when he needed to replace the filter, he didn't even need the wrench – that's how simple and easy it was. He also shares that it could be better to have a transparent casing for the filter, so that you can observe it when it needs to be replaced.  This isn't in any way a big drawback, but could need improvement by DuPont.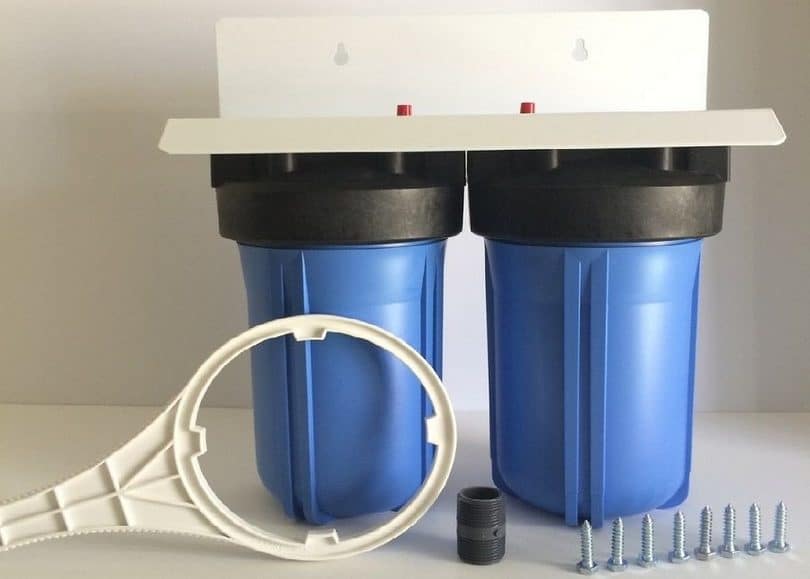 The manufacturer isn't among the top most popular companies, but they definitely offer quality products as more than 80% of their clients are more than happy to use their filtration systems.
The have a way to go to be fair competitors to Aquasana, but they offer their products for a lower price, thus targeting clientele which may not be able to afford the high prices for some more prestigious products. Overall, DuPont delivers on what it promises, including clean and fresh water, simple handling and maintaining the system, easy setup and a lasting unit.
If you like this product you can find and buy it here.
Aqua-Pure AP903
The product has a stainless steel head, with virtually no risk for corrosion. It gives the opportunity for a 'sweat in place' installation. This filter also uses activated carbon, for better quality of the water's taste and odors. The product is also FDA approved and CFR-21 compliant.
The pressure is so good that for one minute of water flow you can have 20 liters/gallons of fresh clean water. You need no special tools, items or wrenches to remove the filters. They are super easy and simple to remove and set up in place – you just twist the cartridge off and then on, and you're done.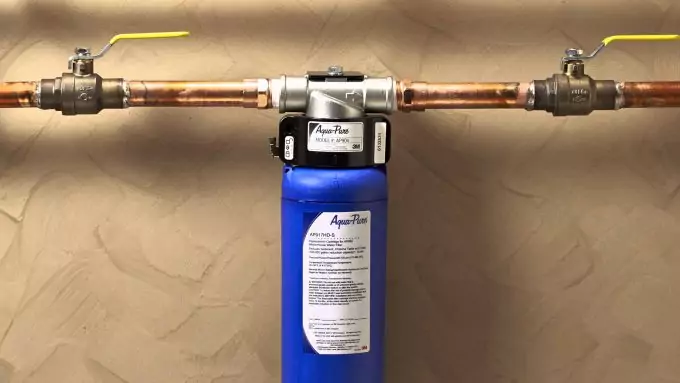 It may happen so that the filter may clog too soon, about some weeks or so, so you will need a replacement. Depending on how much water you tend to use this period may last more or less a month. Otherwise, some clients have used this filter for many years with no negative side effects from it.
Some may even have additional filters and cartridges to help this one filter for longer than expected. Other customers have bought two of these filters so they have complimentary effect and also last long.
If you like this product you can find and check its price here.
Which one to buy?
Overall you need to know that, since this filter is smaller than some of the above, it may clog quickly. This is due to more sediments and dirt in the water. If your tap water or well water tends to be dirtier, darker and smelly, then you may have to change the cartridge more often. Don't be frustrated about this, as it's a small system and it depends on what type of water is filtered.
For all of the above products, you may have to read further reviews and customer experiences to get an even better and deeper understanding of the products. We gave you a general overview of these, as they are some of the most popular and highly rated among clients.
Check out our reviews of the best gravity water filter to give you more information on survival basics.
Some of the links in this post are affiliate links. This means that if you click on one of these links and make a purchase, I earn a small commission at no extra cost to you. Also, as an Amazon Affiliate, I earn from qualifying purchases. If the information in this post has been helpful, please consider purchasing through one of the links in this article. Thank you.