A homemade insect repellent may be for you if you were looking to head outside for a sporting event, picnic, garden work or relaxing in your patio. As we all know, chemical insect repellents may be too strong, with substances, which may also pose harm to our health. Today, you don't have to reach for a bottle of chemical-based bug or mosquito spray to repel these annoying creatures so they get out of your way because we've made a guide on how you can make your very own organic and natural sprays to get rid of bugs and other insects.
[the_ad_placement id="in-text-1-type-r"]
Bonus part is that many of these we're featuring are not only effective, but also safe for your family's health. And not only that they work well, many of them are also composed of materials we already have at home.
You don't have to despair and think of commercial bug sprays as solutions, but you can consider the better alternative—natural bug repellents that also smell wonderful for indoor air. All it takes is a few minutes and you're ready with an organic insect repellent.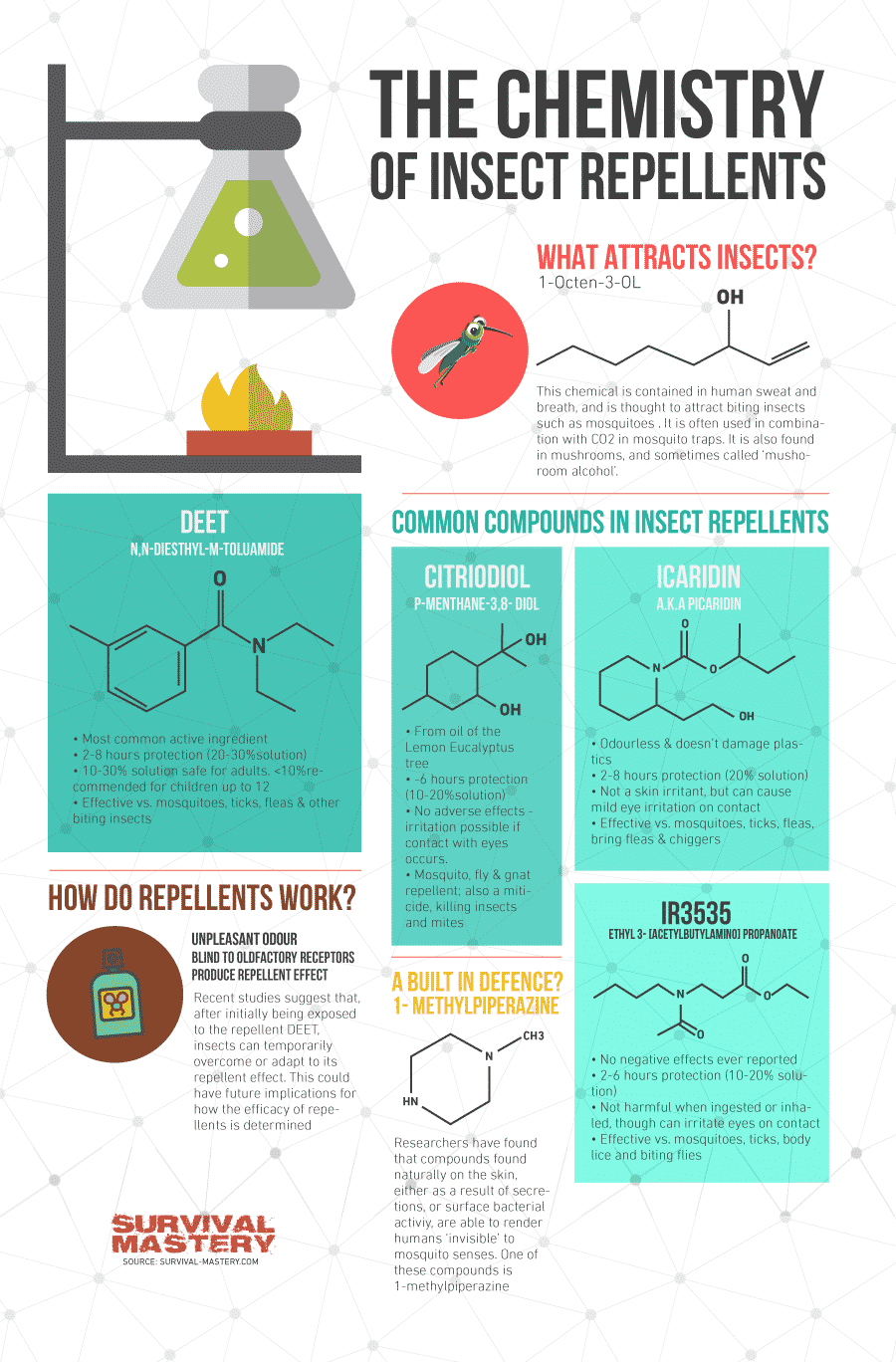 Take note, however, different types of oils and ingredients work better for specific insects and bugs and some combinations work even better for different types of insects. And what we need basically are essential oils to make our alternative insect repellents.
Reasons to go for natural insect sprays
There are many benefits for you from using natural insect repellents than what you can get from commercial and chemical-based products on the market.  First thing is that they don't contain harmful toxins, while they work effectively against most types of bugs and insects.
Plus, these essential oils will be able to give you the best smelling sprays to keep mosquitoes and insects at bay, providing home air with good smell that can linger for hours. In this case, who would need an air freshener? In addition to these, alternative insect repellents are also affordable. In fact, just a little of them can go a long, long way.
Making a natural insect repellent
Before you do make this interesting and simple repellent, you will need to get your materials ready. You can use two tablespoons of vodka or witch hazel, or both. You may also want to make use of two tablespoons of any of the following: jojoba oil, grapeseed oil, neem oil, olive oil, which has natural insecticidal properties.
You can buy these essential oils in a top seller online or offline. Anyway, they are neither that hard nor expensive to buy. In fact, you may even want to stock on them so that you can have them ready when you want to make another batch later.
As a preservative, prepare one half teaspoon of vodka and 100 to 110 drops of pure essential oils. Then you will also have to get ready with 55 drops of lemon eucalypts oil, which according to the CDC is a better alternative for DEET used in repellents against bugs and insects.  Aside from these, you will also need 15 drops of cedarwood essential oil and another 15 drops of lavender pure essential oil.  Then, you will also need 15 drops of rosemary essential oil. Once done preparing all these materials, proceed to the next section for the procedure in making this natural repellent.
Begin by adding the carrier liquids and pouring them onto a small spray bottle, ideally one with a four-ounce capacity to leave some room for shaking. Then, start adding the essential oils. You're done!  Before using, make sure to shake it well. For the best results, reapply the homemade bug repellent every few hours.
Natural repellent lotion for kids
This is a kid-friendly lotion that can work effectively against bugs and insects.  In fact, it can also be healthy for the skin because it has coconut oil, which can nourish and feed the skin with vitamin E. You can buy a readymade pure coconut oil (or virgin coconut oil) on the market. Get one-third cup of it and 15 drops of clove essential oil, lavender oil or peppermint oil.  Combine your ingredients and shake well.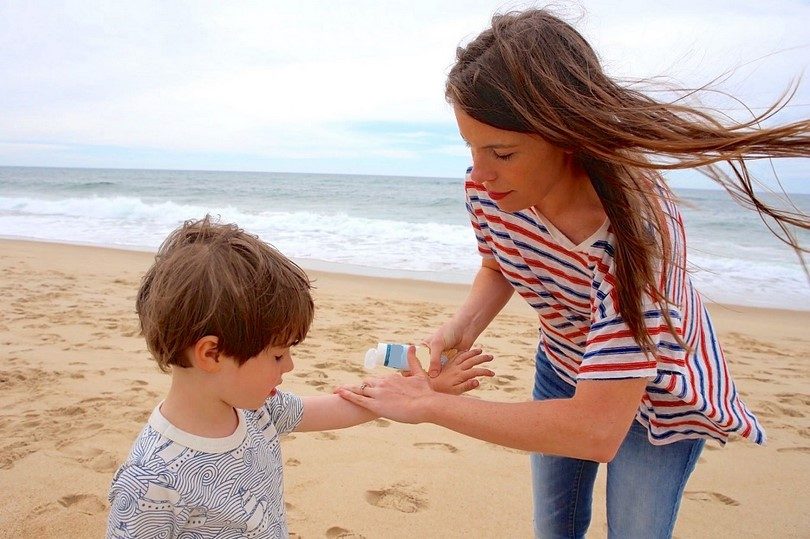 Make sure to use a bigger spray bottle if you are making more of this natural lotion to leave room for shaking. When done, you can slather on the skin of your kids, including that of the arms and legs, among other body parts exposed to an open area. If the lotion gets into the mouth of small children, don't worry because this is not poisonous, but you should remove it right away.
Natural repellent lotion for adults
For a stronger lotion version, check these steps out. First, you will need to get your materials ready, get one-third cup of liquid castile soap, which is available in tea tree, citrus and eucalyptus, among others, to choose from. Next is to get 30 drops of essential oil of your liking, and then mix and shake the ingredients in a bottle well.  You're done!
[the_ad_placement id="in-text-2-type-r"]
You can start smearing this lotion all over your hairline, legs and neck, among other body parts, before going out and heading to the woods, in the garden or in the campsite. Remember to reapply it on your skin every few hours to keep you protected against these insects. And when you are heading back inside, let's say, in the campsite, make sure that you wash the lotion off.  This works effectively to keep the bugs away and to soap you up when you are ready to take a shower.
Repellent sprays for pets and kids
As you know, children and pets may be very sensitive and that should make you aware of what essential oils to mix and what kind of insect spray to make. For this spray, get your materials, including spray bottle, witch hazel and witch hazel.
And then, get your lemongrass, lavender, clove or peppermint oil (if you're making a spray for small kids), or lemon, tea tree oil or eucalyptus (if you're making one for older children and pets). Do not use eucalyptus and lemon oil for small children, who might get their skin irritated.
To begin with, mix water and witch hazel and mix them well, and then you can start adding 15 drops of the essential oil you are using. Before use, shake them well, and to get the best results, spray every few hours.  You can spray this homemade bug spray on the legs, arms, necks and backs of your children and you're done!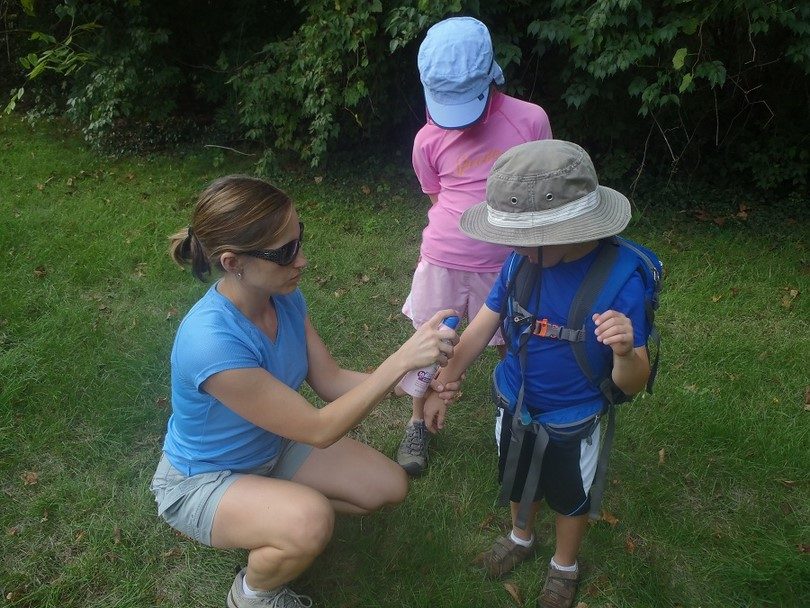 For the safety of your kids against bugs and insects, keep them out of stagnant water and forested areas. If they are playing in the garden, make sure that you treat the area by smoking it out using cedar boughs. Alternatively, you can also set up bug traps around in order to draw bugs' attention away from the skin of your precious ones.
For cats and dogs, you can spray a little bit of this repellent on their tails, legs and around collars. You can also make use of some concentrated tea tree, citronella or eucalyptus on their collar's outer edges, one thing you can do to keep the biters off your pets.
Adult insect repellent spray
For adults like yourself and your partner, you can make a stronger version of a natural insect spray. Get your materials, including witch hazel, water, lemon oil, tea tree oil, eucalyptus oil and citronella oil, ready. You will also need vegetable glycerin.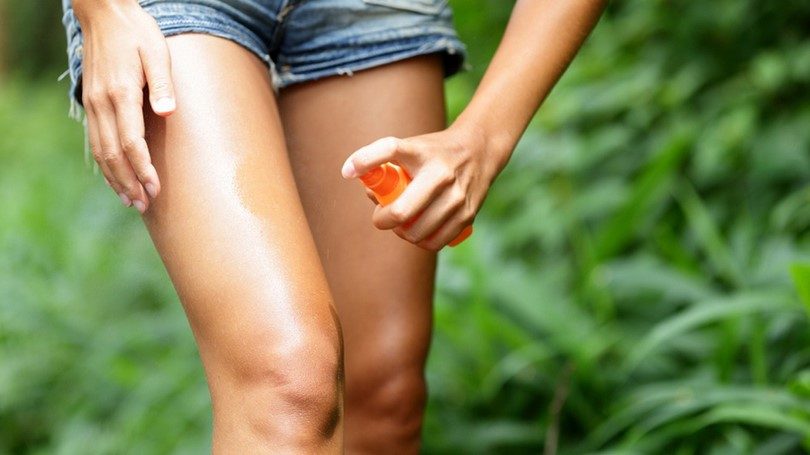 To start, combine 20:80 water and witch hazel, and then add one teaspoon of vegetable glycerin before adding 30 drops of essential oil. You can hose yourself with this spray if you would be going to a forested area when hiking or mountain climbing. And just like other natural sprays, you should reapply this after a couple of hours to ensure that you are 100 percent protected against these annoying insects and bugs wherever you are.
Alternatively, you can use a combination of eucalyptus and lemon or rosemary and tea tree for a better protection against bugs. However, you can discontinue use if you suffer from a negative skin reaction using it.
Additional information about homemade bug sprays and lotions
Aside from the essential oils that we have mentioned, there are other essential oils with good compounds against repelling bugs and insects, and some of them include eucalyptus, citronella, peppermint, tea tree, rose geranium, cypress, lemon, bergamot and lemon. Nevertheless, essential oils are real great help on matters of repelling bugs and other insects and getting them out of sight.
For instance, tea tree oil is said to work best against chiggers, deer flies and ticks, while lemon and citronella are perfect to keep mosquitoes away.  Alternatively, peppermint and geranium are also perfect for fending off both black flies and annoying mosquitoes.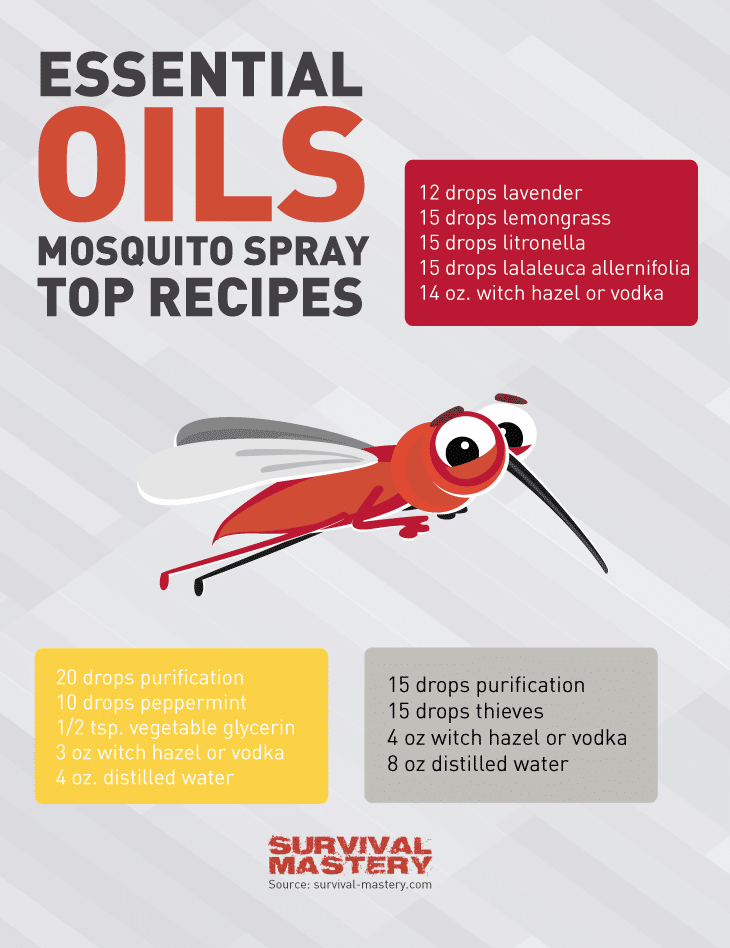 However, take note that essential oils should never be applied onto the skin, at pure concentration, directly. Else, you might suffer from irritation. They should be used only with a combination of carriers before applying on skin. But you can always add a few of these essential oils on outer clothing or on top of your shoes. Just make sure that they do not make direct contact with your skin.
You should only use, as much as possible, one essential oil at a time, although you can also mix them up to make scents and make effective sprays against bugs. Remember, mix scents belonging in the same family, as much as possible. For instance, you can blend lemon with lemongrass, but it may not produce good smell when mixed with eucalyptus. Instead, blend eucalyptus oil with lavender oil but only sparingly. For the best results, you can blend lavender with rosemary or peppermint. And on each of its own, you can use either tea tree oil or clove oil.
Tips when using essential oils
Nursing or pregnant women should not use essential oils without the go signal of their healthcare provider.
When using essential oils with very young children, always take caution and use only mild insect repellents, especially when they are meant for skin application. Young kids can get their skin easily irritated than adults do.
When storing homemade repellents as those we have featured here, label them properly and do not get them close to food items and within children's reach. Check out our article on how to make homemade mosquito repellents to guide you.
When using essential oils, you should not apply on skin without conducting a patch test that can help you determine your body's reaction to these oils applied to skin.
When not using essential oils, make sure to keep them in dark-colored bottles and then keep them in a cool, dark place.
Tips to keep the biters away
You can also do certain things in order to keep yourself out the attention of these beasties. When going out, avoid wearing dark-colored clothes, which are very attractive to insects, especially mosquitoes. You can also wear only light-colored hats, which are not that attractive for insects. You should avoid using deodorant, hairspray and perfume with sweet fruity scent to avoid getting the attention of these beasties. They love sweet scents, including that coming from tropical fruits, such as mangoes and watermelons.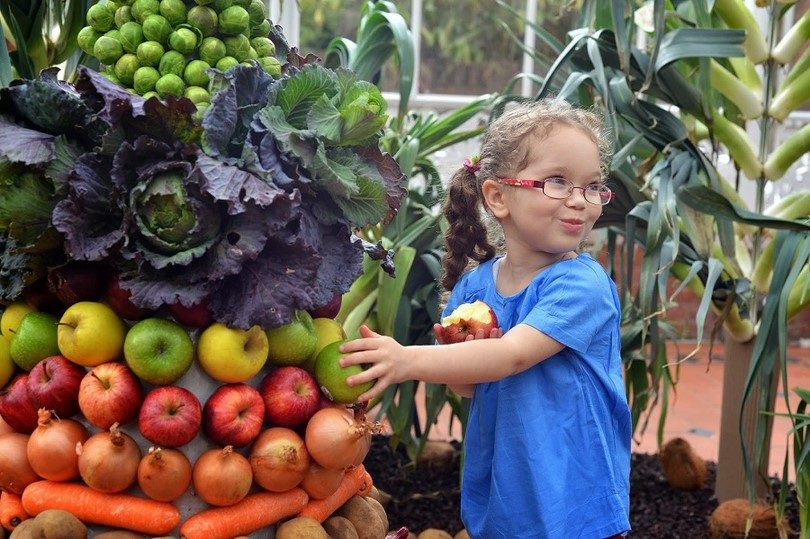 Speaking of these fruits, avoid eating them when you are in a forested area to avoid catching the attention of these insects. Something that might help if you couldn't avoid having some sweet fruits is to nosh garlic.  Additionally, you can drink water with a few drops of apple cider vinegar so that you can change your body's pH level and make you less attractive against insects.
Avoid going to places when the insects are most active, including early in the morning and during sunset.  You can instead go to those places in the middle of the day when it is generally safe for outdoor activities. You can also consider setting up insect nettings in play areas and in your garden where your kids play. You can get your children playing in screened-in areas, too.
When you and your family are out in the woods, where there are plenty of horse flies and deer flies, you can use a sticky royal blue trap. You can coat a royal blue plastic cup or plate with tanglefoot, which you can hang on your hat or backpack. These flies will be attracted to the color and then will be stuck.
Preventing bites
Mosquito bites
Cover your exposed skin when doing an outdoor activity. As much as possible, you should wear long pants and long sleeves. You can also protect your head from bites by wearing a light-colored hat. You should also sleep in air-conditioned or screened rooms to avoid mosquito bites.  Additionally, you can use a bed net, especially when sleeping in an area that is exposed to outdoors.
Tick bites
Just like what to wear to prevent mosquito bites, you should wear long sleeves, long pants and hats when going outdoors to prevent tick bites. You should also make sure that you tuck in your shirt on your pants and your pants into your socks. You can also consider wearing closed shoes in order to prevent tick bites. You should not go in brushy or wooded areas, where there is brush, tall grass and leaves. When hiking, walk in the middle of the trails.
Tsetse bites
These insects are known to spread the sleeping sickness, especially in the sub-Saharan area of Africa. So if you were traveling here, you should wear long pants, long sleeves and hats.
[the_ad_placement id="in-text-3-type-r"]
Remember, these insects can bite through thin fabric, so wear medium to heavy weight clothing when going to these places to avoid the bites from these disease-causing insects. You should also wear neutral-colored clothing because they are very attracted to dark-colored clothes and the color blue and to metallic fabric.
You should not also go near bushes during the day because they usually rest at this time and bite when disturbed. Before entering your car, you should check if there are tsetse flies before entering it. Remember, these flies become very attracted to moving vehicles.
Why not check out our piece on the best insect repellents to protect you and your loved ones? It's an amazing-read.
Additional tips for safety
Do not scratch skin bitten by mosquitoes and apply hydrocortisone cream to get rid of the itch. You can also get rid of ticks you can find in your body. You should also take a bath as soon as you get home from an outdoor activity.
Perform a thorough body inspection, including in and around your ears, under your arms and in your belly button after coming inside. Aside from these insect-bite prone areas, you should check your hair, too. You can also make use of a full body mirror to see your entire body and see if you are free from insect bites.
Do the same procedure for children, including checking them for ticks. You should also check your belongings and pets because ticks in particular can be on clothes and equipment.  If you found ticks, remove them carefully.
There you have our complete guide in making some homemade lotions and sprays against insects, bugs and mosquitoes that you can do to ensure your family's safety, especially when going outdoors. Also, remember the tips we have shared on what to do to avoid bites and what to do for safety with essential oils. Finally, feel free sharing the article to friends and colleagues that might also benefit from it.
Don't forget to read our article reviews of the top mosquito repellents to protect you and your family.
Some of the links in this post are affiliate links. This means that if you click on one of these links and make a purchase, I earn a small commission at no extra cost to you. Also, as an Amazon Affiliate, I earn from qualifying purchases. If the information in this post has been helpful, please consider purchasing through one of the links in this article. Thank you.