There's no guarantee that a huge disaster isn't coming our way since there are lots of things that can go wrong starting with killer tornadoes, earthquakes and ending up with wars, maybe even a zombie apocalypse or two. So you need to be prepared with top notch emergency gear, including a reliable communication system to keep in touch with other communities.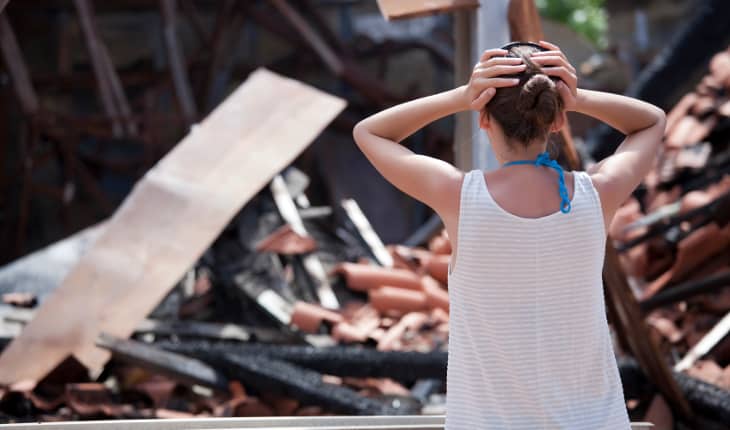 That's when the APM-40 system can become your best buddy since it's an alternative means of communication you can use when the other networks don't work. Want to find more about it? Read along!
Why should you use it?
If all the telecom networks are down, including the public safety ones, you're really in the need for something that works.
So what can the APM-40 do for you?
It has 40 phone terminals that are really sturdy, so they don't damage easily.
All these terminals are connected with wires for a length of 7 km, which is enough to reach yours and your neighbors' basements if you're hiding.
It works really fast, and it's got a simple use.
The copper and steel wires needed are really reliable.
It's a decentralized system, so even though it works well alongside other communication networks, it can work perfectly well on its own.
All the terminals have both PBX and MUX. That helps you connect as many terminals as you want between 2 to 40, and each such connection is decentralized
You can use it for more than just one conversation at a time. In fact, the maximum number is 7 conversations at once, which is great when you have more people using it.
There's more than the conversation between two people option, you can even use this system for conference calls.
It's easy to use it when the power's down because it works with AA batteries or even solar panels, so you don't have to depend on your power grid.
You can connect it with another APM-40 network, a radio station or a PSTN network if that works, so you have different ways of staying in touch with your community.
If you want some privacy, you can always use the channel scrambling option so no one can tune into your call.
You can prioritize your calls with various volumes associated with each ringtone. Preset the louder tones for the most important calls, and you're good to go.
You can even download specific ringtones for a particular type of call.
You can also learn more about this emergency communication system by visiting their home page.

Where and when can you use it?
Literally anytime, anywhere – that's your short answer.
But if you're more interested in where you can set it up, you should know it's easy to use between locations that are within a 7-kilometer distance, like this:
You can use it someplace you can connect the terminals together in parallel, by using wire made from either copper or steel.
The place you're using it in has to provide a CT-01 IDC connection box, so the terminals can easily be connected with it.
It's even better to use it somewhere you can redirect the calls to other networks, like another APM, a PBX, a PSTN or a radio network.
If you want to double the 7 kilometers worth of distance, you can actually do that, by using one of the terminals as a repeater. That's going to give you a ring shape instead of a line shape.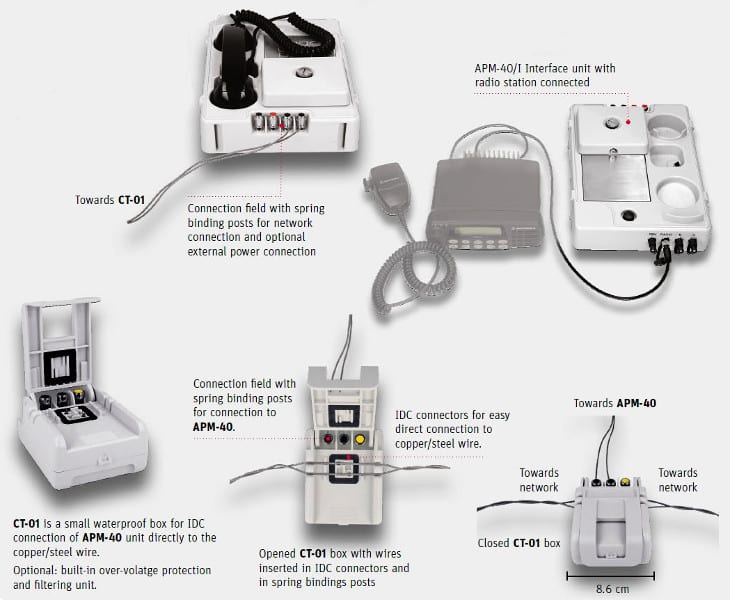 With that said, the actual locations where you can use this are:
A refugee camp. Staying in touch with other peers is of the utmost importance to make sure you survive.
Construction sites. Want to ensure everything goes right with your work and employees? Maintaining the communication lines open is key.
Tunnels and mines. Nothing spells danger like these sorts of locations, especially if they're crashing down and blocking people inside. To help the rescue services, a sturdy and easy to use communication system like the APM-40 is what you need.
What if you take refuge in a cave when disaster strikes? You need to be prepared with a network that anyone can set up and anyone can use.
Large events. The common network systems can become overly used and crowded, so they can actually fail. This is when you need something that still works because large events are when a fire can start or when a terrorist attack can take place.
How can you use it?
There are different ways in which you can employ this amazing system, such as:
Stationary, with the fixed wire infrastructure.
Portable, as a standalone communication system that can be set up anywhere.
Or, if you're more interested in the ways you can use this system of 40 phones with other people, either in a ring or in a line, remember you can have:
Duplex conversations: 7 pairs of users at once.
Duplex conference: a conference call between 10 people.
A broadcast call: everyone can listen to your message, but only 2 users can respond.
There are also options to set either a priority selective call or a priority conference call to make things easier.

The address setting and the available upgrades might also interest you here. In the case of a disaster or an emergency, you want a means of communication that works promptly and easily, and that can be set up by anyone.
The APM-40 can do that since you only need:
2 rotary switches or a file configuration quickly done through any USB port available in order to set the address.
A file configuration done through a USB port or even via Bluetooth if you're looking for an SW
What are its best features?
The main thing we love about this product is its inspired design, with a sturdy construction that puts user experience above anything else. Let's take a look at its primary features, so you'll see what we mean.
On the topic of safety, the battery compartment is covered, so the batteries are secure inside. The keypad is vandal proof, so it's incredibly safe, while the air pressure equalizer prevents damages to the phone when using it in high-pressure conditions.
We love how easy to use this system is. There's a Bi-color LED that helps you convey light signals, while also illuminating the keypad so you can see when typing. Additionally, there's a hands-free speaker so more people can hear the conversation. The on/ off switch is at hand, to help you activate or stop the terminal, and the handset contains a helpful PTT button. To complement all that, the push-spring connectors can be used either for line connection or for external means of powering.
We also like how portable this system is. The phone can be easily carried thanks to a convenient handle and shoulder strap, while the housing cover protects it from scratches and other damages. The housing itself is quite resistant, as it's manufactured from polycarbonate.
Portability-wise, it has compact dimensions of just 21,3 x 28,8 x 10 cm. That means it's easy to fit even in smaller luggage or cases, without taking up too much space. Plus, it weighs merely 2.9 kg, so it can be picked up and carried comfortably for larger distances, without putting too much strain on your muscles.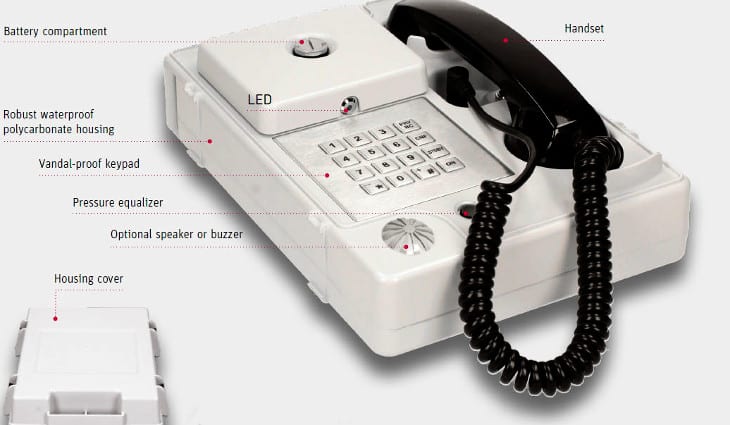 It can be used at different temperatures, ranging on a wide interval between -20°C to +85°C. That ensures you can use the phone in different weather conditions, without it failing you like other communication systems that backfire outside room temperature.
The power consumption is another great feat because you'll only need just 6 AA batteries to make the system work if you don't have access to a wall socket or if the power is out. 4 CC batteries can also be used if you have them, or you can power it locally either with solar panels or a wall socket. You'll need a 9-25 VDC/ 200 mA source. Check out our top picks for the top solar phone chargers for your convenience.
The longest time you can have this system working is 850 days in standby mode using the CC batteries. That's more than 2 years' time. The least time it can work is 42 days, when you're having a 3 minute conversation every hour and 40 calls each hour, using the AA batteries.
So you can make a lot of phone calls, constantly, and it can still last you for more than a month of uninterrupted use, that's how little power it uses.
Are you convinced yet?
If you're not, just consider what happens when the communication system backfires in the case of an emergency. It's really hard to get the communication lines up and running after a disaster, not to mention during, and that negatively impacts the help people get. Also see our piece on alternative communication during disaster to help you with more choices.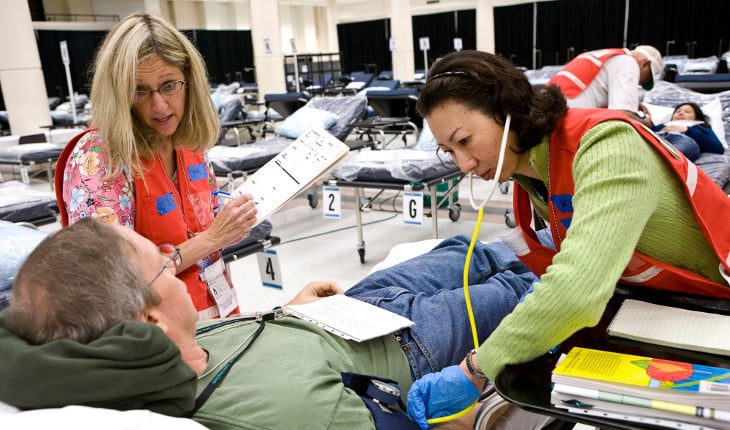 Basically, the reasons why you should choose the APM-40 are:
It's a comprehensive system.
Its setup is fast and easy.
The use is quick and reliable.
It's efficient.
It can save your life in case of a disaster.
The cons of using an APM-40 relate to when you set it up and who uses it:
It's better to set it up before the actual disaster takes place. Afterward, you might not be able to do it.
You need to get key users on top of it, so you'll know all efforts can be mobilized accordingly.
You should choose the best topology, either line or circle, to make sure the messages are conveyed effectively.
With that in mind, the APM-40 is instrumental in mobilizing all possible efforts towards the shared purpose of helping the victims of a disaster. What if you become one?
To stay in touch with loved ones in extreme circumstances, take a look at our article on how to send communications during emergencies to help you.
Some of the links in this post are affiliate links. This means that if you click on one of these links and make a purchase, I earn a small commission at no extra cost to you. Also, as an Amazon Affiliate, I earn from qualifying purchases. If the information in this post has been helpful, please consider purchasing through one of the links in this article. Thank you.