You are going on a big camping week with your sweetie, and in the midst of buying two of everything, you are watching the dollar signs stack up. A simple solution for this may not be quite what you think, instead of leaving items out of your pack, consider buying a double sized sleeping bag.
[the_ad_placement id="in-text-1-type-a"]
Not only will you stay warm when the temperature drops, but your partner will enjoy cuddling up without a big sleeping bag in between you two.
If you have ever shared a tent with your partner, then you know the struggle of trying to cuddle while also not falling off your mat or being the one to take your arm out of the bag into the cold air, then you know a shared bag could be your new camping essential.
Not to mention it might be easier to convince them to go on a weekend in the woods if the sleeping arrangement is just like your beds at home. In this article, we will review what to look for in these double bags, and what to buy when you are on the search for the best 2 person sleeping bag.
In what may seem to be counter-intuitive, double sized sleeping bags actually have quite a few specifications that you can choose from on top of normal sleeping bag specifications.
We will break down a few ratings for you to look through, and then the specifics of these bags that makes picking the right one for you and your partner simple!
Ratings and Insulation
Regardless, if you are sharing your sleeping bag or traveling solo, you want to make sure that you are selecting a sleeping bag that has an appropriate weather and season rating.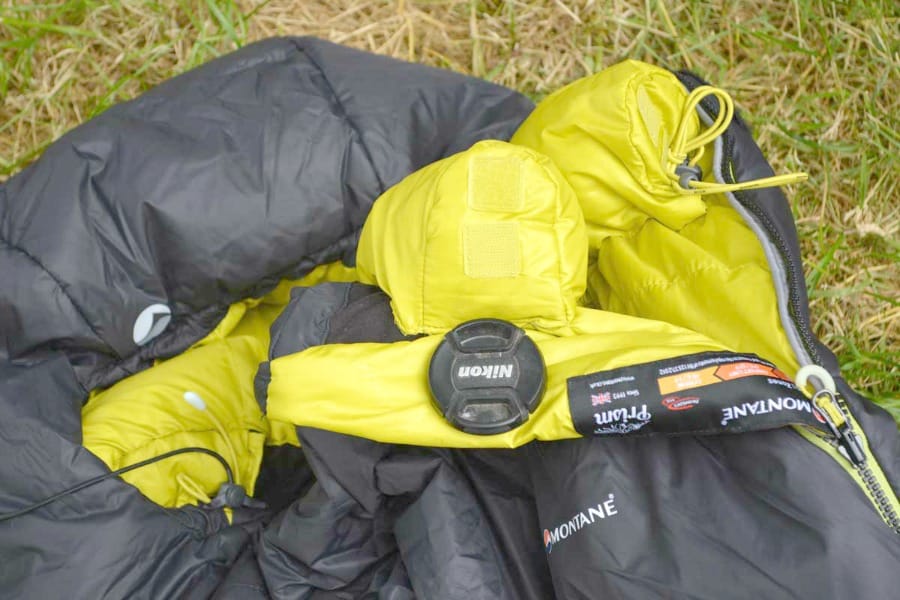 Cuddling in the bag will keep you warm for a while, but in the middle of the night, you will be wanting a bag that is rated correctly.
If you are planning to jump into cold weather camping, make sure you are finding a bag that is at least a three season bag. Not only will it keep you and your beaux warm in the cold, but in the summer you can unzip and roll down a bit to keep yourself cool.
If you are sticking to flatter ground in warm weather, no need to splurge on low rated three-season bags.
The second part of picking out sleeping bags is making the decision on insulation material. We suggest choosing between down and a synthetic mix for a bag. Down will keep you toasty warm, but if you are allergic don't bother.
If allergies aren't an issue, the way you can choose is based on cost, down is more expensive, and cleaning needs, as synthetics can be thrown in the wash.
Useful tip: Ratings can be very helpful to picking out the right bag, but they are not universal for everyone. They assume quite a few things, first off that you are not what some consider a 'cold sleeper'.
At home, under the blankets, with the heater on, if you are still cold than sleeping outdoors is going to be a whole new level of chilly for you. Not only that these ratings assume you have a tent or some form of shelter, and that you have eaten enough so that your caloric intake isn't completely wasted on keeping your body warm.
Stash Pockets, Pillow Pockets, and Sleeping Pad Sleeves
What do all of these have in common? They are all additional features you can look for in a sleeping bag that will allow you and your loved one to not only sleep easier but to have all the necessities right at your fingertips.
Stash Pockets
These little built in and often zip up pockets are located on the sides or your bag and can normally fit smaller gear for easy finding in your equipment filled the tent. No one likes to wake up in the night and have to scramble to find a flashlight before going outside of your tent.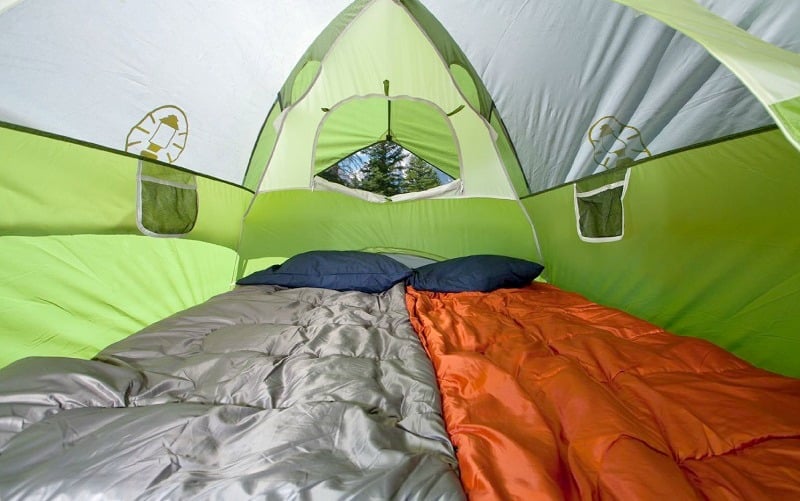 Storing your headlamp, flashlight, or even a cell phone in these zip pockets can give you easy access to a necessary without waking everyone up in the process.
Pillow Pockets
Built into the top of your sleeping bags, these pockets tuck the pillow in and hold it in place, which is especially great for restless sleepers.
If you or your partner often find yourself at the edge of the mat, no pillow, and barely any bag covering your now chilly and uncomfortable body, these pillow pockets could save your neck and shoulders from the hard ground.
Sleeping Pad Sleeves
There is one major challenge to sleeping two in a sleeping bag, and it mostly revolves around sleeping mats. If you are each having your own sleeping mat but are sharing the bag, then be prepared to often find yourself readjusting mats.
Without a built-in sleeping pad sleeve, your mats could scatter to the edges of the tent, especially if you are cuddling close in the center. We highly suggest searching for packs that have these sleeves if you plan on using two single pads placed together.
Does Size Matter?
Now that you have found the right rating, good insulation, and even few extras to make for the ultimate comfy sleep, you are going to see that these 2 people sleeping pads come in a large variety of sizes.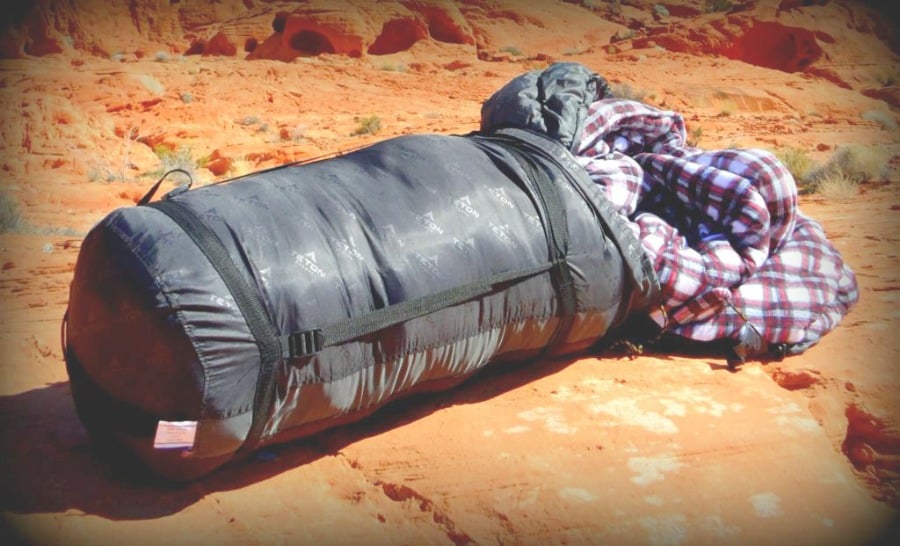 Ranging from small doubles that snuggly fit two smaller people, to large queen sizes for as close to home slumber you can get, size can determine a comfy sleep. While these larger pads do not pack down to a small bundle, if you find yourself car camping, a queen sized sleeping bag might be the best splurge for you and your partner.
Not only is their plenty of wiggle room, the larger bags tend not to pull as much when one of you turns over in the night. Meaning no one is fighting for more room, especially if you are camping in an already seasonable warm night.
Buy The Best
Now that you have reviewed the specs you need to purchase the perfect bag, you may notice that there are as many two-person sleeping bags on the market as there are single person bags. While this means you can buy the best made, it also means that you have to weed through many options.
Here are the top seven bags we have reviewed just for you so that you can purchase the best 2 person sleeping bag.
Winterial Double Mummy Sleeping Bag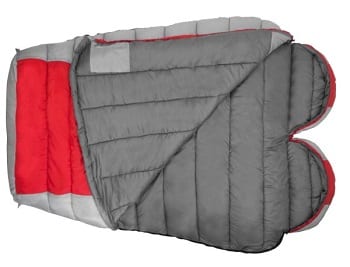 Weight: 8.2 lbs
Dimensions: 81 x 53 inches
Price: $89.99
Specific Features: The bags special feature that makes it warm is it's sturdy and water resistant micro polyester lining. It had 2 inside pockets and is rated to go as low +20 degrees Fahrenheit.
Best Use: Car camping or light trail camping.
Description: This lovely Winterial Double Mummy Sleeping Bag features two hoods, one for you and one for your partner, for optimal comfort in the cold. The two hoods also mean that no matter how much one of you moves, it doesn't pull the whole bag down.
With zippers on both side of the tent, you can get up without disturbing your partner, and adjust your side zipper to either cool off or heat up. In addition, there are two built-in zip up pockets inside the bag on either side meaning you can each store your essentials, whether it be a light or a midnight snack.
The only complaint this big receives is that the center does not have any way to pull to a close around the body, meaning if you are not snuggling in the center there is a chance that the cold wind can sneak in. That being said, its season rating has proven very reliable, and it's a great price!
Guerrilla Packs Drive-In 23-Degree 2 Person Double Sleeping Bag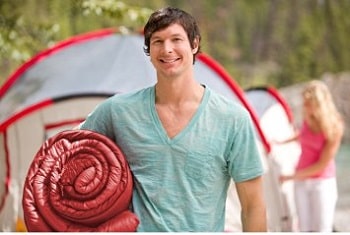 Weight: 8.75 lbs
Dimensions: 62 x 95 inches
Price: $74.50
Specific Features: Enjoy the detachable head rest singlehood, and stay warm in the polyester flannel lining! This pack also features a compression sack making it easier to pack in an already full backpack or car. Why not see our piece on the best compression sacks for more options.
Best Use: Car camping, and light backpacking for conditions about 23 degrees Fahrenheit.
Description: This Guerrilla Packs Drive-In 23-Degree 2 Person Double Sleeping Bag is a take on a more classic style bag, opting to go with a flannel lining that not only keeps you warm but is also soft like a blanket you have at home.
With its detachable headrest hood, you can choose to close in your heat or take it off on warm summer nights. The bag itself is stuffed with around 6 pounds of hollow fiber, so you can rest assured that if temperatures drop to around 23, you have the right pack.
It's on the longer size, so if you or your partner are in the 6'6" range, this might be the perfect option.  The bag also zips on both sides, so you can sneak out if needed.
While this bag does have the awesome feature of a compression bag to push it down, it is still quite large for a long backpacking trip. The only con to it is its bulky-ness, but for car camping, this soft pack is a no-brainer buy!
Related: Grizzly by Black Pine
TETON Sports Mammoth Queen Size Sleeping Bag
Weight: 16.5 lbs
Dimensions: 94 x 62 inches
Price: $135.94
Specific Features: Both large and warm this pack features high-quality materials to keep you dry and happy, it has a taffeta shell and a flannel liner to eliminate cold.
You can also enjoy the lifetime guarantee, meaning if it rips or doesn't fit your needs you can replace it.  Finally, it features three zips, one on each side, and one on the bottom so that you can bring in a breeze if it's hot.
Best Use: Car camping or backyard camping.
Description: While a bit more expensive, this TETON Sports Mammoth Queen Size Sleeping Bag is for those who just need room to sprawl out, even while camping. Larger in width than a queen size bed, and in length compared to a king size bag, campers of all sizes and shapes can snuggle up in this huge bag.
This is definitely not a hiking bag, weighing in just over 16 pounds, but for car camping with the family, you and 3 others can snuggle up for bedtime stories and have a comfy sleep.
The liner itself is a brushed flannel, making it very soft, and the outside material is waterproof. Large and still rated to go below freezing, makes this bag perfect for family sleeping. See our article on the top sleeping bags for your needs, check it out!
[the_ad_placement id="in-text-2-type-a"]
The biggest negative review is getting this beast of a sleeping bag back into the bag for packing up, some customers opting to buy a duffle bag to make for an easier day of pack up.
Even with that comment, the same reviewers swear by this large bag for comfort and room. While it doesn't have a hood, there is plenty of room in the bag for a pillow!
Ohuhu Double Sleeping Bag with 2 Pillows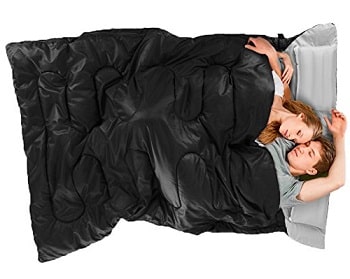 Weight: 6.08 lbs
Dimensions: 86.6 x 59 inches
Price: $49.50
Specific Features:  Unlike our other bags, this one allows for you to sleep alone or together. It is actually two sleeping bags with four zippers that allow them to be combined together, opening independently from the right, left, and the bottom.
In this purchase, you will get the bag, a carrying bag, and two pillows.
Best Use: Backpacking, most comfortably rated in the upper 30s and low 40s, or car camping.
Description: Both light and affordable this Ohuhu Double Sleeping Bag with 2 Pillows has an excellent design that allows you to sleep together in a two-person bag, or split apart to two self-contained sleeping bags.
While on first glance the bag may seem too lightweight to be rated at 23 degrees F, it uses unique and high-quality materials to insulate the heat.
Its positive notes include that it is incredibly light and easy to pack for a two person sleeping bag and that while reviewers were at first skeptical because of the feeling of the bag, it stays warm in cool Fall conditions.
There are two downsides to this bag that reviewers have complained about, most specifically is that the bags stitching comes loose rather quickly. That being said Ohuhu is an excellent company that responds to customer needs rather quickly.
The second is that these bags need to be washed before being used, as they have a strong smell. Make sure that you use cold water in your washing machine, and because of the cotton material they are not able to go into your dryer without damage!
Big Agnes King Solomon 15 Degree Sleeping Bag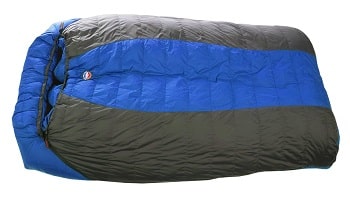 Weight: 5.19 lb
Dimensions: 60"x58"x43"
Price: $449.95
Specific Features: The Big Agnes is a double bag that is really meant for cold weather camping. If you find yourself in 15-degree F weather, then you are going to want to choose this bag as it is three seasons rated with 80% down and 20% feather filling.
Enjoy built in pillows and fabric loops to hold your pad in place. Finally, this pack also features a down proof nylon microfiber rip-stop shell that is water relent meaning you will stay nice and dry.
Best Use: Cold weather camping and hiking
Description: This Big Agnes King Solomon 15 Degree Sleeping Bag is a bit on the pricier end but that is simply because of the material used to create this large and warm sleeping bag. It has two separate bag sleeves with allows for you to slide in two separate mats for optimal sleep, especially if you are prone to roll off the side of your map.
On that note, a mat is a must for this bag, Big Agnes did not insulate the bottom of the bag so that the sleeves could be useful, so don't leave home without a mat for you and your honey.
Some reviewers complain that the way the sleeves are located makes it difficult for cuddling as there is a small space gap in the center of the two mats, meaning someone is sacrificing the side of their leg and arm to cuddle.
All that being said this bag keeps you warm, is incredibly lightweight for its size, and is overall loved by couples going out on their first camping trips!
Related: Big Agnes Cabin Creek 15 degree Sleeping Bag
Kelty Callisto 20 Degree Sleeping Bag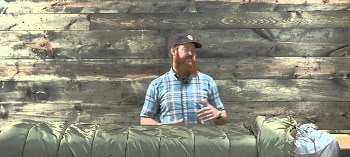 Weight: 9.6 lbs
Dimensions: 68 x 80 inches
Price: $79.95
Specific Features: Using their own insulation, the Kelty Cloudloft, this pack is not only warm but incredibly packable. It's a three-season bag, and like some of our other options is actually two bags that zip together to make a couple's bag.
Best Use: Hiking and car camping above 20 degrees Fahrenheit.
Description: With this Kelty Callisto 20 Degree Sleeping Bag , you can either choose the roominess of a two-person bag for you and your partner or if you are on your own, unzip to make one and lay the other out as an additional duvet.
The bag was made with locking zippers, meaning that you can either have a fully venting bag or unzip it all the way. If you often find your mat slipping down in the middle of the night Kelty has included pad attachment loops to keep it in place even as you move about.
All around this bag is an excellent buy, it is a little on the heavy size for big backpacking trips but can easily travel a few miles to your camping destination. It is roomy enough for one person or two, and its rectangular shape allows for roominess and versatility.
Closeout Nemo Mambo Duo Sleeping Bag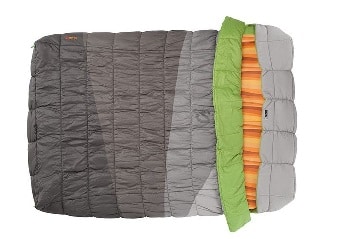 Weight: 5.5 lbs
Dimensions: 80 x 73 inches
Price: $260.05
Specific Features: The Nemo Mambo is durable, featuring a 40D nylon ripstop, protecting you from damage and the rain. It's made of a synthetic comforter material that will keep you warm when temperatures drop down to 20 degrees Fahrenheit.
Best Use: Car camping and light backpacking in three seasons.
Description: There are a few things we want to note about this Closeout Nemo Mambo Duo Sleeping Bag right up front before you buy, the Nemo Mambo is more of a 2 person sleeping comforter. It has not backfilling, and also no place to store your sleeping mats inside.
This means that if you forget your mat, you will feel anything you are sleeping on and will chill pretty quickly. Unlike Big Agnes there is no way to strap your mat in, meaning it can slide out while you toss and turn.
You will need to purchase a Slipcover in order to keep your sleeping pads underneath you and together.
It is also extremely light, this Nemo bag is around 3 lbs per person, and its design allows for comfy and roomier sleeping. It has a good three season tested rating and can be packed up neatly to fit in the bottom of your backpacking bag.
[the_ad_placement id="in-text-3-type-a"]
The bag is a synthetic quilt, so it is soft to the touch and will remind you of sleeping under a comforter at home.
Related: Nemo Tango Duo Slim Down Comforter
Get in and Get Comfy
The best bag for you and your partner will not simply be the most expensive, or the most popular on the market. It all comes down to what kind of sleepers you are, and how much space you need to be comfortable out in the woods.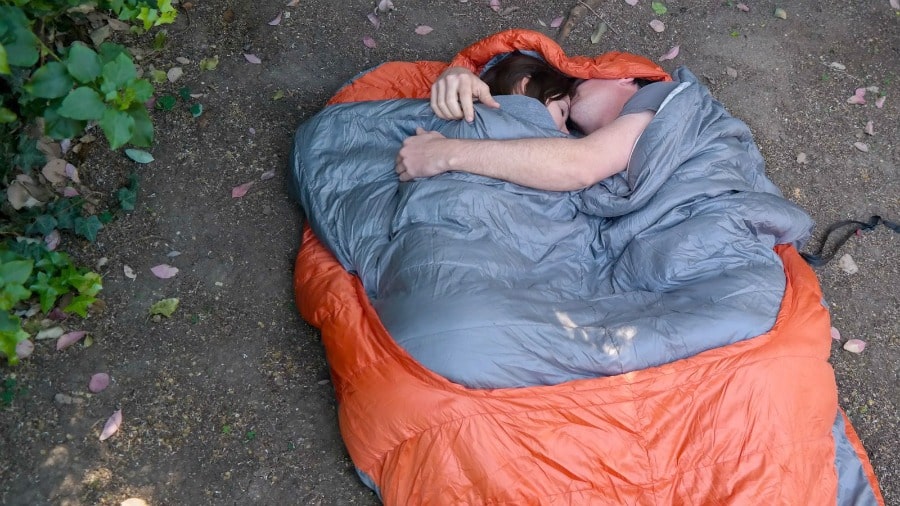 Car camping or even backpacking can be great fun with your loved one, and these two person sleeping bags will not only keep camping warm, but also romantic. When picking out a bag, find the right size, insulation, and even pay a little extra for a few special features to make it the ultimate night out in the wild.
If we missed a 2 person sleeping bag that you and your partner adore, let us know in the comments below!
Check out our must-read piece on the best sleeping bags to give you more ideas for camping.
Some of the links in this post are affiliate links. This means that if you click on one of these links and make a purchase, I earn a small commission at no extra cost to you. Also, as an Amazon Affiliate, I earn from qualifying purchases. If the information in this post has been helpful, please consider purchasing through one of the links in this article. Thank you.