Carabiners aren't exclusively used for climbing. When they are, however, they usually hold the life of a climber within its gate. Many climbers are of the opinion that reaching the summit of a climb is an addictive experience.
[the_ad_placement id="in-text-1-type-a"]
However, it is imperative to be safe as you take on the challenges of hurdling Mother Nature's creations. To safely handle a climb you will want the best carabiner on you to keep you safe. But how do you know which one is right for you?
Here are a few bits of information you will want to consider when looking for a carabiner.
The Lowdown on Carabiners
A carabiner is a multi-purpose tool which is essentially a very strong and durable shackle.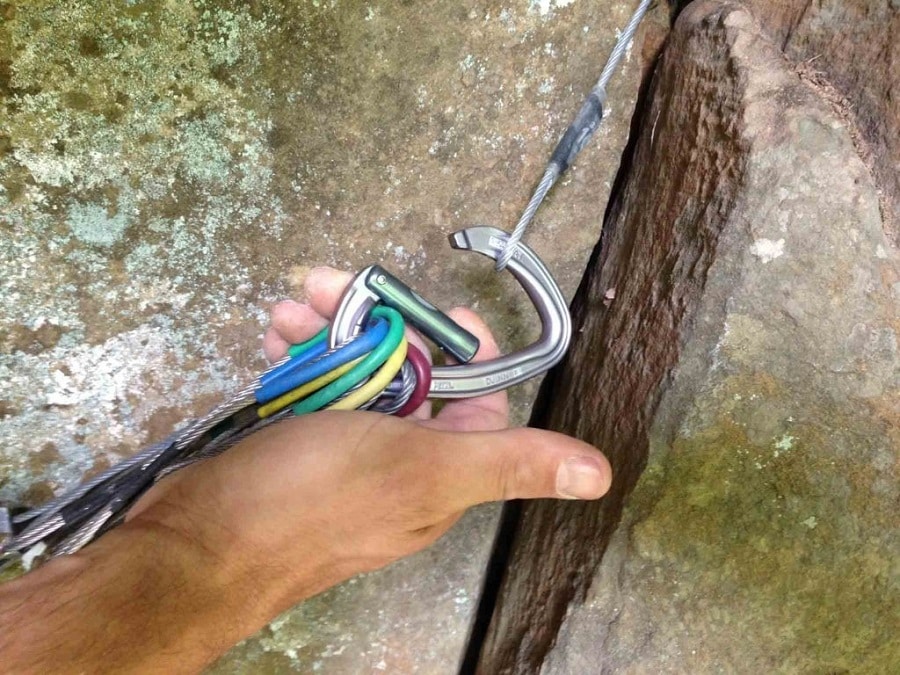 Among its key characteristics are strength, durability, and construction. The ideal one is largely a question of use. Despite being largely similar upon inspection, carabiners are not built the same. Here are a few factors you will want to consider when purchasing.
Size: Larger carabiners are typically able to handle more weight and are generally easier to use. Their gate openings are usually larger making the task of opening much quicker and fluid. Larger carabiners, however, are more cumbersome, take up more space, and are usually heavier than their smaller counterparts.
Gate Clearance: This refers to the gate opening's width plus the shape of the bottom and depth of a carabiner. Smaller carabiners will offer less clearance. Too little clearance and you will probably get your finger caught in the gate as you clip your gear. When the clearance is too large, it becomes difficult to clip smaller items.
Weight: The less weight you have on you, the better off you will be. This is generally true for backpackers and is especially thought to be true for climbers. It isn't always the case.
Lighter carabiners tend to be smaller. That potentially leads to less gate clearance. Lighter also generally means narrower. The narrower your carabiner is, the greater is the stress experienced by your rope. The smaller width of metal increases the force focused on smaller parts of rope. This wears it out faster.
Strength: It can generally be observed that larger carabiners are stronger than the smaller ones. However, this isn't always the case. To get a better handle on the actual strength ratings of a carabiner, you can check the spine.
Lengthwise, crosswise and gate open strength should be listed. In general, all mountaineering carabiners are strong enough to take a large weight. If you happen to find yourself trying to choose between two carabiners after everything else has been considered, the strength ratings will probably be the ideal tie-breaker.
Type: Not all carabiners are made the same. Some are better structurally suited for certain tasks than others. There are two characteristics that stand out in terms of structure and they are the shape  and gate type.
Shape: Carabiners come in different shapes which are an indication of their ideal use. They are the following:

Pear Shape: These are shaped like a pear and have  large gate openings for easy clipping. This type of carabiner is generally used for belaying and rappelling. Alternatively, they can be used as anchors for multi-pitch climbing and top roping.
Despite their versatility, however, these tend to be more expensive than other shapes. This also does not measure up to D and asymmetric D shapes in terms of strength.
Regular D Shape:These are strong carabiners that are generally recommended for most kinds of climbs. The weight in this type of carabiner is focused on the non-gated side making it safer. In terms of structure, these are touted to be the strongest as well.
Asymmetric D: These are regarded as the most popular shape of carabiners. They, like the pear types, have large gates to allow for easy clipping. They also have the benefit of being slightly smaller on one end to reduce weight. This comes at the price of less room within the carabiner.
Oval Type: The oval is the classic carabiner shape. These are generally cheaper than the other shapes and versatile as well. They are used largely for brake rappels. These have more space inside. They are, however, usually heavier than the other shapes nor are they as strong.

Gate Types: The gate is the opening and closing mechanism of the carabiner. They come in three varieties.

Straight: Straight gate refers to carabiners with a thick perfectly straight gate. (usually the same diameter as the rest of the carabiner. They are spring loaded for ease when opening them and they also spring-back directly for easy closing. They are  durable and are generally easy to use.
Bent: These gates have a bent, concave shape intended to make clipping rope easier. These are used mostly for quick-draws, particularly at the rope end. These typically have an asymmetric shape.
Wiregate: These gates have a stainless steel loop as a gate. This makes overall weight much lower. Their smaller construction also generally allows for larger gate openings. Also, despite their flimsier appearance, these are generally quite sturdy.
Locking gate: As the name suggests these types of gates feature a locking system to keep the gate shut. This protects the user from unintended gate openings. They are generally heavier because of the added locking mechanism. Seasoned climbers usually want the best locking carabiner for use with belaying/rappelling devices.
Generally speaking, preferences for types of carabiners will develop with time and experience. However, when in doubt it never hurts to get a second opinion from a seasoned climber. Don't forget that aside from carabiners, you need ropes. Check out our piece on everything you need to know about climbing ropes for more details.
Top Reviews of 2018
Black Diamond Neutrino Carabiner, Grey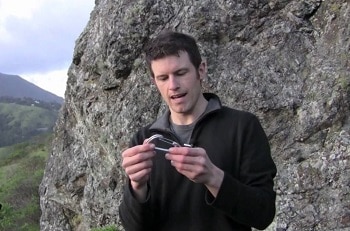 Specifications:
Shape – Asymmetric D
Gate – Wire gate
Dimensions – 1 x 3 x 5 in
Weight – 1.3 oz
Closed Gate Strength – 24kN (5395 Lb/f)
Open Gate Strength – 7kN
Minor Axis Strength – 7kN
Gate Opening – 0.86 in
Description: The Black Diamond Neutrino Carabiner was one of the best performing carabiners in the market. Today, they've lost the edge over the competition with technology driving innovation in other competing 'biners. That being said, they are still incredibly durable and versatile.
The Neutrino comes with a Wire Gate offering a .86 inch opening.  Clipping is still a breeze, taking into consideration its size. It is smaller than other offerings today, so that plays into how easy it is to use. Its weight is a very manageable 1.3oz.
A decade or so ago this is definitely among the top of the line carabiners available.  In terms of strength rating, it can still go toe to toe with the more recent market offerings of Black Diamond and other competing brands.
At present, the Black Diamond Neutrino has lost many of the glaring advantages it had years ago. They are, however, very much affordable, being among the cheapest in the market.
Couple that low price with the level of durability and time-tested quality of the Neutrino it is still definitely a worthy investment.
Black Diamond Magnetron RockLock Locking Carabiner
Specifications:
Weight: 1oz
Shape: Asymmetric D
Gate: Locking Gate, Auto-lock, Magnetic Mechanism
Gate Opening: .83in
Closed Gate Strength: 24kN
Open Gate Strength: 7kN
Minor Axis Strength: 7kN
Description: The Black Diamond Magnetron Rocklock Carabiner is a nifty auto-locking carabiner that stands apart from the competition. The Magnetron provides the general advantages attributed to locking gate carabiners.
You can rest assured that what you've clipped will not be inadvertently pushing itself out of the gate anytime soon. The magnetic lock system has an innovative design that is operable from both left and right sides making it easy to use with either your left or right hand.
It comes with a keylock nose that creates a highly secure, redundant locking system that prevents snagging.
The Rocklock shape of Black Diamond provides this iteration of the Magnetron with a decent gate opening at .83in. The shape and opening allow for quite a bit of rope to be clipped onto the carabiner.
As with most lock-gate carabiners, the Rocklock Magnetron's added locking feature comes at the expense of weight. These are a bit heavier than other 'biner types.
Also, the advanced locking system of the Magnetron is prone to occasional jamming. This becomes especially common in locations where sand can find a way into the carabiner's inner crevices.
Overall the Black Diamond Rocklock Magnetron is a solid purchase for anyone looking for a decent autolocking carabiner. It also provides the added novelty of its magnetic locks.
Black Diamond Positron Screwgate Carabiner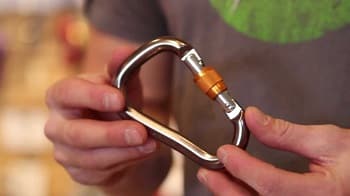 Specifications:
Weight: 2oz
Gate: Locking ScrewGate
Shape: Asymmetric D
Gate Opening: .83in
Closed Gate Strength: 25kN
Open Gate Strength: 8 kN
Minor Axis Strength: 8kN
Description: The Black Diamond Positron Screwgate Carabiner is a strong locking screw gate potentially a good choice for belaying, rappelling and anchoring. Overall its strength stacks up better than the other Black Diamond carabiners we've listed.
At 2oz it is on the lighter side of the weight spectrum of screw gate carabiners.  The .83 in gate opening provides a good size for opening making clipping easy.
The deep basket of the Positron Screw Gate reduces the instance of erratic clip attempts. It also features a keylock nose which is a great defense against snagging. The entire thing is robust and ergonomic, very easy to hold.
[the_ad_placement id="in-text-2-type-a"]
Though it does come with the usual inconvenience of screwing with the gate for a secure close, something that auto-locking carabiners don't have to bother with.
The stability and quality of the locking mechanism of the Positron cannot be understated. In terms of overall function, it is a strong contender for choice screw gate carabiner.
Mad Rock Ultra Tech HMS Screw Carabiner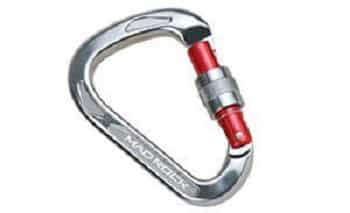 Specifications:
Weight: 2.36oz
Major Axis Strength: 27kN
Minor Axis Strength: 9kN
Open Gate: 9kN
Material: Aluminum
Shape: Asymmetric D
Gate Opening: .91in
Dimensions: 3.78 x 2.56 in
Description: The Mad Rock Ultra Tech HMS Screw Carabiner provides a robust platform for numerous climbing and backpacking related tasks.
Being among the bulkier carabiners, the Madrock allows a generous amount of space to carry rope, this considering that it comes in the Asymmetric D shape. It provides a pretty big .91-inch gate opening, which makes clipping a quick task.
At 2.36oz it won't be pushing you to break more of a sweat when carrying it around. Like its weight, the price of the Mad Rock Ultra Tech is also mid-tier. This provides a great deal of value for your money's worth.
The Screw lock system does come with its disadvantages. Aside from the usual concerns, you would have with a screw lock system, the Mad Rock's screw lock is a bit shallow. This provides for a quicker locking. This, however, makes it seem like a much weaker lock than other similar carabiners.
Omega Pacific Jake Keylock Screw-Lok Carabiner – Steel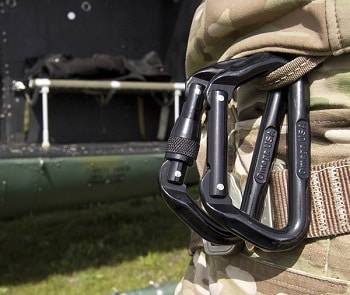 Specifications:
Shape: HMS / Pear
Weight: 3.52oz
Major Axis Strength: 23kN
Gate Open Strength: 8kN
Minor Axis Strength: 10kN
Dimensions: 4.5 x 3.15 in
Gate Opening: 1.12 in
Description: The Omega Pacific Jake Keylock Screw-Lok Carabiner is a great example of what an HMS carabiner should be. The pear-shaped HMS construction orients load in predictable locations and not all over the place. This provides added safety to the user.
It also comes with great gate clearance making it ideal for clipping a lot of rope at once. It also comes with the key lock nose providing protection against snagging.
This also features a screw locking mechanism, coupled with its shape make it a highly regarded option for belaying, top roping, and rappelling
Though considering its price, it is a bit more expensive than other items on the list. The shape may be unfamiliar to some climbers but that unfamiliarity can quickly be overcome with use.
Petzl William Screw-Lock Carabiner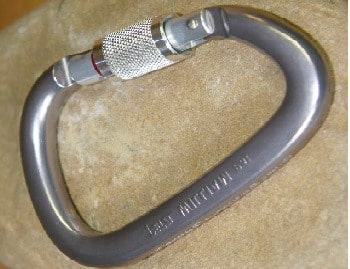 Specifications:
Weight: 3.17oz
Shape: Pear
Gate: Screw Lock
Gate Opening Clearance: .98in
Major Axis strength (Closed): 25kN
Major Axis Strength (open): 7kN
Minor Axis Strength : 7kN
Description: The Petzl William Screw-Lock Carabiner is a workhorse of a carabiner.  It offers a large size and generous opening allowing for the anchoring of numerous slings and ropes. The Pear shape makes it ideal for belaying with Munter Hitches.
Its gate comes with a keylock anti-snagging system allowing it to remain solid even during shaky maneuvers.  The carabiner also has a visible red indicator which tells whether or not it is unlocked.
The Petzl is very robust, this makes it a choice carabiner for a variety of climbing jobs. Other than that, middle-tier price and weight make it a highly viable screw lock option.
Trango Superfly Screwlock Carabiner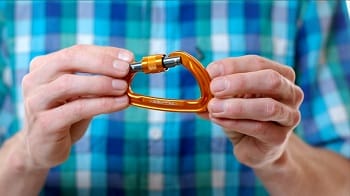 Specifications:
Weight: 59oz
Gate Opening Clearance: .71in
Strength Major Axis: 24kN
Strength Minor Axis: 7kN
Strength Open Gate: 9kN
Shape: Asymmetric D
Description: The Trango Superfly Screwlock Carabiner offers a compact, lightweight frame ideal for lighter climbing applications. At 1.59 ounces it is one of the lightest carabiners in the market today. It also comes with a thin spine, making it ideal for racking while minimizing bulk on loops.
The light weight of the Trango Superfly makes it a less plausible option for various heavy climbing use such as belaying.
Aside from the small size, the Trango Superfly's screw lock system is not as solid as other items on the list, making it a potentially risky option for critical applications. Fiddling with it while wearing thick gloves in cold weather may be a bit of a pain.
DMM Big BOA Keylock Locking Carabiner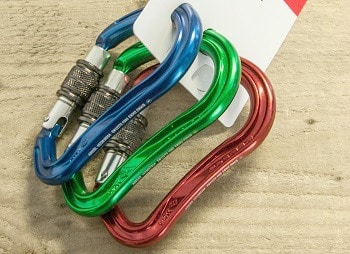 Specifications:
Shape: HMS
Weight: 2.93 oz
Gate Opening Clearance: .95in
Strength Major Axis: 25kN
Strength Open Gate: 8kN
Strength Minor Axis: 10kN
Description: The DMM Big Boa Keylock Locking Carabiner is fitting of its monicker. It is big.  The robust build of the DMM Big Boa provides sufficient space to accommodate numerous ropes and knots. It also provides a generous amount of gate clearance.
All of this plus the screw lock system make it an ideal option for a solid rig. It's definitely a viable center use carabiner.
It also features an I-Beam construction making it surprisingly light for something as bulky. The size makes it easy to handle while wearing gloves, making it a strong option for winter/high-altitude, cold climbs.
[the_ad_placement id="in-text-3-type-a"]
The amount of security its lock system provides make it a bit unwieldy for the uninitiated to handle with one hand. With time and a bit of practice, however, this is easily remedied.
Given the amount of utility it provides, it's quite surprising the DMM Big Boa is in the mid-priced range for carabiners. Definitely worth the purchase.
Ready to Start Climbing?
Making a carabiner purchase is not as simple as it once was with all the options available. Keeping a variety of 'biners on hand is actually ideal to be able to take on the various, multi-faceted, challenges of climbing. Also, you need proper shoes to start your climb. See our article reviews of the best climbing shoes to prep you up.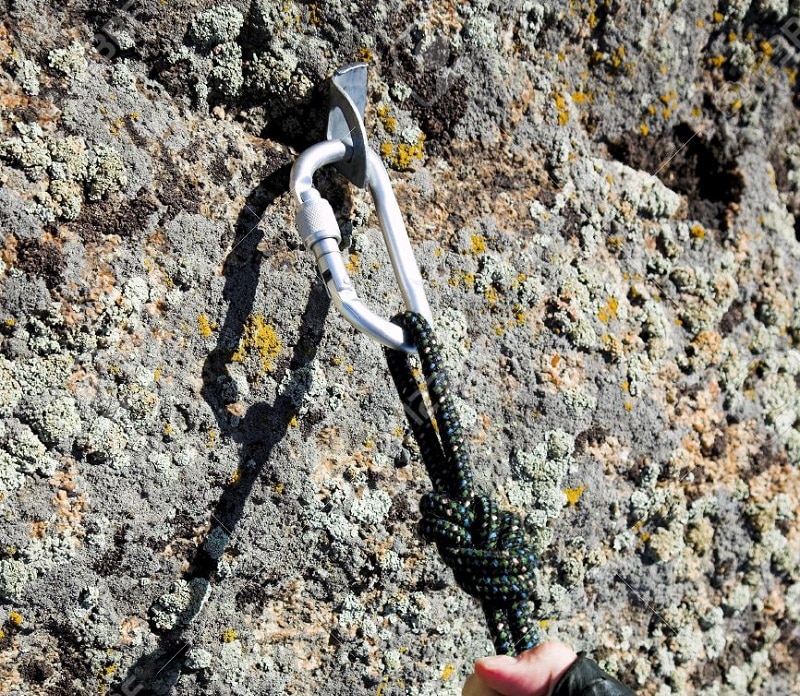 That being said, it's important to thoroughly know your carabiners and familiarize yourself with their proper use and mechanisms to make your next climb a more pleasant one.
For more information on the best climbing gear, see our article showing great reviews.
Some of the links in this post are affiliate links. This means that if you click on one of these links and make a purchase, I earn a small commission at no extra cost to you. Also, as an Amazon Affiliate, I earn from qualifying purchases. If the information in this post has been helpful, please consider purchasing through one of the links in this article. Thank you.