Whether it's a short trip or an extended vacation, one of the most important pieces of equipment that backpackers often take with them is a sleeping bag. It's more than a place to lay your head at night; as a barrier between you and the elements when you are at your most vulnerable — sleeping — backpackers, campers, hikers, climbers, and anyone else who sleeps outdoors should consider the quality, durability, weight, comfort, and ease of use their sleeping bag will provide if they plan to snooze under the stars.
Keep in mind that the best backpacking sleeping bag for you should depend on the time of the year you plan to be outdoors; don't let the weather ruin your experience.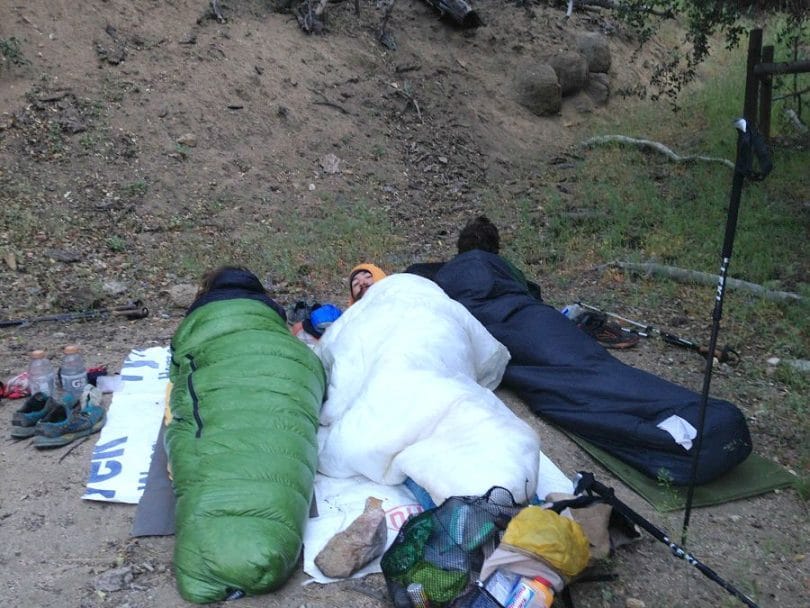 There are dozens of sleeping bags on the market these days, and choosing the right one for your needs can sometimes feel overwhelming. We've created a list describing several of the best sleeping bags for backpacking to make things easier for you. Information on the bag's weight, how well it stands up to moisture, and its ability to keep you warm, is provided. Take a look at some of your options below, so that you can make an informed decision about which sleeping bag you'll need the next time you're gazing up at the night sky. See more options on the top sleeping bags in our earlier article on this topic.
Marmot Always Summer 40-degree down sleeping bag
This bag is ideal for backpackers who like to spend their outdoors nights in the summer, keeping the occupant warm down to 40 degrees F. The down insulation has been treated with Down Defender, which coats the feathers in a water-resistant substance. This prevents clumping, keeps the down drier longer, and allows it to dry faster than untreated down.
The bag's shell is made of lightweight rip stop fabric, which is resistant to tearing due to its nylon content and interlocking thread pattern. It weighs only two pounds and comes with a case, fitting people six feet tall in the regular size, and six feet six inches in the long size.
The Marmot offers:
An insulated draft tube along the length of the zipper, keeping cold air out;
A hood, keeping heat in;
A trapezoid-shaped foot box for more comfortable sleeping;
Mummy-shaped construction, following the natural contours of the body;
A stash pocket near the hood for storing small items;
Locking zippers that keep the bag from inadvertently opening.
Some users have issues with this item, however, finding that the fill was unevenly distributed in the bag they received. Others think that the bag should be wider, since they like to move their legs around while sleeping.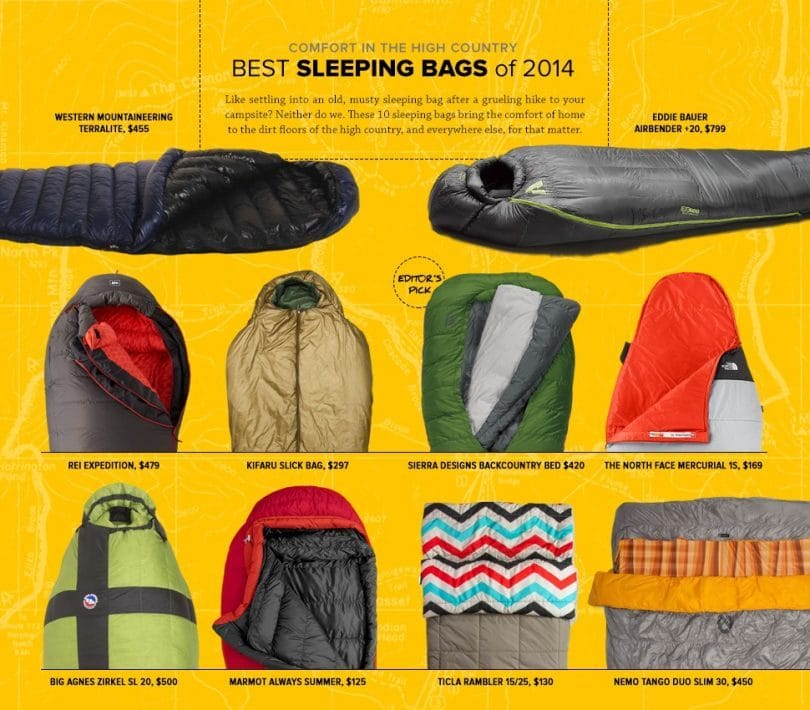 In addition, this sleeping bag can be used in spring and fall as well; even if temperatures drop a little below 40 degrees, you can use special inserts or wear fleece clothing for extra warmth. It comes in bright red (Cardinal/ChiliPepper) and can be zipped up on the left or the right side, depending on your preference. You are also provided with a mesh storage sack featuring the brand name.
Overall, the Marmot is a good quality bag and not burdensome to carry, even when wet. It costs $186.98 in the long size on Amazon.com, but is also available through other websites, such as Moosejaw.com and Backcountry.com.
If you like this product you can find and check its price here.
Stansport Redwood Ultra Light 55-Degree Synthetic sleeping bag
If you don't plan to be out in temperatures that drop below 55 degrees, then this bag is for you. It is a little heavier than the Marmot, weighing in at three pounds. A simple sleeping bag, it does not come with a hood or pockets. Available in Forest Green from Amazon for a low $23.78, this is a great bag for occasional backpacking in mild weather.
The Stansport contains two pounds of synthetic Poly-Therm insulation, with a polyester shell and lining. The polyester makes it resistant to stains and increases the insulating effect. Even when wet, it still keeps you warm.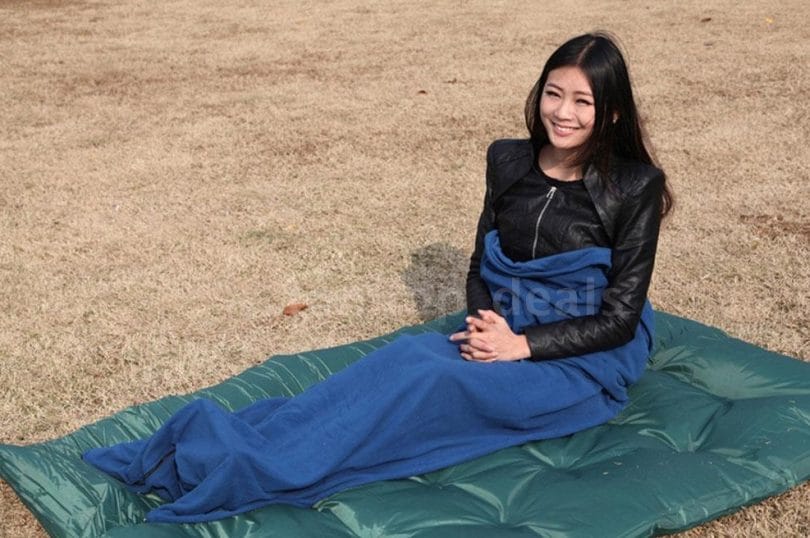 It is common for lower-priced sleeping bags to be of lower quality than their more expensive counterparts, so it is reasonable that some users have had problems with this item. The following are some potential issues to look out for:
Displacement of Poly-Therm fill: some buyers washed their bag before using it, and found that the stuffing moved around, leaving lumps and gaps throughout the bag. Consider a simple surface cleaning with a wet cloth and mild detergent to prevent this possibility.
No hood: if you will be out in temperatures a little below 55 degrees, wear more warm layers before snuggling into this bag, and wear a warm hat and scarf to prevent too much heat from escaping. Better yet, if it's going to be very cold, you would be wise to invest in a warmer bag with a hood.
Uncomfortable for back-sleepers: some users have noted that the bag felt constricting if they slept on their backs; turning over may do away with this discomfort.
Too thin: the ultra-lightweight nature of this bag means that it is thinner than other bags. You may need more cushions between your body and the ground, so get a sleeping pad to go along with it.
If you like this product you can find and check its price on Amazon.
Kelty Tuck 22-Degree sleeping bag
Another good three-season bag is the Kelty Tuck 22, great for backpacking in spring, summer, and fall. It comes in Dark Slate and is constructed with ThermaPro synthetic insulation, a fibre blend specifically engineered to retain warmth and make pack ability easier for you. It has a hood for extra warmth, a natural fit foot box with an anti-snag design, a draft tube, and even a "feet out" option: you can leave your feet exposed on warmer nights.
Its versatility includes a pouch for personal belongings, like your mp3 player or cell phone. All of this is offered at a weight of only three pounds for the regular size. For $89.95, that's a lot of comfort for a reasonable price.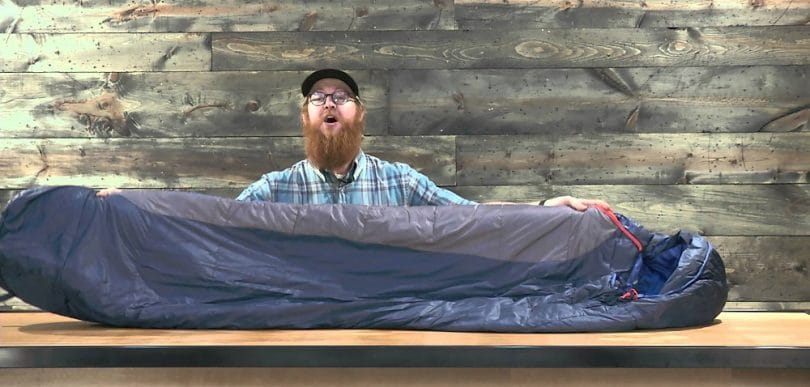 As with the Stan sport, there are some issues with this bag as well. Some consumers have complained of frayed stitching, which can endanger the integrity of the bag. If your bag's stitching worries you, you can return it and request one of better quality. Be careful about getting it wet; it is not waterproof.
There are also complaints about the zippers not working properly; test your bag's zippers upon arrival if you order one, and regularly check any bags you currently have for signs of wear and tear. Although they are designed to be durable, remember to be gentle with your bags. Take care of them, and they will take care of you. And if you find yourself needing to use your sleeping bag in slightly colder areas, you can always bring along a liner and extra clothing for added warmth.
If you like this product you can find and purchase it on Amazon.
Kelty Dualist Zero Degree sleeping bag
Winter backpackers who intend to make short trips may enjoy using the Kelty Dualist Zero Degree bag, comprising polyester fabric and a mixture of DriDown and ThermaPro inside the shell. DriDown is a water resistant fill that dries quickly; ThermaPro is a blend of fibres engineered specifically to retain heat. It compresses easily, making room for other backpacking essentials. In fact, it is 40% smaller than other bags containing synthetic fibres.
There are both long and regular sizes, the latter being $199.95 on Amazon.com in the color "Chili Pepper" and fitting persons up to six feet tall. The breathable nature of the Dualist may make it a good replacement for the Tuck if you sleep outdoors in warmer weather as well.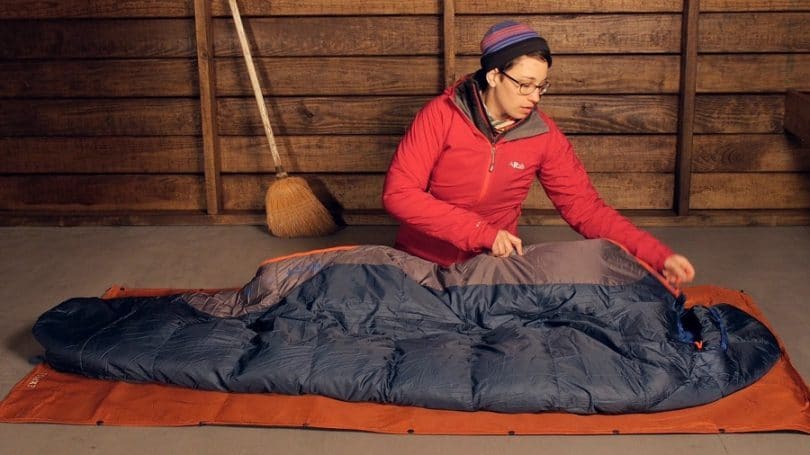 Some users of this item have discovered that the seams on the bag's storage sack come loose too easily, and that the fit may be too small for some folks, as the average body weight norm in America is changing.
If you like this product you can find and buy it here.
Handy sleeping bag features
Everyone likes convenience, and backpackers are no exception. Below are some nifty additions that bring creature comforts from home to the outdoors and make it easier to carry your bed on your back:
Pillow and stash pockets
Some bags come equipped with a pocket in the hood, into which you can stuff your clothing to form a makeshift pillow.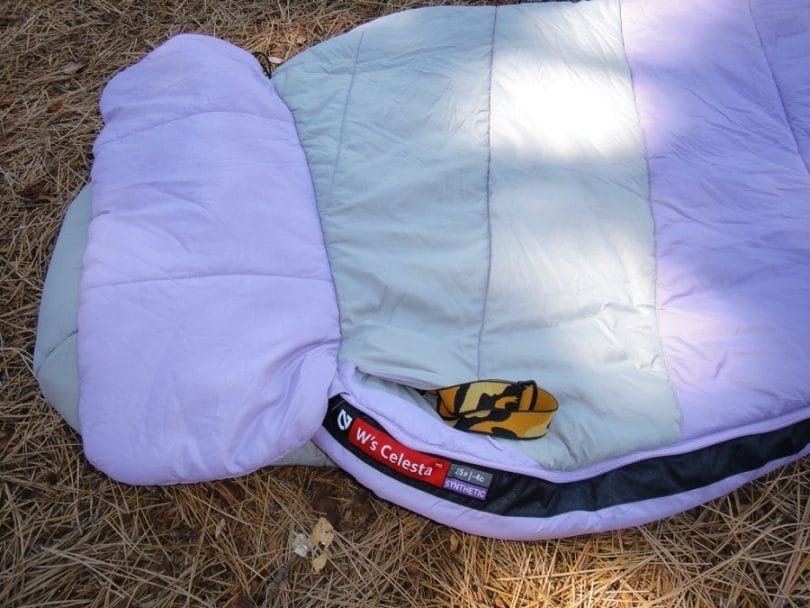 Smaller pockets, strategically placed, allow storage of and access to personal items, like cell phones and lip balm.
Draft collar
Especially helpful in cold weather, this addition prevents heat from escaping around your neck area. Heat conservation is a primary concern when sleeping outdoors; if you will be in cold weather, get a sleeping bag with this feature.
Sleeping pad loops
Many backpackers place a pad under their bag, which provides a layer of heat between the bag and the ground.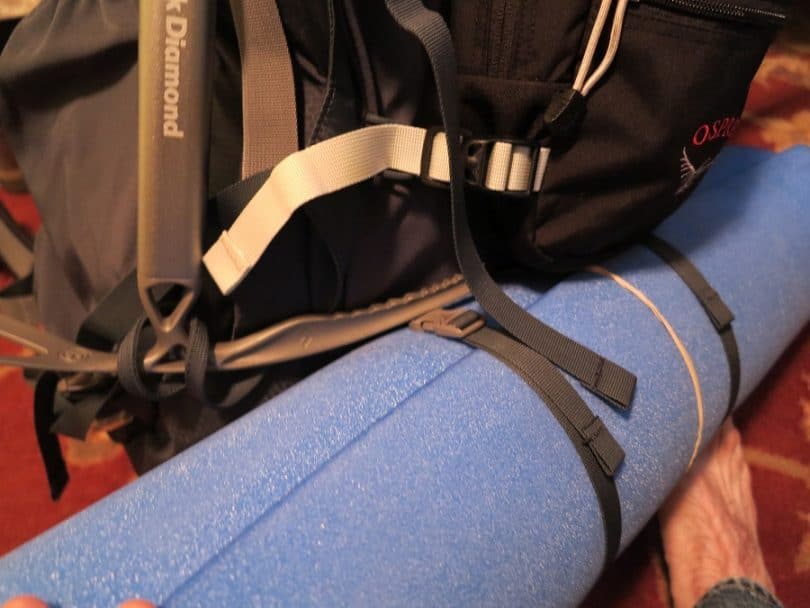 To keep the bag from sliding off of the pad, you can connect them using loops.
Footbox design
Great for people who sleep on their backs – a trapezoidal footbox design allows enough room to let your feet fall naturally to the side.
Male or female?
Certain bags are tailored to suit a woman's figure, with a wider girth around the hips, a narrower girth around the shoulders, and a shorter overall length. They also typically have more insulation in the chest and footbox areas than men's bags.
Left or right zipper
Makes it easier for you to get out of your sleeping bag, whether you are left-handed or right-handed.
Velcro flap
Some bags have a flap that you can fasten over the zipper when you're ready to call it a night; it keeps the zipper from sliding down, should you move during your sleep.
Mummy design
Mummy-shaped bags have narrow shoulder and hip widths;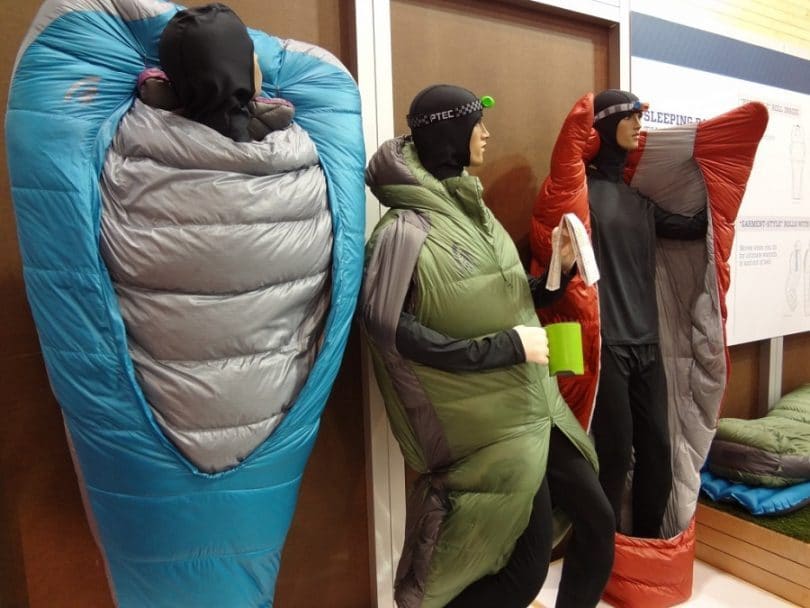 this maximizes the warmth of the air around you in the bag's interior and reduces weight (as opposed to a barrel or rectangular-shaped bag).
Liners
You may not be able to purchase a bag that exactly meets your temperature needs; if this is the case, invest in a good quality liner. You can slip a liner– or two– inside your sleeping bag to add several degrees of warmth. For more information, see our reviews of the top bag liners to give you options.
Hoods
It is absolutely crucial to stay warm in cold temperatures, or illness will soon follow. Many bags have built-in hoods, complete with drawstrings, to keep as much of your head and face covered as possible when you are sleeping in very cold weather.
Doubling up
The considerations for individual backpacking sleeping bags are the same for two-person bags, with comfort being a top priority. Anyone who has shared a small sleeping space with another human being for an extended period of time knows that having enough room to move around is important for a good night's sleep. Some of the best lightweight options for those wishing to share a sleeping bag are:
The down King Solomon 15 by Big Agnes. Priced at $449.95 on Amazon.com and insulated to a low of 15 degrees, this five-pound, nine-ounce bag fits two people up to six feet two inches in height, and has an integrated sleeve pad to keep sleepers from rolling off of the pad. It is water repellent, thanks to its DownTek insulation.
The Dream Island 15, also made by Big Agnes, provides the same insulating comfort at 15 degrees F for almost half the price. But at nine pounds five ounces, you will need to decide if you want to go with a bag that weighs less, like the King Solomon, or if you want to spend less money. You can find the Dream Island on Amazon for $219.95.
The Grizzly, created by Black Pine, is available in either a cotton duck canvas or polyester rip stop shell that has access zippers on both sides. Different models provide protection in minus 25, zero, and above 25 degrees F weather, with prices ranging from $129.00 to $182.48 on Amazon.com. The heaviest of the three, containing the most insulation, weighs 14.5 pounds.
The most important consideration for anyone thinking about investing in a sleeping bag is insulation. The amount of insulation you need depends on your age and your sex.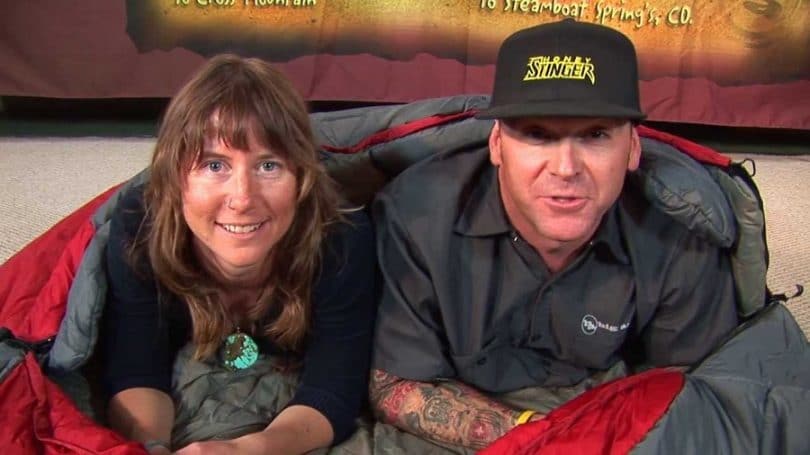 A bag that will keep a man warm in freezing temperatures may not be warm enough for a woman, and a bag that keeps a woman cosy on a summer night may make a man sweat. And children usually need more warmth than adults.
There are a range of insulation levels for backpacker sleeping bags, providing warmth for temperatures from minus 10 degrees F to 35 degrees F and higher. Be sure to pick a bag that will keep you comfortably warm, particularly during winter, as poor insulation can lead to dangerous health problems like hypothermia and frostbite.
As you can see, there are a wide variety of features. There are versions tailored to your sex, height, and whether you're left-handed or right-handed. Some have down inside them; if you prefer not to use down because of ethical or health reasons, there are many bags available that are filled with synthetic fibres instead.
Taking the time to reflect on your needs when searching for the perfect one can make all the difference between an "okay" and a great night's sleep the next time you find yourself in your favourite hiking spot.
Before you camp out, do check out our review of the top camping essentials to prepare for  your trip.
Some of the links in this post are affiliate links. This means that if you click on one of these links and make a purchase, I earn a small commission at no extra cost to you. Also, as an Amazon Affiliate, I earn from qualifying purchases. If the information in this post has been helpful, please consider purchasing through one of the links in this article. Thank you.