Whether you are someone who enjoys adventure holidays like camping or walking, or perhaps you are a survivalist or somebody who likes to be prepared in the event of a natural disaster or even just one of those days when the lights go out, you could even be somebody who relies on a torch as part of their job: perhaps you're someone in the forces, a police officer or fire safety officer, whatever the circumstances the best tactical flashlight is going to be a tool that will light up your world and help make you feel safer.
[the_ad_placement id="in-text-1-type-a"]
Also, it's a really useful gadget to carry around.  There have been huge developments in this industry over the last decade with the introduction of LED technology leading the way; with torches (as the flashlights are called sometimes) becoming much smaller, producing more light and actually needing less energy to work.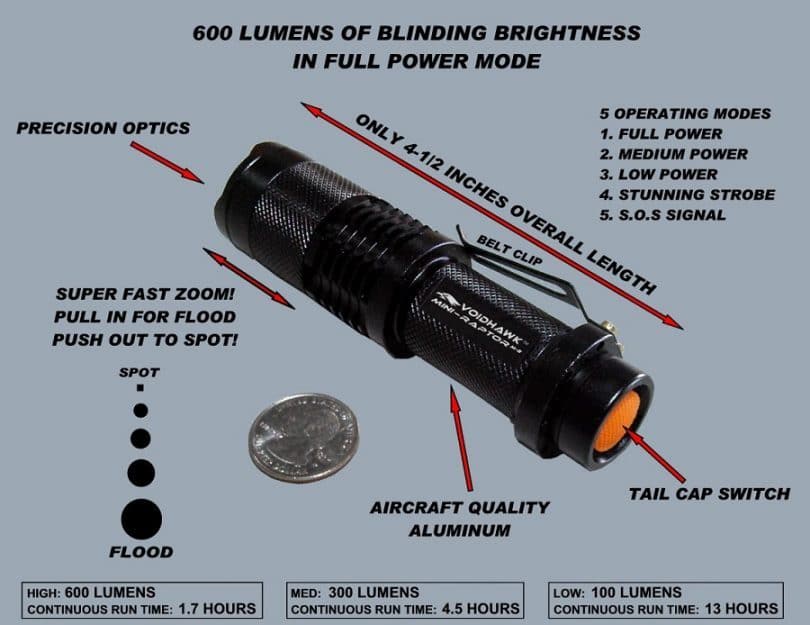 A torch is something you don't realize how useful it actually is until you are in a situation where you need it.  They are usually small enough to keep in a purse or pocket and are for situations where you need the advantage: when you may be facing danger or your life is on the line.  They are produced to high quality standards and are usually shockproof and waterproof.  They are highly durable, rugged and sturdy tools, which are made to be durable and reliable when you need them.
You can use a tactical torch for a variety of reasons including:
Self-defense, as they are usually made of anodized aluminium which is hard enough to break windows, strike an attacker or temporarily blind them to give you enough time to run away.
Illuminating an evening walk with the dog, or from your work place to your car.
Emergencies, rescues or survival situations.
Finding lost items.
There are many devices on the market and it can be difficult to know which one is the best for you to choose.  Before making a decision you may wish to think about a few considerations. First think about your budget and how much you are willing to spend on your torch. Next think about the size, where you intend to keep it and how often you may need to use it.
Then, think about power and how you will make sure your gadget is always ready to use when you need it. The next consideration should be how bright you want your torch to be and lastly you need to consider durability and make sure it can withstand water and being dropped on the ground.
The amount of light a device can produce is measured in lumens; the higher the number of lumens, the brighter the light. Anything over 100 lumens will create temporary blindness if shone into someone's eyes producing a stun effect or disorientation causing any would-be attacker to stop in their tracks to shield their eyes giving you vital seconds to make an escape. Some gadgets are so powerful that they can light up an entire football field but tend to use special batteries.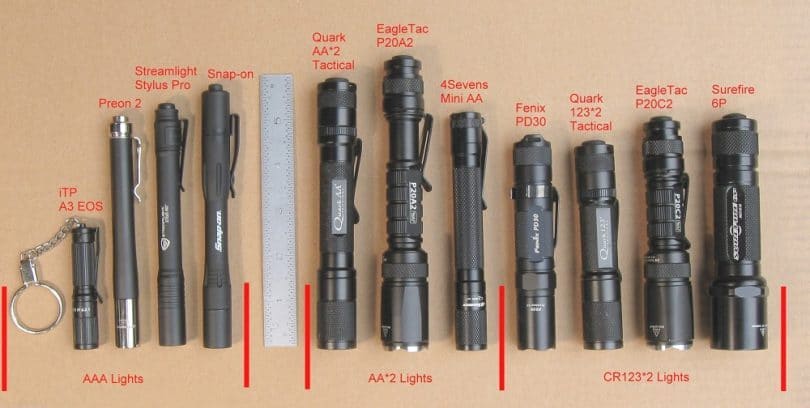 You need to consider the size of your torch and where you intend to keep it.  You may want to keep it in a toolbox or on your keys.  Other people have decided to have one in a drawer at home or in their glove compartment of their vehicle.  Large devices tend to be heavier and smaller ones with LED technology can produce the same, if not more, light than the cumbersome older fashioned varieties.
Some torches come with adjustable light modes, which can vary the intensity for different situations and even offer strobe or SOS lighting and even can work as a beacon for emergency situations.
The material your gadget is made of is also important.  There are some heavy-duty plastic varieties as well as stainless steel. Most are made from anodized aluminium; reinforced and aircraft-grade in quality making the devices highly durable and protecting them from the elements and from rust.  There are also some made of titanium but tend to cost a little more.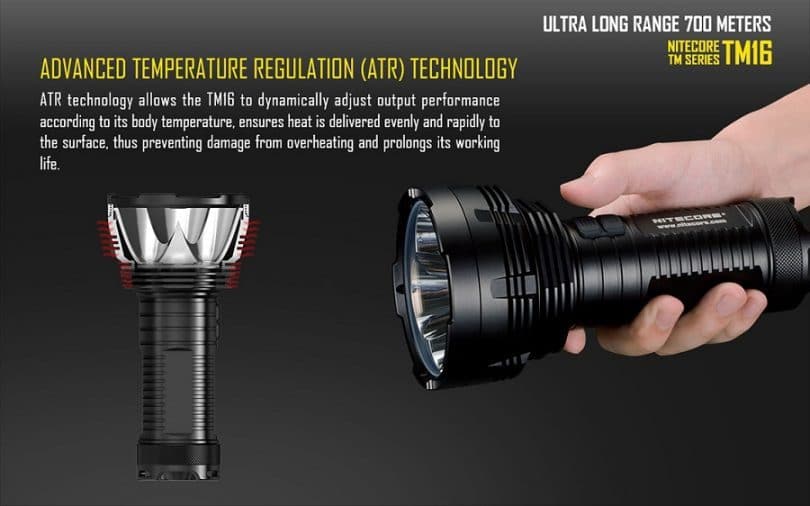 Tactical flashlights are legal to carry and can be kept in a pocket or purse. They are also an effective defense against animals as well as possible human attackers and can illuminate areas that you may find intimidating if you have to walk through them in the dark. A tactical device should have a bezel, which is metal that surrounds the lens at the front of the torch.  This can usually be unscrewed to clean the lens and can also be replaced.
The lens should be adjustable to allow the torch to focus or zoom the light from a flood formation to a more focused beam. A gadget like this would also benefit from a reflector to make sure none of the light is wasted but concentrated on what it needs to illuminate.  There are also different types of bulbs including LED's that will determine the brightness of the light emitted.
Here's a list of some of the best tactical devices on the market at the moment which take into consideration all of the above factors.  Perhaps you will find your next gadget amongst them so you will be prepared for any situation when you need to find your way.
UltraFire Mini Cree LED flashlight
If you are looking for a device that doesn't cost a lot and is small enough to fit in your pocket, you can't go wrong with the Mini Cree LED.  Its features include a 300 lumens LED adjustable focus zoom light which can give you a wide beam or a more focused spotlight and can temporarily blind someone if shone in the eyes.
Its small and compact design means it is light and easy to carry and runs on a single AA battery.  It is made from aluminium allow and has a handy clip to attach it to a belt or pocket.  It is also waterproof and shockproof making it a rugged and sturdy little torch suitable for everyday use.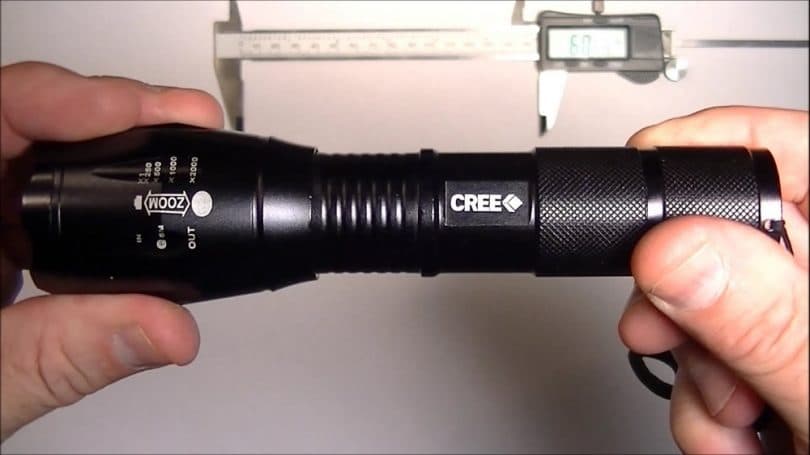 It is also suitable for outdoor activities including hiking, hunting, cycling, and camping and provides approximately two hours of constant light though this time may vary.  Some people have also had problems with the batteries but this seems to depend on where the gadget is purchased.
This torch is easily stored in a variety of places including your car, toolbox, and emergency survival kit or in your bedside table. It has three modes: full power, half power and SOS flashing strobe.  They are available in a variety of colors and are very good value for the cost at around $4.
If you like this product you can find and buy it on Amazon.
PEMOTech Zoomable LED flashlight
This mini LED torch is small in size but has a blinding 300-lumen light effect.  It uses AA, NiMH or small lithium batteries and has an adjustable focus range, which requires the head of the device to be extended to adjust the zoom and three modes of use.  It is water-proof; so will withstand rain and splashes, skid-proof; to ensure if it drops it doesn't roll too far away and shock-proof; so that if it is dropped it is unlikely to break or smash but may suffer some cosmetic scratches.  It has a convenient clip to help secure it to a belt or pocket to ensure it doesn't get lost.
It is suitable for most types of outdoor activities including camping, cycling and climbing and is made from aluminium alloy with a tail switch to power the device on and off.  The flashlight is reliable and dependable and has a good battery life. It costs around $7 and comes in a variety of colors.
Like this product? Then you can buy it on Amazon.
Streamlight Nano Light miniature key chain LED flash-light
This is a lightweight and extremely small little device that can be easily attached to a backpack, belt loop or a key ring with a snap hook.  It is shock-resistant and the parabolic shaped LED bulb maximises beam performance and should last for up to 100,000 hours with a battery life of 8 hours of constant use.  It is easy to operate and turns on with a simple twist of the head.  It is made from aircraft-grade anodized aluminium and comes in a variety of different colors.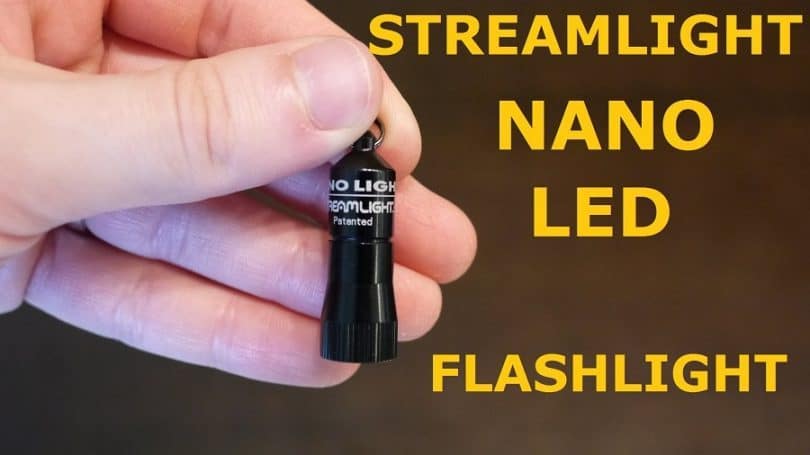 It is a well-constructed, durable little light, which is perfect for lighting a path or locks on doors or your car.  The batteries may be difficult to obtain and are almost as costly as the device itself but can be bought in bulk.  It is waterproof for rain and splashes but probably best not to immerse in water.  Some people have reported problems with the torch turning on when they don't want it on or the cap twisting off when kept in a pocket but for around $8 its a very handy little tool that you can have on you wherever you go.
If you like this product you can find and buy it on Amazon.
Maglite Hang flashlight
This reasonably priced gadget has a virtually indestructible design and a high intensity incandescent light beam with a spare bulb in the tail.  It is made from a strong aluminium alloy anodized both inside and out to protect against rust and it has a fail safe rubber coated switch that is protected against the elements.
It is useful as a self-defense weapon because of its size and weight as its bigger and heavier than LED devices and uses 4 D-Cell batteries which seem to last a long time.  It has an adjustable beam from a flood light to a sharp spot light and although it uses older technology it is still an excellent light source because of the bulbs, which add brightness.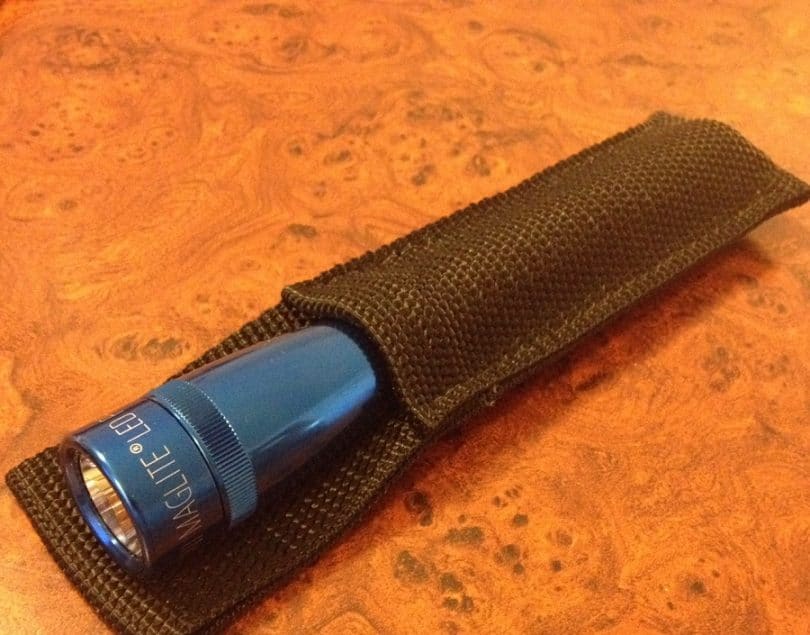 This is a functional and dependable torch that will last for years and can be stored in the garage or shed, in your vehicle or in your house.  It's a little large for a toolbox but would fit in a cupboard or drawer easily.  Replacement parts are easy to order if required.  It is priced at around $20 and offers an affordable solution for that extra ray of light when it's needed.
If you like this product you can find and buy it on Amazon.
Nebo Redline tactical flashlight
This torch  has an extremely bright 220 lumens of light and has five modes of operation: 100% light, 50% light, 10% light, SOS strobe and emergency strobe which is operated with a button on the back. The beam is adjustable from a floodlight that will light up everything within 20 yards or a spotlight, which can focus the beam of light for up to 150 yards.  It has a secure grip and is made from anodized aircraft grade aluminium and is weatherproof.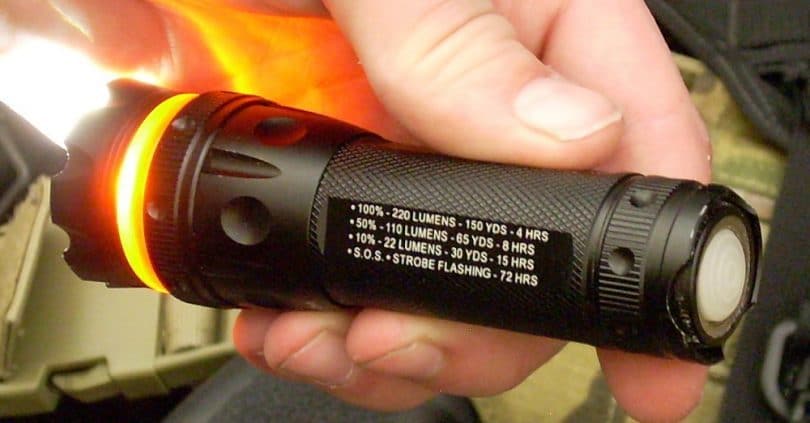 This torch is suitable for everyday use as well as camping, for keeping in the car or your toolbox and it also has a built in magnet for hands-free use. Some people have reported that the device has broken when dropped where others have had no issues with this and have described it as well made and sturdy.  It takes standard AAA batteries and costs around $20 making it an affordable and handy piece of kit.
If you like this product you can find and buy it on Amazon.
Decaker Professional Grade flashlight
This flashlight comes with rechargeable batteries and a charger.  It is made from a high quality anodized aluminium allow that is shock proof and water-resistant.  It has five different light modes and can light a distance over 980 feet and a variable focus.  It is designed for self-defense and combat situations and can break windows in an emergency.
[the_ad_placement id="in-text-2-type-a"]
It is useful for travel, outdoor activities and camping.  It has a soft touch power button, which can switch between the different light modes: high, medium, low, fast strobe and also has an SOS symbol.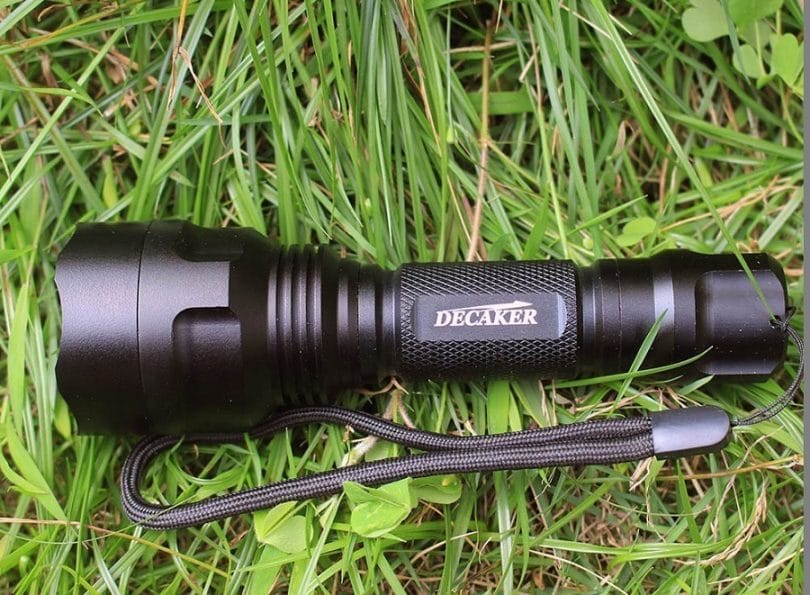 This is a small device, which is incredibly bright and versatile.  It works on AA batteries, which are rechargeable making it cost effective and work on full power for around 2 hours.  At around $50 it's a decent piece of kit that is well made, comes in various colors and you can keep it almost anywhere.
If you like this product you can find and buy it on Amazon.
Fenix PD35 CREE LED tactical flashlight
This best selling model has been upgraded to provide 960 lumens of blinding light and has a variety of modes, which can be selected at the touch of a button on the side.  It's lightweight and portable and uses a rechargeable Li-ion battery or two lithium batteries.  It has and anti-roll body, which is also, slip resistant and is made from durable aircraft-grade aluminium with a hard, anodized finish.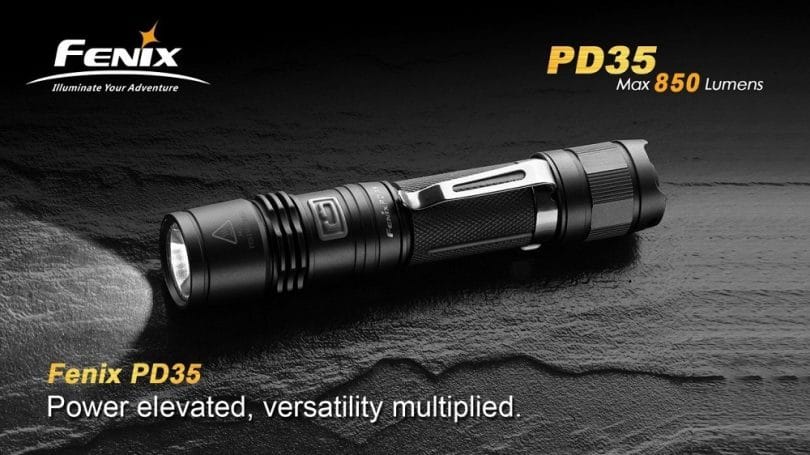 The beam of light it produces is wide and will easily illuminate up to 30 yards.  It has a strobe setting, which is a great self-defense tool to stun and temporarily blind attackers to give you extra time to make an escape. This gadget has a clip, which is secure and easily attached to a pocket or belt.
It can get quite warm on the higher settings but has over-heat protection and will turn off if it gets too hot.  It's good value for money for the features and quality you get and will cost around $70.
If you like this product you can find and buy it on Amazon.
Streamlight ProTac LED flashlight
This powerful little torch has the latest LED technology and can produce an intense light of up to 1,100 lumens making it one of the brightest tactical lights for its size with the ability to light up your entire area within a long range.
It is made from anodized aluminium and is both water-resistant and shockproof with a multi-function tail switch that changes between the different modes at the touch of a button.  It has an anti-roll face cap and a pocket clip, which can be removed if required, and comes with a nylon holster, which can be attached to a belt.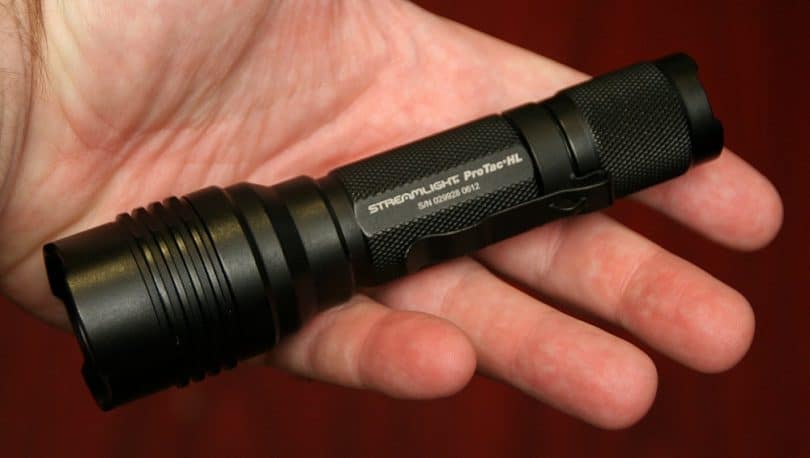 It comes in three colours: blue, red and black and is a useful gadget for camping, having around the house or while out and about too. It's also used by people working in security, the construction industry and other work related scenarios.
Some people have had issues with the battery-life but lithium batteries tend to work best. It's about the size of a pen, extremely lightweight and easy to carry in a pocket. For the price of around $80 it's an impressive tool for its size, it's durable and a high quality product that's reliable and easy to use.
If you like this product you can find and buy it on Amazon.
Olight M22 Warrior Cree LED tactical flashlight
This model has an aluminium, anti-scratch, anodized body and has three light settings: low, medium and high.  It will produces a blinding 950 lumens of light on high power for up to an hour, though lasts much longer on lower settings.  It is easy to operate with one hand through a button on the tail but also has another switch, which activates the strobe feature.  It has a thick stainless steel bezel, which protects the lens but would also be useful for self-defense purposes.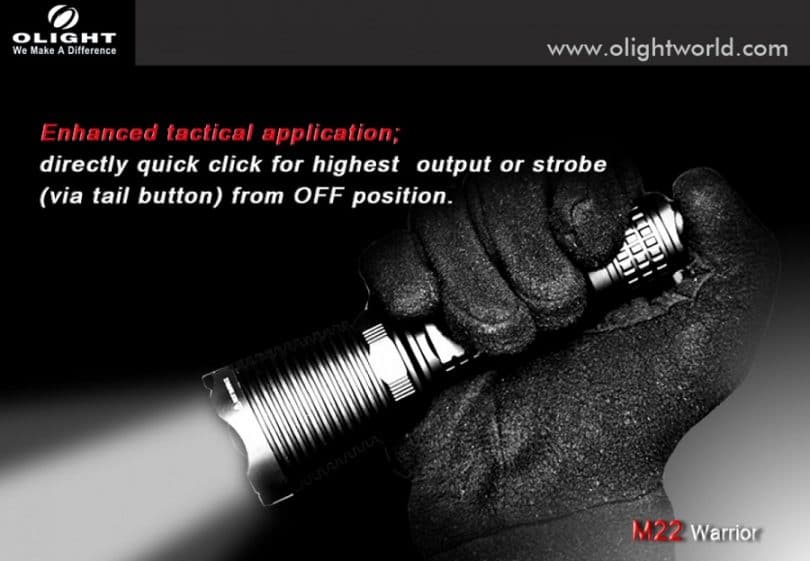 It's easy to carry with the clip and can easily be attached to a belt.  It feels solid and sturdy in your hand and produces a flood type light, which will light up a room easily.  It also can be adjusted to a more concentrated throw beam.  It is shockproof, waterproof and works on rechargeable batteries, which make this device durable and cost-effective.  It seems to be used by a number of professionals working in law enforcement, military or within the security sector and retails at around $80 with most reporting it is definitely worth the money.
If you like this product you can find and buy it on Amazon.
Streamlight Stinger LED rechargeable flashlight
This device comes with two rechargeable batteries and charger to allow extended use and reduce the cost of further battery purchases. It has an anodized aluminium body with a rubberised comfort grip, which makes it easier to hold.
It is water-resistant and shockproof and when you need maximum illumination, this torch provides an intense 640-lumen beam over a 290-metre distance. There are three light modes: high, medium and low and also comes with a strobe feature for blinding attackers or making your location known.
This small gadget can work like a huge spot light making it useful within car repair, search and rescue and law enforcement and works well outside at night and for a multitude of everyday uses too.   The charger works well and you can charge both the torch and the spare battery at the same time.  For around $100 you can feel confident of having the light you need when you need it with this convenient, highly recommended gadget.
If you like this product you can find and buy it on Amazon.
You need to make a decision about what you can afford and what you want your gadget to be able to do. Ideally you are looking for something that has a bright and powerful LED that provides a good strong light source. You need it to be reliable and durable in order for it to function in a wide variety of situations and conditions, suitable for all weathers and to withstand being dropped or potential damage. It should have a robust body that fits well in your hand and feels easy to hold.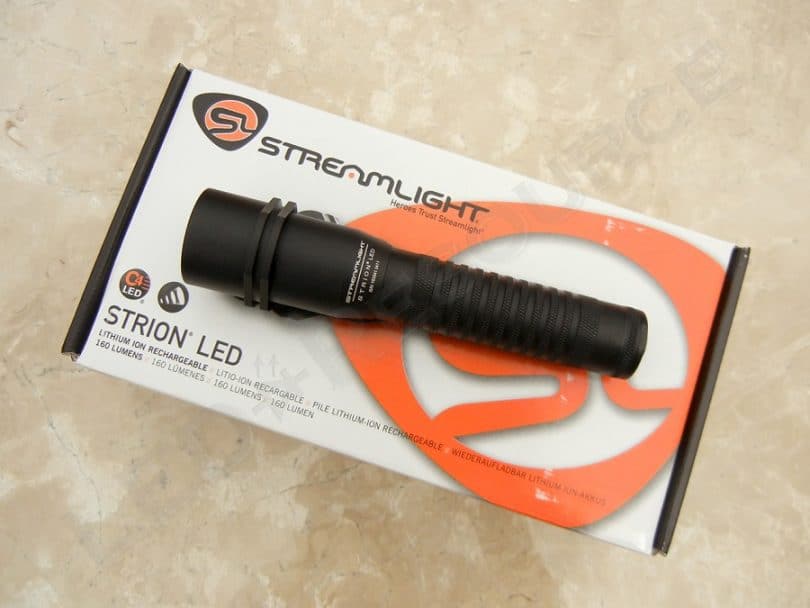 The torches in this article are designed to be hand-held but some can be mounted on weapons so the light shines out to illuminate and aim at potential targets, which can be useful for hunting.  Most can also be fitted with wrist straps to make them easier to use and to prevent loss.
[the_ad_placement id="in-text-3-type-a"]
You can find specific devices that are suitable for hunting, security, military, law-enforcement or other search and rescue scenarios or you might just need one to make your journey a little more illuminated and safer during the dark winter nights. For more reviews of the best flashlight to see your way in the dark, read our article on this topic.
Whatever your reasons for wanting a tactical torch, whether it be for work, for personal protection or just to help you with everyday tasks when other light sources are not enough the gadgets listed in this article are undoubtedly a step in the right direction to help you to find your way.
See our guidelines on the best LED flashlight to help you more.
Some of the links in this post are affiliate links. This means that if you click on one of these links and make a purchase, I earn a small commission at no extra cost to you. Also, as an Amazon Affiliate, I earn from qualifying purchases. If the information in this post has been helpful, please consider purchasing through one of the links in this article. Thank you.